Maybe you've been wetting a line since you were a tot or maybe, just maybe, you've freshly decided that casting a few is your new pastime designed to give you a well-earned breather from the socials. We hear you.
Luckily, Sydney is an avid fisher's playground, packed with secret coastal spots and all the waterways to practice responsible fishing. To help you spend more time on the water and less time scrounging for a prime location, we've put together this bad boy for all your recreational needs.
If you're a total newbie to fishing (whether that's handlining, trapping, prawn netting or even hand gathering), you'll have to make sure you grab a recreational fishing licence before you live your best castaway life. You can purchase one for as little as $7 for three days or commit hard to a three-year licence for $85 and, when you can, always aim to use environmentally friendly fishing tackle (like lead alternative sinkers), biodegradable lines and non-stainless hooks.
Here are the best places to go fishing in Sydney.
Cooks River
Brighton Le Sands
If you're fresh on the fishing bandwagon, this spot should be your first port of call. The water here is generally pretty calm and you can go for gold with beach fishing (just make sure you've got a long rod). If you head on over to the mouth of the river, there's also a rock wall you can set yourself up on.
Type: Bank fishing
Catch: Flathead, Trevally, Salmon and Snapper
Best Time: Early evening
Clovelly Beach
Clovelly
The great and fishy expanse from Gordon's Bay to Clovelly offers up an abundance of spots to get your angler on (read: keep a rod in your car at all times). Our picks? Walk past the carpark towards Gordon's and set up on the cliff face or head to the Clovelly side (low tide is the best time) and kick up on the headland opposite the pool. If all else fails, you can always hit Out Of The Blue for one of the best fishburgers of all time. And note, spearfishing is banned here, as is fishing for Blue Groper.
Type: Rock fishing (by law you need to wear a lifejacket)
Catch: Bream, Parrot Fish, Red Rock Cod and Trevally
Best Time: Early morning
Manly Dam
Manly Vale
This beauty is a heritage-listed dam with a reservoir stretching into Allambie Heights. If you're a novice fisher, the wetland area is definitely a swell place to start. If you're wanting to make a full day of it, bring up a kayak, sweat it up on one of the bushwalks or load up the picnic basket for a solid feast.
Type: Freshwater fishing
Catch: Australian Bass, Silver Perch, Carp and Redfin
Best Time: Sunset (due to no tide)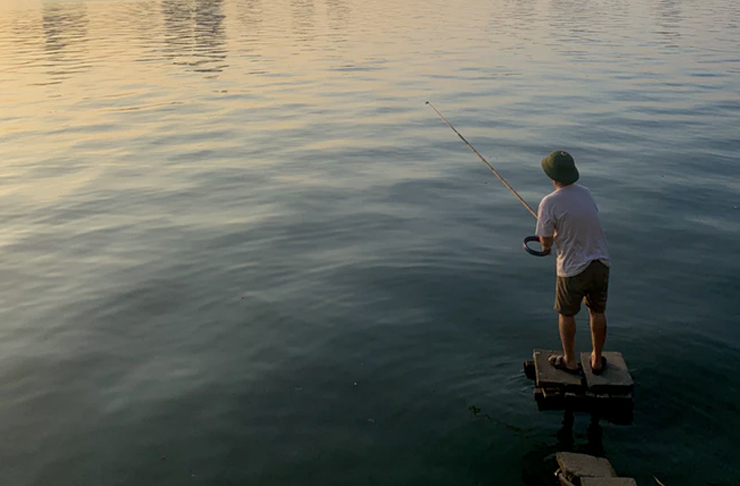 Gunnamatta Bay
Port Hacking
Head down to the shire for this fishing hotspot. Gunnamatta Bay is known for fishing off and around the nets surrounding its baths, which provide tons of food for the little fishies (convenient, we know). Hot tip: cast off the western side of the baths for the best chance of getting a bite.
Type: Jetty fishing
Catch: Flathead, Whiting, Bream
Best time: Morning
Beulah Street Wharf
Sydney Harbour
Sit across from the Opera House and cast your line into Sydney Harbour. While this spot can be more difficult to catch a bite due to fast currents, it's well worth it for the views. Yellowtail larger than your average can be found here, and again, you're best going after the last ferry for the best chances of snagging a big one.
Type: Wharf fishing
Catch: Squid, Yellowtail and Trevally
Best time: Night
Gladesville Wharf
Parramatta River
This popular spot known for its high population of the hard to catch Jewfish, is the perfect place to head down for a night time fishing session. Go after 9pm, when the last ferry has passed through, for the best chances of catching a line.
Type: Bank fishing
Catch: Jewfish, Flathead, Yellowtail
Best time: Night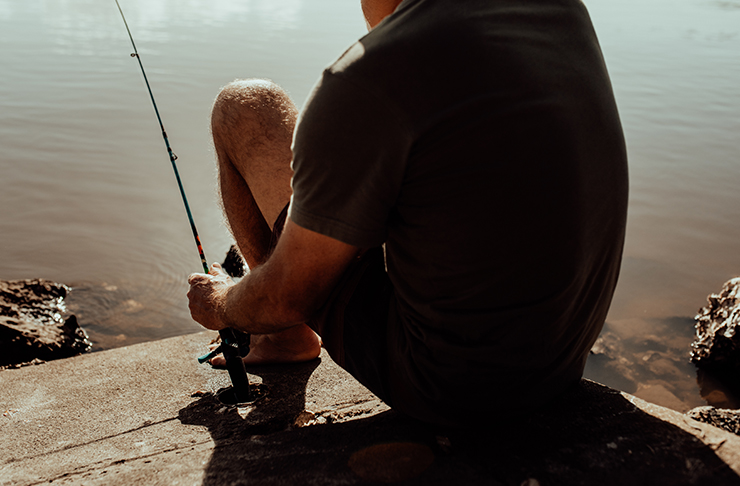 Tom Ugly's Bridge
Georges River
Your best bet over at Tom Ugly's Bridge is to set up over on the northern side and park right up next to where you're going to cast from. Bait with a few bloodworms and head here during the run-out tides for your best chance of catching a few Bream.
Type: Bank fishing
Catch: Bream, Tailor
Best time: Anytime, though very busy on weekends
Clifton Gardens
Port Jackson
One of the most picturesque spots in Sydney to fish has to be Clifton Gardens. The huge public pool attracts hordes of beachgoers, so our advice is to head out on the jetty and past the pool in the early morning, then cast off into the deep waters. Another option is to set up along the parklands, esky by your side (obviously).
Type: Bank and jetty fishing
Catch: Trevally, Bream, Yellowtail, Kingfish
Best time: Early morning
Brighton Le Sands Beach
Cooks River
The calm waves at this beach making it relatively quiet, so it's the perfect place for a spot of fishing. Bring your swimmers for a dip when it gets a bit too warm, then sit back and cast away. You're almost guaranteed a bite every time at this hotspot.
Type: Beach fishing
Catch: Bream, Tarwhine and Snapper
Best time: Early evening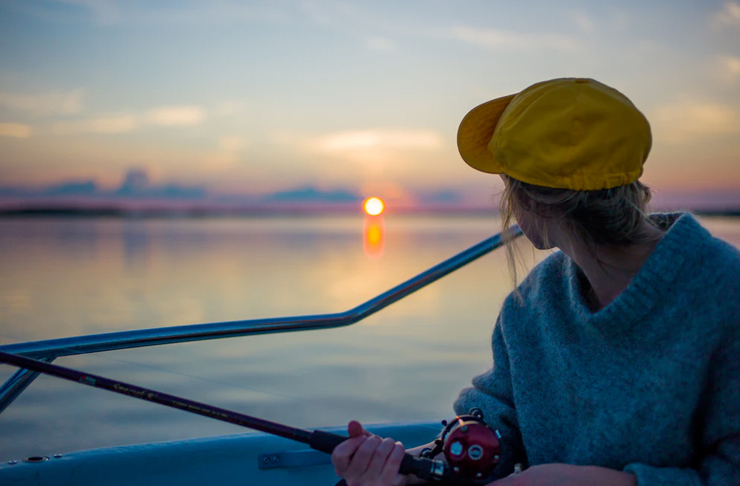 Clarkes Point Reserve
Parramatta and Lane Cove Rivers
Sitting right at the meeting point of the Parramatta and Lane Cove Rivers is Clarkes Point Reserve, where you will find the best of both worlds. For the run-out tide, cast off the eastern side of the peninsula, and for the run-in tide set yourself up over on the southern facing side. The reserve has great BBQ facilities, so why not bring the fam along for a picnic?
Type: Bank fishing
Catch: Leatherjackets, Bream, Snapper
Best time: Evening
Blues Point Reserve
Sydney Harbour
Another absolutely stunning place to cast a line in Sydney, Blues Point Reserve has unbeatable views of the Harbour Bridge and the Opera House. You'll need a decent cast to get out past the snags along the shore but it's worth it for the chance to catch Kingfish, Jewfish and even Salmon.
Type: Bank fishing
Catch: Trevally, Kingfish, Jewfish
Best time: Afternoon
Can't get enough of Sydney's waterways? Here are the most insane places to go kayaking in Sydney.
Image credit: DixanStudio, Duac Manh, Louise Beaumont, Anders Wideskott