New South Wales is a state rich with incredible lakes, perfect for serene fishing, dotted with long jetties and surrounded by lush tracks perfect for weekend bushwalks.
It's no surprise that lakes are a prime spot to hit when you're keen to escape the big smoke, whether it's for some peaceful lakeside camping or even just a day picnic to reset your soul. We've done some serious searching for the most beautiful lakes in NSW so brace yourself for the stillest of waters, kayaking heavens and even an ancient dry lake which now looks like Mars.
Check out the most beautiful lakes in NSW.
West
Yanga Lake
Yanga National Park
There are not many places in the world that get quite as still as Yanga Lake at sunset. This beautiful lake in NSW is the traditional home of the Muthi Muthi people, and sports a raised viewing deck, near Balranald, which puts you in a prime spot for some serious birdwatching (Yanga Lake is a breeding ground for over 150 species of migratory and water birds) and scenic wetland views. There are a tonne of beautiful places to hit for a picnic lakeside and even a walking track worth hitting for the more adventurous.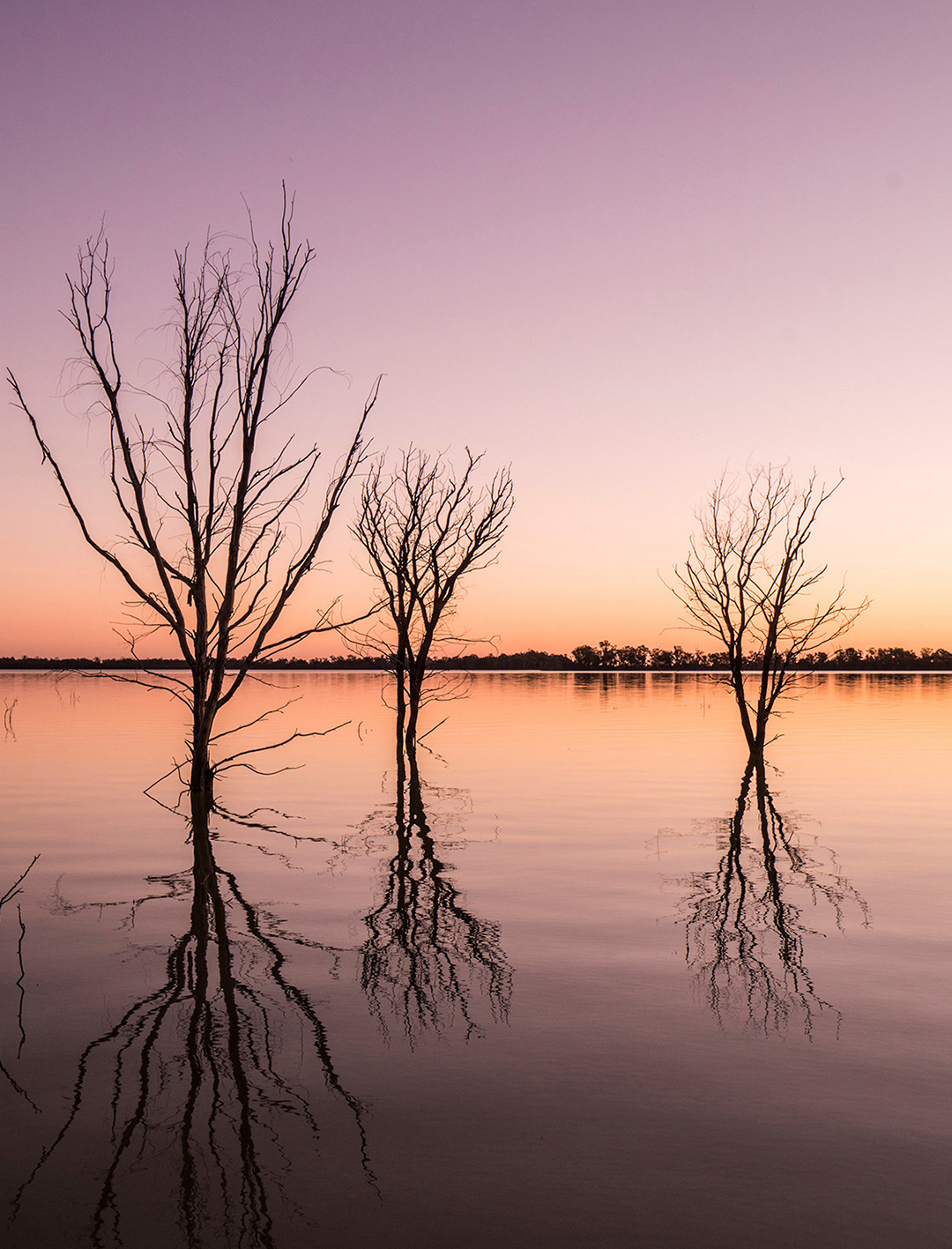 Lake Oberon
Oberon
Lake Oberon is an avid fisher's version of paradise but fear not, if you can't tell your lures from your jigs, there are plenty more things to do. On the casting-a-line side of things, Lake Oberon, home to the Koori tribes of Daruk and Wiradjuri, is stocked with Rainbow Trout and Golden Perch fingerlings. If that's not your jam, the lake is perfect for canoes, kayaks and small fishing or sailing dinghies on its pristine alpine waters.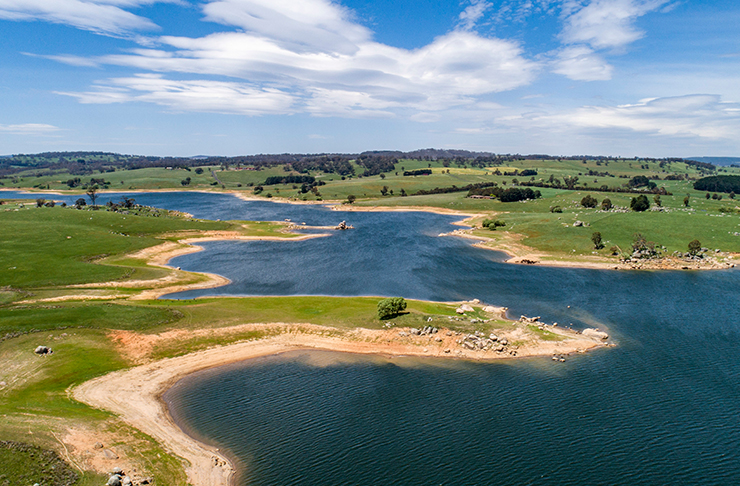 The Blue Lake
Jenolan Caves
Temporarily Closed
The Jenolan Caves is undeniably one of the most breathtaking areas in all of NSW. Among many other natural wonders, you'll find the majestic Blue Lake, another manmade lake linked to the River Styx and the Jenolan River. Home to the Gundungarra tribes, the caved areas around the lake and streams that spider out from them were used to help sick members of the tribe (the water was believed to have special curing abilities).
Around The Blue Lake, you'll find many palm trees, ferns and the odd platypus too. As for why the water glows such a bright blue, it's made by the refraction of light which hits the limestone deposits below the surface of the water.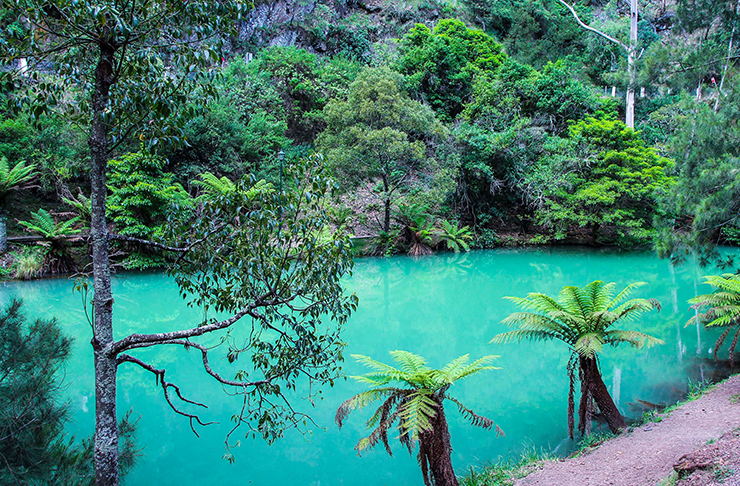 Menindee Lakes
Menindee
Branching out from the Darling River, the Menindee Lakes is a chain of shallow freshwater lakes (south-west from Broken Hill). When these lakes are entirely full, they actually hold about three and a half times as much water as Sydney Harbour (so… a lot). You can access these lakes from a number of different points but we suggest heading through the ever-stunning Kinchega National Park. This area is the traditional land of the Paakantji Nation who used the lakes to catch fish, either spearing from canoes or diving and using nets and fish traps made from baskets.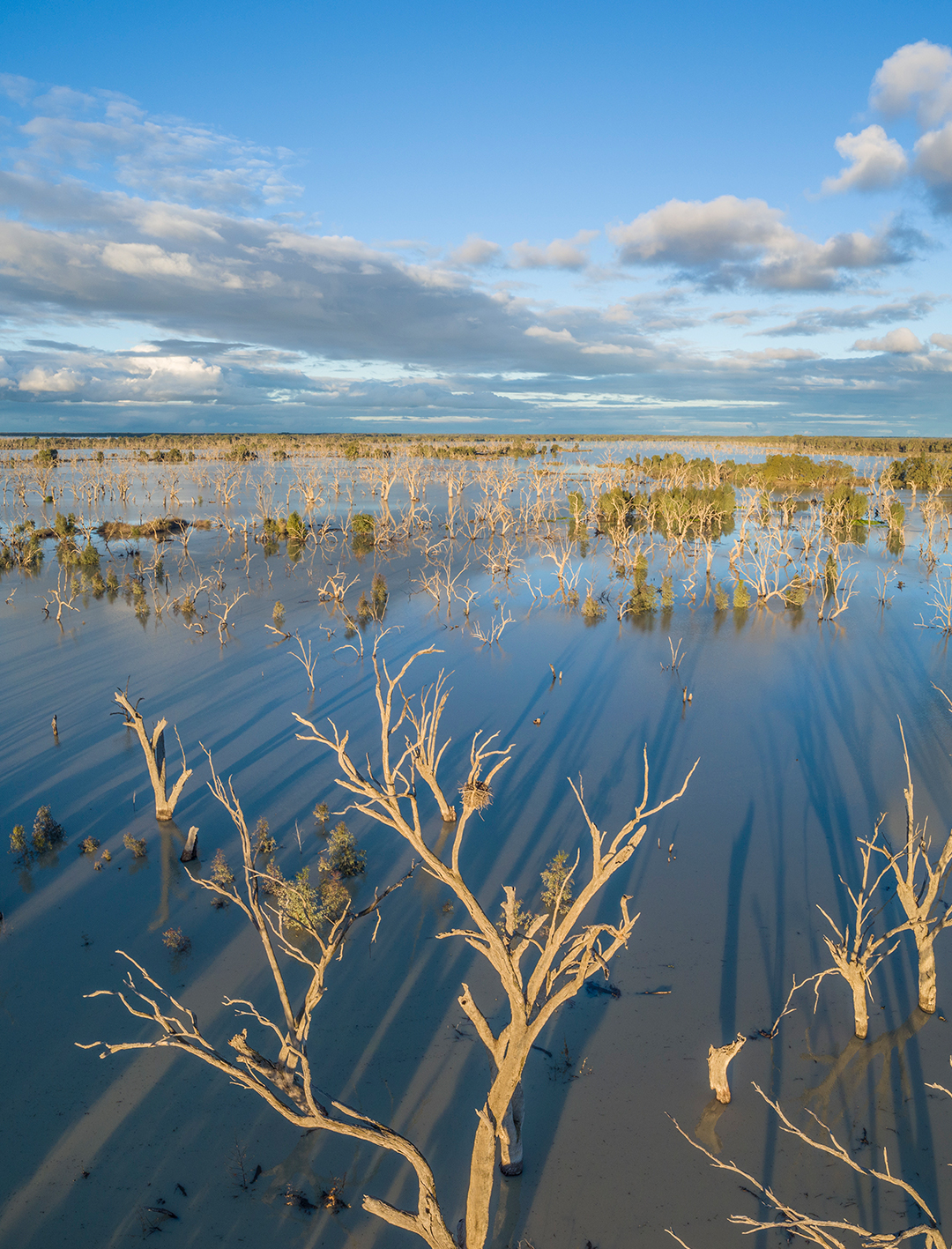 South
Lake Jindabyne
Snowy Mountains
For kayaking, your best bet is to hit the crispy waters of Lake Jindabyne—the state's largest freshwater reservoir. The beautiful thing about this lake is that it's surrounded by activities, spas, restaurants, cafes, brewpubs and distilleries, our favourite being the Wildbrumby Distillery where you can actually try Aussie schnapps from locally sourced fruit.. The Snowy Mountains region was also traditionally the home of two Indigenous clans, with the Walgal people occupying the north of the region (Kosciuszko National Park) and the Ngarigo people living more towards the highlands.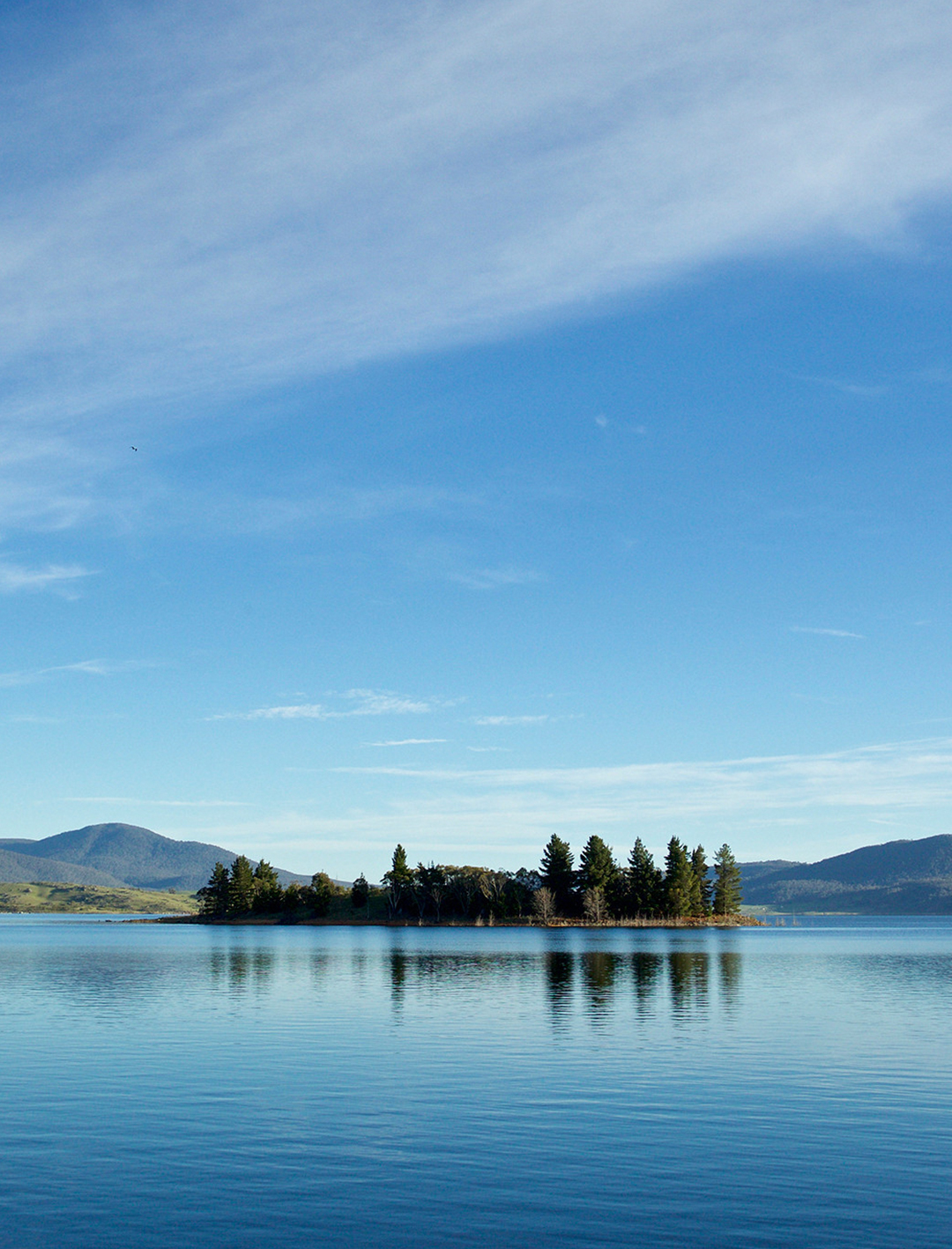 Lake Hume
Albury Wodonga
Lake Hume is at the forefront of any serious road tripper's holiday plans. Not only will it mean you'll get to drive out of Sydney through the Southern Highlands and past the hidden country gem of Jugiong, but it's just a truly wholesome place to hang out for a week when you want some R&R from the city life. All year around you can go boating, camping and fishing. The lake is filled with Golden Perch, Murray Cod, Rainbow Trout and Redfin—you just need a Victorian fishing license (no matter what part of the lake you fish at). This area was previously known as Bungambrawatha by the Wiradjuri People.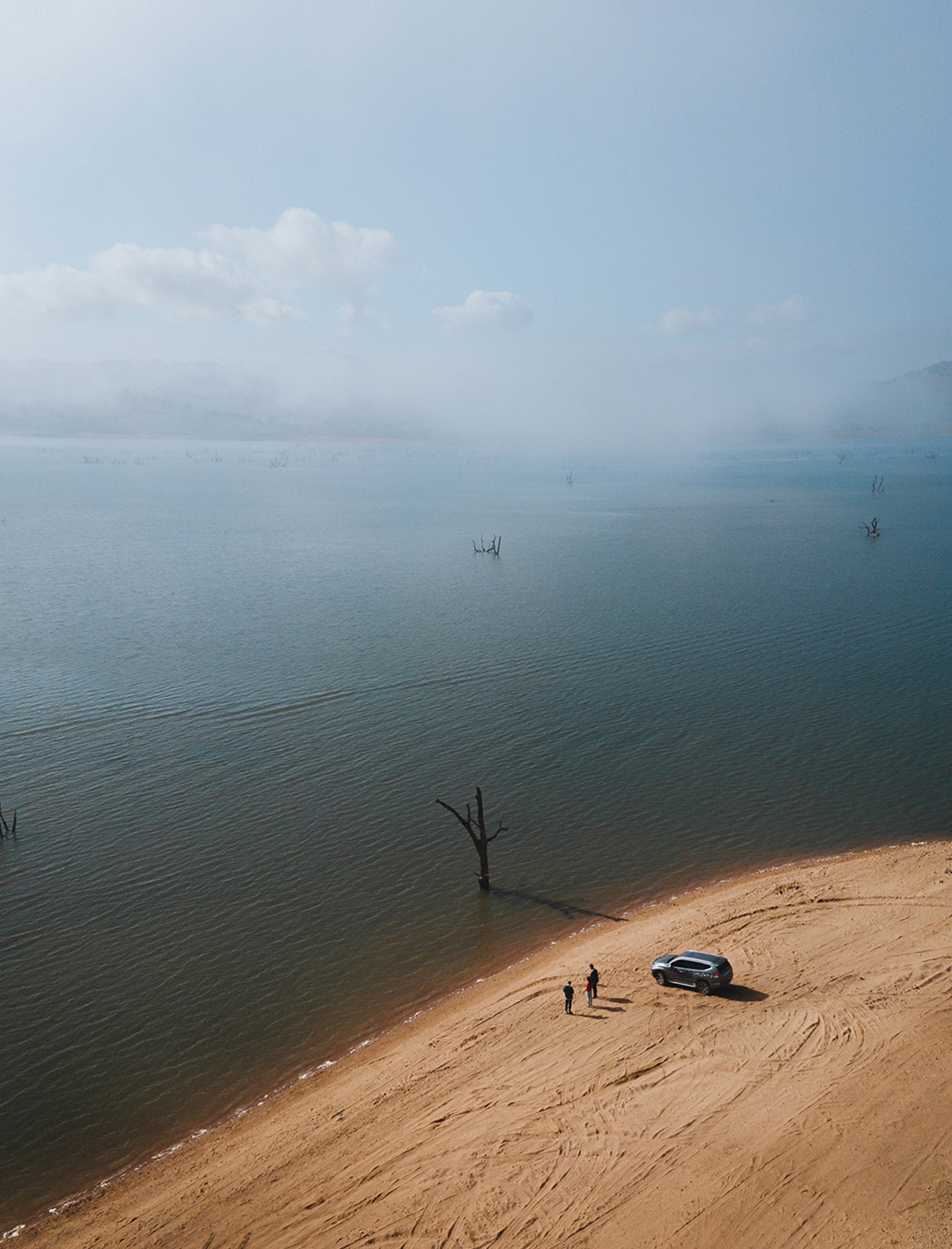 Lake Mulwala
Mulwala
If you've ever wanted to go kayaking at dusk while a big full moon rises, you've come to the right place. Lake Mulwala sits on the brink of NSW and Victoria and she's a truly magnificent sight no matter what time of day you visit. Dotted with ghostly river red gums, the lake is another manmade reservoir designed to secure irrigation for agriculture for people who live in the area. The lake has also been dubbed an aquatic playground due to all the waterslides, swimming pools and splash parks in the area. The name "Mulwala" is an Indigenous word meaning "rain" and the Pangerang Tribe are the original custodians of the area.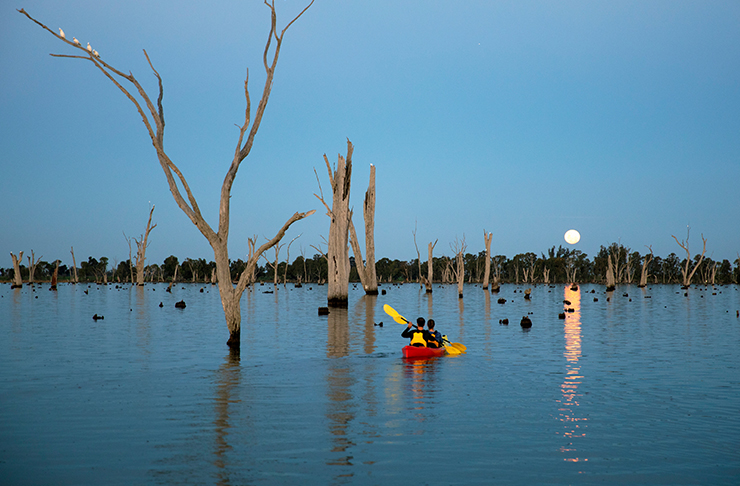 Lake Illawarra
Shellharbour
Lake Illawarra is as much of a lake as she is a glorified gigantic ocean lagoon but how could we not include her in this list? Made up of fresh water (from the escarpment) and salty water from the ocean, this lake is a big hotspot for fish, prawning and a heap of watersports (including boating, fishing and snorkelling). It's not hard to see what makes this beauty one of the most picturesque spots on the coast and one of the most incredibly breathtaking lakes in NSW.
You'll find this wide expanse of water in Shellharbour, given its name by European settlers due to all the shells found in Indigenous middens—sites where First Nations People would leave the remains of their meals. Before this, the area had been named both "Yerrowah", meaning "meeting place" and "Wonwin", a place where there is big fish by the Wodi Wodi (also known as Wadi Wadi) tribe, a smaller group under the Dharawal group.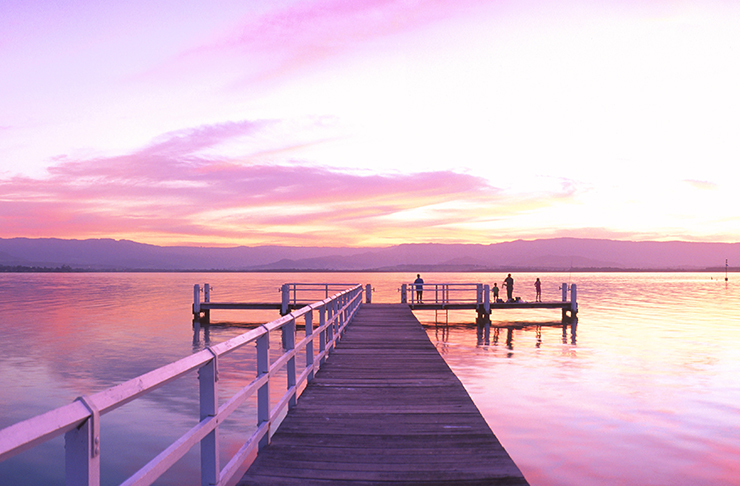 Wallaga Lake
Bermagui
Wallaga Lake is the largest lake in southern NSW and here, everything is on the table. The fishing is incredible and the lake is also perfect for swimming, boating, sailing, water skiing, bushwalking and all the bird and wildlife watching too. Within the lake, you'll be able to spot Merriman's Island, an area not accessible to the public due to the cultural significance it holds for the Yuin-Monaro People, the traditional custodians of this area. There are also numerous middens and artefacts, like cutting stones, around the lake (to conserve these, it's asked that you do not touch or move them).
Wallaga Lake is also super close to some pretty surreal bucket-list sites too. On the beachside of the lake, you'll find Horse Head Rock, a natural rock arch believed to be around 500 million years old. Montreal Goldfield, Australia's only seaside goldfield and Murunna Point ("murunna" meaning "clear waters") which offers elevated views of Gulaga, Wallaga and Camel Rock Beach is also closeby.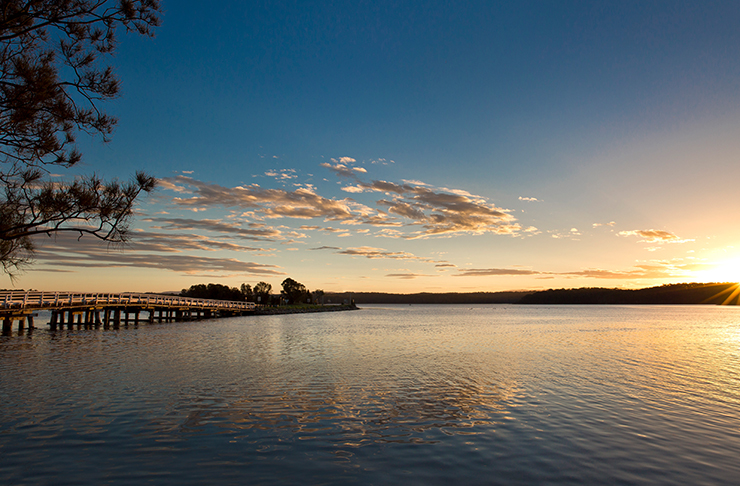 Tilba Tilba Lake
Central Tilba
This saline coastal lagoon is one of the most stunning places to camp (imagine drinks by the fire and 360-degree views of Tilba Tilba Lake, the Pacific Ocean and Mount Dromedary). The lake is completely surrounded by lush green rolling hills and pastures so you'll be in for some pretty dreamy, country charm. The traditional peoples of Tilba Tilba (which means "many waters") are the Yuin Nation.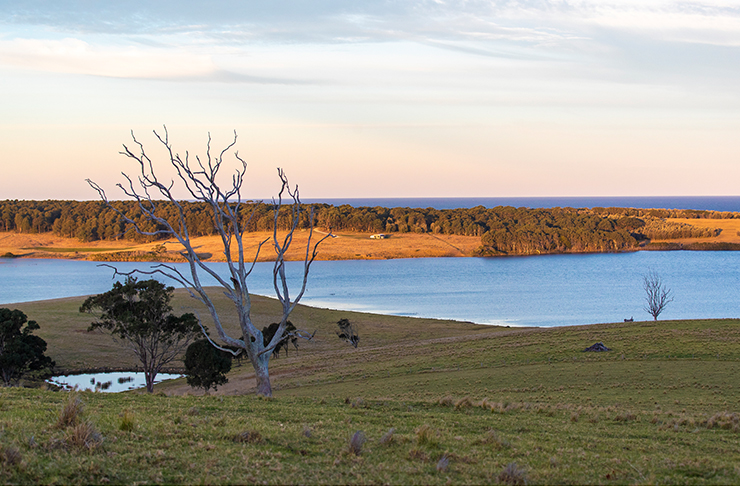 North
Lake Burrendong
Dubbo
She may not be a "natural" lake but she's a damn beautiful one at that. Lake Burrendong is completely hugged by dense bushland making her a top spot for bushwalkers and campers (you'll find two-holiday parks hanging around here too). The Tubbagah People of the Wiradjuri Nation, the largest Indigenous group in NSW, are this region's traditional owners.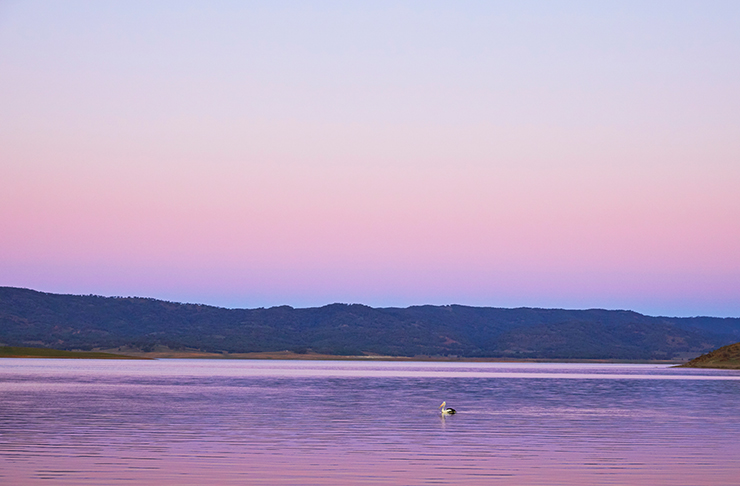 Mungo Lake
Mungo National Park
Mungo Lake might look like anything but a lake, however, this culturally significant site is exactly that (sans wetness though). It's one of 17 lakes in the World Heritage Listed Willandra Lakes Region and numerous archaeological findings have been made here including the discovery of "Mungo Man", the oldest human remains found in Australia and "Mungo Woman", the oldest cremated human remains in the world. The dry lake is also home to findings which confirm that First Nations people were living on the Australian continent from 50,000 years BP.
The landscape at Lake Mungo (which hasn't kept water for around 18,000 years) looks and feels like you could be on Mars, with big red sand plains stretching for kilometres.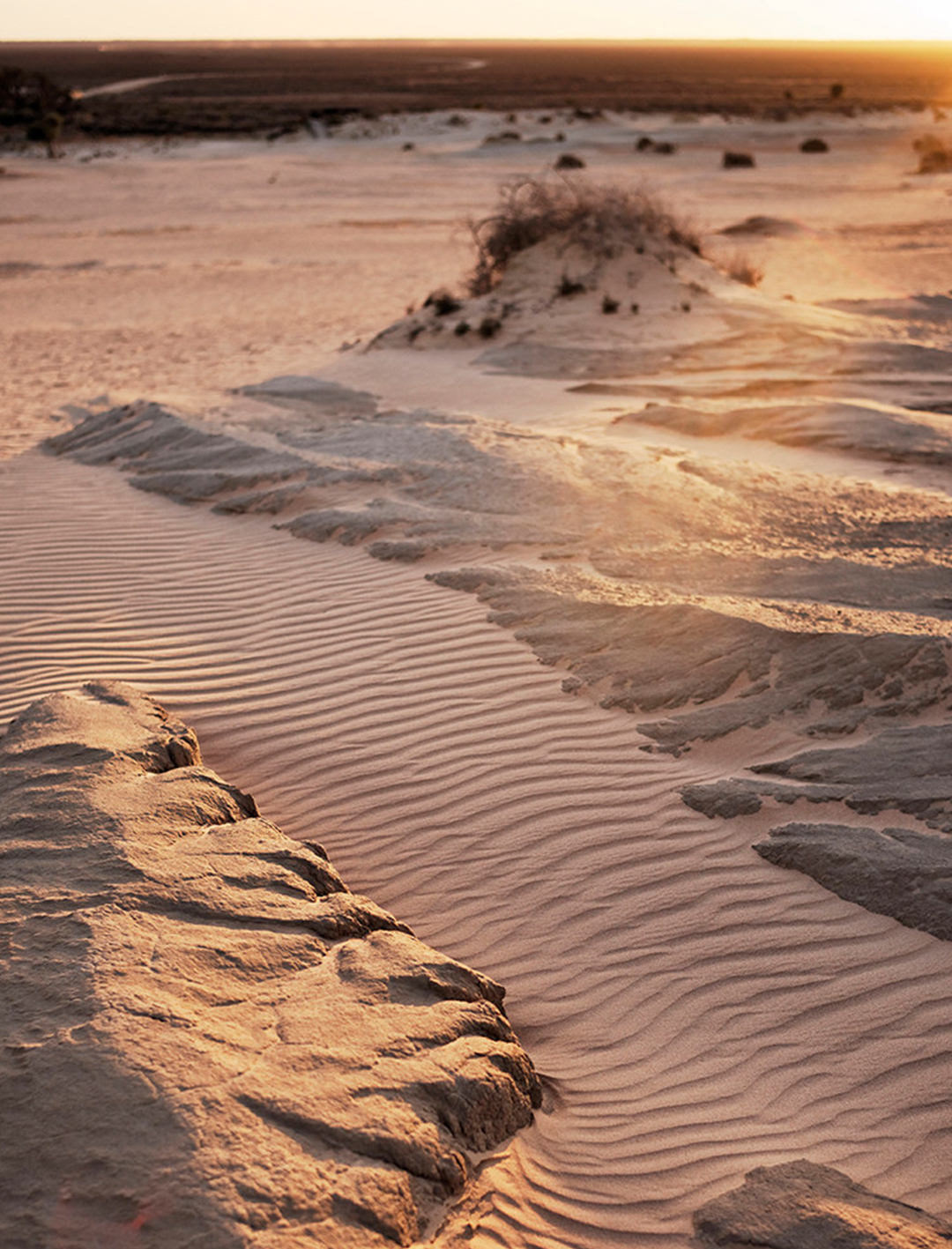 And while you're out here, check out the best country ice-cream shops.
Image credit: Destination NSW