Sydney may take the cake for some of the best beaches in the world, (no bias there, whatsoever) but nestled in and around the big smoke and beyond our coastline is an epic line-up of next-level parks.
Whether you're looking for the next best place to zen out with your house bubble, the ultimate space for a BBQ with four mates, or just a nice stretch of green to kick a footy around, we've got you sorted. From beachside and riverside parks to urban escapes, and even lush headlands for sunrise watching, prepare to be surrounded by natural bliss.
All set? Grab the picnic basket, these are the best parks to check out in Sydney.
Best Parks In Central Sydney
Barangaroo Reserve
Barangaroo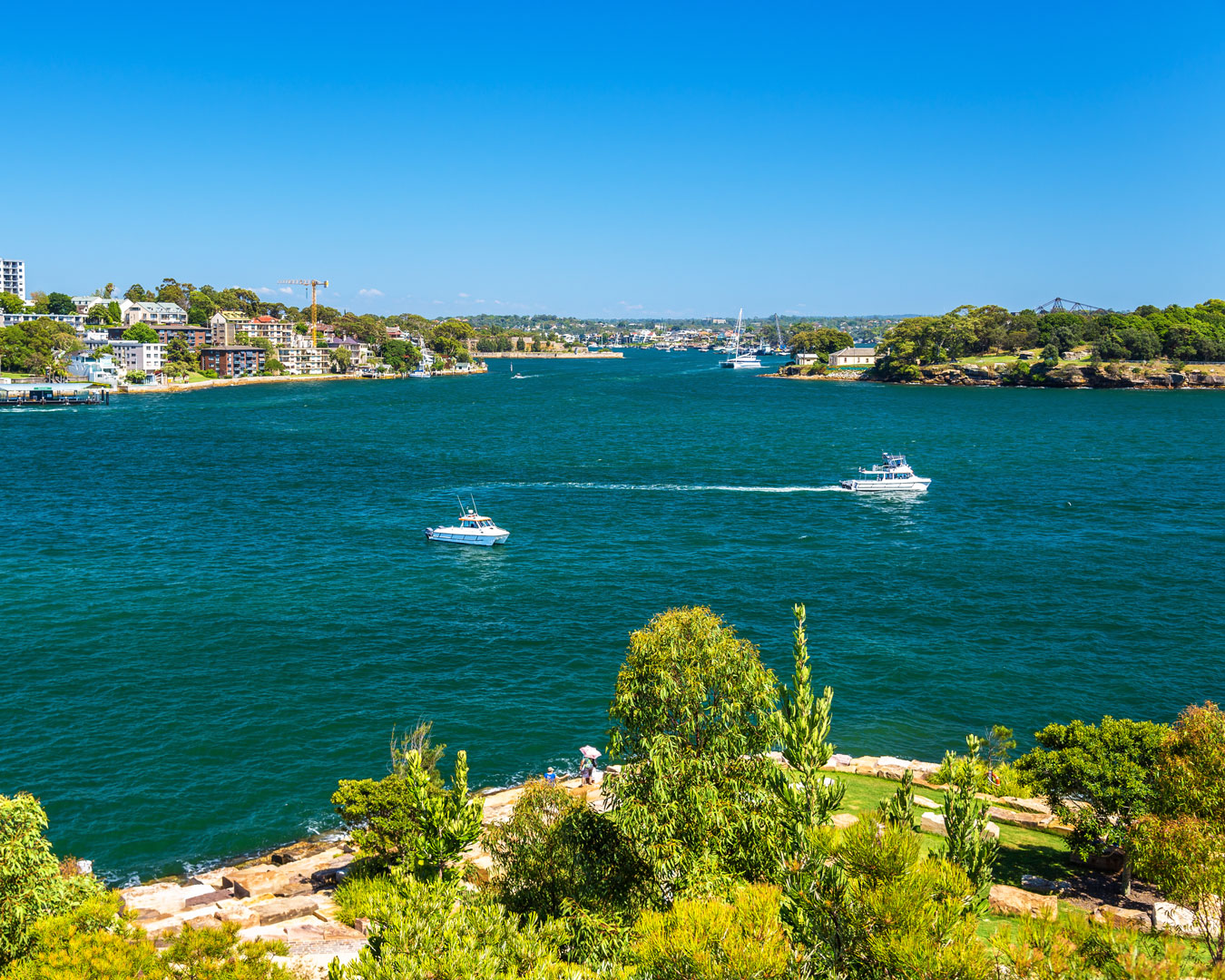 Barangaroo Reserve is one of Sydney's newest parks—transformed from an old industrial terminal in 2015. Set across 15-acres, it sits pretty just west of the city on the foreshore in front of the shiny Barangaroo business and dining precinct. Its lawns and coves have been designed to reflect what the headland would have looked like before colonial life, with sandstone blocks lining pathways and gardens. Check our Nawi Cove and Stargazer Lawn for picnics. The Cutaway is the park's incredible subterranean gallery, carved out from the headland's rocky core.
Observatory Park
Millers Point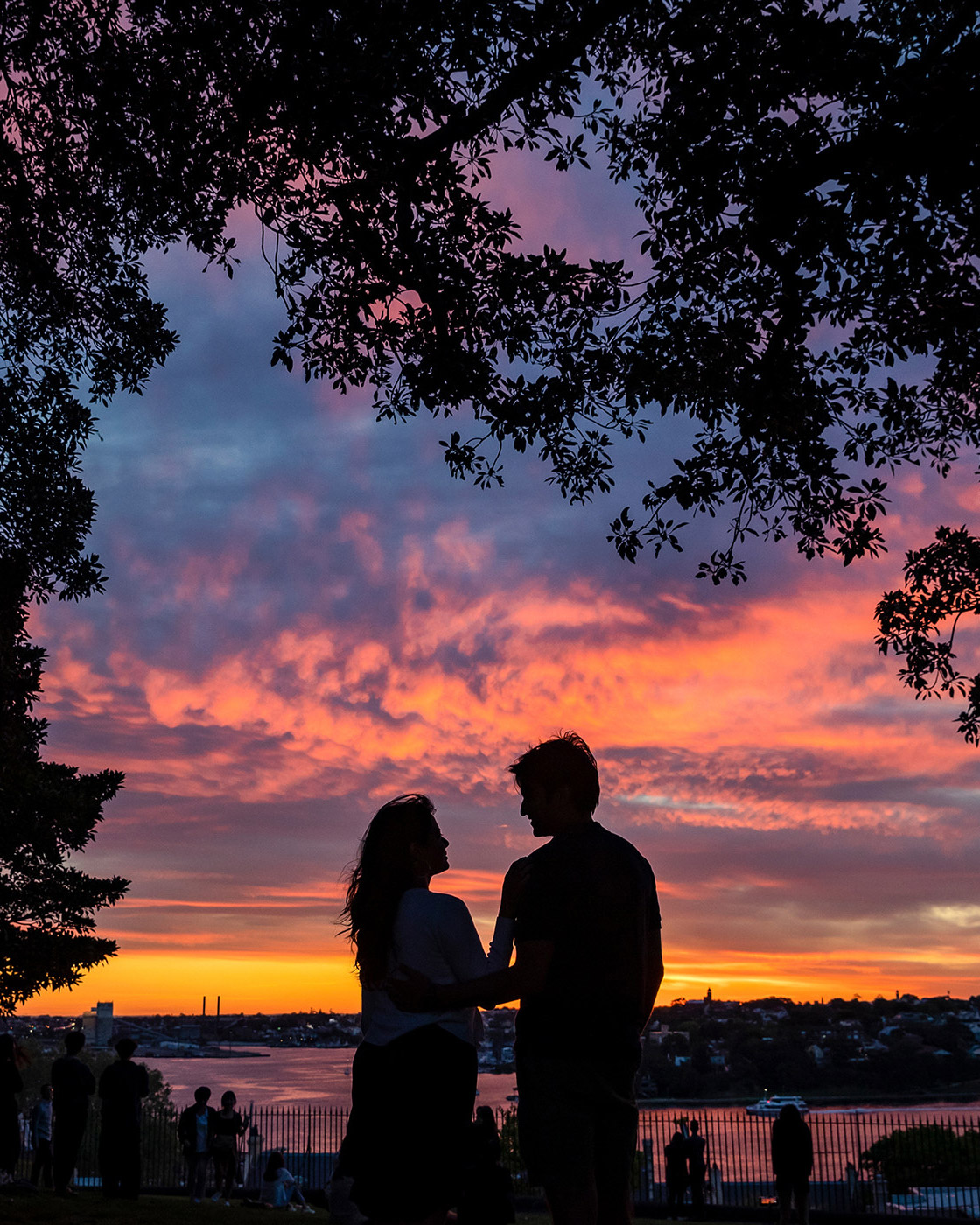 Most romantic park in Sydney? Yep, we'd back that. Pack a sunset picnic and watch the sky turn pink behind the Harbour Bridge and the twinkling lights of Luna Park. Within Observatory Park, also known as Observatory Hill, The Rotunda is a popular wedding destination and the Sydney Observatory, outside of COVID restrictions, runs nightly stargazing tours if you're searching for an after sunset activity. The area is off-leash for dogs.
Centennial Park
Centennial Park
You could actually get lost in sprawling Centennial Park and it's hands down one of the most beautiful green enclosures in Sydney. Taking up a casual 189 hectares of wide-open space, this park is a natural escape from the urban jungle surrounding it. She's an epicentre of biodiversity, wetlands, curated gardens and guaranteed stunning vistas whichever way you look. And it'll come as no shock that this one is the perfect spot for a picnic, rollerblade, cycle—even horse ride via the Centennial Park Equestrian Centre.
The Royal Botanic Garden
CBD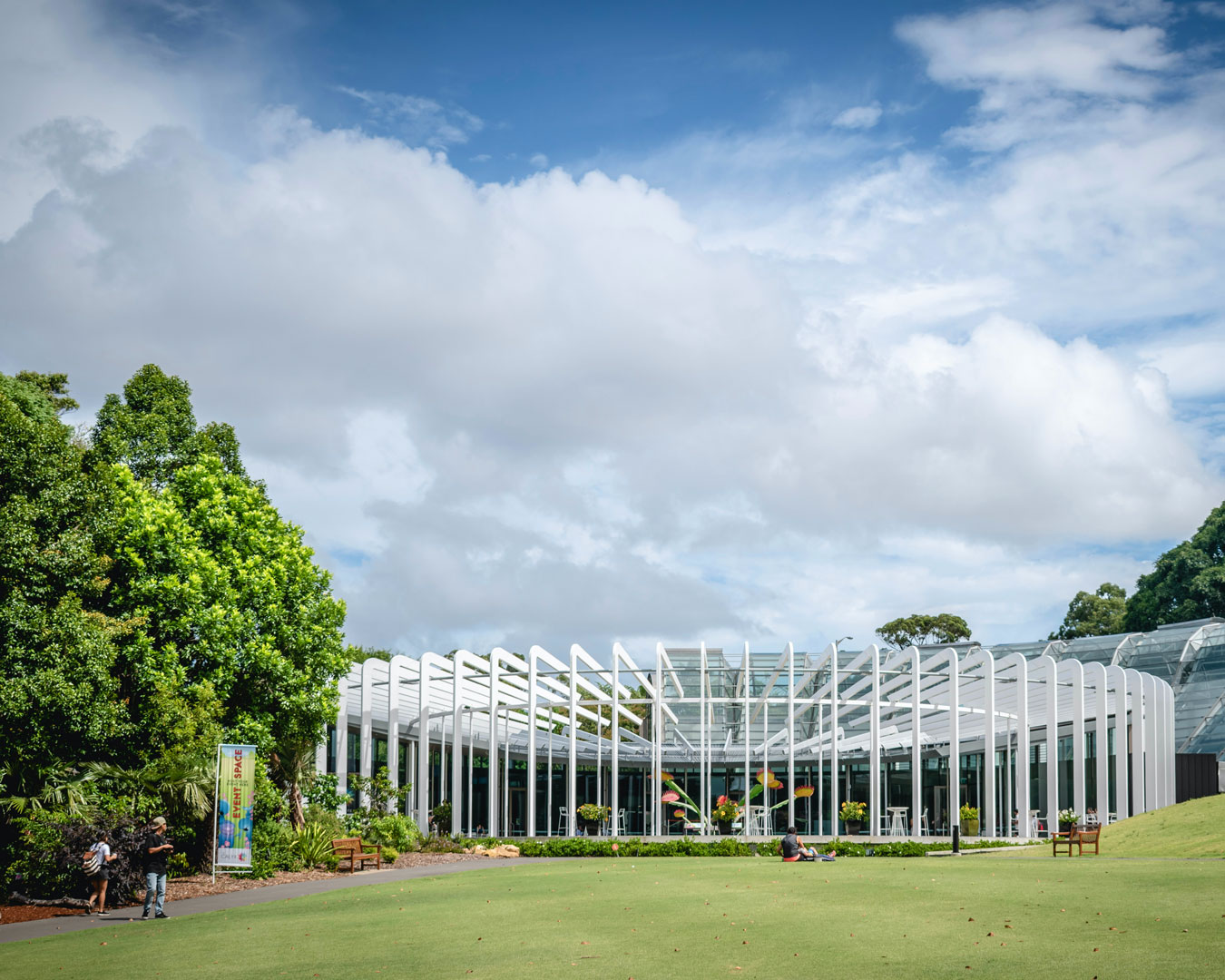 Sydney's oldest garden is maybe its most magical—The Royal Botanic Garden was founded in 1816 and it is home to thousands of beautiful native and non-native plants. For any budding gardeners, a stroll through the Botanic Garden will absolutely inspire, from the Australian Native Rockery, filled with flowers that only grow in Australia, to the palm grove, herb garden, and Palace Rose Garden with views of sparkly Sydney Harbour. Picnicking is allowed in some areas of the Garden—check here for more details. And check here for COVID restrictions and updates.
Prince Alfred Park
Surry Hills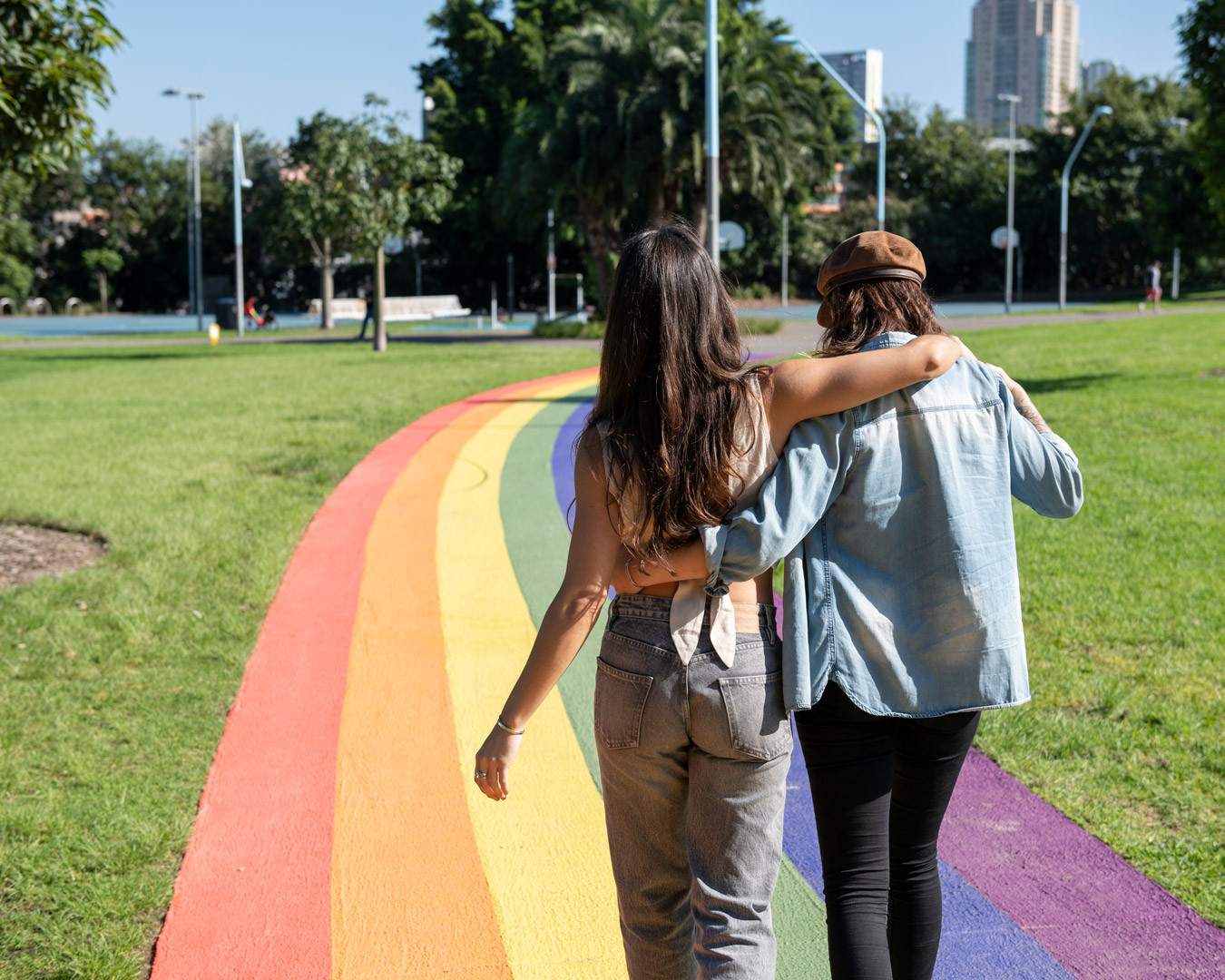 Right next to Central Station, Prince Alfred Park is a real stunner. A permanent rainbow path leads to Equality Green, named in honour of the legalisation of marriage equality in 2017. Within the 7.5-hectare park, there are heaps of BBQ and picnic areas, a fully accessible heated pool (also known as "Redfern Beach"), bright blue basketball courts, tennis courts for hire, a playground, and stretches of green perfect for catching a little sunshine. Prince Alfred Park is also off-leash, meaning it's a great spot for furry friends too. The pool is currently closed due to COVID restrictions—check here for more.
Best Parks In North Sydney And The Northern Beaches
Wendy's Secret Garden
LAVENDER BAY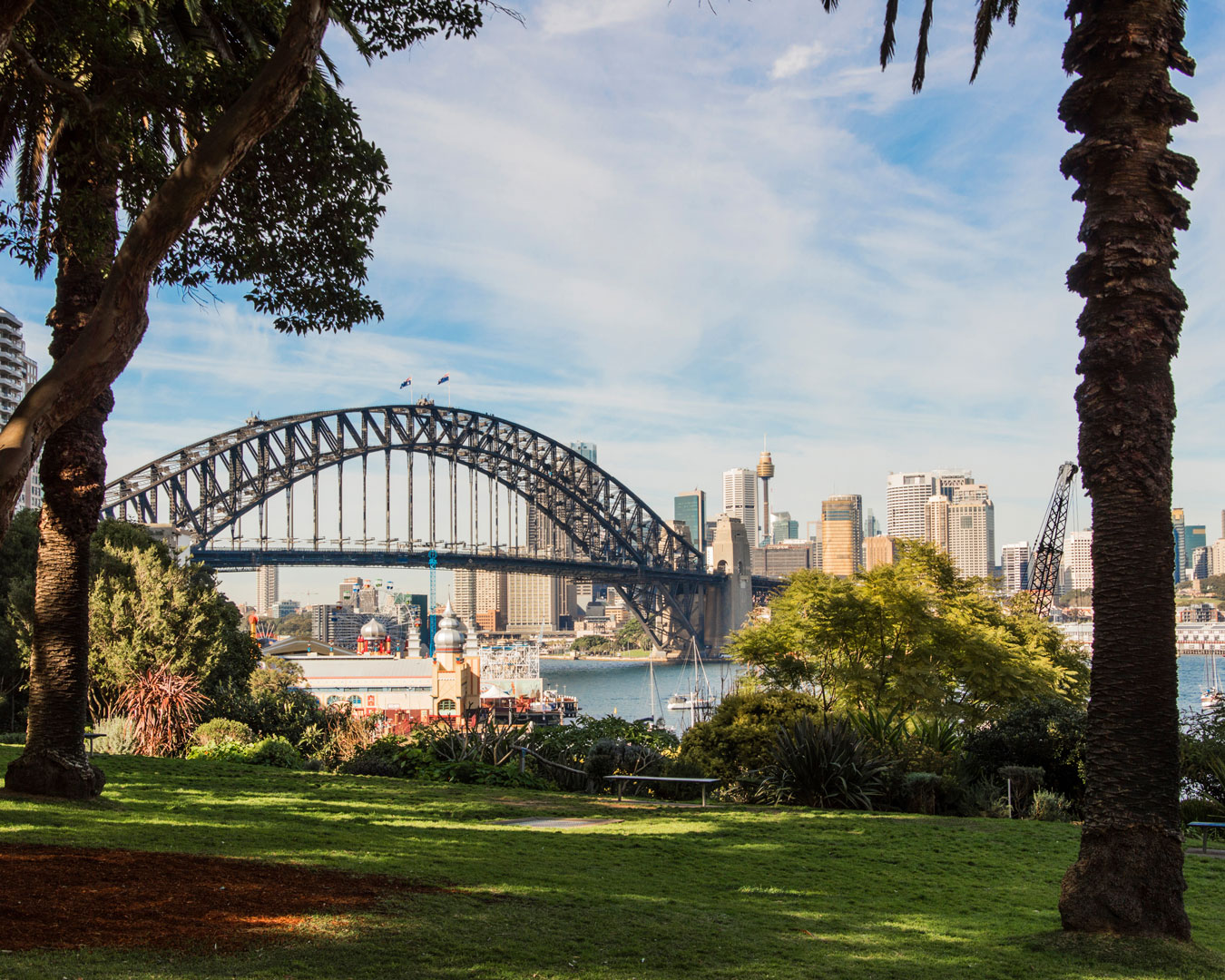 Wendy's Secret Garden is quite possibly one of the most charming green spaces in Sydney. It was dreamt up by Wendy Whiteley, wife of the late artist Brett Whiteley and an artist in her own right. Once a vacant block of land beside railway tracks, Wendy turned it into an oasis, and in 2015, it was declared a public park. In it, you'll find various artefacts and artworks—at the entrance a bronze statue of a female head by Australian sculptor Joel Elenberg, an Ian Marr statue and a Margaret Olley, an old scooter, and a cherub birdbath. Set up at one of the picnic tables and enjoy views of Sydney Harbour.
Milson Park
Kirribilli
Let's just say, North Sydney Council truly nails it when it comes to having some of the prettiest and historically significant parks. Milson Park is a huge standout as one of Sydney's best, boasting harbour views, towering palm trees, picnic tables, dog areas (with some restrictions), and one stellar community garden. This foreshore park is also a sweet spot for Jacaranda trees come springtime. And, nearby Bradfield Park is another north side, awe-inducing spot if you want to take in the grandeur of the Sydney Harbour Bridge.
Clifton Gardens Reserve
Manly
This waterfront park in Mosman is a great spot to visit on the weekend. Nestled behind a harbour beach, you can jump between the grass and the ocean with ease. Spend a lazy Sunday birdwatching, or grab a coffee and a bite to eat while the kids visit the decked out playground. There's even an area for dogs to run off the leash so they don't have to be left behind.
Manly Warringah War Memorial State Park
Manly
More affectionately known as "Manly Dam", this park will give you all the wholesome feels. Great for picnics by the water (however, dogs aren't permitted here), bush walks, mountain biking and a spot of water skiing, there's no doubt your time here will be filled with all the best outdoorsy antics. There are four picnic areas at Manly Dam, which include a range of settings—so whether you're keen on grassy surrounds, lakeside eats or bushland BBQs, you'll be covered.
Berry Island Reserve
Wollstonecraft
Looking for a delightful slice of urban bushland reserve with top Harbourside views to set up a barbecue? Dog-friendly Berry Island Reserve has you sorted. The foreshore location includes barbecues, tables, a playground, and best of all, the picturesque Gadyan Track bushwalk around the "island", which is out of place so close to the city but extremely welcome. Keep an eye out for signs of rich Aboriginal history along the 20-minute walk. Whether for a long lunch taking in the gorgeous views or for a couple of drinks as the sun sets–this is the idyllic barbecue hang out spot.
Best Parks In Sydney's Eastern Suburbs
Bronte Park
Bronte Beach
We're not going to lie, finding a car park near Bronte Park is near impossible on a cracking summer's day, but there's a damn good reason why this beauty gets packed to the rafters. It's a perfect spot for beachside BBQs, sheltered seating, green space for all the frisbee, footy kicking, and general frolicking, parties, picnics, and lazing about.
Christison Park
Vaucluse
Wrapping around the South headlands and overlooking the ocean and cliffs that line it, Christison Park is a stunning spot for your morning walk. It's the size of a few football fields complete with goalposts and the dogs absolutely love it here. The recently renovated exercise equipment is a great, free solution for your morning workout (just bring some sanitiser with you!). Hit up The Grumpy Baker on arrival for a takeaway pastry and delicious coffee. Then walk down to Watsons Bay or along the coastal cliff walk for more stunning ocean views.
Best Parks In South Sydney
Sir Joseph Banks Park
Botany
There aren't many boxes the Sir Jospeh Banks Park doesn't tick, which is why it classifies as one of the best green spaces to get around in Sydney. Dotted in fresh gardens, sports fields, picnic areas, a maze, jogging paths, cycle paths, duck ponds and a basketball half-court (near the Hayden Place entrance), this absolute cracker embodies all the serenity you're after.
Oatley Park
Hurstville
Oatley Park is truly iconic (you might also remember it as Peakhurst Park back in the day) and is known for its river beaches along the Georges River. Taking up around 45 hectares, this park has everything you need for the perfect day out with ovals, swimming enclosures, a pier to relax on, a wall garden, lookouts, Dracula's Canteen (a large cave and overhanging rock) and, to really top it all off, an old castle to explore.
EG Waterhouse National Camellia Gardens
Caringbah
Recognised by the International Camellia Society as a "Camellia Garden of Excellence" in 2014 (there are only 60 in the world), this is a super special spot in The Shire. Featuring pretty paths lined with blooms, duck ponds, rose gardens, and a view over Yowie Bay, the Camellia Gardens are a perfect spot for a picnic with beautiful scenery. If you're keen to feed the ducks, you can pick up duck feed at the Tea House.
Best Parks In Western Sydney And Sydney's Inner West
Parramatta Park
Parramatta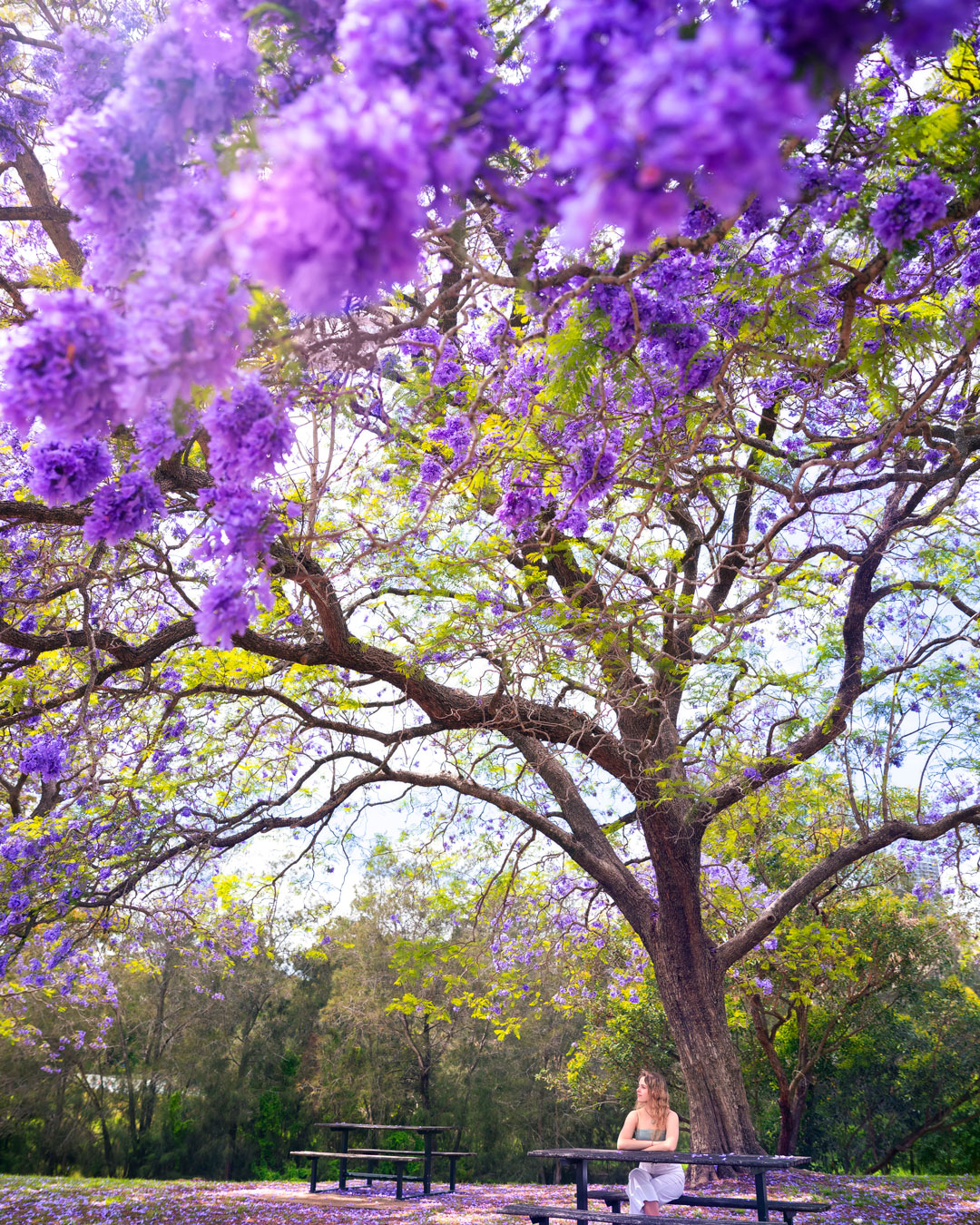 This sprawling park in Parramatta dates back 160 years. Taking up 85 hectares of wide-open space, Parramatta Park houses gardens, bushland, picnic spots, monuments, playgrounds, waterways, cycle paths, walking tracks, and bright purple jacarandas come November. The park is rich with tens of thousands of years of Indigenous culture, being a deeply important place to the local Dharug people. Along the Burramatta Landscape Trail—a new initiative launched in July 2021—Dharug community members have planted yams and other rare vegetables important to Dharug culture.
During the current COVID-19 outbreak in Sydney, the Parramatta Park oval has been turned into a walk-in testing clinic and the park's BBQ areas are closed. However, the remainder of the park's green spaces are still open in accordance with the current COVID restrictions. Read more here.
Sydney Park
St Peters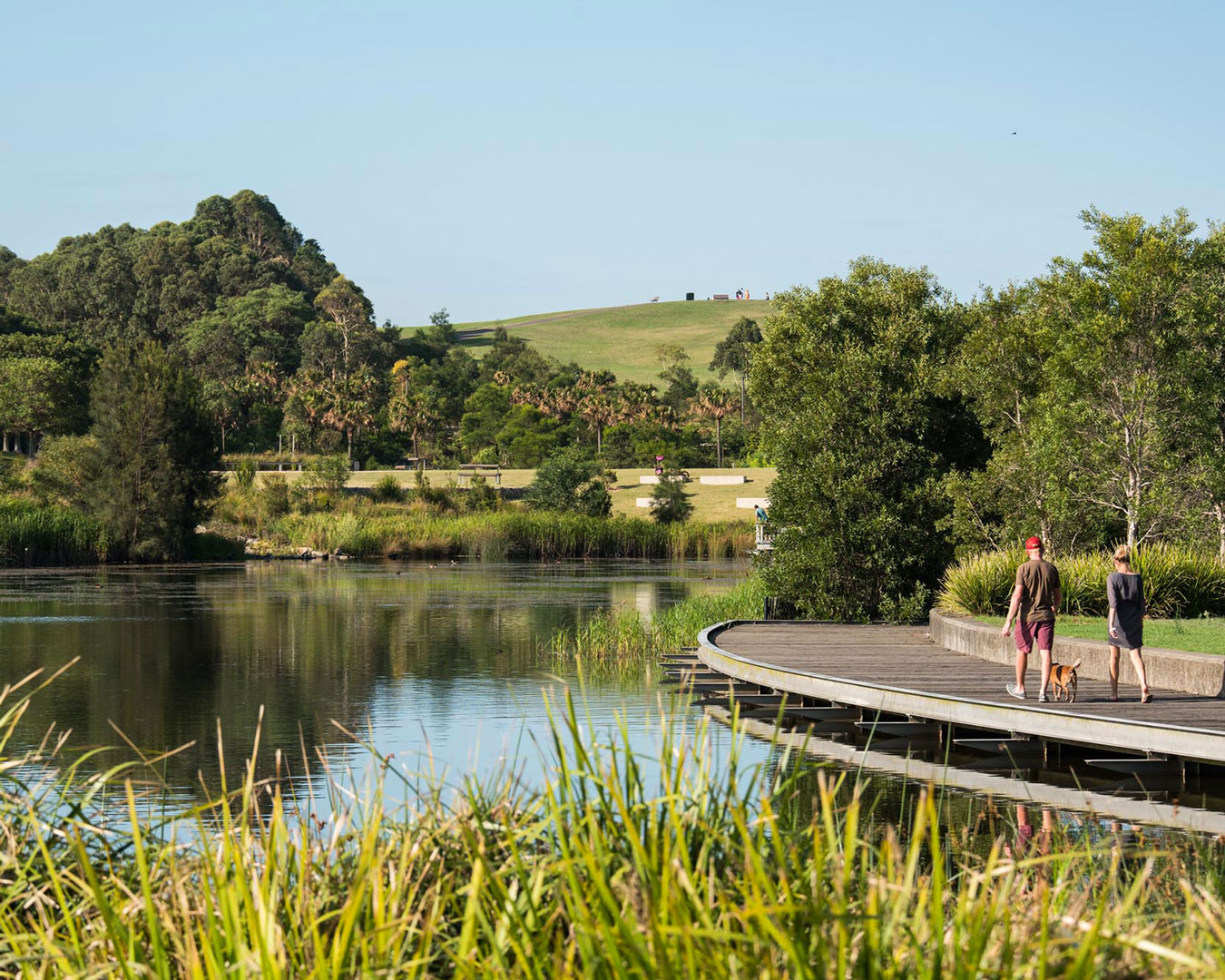 Smack-bang at the end of South King Street, this Inner West park is a green oasis, made up of 40 glorious hectares of lush grass and gardens, rolling hills, pathways, wetlands, and off-leash dog spots. Creeks flow throughout the park and there's a tonne of picturesque viewing decks to take advantage of too if you're aiming to fit some zen time into your morning or afternoon walk. There are picnic spots aplenty here—the hardest part will be choosing where you want to throw down your blanket.
Glebe Foreshore Parks
Annandale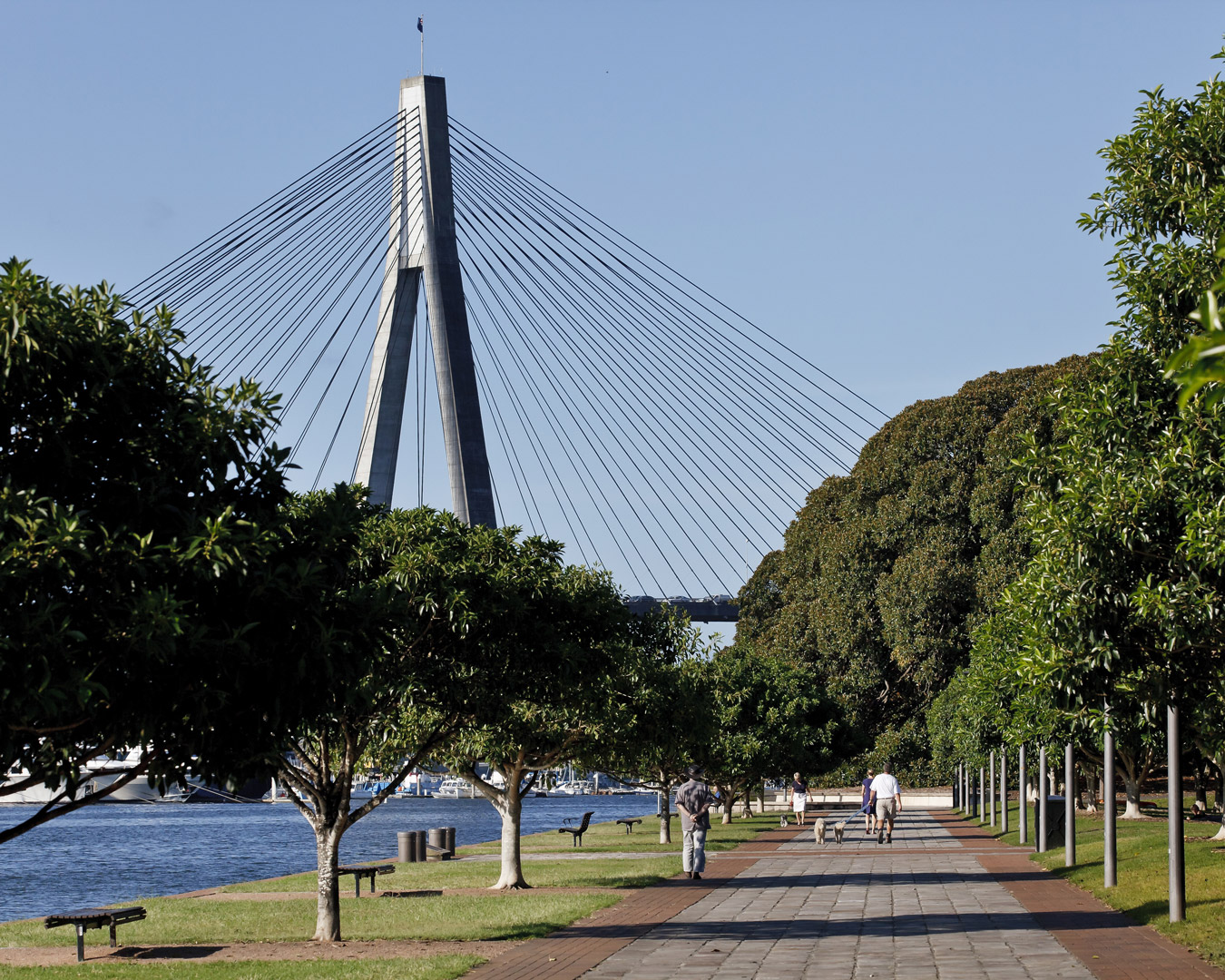 This collection of Inner West greenery is made up of four harbourside parks, namely, Jubilee, Federal, Blackwattle Bay and Bicentennial Park. They form an idyllic stretch along the foreshore with stunning views of the Anzac Bridge and the sparkly waters of Rozelle Bay. Federal Park features sports fields and a skate park, if you need some high energy activity to go with your picnic. Jubilee has a little cricket heritage with its historic cricket pavilion, while Blackwattle Bay and Bicentennial are all about sweeping green lawns and harbour views perfect for picnicking.
Western Sydney Parklands
Blacktown, Fairfield and Liverpool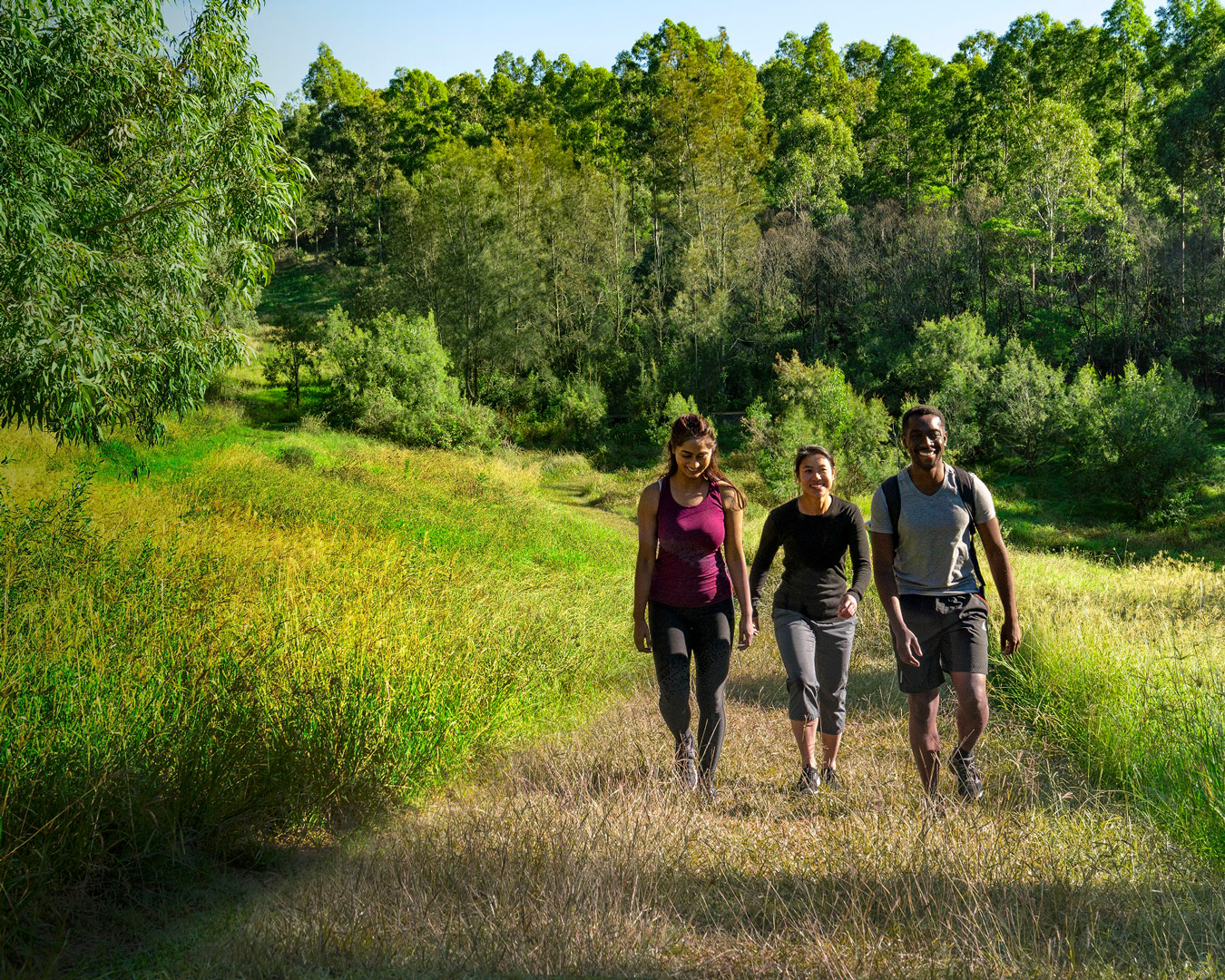 Not familiar with Western Sydney Parklands? This sprawling oasis is the largest urban park in Australia and one of the largest in the world, covering bushland across Blacktown, Fairfield and Liverpool. Often dubbed "Sydney's Biggest Backyard", it's about 14 times bigger than the Royal Botanic Garden, The Domain, Centennial Park and Moore Park combined and features 16 precincts, 50 park areas, Sydney's largest off-leash dog areas, and heaps of picnic spots, pathways and trails to explore. There are more than nine trails to check out and all fitness levels are catered to and there's a casual 60km of paths to explore.
Bicentennial Park
Sydney Olympic Park
Not to be confused with the three or four other "Bicentennial Parks" in Sydney, this park (at Sydney Olympic Park) should be your go-to for ultra scenic greenery, prime BBQ spots, cycling, and ponds. This huge stretch of green has a plethora of boardwalks for you to work your way through mangroves, one hell of a delicious stop off (Cafe At Waterview) and it's also home to the Treillage Tower—an absolute vantage point if you want to take in views of the wetlands, Homebush Bay and the sparkly Sydney city skyline.
Dreaming of a post-lockdown getaway? Check out 10 of the best beach towns in NSW.
Image credit: Western Sydney Parklands, Leonid Andronov, Destination NSW, Ethan Lee, Destination NSW, Destination NSW, Turf Design Studio, Destination NSW, Western Sydney Parklands