Editor's note: Be sure to check any alerts and closures on the NSW National Parks website, as well as any weather warnings via the Bureau of Meteorology.
Hiking is one of those weekend activities that makes you feel like you've achieved something come Monday at the office. Plus, it's a whole lot of fun—particularly when the Sydney summer sunshine is beaming down.
For those of you up for a hike in or near Sydney, you're in for one heck of a treat. We've found some stand-out hikes based on raw beauty, convenience, and seclusion, or if you're up for a road trip or a weekend getaway, there are also stunners a little further afield.
These are the most scenic, adventurous, and all-around awesome hikes in Sydney and around NSW.
Best Hikes In And Around Sydney
Bondi To Manly Walking Track
Sydney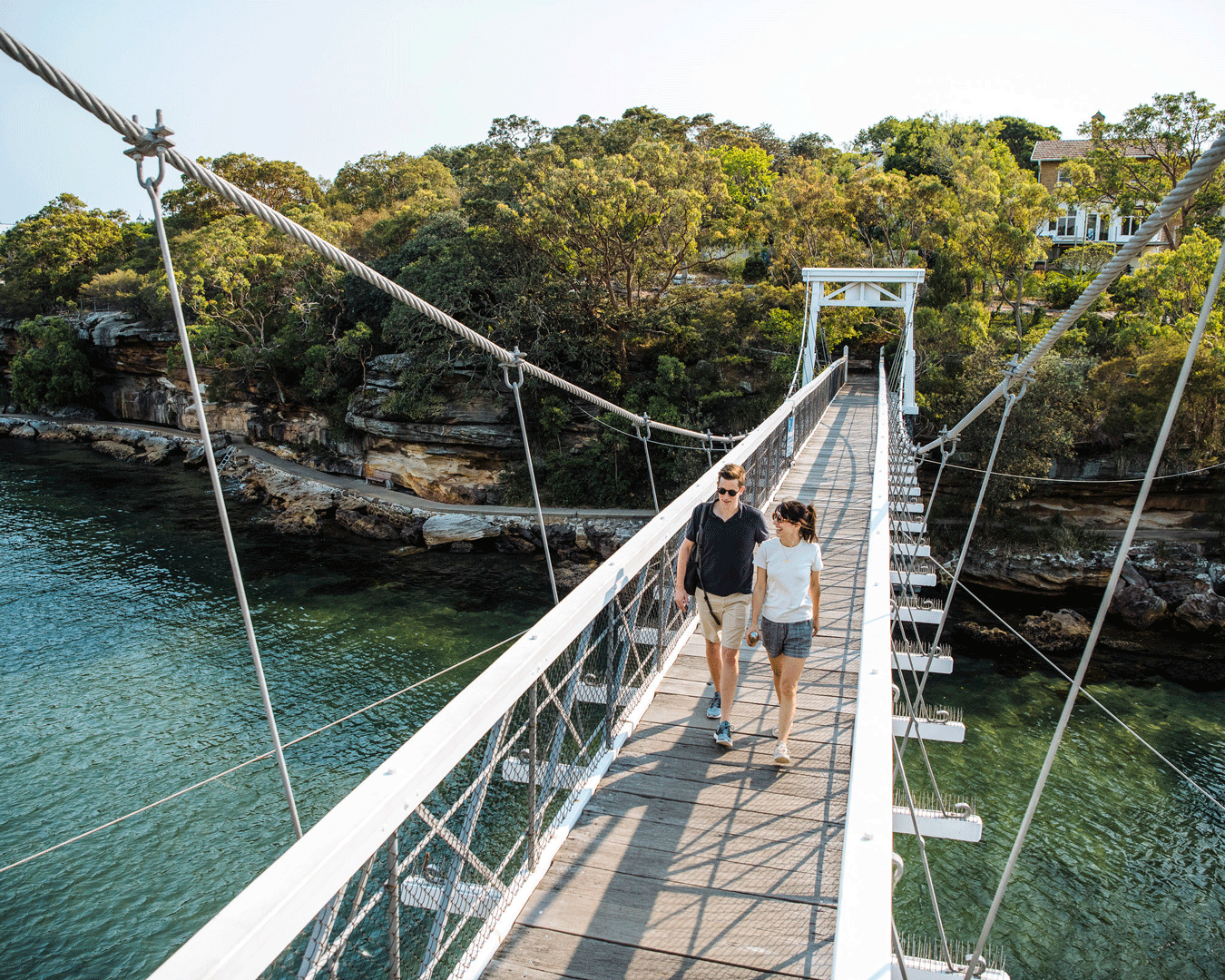 This lengthy coastal walk weaves through 80km of major historical sites, the Sydney Harbour Bridge and Opera House, joining together a bunch of existing trails into one mammoth seaside hike. The track passes Macquarie Lighthouse, Murray Rose Pool, Taronga Zoo, Bradleys Head, Clifton Gardens, Middle Head, the Clontarf, and North Head. There are plenty of pit stops if you're keen for a swim or a cold beer.
It's also divided into eight sections, making it easier if you're just keen to slap your running shoes on and conquer Rose Bay to Darling Point or Taronga Zoo to the Spit Bridge (both sit between eight and nine kilometres). There's obviously also the option to go full Bear Grylls and split the entire walking track across multiple days. Check out all the access points to the Bondi To Manly Walk here.
Distance: 80km
Walking Time: The Bondi To Manly Walk organisation has various timings here
Difficulty: Sealed pathways, boardwalks and some bush trails, relatively easy
Bundeena To Otford
Royal National Park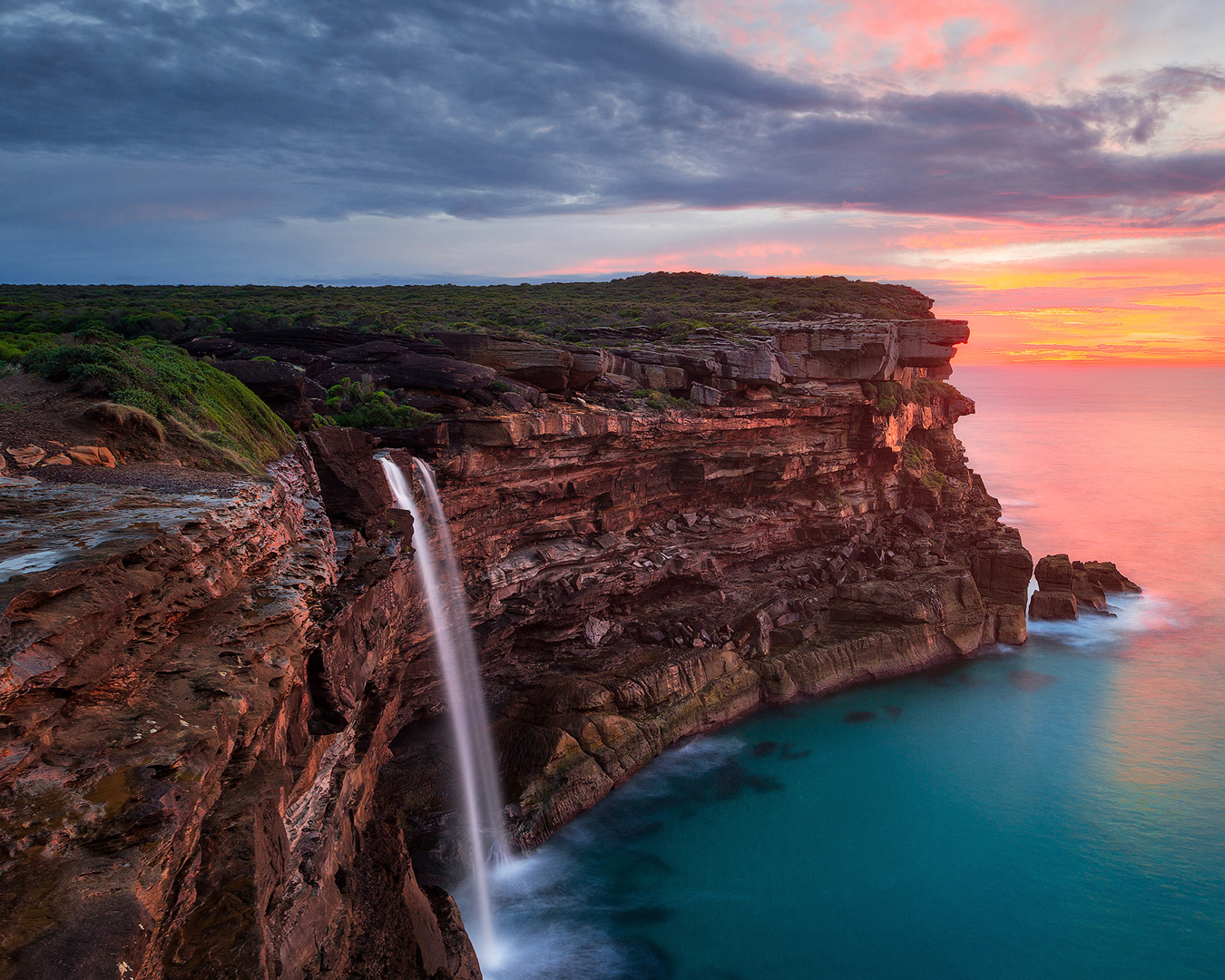 Also known as The Coast Track, the Bundeena To Otford hike stocks magnificent white-cliff coastlines in the north and rugged beaches to surf in the south (Garie Beach and North and South Era). Accessible by public transport (train to Cronulla, ferry to Bundeena, train back to Sydney via Otford), this gem of a walk has sprawling rainforests, hidden waterfalls, rock pools and a beachside campsite for those looking to spread the 26km trek over two days. Although becoming increasingly popular with Sydney escape artists, this is a definite addition to your bucket list this year. For your full guide to this hike near Sydney, we've got you covered here.
Distance: 26km
Walking time: 2 days for the full hike, with shorter sections and sub-trails accessible
Difficulty: Very difficult, many steps, rough track, lots of obstacles
Six Foot Track
Blue Mountains National Park
The historical Six Foot Track is one of the most breathtaking walks near Sydney. Taking you from Katoomba to the Jenolan Caves, this route follows a horse track that dates back all the way to the 1880s. You could stretch out your adventure over three days (many avid hikers do because the stargazing out here is next level) but you can also just explore part of the track making it the perfect weekend outdoor activity.
Six Foot Track features state forests, heritage sites, woodlands, rainforest, and the Bowtells Swing Bridge. This walk kicks off near Katoomba, close to Explorers Tree, and descends down into Megalong Valley. The first campsite is Coxs River, about 16km from the car park at Explorers Tree, so if you're not in it for the long haul, you probably don't want to end up out this far.
Distance: 46km one way for the entire three-day walk, but you can stop and turn back to Explorers Tree whenever you like
Walking time: 2 hours–3 days (you can even follow the track to Nellie's Glen and loop back to Explorers Tree for a shorter trail)
Difficulty: At times there may be rough tracks and obstacles, though the gradient is relatively flat
Bouddi Coastal Walk
Bouddi Bouddi National Park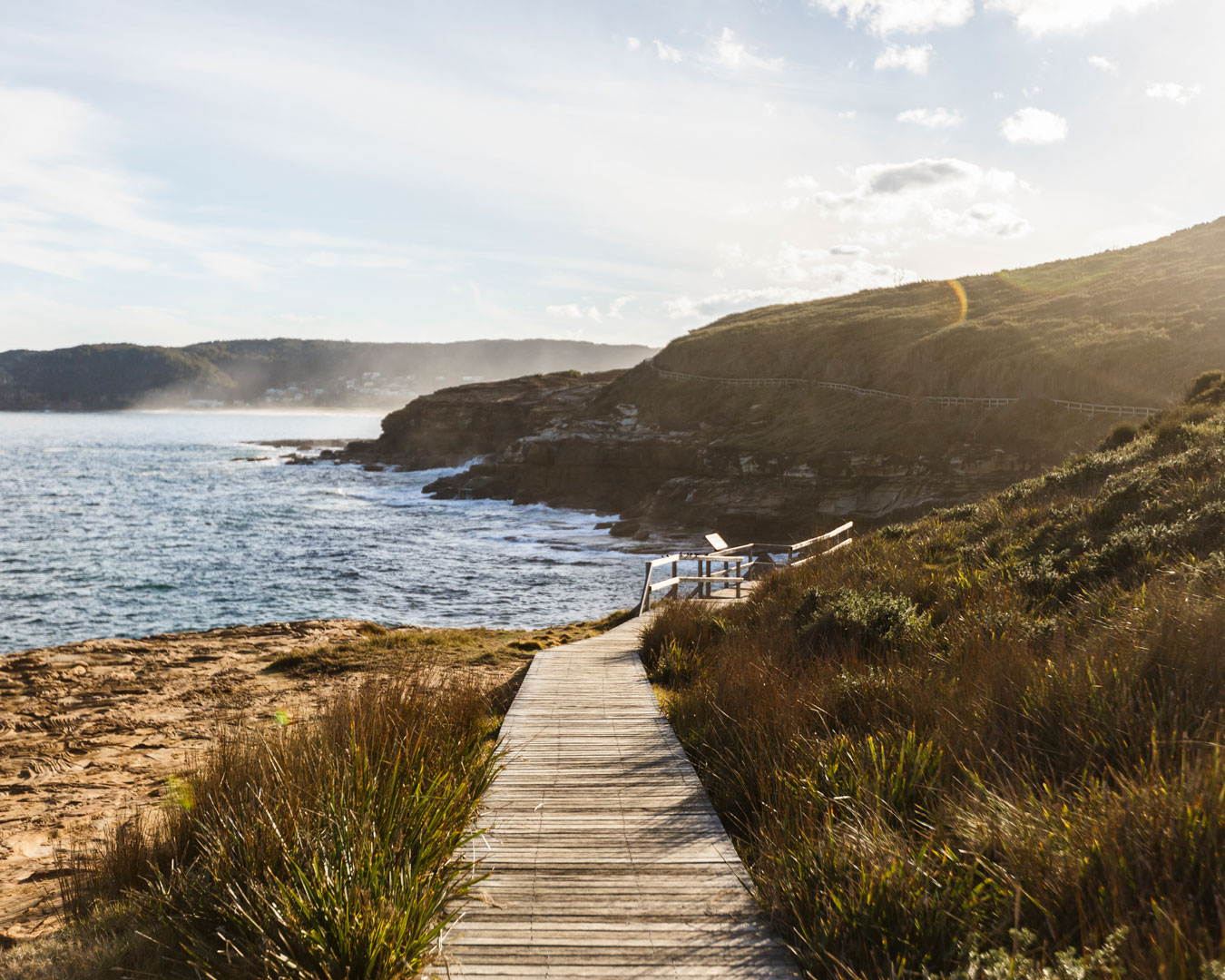 This is an undulating 8km beachcombing trek so nice, you should do it twice (which you'll have to, to return to your car anyway!). Two campsites are nestled on golden beaches along the trail: Little Beach and Putty Beach, both of which will have your friends furiously double-tapping the posts on your Instagram feed. Shipwrecks, wildflowers, whale-watching, deserted beaches... sounds like paradise really (and it is).
Make sure you take a moment at Gerrin Point Lookout, you'll score panoramic views of Maitland Bay.
Distance: 8km (one way)
Walking time: 4–5 hours (many turn it into a two-day hike with an overnight stay at the campgrounds)
Difficulty: Clear signage, formed track, some obstacles, short steep hills
Bob Turners Track
Colo Heights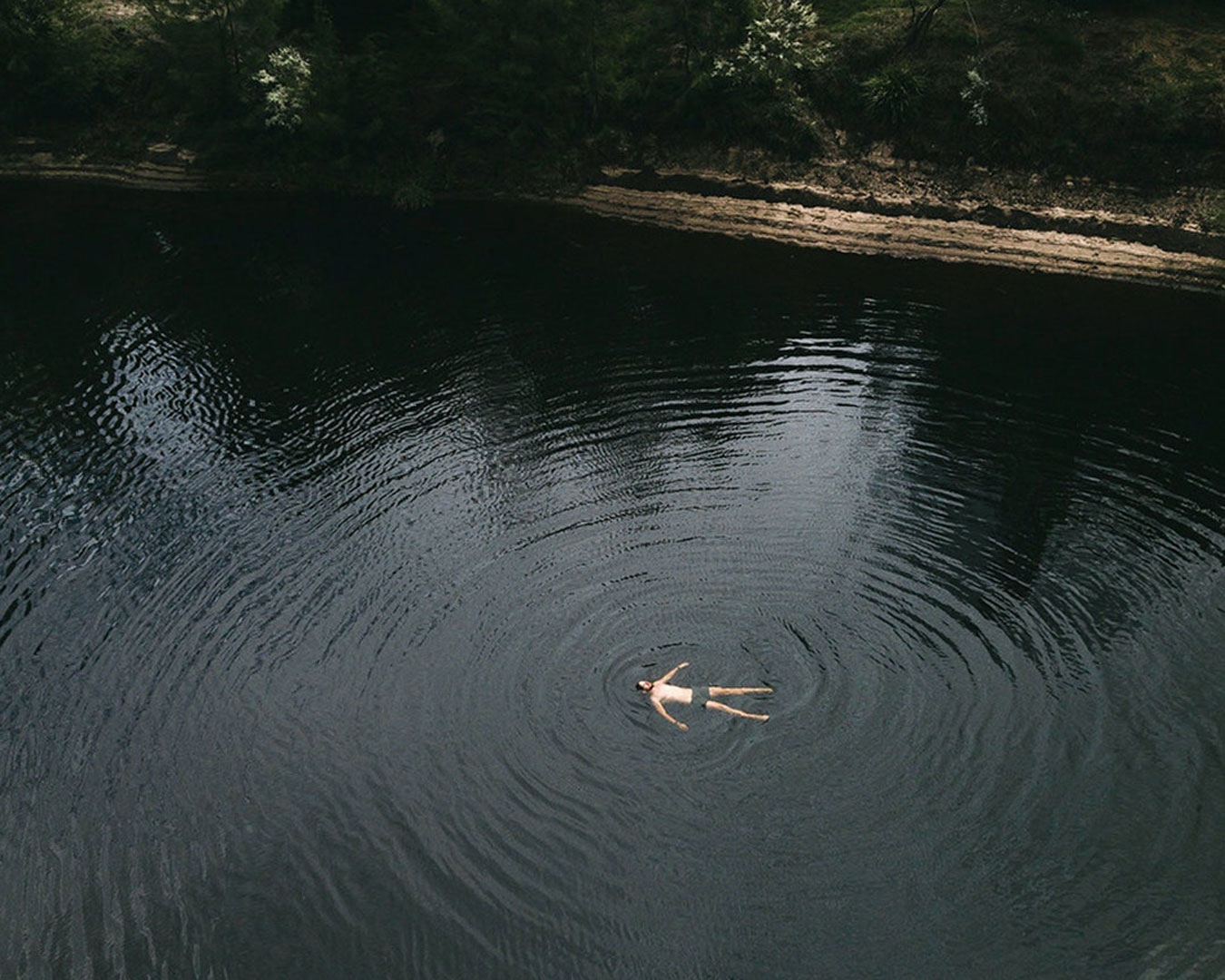 Spoiler alert, this walk near Sydney contains a pretty magical in-land beach. Bob Turners Track was originally a packhorse route so the pathway itself is pretty clearly marked out. You can access this hike about 500m down the road from the Ampol service station on Putty Road. Follow the signage towards Bob Turners Track and you'll end up at a parking lot to leave your wheels for the day and kickstart your hike.
The track drops 350 metres into the Colo River on the edge of the Wollemi wilderness, so wear some solid walking shoes because you'll be crossing a series of gullies.
Distance: 7km
Walking time: 3–4 hours
Difficulty: Medium, with various obstacles
Mt Ku-Ring-Gai To Berowra
Ku-Ring-Gai Chase National Park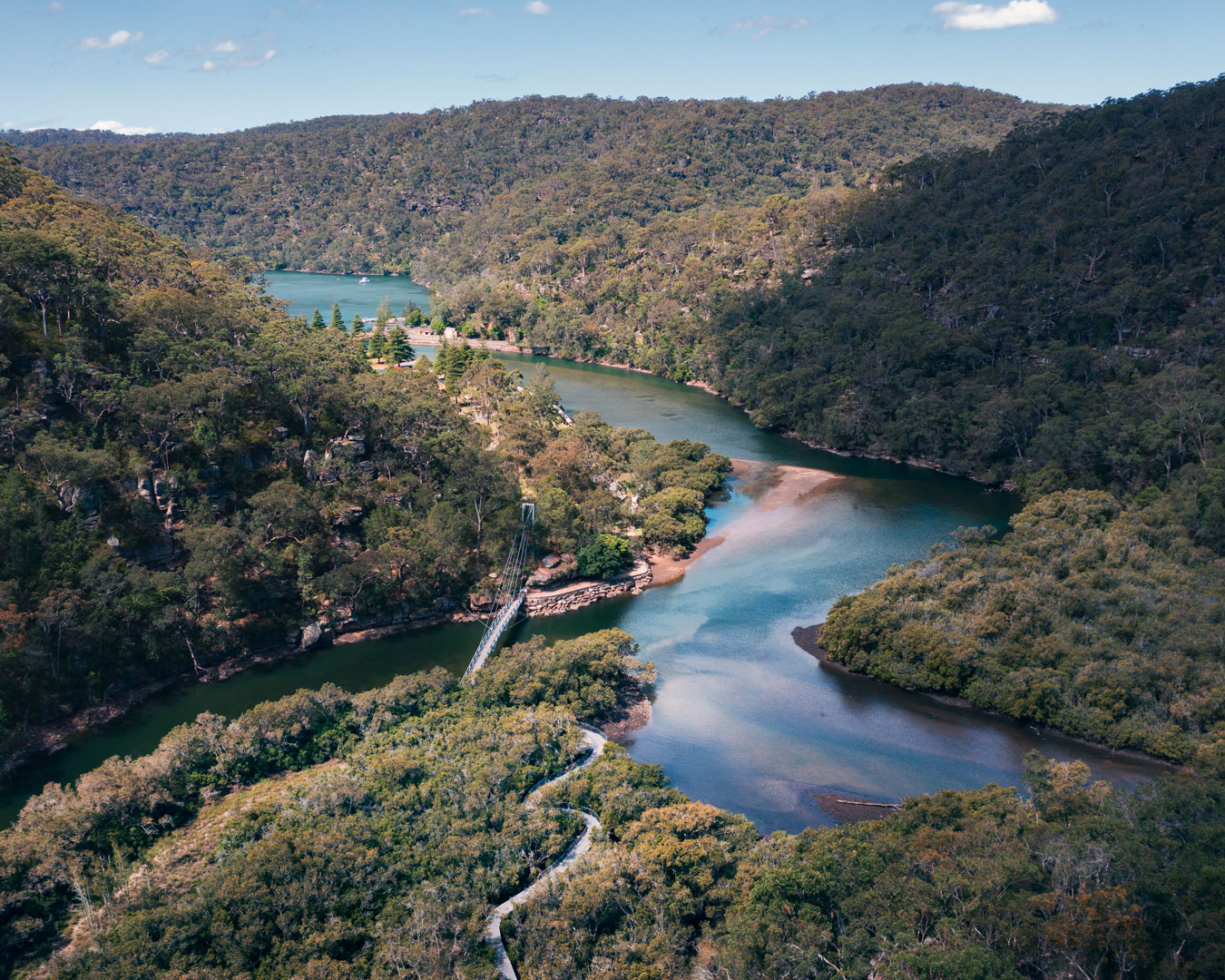 The beauty of this walk is that there is no need for a combustion engine! Catch the train from Central to Mount Ku-Ring-Gai station and follow the 10km walking track as it weaves down through precarious rock overhangs and narrow gorges. There are two undisturbed bush campsites by the creek where you can rest overnight, before a sweat-drenching climb back out towards your train back home.
Distance: 10km
Walking time: 3.5–4.5 hours
Difficulty: Difficult, obstacles, rough track
Mermaid Pools And Tahmoor Gorge Walk
Tahmoor
You've probably seen someone you know upload some incredible snaps of Mermaid Pools, so it's about time you get your butt on the Mermaid Pools and Tahmoor Gorge walk, about a 75-minute drive southwest from Sydney. With a dip in the beautiful Mermaid Pools after as your reward, this is the perfect hike if you're up for a challenge with some mates (reminder that jumping into these pools is considered dangerous and there have been injuries in the past—be careful and always check for alerts in the area).
Distance: 10km
Walking time: 3–4 hours
Difficulty: Pretty hard, rough track
Burramoko Ridge (Hanging Rock) Trail
Blue Mountains National Park
You'll find this epic hike in the Blackheath area of Blue Mountains National Park. While this trail is definitely popular with avid mountain bike riders, it can definitely be done on foot and it's the ultimate day trip for your weekend antics. The entrance for Burramoko Ridge Trail opens up on Ridgewell Road with the hike winding through heathland and a lot of open forest. The big standout here is Balzter Lookout, otherwise known as Hanging Rock. This lookout is unfenced so it's advised that you take care around this part of the hike.
Distance: 10km
Walking time: 2 hours
Difficulty: Medium to difficult, undulating terrain
Clover Hill Trail
Macquarie Pass National Park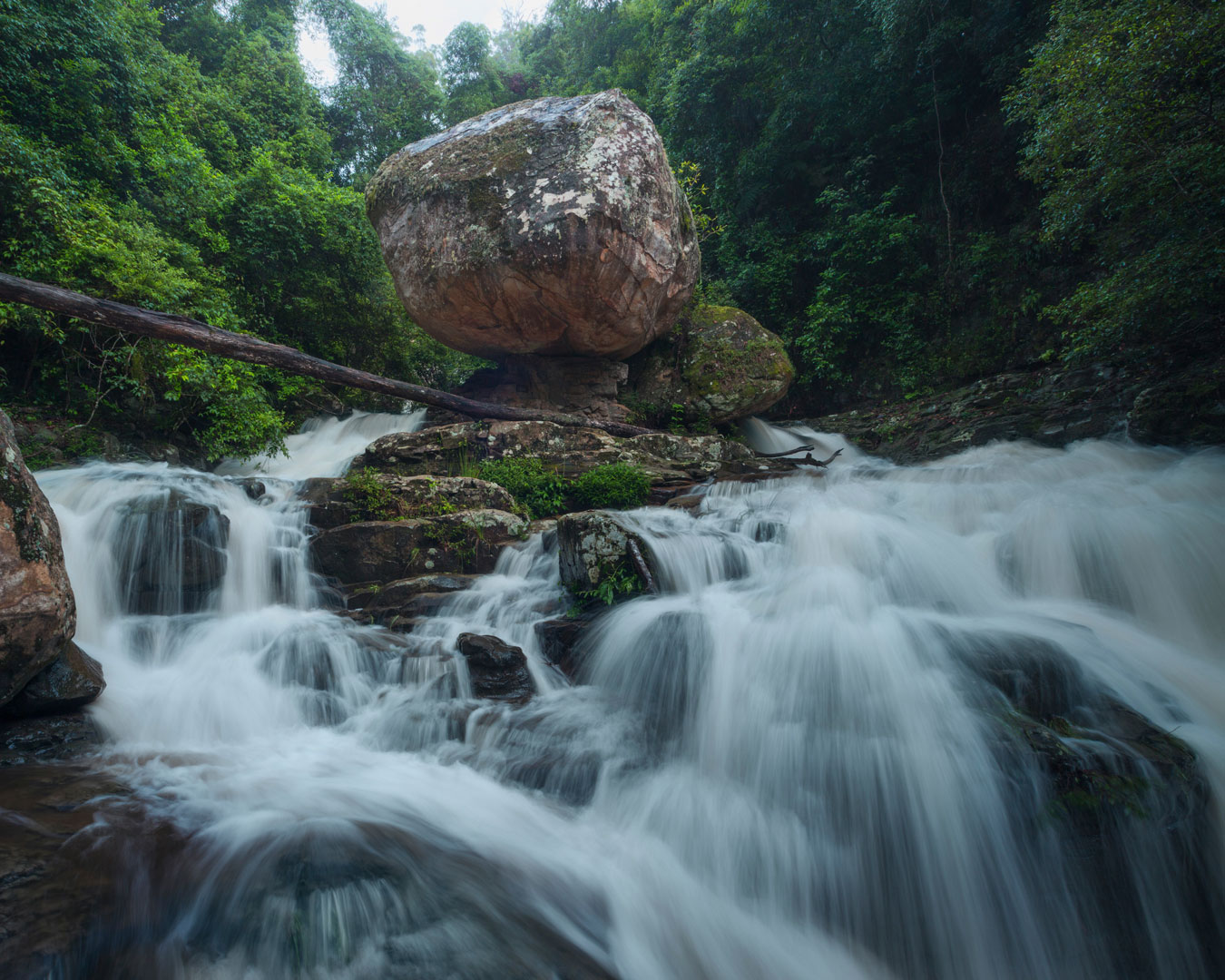 The Clover Hill Trail is a hike that truly has it all. From escarpment views and wildflower clusters to running creeks and waterfalls, there's not a lot you won't see on this walk. If you're coming from Sydney, you'll have to drive past Wollongong into Macquarie Pass National Park which will take you about 90 minutes. This hike used to be a logging route and leads you all the way to the Rainbow Falls cascades, so juice up those phones because you'll want to take a snapshot.
Distance: 6km
Walking time: 2–3 hours
Difficulty: Very difficult, not much signage, some steps
Karloo Walking Track
Royal National Park
The Karloo Walking Track is a medium track ideal for those wanting a quick nature fix in Sydney. The walk leads you to Uloola Falls where you can picnic the day away while gazing upon the scenic waterfall and natural surrounds. You can even make a weekend out of it, camping at the popular Uloola Falls campground, but bookings need to be made in advance.
Distance: 10km
Walking time: 3–5 hours
Difficulty: Medium, sealed tracks, steps
Furber Steps-Scenic Railway Walking Track
Blue Mountains National Park
The Blue Mountains Furber Walking Track is one of the most scenic hikes near Sydney. The track descends into Jamison Valley and takes you into a lush valley with dipping paths and magical waterfalls. The Furber Steps will push you into a deep dive towards another popular hike called Federal Pass and essentially steers you towards Katoomba Falls. One of the best times to do this walk is at dawn so you can catch the sun rising over the Three Sisters. Absolutely magical would be an understatement.
Distance: 2.4km
Walking time: 1–2 hours
Difficulty: Difficult, many steps
Kiama Coast Walk
Kiama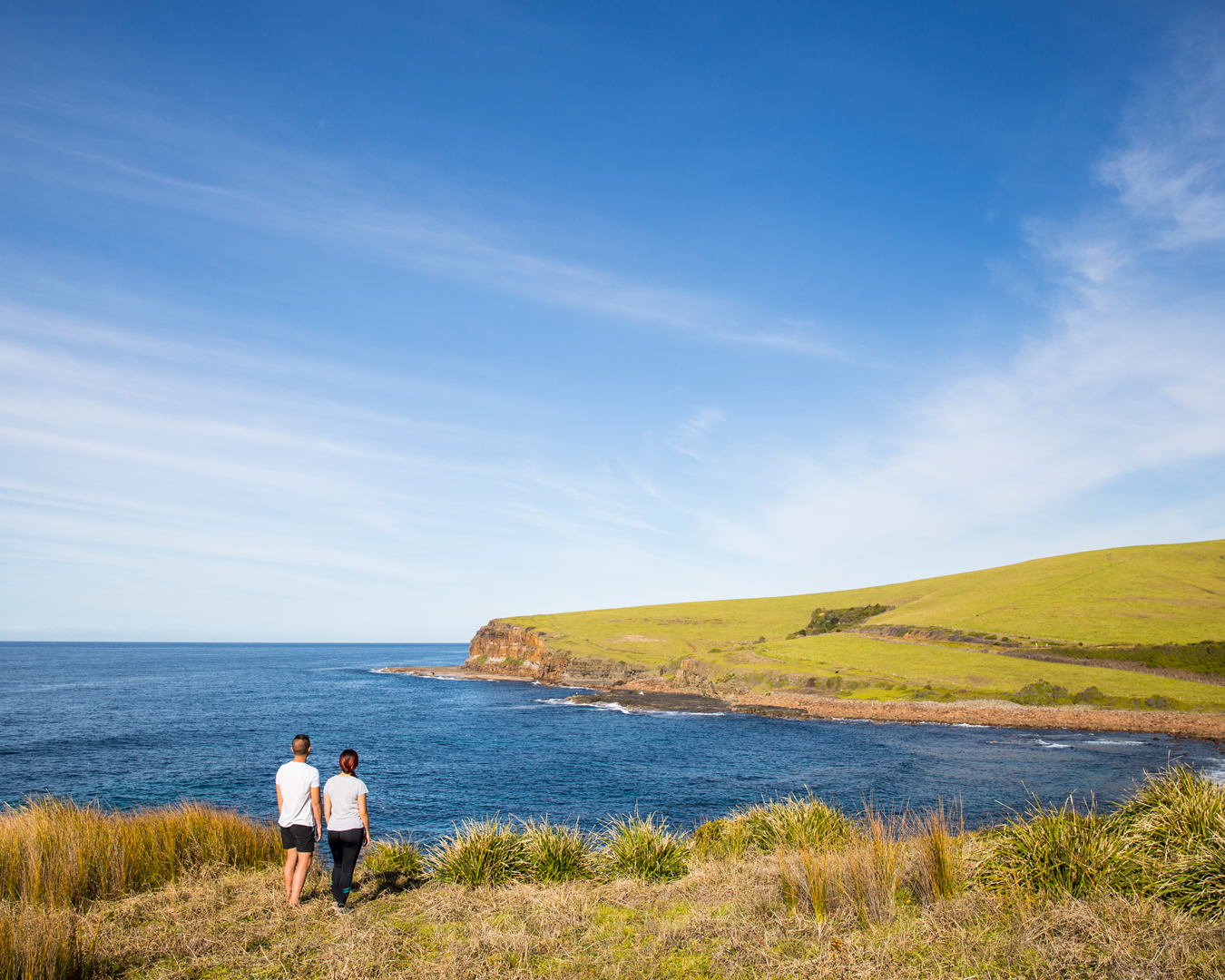 Nothing beats a hike loaded with all the ocean breeze, epic rock formations, and unspoilt beaches. The Kiama Coast Walk, situated on Wodi Wodi Country, is one of the hikes in NSW that you can tick off your adventure list any weekend. It's made up of three sections making it perfect for those who are just keen to fill their day with panoramic views of The Pacific or those with their Merrell's strapped on and ready to go. This hike near Sydney stocks everything from sealed paths, grassy tracks, sandy trails, and passes through the Minnamurra River, the Kiama Blowhole, Loves Bay, Bombo Headland, and Gerringong.
Distance: 20km
Walking time: 7 hours (if completing the entire walk)
Difficulty: Moderate trail and dog-friendly
The Grand Canyon Loop
Blue Mountains National Park
This 5.5km, four-hour stroll starts from Neates Glen Car Park in Blackheath and descends through a hidden rainforest of luscious ferns, trickling creeks and hidden tunnels. You'll weave through gorges towards the depths of the canyon and then climb back towards Evans Lookout to feast your eyes upon the Grose Valley.
Distance: 6km
Walking time: 3–4 hours
Difficulty: Medium, formed track but with many steps
Best Hikes In NSW
Main Range Track Loop
Kosciuszko National Park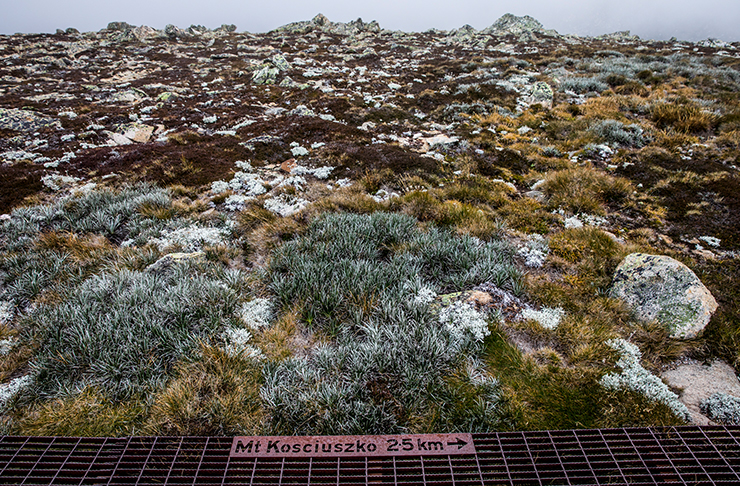 Located on Walgal Country, this hefty walk can be started from Charlotte's Pass, and, spoiler alert, you're in for all the glacial scenery (all protected by the UNESCO Biosphere Reserve). This stunning hiking trail will lead you across the iconic Snowy River, Hedley Tarn, Blue Lake, and wildflower meadows during summer. It'll also take you to the top of Australia along the main range of Mount Kosciuszko where you'll score views of the Aussie Alps in pretty much every direction you turn.
Distance: 30km
Walking time: 8 hours
Difficulty: Difficult and weather can be extremely unpredictable
Light To Light Walk
Ben Boyd National Park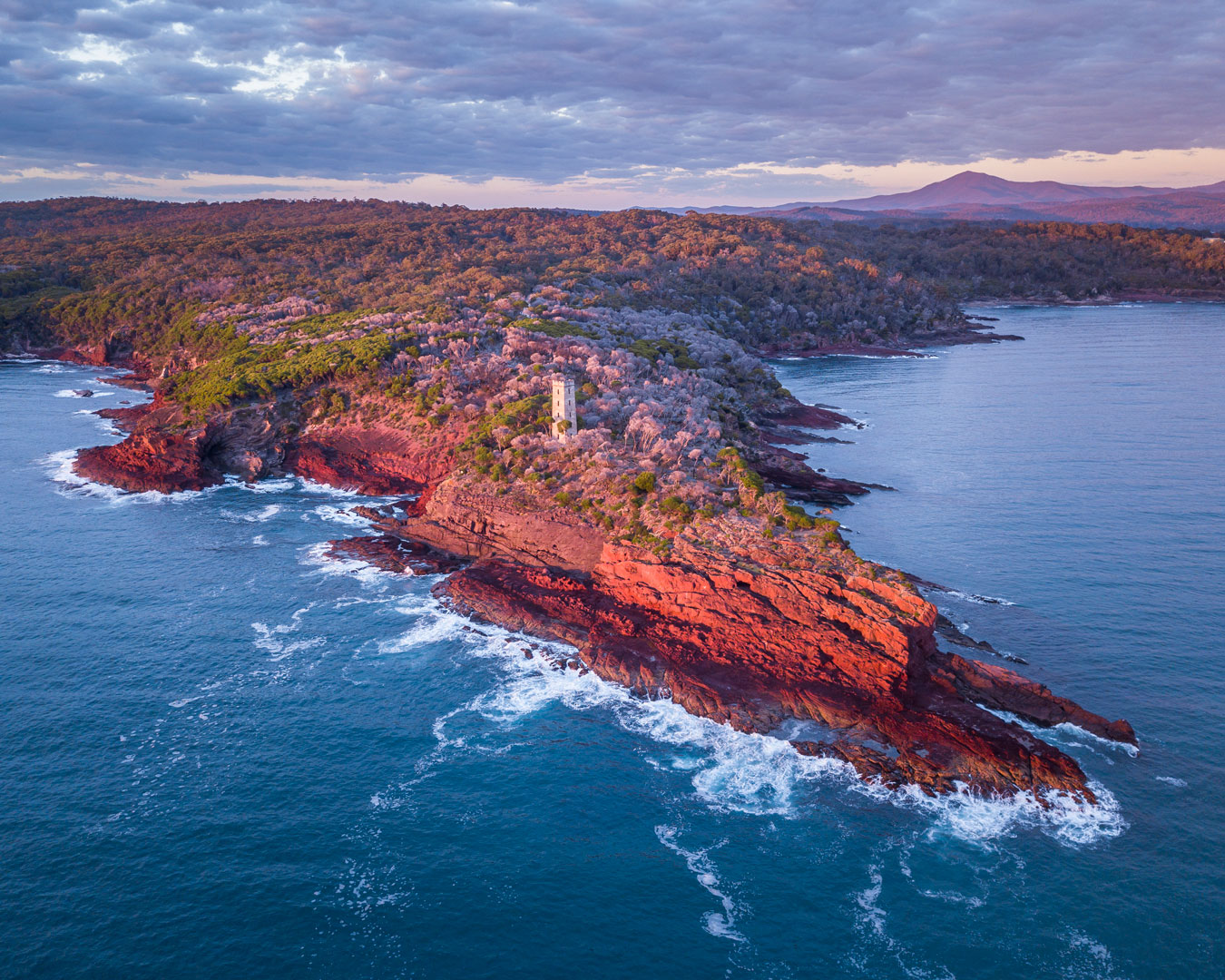 It doesn't get much more scenic than the Sapphire Coast. Bright blue trees and, in many parts, bushland as far as the eye can see. And one of the best ways to see it in all its glory is along the Light To Light Walk. Hugging the coastline, the track begins near Eden at Boyds Tower lighthouse and ends at Green Cape Lightstation (hence the name Light To Light). If you're tackling the whole track, it can take up to three days to complete, so you'll be camping along the way. On your multi-day hike, you'll pass varied landscapes of heathland, forest, tea tree groves, banksia woodland, sheltered coves, and towering rock formations. Plus, as you'll be right by the sea, you'll likely spot seals, whales, and seabirds.
Distance: 30km one way
Time: 2–3 days
Difficulty: Difficult, rough track with short, steep hills and many steps
Wonga Walk
Dorrigo National Park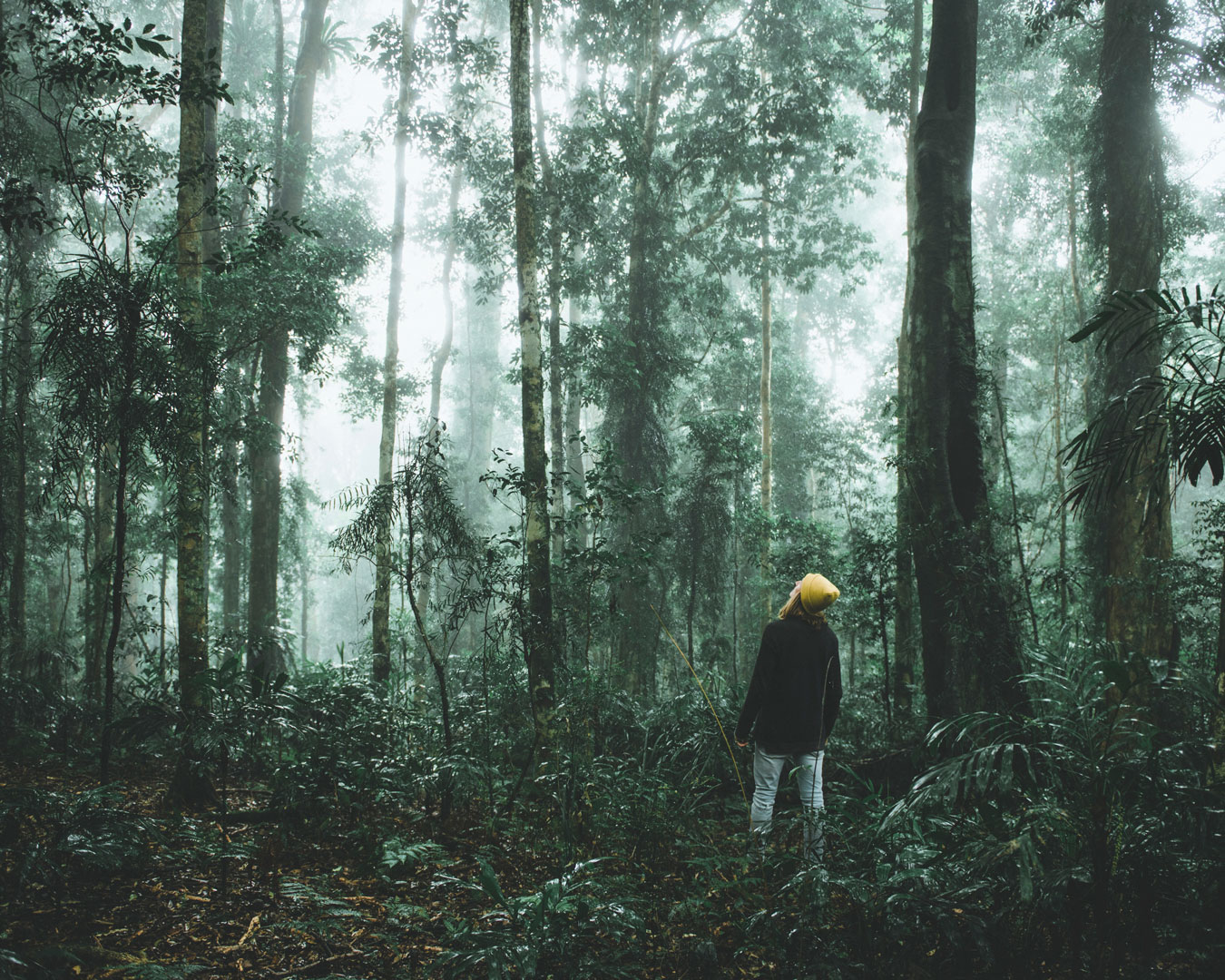 If you're keen to treat yourself to a hike with a side of sub-tropical rainforest, set your sights on Wonga Walk in Dorrigo National Park. Located on Gumbaynggirr Country, this fairly moderate walk is filled with 600-year-old trees and is home to Tristania and Crystal Falls (and yes, they look as majestic as they sound). It's one of the more popular hikes in NSW and, while it definitely cops some high foot traffic from time to time, it rarely disappoints. You can start this one from the Dorrigo Rainforest Centre and hit the Lyrebird Link track for a couple of hundred metres before it meets up with Wonga.
Distance: 6.6km
Walking time: 2–3 hours
Difficulty: Moderate, some hills and steps, formed track with clearly marked signposts
Great North Walk
Watagans National Park
Watagans National Park is about a two-hour drive from Sydney and throws up some serious wilderness scenes. The Great North Walk is a solid hike to do on your weekend and spans about 10-kilometres one way. This route actually crosses through a number of other areas including Jilliby State Conservation Area and the ever-stunning Brisbane Water National Park but if you're accessing it through Watagans, your hike will take you along Georges Road in the northern section of the park.
Along the way, you'll pass Narrow Place lookout which opens up over Quorrobolong to Ellalong, Cessnock, and Kurri Kurri. This hike near Sydney is best suited for those of you who don your durable Kathmandu gear on the regular. Novice hikers, you might want to sit this one out or take an easier track in the park—the Circuit walking track is a short walk that plunges into moss-covered rainforest.
If you're game enough, you can also do the full 16-day Great North Walk from Sydney's Lane Cove National Park which passes through the Hunter Valley and Newcastle.
Distance: 10km
Walking time: 2–3 hours
Difficulty: Difficult—short steep hills, steps, some obstacles
Glow Worm Tunnel Walking Track
Wollemi National Park
The iconic, awe-inspiring Glow Worm Tunnel Walking Track leads you to an old mine tunnel that is home to thousands of glow worms, clinging to the damp walls. Be sure to switch off your torch and keep quiet while you wait for the tunnel to be lit up with pinpricks of light. Just note, the tunnel itself is pretty dark and slippery and do your best to keep your noise levels low (no matter how excited you are) because these li'l glow bubs are pretty sensitive to sound.
Distance: 2km
Walking time: 2 hours
Difficulty: Relatively easy, varying terrain, good signage
Gloucester Tops Circuit
Barrington Tops National Park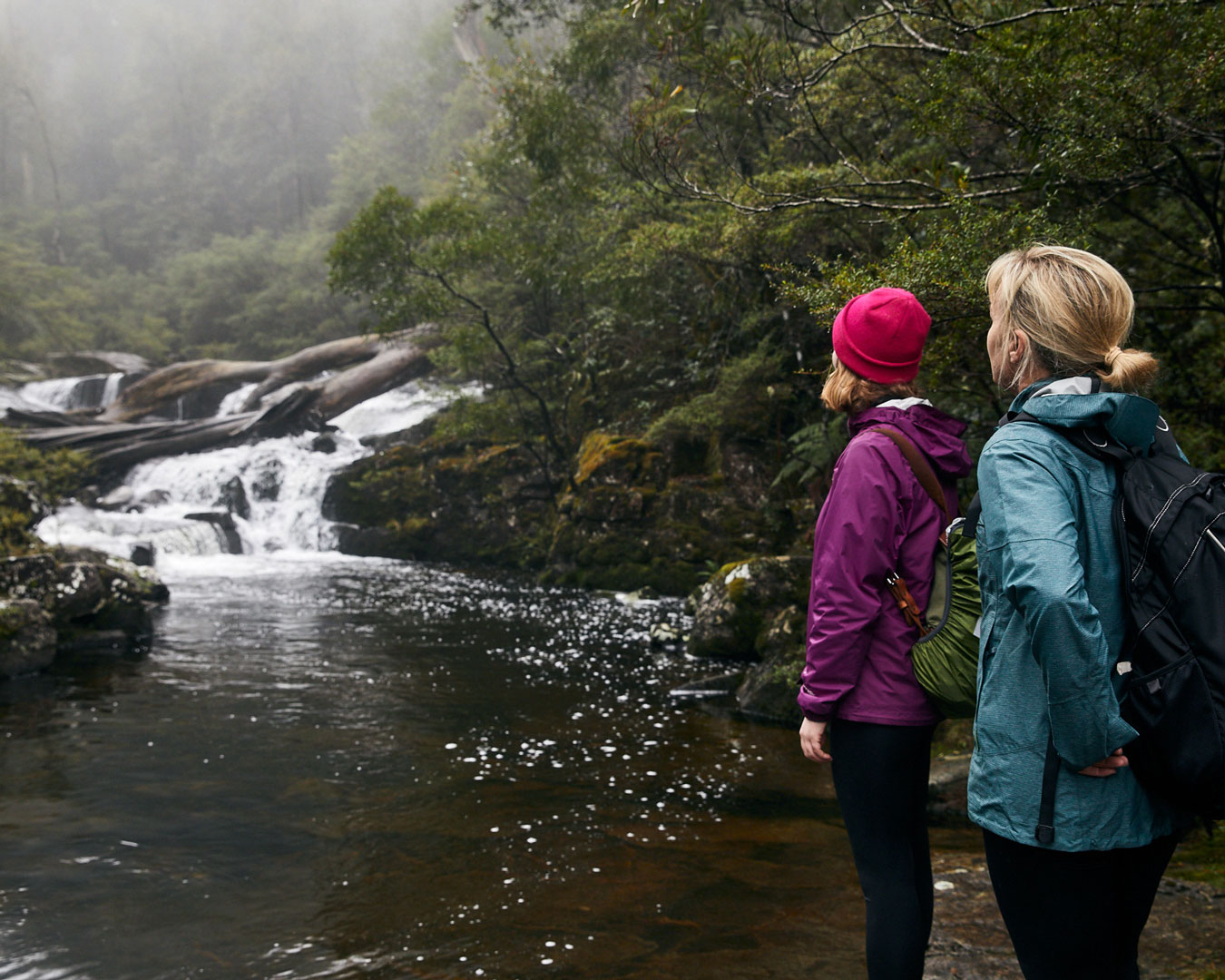 A bushwalker's utopia, Barrington Tops is a remote section of NSW offering hikers prepared to get off the beaten track the sweetest of rewards. Gloucester Tops Circuit is the standout loop as it combines three of the park's best walks into a manageable 7km trek. From towering snow gum forests and moss carpets to lively swamp wallabies and grey kangaroos, it's an almighty experience that is best included as part of a long weekend of 4x4ing, mountain biking, and wild swimming in the National Park.
Distance: 8km
Walking time: 3–5 hours
Difficulty: Hard, many steps, rough track, obstacles
Bynguano Range Track
Mutawintji National Park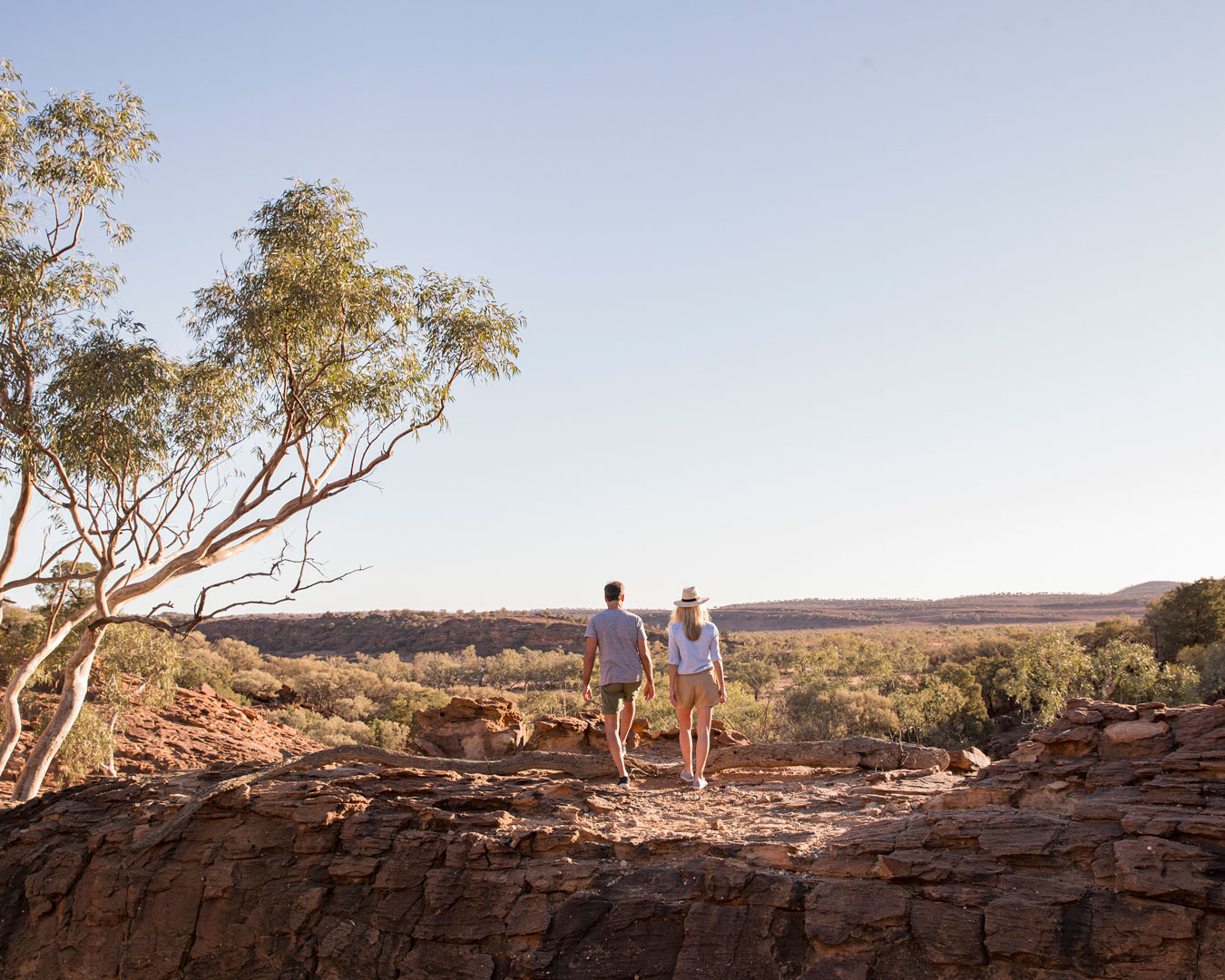 You'll find many popular walks around NSW's coastline, but if you're looking for something different then head to the arid, rocky landscapes of Mutawintji National Park. Located in outback NSW near Broken Hill, the park is dominated by the red-hued Bynguano Ranges, is home to culturally significant sites, and is 100% worth the 14-hour road trip at least once in your life. Although only 7.5km long, the Bynguano Range Track is not for the fainthearted. Solid bushwalking experience is required to navigate the unformed track—plus, it's remote and it gets very hot, so it's wise to fill out a Trip Intention Form. You'll begin walking through the craggy cliffs of Homestead Creek, pass impressive rock art, then ascend over the magnificent ranges and soak up vistas of valleys and rugged gorges.
Distance: 7.5km loop
Walking time: 4–6 hours
Difficulty: Very difficult, with very steep sections, rough unformed track, and limited signage
Staying in Sydney? Check out this list of the city's prettiest walks.
Image credit: The Legendary Pacific Coast, Destination NSW, Destination NSW, Central Coast Tourism, Destination NSW, Destination NSW, Tyson Mayr, Destination NSW, Destination NSW, Destination NSW, Destination NSW, Destination NSW, Destination Barrington Tops, Destination NSW