It's officially truffle hunting season so slip in your best gumboots, rug up and get ready to get your hands dirty.
NSW is home to a myriad of black truffles, the most popular being the Perigord truffle, which grows in cooler climates. While these "black diamonds of the dirt" are by no means a new discovery, they really only burst into the Australian market in the late nineties, making the truffle industry in Australia—and NSW for that matter—a relatively fresh and emerging craft mastered by few farms.
The beauty about this is that there is a lot to learn with the art of truffle hunting allowing you to immerse yourself in cool-climate tablelands, old oaks, and truly incredible truffle hunting pups. It's the kind of weekend adventure perfect for when the mercury drops.
Here are the best places to go truffle hunting in NSW.
Robertson Truffles
Robertson
Located in the stunning Southern Highlands, Robertson Truffles is a family-owned and operated Perigord truffle farm with a whole lot of charm (which has been going strong for 15 years). The town of Robertson itself is actually renowned for its red volcanic basalt soil and when combined with decent rainfall and cool winters—makes the perfect storm for truffle growing.
In terms of truffle hunting, Robertson Truffles is open for Saturday tours from June to August every year (and yes, it makes for the best weekend getaway). The truffle tours go for two hours and include refreshments on arrival (around a campfire), a session to school you on everything truffle-related, a truffiere visit, a truffle dog demonstration, a one-hour truffle harvest, and naturally—all the truffle tastings.
Borrodell Estate
Orange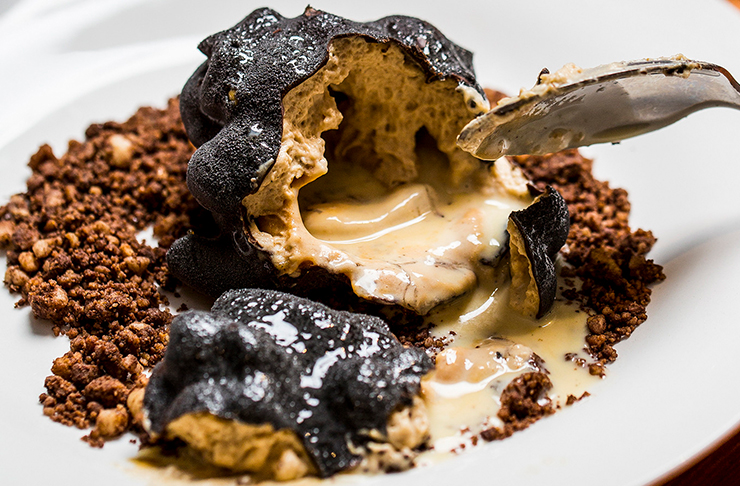 Some stays will truly take your breath away and Borrodell Estate does just that. You'll find this property sitting high and mighty on the ancient volcano of Mount Canobolas and while the sweeping views are something to admire, it's the truffle antics that will really put a spring into your step. Back in 2003, over 500 oak trees bearing black Perigord truffles were planted on the 135-acre property and now, Borrodell just casually stocks some of oldest truffle trees in Australia.
The truffle showdown here is pretty next level with Borrodell Estate hosting an annual 'Black Tie and Gumboot Truffle Hunt and Dinner' every winter. This means you'll get to dress up to the nines (we love any excuse) and go hunting for Borrodell's black Perigord truffles, then hit the estate's underground cellar door for a five-course decadent degustation truffle feast.
For truffle hunting that's a little more lowkey, you can also jump on Borrodell's truffle forage lunch which is usually pitted for multiple Saturdays in July. The tour takes you on a forage for black Perigord truffles with rescue dogs that have been trained to be truffle hunters (your heart will absolutely melt). To wind down from the hunt, you'll be rewarded with the orchard's secret-recipe spiced mulled cider and a three-course foragers feast at Borrodell's resident restaurant, Sister Rock.
Macenmist Black Truffles And Wine
Bredbo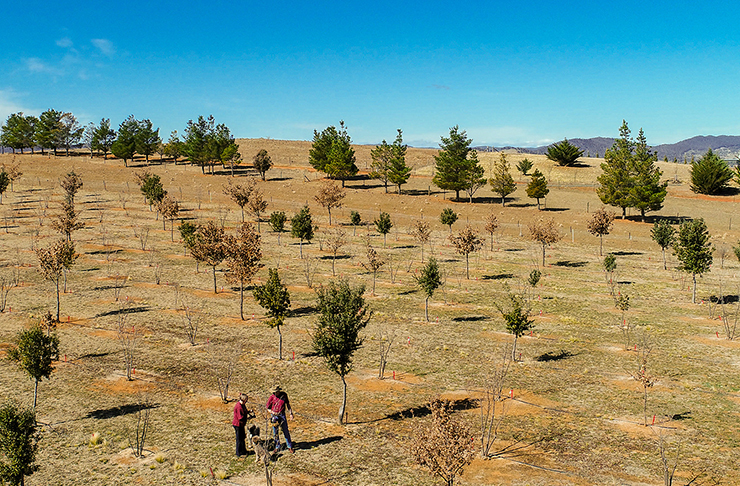 During truffle season, the iconic Macenmist Black Truffles and Wine are open from June through to September. This farming oasis started its truffiere back in the early 2000s and since then, has been plating up some of the best Perigord black truffles in NSW. The beauty here is that there's a number of truffle goodness to get around. The truffle hunt and brunch will have you joined by the fluffiest truffle romagnolo lagotto dogs, Fahren and Tawdiffu, who'll no doubt show flex their stellar olfactory skills for a pat or two. Afterward, you're in for a truffle-infused brunch and a sampling of truffle canapes. For the serious truffle enthusiasts out there, the truffle hunt and lunch will see you on the ground hunting for truffles and lapping up a three-course truffle luncheon post foraging.
Lowes Mount Truffiere
Oberon
Situated on the plateau of the western edge of the Blue Mountains, Lowes Mount Truffiere hosts one of the largest privately owned cool climate gardens, beautiful countryside, and more importantly—the highest of all truffle qualities. First up, you'll want to make sure you score some time to explore The Hobbit. While our inner-Frodo kind of wishes this was somewhat reminiscent of The Shire, The Hobbit is actually the property's on-site and working truffiere. You can freely wander through the oaks here and it's truly a sight against the usual concrete jungles we're used to.
The truffle hunting tours kick off in June and go until the end of August every year. Before the hunt, you'll get a brief overview about truffles, growing trees, and of course—the training of the expert truffle hunting dogs—Floyd and Fergus. The fluffy duo will then take you through the ilex, robur, and hazelnut trees and lead you to some prime foraging spots. When you've loaded up on the black gold, you'll return to the truffle room for a grading session and get to work your way through a delicious tasting platter that pairs the truffles with OG fats like butter, cream, milk, and egg to unlock the truffle's flavour.
Blue Frog Truffles
Sutton
Towards Canberra, you've got the Truffle Festival staple of Blue Frog Truffles. Having started back in 2003, thanks to the plantation of two hectares of oak and hazel trees, Blue Frog is a truffle classic in NSW and hosts truffle hunts every Sunday morning during winter. Your truffle hunt will take around one hour in the field where you'll cop all the details about growing and harvesting truffles as well as a walk through Blue Frog's truffiere.
Post-truffle-hunt, the tour moves to truffle grading and you'll learn a little bit more about Australia's truffle industry. You'll also be treated to a toastie cup of truffle soup with some other truffle tastings.
Head to the coast and check all the best whale watching spots in NSW.
Image credit: Destination NSW