One of the best things about loading up with precious baked goods and treats from your neighbourhood bakery is the seriously satisfying throwback to the nostalgic treats of yesteryear. And one of the bonafide old-school classics that's been front and centre of our minds of late is the creamy log of goodness known as the vanilla slice.
Affectionately known as "snot blocks" which, if you ask us, sounds like a term of endearment straight out of Puberty Blues, the vanilla slice holds a truly sentimental spot in bakeries across Australia. While this puff pastry and custard-filled beauty is one of many treats Aussies would love to claim as their own (we're looking at you oh mighty lamington), it is heavily inspired by France's famous mille-feuille.
Drooling yet? Here's where to find the best vanilla slice in Sydney.
Saga
Enmore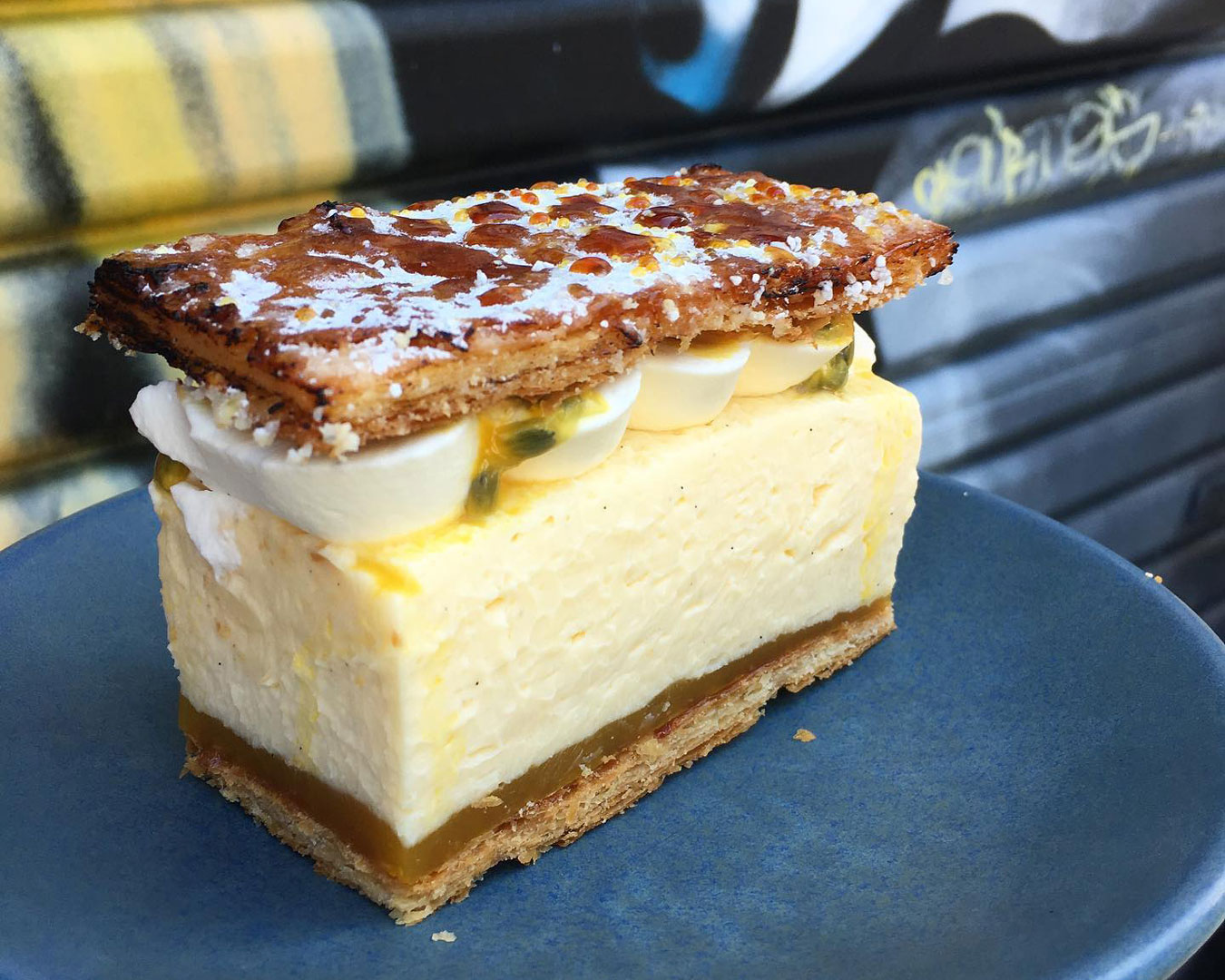 Saga is the brainchild of cake and pastry king Andy Bowdy and one of Sydney's best dessert, pastry, and cake shops. You can absolutely trust this mastermind when it comes to plating up a knock-you-off-your-socks kind of vanilla slice. Like most of his creations, this one comes with attention to detail and a very Bowdy-like twist—a vanilla slice with caramelised puff pastry, creamy vanilla custard, vanilla chantilly, and a hint of passionfruit gel.
La Promenade Pâtisserie
San Souci
All good things stand tall on a corner somewhere in the world and when it comes to San Souci's gracious kingdom of sweets La Promenade Pâtisserie—where is the lie? This age-old patisserie serves up old-school treats and is a surefire blast from the past for your tastebuds. The vanilla slice situation here looks like a no-frills, exactly-as-god-intended-it log of perfection with fine puff pastry layered between decadent vanilla custard.
Flour And Stone
Woolloomooloo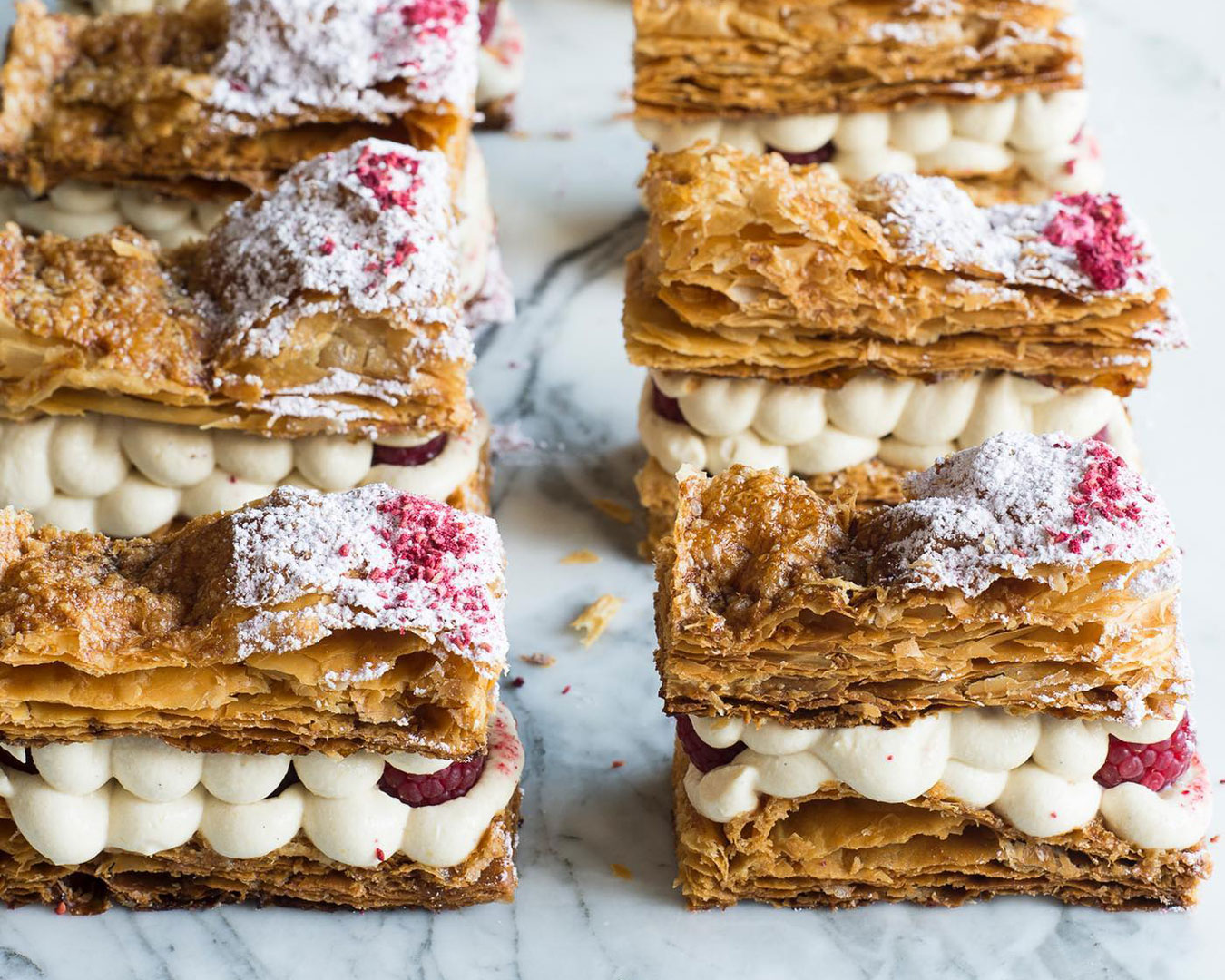 Flour And Stone really needs no introduction as there are few bakeries that rival its quality. Brimming with savoury and sweet treats, from classics like melt-in-your-mouth lamingtons, brownies and scones to fresh and inspired creations such as spelt carrot cake, it's hard not to be a regular at Flour And Stone. Available from Tuesday to Saturday from 10am, you'll find these beautiful slivers of tastiness with light layers of puff pastry encasing a brown sugar pastry cream and the freshest damn raspberries around. You can order these as individual slices or as boxes of two. Next-day delivery is available.
Poles Patisserie
Penrith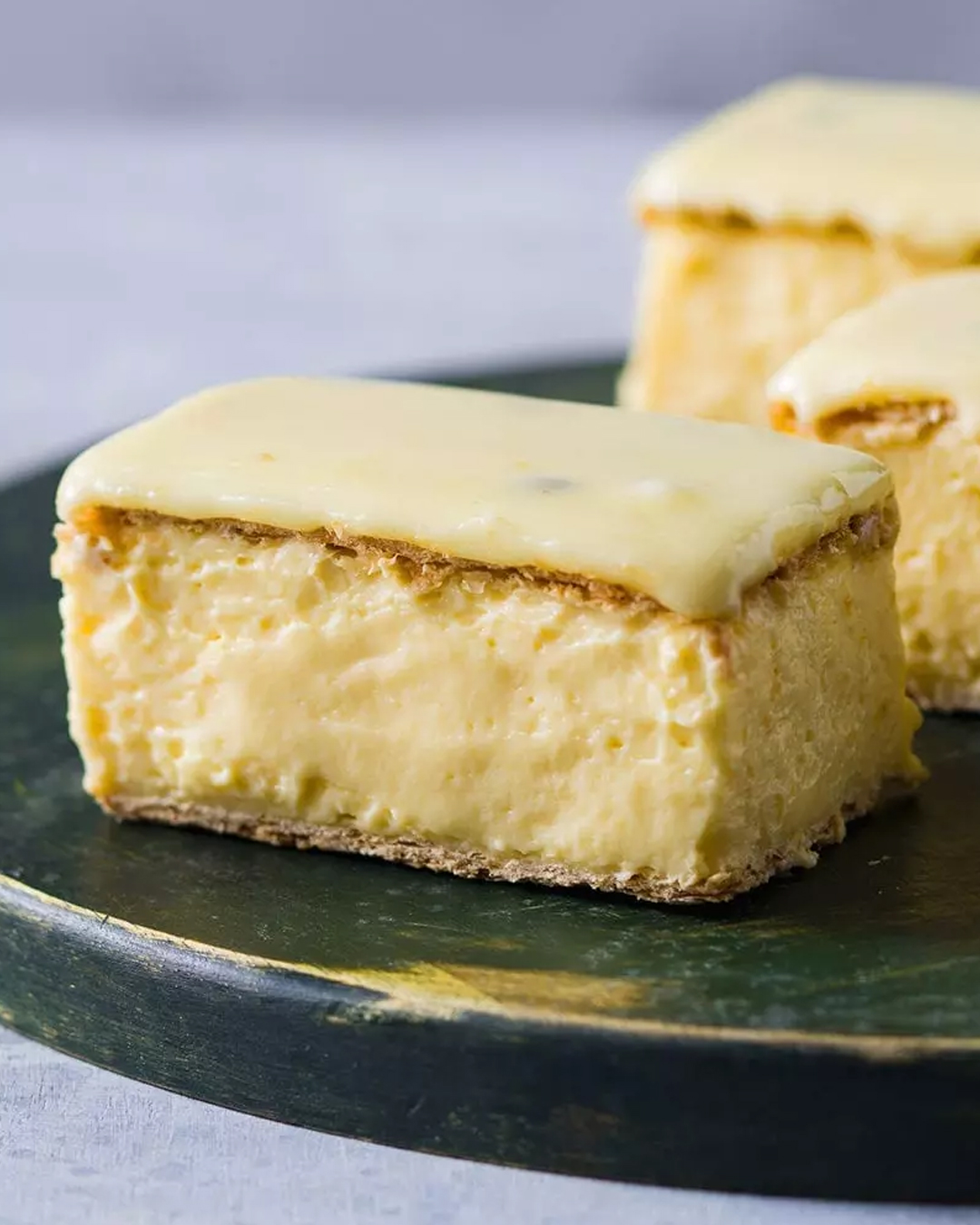 Poles Patisserie, simply put, is a goldmine of baked goodness. This family-run business was founded on the very idea that handmade pastries and cakes are the glue to any local community and we mean, they're not wrong. For over 30 years the legends here have been keeping close ties to classic tea cakes and treats. Special mention goes to their bread and butter pudding, which is made with croissants and custard. On the vanilla slice front, there are two winning wedges you'll want to order up.
The first is the OG vanilla slice, otherwise known as Poles' biggest seller. Creamy custard is sandwiched between two handmade sheets of puff pastry, which are then topped with a dash of passionfruit icing sugar for a little more bite. Alongside this, you'll also find a classic French vanilla slice, which elevates the OG with an extra layer of fresh cream and a crescendo of chocolate sugar icing. Next-day delivery is available.
François Artisan Baker
Bondi
Packed out with classic French cakes, delicate pastries and a full range of quiches, François Artisan Baker is a Bondi Road institution, not to mention a Sydney staple when you're out to get your vanilla slice fix. With the kitchen here headed by François Galand who nails in over 30 years of pastry experience, François Artisan Baker is an ode to all things French so when it comes to its silky vanilla slice, this block of goodness leans a little more into traditional mille-feuille. Made up of layers of puff pastry and a pastry cream top sealed with fondant icing and chocolate stripes, this vanilla slice is heavenly. You can cop a single slice or choose larger cuts that yield between four and 60 servings. Orders placed before 2pm can be delivered the next day.
Lamin8 Viennoiserie & Patisserie
Lane Cove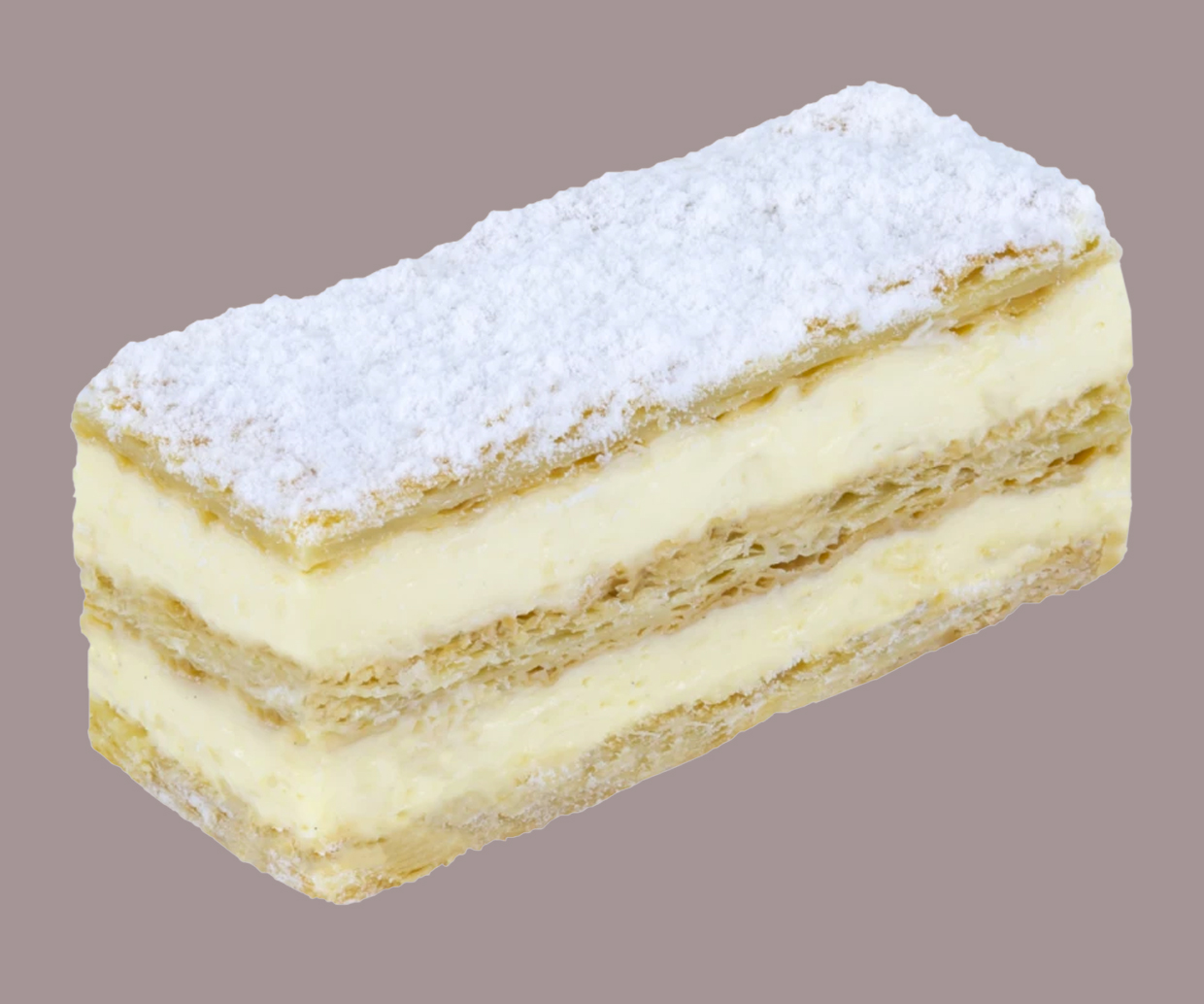 Lamin8 Viennoiserie & Patisserie is an ode to the golden process of sourdough lamination, which brings about the ultimate filling of flaky, airy layers. And this is exactly what Lamin8 is all about, chewy crumbs and crisp crusts. That means you can expect the menu at Lamin8 to sport flaky goodness like croissants, danishes, palmiers, and a god-tier vanilla slice that melts in your mouth within seconds. The slice here gets filled with light layers of buttery and flaky pastry, glued together with rich vanilla custard.
Le Bretagne Patisserie
Rose Bay
Tucked away on Rose Bay's Plumer Road is Le Bretagne Patisserie. A favourite among locals, the bakery and patisserie sources the highest quality ingredients to create classic baked goods that taste like heaven. While you'll find savoury goodies like flaky sausage rolls and pies, quiches, and all types of bread, it's the sweet treats that have us drooling. And reigning above all the cakes, mud slices, muffins, and jam wheels is the humble snot block.
Sweet Belem Cake Boutique
Petersham
This boutique Portuguese bakery is dedicated to both traditional and modern takes on Portuguese tarts and pastries but the good news is, they also know how to whip up a damn good slice of the good stuff too (and they sell out on the regular). The vanilla slice here looks like a gooey stack of puff pastry layered with thick vanilla cream and yes, it will change your life.
Staple Bread & Necessities
Manly, Seaforth, Cromer
Much like the name suggests, Staple Bread & Necessities dishes up all the pantry essentials guaranteed to put a spring in your step. The bread and butter here is undoubtedly the sourdough loaves but when you've got a hankering for a vanilla slice so good it'll knock you straight back to your grandmother's kitchen, the golden beauties here are a big win. Made with rye and whole wheat puff pastry and vanilla custard (and occasionally chocolate ones), these slices usually sell out on Saturdays and Sundays before you can say "delicious".
Now, check out where to find Sydney's best Portuguese tarts.
Image credit: Sweet Belem Cake Boutique, Saga, Flour And Stone, Poles Patisserie, Lamin8 Patisserie, Sweet Belem Cake Boutique