Are you the kind of person who finds high-rise socks titillating, hydration backpacks alluring, and zip-off convertible cargos downright sensual? If so, welcome fellow walker. Welcome to your guide for the next bazillion free weekends and holidays.
We've rounded up the best walks on—you guessed it—the NSW South Coast just for you and the poor sap you con into coming with you for a 'little walk'.
Light To Light Walk
Start stretching now folks, we're starting with a big 'un.
The Light to Light Walk guides fit folk through Ben Boyd National Park and takes between two and three days to complete—with rest breaks and sleep of course. The well-marked track hugs the coastline with consistently stunning views (including whales if you time it right) and is easy to do in snippets if you prefer starting from Boyd's Tower or Green Cape light station. We don't know about you, but ahem, we've got a 'thing' later so, maybe just a little chunk?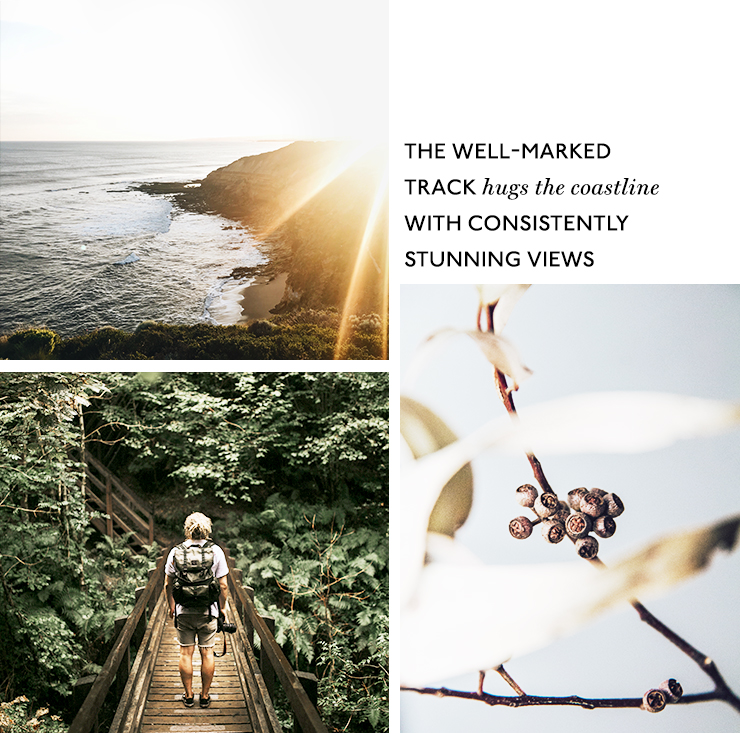 Hare Point Walking Track
The words 'walking track' seem pretty chill and to be fair, this one does cover beautifully soft sand dunes, but let's get one thing straight: it's no circuit 'round the local park.
A six-kilometer track, Hare Point takes the average trekker 2.5 to 3 hours, includes mangrove trees and while quite flat, is for more experienced bushwalkers as there are quite a few obstacles to clamor over. You'll be cleaning dirt out of your socks after, but lawdy you'll have a triumphant smile doing it.
Nadgee Wilderness Walk
How does a 55km walk sound? A bit much? What if we said it was four days over isolated terrain?
Right, now that it's just us hardcore bushwalkers, let's be real. Nadgee Wilderness Walk is a tough one, but well worth the time. It's secluded, tranquil and plain ol' beautiful—you can even spot whales and dolphins if you visit during certain months. Hot tip: tracks may be difficult to follow, or unmarked in places, and you'll need to clean your shoes (at a boot-cleaning station) as well as record your arrival/departure but other than that it's suuuppper chill. Fine, we're lying. It's a toughie. If you don't own a favourite hydration backpack and one you 'only sort of like', it might be best to sit this one out.
Forest Walk To Sublime Point Track
Forest Walk to Sublime Point is what's referred to as an 'extended day walk'. In layman's terms, that's a five or six-hour trek reaching 14km one way. In Netflix time, it's almost all of The Sinner. Stick with us though, we promise it's worth it—you'll pass through a cliff-top rainforest for crying out loud. Trekkers need to be comfortable with a sharp ascent or two but it's mostly flat (ish) so there's no need to fret if you haven't mastered your 'this hill isn't affecting me at all' breathing. We recommend getting a mate to meet you at the end for a barbeque at Sublime Point (and a ride home).
Bendethera Caves Walking Trek
If you're someone who a) needs more than a pretty tree to be happy and b) owns a four-wheel drive/has a mate with one, then boy do we have the trek for you (and your mate, who will probs have to tag along). The Bendethera Caves Walking Trek is only accessible by four-wheel drive via the Deua National Park but once again, it's worth the hassle. An eight-kilometre round trip, with cave spelunking optional, Bendethera Caves is a good location to visit even if it's just for the day. Don't worry if you're not quite the adventurer, white limestone can be spotted from the creek beds along the trail too. Totally counts in cave adventurer points.
Three Views Walking Track
If you smugly guessed the Three Views Walking Track was named after three views, then, well, you're right. The track, based in the Morton National Park, has three cliff-edge views over the Shoalhaven gorge and almost 100 percent flat terrain; a casual weekender's dream. A 9.5km loop, Three Views is perfect for pretty much everyone provided you're not one of those loons who like to get too close to the cliff edge 'cause they aren't fenced here and ya'll are mad.
Sandy Creek Loop
A moderately challenging trail, Sandy Creek is perfect for the walker who dabbles in birdwatching (you may even spot the yellow-tailed black cockatoo) and thinks coastline treks are where it's at. A 6km loop, Sandy Creek should take about two to three hours depending on how well you walk on sand, and whether or not you give the local water dragons a wide berth.
Pambula River Walking Track
The Pambula River Walking Track might be the easiest of the bunch, but when they come this pretty, you don't say no. A breezy 1km return, the track brings walkers through Ben Boyd National Park and takes anywhere from 20 to 40 minutes to dust off. You can enjoy views from Haycock Point and even steal an hour or two on the beach between strolls. Can you say 'winner'?
Haycock Point To Barmouth Beach
Thought the Pambula River walk was more akin to a stroll 'round the shops than exercise? No problem friend. Why not tack on the Haycock to Barmouth Beach trail to kick things up a notch? Taking roughly two hours, this track is moderate in difficulty and known as a sweet spot for whale watching in the right months. Once done and dusted, lay out a towel and enjoy a well-earned siesta in the sun at Barmouth Beach.
Mount Imlay Summit Walking Track
It's not called a 'summit' for decoration folks. The Mount Imlay track will take you up a steep climb (600m) so you better start practicing that hand-on-knees hiker move. The challenging track takes anywhere from two to four hours depending on your fitness level and is a full 6km return. Weather in this area is casually known as 'occasionally extreme and unpredictable' so it's not recommended for those afraid to get their boots or hair wet (guilty). You'll also need to clean your shoes before entering, but you were planning on doing that anyway right?
Here are all the best waterfalls near Sydney.
Design credit: Sarah Law