While the Sydney burger scene is known to serve up some pretty damn delicious stacks, Aussies are finally getting the opportunity to sink their teeth into some of the world's most hyped burgers—Five Guys.
Back in January this year, after months of speculation, the location of the first-ever Australian Five Guys was finally revealed. Yep, Sydneysiders get to sample Five Guys first. While plans had originally been to kick off the Australian expansion of Five Guys in the Sydney CBD—with COVID still in play, Five Guys' partners Seagrass decided to go in a different direction, so to speak.
Australia's first Five Guys location is in Penrith, next door to the Panthers Leagues Club, and we can confirm it will open in a matter of days—on Monday 20 September.
We've been granted a sneak peek at the Sydney menu too, and yep, all your faves are there. The iconic customisable hamburgers, cheeseburger, bacon burger, and bacon cheeseburger; the boardwalk-style fries hand-cut daily, all-beef hot dogs with the added option of melted American-style cheese; and creamy, customisable shakes that you can jazz up with mix-ins like crispy bacon, real bananas, fresh strawberries, or cold-brewed coffee made daily in-store.
If you're not yet acquainted with this U.S-based burger chain, Five Guys is known for two things: burgers and fries. But these burgers are unlike anything you'll find at a typical fast-food joint. Five Guys operate on a "no freezer" promise—their brioche buns are freshly grilled, the ground beef patties are shaped by hand and their hand-cut chips are fried on demand, skin-on and straight to your table.
For those who love a bit of DIY, Five Guys offers a massive 15 different toppings that'll help take your burger to the next level. We're talking everything from grilled mushrooms, green peppers and pickles, to all your favourite condiments and sauces. The list goes on and on. Stick with the classic or max out and add all 15. Using some pretty tricky maths (something called combinatorics) a big-time Five Guys fan figured that this makes over 250,000 ways to customise your burger. All the more reason to visit again and again and again.
Five Guys really focuses on doing what they know best and have clearly mastered the burger scene, evidenced by the worldwide cult following they've been quick to establish. From its first store in 1986, Five Guys has opened nearly 1,500 locations with international outposts in Paris and London. And they are now set for global burger domination with another 1,500 stores in development, including Malaysia and the UK.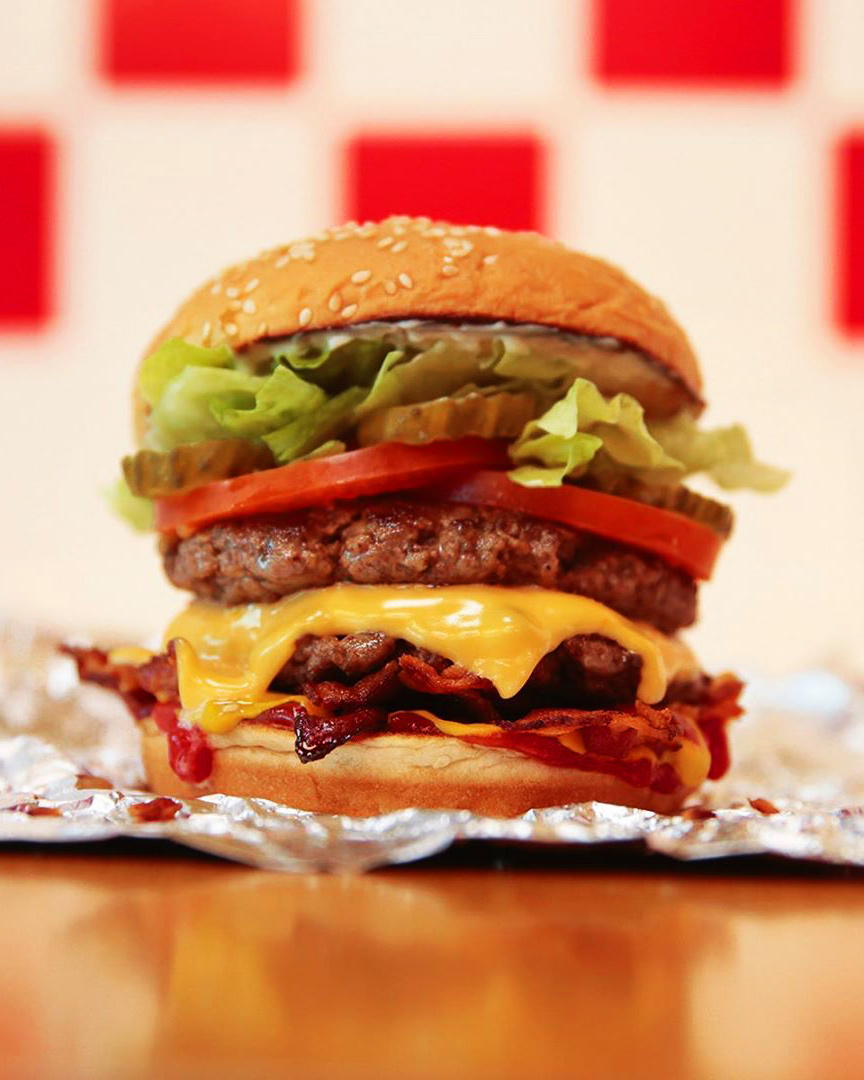 Next in line for a Five Guys store? Darling Harbour, Broadway, Circular Quay, and yep—eventually the CBD too. The expansion of this mega-franchise into Sydney has been snapped up by Seagrass Boutique Hospitality Group, the weapons behind 6Head, The Meat & Wine Co, and Italian Street Kitchen.
"Our commitment is to open approx. 20 stores nationwide in the right locations and with the right staff," David Ovens, CMO at Seagrass said in a statement.
For more information about Five Guys Penrith, including opening hours, head over here. For now, Five Guys is open for takeaway only due to COVID restrictions.
While you wait, here are some of our favourite Sydney burgers to tuck into right now.
Image credit: Five Guys