Finally, coinciding with World Gin Day of course, Four Pillars' brand new Sydney outpost has opened.
Called the Four Pillars Laboratory, you'll find it in the1930s Bussell Brothers building on Crown Street in Surry Hills. Set across two floors with three distinct venues inside, it's a veritable gin lover's paradise complete with a gin boutique, a laboratory for masterclasses and experimental gin things and, the pièce de résistance, a hidden laneway bar called Eileen's that features a totally breathtaking 11-metre juniper-blue concrete bar as its centrepiece.
Sydney-based design studio YSG Studio has looked after the interiors (you know them from The Collectionist Hotel and Edition Coffee Roasters), and basically guys, she's a beauty—here's what to expect.
Eileen's Bar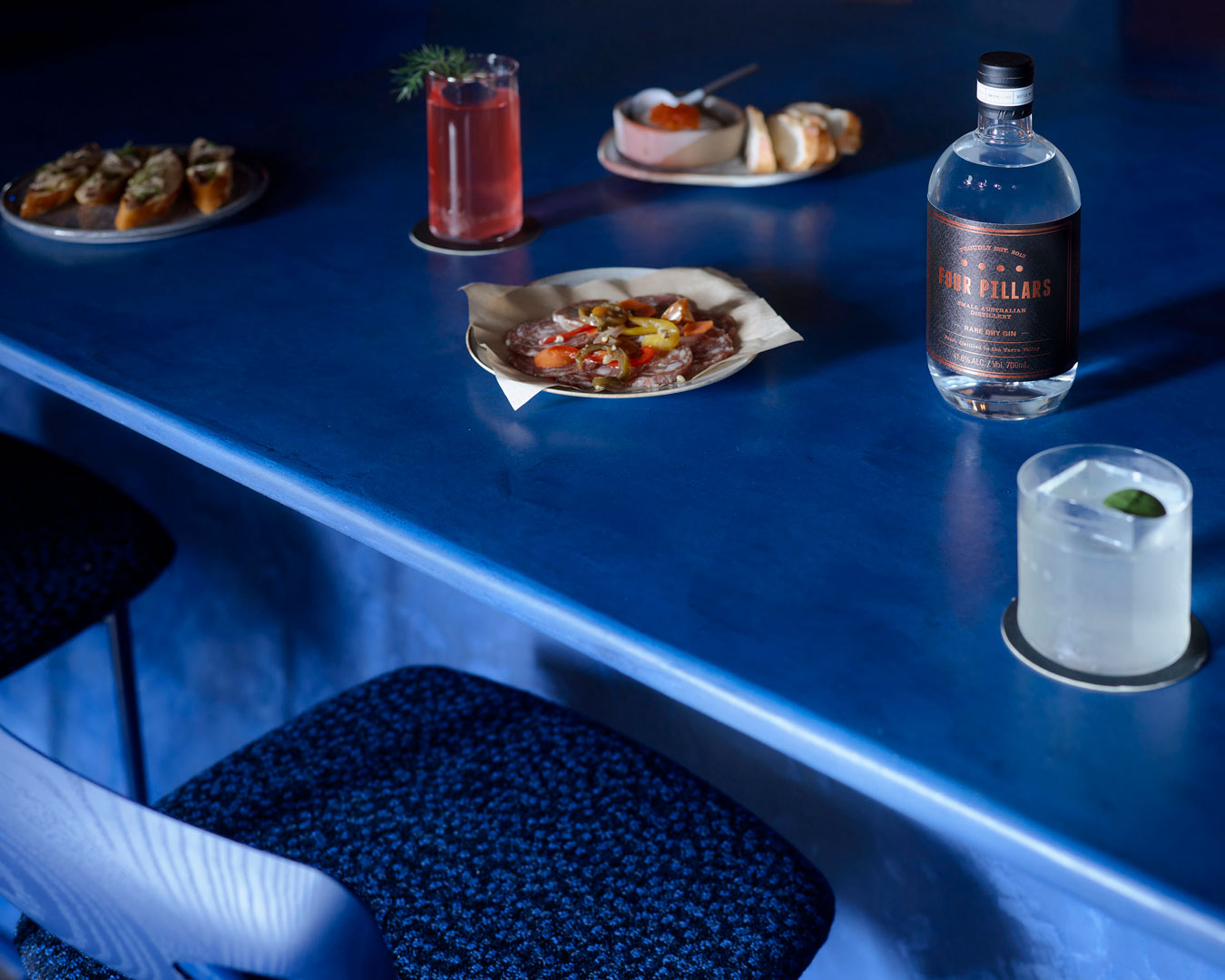 You'll find Eileen's Bar via a hidden entrance on the corner of Crown and Fitzroy Streets (keep your eyes peeled for a doorstep with four projected dots upon it and a simple copper brick welcoming you inside). If the door opens, Eileen's Bar is open. Climb the juniper blue stairs (so fitting) to find a Four Pillars dream bar come to life.
Alongside the centre bar's punch of powdery berry blue, you'll find moody dark timber flooring and cork finishes, plush banquettes and blue-stained Sia bar stools and chairs by local designer Tom Fereday. There's also a low-lit section dubbed "Tinder Lane", that's fitted with cosy and covert settings for two.
Gin cocktails are the heart of the matter here, and Eileen's is home to a special menu designed by James Irvine, the Four Pillars' bar master and creative director. The menu is a perfectly constructed dream laced with Australian natives—but if we had to pick a favourite or two, we suggest trying the Innerbloom, made with Davidson Plum, macadamia and blood lime mixed with Four Pillars' Modern Australian Gin.
We're also vibing the Purple Yamos, with Four Pillars' Bloody Shiraz Gin, ube whey, citrus and whites (a fun spin on the Ramos Gin Fizz).
You'll also find gin-alternative bevvies from friends of Four Pillars like Payten & Jones Chardonnay, Dirty Three Riesling, Thick as Thieves Pinot Noir Gamay, and tinnies of beer and cider too (Furphy, Panhead, Sample and a sour from Garage Project are standouts).
To eat, you've got snacks created by gin maestro Matt Wilkinson. Think botanical marinated olives, fancy steak and pepper party pies, a gin lab jaffle with mortadella and mozzarella, and salt and gin vinegar crisps.
Eileen's Bar is open 5pm to midnight, Wednesday through Saturday. Bookings at Eileen's are essential, head here.
The Lab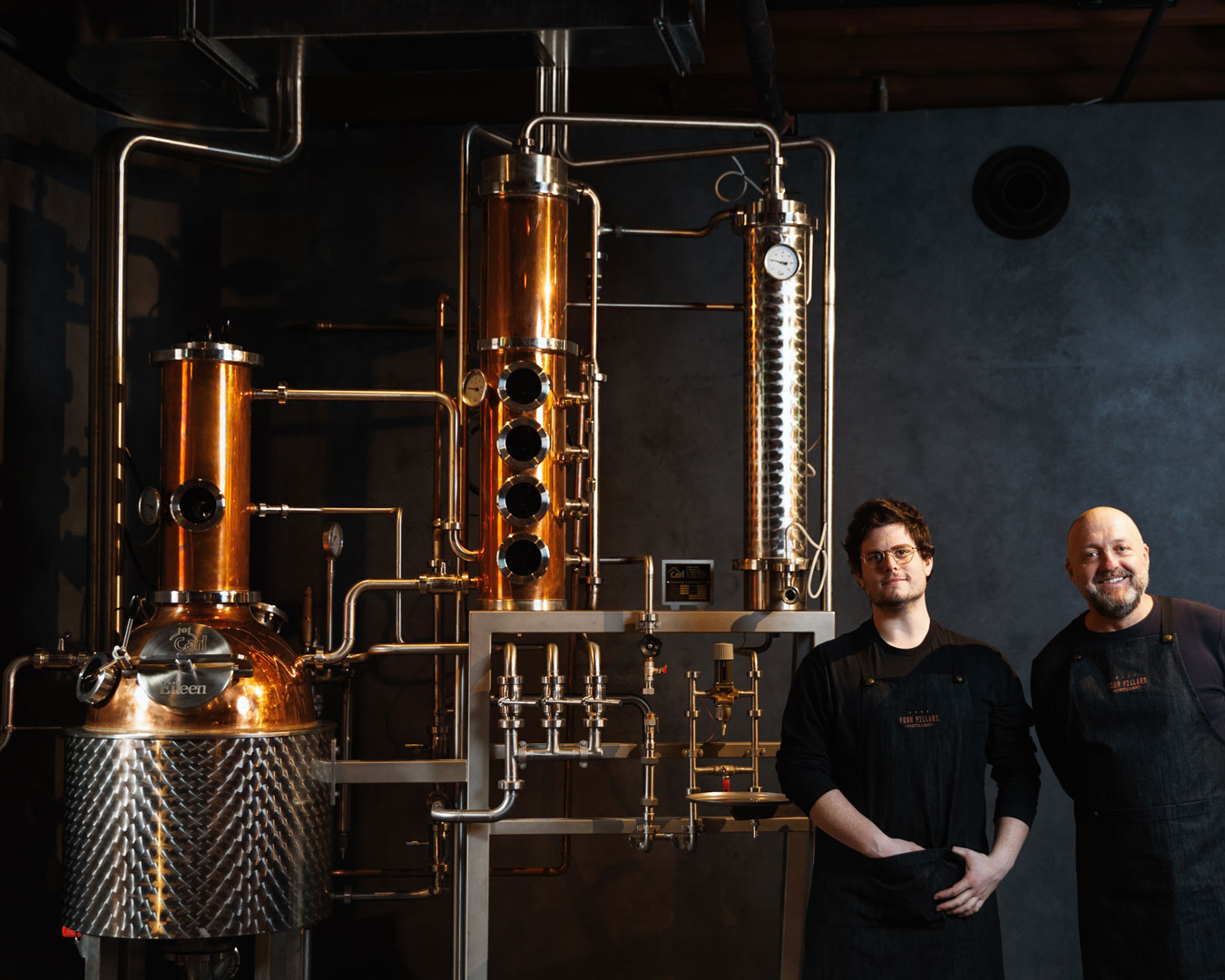 With entry via Crown Street, The Lab is where things get a little experimental. Here Eileen, a beautiful 70L German-engineered Carl copper still, is the star and it's a spot for you to delve into gin thinking with distiller and cocktail masterclasses, tastings and bookable gin gatherings.
The Lab also has a dedicated bar, which accepts walk-ins and serve G&T paddles, a rotating list of gin martini specials, a perfected Negroni and a brunch cocktail called the Spicy Red Snapper (it's made of Rare Dry Gin, Patio Beverages bloody mary mix , Four Pillars' hot sauce and Guindilla).
G&T paddles are served with three Four Pillars gins of your choosing and Fever Tree Mediterranean tonic.
The Four Pillars Gin Lab opens from 12pm - 6pm every day.
The Gin Shop
As for the ground-floor Gin Shop, you'll also be able to shop limited-edition gins and gin-infused products, like marmalade, Gin Pig Salami and Hunted & Gathered chocolates in addition to bar kits, merch, gin books and drinking miscellany.
The Gin Shop will be open 10am - 6pm every day.
Love gin? Us too. Here are a few more of our favourite spots to sip G&Ts in Sydney.
Image credit: Anson Smart