Opening today and running until June, UTS Gallery is presenting a survey exhibition of works from celebrated Gunditjmara artist Hayley Millar Baker.
In an exciting first for the award-winning, Melbourne-based photographer, There we were all in one place brings together 35 works spanning five photographic series created between 2016 – 2019 for the very first time. While the exhibition's title may aptly detail a coming together of Millar Baker's series, it comes from a deeply personal place like so many of her works. It's a more obscure lyric from the infamous song American Pie by Don McLean, a song which the artist fondly recalls knowing all the words to by age five, thanks to her mother and aunties.
This connection to her family drives the very essence of the collective works presented. Millar Baker understands how fortunate she is to access her grandfather's photography archives, which she intimately blends into her work. "My nan would say that that he would be so happy because he passed when I was 11," she says. "And he would be ecstatic to see that his work is out and about because he did quit abruptly when he had eye problems."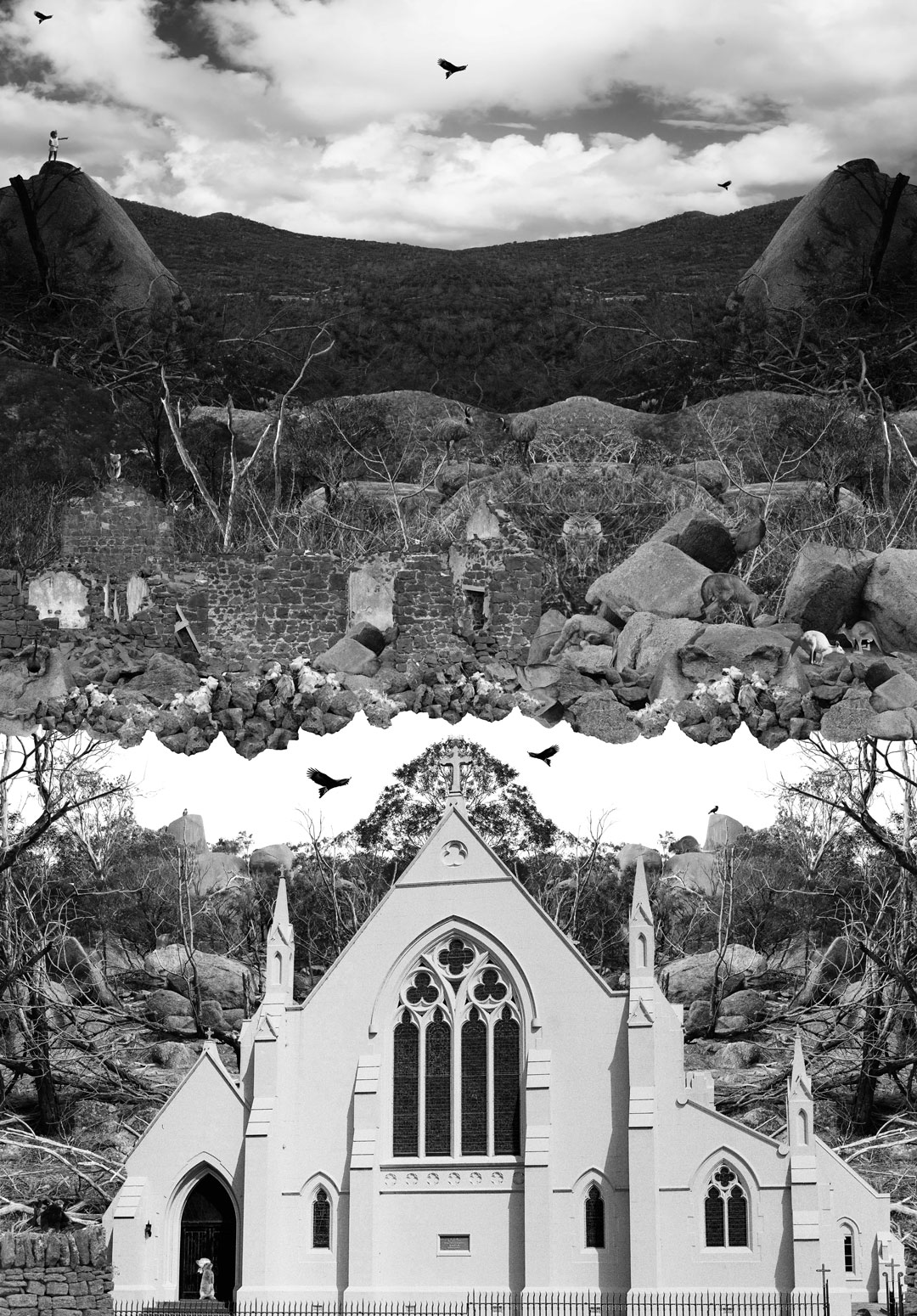 That familial collaboration and use of archival images inform a very unique but purposeful creative choice. Millar Baker presents her photographs almost exclusively in black and white, thereby avoiding a specific timestamp of past, present, or future on the collated images. "The black and white lend to my ability to bend time," she explains. "But also, so the narrative comes through a lot stronger."
While she initially shoots in colour, the complexity of her work and the hidden figures, symbols, and images become more visible without the noisy distraction of colour—amplifying her intent and visual message. Understandably so, with some of her works comprising over 300 singular images taken from film, digital, and archives to create one picture.
While the photographs presented in There we were all in one place speak to historical reappropriation, the Gunditjmara artist isn't trying to re-write the past.
"I think the big thing with my work is that a lot of people think that I'm filling the gaps in history and correcting history," she says. "I'm not concerned about history; I'm more interested in how memory works and then where the truth lies within memories." The goal is to discover and present her family's memories and truths. The task is then up to viewers, with whatever knowledge and truth they bring, to pick up on the clues and vacant visuals to decipher meaning.
Unlike words which often force us into a specific viewpoint, Millar Baker prefers the way images allow room for interpretation. "They give responsibility to the viewer and leave it in their hands," she says.
For more info on the exhibition, jump over here.
THE DETAILS
What: There we were all in one place exhibition
When: Tuesday 13 April - Monday 14 June
Where: UTS Gallery
Keen to see more art? Dance around light and lasers at the newest exhibition at White Rabbit Gallery.
Image credit: Hayley Millar Baker