You might think that to see some steaming, natural pools you'd have to travel to the likes of Iceland, Japan, New Zealand, or Turkey to find some of the best. However, NSW does have a few secret hot springs worth the weekend road trip.
And with the weather getting cooler, there's no better time to get back out and explore the best of what regional NSW has to offer.
Here are all the most beautiful hot springs to visit in NSW.
Yarrangobilly Caves Thermal Pool
Kosciusko National Park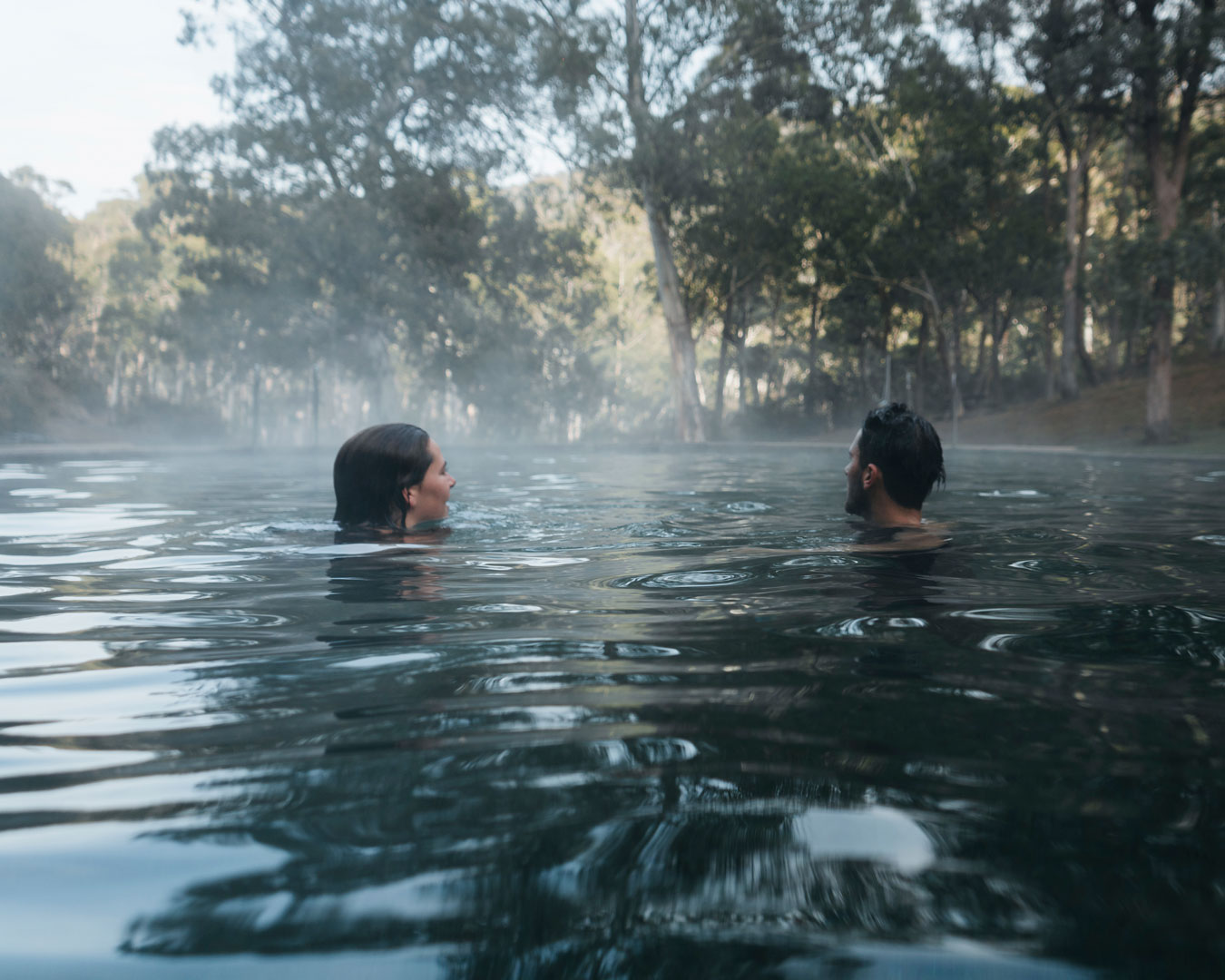 This hot pool is found smack bang in the middle of Kosciusko National Park, an absolutely stunning setting. Fed by a natural spring, this magical swimming spot in NSW goes hand-in-hand with a number of epic picnic spots, the Yarrangobilly thermal pool walk and the river walk loop. You'll find it in a pristine mountain-meets-river setting, which makes it the perfect place to road trip to in summer and an absolutely enchanted gem to find during winter (snow blankets are not uncommon).
Travel time: 5-hour drive from Sydney
Where to stay: This luxe tin cabin in Crackenback Valley or a serene oak apartment in Thredbo
Lightning Ridge Hot Bore Baths
Lightning Ridge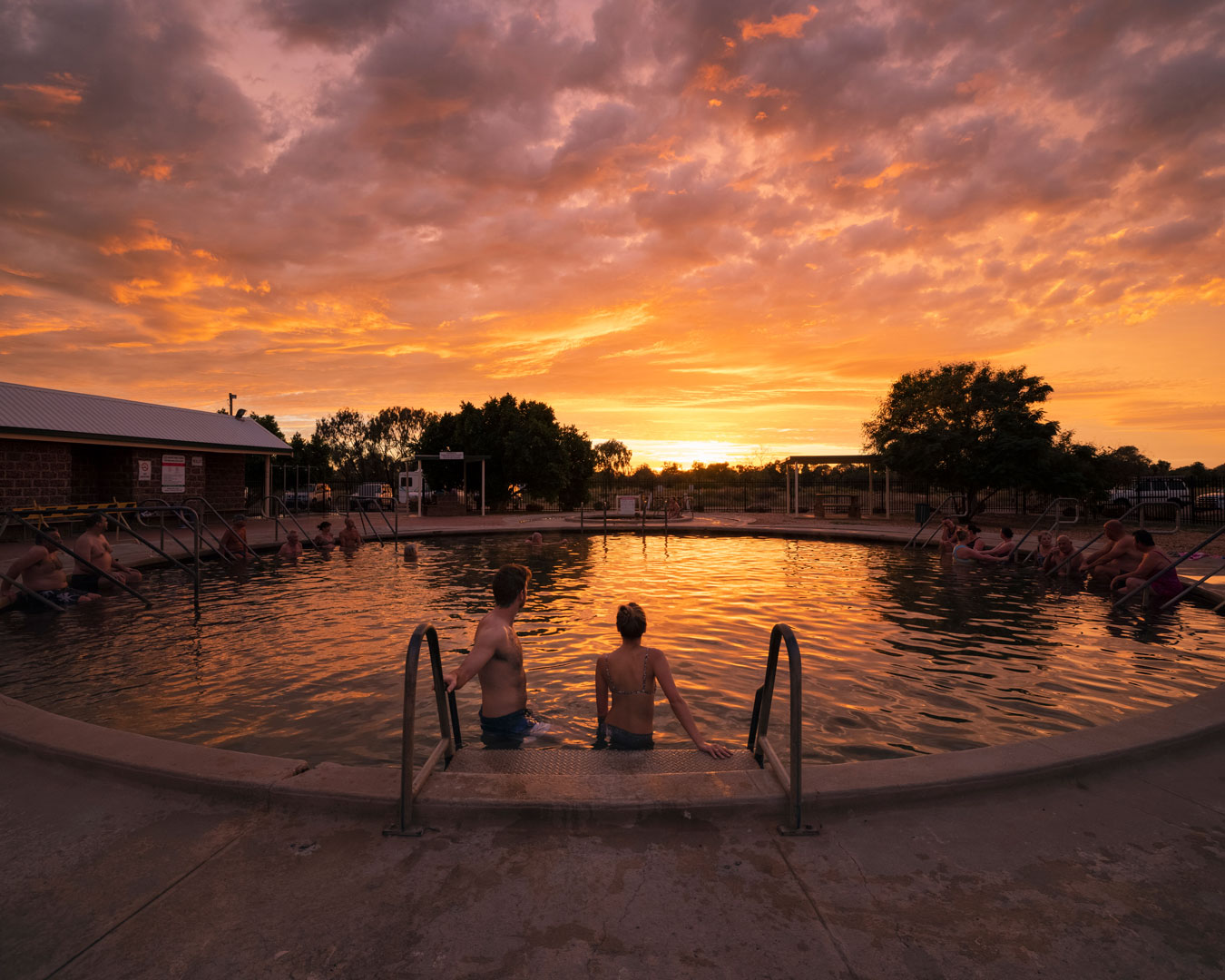 Lightning Ridge is a remote town in Yuwaalaraay country near the Queensland border. Open all day every day and totally free of charge, the Lightning Ridge Hot Bore Baths are one of the solid pit stops you need to take when you're rolling around on one of the best road trips in NSW. These baths are around two million years old, with water coming from the Great Artesian Basin. Natural pressure sends the water to the surface through a bore and it maintains a cruisey temperature between 40-50°C.
The beauty of this NSW outback bath is that because it's open all the time, you can take a dip at night time and do a spot of stargazing to wind down after a long day of driving. To find it, make sure you hit Morilla Street (the main street into Lightning Ridge), turn right on Opal Street, then take the second left into Pandora Street and spin down two kilometres into the hot baths.
Travel time: 9-hour drive from Sydney
Where to stay: This cute boathouse-themed house or a unique castle that sleeps 7 guests
Japanese Bath House
Blue Mountains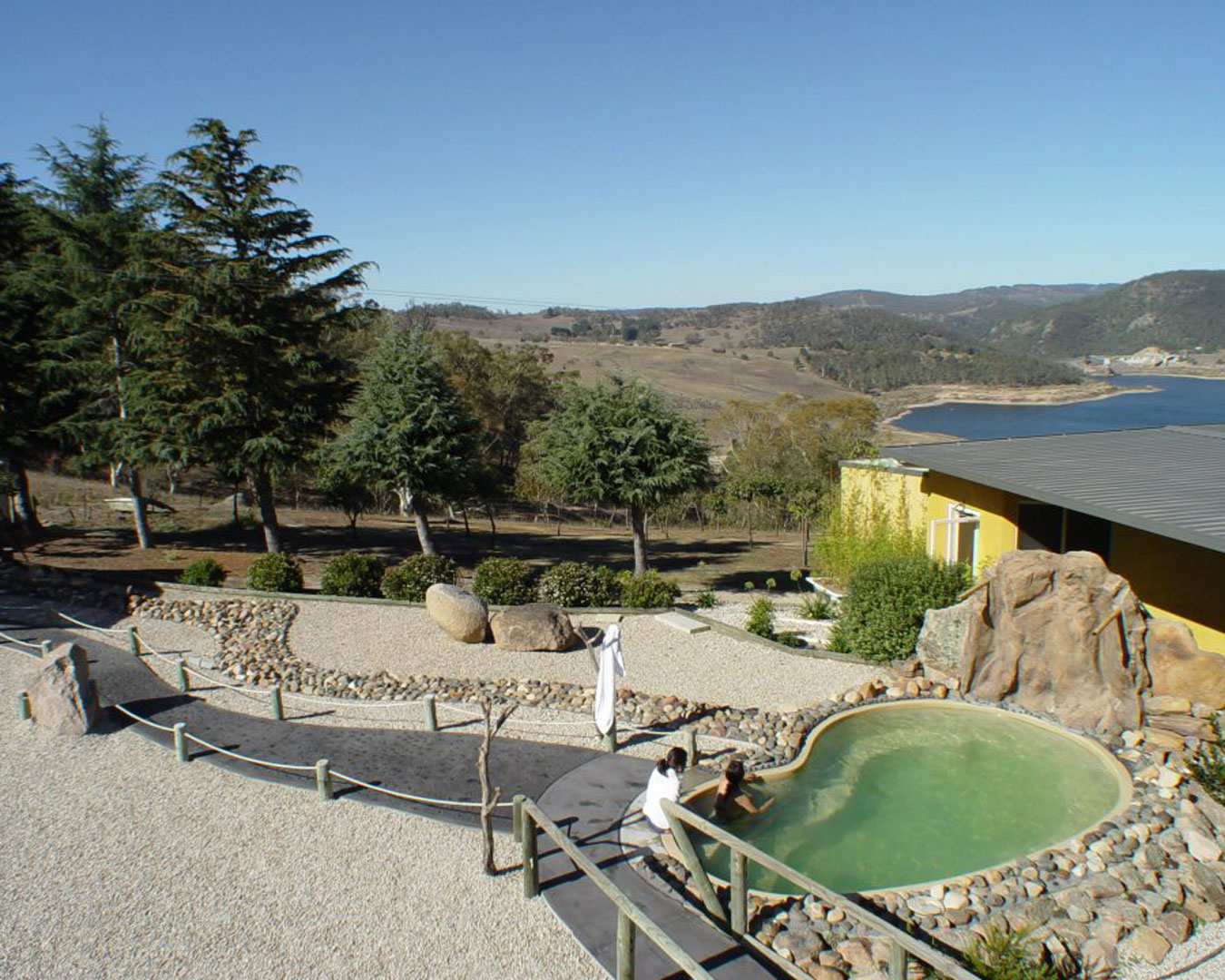 The Japanese Bath House is the closest hot spring to Sydney that you'll find on this list—so if you were hoping for a quick day trip or easy weekend away, this is the spot. The traditional Japanese onsen offers indoor and outdoor pools, a private buro (bathtub), a tea room, relaxation packages, and accommodation. Here, the natural mineral spring water flows from a depth of about 300 meters—and the outdoor pool offers sweeping views, too. Due to its proximity to the big city, this spot is popular so bookings are a must.
Travel time: 2.5-hour drive from Sydney
Where to stay: At the Japanese Bath House or this luxe hilltop cabin
Pilliga Bore Baths
Narrabri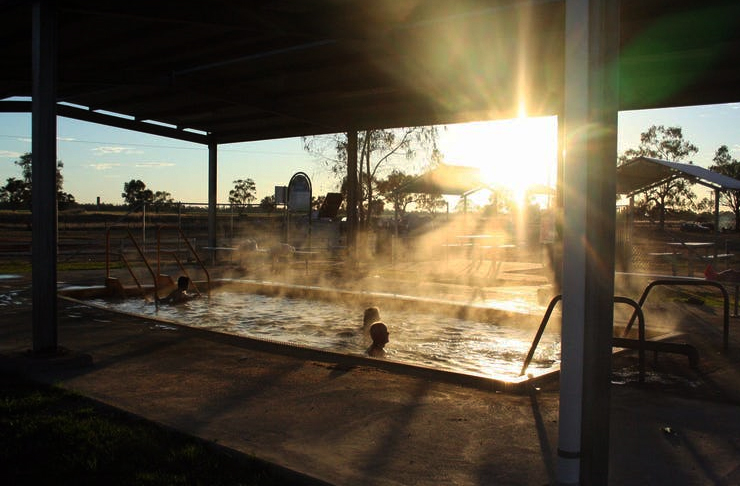 The water that fills these baths has been flowing for well over a century now. Sitting at a cool 37°, this small spring is found just east of the village of Pilliga along Pilliga Road and yes, bring your tent or RV, because you can camp out here. This mini thermal pool has a roof and lights for nighttime bathing, and nothing really beats soaking up the mineral water this bath has to offer.
Travel time: 7-hour drive from Sydney
Where to stay: This cosy cottage decked out with a pool or this rustic 8-person farmstay
Burren Junction Bore Baths
Walgett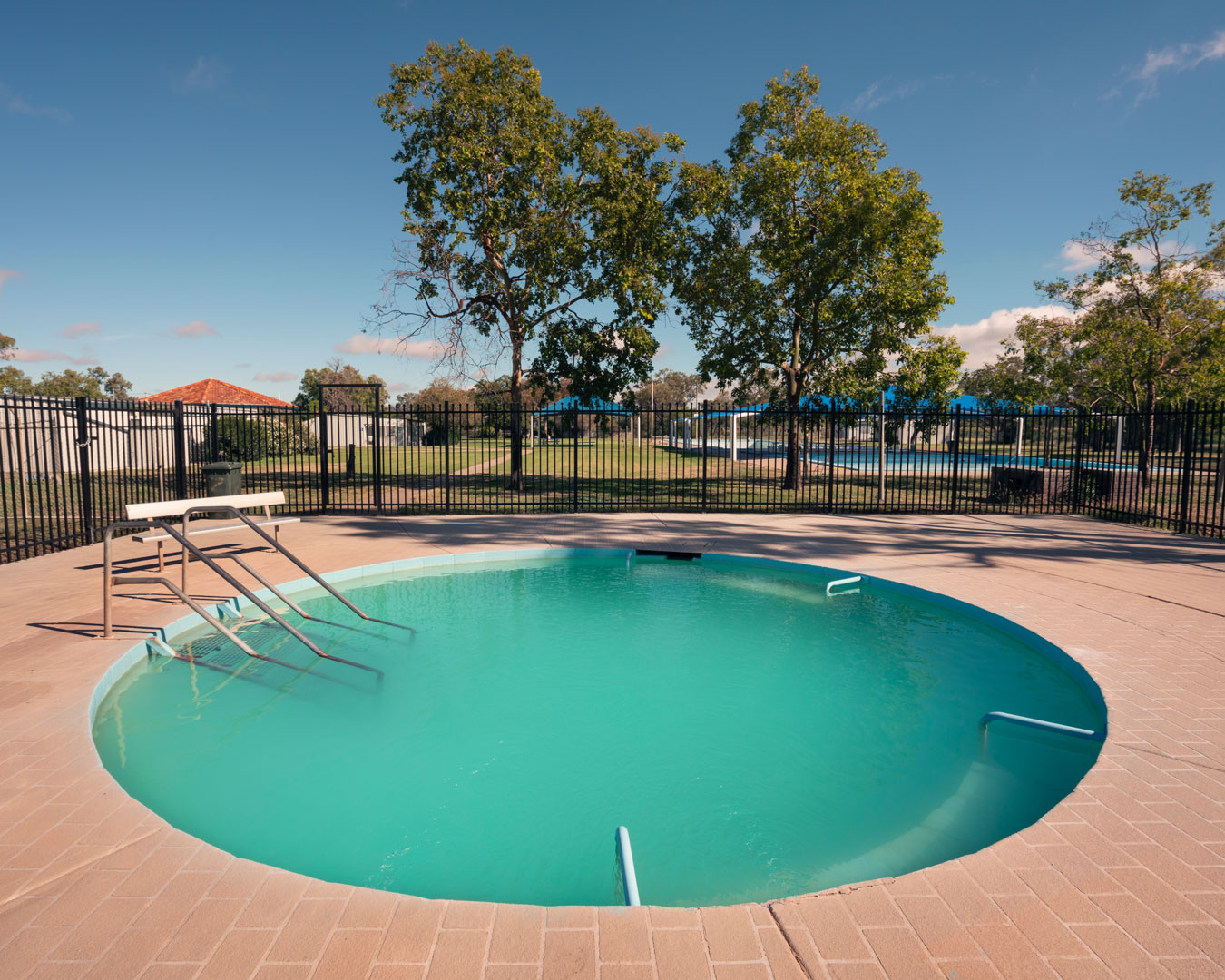 Burren Junction Bore Baths is an incredibly popular spot for campers and caravanners, drawn to the free access to both the nearby camping site and the baths. If it's a rural setting you're after, it's a rural setting you'll get at these baths (about 100-metres off the Kamilaroi Highway on a sealed road). The baths are open 24 hours a day and seven days a week so you don't have to ask yourself why this one's a favourite.
The artesian water flowing from the bore mountains means these baths have a constant heated temperature of around 41.5 degrees (this in itself has therapeutic qualities like relieving aching muscles). You can actually camp on-site as well and there's an amenities block with electricity, poolside showers, barbeque facilities and filtered water. Just note, the Burren Junction Bore Baths are closed during the summer months, but the camping ground is open all year round.
Travel time: 7-hour drive from Sydney
Where to stay: Burren Junction campground
Looking for something more coastal? Here are the most incredible ocean pools in Sydney.
Image credit: Destination NSW