Sydney is no stranger to a saltwater playground, in fact, we've casually racked up over 30 ocean pools, some heritage-listed and untouched since the 1960s.
Throughout this list, you'll find a batch of natural rock pools, old-school baths and beautifully built landmarks, which will no doubt liven up your brave morning dips or sunset walks.
Here are all the most beautiful ocean pools in Sydney—make a plan to visit for an arvo swim soon.
South Curl Curl Rockpool
Curl Curl
South Curl Curl Rockpool's Olympic-sized space will add some serious mileage to your swim, with a dividing wall that dates back over a century. If you're just up for a dip, there's a separate shallow section so you can soak in some salty goodness without the exertion.
Free access, toilet and shower facilities.
Mahon Pool
Maroubra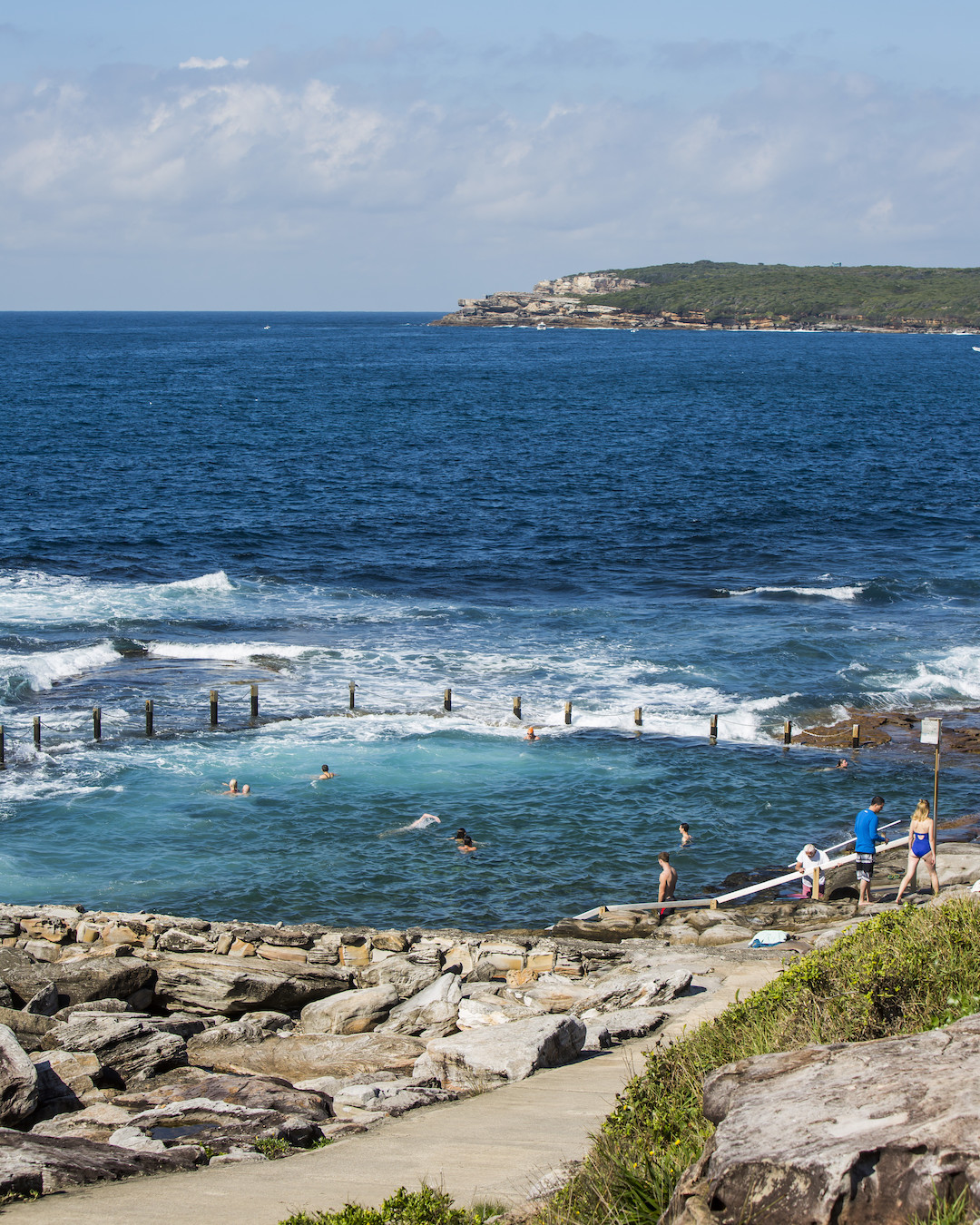 Look, there's nothing like walking around the bend of Marine Parade on a cool day to the panoramic vista of Maroubra Beach. Jumpcut to diving into the open seaside goodness of Mahon Pool. If you hit here at around 7am, she's a misty oasis perfect for a little surfer-watching. This one's cleaned on a Wednesday, so we recommend visiting in the second half of the week.
Free access, toilet and shower facilities.
Fairlight Rockpool
Fairlight
There's a timeworn argument (much like the chicken and egg debacle) around whether Fairlight Rockpool is a harbourside bath or true Sydney ocean pool—but for the purposes of blissful saltwater bathing, we're happy to include it on this list. It features a smaller paddling pool on the side, all the rock space to maximise your lounging time, and a grassy knoll that offers a little respite from the sun (no Bondi, not the grassy knoll).
Free access, toilet and shower facilities.
Bronte Baths
Bronte Beach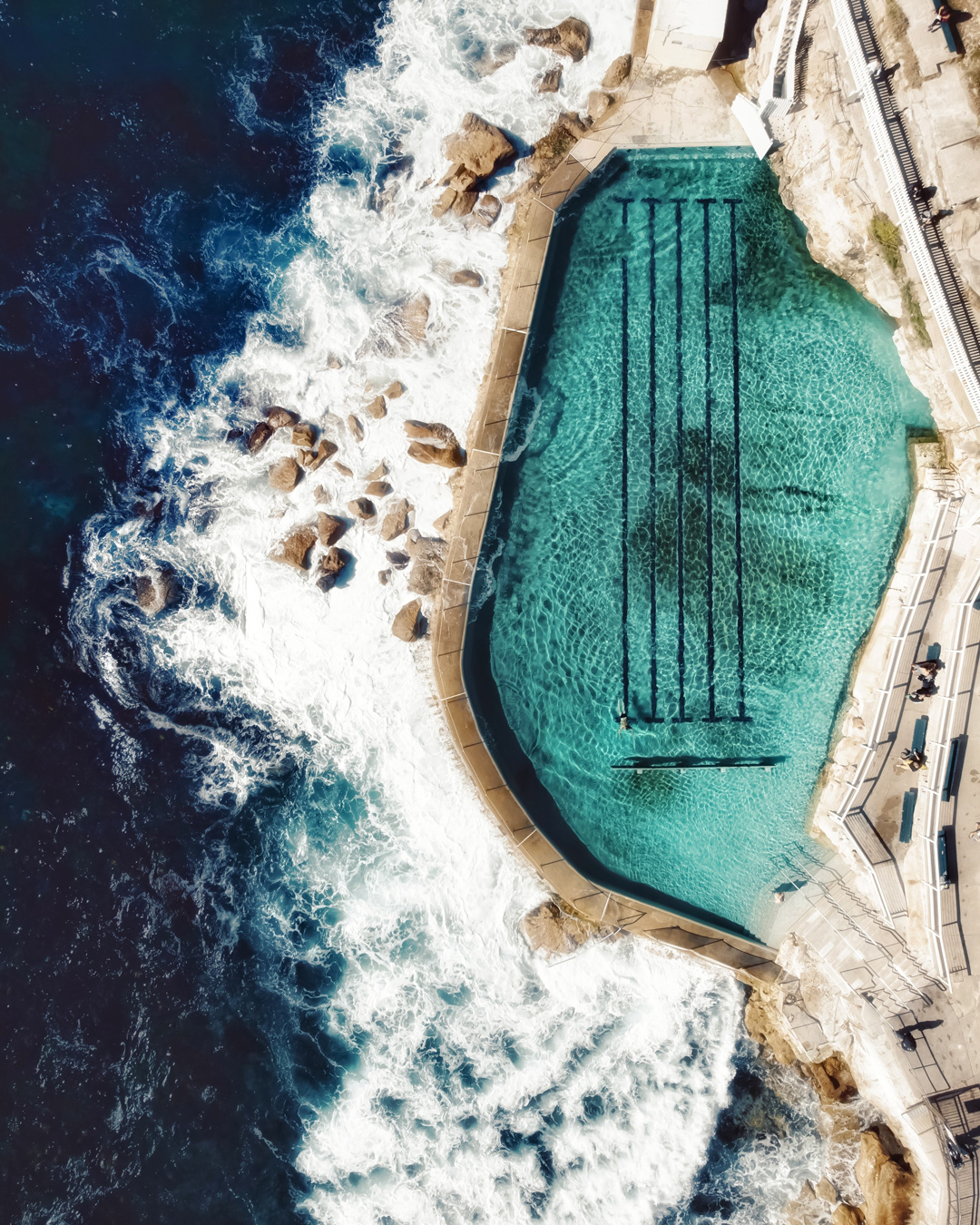 There's not much around Bronte that isn't iconic. We're talking the Bronte Gully (the dark underworld of every lost football ever), the coastal walk, the East's most hectic kiosk, the age-old train loop (if you know, you know) and of course, the Bronte Baths. We'll be honest, this saltwater rockpool attracts a manic crowd in summer and gets a good run on the flight path of every Eastern Suburbs drone, but should you rock up during the chilly months, this pool is a clear and quiet vision guaranteed to offer up some serious zen.
Free access, toilet and shower facilities.
Mona Vale Rockpool
Mona Vale
Located off Surfview Road at the northern end of Mona Vale Beach is a mammoth rockpool aptly titled Mona Vale Rock Pool. Here, you'll find two pools worthy of a splash, but we suggest you hit the larger pool, which comes in close to 30 metres in length, if you're keen to get in some laps. This one's opposite the popular Apex Park which has electric BBQs, picnic tables and a children's play area and children's bike path, and there are plenty of cafes nearby too.
Free entry, toilet facilities.
Collaroy Rockpool
Collaroy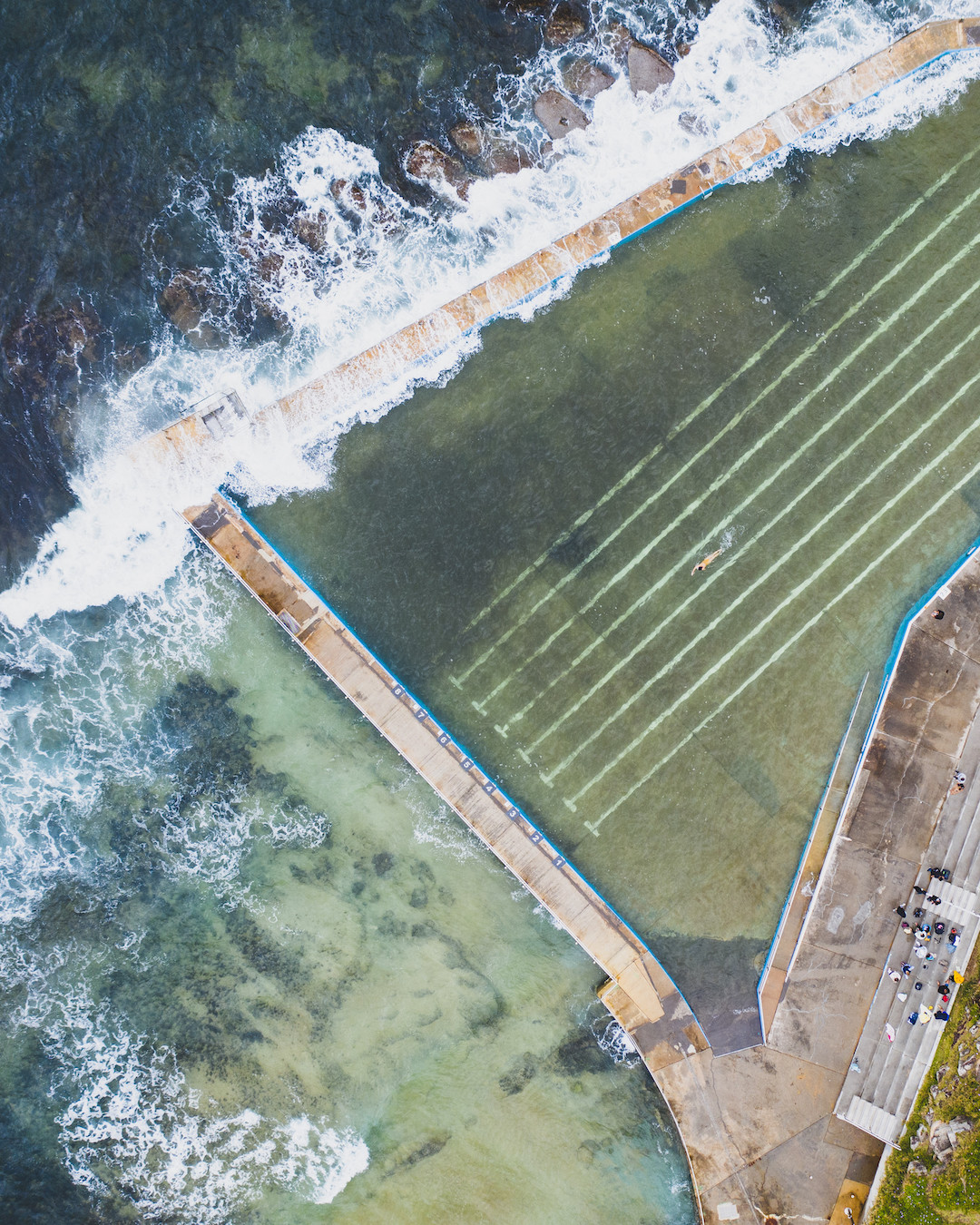 A favourite for families thanks to its mix of lap-friendly lanes and a wading pool, the Collaroy Rockpool is set apart by its friendliness to people with disability, with a ramp to access the pool and disabled facilities nearby.
Free entry, toilet and shower facilities.
Shelly Park Ocean Pool
Cronulla
When you hit up Shelly Park Ocean Pool in Cronulla (not to be confused with Manly's Shelly Beach), you'll be a stone's throw from sprawling picnic areas and BBQs. This ocean pool offers a bit more seclusion compared to Cronulla's other tidal pools and is surrounded by a rocky area, which generally works to hold big swell at bay.
Free access, toilet and shower facilities.
Wylie's Baths
Coogee Beach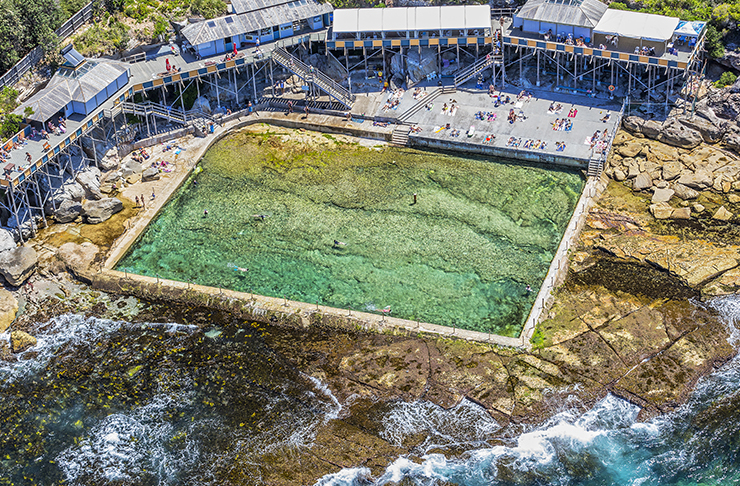 Coogee is a stealthy hoarder when it comes to amazing ocean pools (we're looking at you Giles and Ross Jones) but Wylie's Baths, if we had to choose, beats the lot. Founded by long-distance and underwater champion Henry Alexander back in 1907, this seaside pool was one of the first mixed-gender baths in Australia. These days this heritage-listed beauty houses a killer kiosk, pilates, massages, and a cliff-hanging deck with one of the most insane coastal views around—which is great for when it's too cold for a swim. Entry is $6 (or $3 for concessions), and you can buy a value bundle or annual pass.
Toilet and shower facilities.
Newport Rockpool
Newport
This one's possibly the most beautiful ocean pool out of them all. Newport's famous salty pool is 50 metres long and is lined with BBQ facilities for all your beachside picnic plans. Tides here can be pretty formidable, so make sure you check surf conditions.
Free access, toilet and shower facilities.
Icebergs
Bondi Beach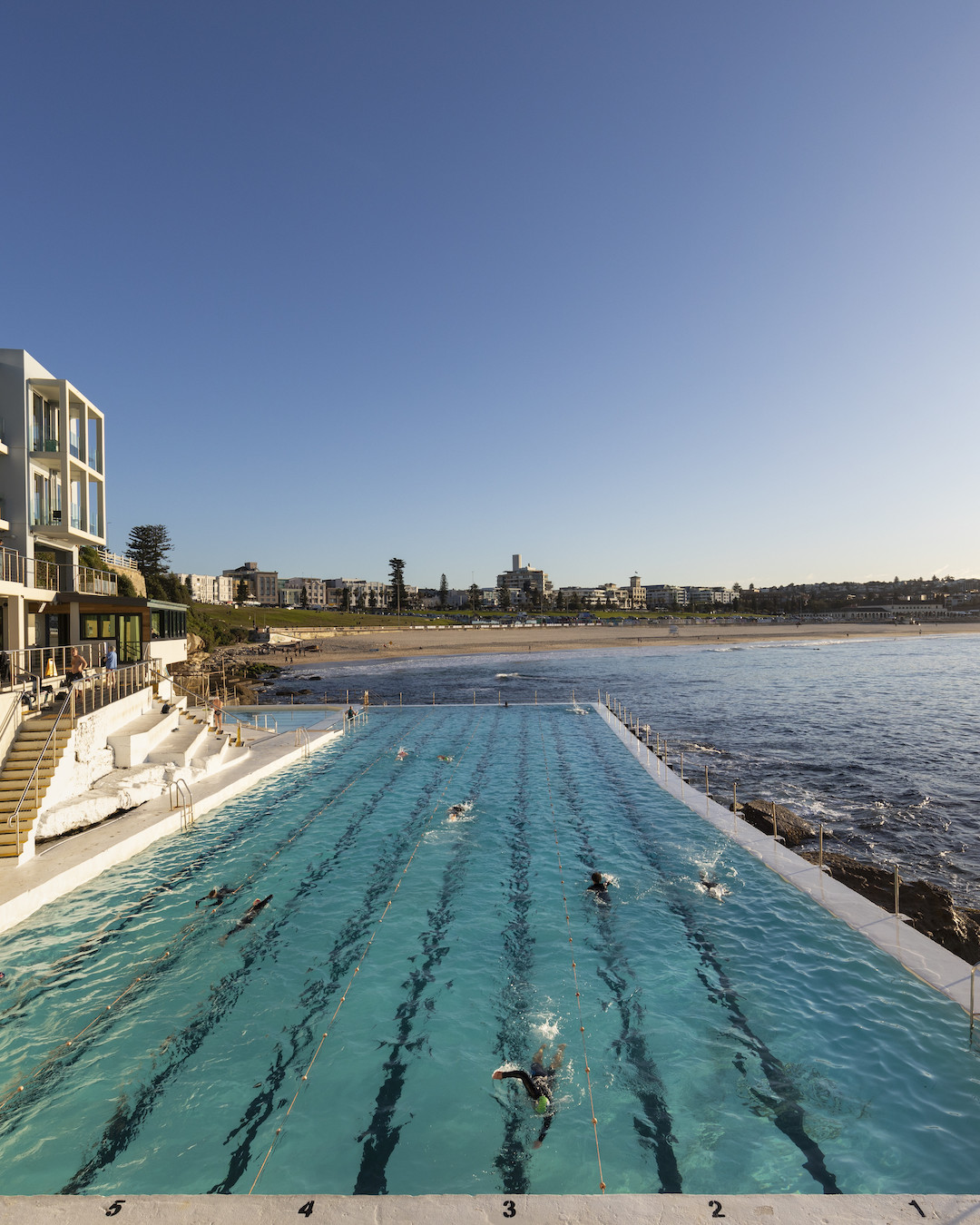 Icebergs Pool is to Bondi what Kim is to the Kardashians. Arguably the face of the Eastern Suburbs, this iconic landmark has been enticing local lifesavers and swimming enthusiasts since 1929. It's received a whole lot of love on the renovation and restoration front so you can expect an epic white pool deck, a beloved sauna, and post-swim fuel from the Icebergs Club Bistro. For something fancier, head upstairs to the iconic Iceberg's Dining Room and Bar. Entry is $9 for adults, or $6 for kids.
Toilet and shower facilities.
McIver's Baths
South Coogee
Located on a mammoth cliff face, McIver's (Ladies) Baths is hidden between Coogee Beach and the iconic Wylie's Baths. You can access the pool from Grant Reserve and it sports a brick platform to bake on and a small clubhouse. This ocean pool has a big history having been built way back in 1886 and is the last women-only (and children) seawater pool in Australia. Entry is $2.50, or you can commit to ten swims or an annual pass.
Toilet and shower facilities.
Fairy Bower Rockpool
Manly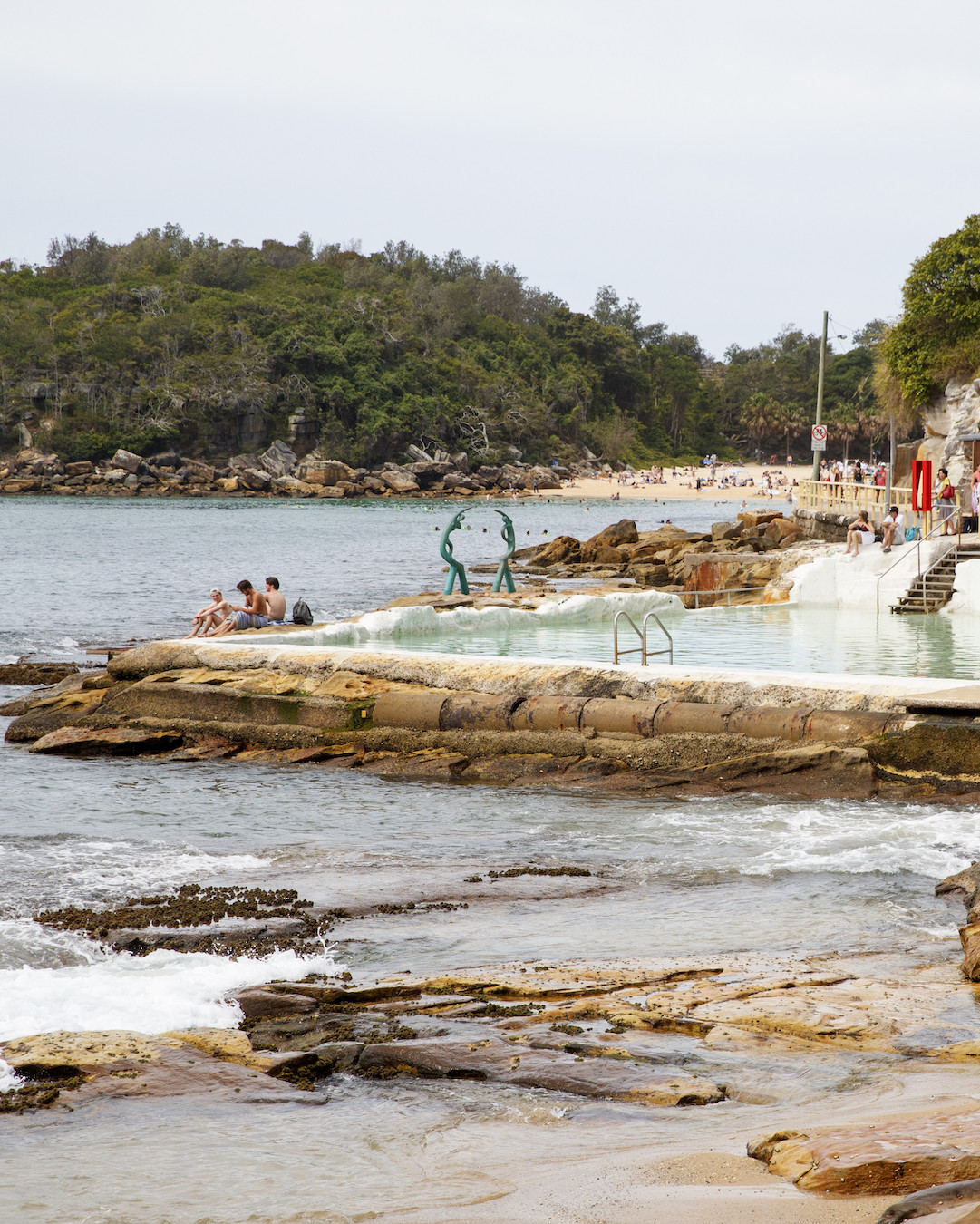 This triangular 20-metre ocean pool is one of the oldest in Sydney and casually rests alongside the Cabbage Tree Bay walking track. It features the famous sculpture "The Sea Nymphs" created by Helen Leete and, though a bit too awkward in shape to conquer actual laps, is one of the most refreshing pitstops for a quick swim any time of the year.
Free entry, toilet facilities.
Prefer to paddle? Here are the most insane places to go kayaking around Sydney.
Image credit: Destination NSW, Destination NSW, Emjeii Beattie, Destination NSW, James Phillips, Brook Attakon