We all love a weekend getaway, far away from the grit and grind of the big smoke—especially in 2020. But our trips and time out shouldn't have to cost the Earth.
From sustainable farms to tiny homes, and wilderness huts—re-wild yourself and breathe in a little mother nature with these beautiful sustainable escapes in NSW, each a relatively short trip from Sydney (to lower your travel mileage and, in turn, your carbon footprint).
Kestrel Nest Eco Hut
Mount Adrah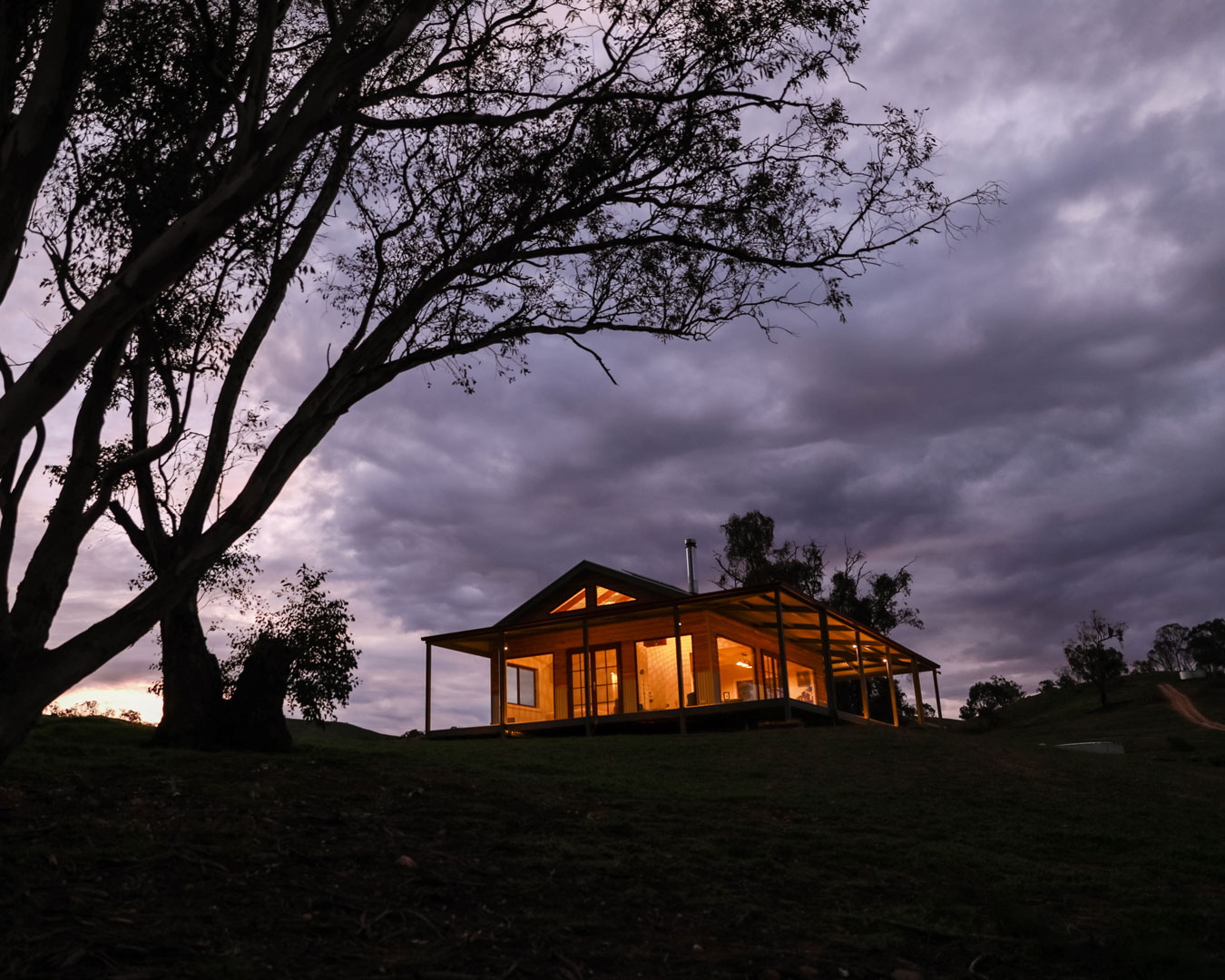 This recently completed eco-stay is truly special. You'll find it nestled in the rolling hills of Highland Farm and Woodland—a sustainable farm and conservation area peppered with adorable Dorper sheep near Tumut and the Snowy Mountains. On the decision to build the eco-hut, owner Louise Freckelton says "given our focus on protecting critically endangered habitat and wildlife-friendly farming, we had to build a place that was low impact."
"It's entirely powered by saved sunshine. It is built using largely fallen timber grown and milled on the property meaning low building miles and sustainably sourced timber. It re-uses materials from the original hut," Freckelton tells us. We especially love the Kestrel Nest's little luxuries, like the outdoor freestanding tub on the wrap-around balcony with an unbeatable view, the crystal clear night sky for stargazing, and the hampers filled with locally-made treats and local wines. Book here. Highland Farm also offer camping.
Paperbark Camp
Jervis Bay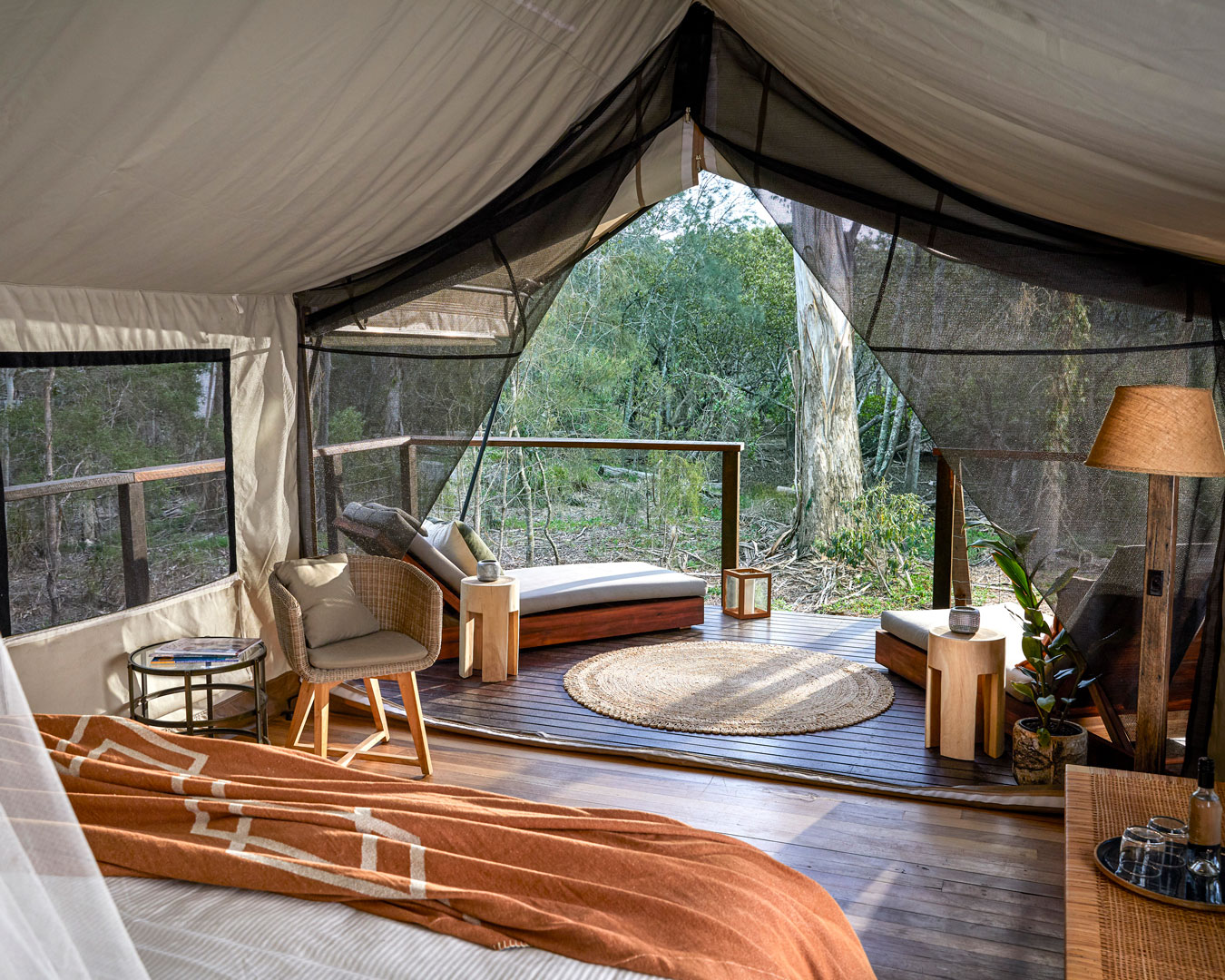 Paperbark is one of Australia's OG glamping experiences, pitched on a camp in the glorious wilderness of Jervis Bay. Sustainability has always been a part of their mandate, long before it became a buzzword, so while you're enjoying an idyllic (and very comfortable) Aussie bush experience, you can rest assured knowing the environment around you has not suffered at your expense: these guys are the real deal.
Tents are solar-powered and designed with shallow foundations off the ground. Only biodegradable cleaning products are used, exotic species (non-natives) are regularly removed, and guest vehicles are kept away from the camp. Check it out and book a stay here.
Unyoked
Various Locations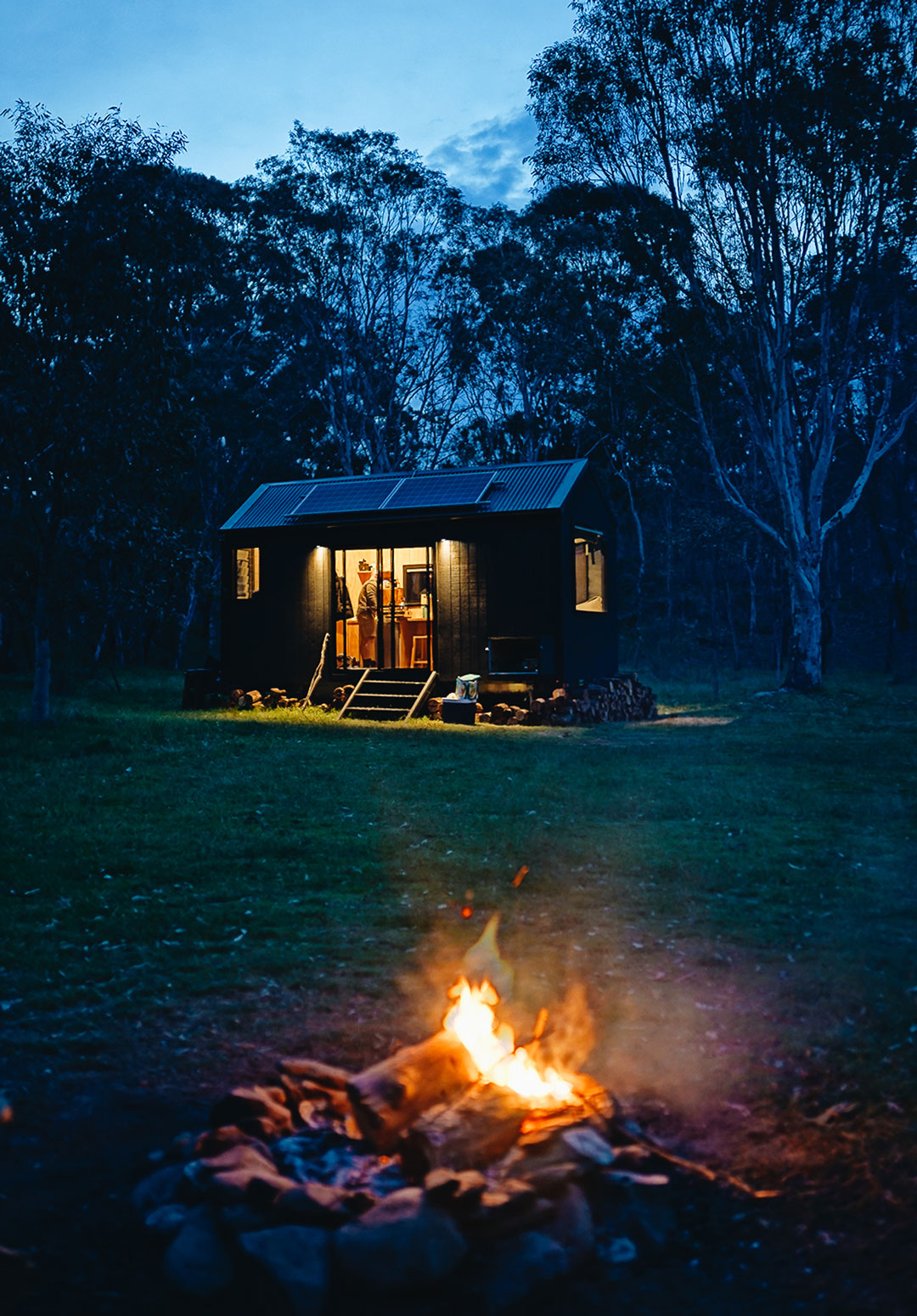 The ethos at Unyoked is all about low-impact, essentials-only escapes. To put it simply: minimum footprint, maximum chill. This inspired start-up has a small collection of hidden tiny homes peppered across Victoria and NSW. One of our favourites, called Coralie, is only a little over 2 hours from Sydney. A newer cabin, Rex, concealed in the lush horse valleys behind the Central Coast, is pitched high on a hill for one of the prettiest sunsets you'll ever see.
Adventure is a part of the deal here too. You'll be given coordinates (like, longitude and latitude) to locate the cabin the day before your stay as well as a couple of pointers—otherwise, you're on your own as you descend into a leafy wilderness, down a dirt track, and into a grassy field, or in the case of Rex, up a very steep hill. Hot tip: Arrive in the daylight, your iPhone torch will not suffice out here. Book your stay here.
In2thewild
Various Locations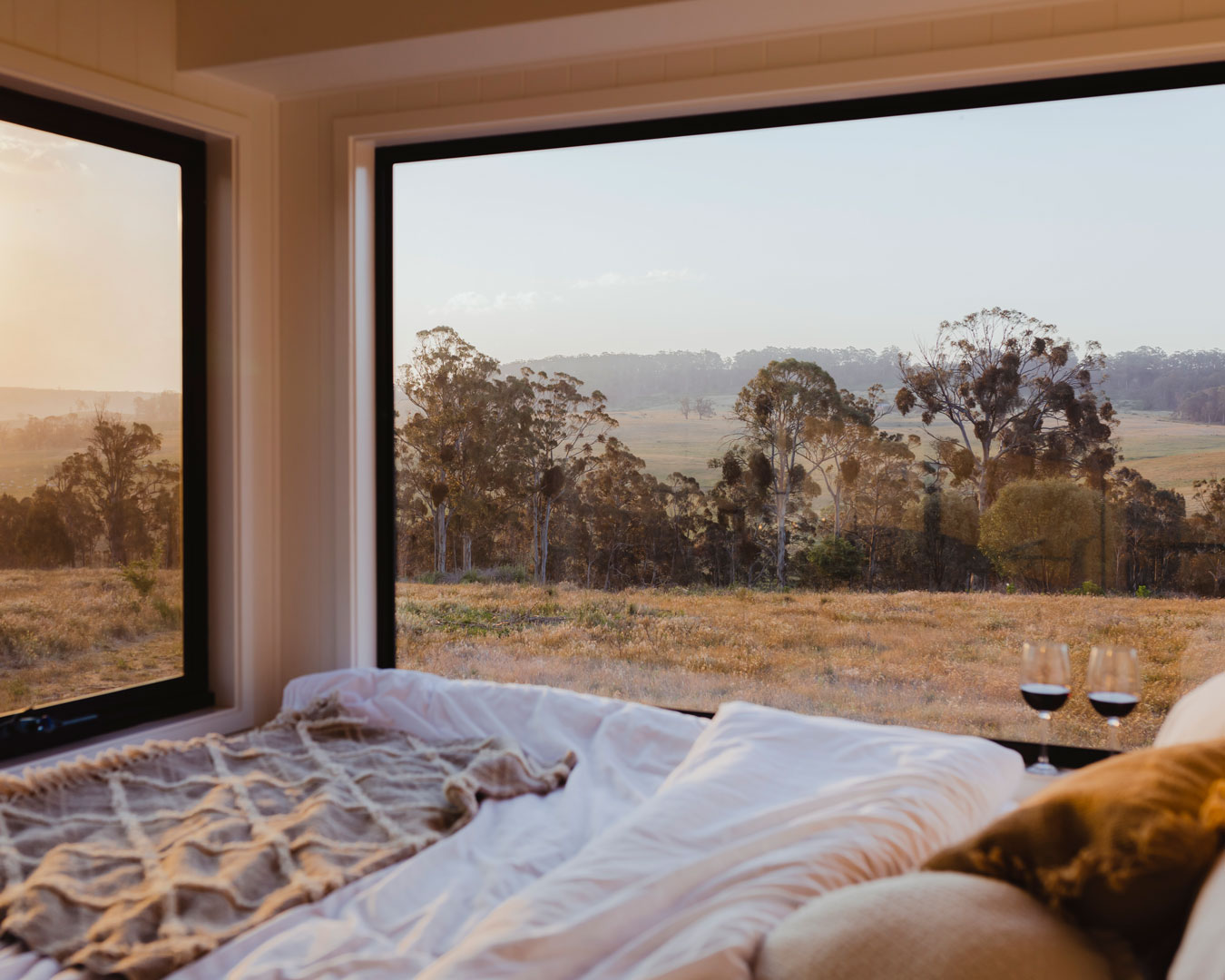 Also championing the tiny home, secluded, and sustainable escape concept is In2thewild. Our favourite cabin, Darcy, has been set up on a 100-acre block in the Hunter Valley about 90 minutes north of Sydney. This spot is solar powered, low-impact, and pet-friendly. Be prepared to go off-grid—mobile signal is limited! Best part? There's a fun wine bar not far away, as well as all of the Hunter Valley's epic wineries. Book your stay here.
Billabong Cottage
Kangaroo Valley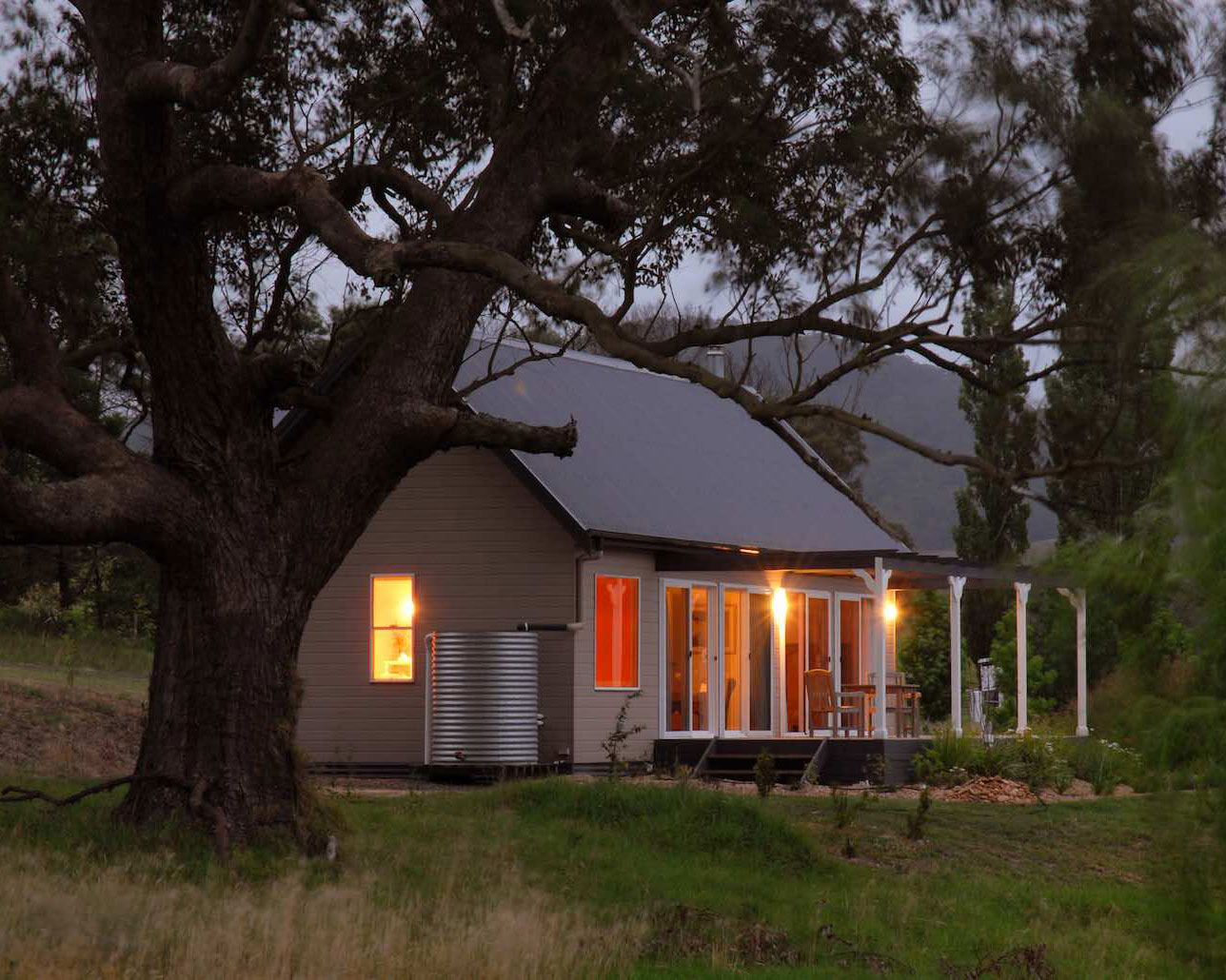 Set on the blissful Crystal Creek Meadows property in Kangaroo Valley, Billabong Cottage is one of four sustainably-centred spots to escape your big city life. These guys have buddied up with a project called My Green Butler, which uses smart metering and big data to help accommodation providers offer environmentally friendly stays.
Fun fact: the legends at Crystal Creek Meadows use all the money they save from reduced energy and water bills to assist the conservation of brush-tailed rock wallabies and to look after injured and orphaned wombats. Book your stay here.
Worrowing Wilderness Hut
Jervis Bay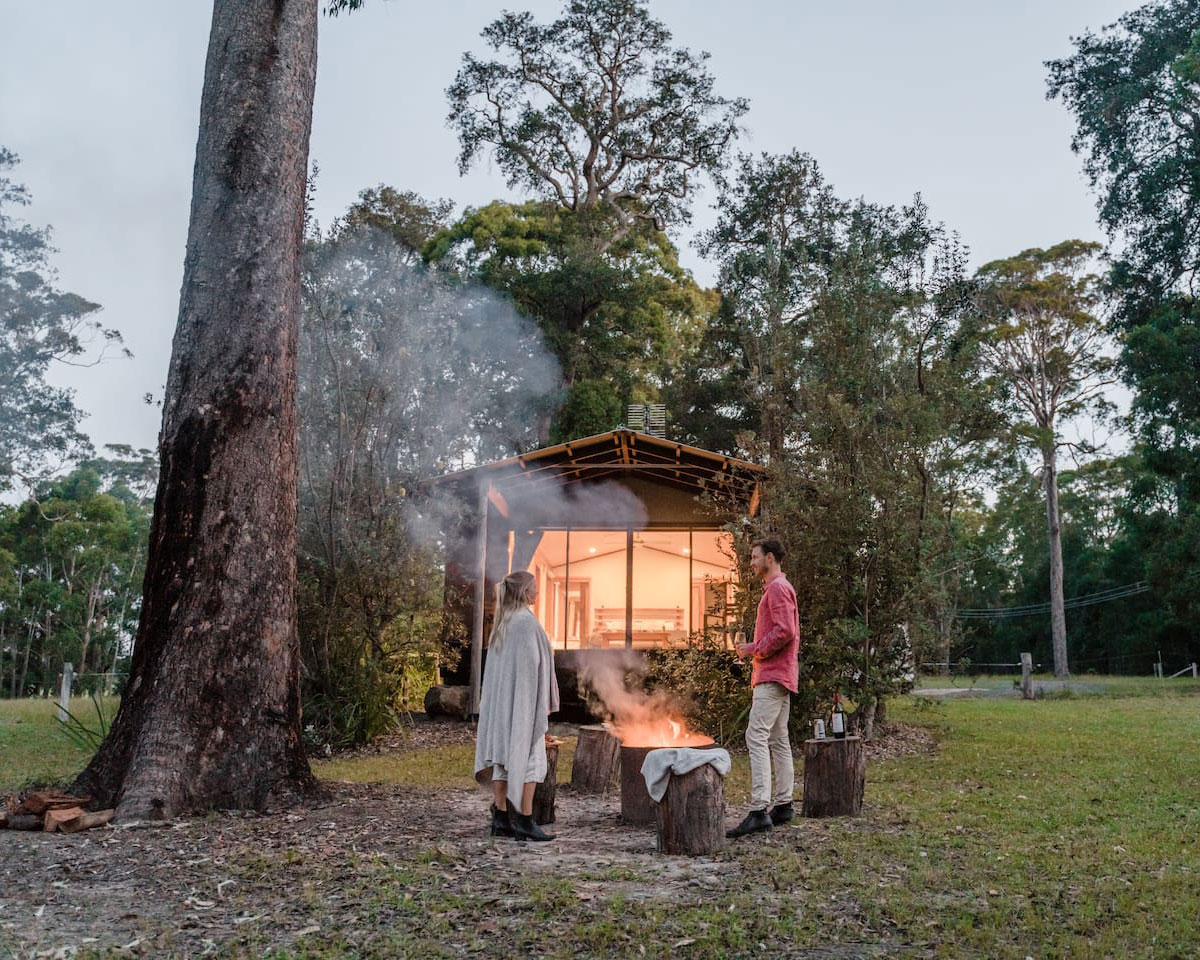 You'll find this charming wilderness hut among towering gum, paperbark, and ironbark trees on a 250-acre coastal farm property near Jervis Bay. This stunning self-contained cabin has been made from reclaimed timbers and corrugated iron. You're also a stone's throw from the region's natural wonders—Hyams Beach and Jervis Bay National Park. Book your stay here.
Vibing minimum-impact getaways? Check out more of the best tiny home stays in NSW right here.
Image credit: Unyoked, Kestrel Nest Eco Hut, Unyoked, In2thewild, Billabong Cottage, Jervis Bay Tourism