In Sydney, puffy bread takes all shapes and sizes. Whether it's Totti's perfectly salted wood-fire balloon bread, the billowy taboon bread with a twist from Waterloo's Kepos & Co, or Above Par's inflated lavaş based on an age-old Turkish recipe—it's a fine art to make something so simple taste so unquestionably great.
Made to be pierced, popped, torn, dipped and ripped, puffy bread in Sydney is truly a rite of passage nowadays so we've gone and found the fluffiest, funniest and most delicious around town.
Check the best places in Sydney to feast on puffy bread.
Above Par
CBD
One of the relatively rare places to score authentic Levantine street food in Sydney is Above Par. On the puffy bread side of things, this Middle Eastern-inspired newbie also bakes its very own (quite literally pinned as "puffy bread" on the menu) and pays tasty homage to an age-old Turkish puff bread recipe called "lavaş". This bread is baked to order, drizzled with imported Turkish olive oil, sprinkled with sea salt and served piping hot and fresh from a stone oven set to 300 degrees.
"The dough has to rise for 24-hours in order to be puffy, so the dough is made a day prior," says head chef Johnny Sercombe. "During service, the chef rolls out the dough on order and places it in the stone oven for just two to three minutes to bake it before serving."
When you finally get to sink your teeth into Above Par's delicious puffy bread, you'll notice the bread is harder on the outside, and soft and light once you rip it apart—perfect to use to scoop up dips like the hummus with spiced chickpeas, the baba ghanoush or the staple "atom", which is a thickened Turkish style yoghurt with sun-dried chillies, sesame and pine nuts. Sercombe also suggests hitting up the beetroot goat curd dip and the pan-fried honey halloumi.

"It goes well with the majority of the dishes on our menu, but particularly with any of our selection of dips such as our beetroot goat curd dip, or the pan-fried honey halloumi."
Cucina Porto
Pyrmont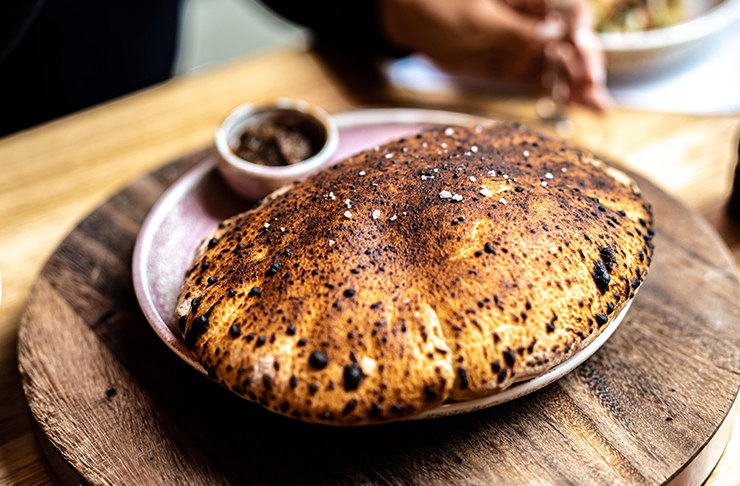 Cucina Porto nails that old-world Italian charm and when it comes to its stone-baked puffy bread—they've really baked this bad boy to absolute perfection. Made in the on-site pizza oven, head chef Martino Pulito says that the secret to making good puffy bread is all about making sure the dough has stellar texture with a strong amount of gluten to create air inside and let the bread grow quickly so it becomes puffy.
We use two different types of flours, wholemeal which gives it the flavour and double zero flour which gives it the texture," he explains. "It's what gives Cucina Porto our special flavour and presentation."
The stone-baked bread essentially gets made between two to three days to make sure the bread keeps more flavour, but once the bread is sent into the oven, it only has 90 seconds before the bread becomes dry.
"It's the chemical reaction from the hot temperature," says Pulito. "[It's] the water from the mixture of the dough, wanting to evaporate and release itself from inside the bread that makes it so puffy.
After this, Cucina's stone-baked bread gets drizzled with olive oil and Maldon salt. It also comes with olive tapenade and extra olive oil. As for what else you can pair it with on the menu, Pulito suggests also ordering up the prosciutto crudo, burrata and 'nduja marinated tomato.
Totti's And Bar Totti's
Bondi and CBD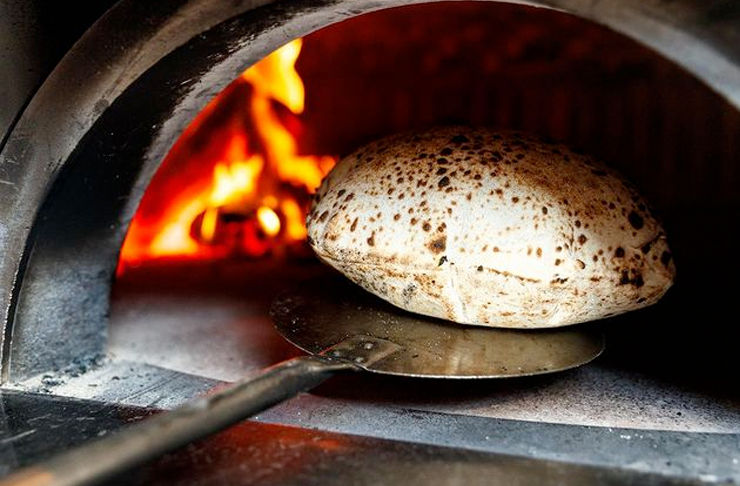 You could say Totti's started the recent puffy bread renaissance in Sydney. The wood-fired bread at Totti's needs no introduction—while the now-iconic puffy cloud of carbs is nothing less than Totti's pride and joy, the real fun starts when you decide on which antipasti dishes you're going to drench the salty black-specked bread in. Everything works as a dressing on the hot puffy bread here so commit to at least the mortadella, the chicken liver parfait, ricotta, burrata, sardines, and hey look—another serving of the wood-fired bread will do you good.
NOMAD
Surry Hills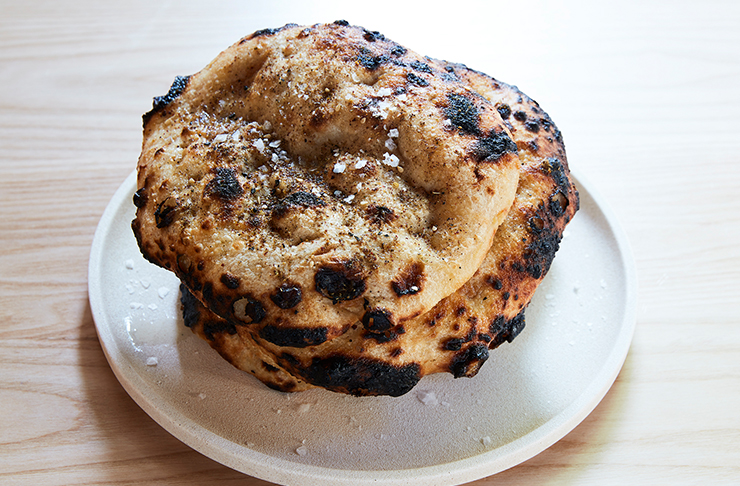 NOMAD has a rep for delicious feasts inspired by the rich culinary traditions of Spain, Morocco and the Middle East—with a big focus on cooking with fire and smoke. That said, it's no surprise that the puffy bread here is a winner. Anything but dry, head chef Jacqui Challinor says the key to making epic puffy bread is more than just a good foundation.
"We used wholegrain milling flour, Olsson's salt, and filtered water as our base," says Challinor. "Good ingredients are key but I think the thing that makes our bread so special is the wood-fired oven. Nothing beats those blistered, blackened, crispy edges you get from that intense heat and the subtle smokiness that is an unmistakable character of cooking with fire."

The process is simple and requires flour, water, salt and a small amount of fresh yeast to kick start the process, followed by a 48-hour cold ferment in the fridge. After this, the crew at NOMAD portion and allow it to proof for three hours before being hand-stretched and cooked in the wood-fired oven.

"The slow, cold ferment provides better structure to the bread and the intense heat of the wood-fired oven allows it to rise super quickly for that "puffy" finish," adds Challinor. "It's crispy on the outside and soft and pillowy on the inside."

In terms of what you can go to town with on the dipping front, Challinor says that while everything on the menu works (in true Mediterranean style), NOMAD's in-house charcuterie, burrata, and smoked eggplant are the way to go. If you're really after the food coma though, order the wood-fired bread alongside the BBQ spatchcock with harissa and toum.
Kepos & Co
Waterloo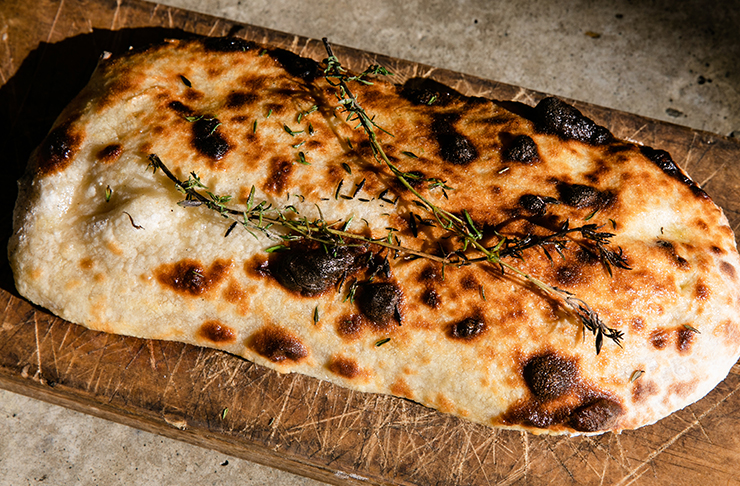 You may have heard of Redfern cafe Kepos Street Kitchen, well, now meet its hidden (and slightly fancier) sibling restaurant, Kepos & Co. Located in the hidden courtyard of Waterloo's Casba complex, this haunt beats to the rhythm of feasts inspired by chef Michael Rantissi's Tel Aviv upbringing. The puffy bread here looks like traditional taboon bread but with a lot more volume and a dedicated fermentation process with good quality flour and cooking the bread in a hot oven on a hot base.
"We use a sourdough starter that has been going for six-plus years, " says Rantissi. "We make a dough using a blend of Italian flours. The dough is proofed for a minimum of two days in the fridge. When ready to use, the dough comes to room temperature and then it is shaped. The taboon bread is cooked to order."

When the taboon bread comes out of the oven, it's brushed with olive oil and a sprinkle of sea salt. If you're going to pair it with something on the menu, Rantissi says it's best dipped into the smoky eggplant dip or the warm hummus which gets made at your table.
Still hungry? Check where to soak up Sydney's best pasta.
Image credit: Above Par, Cucina Porto, Totti's, NOMAD, Kepos & Co