Pasta is familiar, easy comfort food that wraps you in its warm embrace when you need it most—and there is no shortage of top pasta joints in Sydney.
The 70s saw a boom in the Aussie pasta trade as waves of Italian immigrants introduced us to the cuisine and we've not been able to get enough of it ever since. Now though, Sydney seems to be going through a bit of a pasta renaissance, with pasta-focused joints popping up everywhere.
One person we have to thank for Sydney's seemingly endless love of pasta is Scott McComas-Williams—one of the talented bunch behind much-loved pasta joints Ragazzi and Fabbrica. "Pasta is very popular in Sydney—I noticed that when I moved here ten years ago," says McComas-Williams. "Pasta's greatest attribute is its diversity and variety. Not only are there hundreds of different shapes out there but there are even more sauces to match with them."
Whether you're a traditionalist in search of the perfect bowl of cacio e pepe or amatriciana or you're looking for adventurous new-world pasta, there are no wrong answers (despite what your Nonna may say).
Now, there's a lot to get through here, so forks at the ready. Here's where to find the best bowls of pasta in Sydney.
Fratelli Paradiso
Potts Point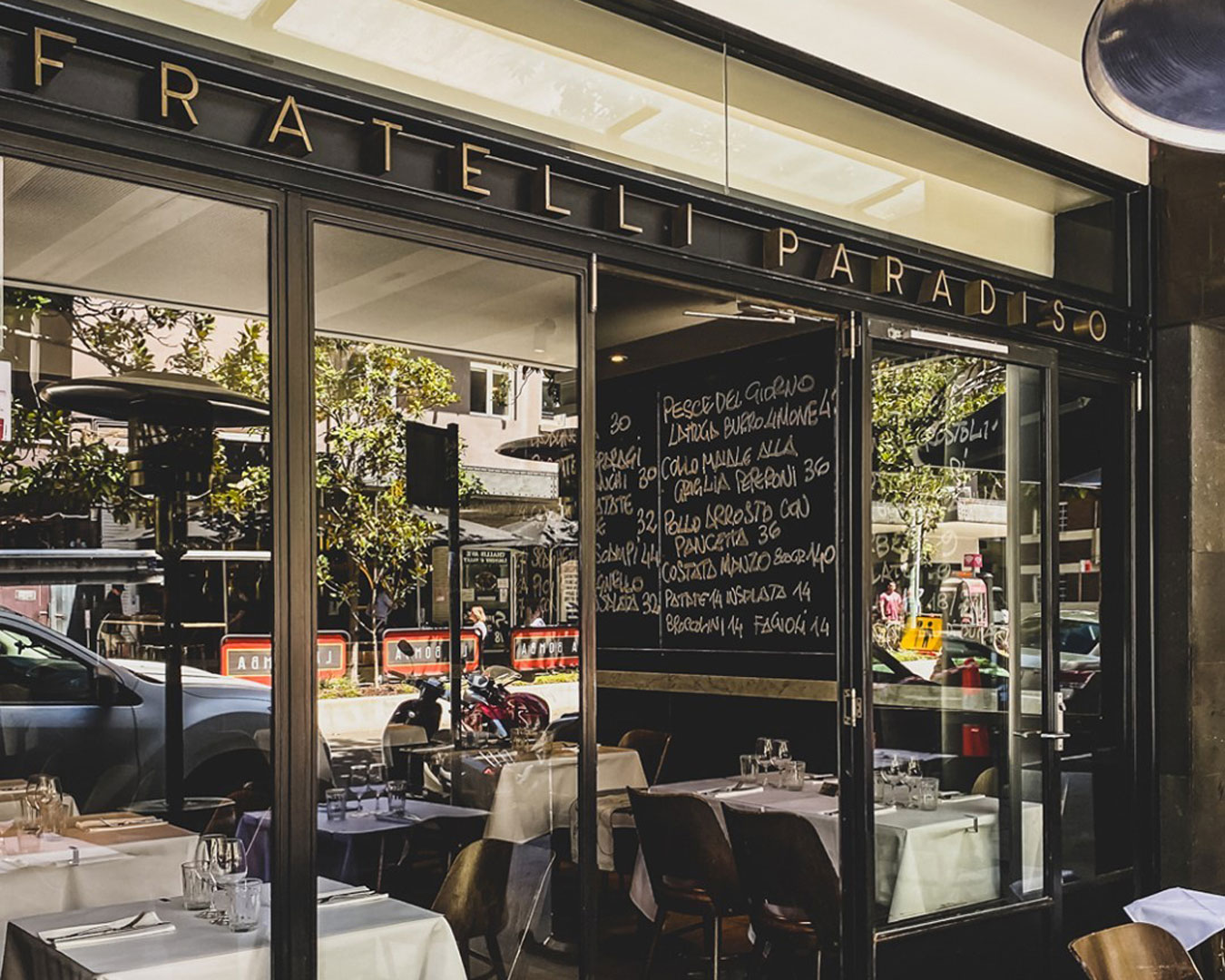 This Potts Point institution is top of the list for a reason. It's easygoing neighbourhood vibes, silky house-made pasta, and interesting Italian vinos here. The Challis Avenue venue has been around for more than 20 years, solidifying itself as one of Sydney's most loved pasta haunts. The food is exquisite and the service passionately European, as you'd expect with three Italians—Marco Ambrosino and brothers Giovanni and Enrico Paradiso—behind it. It's always bustling with an interesting mix of patrons feasting, celebrating, and drinking be it midweek or the weekend. Dishes are scribbled on a blackboard, there's ample outdoor seating, and it exudes a certain charm that is hard to come by elsewhere in Sydney. Really, if you haven't been here yet, can you even call yourself a pasta lover? Walk-ins only.
Ragazzi
CBD
Ragazzi is everything you want in a little CBD hide-away. With a 40-seat capacity and a reputation for incredible pasta, the place is a seriously hot ticket item that you could easily walk past without noticing. The pasta bar serves up snacks, vino, and, of course, plenty of pasta. Hold up, pasta bar? "There are so many noodle bars around the world, there was no reason there couldn't be a pasta bar, says co-owner McComas-Williams. "People can come in for a quick bowl of pasta and a glass of wine, or have a bunch of snacks, a couple of bowls, and a bottle of wine—it's super accessible in that sense." The pasta options change regularly, giving you plenty of reason to pop in whenever the mood strikes. But, to give you an idea, expect plenty of meat and seafood combos thanks to McComas-Williams' Spanish background. Apparently, such combos are "a big no-no" in Italian cooking, but we reckon it's what makes Ragazzi one of Sydney's top places for noods. Book here.
Alberto's Lounge
Surry Hills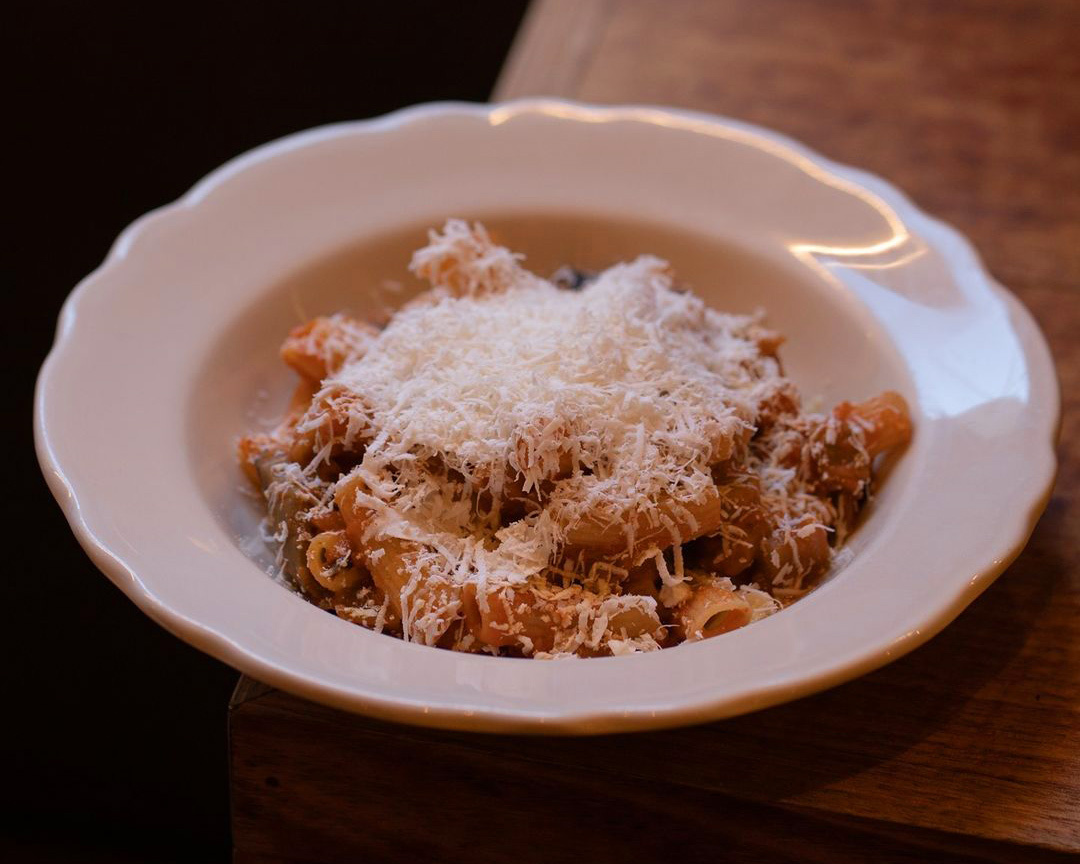 Tucked away in the back streets at the north end of Surry Hills is Alberto's Lounge. It's aptly named for its laidback, cosy vibe, delicious dishes, and extensive wine list. For those who have graced its small, wooden interior, it's a favourite and somewhere to have in the back pocket for date night, too. It's another string in the bow of Anton and Stefan Forte, the brothers behind Restaurant Hubert, Frankie's, The Baxter Inn, and Shady Pines. If you imagine this level of quality and attention to detail applied to pasta, you're not far off. Book here.
10 William St
Paddington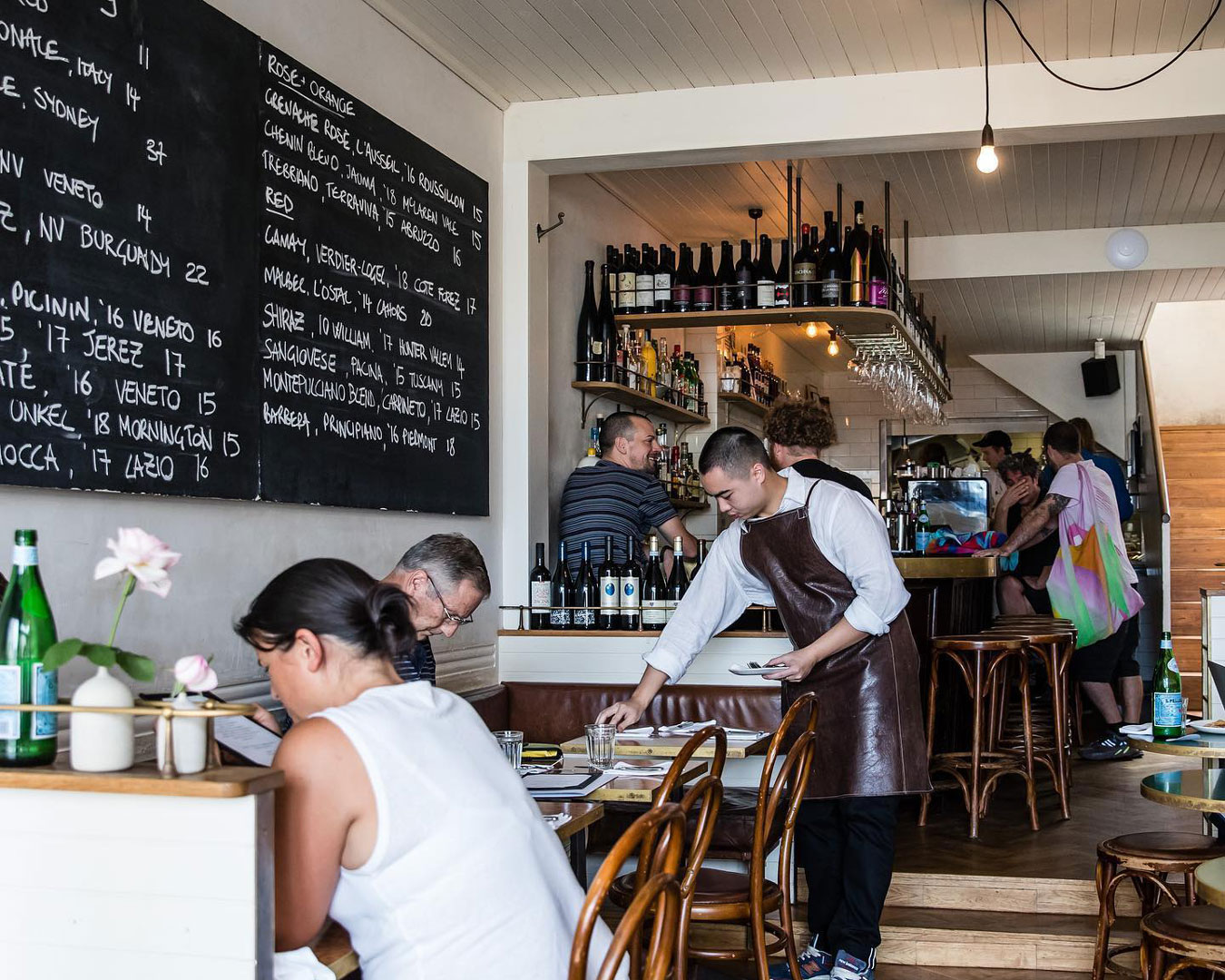 Ostensibly a wine bar, this iconic Paddo hole-in-the-wall is another entry from the Fratelli Paradiso crew. At 10 William St, the focus is on good times, good wine, and good food from a broadly Italian-Aussie lean. If you do want some pasta to go with your wine—as opposed to the other way around—10 William St is the spot to do it. Make sure you check the specials board and begin with a serve of the legendary pretzel and whipped bottarga, before moving on to the classic spaghetti amatriciana. Book here.
Ormeggio At The Spit
Mosman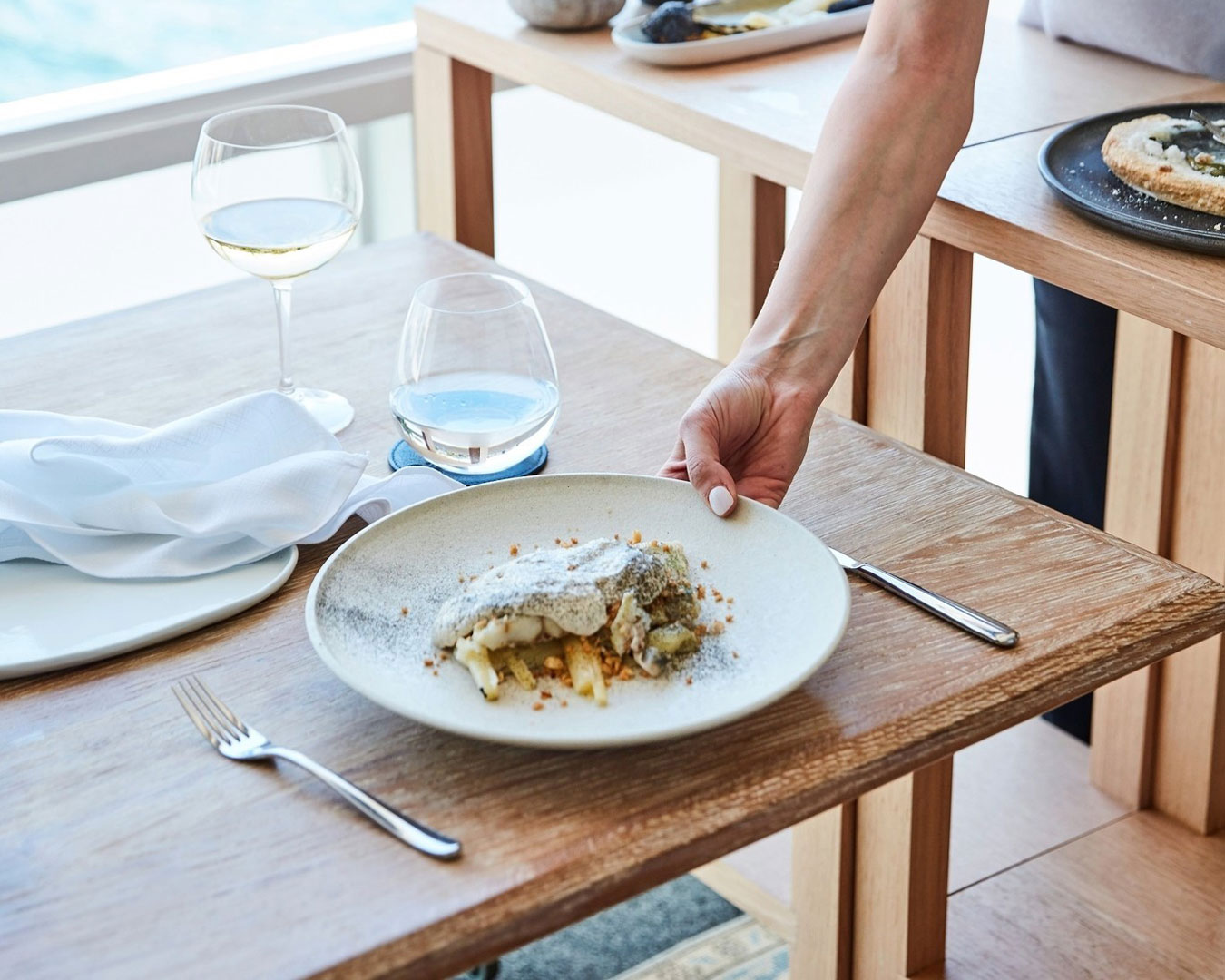 A couple of years back, Ormeggio at the Spit relaunched as a seafood-focused fine diner with a new gelato and cocktail bar to boot. It's still led by owners and chefs Alessandro Pavoni and Victor Moya, who helped shape the waterfront venue into one of Sydney's finest Italian restaurants—and that reputation still holds true. The revamped menu has been designed to share, so once you've wrapped your head around Ormeggio's divine house-made focaccia, we recommend twirling your fork around the squid ink tagliolini. With handpicked Queensland spanner crab, chilli, and parsley, it's pasta perfection. Book here.
Want the same vibe but on a budget? Head to Ormeggio's wallet-friendly, BYO and barefoot offshoot, Chiosco by Ormeggio.
Kindred
Darlington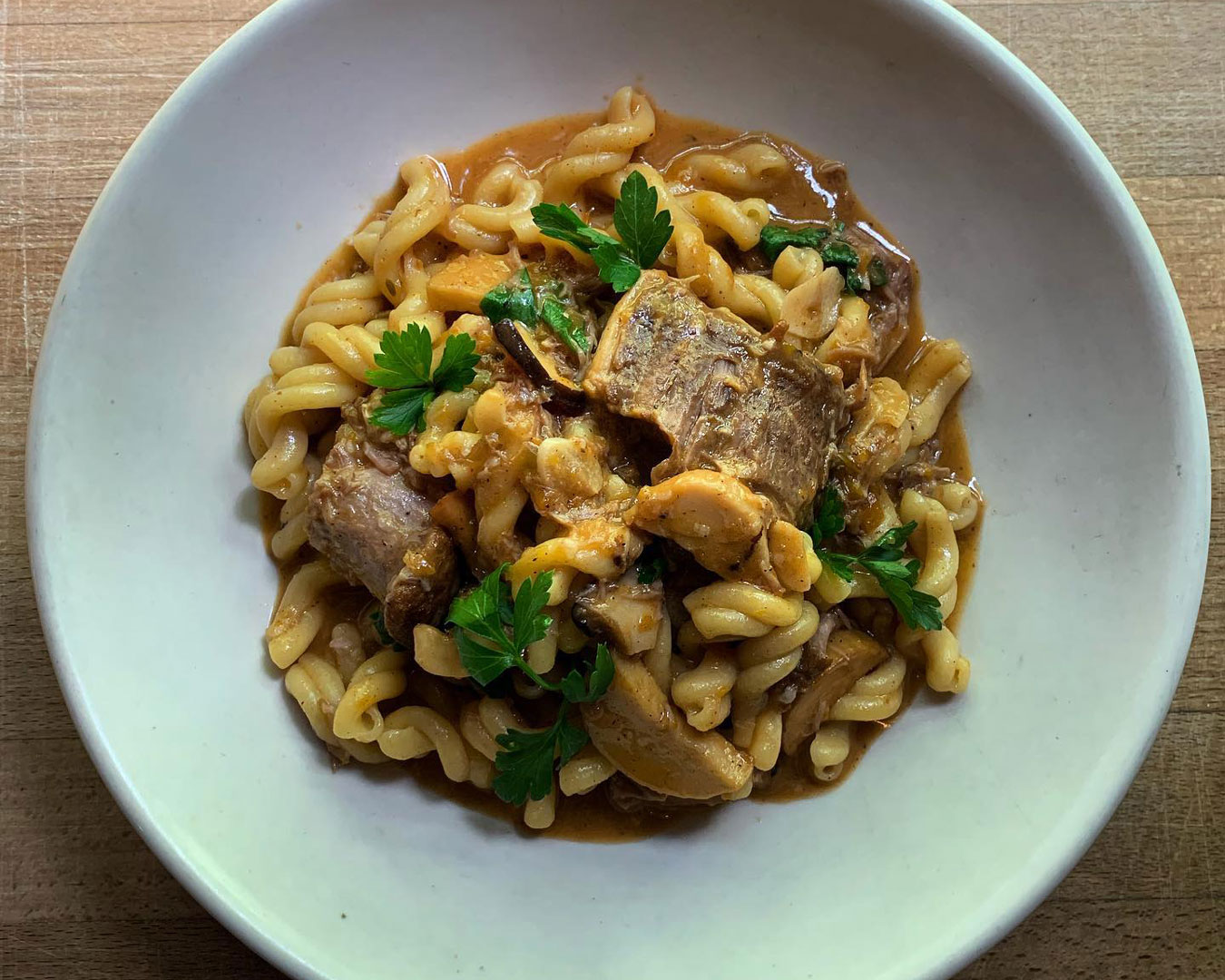 Kindred is the type of place you'll go past a hundred times along the artery of Cleveland Street and never know what wonders lay inside until someone tells you it's a must-try. Manager Chris Cole says the restaurant is a blend of "comfort and familiarity… great food, and a warm, welcoming atmosphere." The 40-seater takes up two storeys of the Darlington terrace, with both levels giving off the sort of homey charm you'd expect at someone's nonna's. If you like to leave it up to the experts, we recommend the seven-dish tasting menu for $65 (or $60 for vegetarians). But, really, you can't go wrong with any of the home-style pasta dishes—think enormous bowls of handmade bucatini topped with generous helpings of pork and rich tomato sauce, rigatoni bolognese, and mushroom and ricotta agnolotti. Book here.
Paski Vineria Popolare
Darlinghurst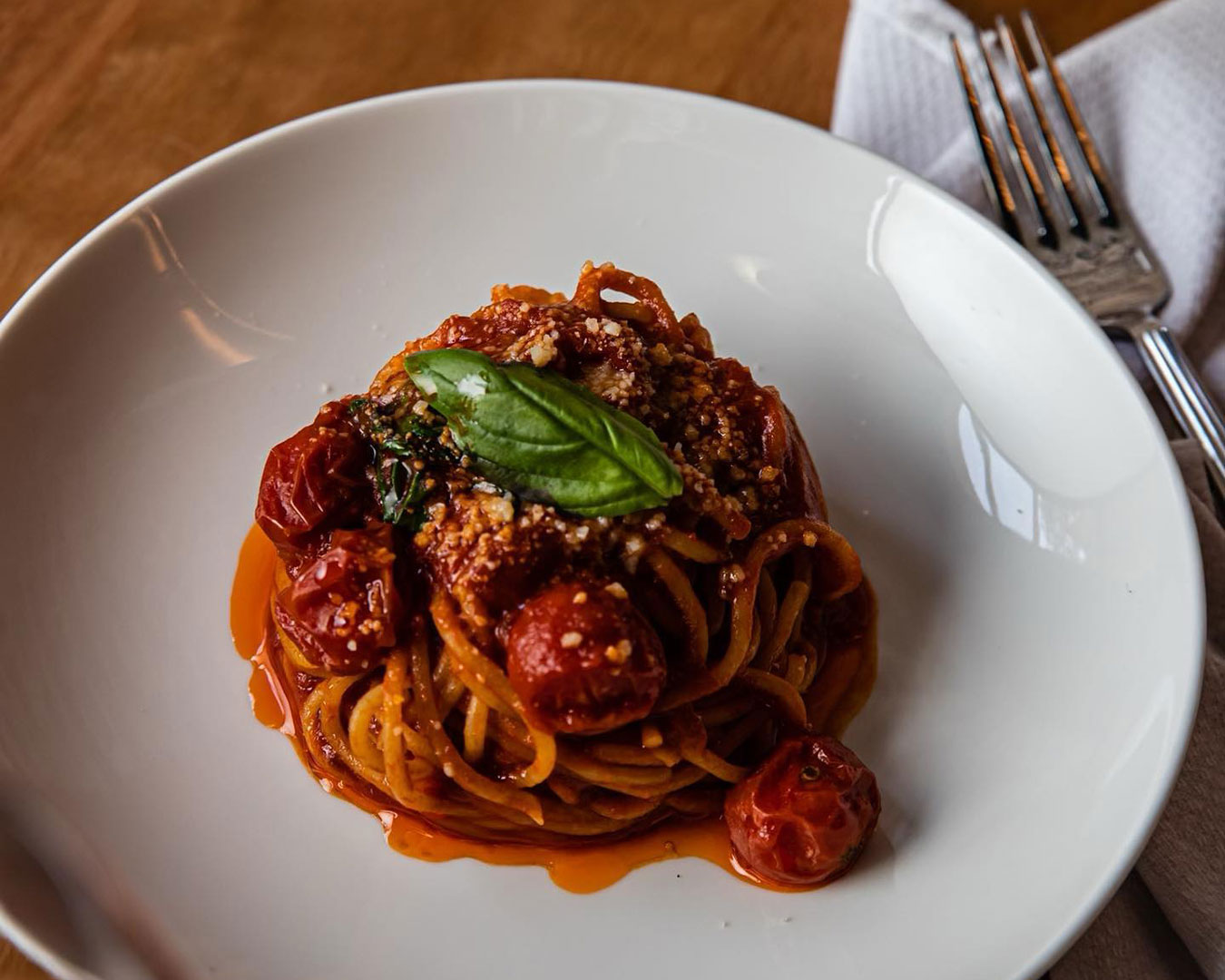 Paski is the brainchild of former Italian go-to 121BC and co-founder of Rootstock, Giorgio De Maria, alongside Mattia Dicati (Vino Mito Wine Imports) and chef Enrico Tomelleri (Ragazzi, Alberto's Lounge, 10 William Street), just casually. The two-storey restaurant, bar, and bottleshop features a small bar and a whole lot of artisanal small-scale Italian wine. Downstairs, the walk-in-only wine bar is where you can order by the glass—or pick a bottle off the shelf and drink it for a small corkage fee—and order cheese, charcuterie and pasta. Upstairs, you'll find a pint-sized restaurant—Paski Sopra or Paski 'above'—where Tomelleri dishes up a regularly changing menu of handmade pasta and Mediterranean dishes. Book Paski Sopra here.
Buon Ricordo
Paddington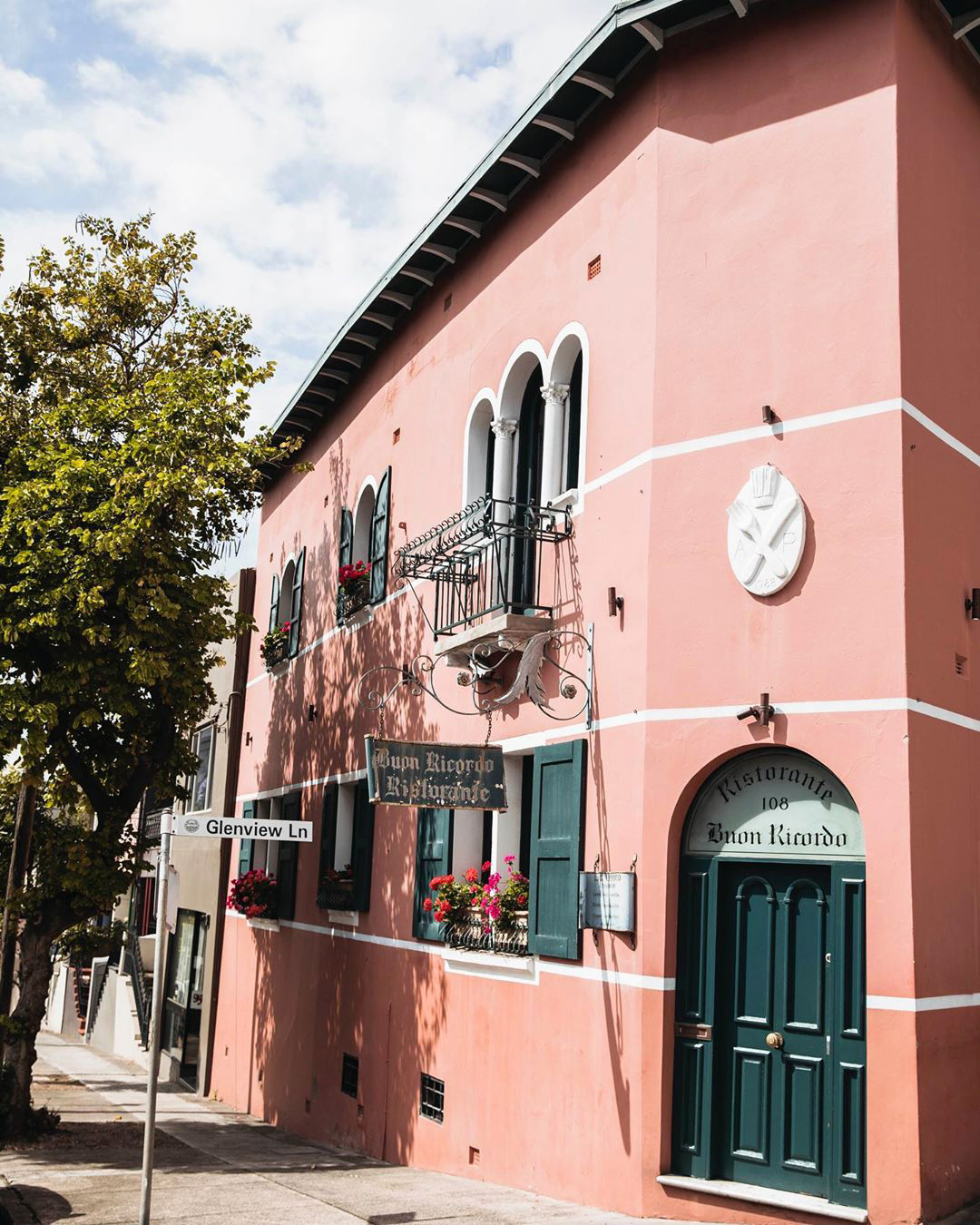 One of the best Italian restaurants in Sydney, Buon Ricordo is notable for its generous portions, delicious pasta, and impeccable service. It specialises in old-school, traditionalist fine dining and feels very much like a time capsule of the 80s, complete with floral tablecloths and a rusted hanging sign out the front. Their signature dish is the fettuccine al tartufovo (or truffle egg pasta), which is tossed at the table and comes topped with a fried truffle egg. So good, even Tom Cruise is a fan. To book, call o2 9360 6729.
Fabbrica
CBD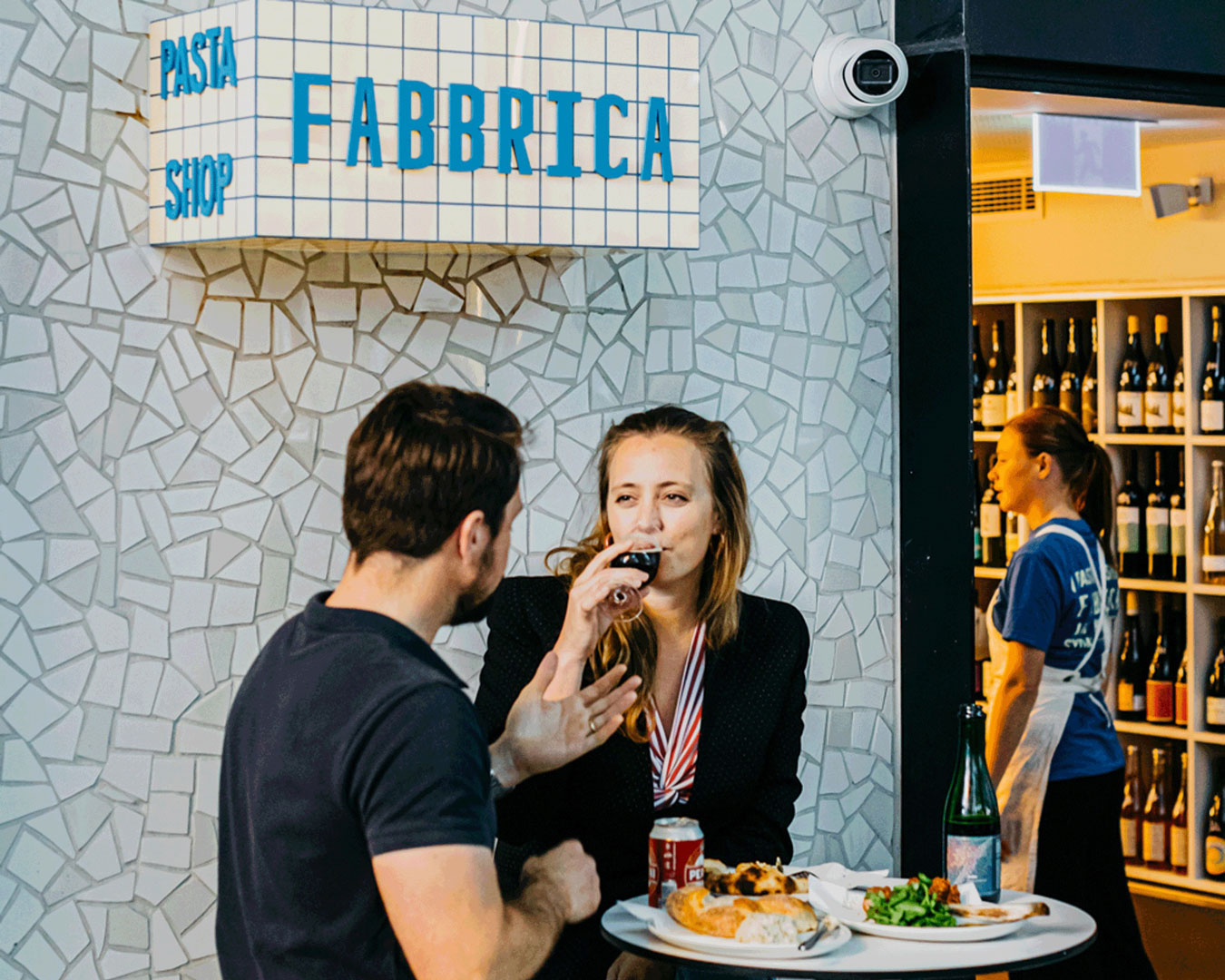 Fabbrica is genius. Born out of lockdowns, the hybrid retail-restaurant pasta haven comes by way of the Love Tilly Group (Ragazzi, Dear Sainte Eloise, Love, Tilly Devine) and is here for your pasta cravings—be it in-venue or cosy on the couch at home. You can drop in for a deli sambo at lunchtime, score $10 negronis and snacks during aperitivo hour (3–5pm weekdays), tuck into bowls of top-notch pasta, and go home with oodles of noodles for your next CBF to cook dinner at home. All the pasta is made fresh in-house and is sold by the gram—and they even make two-person pasta packs that are ready in five minutes. "We're selling more and more of our Fabbrica fresh pasta all over Sydney at the moment, so I can't see it slowing down any time soon," McComas-Williams tells us. But, we still recommend heading in and sampling these noods straight from the pasta masters—think dishes like mafaldine with cheese and pistachio and conchiglioni with nduja, mussels, and oxheart tomato. And we'd even go as far to say it does the best gluten-free pasta in Sydney. Book here.
Bastardo
Surry Hills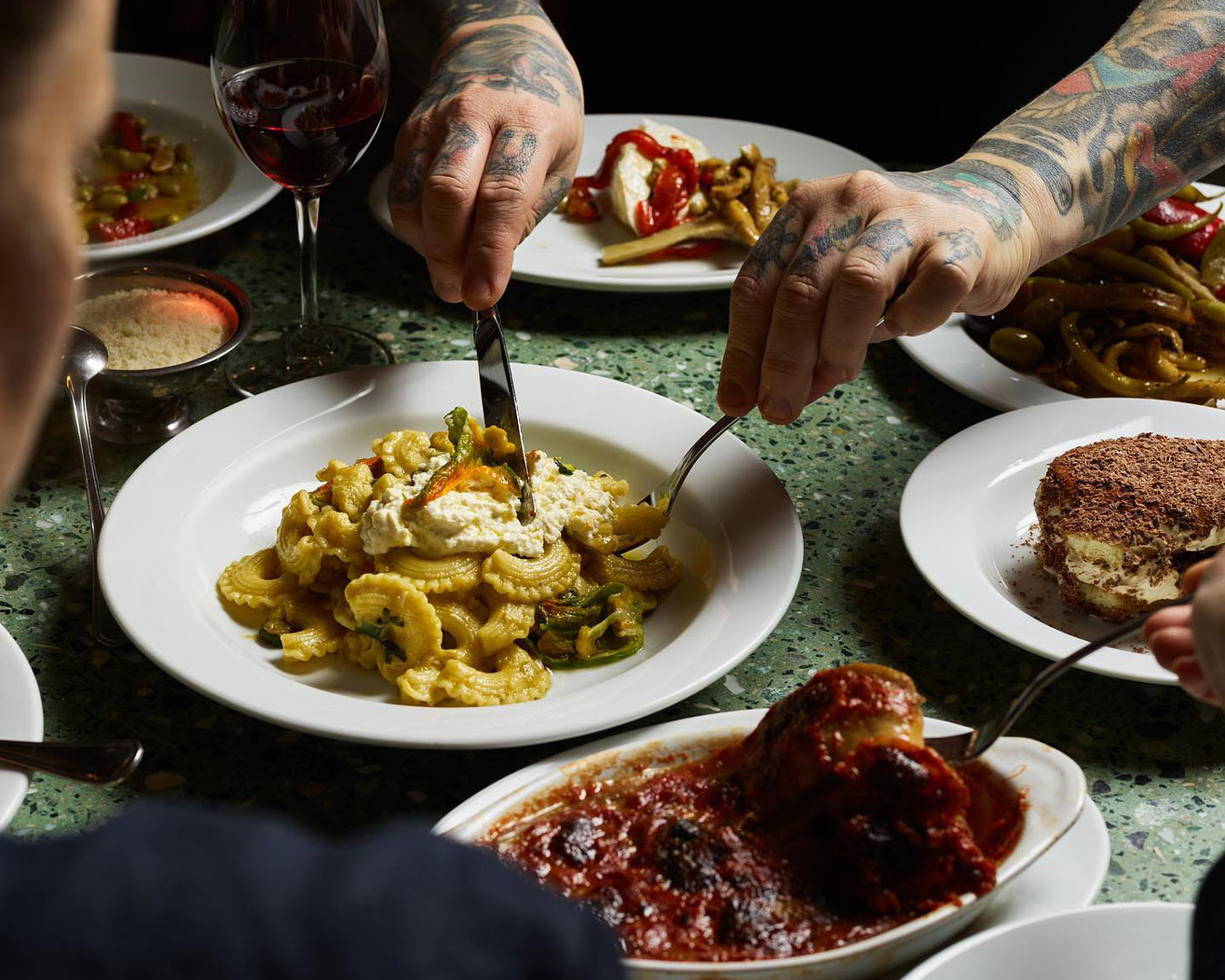 Bastardo has had quite an impact on the Sydney dining scene already and with legends who brought you Porteño and Bodega behind it, it's no wonder. The deli-style Italian eatery serves up an extensive list of fresh pasta made in the open plan kitchen that spans the length of the restaurant. Their pasta is stretchy, with a firm texture while having that melt-in-your-mouth quality—a testament to the craftsmanship. The spaghetti dotted with juicy clams and bursting pockets of nduja in a white wine sauce is a definite go-to, as is the corn agnolotti. The lengthy wine list of Italian-heavy drops is the icing on the cake. Book here.
Pilu
Freshwater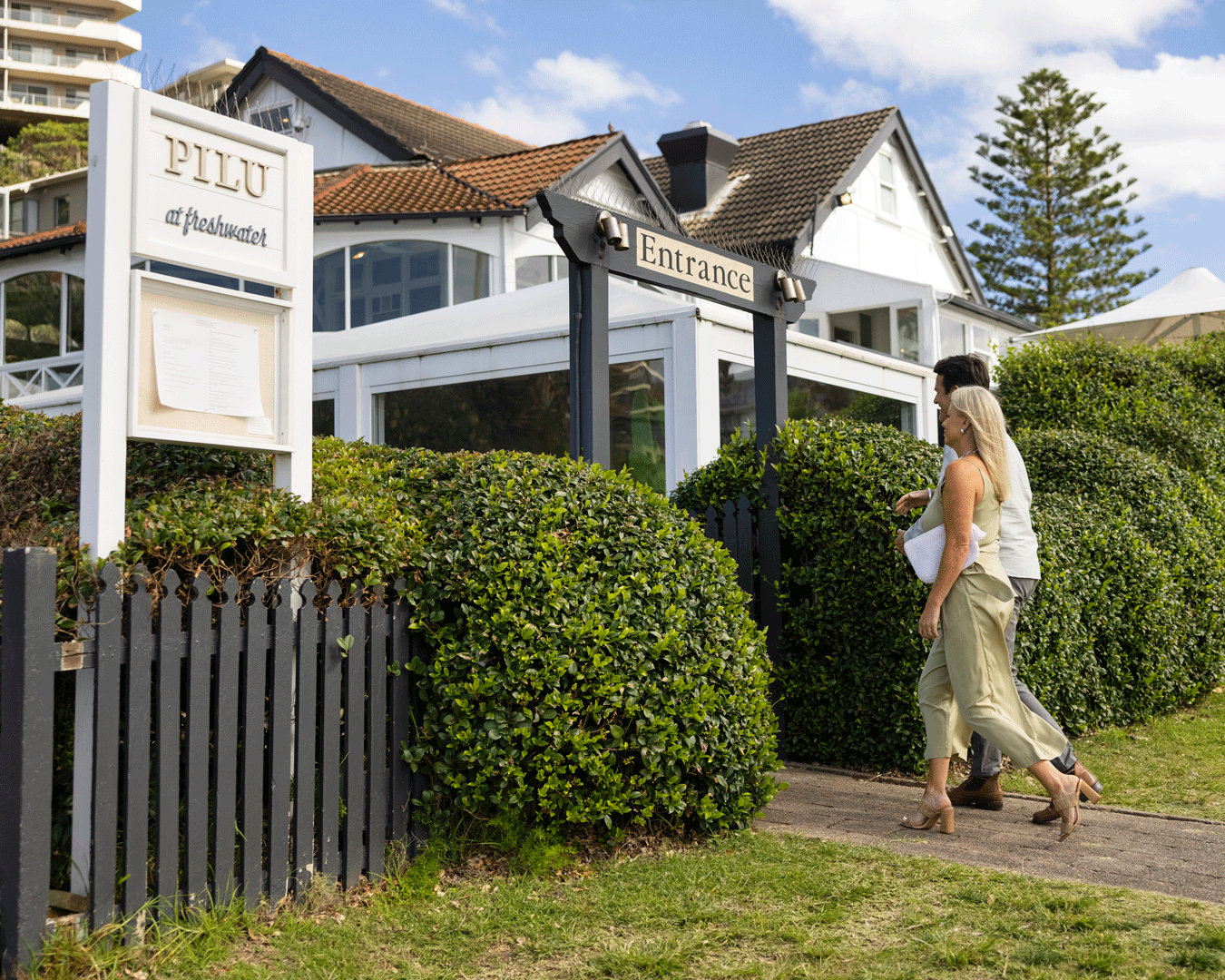 Nestled into the sandhills at the south end of Freshwater Beach is Pilu. The glass-fronted Sardinian restaurant stretches out over the landscape and has exquisite views of the sand and the sea, particularly at sunset. This place is fancy, like wedding venue fancy, and offers high-end Italian food from the Mediterranean island. Handmade nuggets of fresh fregola pasta are the top attraction here for pasta-lovers and are imported from Sardinia where they are toasted to give a nutty flavour to the sharp tomato and creamy rock lobster accompaniments. Giovanni Pilu and his wife Marilyn have been running the place since 2004 and in all that time they've kept the fried pastry ovals, known as "seadas", that are filled with ricotta and dipped in local honey, as their go-to dessert. It's a Sardinian classic and a perfect way to end your meal. Book here.
I Maccheroni
Woollahra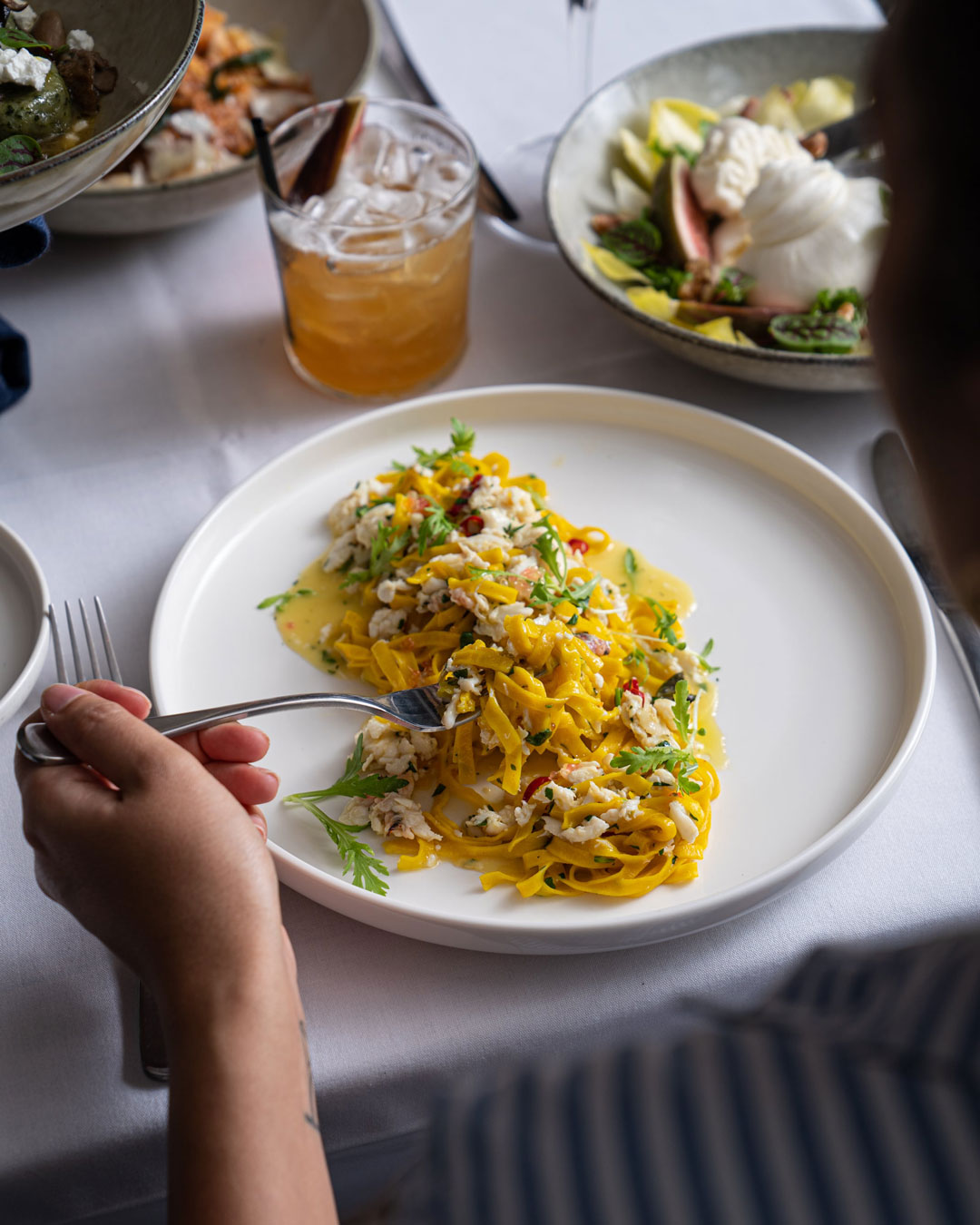 "I always wanted to have the best pasta in Sydney," I Maccheroni head chef and owner Marcello Farioli tells us. The ex-10 William Street and Fratelli Paradiso legend moved his local-favourite I Maccheroni restaurant to Woollahra in 2018 and continues to focus on creating a neighbourhood vibe where you'll want to dine again and again. Hailing from the Emilia Romagna region of Italy, widely regarded as the heart of Italian cuisine, Farioli serves little parcels of fresh tortelli stuffed with spinach and parmesan, macaroni with beef cheek ragu, and a never-ending rotation of specials. The pasta is designed to "enrich your palate and make you want more" and if you're keen to learn the sacred art of the craft, they offer master classes in pasta making, too. Book here.
Civico 47
Paddington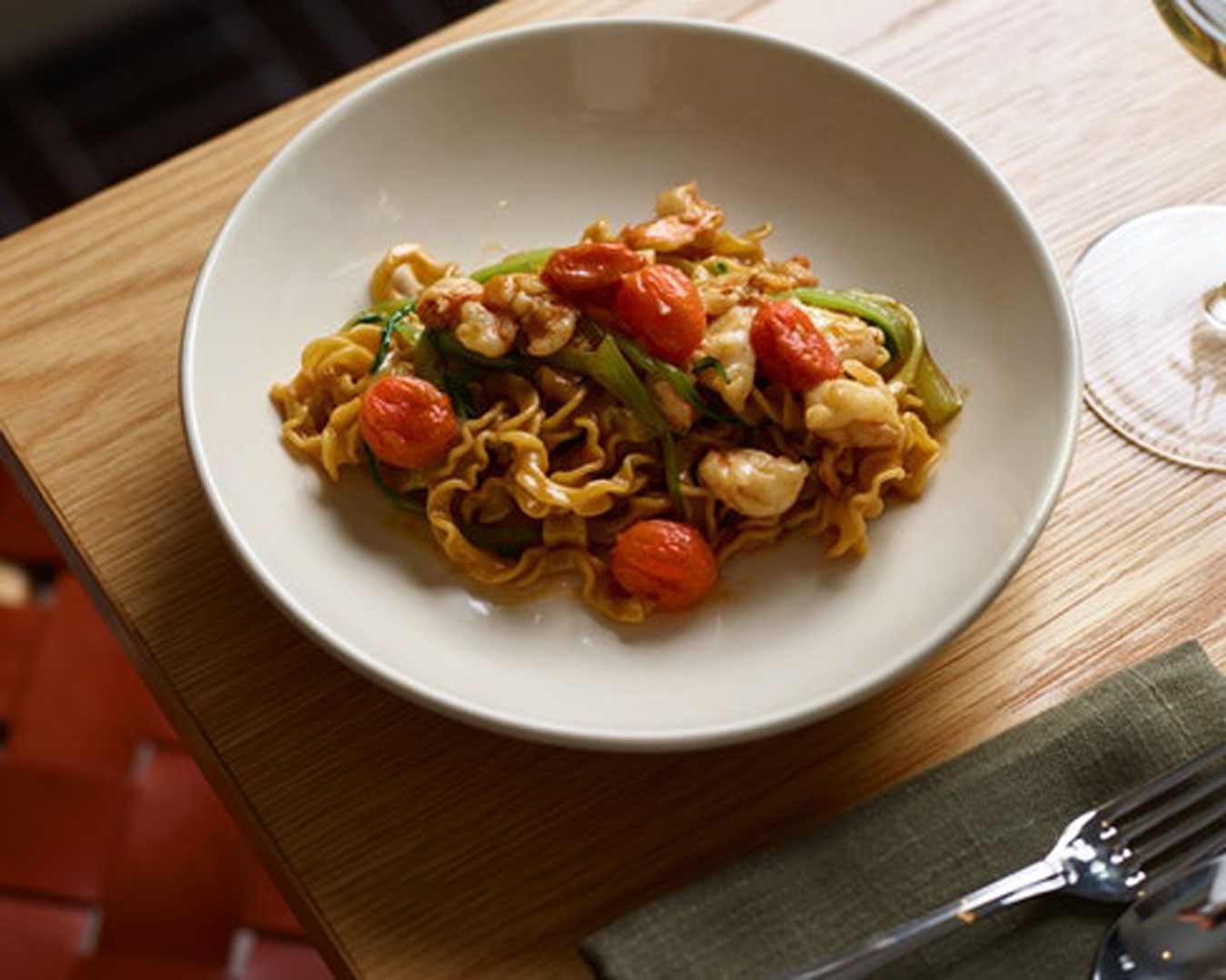 Opening an Italian restaurant in the former Lucio's digs is bold, yes, but Civico 47 pulls it off. Gone are the honey-coloured walls and the legendary collection of art—Civico 47 has brought with it a full Mediterranean-inspired refresh for the space, complete with a cosy bar. And the pasta is made in the very capable hands of executive chef Matteo Zamboni (Ormeggio, Pilu at Freshwater, Jonah's)—so it's not your average neighbourhood trattoria. "The menu is all about the flavours, seasonality, and quality of the produce," Zamboni said in a statement. "Simple but skilled transformations of the ingredients combined with a strong Italian influence." If we had to pick just one dish, it'd have to be the mafaldine with king prawns, bok choy, and tomato. Book here.
Pino's Vino e Cucina
Alexandria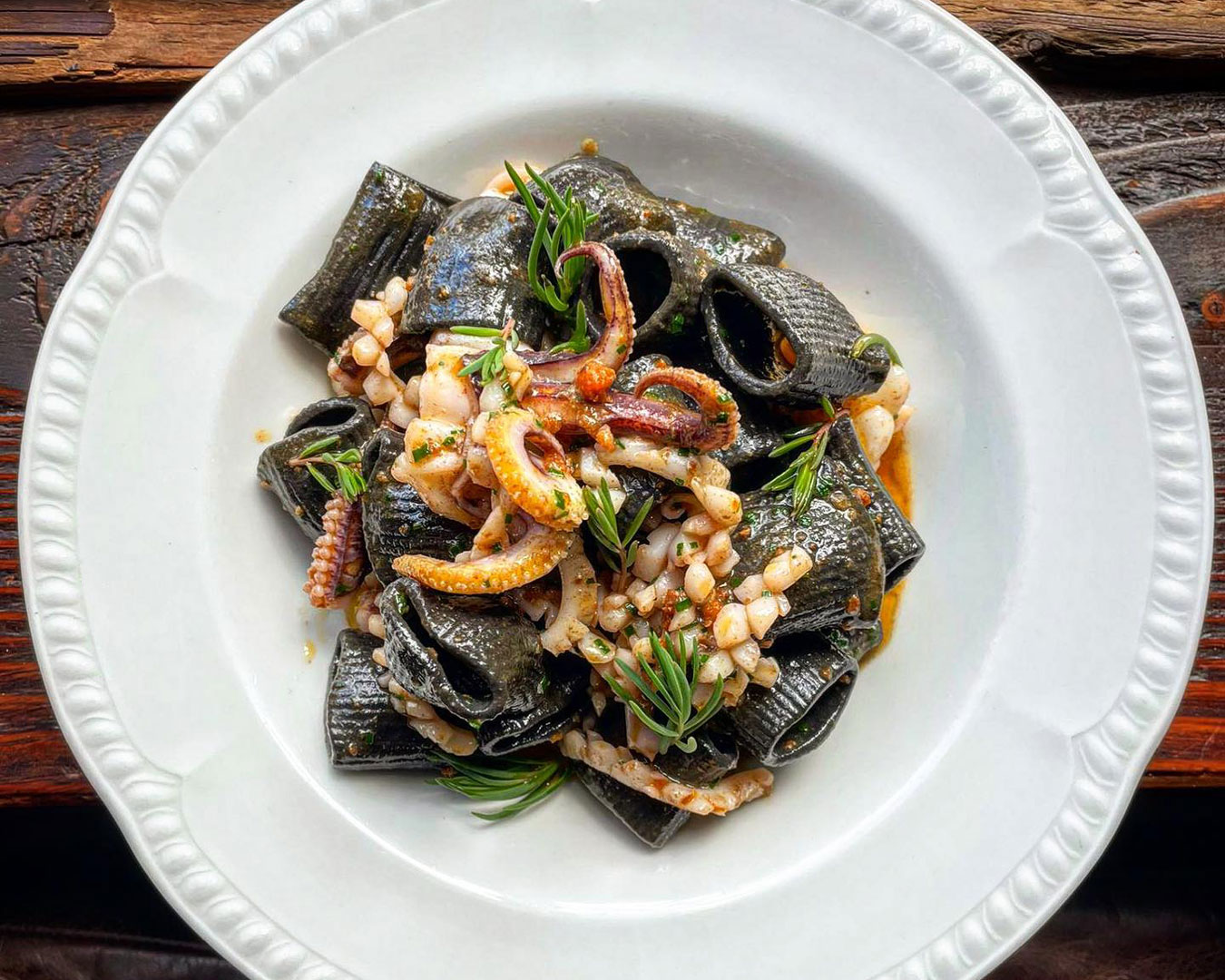 Matteo Margiotta opened Pino's in honour of his father, the eponymous Pino, and the small, homey bare-brick restaurant pays homage to his childhood dinners—up to and including the hanging copper pots from his family's kitchen in Rome. A chef by trade, Margiotta says he wanted to get away from the "stiff and uncomfortable" nature of fine dining and open a place that's like "going for dinner at your best friend's house." He says the key to a good dining experience lies in treating the customer as a friend and recommends first-timers try the five-course chef selection sharing degustation called Let the Italians Feed You. With homemade pasta, seasonal ingredients, and a menu that changes constantly, there's always a good reason to drop in. Book here.
Giuls
Surry Hills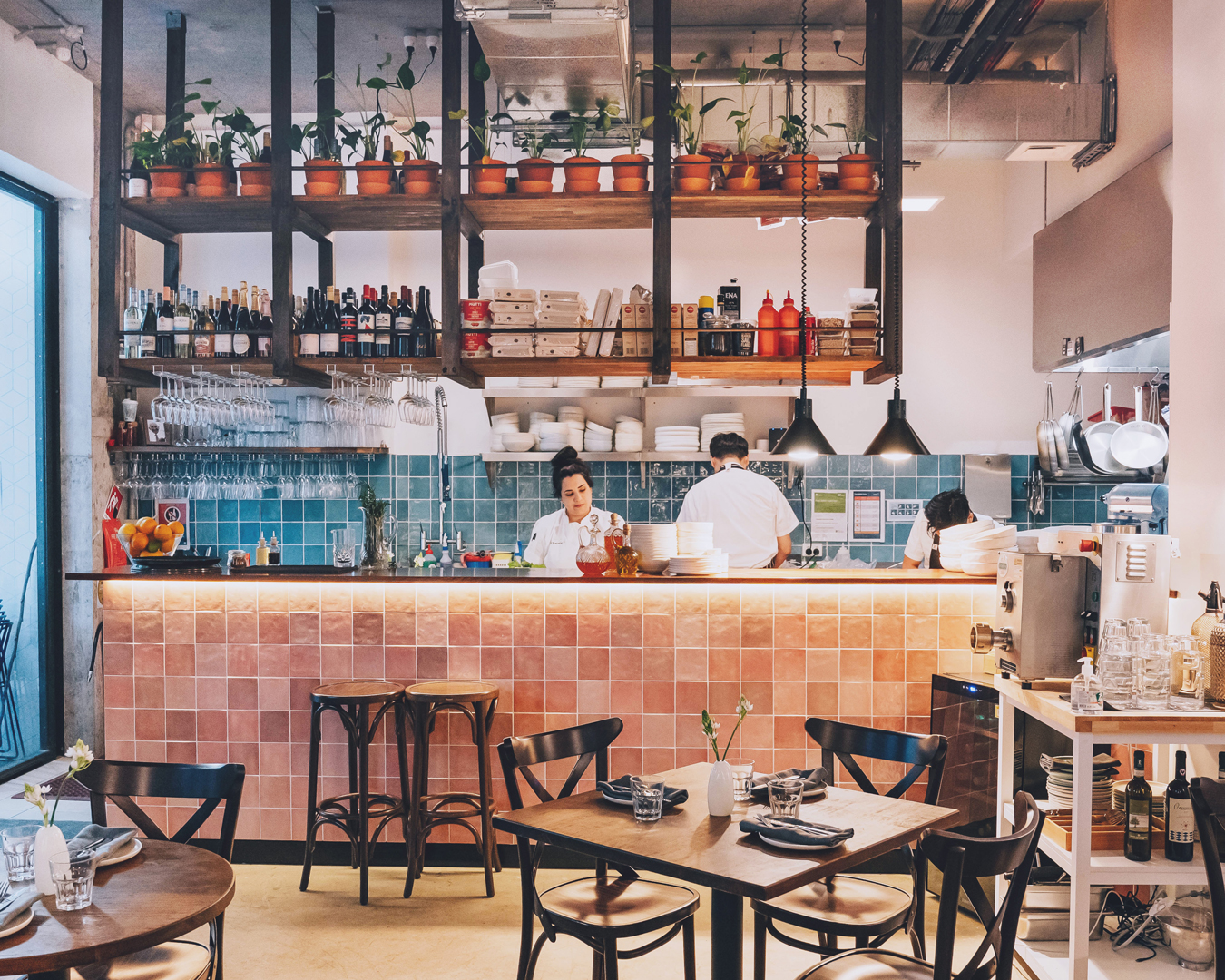 Beneath some bright pink and white striped umbrellas on Crown Street, Giuls is where you want to head when only good vibes and a big ol' bowl of pasta will do. Cool and casual with a breezy neighbourhood vibe, behind Giuls is Rockpool alumni, Giulia Treuner—so you know it's going to be good. The menu takes its cues from Tuscan cuisine, using seasonal produce, fresh-as seafood, and, of course, handmade pasta. Think squid ink fettuccine with crab, cherry tomatoes, and chilli; vodka conchiglie, pancetta, and taleggio cheese; and rigatoni with lamb ragu. Pay attention to the nightly pasta specials too, which is where that seafood really comes into play. Book here.
CicciaBella
Parramatta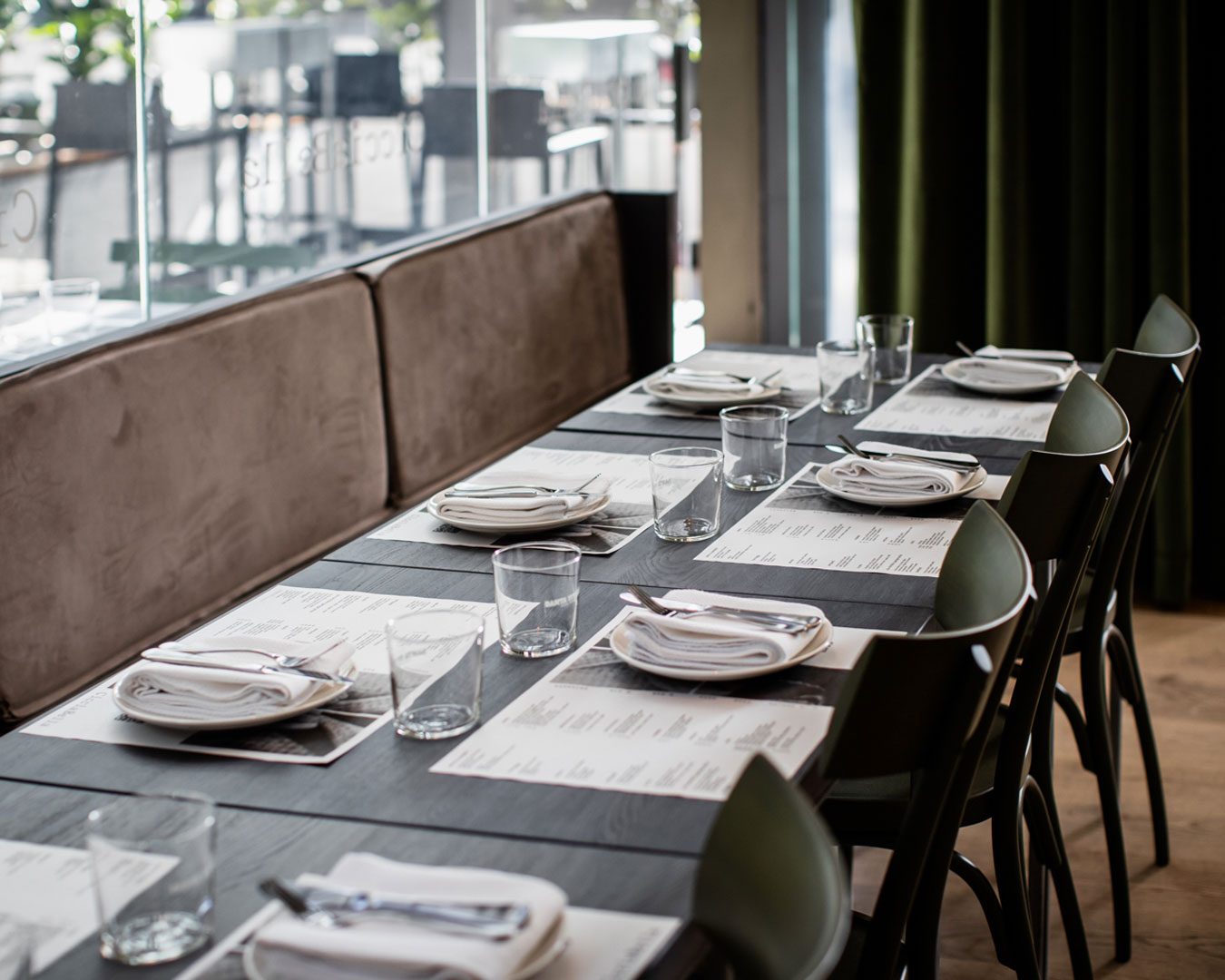 Handmade pasta is the main event at Maurice Terzini's Cicciabella. The Parramatta Square restaurant is inspired by cucina povera (poor people's cooking), where simplicity and quality are the focus. The self-proclaimed "celebration of Italo-Australian culture, food, wine, art and music", CicciaBella is an ideal spot for an after-work aperitivo, a date-night dinner or long, leisurely lunch with the crew—it even offers a three-course Italian feast with two hours of bottomless wine on weekends. As for the pasta, try the bucatini cacio e pepe and the Sardinian-style squid ink malloreddus topped with crab. Or, our personal favourite when the temperature drops—the fettucini swimming in rich bolognese. Book here.
Restaurant Leo
CBD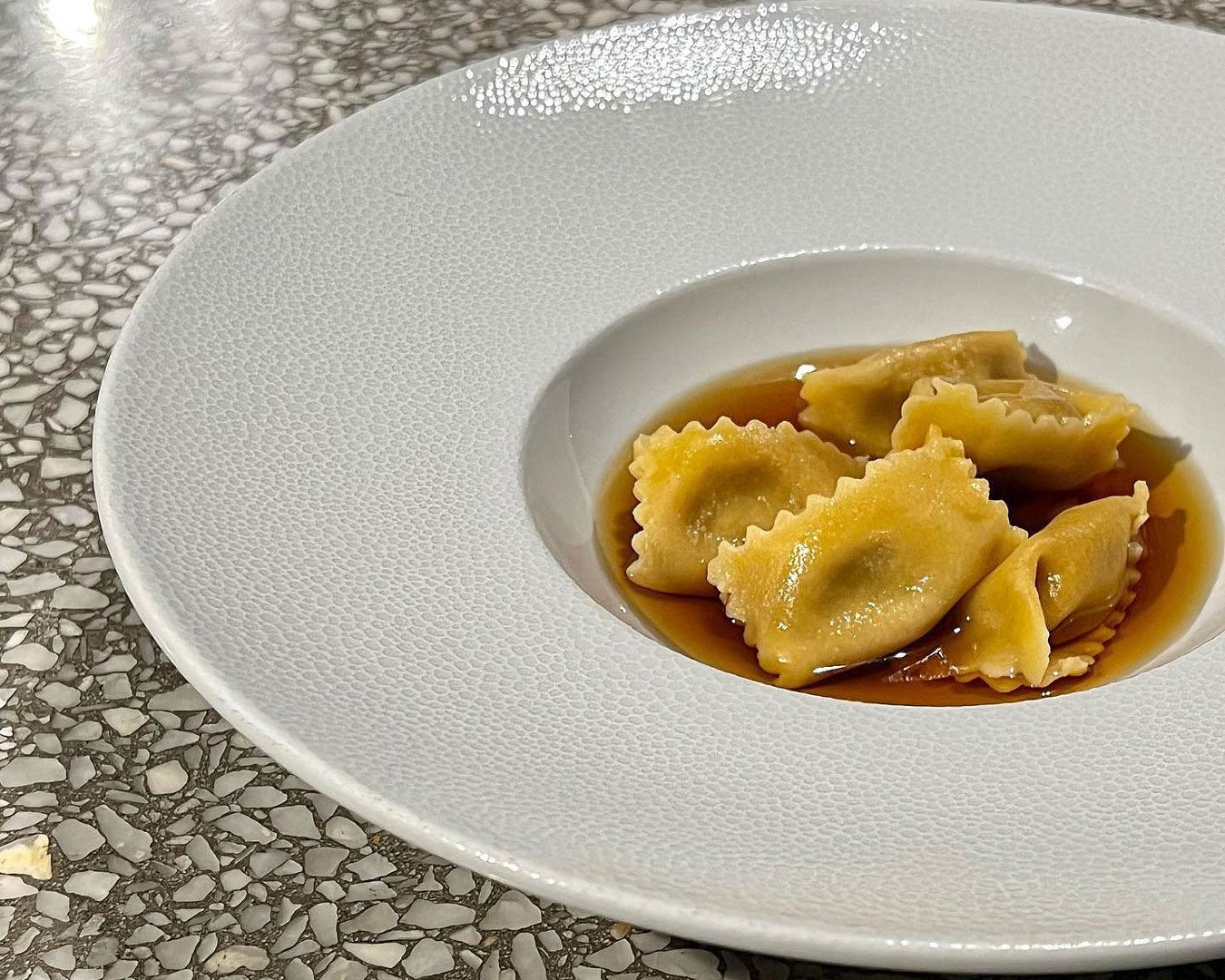 Restaurant Leo is a venture produced from the melding of minds from the twin powerhouses behind Newtown's former Oscillate Wildly and LuMi. Tucked down Angel Place's cobbled laneway in the CBD, it draws inspiration from both of these heritages while managing to be something entirely new. Hyper-seasonal fare with Mediterranean leanings, it's a slick wooden-furnished endeavour that caters to the end of week-long lunch or knock-off-work negroni, but pulls it all off with exceptional style and flair. Try the strozzapreti with pork ragu and broccolini or the spaghetti chitarra with pipis and bottagra. Book here.
a'Mare
Barangaroo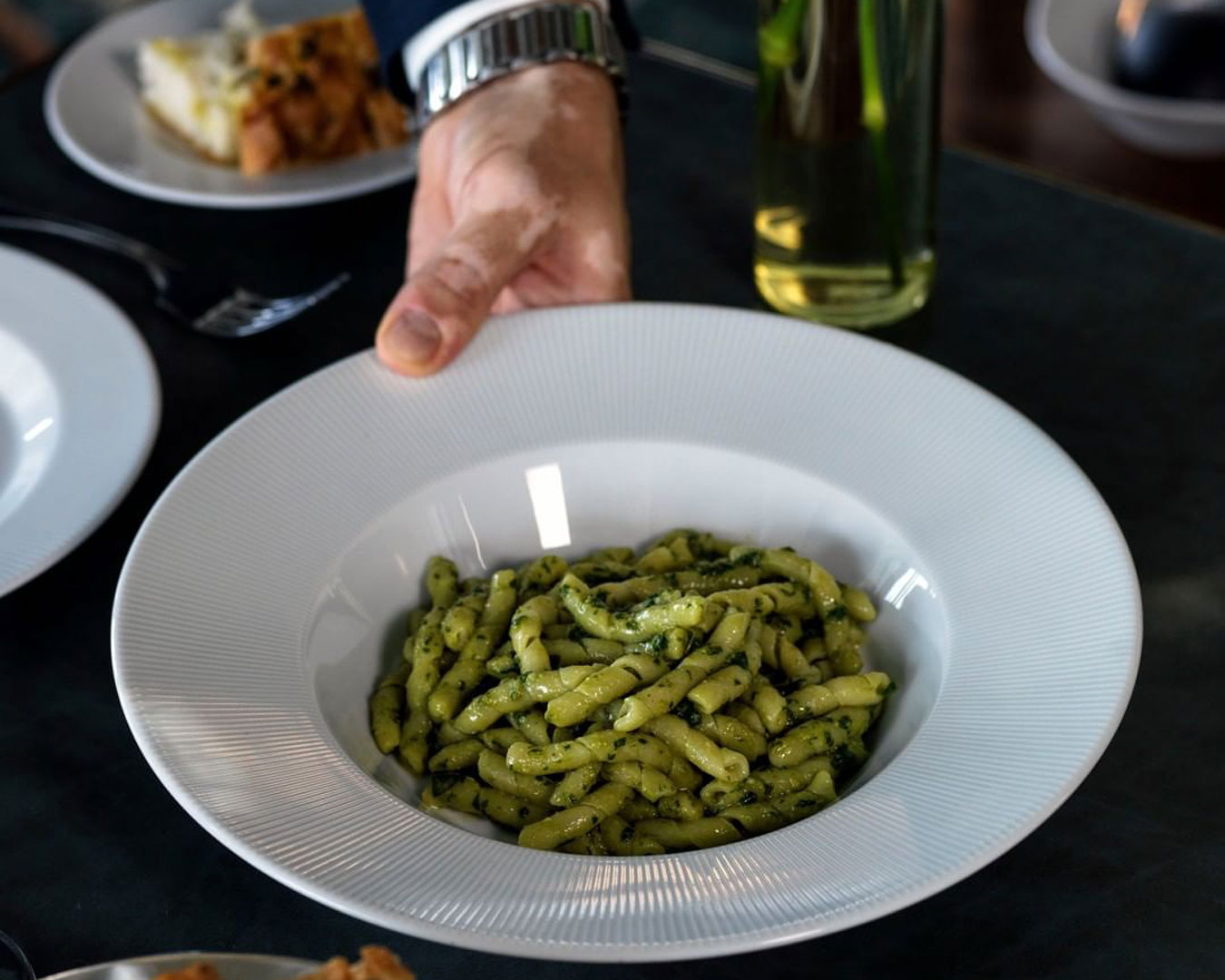 Pasta master Alessandro Pavoni gets a second spot on this list with his refined, classically themed eatery a'Mare in the newly built Crown Sydney tower. With serious polish and impeccable service, a'Mare caters to the luxury sensibilities of the Crown's intended high roller audience. And so, here you're in for an ultra-indulgent egg spaghetti chitarra with rock lobster, or green pappardelle with slow-cooked wagyu bolognese ragu. Like we said—high roller. Book here.
Two Chaps
Marrickville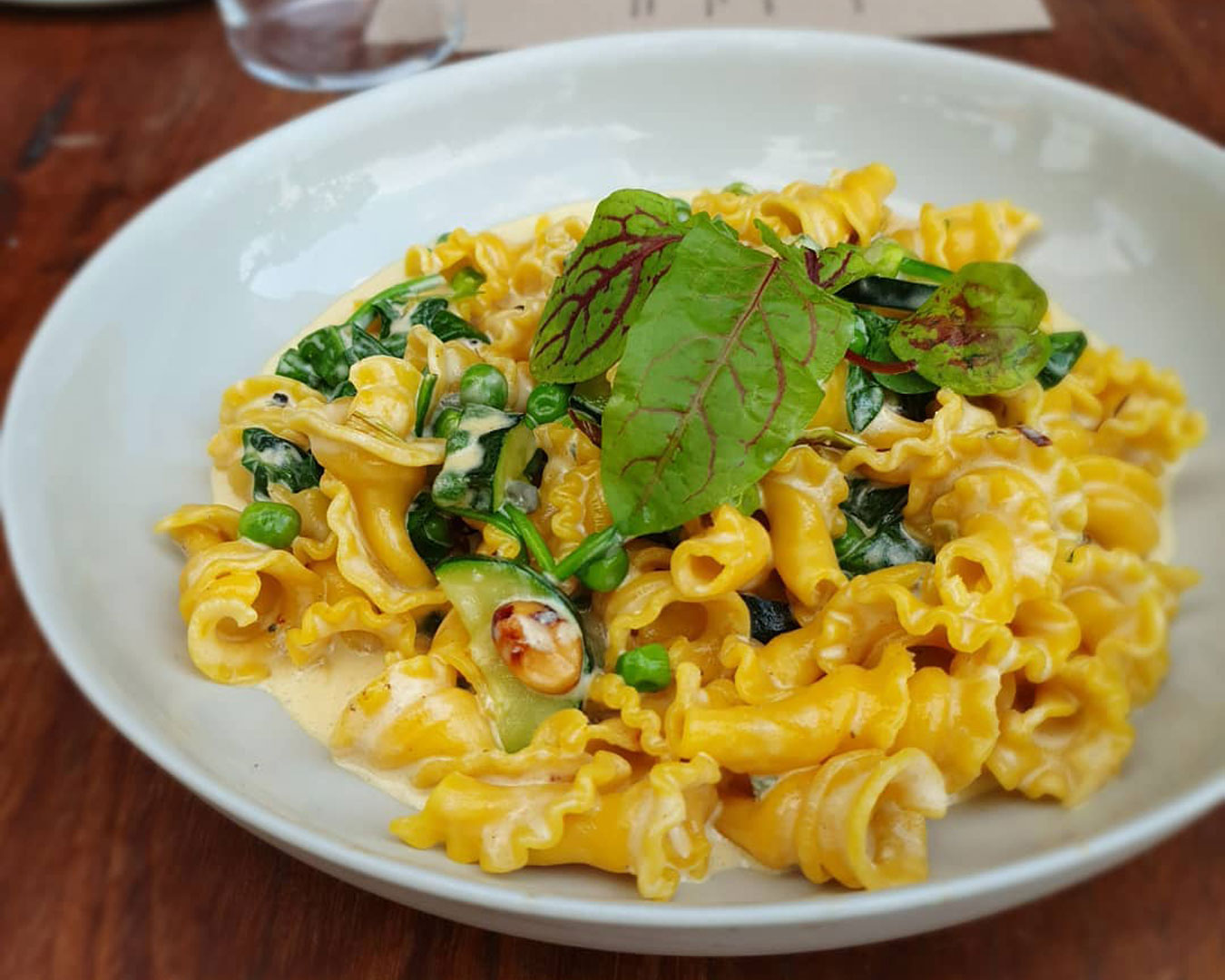 While predominantly a vegetarian cafe and bakery, this Inner West spot also offers one of the top set menus around come dinner time. Every Thursday, Friday, and Saturday, Two Chaps turns into a pasta haven, offering a set seasonal menu of starters, pasta dishes, and desserts for a reasonable $60 a head. To top things off, these dinners are BYO with a $10 per bottle corkage fee. Book here.
Cucina Porto
Pyrmont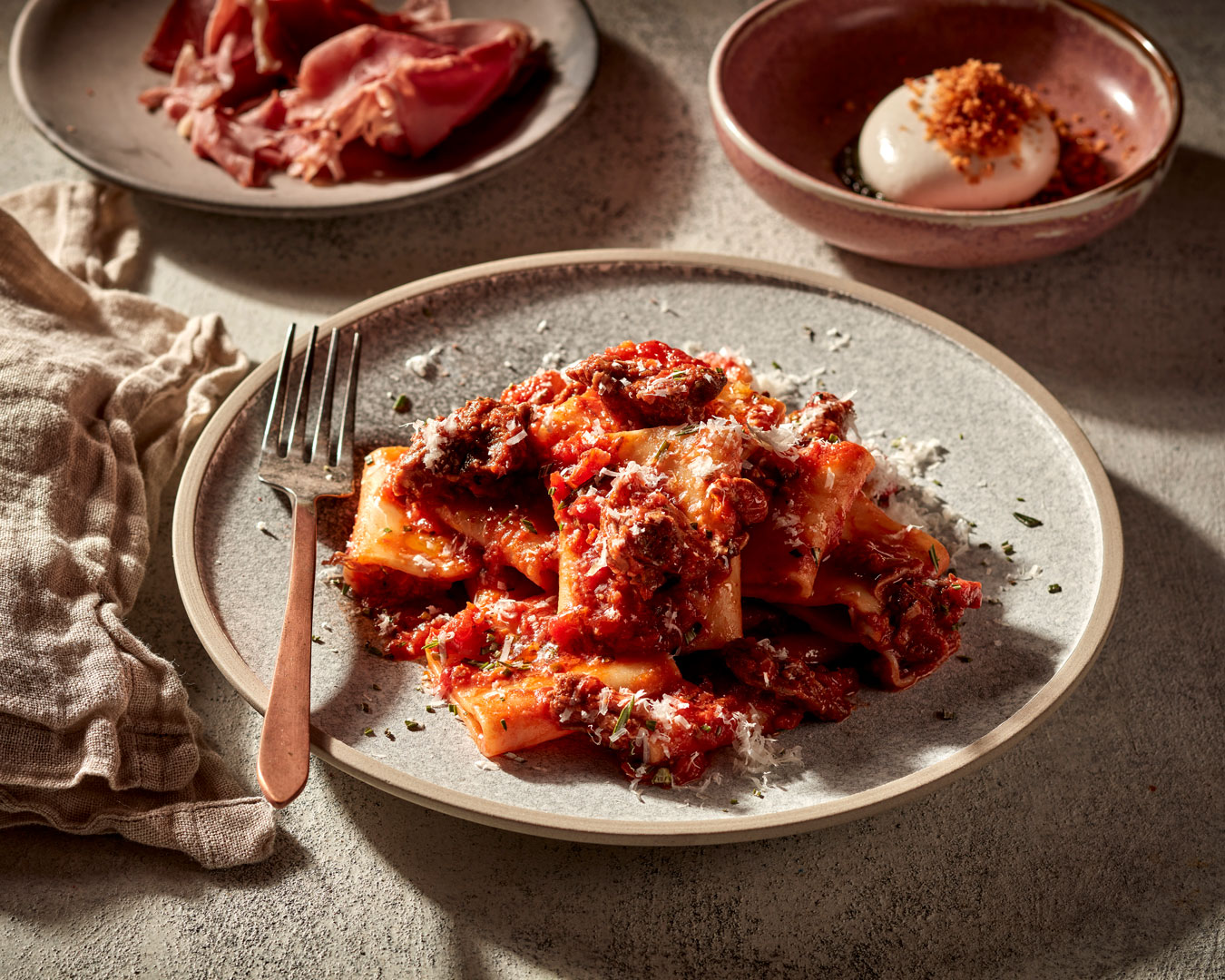 For a next-level bowl of filling fresh pasta pre-show, you can't go wrong with Cucina Porto at The Star. Head chef Martino Pulito of Pasta Emilia fame leads the ensemble with relaxed, street-food style fare inspired by his hometown of Puglia. That means easy eats like antipasto boards and woodfired pizza, but the crafted durum wheat shapes dripping in sauce are where it's at. Pulito keeps it fairly familiar so expect your typical faves like mussel and linguine but bolstered with fresh market fish from around the corner. There's also a delectable schiaffoni with slow-cooked beef and lamb ragu and rosemary. Book here.
Buffalo Dining Club
Darlinghurst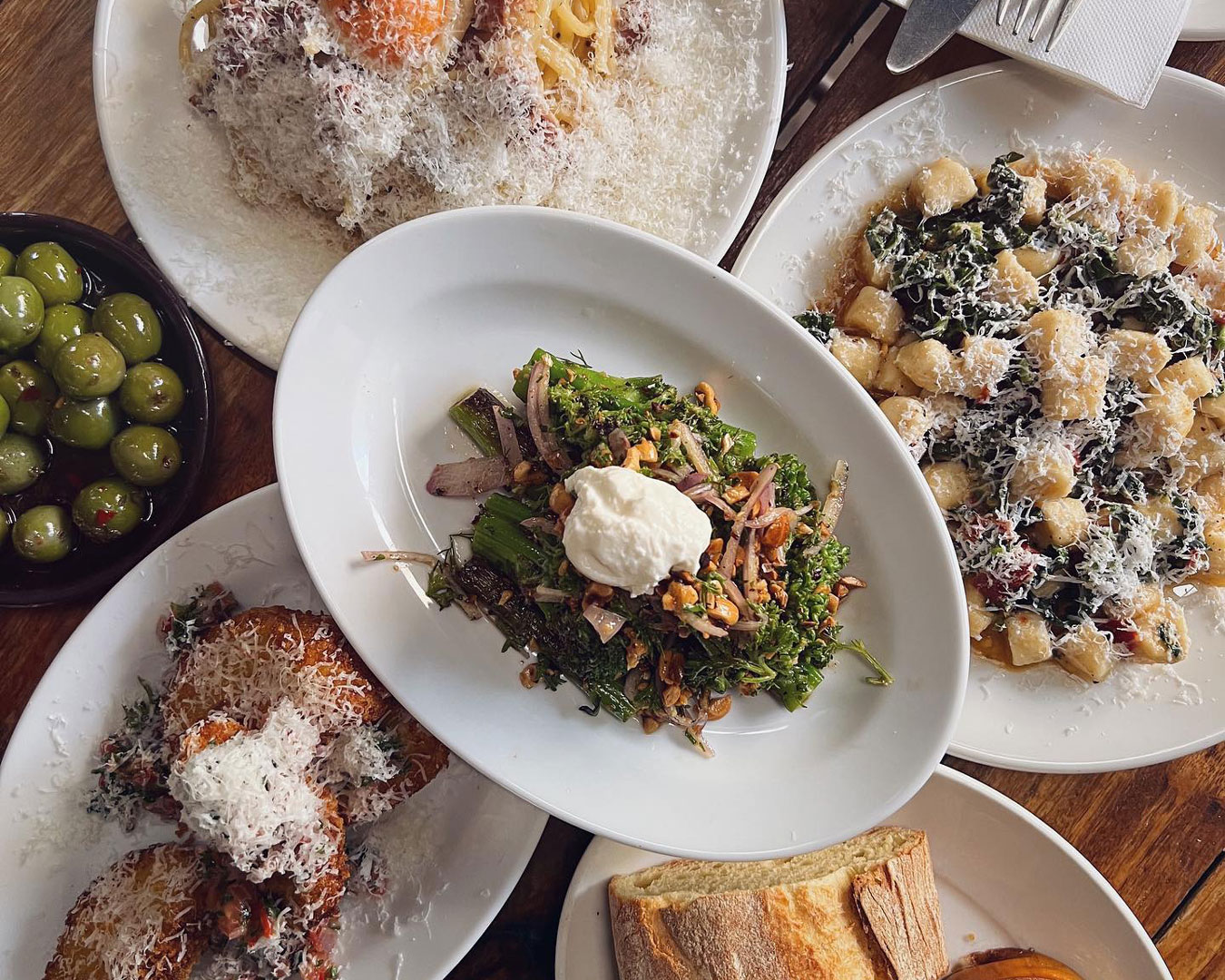 Big wheels of cheese are what made Buffalo Dining Club famous. Their signature dish, cacio e pepe, literally "cheese and pepper", and it's sure to curb any cheesy cravings. The bustling nook, sandwiched between the competing chaos of Kings Cross and Oxford Street, is a welcome reprieve for hungry diners in need of a quick and cheesy fix. It's all very communal, with limited seating options making getting to know your neighbours a bit of a requirement, but the food is top-tier and makes for a great Instagram snap when they start wheeling that pasta right in front of you. Book here.
Keen for more? Here's where to find some of Sydney's best Italian restaurants.
Image credit: Nikki To, Fratelli Paradiso, Nikki To, Alberto's Lounge, Nikki To, Ormeggio at the Spit, Kindred, Paski Vineria Popolare, Buon Ricordo, Nikki To, Bastardo, Destination NSW, I Maccheroni, Civico 47, Pino's Vino e Cucina, Giuls, CicciaBella, Restaurant Leo, a'Mare, Two Chaps, Cucina Porto, Buffalo Dining Club