Pasta is familiar, easy comfort food that wraps you in its warm embrace when you need it most. It's also the perfect vessel for almost any delicious topping you can think of. That makes it an excellent option for both diners and chefs to return to and consistently find new ways the dish can surprise and delight.
The 1970s saw a boom in the Aussie pasta trade as waves of Italian immigrants introduced us to the cuisine and we've not been able to get enough of it ever since. Now though, Sydney seems to be going through a bit of a pasta renaissance, with pasta-focused joints popping up across the city here, there, and everywhere.
Whether you're a traditionalist in search of the perfect bowl of cacio e pepe, carbonara, alla gricia, or amatriciana (that's the four Roman pastas), or you're looking for adventurous new world pasta—here we dish the low-down on the city's top offerings for a bowl of hearty durum wheat shapes and run the gamut of both high-end and relaxed dining.
Now, there's a lot to get through here, so forks at the ready. Here's where to find the best bowls of pasta in Sydney.
Alberto's Lounge
Surry Hills
Tucked away in the back streets at the north end of Surry Hills is Alberto's Lounge. It's aptly named for its laidback, cosy vibe, delicious plates, and extensive wine list. For those who have graced its small, wooden interior, it's a favourite, a well-kept secret, and somewhere to have in the back pocket for date night too. It's another string in the bow of Anton and Stefan Forte, the brothers behind Frankie's, The Baxter Inn, and Shady Pines. If you imagine this level of quality and attention to detail applied to pasta, you wouldn't be far off.
Fratelli Paradiso
Potts Point
It's a slick, vibey affair at this Potts Point institution with the ubiquitous coffee bar for slamming down espresso and outdoor street seating prime for people watching. Food is served from morning to late here with fresh produce being whipped up into appropriate delicacies throughout. Breakfast pastries roll into pasta primed for long lunches and late nights. There are two staples on the menu: the ragu with pork sausage, fennel, radicchio, and chilli, and the broccoli pesto cicatella. But the real hero, and one of Sydney's most iconic pasta dishes, is the glorious spaghetti scampi. Don't leave without trying it.
Ormeggio At The Spit
Mosman
In 2020, Ormeggio at the Spit relaunched as a seafood focussed (no meat) fine diner with a new gelato and cocktail bar to boot. Originally opened back in 2009, Ormeggio is led by owners and chefs Alessandro Pavoni and Victor Moya, who helped shape the waterfront venue into one of Sydney's finest Italian restaurants—and that reputation still holds true. The revamped menu has been designed to share, so once you've wrapped your head around Ormeggio's divine housemade focaccia, we recommend twirling your fork around the squid ink spaghetti alla chitarra. Topped with cured Amaebi prawns, smoked Vannella buffalo mozzarella, and Yarra Valley salmon roe—it's pasta perfection.
The Ormeggio redo also included the wallet-friendly, BYO and barefoot offshoot, Chiosco by Ormeggio.
Pino's Vino e Cucina
Alexandria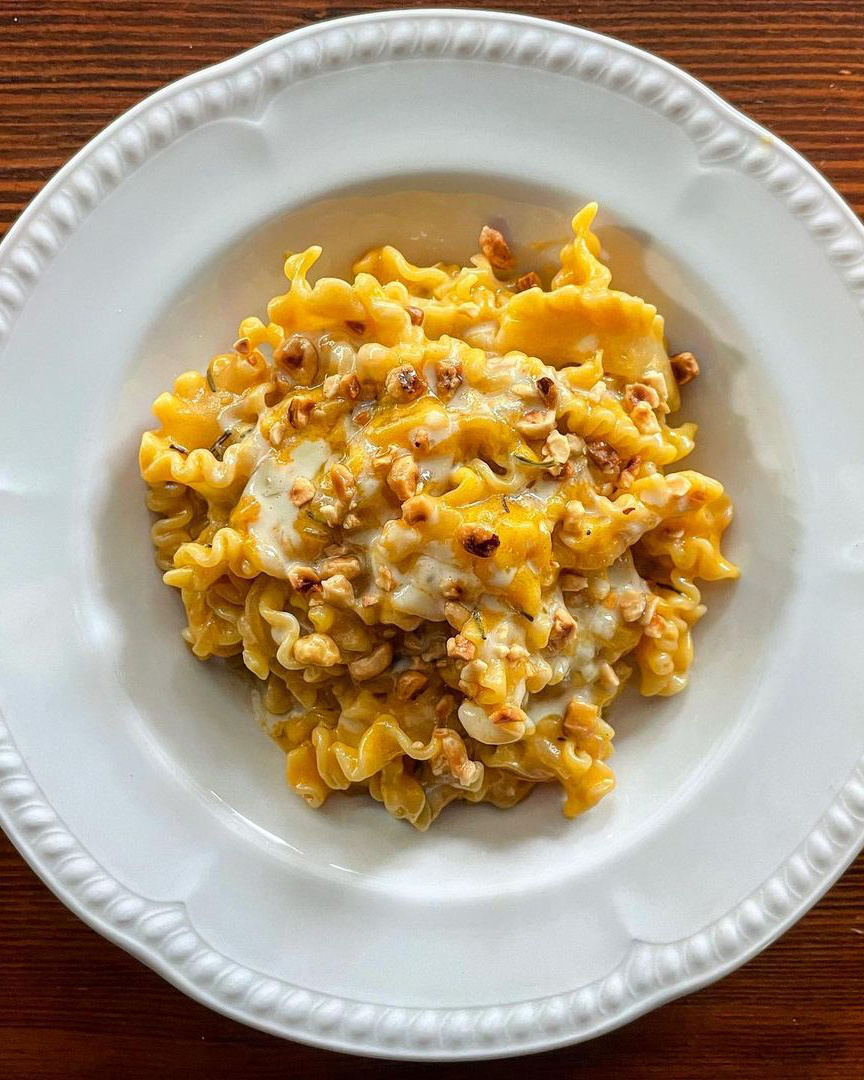 Matteo Margiotta opened Pino's in honour of his father, the eponymous Pino, and his small but homey bare-brick restaurant pays homage to the childhood dinners of his youth—up to and including the hanging copper pots from his family's kitchen in Rome. A chef by trade, Margiotta says he wanted to get away from the "stiff and uncomfortable" nature of fine dining and open a place that's like "going for dinner at your best friend's house." He says the key to a good dining experience lies in treating the customer as a friend and recommends first-timers try the six-course chef selection sharing degustation called "Let the Italians Feed You". With homemade, fresh pasta using seasonal ingredients and a menu that changes constantly, there's always a good reason to drop in.
Buon Ricordo
Paddington
One of the best Italian restaurants in Sydney, Buon Ricordo is notable for its large portions, its delicious pasta, and its impeccable service. The place has been family owned and run for over three decades by first-generation Italians and even with a change in ownership in 2018, new head chef David Wright has clocked up over 15 years of service to the institution. It specialises in old-school, traditionalist service and feels very much like a time capsule of 1980's fine dining, complete with floral tablecloths and a rusted hanging sign out the front. Their signature dish is the fettuccine al tartufovo (or truffle egg pasta), which is tossed at the table and comes topped with a fried truffle egg. So good, even Tom Cruise is a fan.
Friggitoria
Kings Cross
Friggitoria is late-night Italian street food done right. One of the first establishments in the city to offer the sub-genre of cooking,Friggitoria was opened in 2015 by Flavio Tosolini, chef at Mosman's Fourth Village Providore. They serve a delicious, quick, cheap range of tasty Italian bites from arancini to garlic bread until 10pm, seven days a week but it's the pasta bar here that's the main attraction. They offer a build-your-own approach, with five pasta bases to choose from and 10 toppings to go with it. The puttanesca gives incredible cut through with its anchovy and olive kick and the carbonara is pure creamy indulgence. Everything is kept super casual and usually comes wrapped in paper. An excellent post-drinks option when a kebab just won't cut it.
Pilu
Freshwater
Nestled into the sandhills at the south end of Freshwater Beach is Pilu. The glass-fronted Sardinian restaurant stretches out over the landscape and has exquisite views of the sand and the sea, particularly at sunset. This place is fancy, like wedding venue fancy, and offers high-end Italian food from the Mediterranean island. Handmade nuggets of fresh fregola pasta are the top attraction here for pasta-lovers and are imported from Sardinia where they are toasted to give a nutty flavour to the sharp tomato and creamy rock lobster accompaniments. Giovanni Pilu and his wife Marilyn have been running the place since 2004 and in all that time they've kept the fried pastry ovals, known as "seadas", that are filled with ricotta and dipped in local honey, as their go-to dessert. It's a Sardinian classic and a perfect way to end your meal.
Kindred
Darlington
Kindred is the type of place you'll go past a hundred times along the artery of Cleveland Street and never know what wonders lay inside until someone tells you it's a must-try. Manager Chris Cole says the restaurant is a blend of "comfort and familiarity… great food, and a warm, welcoming atmosphere." The reason this 40-seater is such a cosy spot? Because it's owner Matt Pollock's actual house, too. Their prime offering is the seven-dish tasting menu for a cool $58 that will take you through their frequently changing seasonal offerings. The current standout is the mushroom, spinach and scamorza agnolotti with parsnip puree, parsnip chips and truffle pecorino. They also have a five-year sourdough that Cole tells us has "continually been getting better and better" since it was started.
Buffalo Dining Club
Darlinghurst
Big wheels of cheese are what made Buffalo Dining Club famous. Their signature dish, cacio e pepe, literally "cheese and pepper", is so popular that they offered a mini 1.5kg version of their notorious cheese wheel as a delivery option during 2020's lockdown. The bustling nook, sandwiched between the competing chaos of Kings Cross and Oxford Street, is a welcome reprieve for hungry diners in need of a quick and cheesy fix. It's all very communal, with limited seating options making getting to know your neighbours a bit of a requirement, but the food is top-tier and makes for a great Instagram snap when they start wheeling that pasta right in front of you.
Bastardo
Surry Hills
Open for just six months, Bastardo has had quite an impact on the Sydney dining scene already. It's no wonder, as the deli-style Italian eatery is made up of a team of legends who brought you Porteno and Bodega. Drawing on their shared Argentinian and Sicilian heritage, they serve up an extensive list of fresh pasta made in the open plan kitchen that spans the length of the restaurant. Their pasta is stretchy, with firm texture while having that melt-in-your-mouth quality that exudes craftsmanship. The spaghetti dotted with juicy clams and bursting pockets of nduja in a white wine sauce is a definite go-to. The 150-strong wine list of Italian heavy bottles is the icing on the cake.
iMaccheroni
Woollahra
"I always wanted to have the best pasta in Sydney," iMaccheroni head chef and owner Marcello Farioli tells us. The ex-10 William Street and Fratelli Paradiso legend moved his local-favourite iMaccheroni restaurant to Woollahra in 2018 and continues to focus on creating a neighbourhood vibe where you'll want to dine again and again. Hailing from the Emilia Romagna region of Italy, widely regarded as the heart of Italian cuisine, Farioli serves little parcels of fresh tortellini stuffed with spinach and parmesan, macaroni with beef cheek ragu, and a never-ending rotation of specials. "I always recommend trying one," Farioli says. Their pasta is designed to "enrich your palate and make you want more" and if you're keen to learn the sacred art of the craft, they offer master classes in pasta making too.
Ragazzi
CBD
Ragazzi is everything you want in a little CBD hide-away. With a 40-seat capacity and a reputation for incredible pasta, the place is a seriously hot ticket item that you could easily walk past without noticing. Inside it's about the size of a small corner shop but decked out in elegant black-tile and low-light furnishings with a dazzling bar running the length of the restaurant. That's to keep the robust wine list in prime position as Ragazzi is essentially a wine bar that serves food. While that sounds like a second thought, the pasta here is excellent and comes in a range of seriously inventive and mouth-watering options that change daily but you expect to taste things like cuttlefish and spanner crab or pork, fennel, and pipis.
Ragazzi also encourages you to get your pasta on at home with their sublime dedicated pasta shop, Fabricca.
Cucina Porto
Pyrmont
For a next-level bowl of filling fresh pasta pre-show, you can't go wrong with Cucina Porto at The Star. Head chef Martino Pulito of Pasta Emilia fame leads the ensemble with relaxed, street-food style fare inspired by his hometown of Puglia. That means easy eats like antipasto boards and woodfired pizza, but the crafted durum wheat shapes dripping in sauce are where it's at. Pulito keeps it fairly familiar so expect your typical faves like mussel and prawn linguine but bolstered with fresh market fish from around the corner. There's also a delectable slow-cooked duck fettuccine with mascarpone and marjoram. Just try not to fall into a carb-coma if you're planning on seeing Hamilton afterward.
Cicciabella
Bondi And Parramatta
Handmade pasta is the main event at Maurice Terzini's Cicciabella. With locations in the east (Bondi Beach) and the west (Parramatta Square), both spots are inspired by "cucina povera" and simplicity and quality are the focus. Try the bucatini with cherry tomato and ricotta and the Sardinian-style malloreddus topped with crab. Or, our personal favourite when the temperature drops—the fettucini swimming in rich ossobuco ragu.
10 William St
Paddington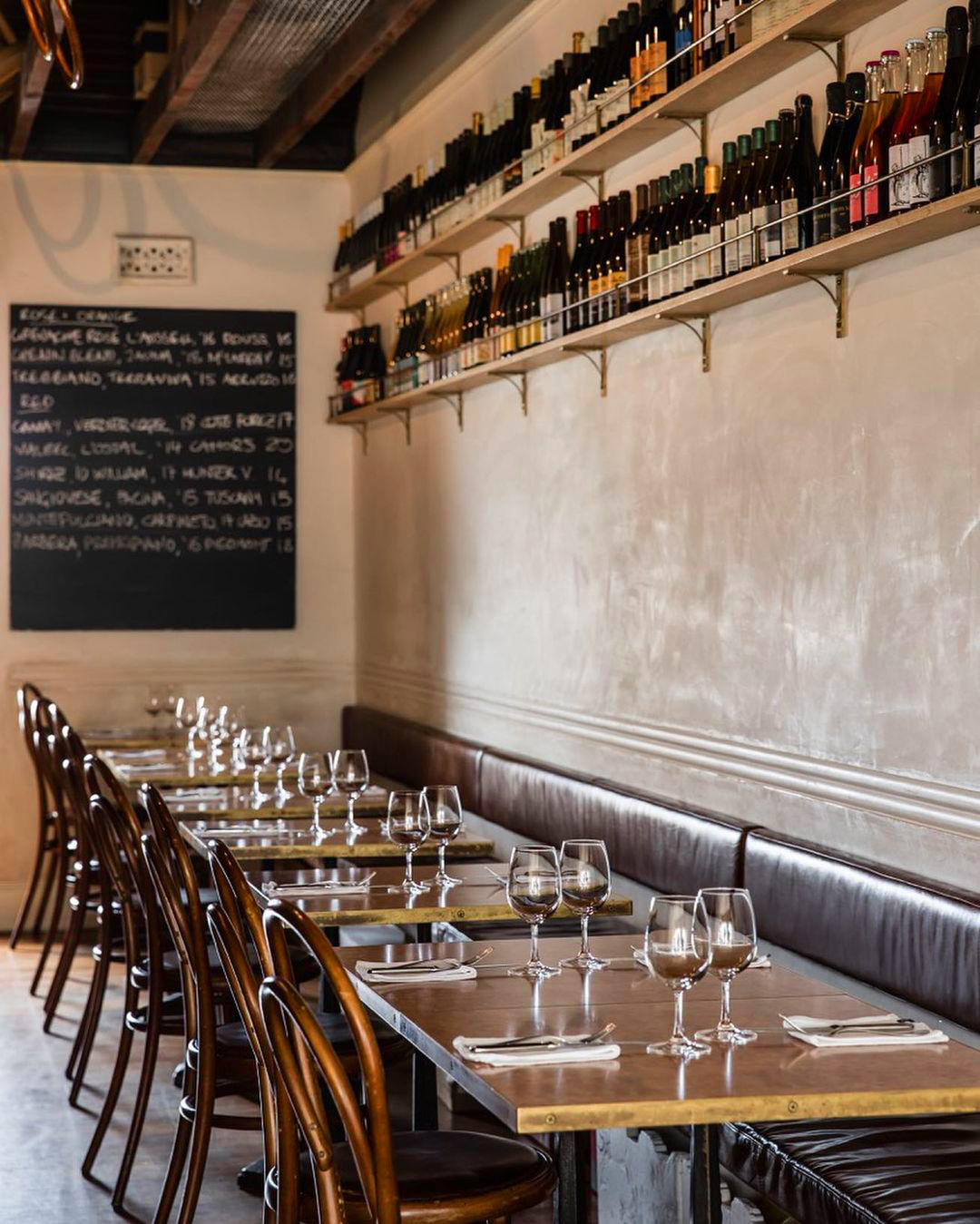 Ostensibly a wine bar, this iconic Paddo hole-in-the-wall is another entry from the Fratelli Paradiso crew. Here, the focus is on good times, good wine, and good food from a broadly Italian-Aussie lean. If you do want some pasta to go with your wine—as opposed to the other way around—10 William St is the spot to do it. Make sure you check the specials board and begin with a serve of the legendary pretzel and whipped bottarga, before moving on to the classic spaghetti amatriciana.
Restaurant Leo
CBD
Restaurant Leo is the newest venture produced from the melding of minds from the twin powerhouses behind Newtown's former Oscillate Wildly and LuMi. Tucked down Angel Place's cobbled laneway in the CBD, it draws inspiration from both of these heritages while managing to be something entirely new. Hyper-seasonal fare with Mediterranean leanings, it's a slick wooden-furnished endeavour that caters to the end of week-long lunch or knock-off-work Negroni, but pulls it all off with exceptional style and flair. Try the spanner crab bucatini or the spaghetti chitarra cacio e pepe served with zuchini flowers.
a'Mare
Barangaroo
Pasta master Alessandro Pavoni gets a second spot on this list with his refined, classically themed eatery a'Mare in the newly built Crown Sydney tower. With serious polish and impeccable service, a'Mare caters to the luxury sensibilities of the Crown's intended high roller audience. And so, here you're in for an ultra-indulgent egg spaghetti chitarra with rock lobster, or green tagliatelle with slow-cooked wagyu Bolognese ragu. Like we said—high roller.
Favola
Newtown
Another tiny blink-and-you'll-miss-it offering, this time tucked between the overwhelming food options of King Street. Favola is rough and ready, relaxed dining that stays true to its roots and serves slap-up choose-your-own-adventure pasta dishes to the hungry masses. Although it's situated on the bustling main strip, it's also a great option for lingering a while and enjoying your own BYO selection. "Pasta is a true and first love," they tell us. "As we can't travel, we can bring Italy to Australia and to their plates". With seven pasta bases to choose from and six sauces to add, it's a favourite to return to often. They quote Italian director Federico Fellini when they say "life is a combination of magic and pasta".
IL BARETTO
Paddington
After 20 long years on leafy Bourke Street in Surry Hills, IL BARETTO found a new home at the back of the Paddo Inn just before the end of 2020. Here, the family-run Italian stays true to its roots—a relaxed, laid-back atmosphere paired with seriously good pasta. The signature slow-cooked duck ragu with pappardelle and spaghetti alle vongole with salty clams and fresh tomatoes are truly hard to beat.
Keen for more? Here's where to find some of Sydney's best Italian restaurants.
Image credit: Nikki To, Alberto's Lounge, Fratelli Paradiso, Ormeggio at the Spit, Pino's, Friggitoria, Pilu, Frederica Portentoso, Leigh Griffiths, Nikki To, Cucina Porto, 10 William St