There's nothing quite like the communal culinary experience of Korean BBQ, or "gogi-gu-i" (which literally translates to "meat roast"). If you've never had the pleasure, the style of cuisine is simple. Order from a range of meats like pork belly, beef short rib, sirloin steak, boneless chicken, pork jowl and every wagyu imaginable to cook yourself over a shared table grill, alongside sides (or "banchan") like kimchi, rice, soups, seaweed variety, savoury pancakes and veggies.
Depending on the restaurant, menus feature a range of different cuts and levels of sweet or savoury marinades for you to experiment with. With the smells of grilling meat, the sound of a bustling restaurant and the continuous pouring of beer and soju keeping you well lubricated—this is one of the most engaging, rewarding and delicious DIY options available to shake up your next group dinner.
Here are 11 of the best Korean BBQ restaurants in Sydney.
BaaOinkMoo (BOM)
Edmondson Park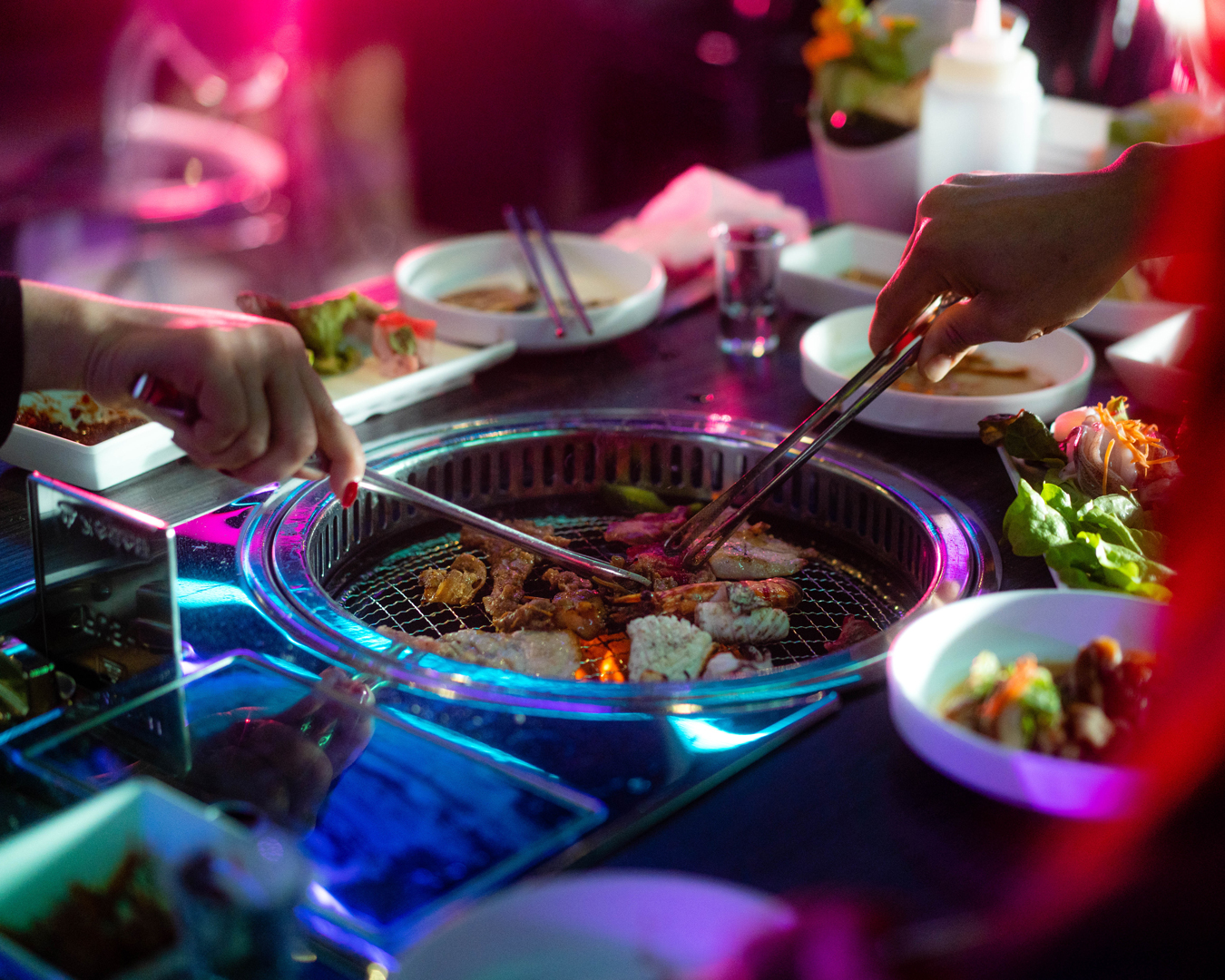 BaaOinkMoo (or "BOM" for short) is the newest KBBQ joint in Sydney. You'll find it over in the new Ed Square dining precinct in South West Sydney—drenched in pink and purple neon and raring for a good time. The concept is retro arcade meets BBQ, complete with hot smokey meats, Soju shots, and DJs on the tunes. Executive chef Peter Wu has sourced top-tier 5+ Aussie Wagyu for all the cook-it-yourself mayhem, alongside locally sourced and seasonal veggies and fish. You also need to try the BOM signature fried chicken, which comes with your pick of coatings: sweet and spicy, snow cheese, garlic soy, or gangjung. Thirsty? Drinks are not an afterthought here. A vibey list of Korean-inspired Soju cocktails is front and centre. Try the "Pixel Pink" with peach Soju, vodka, and grapefruit juice, or the "KPOP Cooler" with Absolut, Blue Curacao, grapefruit, and lime juice. Expect to encounter dance battles, DJs, and live K-Pop too.
Woo Wol
Chippendale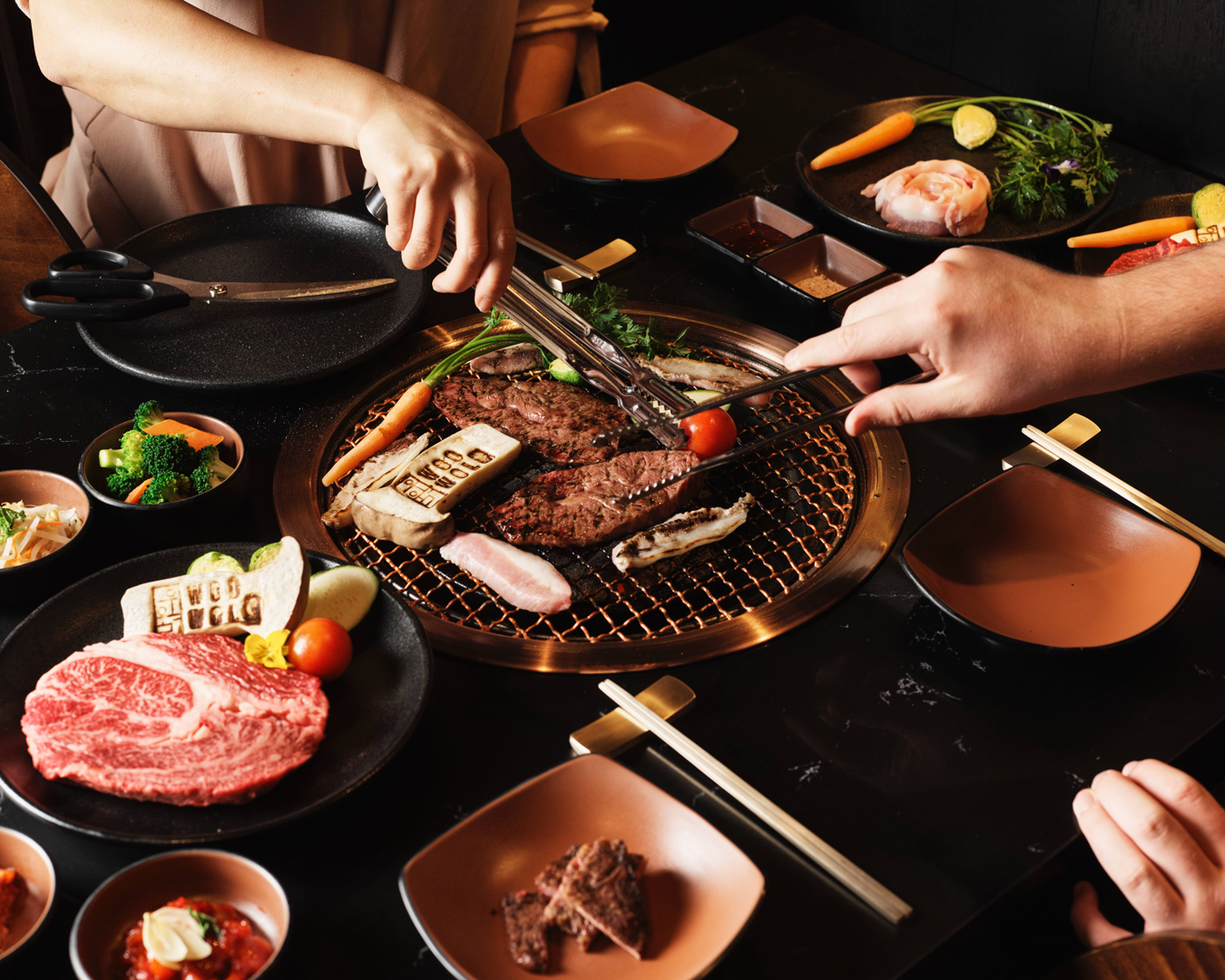 Korean BBQ, but make it fancy. That is the essential idea behind Woo Wol, a brand new restaurant from the team behind Sydney's high-end Korean dining experience, Jung Sung. Also located within the Kensignton Street dining precinct, Woo Wol acts as both a sleek Korean BBQ joint and an all-out, Wagyu-filled omakase-inspired experience. For lunch and dinner, Woo Wol's Korean BBQ is fired up over true charcoal grills. At lunchtime, it's a fusion vibe with BBQ sets packed with soy-marinated beef or pork rib or Wagyu beef. Grab your mates for dinner, with Korean BBQ meals available for groups of two or more. There's even an insane "Wagyu cake", made up of a chef's selection of meats.
Danjee
CBD
If you're looking to elevate your experience and blend fine dining elements with Korean BBQ, Danjee should be high on your list. From the folks behind former Pitt Street favourite Madang, Danjee offers the typical restaurant experience with some up-market Korean dishes and delicacies like a range of bibimbap (Korean rice bowl), fried chicken, dumplings, bokkeum (stir fry), stews and more. But the dedicated Korean BBQ section is what we're interested in, with a riches of high marble score wagyu, ox tongue, marinated beef ribs, scotch fillet and pork belly to cook yourself and pair with a few premium vinos or soju.
Wagyu House
Croyden
This buffet and all-you-can-eat Korean BBQ restaurant offers some serious bang for your buck if you come hungry. Pull up one of Wagyu House's iconic red plastic chairs either inside or outside, pay your fee and make your way over to the two long counter chillers, each brimming with meat options. Then fill a few plates up with banchan and bring it all back to prepare on the old school charcoal grills. The cost for two hours of all-you-can-eat is $32.90 for lunch and $39.90 for dinner, with a Korean beer to kick you off.
678 Korean BBQ
Haymarket and Eastwood
Sydney's two 678 KBBQ outposts are actually part of a beloved global franchise owned by Korean comedian and television host Kang Ho-dong. Don't let the word franchise scare you away or trick you into thinking this restaurant is anything but authentic. The BBQ menu here won't overwhelm, but the list of +8 marble score wagyu options is certainly impressive. Pair some wagyu short rib with a chilled spicy noodle soup and a Korean beer for a guaranteed knock-out meal.
Yang San Park
CBD
Sit down at Yang San Park to the spectacle of flaming hot coals being brought to your table and carefully placed under your grill. This is the place for an affordable and often lively kind of night, with the vibing atmosphere of a full restaurant. Note: they don't take bookings and weekends get busy quickly, so anticipate a little wait. Expect some friendly banter with staff, who will happily throw you some pro tips on perfecting your DIY cook and even help with the optimal rib eye flipping time. Order individual items from the small menu or opt for the Yang San Park set ($31), featuring plenty of crowd-pleasers like pork belly, marinated pork loin, marinated beef rib, steam egg pot and more.
KOGI Korean BBQ
Haymarket
Located on the top floor of Market City, KOGI is all about bringing class and luxe to the Korean BBQ experience. Sitting amongst some seriously good yum cha, hotpot and sushi options in the 1909 Dining Precinct, the Haymarket restaurant offers over 15 cuts of premium wagyu beef and pork, with plenty of soups, banchan, fried chicken, chilled noodles and bibimbap to pair with. Try your skills on the hot coal grill for the meats and let executive chef Hang Jun Chung and his nearly 40 years of experience in Korean cuisine do the rest.
Kangnam BBQ
Hornsby
You won't get much time between ordering your favourite Korean BBQ dishes at Kangnam BBQ and having your table efficiently inundated with plates of banchan–up to 10 rotating side dishes like kimchi and mash potatoes. That's if you haven't already eyed off a few entrees like seafood pancakes, beef tartare or potato croquettes. Then comes the meat, with classics joined by options like smoked duck, pork belly with matured kimchi, and king prawns. Choose your sauce from vinegar and wasabi, salt and sesame oil or a fermented soybean mixture, cook your meat like a pro and wrap it all up in salad leaves to devour.
Butchers Buffet
Strathfield, Eastwood and Haymarket
As the name suggests, these Korean BBQ joints focus heavily on meat and the buffet-style experience. Found across three Sydney locations, Butchers Buffet keeps your group lunch or dinner as simple as possible: pay ($32.90 for lunch and $43.90 for dinner) and go to town for 90-minutes. Buffet tables are brimming with a rotation of meats, salads, noodles, classic banchan, sauces and desserts. The only real problem you'll face is having enough room on the table.
Bornga
Haymarket
Before firing up the grill and tucking into Korean BBQ meats, you'll notice that Haymarket's Bornga certainly looks the part with its long, lit-up booth seating, timber finishes, and temple-style decor. You've only got 90-minutes to eat here, but service is quick and efficient, with banchan like kimchi, cucumber soup and chilli pickles filling your table as soon as you order. Part of a global chain owned by South Korean celebrity chef Paik Jong-won, make sure you try grilling up the restaurant's signature paper-thin slices of beef brisket called woo samgyeop.
Gyeong Bok Gung Korean BBQ
West Ryde
Only make your way to West Ryde's popular Gyeong Bok Gung Korean BBQ if you're ready to eat an absolute feast. Your table will fill up with house-made banchan faster than you can eat them, with the spacious 92-seat restaurant offering free sides refills. Make sure you try the marinated pork or the premium wagyu short rib and a couple of more unique options like wagyu intercostal or ox large intestine. Accompany these with dishes like kimchi stew, seafood pancake and beef short rib soup.
Still hungry? Check out Sydney's best steak restaurants.
Image credit: BOM, BOM, Steven Woodburn