To make sure that you're on top of all the tasty things happening around Sydney, we've wrapped up all of this week's top food news right here.
Chase Kojima Just Dropped Senpai Burgers: A Nori-Roll-Burger Hybrid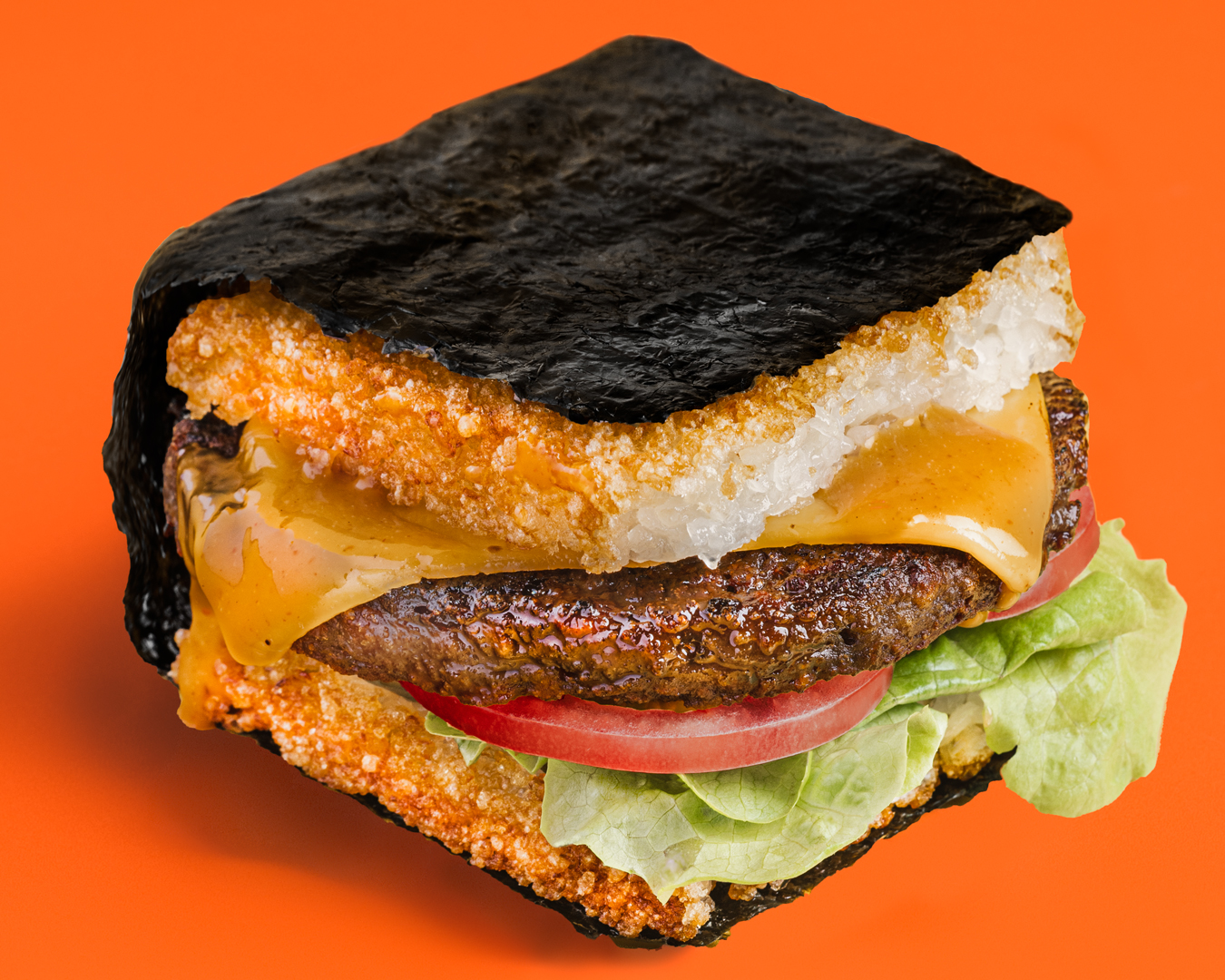 Chase Kojima is back at it. The superstar Sokyo chef's ultra-popular Senpai Ramen joints in Chatswood and Burwood are getting an update and will be rebranded under the title "Senpai Concepts". The idea is to get more creative and give the people more to choose from. With the shake-up comes a new menu item that's already amassed a fair bit of hype—a Senpai Burger, which is essentially a nori-roll-burger hybrid, and a fusion of Kojima's Japanese heritage and his childhood in America.
From Thursday 1 June, both Senpai outlets will be dishing out the new Senpai Burger—which is available with fried chicken, classic juicy beef, miso salmon, spicy tuna, or plant-based Impossible beef. Best part? They're all under $20 too. The rice burgers are just the beginning—other new menu items include a cheeseburger sushi roll. Kojima and Senpai business partner Howin Chui will open a third outpost in Chatswood this year, which will be a 10-seater omakase.
The Restaurant Hubert Team Has Opened A New Restaurant In The Rocks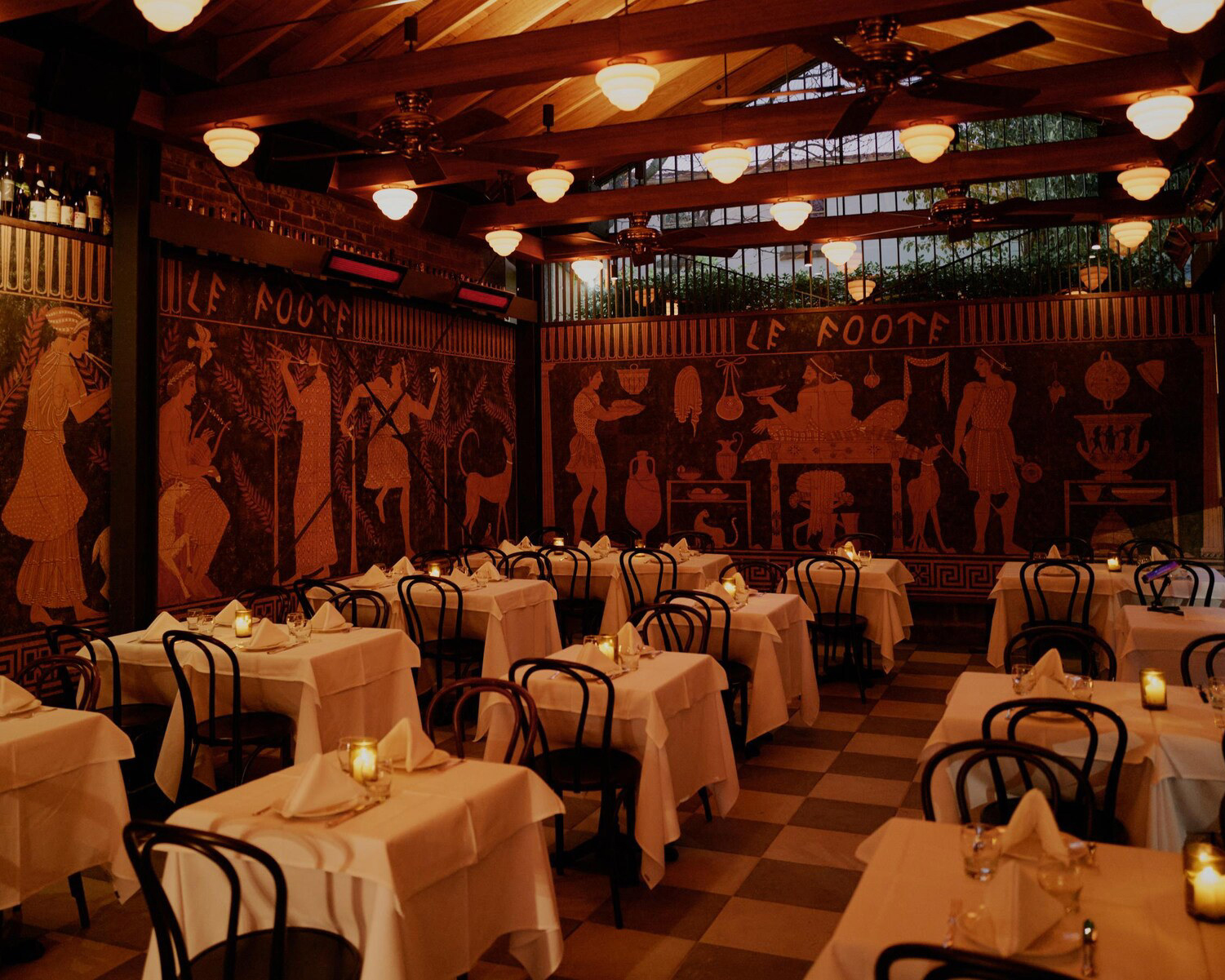 Swillhouse, the hospitality group behind Restaurant Hubert, The Baxter Inn, and Alberto's Lounge, has finally opened Le Foote, and it's been a long time coming. The group first announced they would be taking on the historic Phillip's Foote pub in The Rocks in October 2021. It was the end of Sydney's months-long lockdown, and the group hosted a brief summer pop-up in the venue to celebrate. Since then, we've been waiting with bated breath for Le Foote proper to open its doors.
Once a sailors' bar, a customs agent, and a stable, the historic site became a pub in the early 1970s—and now—Swillhouse has imagined a sprawling European garden restaurant and Mediterranean grill, complete with a wine bar, al fresco terrace, and waiters in bow ties. Heading up the kitchen is Stefano Marano (ex-Apollo), and you can expect to see delicious delicacies cooked over the charcoal grill. As for wine, it'll be a hero piece at Le Foote with 300+ bottles on show from Europe's sunniest spots (Crete, Morocco, Sardinia). There's also a banana daiquiri queued up on the cocktail list—which has us wondering if the daiquiri making a comeback. At any rate, if you aren't doing Euro summer this year, it sounds like Le Foote will be the cure to your FOMO.
Treat Yourself: This Luxury 9-Course Degustation Is A Must-Do—And It's Entirely Gluten-Free Too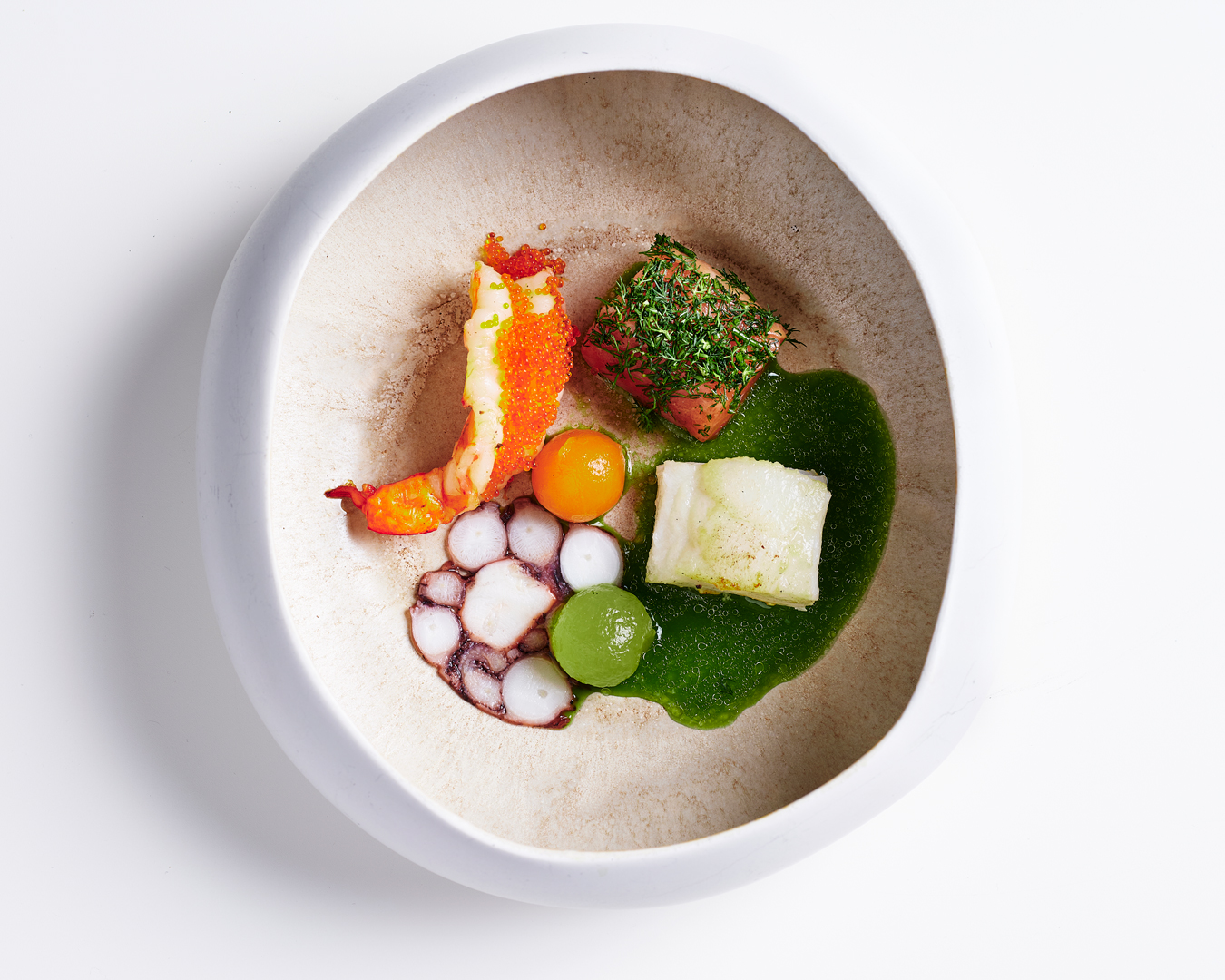 Sydney might be small in comparison to foodie metropolises like New York and London, but despite our relatively small size, so many restaurants still manage to fly under the radar. Métisse in Potts Point is one of those sometimes slept-on spots. Here, executive chef Opel Khan and his daughter head chef Luci Khan do luxurious degustation menus with meticulous detail and creativity. Their latest might be their best yet too.
Called the "Luxury Degustation", expect to see the Khan's signature French Avant-Garde gastronomic techniques with a few impressive surprises. Like a pea macaron—with all the appearance of the tried and true pistachio sweet, this light-as-air biscuit is savoury and filled with the South Asian flavors of peas, potato, and toasted coconut. There is a "food as art" seafood platter topped with Yamba prawns, octopus carpaccio, salmon confit, and sea scallops, and a Premium Kobe beef course too. Luxe wine pairings are available, and impressively, the menu is entirely gluten-free. Métisse is able to make the menu vegetarian or vegan upon request. Book a table here.
Maybe Sammy's New 2023 Cocktail Menu Is Their Most "Technically Complex"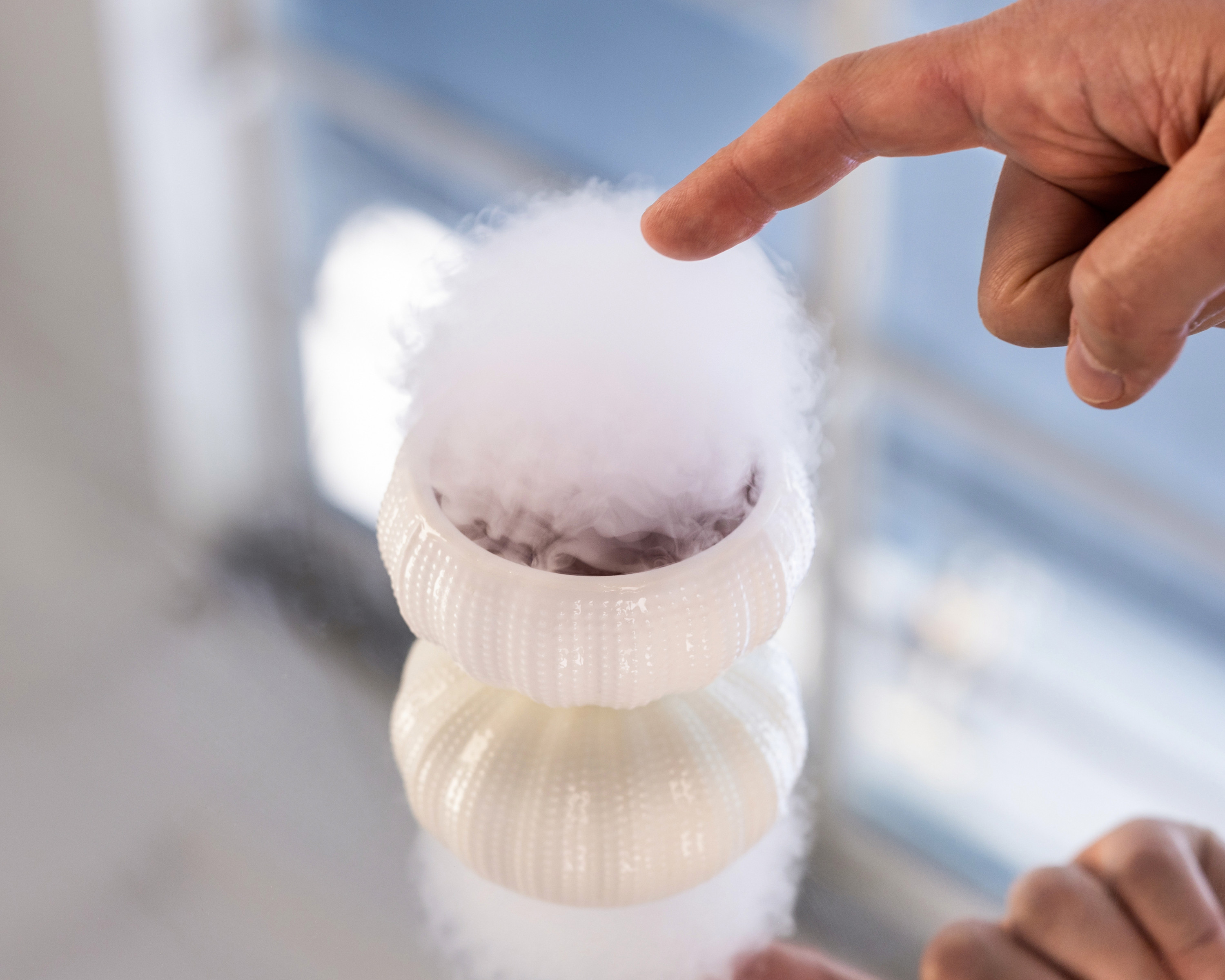 Just when you thought the Maybe Sammy team couldn't give us any more magic in 2023, more cocktail mayhem is on the horizon. After giving Paddington nightlife some much-needed energy with El Primo Sanchez, and bringing 16 of the World's Best Bars to Sydney for seven days for the Maybe Cocktail Festival, the team will be revealing a whole new menu at the original Maybe Sammy bar in The Rocks. Due to drop next week on Wednesday 10 May, the fresh menu features 14 new signature cocktails and is inspired by mirages—an experience that turned out completely different from expectations.
While Maybe Sammy drinks are loved for their flair and theatrics, there's always so much more going on in every sip—and even more so with the latest menu. "It is the most technically complex collection of cocktails we've ever created and each of our bar team has invested hours and hours in trialling new cocktail-making processes and exploring flavour profiles before creating and finessing their recipes," says creative director Martin Hudak.
Expect a Burning Man-inspired cocktail ("Leave No Trace") with lemongrass and rockmelon soda to awaken the spirit, and a smoky finish care of some Talisker 10YO whisky to represent the desert festival's firey end. "Terra Nova" is inspired by the bush regenerating after bushfire, and features an edible plant growing within it. Served out of an actual golden pear, the "Golden Pear" is a champagne and whiskey cocktail with a quince-forward flavour and a swirl of cinnamon smoke.
The new Mirage menu launches on Wednesday 10 May at Maybe Sammy.
LP's Restaurant Will Return For One Night Only At A Secret Supper Club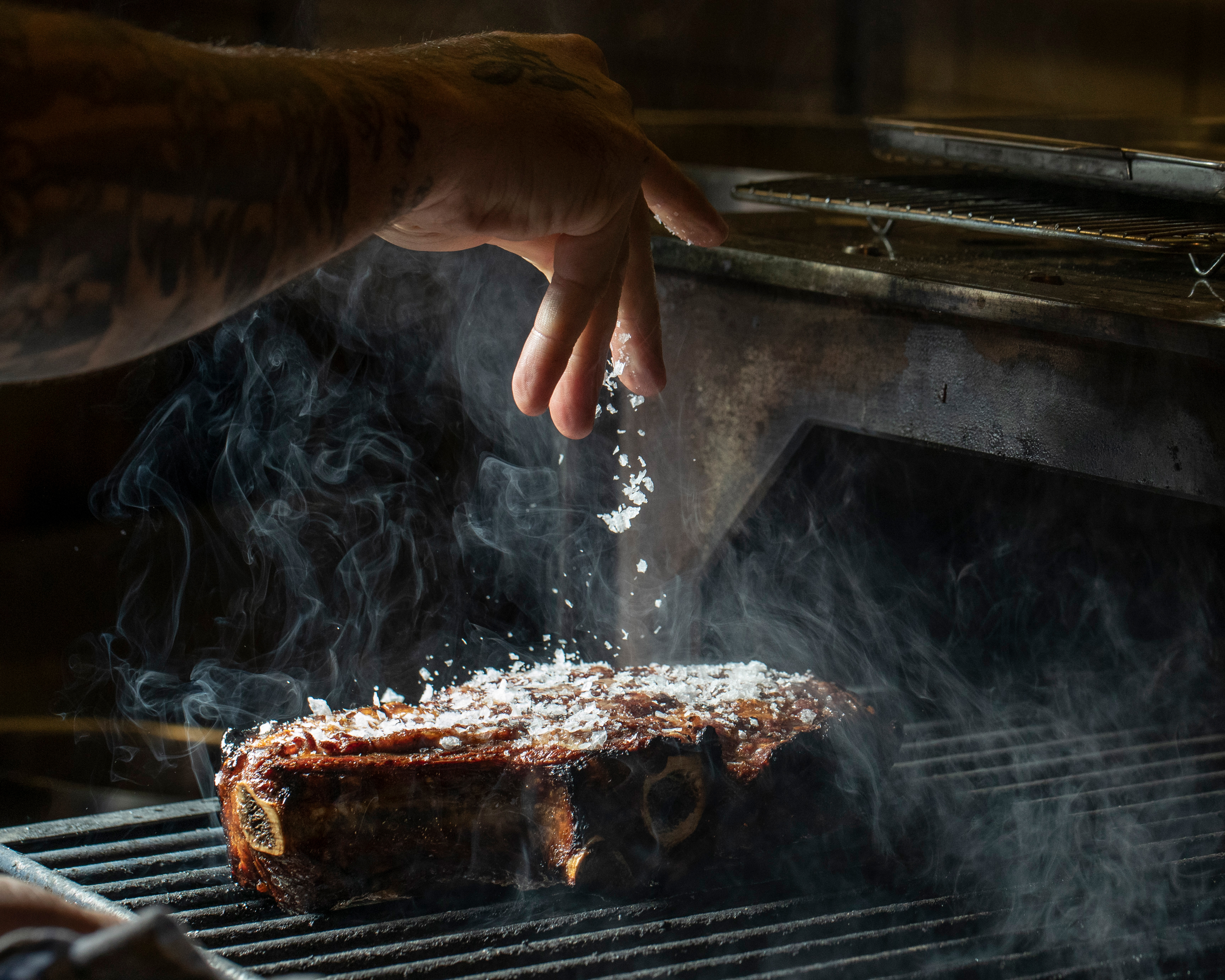 These days, LP's Quality Meats is known around town for their top-tier sausages and small goods, available at some of the city's best restaurants and delis (and at Carriageworks Farmers Market on Saturdays). In the beginning, however, it was all about LP's restaurant. The Chippendale powerhouse first opened back in 2015, serving silver trays of housemade charcuterie and smoked short ribs for dinner. There was nothing else like it, and soon enough chef-owner Luke Powell scored a cult following. The restaurant closed and reopened during the throes of lockdown, but shut its doors for good in August of 2022 so Powell and team could focus on the wholesale side of the biz. Gozney
While there aren't presently plans for LP's restaurant to return in full—fans will be able to experience the menu once more later this year when LP's joins forces with Gozney for a secret supper club event. Hosted in November at a soon-to-be-revealed location in Sydney, Powell will pair up with Isobel Little (former LP's Quality Meats and Brat, currently Swillhouse Head Chef) to resurrect LP's. If you're lucky enough to score a ticket, as well as tucking into the meaty, multi-course nostalgic menu, you'll also get to try your hand at using one of Gozney's pizza ovens during the event.
Gozney's secret supper club series is touring the world, ticking off five secret locations in LA, NYC, London, Utah, and Sydney. The Sydney event with LP's will take place on Thursday 17 November. Tickets are $95 per person, and include a multi-course menu, drink on arrival, and matched wines. Tickets go on sale Thursday 5 October, register your interest here. And, if you're keen to check out Gozney's super cool pizza ovens, head over here.
Coming Soon: Hartsyard Is Taking Over The Former Automata Site With "Longshore"
In some very good news, it appears we won't have to lament the loss of the Hartsyard team for too much longer. After closing the beloved Enmore Road restaurant only recently (making way for Irene's, which has quickly become equally loved), Jarrod Walsh and Dorothy Lee have revealed that they'll be setting up shop in the former Automata site. The new venue is Longshore, a seafood-focused 100-seat restaurant with an experimental snack-style tasting menu as part of the experience (we know Sydney loves to snack).
"Our menu combines coastal ingredients with Asian techniques and flavours, and will change regularly with what we like to call 'freestyle cuisine', " explains Lee. "We'll always have three 'fish of the day' and core proteins like wagyu and pork loin, but garnishes will adjust seasonally based on what's available from our local producers, the best across NSW." Longshore is slated to open in June 2023. Read more here.
Now, head over here for even more tasty food news.
Image credit: Senpai Concepts, Swillhouse, Métisse, Maybe Sammy, Steven Woodburn
Editor's note: Urban List editors independently select and write about stuff we love and think you'll like too. Urban List has affiliate partnerships, so we get revenue from your purchase.