For dog owners in Sydney, it can be a feat trying to score a weekend brunch spot where your pup gets a big old warm welcome—and where "puppacinos" are a real menu item. You need space, a park nearby, a slobber-friendly crowd and really good coffee (because let's be real, you've had paws over your bed covers since 4am).
Whether you're a pup parent in need of a dog-friendly cafe so you can grab your coffee and breakfast with no worries, or you're just seriously looking to fulfil your weekly dog-pat quota, this list is for you.
Here are the best dog-friendly cafes in Sydney.
Wolfpack Coffee Roasters
Mortlake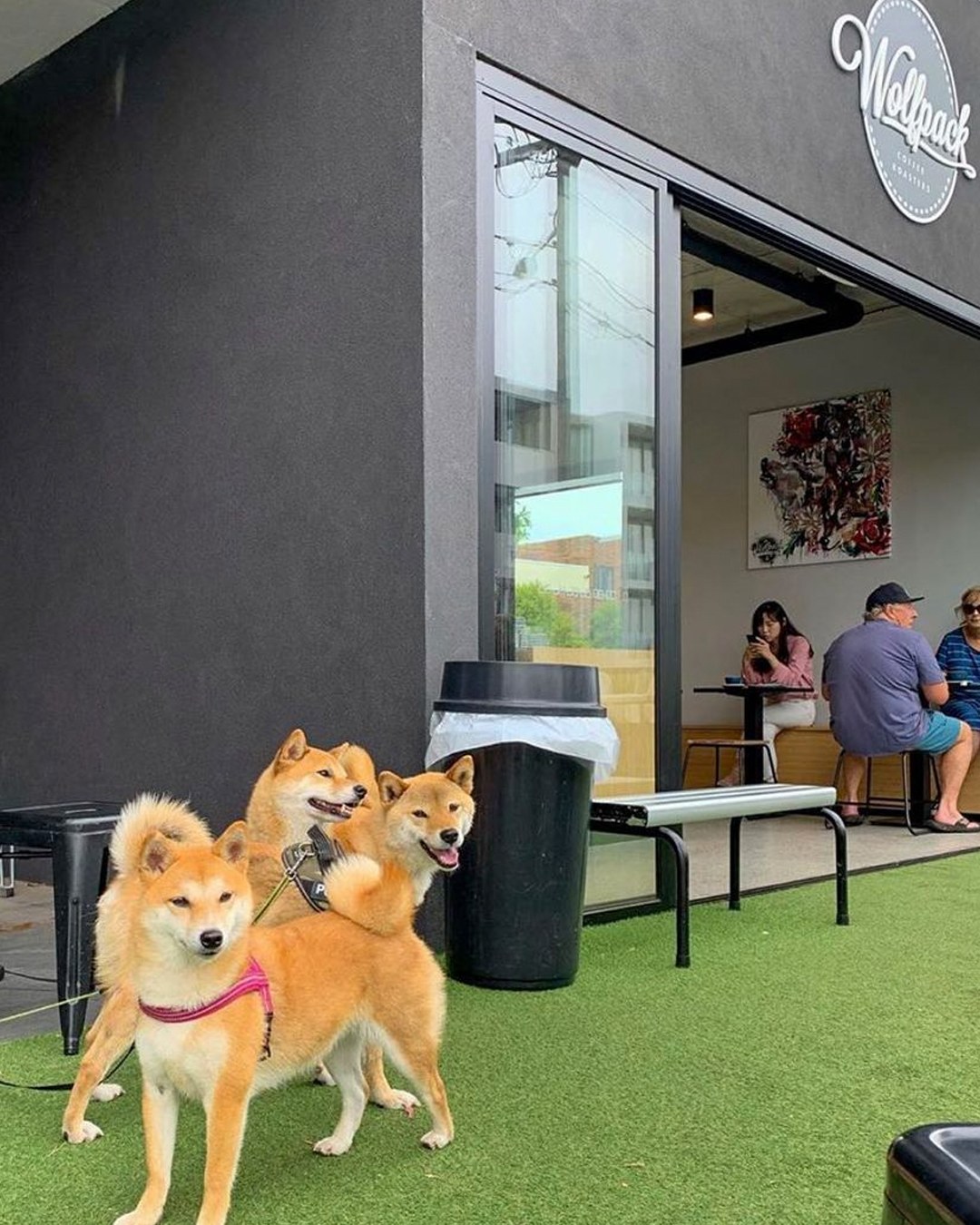 The name really says it all. Wolfpack Coffee Roasters has come a long way since its owners, Daniel and Irene, first got roastin' in a garage. Being pioneers of coffee culture is well within their gene pool so let's just say if you find it hard to part ways with your loyal mate for a good cuppa, this dog-friendly cafe is well-worth your weekend visit. If you've got croissants and pastries on your mind, the front cabinet will satisfy your sweet cravings and wolfpacks of all sizes are more than welcome to sit with you on the astroturf as you down a tasty breakfast feast.
Lil Miss Collins
Parramatta
For sunny courtyard seating, syrupy pancakes and cheesy toasties, bring your four-legged companion along to Lil Miss Collins. Here, you can sip on two-litre mojito towers from as early as 10am, and the brunch menu is packed with filling plates of smashed avo, breakfast burgers studded with crispy hash browns and Mediterranean platters loaded with fried cauliflower and Lebanese lamb sausages.
Next Door
Cronulla
Whoever said you can't live your best cafe life with your paw-fect pal was very wrong. Next Door kind of sets a whole new standard for dog-friendly cafes in Sydney, whipping up Moreton Bay bug rolls, jalapeno corn fritters, maple-spiced granola and sticky chai with unbeatable views of North Cronulla Beach. Dogs can park up on the half-covered outdoor seating area which just so happens to offer the best seats in the house.
The Flying Bear
Kirribilli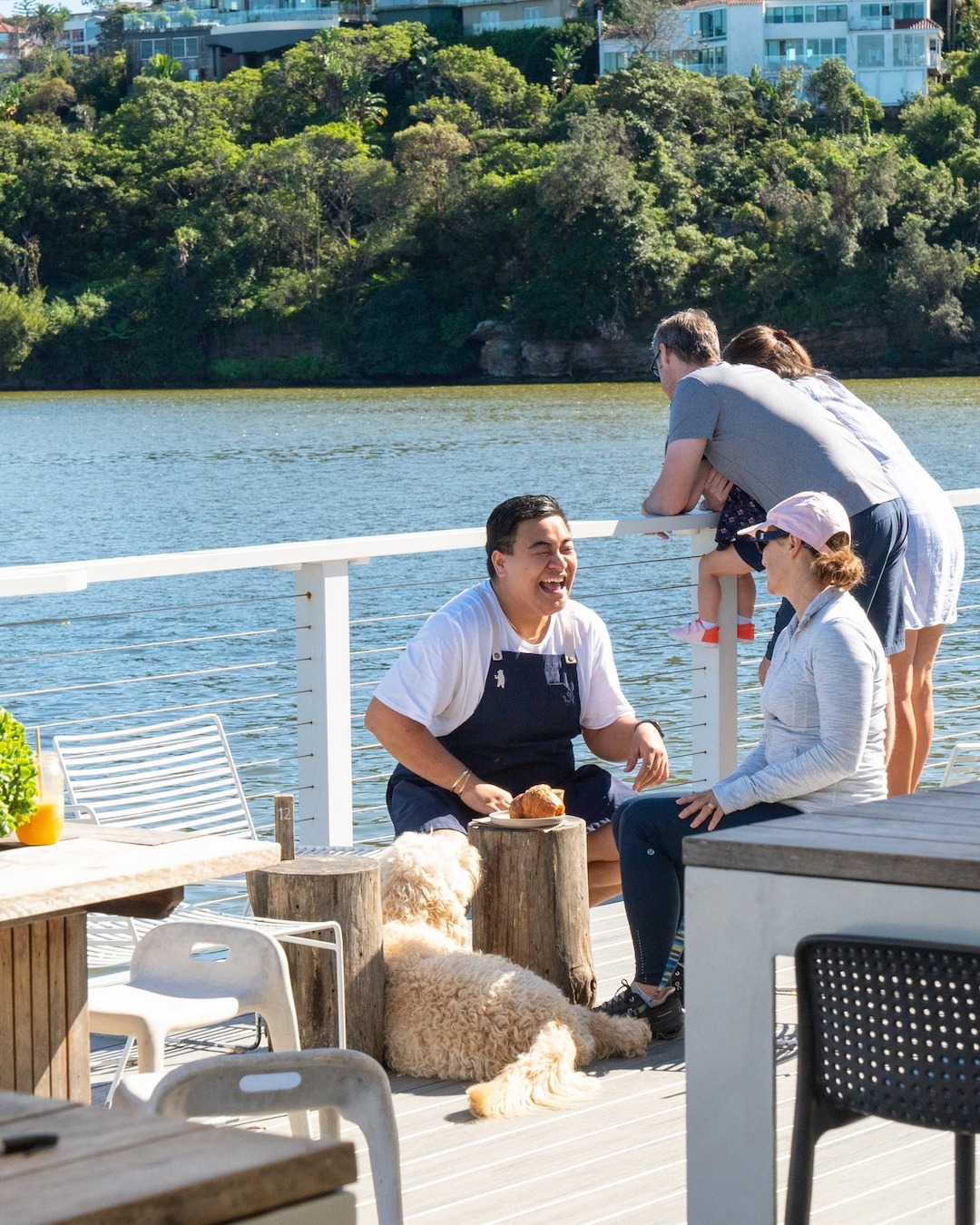 There's a reason why this one clocks in as a local's favourite. The Flying Bear is an institution of casual seafood dining by the water with wholesome views across the harbour. An ideal spot to swing by for Reuben sandwiches, beer-battered fish and chips and mushroom melts, this dog-friendly cafe in North Sydney sports lazy weekend vibes to a tee. The wharf dining situation means you can dine outside under big brollies with Fido by your side, just make sure he's leashed up to bar any puppy paddling in the harbour.
Porch & Parlour
Bondi Beach
Pitched on the north side of Bondi Beach, Porch & Parlour is the perfect spot for you and your doggo to soak up some sweet salty air, world-class views, potent coffee, fresh fare and even a sunset vino or two. Porch & Parlour has been serving Bondi's four-legged locals (and their parents) day to dusk for ten years. For brunch, you can still try their signature Green Pea Pancake with porched egg, whipped feta, house relish, avocado, zucchini, mint and snow pea leaf salad, but new items on the menu include a seared ocean trout fish burger and a coconut panna cotta with fresh fruits and granola.
Room 10
Potts Point
This snug laneway cafe has a gritty, warehouse-chic vibe, serving delicious modern Australian meals and coffee. Room 10 exclusively has outdoor seating, so you can rest assured you'll find some space for your human friends and dog friends. While you're here, hit their epic chai and the stupid-delicious mushroom melt. Yes, it's what dreams are made of.
Cafe Bones
Leichhardt
Cafe Bones is the most dog friendly that a dog-friendly cafe could get. She's an outdoor coffee haunt churning out cups of the good stuff plus pet-friendly snacks right in the middle of an actual dog park (which means Fido can run free while you load up on all the caffeine). We can't stress how much of a little dog paradise this beauty is, so whether you live around the area or want to treat your pup to the best Sunday ever, Cafe Bones is definitely a place you want to be hitting up regularly.
Naked Brew
Erskineville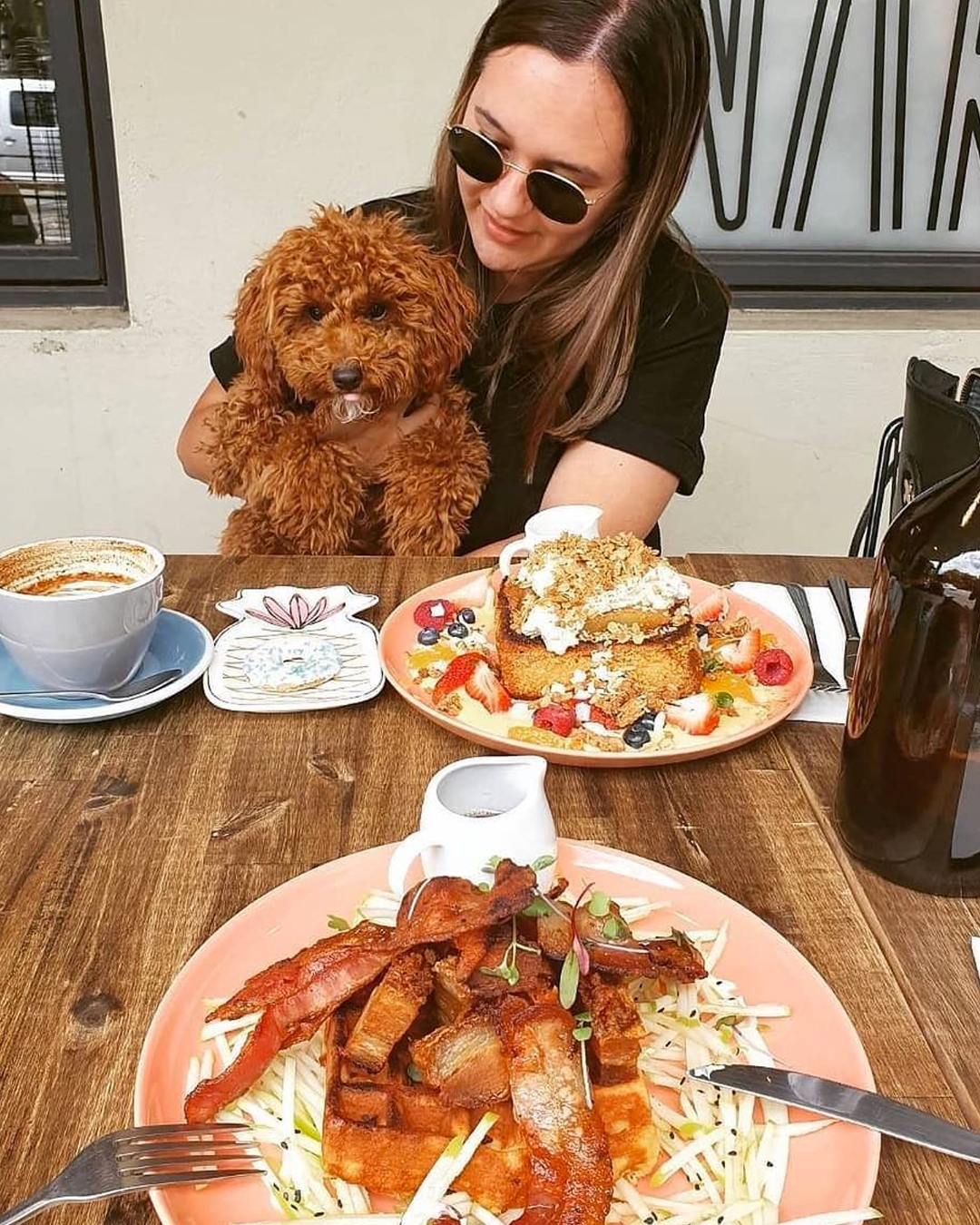 Tucked away in Erskineville is the fresh-as-anything Naked Brew cafe. The whole menu is an exciting food safari but for you, we suggest the "Not So Buddha Bowl", a hectic mix of crackling pork belly, wood-smoked American bacon, fried egg, edamame, pickled carrots, cucumber, enoki mushrooms, sauteed kale, fried shallots and sweet soy sauce.
For your pooch, there are special dog treats in the shape of bones, doughnuts, mango ice cream and goat milk puppacinos.
Barzura
Coogee
Whether you're hitting this seaside gem to cure a hangover or you're in it for the big brunch vibes, Barzura is the place for you and your dog to be on a Sunday morning. Sit outside for maximum beach views and treat yourself to their iconic Bloody Mary (you can also order bellinis and mimosas) and then get stuck into the corn fritters loaded with smashed avocado, crispy bacon and tomato chutney.
After your feed, you can either take old mate for a stroll along the iconic coastal walk, or head past the lifesaving club to Trenerry Reserve for all the pup-friendly play space a pooch could ask for.
Uliveto
Potts Point
This all-day breakfast joint is a mecca for dog parents across Sydney and, just quietly, it whips up some of the best omelettes in town (shout out to the roast pumpkin and goats cheese combo). You'll find Uliveto on the iconic Bayswater strip with a spacious and leafy courtyard spread perfect for all the doggy-dining. Order up a bottle and commit to the mezze board equipped with a whole heap of halloumi, breads, pickled veggies and condiments.
The Grumpy Baker
Various Locations
You can rest assured that all The Grumpy Baker outposts in Vaucluse, Maroubra, Castle Cove, Bellevue Hill, Waverton, Neutral Bay and as of just recently, Coogee, are all dog-friendly spots to score a morning snack and coffee. Plus, the brains behind The Grumpy Baker love dogs so much, they even opened a dog-friendly escape packed with all the farm animals in the Blue Mountains.
Dachshund Coffee
Hunters Hill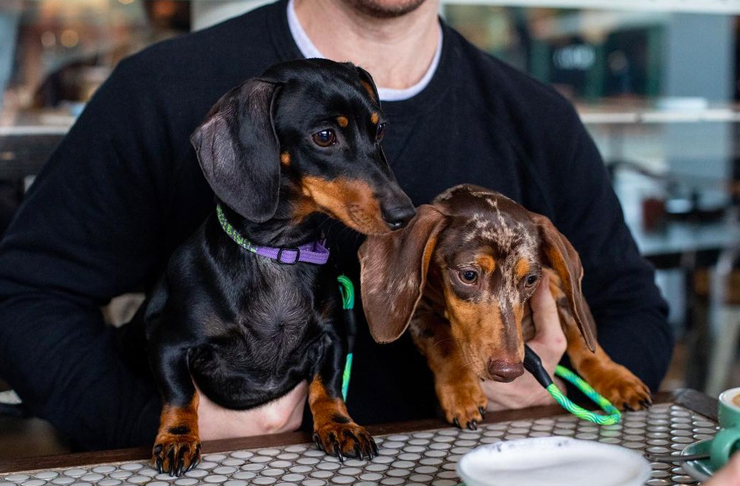 The owners at Dachshund Coffee are all about local ingredients, ethical and sustainably-sourced feeds and a "whole-food plant-based" diet, which means inclusive eating for vegans, vegetarians and hey, even those of you that enjoy an egg from time to time. The smashed avocado stack is by far their most famous dish, but if you're here for lunch, you can't skip out on the OG chicken katsu.
Store Espresso
Camperdown
Formerly a hardware store, Store Espresso prides itself on organic produce, great coffee and modern Mediterranean-meets-Italian cuisine. With a large communal table for seating on the left of the café, and a few tables outside, your best bet is to set up on the sidewalk and order a big plate of the fennel sausage slow-cooked in tomato sauce and topped with eggs and sourdough. Store Espresso also does a Golden Gaytime milkshake and we're not saying you have to try it but… it'd be rude not to.
Petty Cash Cafe
Marrickville
Petty Cash Cafe brings a bit of retro flair to café dining in Marrickville. Nestled next to a park, this little cafe has no problems letting punters know that almost everything is homemade. From jams to relishes to sausage rolls and cakes, the talented guys behind this Inner West venture have it all covered. A whole heap of the menu is vegan too with vegan toasties, nachos and "cheeseburgers" being your main standouts.
COOH Bourke Road
Alexandria
Located in the industrial hub of Alexandria, this space is a large and light-filled cafe. You'll want to head into COOH with your pup if you're craving all the wholesome feasts (you'll just have to make sure you stick to the verandah space). The lunch menu is where it's at here and it runs until 3pm for anyone who's a serial late-riser. Your go-to at COOH is the grilled salmon and soba noodle salad pummelled with pickled ginger, avocado, ponzu dressing coriander and mint.
Brew & I
Dee Why
The menu at Brew & I is concise and simple, so you can spend less time being indecisive about food and more time playing with your pooch. The drinks part of the menu means turmeric lattes, bone broth, coconut kaffir shots (for health), smoothies, hot chocolates and, of course, coffee. On the food-front, you could easily work your way through all seven items but the juggernaut creation is the "Snoop Hoggy Hog" packed with pulled pork slow-cooked in-house for eight hours and served with probiotic sauerkraut, Lillie Q's southern BBQ sauce and house-made mayo stuffed inside a brown sourdough roll.
Have more time? Hit up these epic dog-friendly walks across Sydney.
Image credit: Burtreynoldsthecorgi, Shiba.naoki.coco , The Flying Bear, Naked Brew, Daschund Coffee, @greg.metcalfe