Welcome to Take A Bite, the series where Urban List's Tim Piccione eats a lot of Sydney sandwiches, picks his faves, then tells us about them.
This time around, I'm taking you to a spot that requires no introduction for a sandwich known to most of Sydney's inner-city: the Hugo from South Dowling Sandwiches.
First-time visitors might be forgiven for underestimating the small sandwich shop occupying the corner of Darlinghurst's South Dowling and Hannam Streets. Without the low-key sandwich sign hanging above its door, you might even miss it. That is, if it weren't for the daily line of hungry locals trailing down the street. South Dowling Sandwiches has been pumping out its iconic and enormous sambos for 22 years, with current owner Avi Labi running the show for the last 11.
Today, Labi's sandwich shop has become one of this city's most popular and beloved lunch spots. A stop on any sandwich lover's map, appropriately known as a Sydney institution. Most regular SDS customers have their order down pat. And as it so happens, mine is the Hugo. You can therefore imagine my joy when Labi picked it as the shop's signature sandwich.
"It's such an iconic sandwich for us," says the owner, who worked for 30 years in the fashion industry before entering hospitality. "And it became such a huge success because of the ingredients that he picked. It's not complicated." The "he" that Labi refers to is Hugo Gruzman, one half of Sydney-based electronic duo Flight Facilities and the sandwich's original creator.
Simplicity is key across the board at the Darlo sandwich shop. From limited menu options to your choice of bread—either brown or white. "The more variety you give people, the more choices, the more headaches, and the more confusion," says Labi. "Simple is better."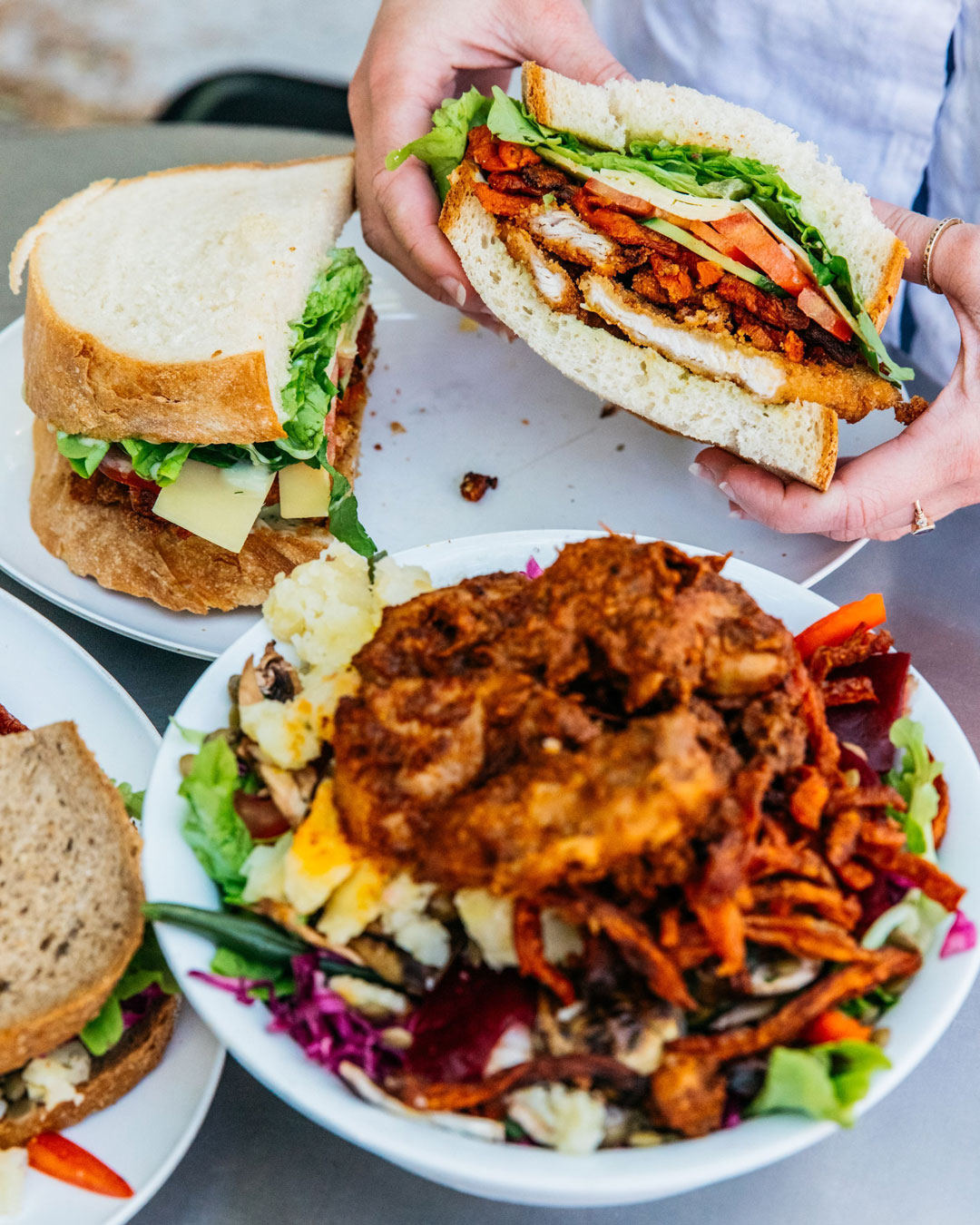 Starting off with soft, thick-crusted bread, the Hugo is topped with warm chicken schnitzel, herbed mayo, lettuce, tasty cheese, Roma tomatoes, cucumber, and caramelised carrots, before being bundled up in an unpretentious sheet of aluminium foil. But don't confuse the sandwich's simplicity with a lack of complexity.
The bread is baked fresh in-house every day at a secondary location. The house-made mayonnaise contains nine different herbs, and the chicken schnitzel is cut and tenderised by hand "like the old way" before being crumbed every morning. Finally, fresh ingredients roll in each day via trucks returning from the markets under Labi's watchful eye, content to send back anything not to his standard. "I'm very, very pedantic," he says. "I check the ingredients every day when they come in."
Found on more sandwiches than just the Hugo and long known as the standout topping at SDS, you can't leave South Dowling Sandwiches without trying the caramelised carrots. The labour-intensive element was long ago perfected through trial and error, taking over an hour per pot to cook with some serious firepower. The carrots give the towering sandwich an unexpected but welcome sweetness that cuts through otherwise familiar flavours, as well as some extra crunch.
So, how did half of Flight Facilities come to create one of Sydney's most popular sandwiches? As it turns out, Hugo Gruzman and Jimmy Lyell have loved South Dowling Sandwiches for longer than most of us. In Labi's estimation, the pair have frequently visited for the past decade. "If there's one place you can reliably find us, other than a studio, it's at South Dowling Sandwiches," Gruzman says. "It reached the point where we'd walk in, and the girls behind the counter had unofficially named our order. The most heard sentence of my late twenties was 'Hugo on brown?'"
Eventually making it official, Gruzman painted the store's new centrepiece, a large sign with the electronic duo's logo between two sandwich specials: "Jimmy" and "Hugo". Asking Labi what Lyell might say in response to the schnitzel-filled Hugo being chosen as the shop's most popular sandwich over its chilli-chicken and red pesto counterpart, "he says people don't have taste buds". As you can expect, there's a healthy amount of competition between the two friends as to whose creation is better.
As for what's on the horizon for South Dowling Sandwiches, the team is prepping another location on Kent Street in the CBD. Beyond that? "My goal is to get to a hundred shops around Australia within the next five years," Labi tells me.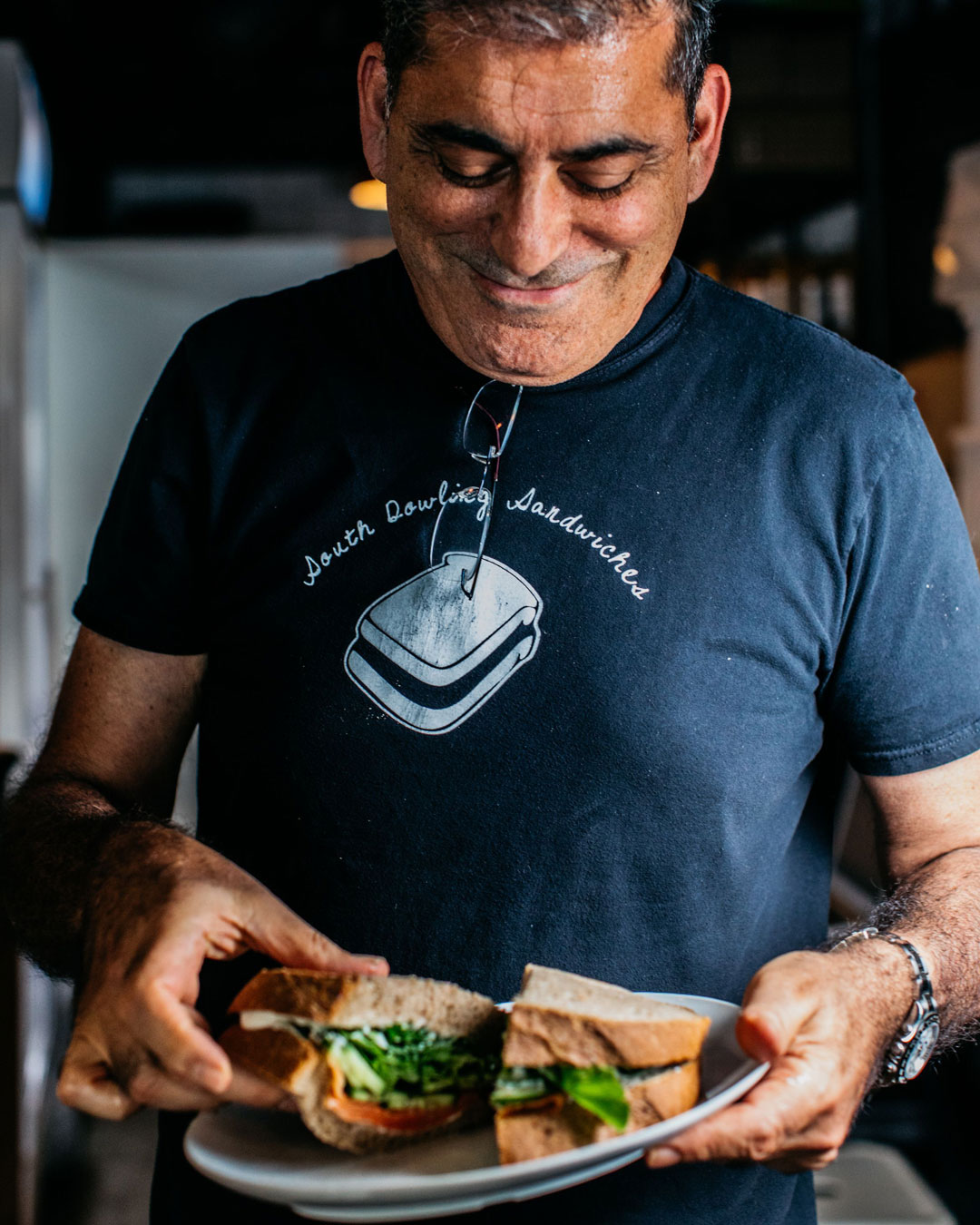 Daring as that may sound, I'd much rather bet on Avi Labi than against him. And I certainly don't doubt the quality of his product or the love and integrity he puts into his business.
As for what getting their names enshrined on the South Dowling Sandwiches menu meant to the Flight Facilities boys: "The music career now pales in comparison. As far as we're concerned, getting on the menu at SDS was the point we felt we had made it," says Gruzman.
"Affirmation of this was best summed up years ago, during a night out clubbing. A stranger came up to me, shook my hand, and said, 'Hugo, your music is alright, but your sandwich at South Dowling is better.'"
Love sandwiches? Us too. Here's a deep dive on Sydney's best mean green vegan sando, and here are more of the best sandwiches in Sydney right now.
Image credit: Kitti Gould