A famous doctor in Canberra once described the city to me as "giving the impression of your widowed, librarian aunty who turns out to be a burlesque dancer".
There is far more to the Bush Capital than Parliament House and the tedious (or questionable) goings-on of our elected officials. In fact, some Canberrans quite like the protective cover that the "boring" image of Canberra gives, allowing them to keep the good times all to themselves.
Well—sorry Canberra—but we're here to bust that myth and reveal the fact that our capital is actually a glorious melting pot of cool bars, stunning wineries, and breathtaking views punctuated by gorgeous snow and cozy cafes. It's been whispered that "Canberra is cool" for a little while now and, in 2021, we're really seeing this rumour become reality.
Three hours from both the beaches and the snowy mountains, Canberra was founded in 1911 after an international architecture competition chose Chicagoan Walter Burley Griffin's design for the city—despite the fact he'd never been to Aus. Canberra was purpose-built as the Australian capital, since we couldn't decide whether it should be Sydney or Melbourne (definitely Sydney, but whatever).
That means straight roads, suburbs in grids, and triangular designs give the city its structure and highlight the natural surroundings. The whole place is built around the man-made Lake Burley Griffin and exists in a mountainous bowl, accessed via an eerie and vast endorheic lake helmed with a small army of mesmerising wind turbines.
If you've never been, now's the time to get to the ACT, see the snow, and get warm in our nation's capital.
Things To Do In Canberra
There are a number of ways you can take Canberra. The city is home to some of the country's best art galleries and museums, which are definitely worth a look if that's your vibe. There's also a tonne of standout cafes, restaurants, bars, and sprawling parks. The city itself is absolutely surrounded by wild places easy to lose yourself in.
Stroll down either Lonsdale street or around Kingston Foreshore on a weekend morning to discover lots of delicious brunch cafes like Lonsdale Street Roasters or the vegan delights of Sweet Bones Bakery. There's a tonne to do in Canberra, so here are the top spots.
Wine Tasting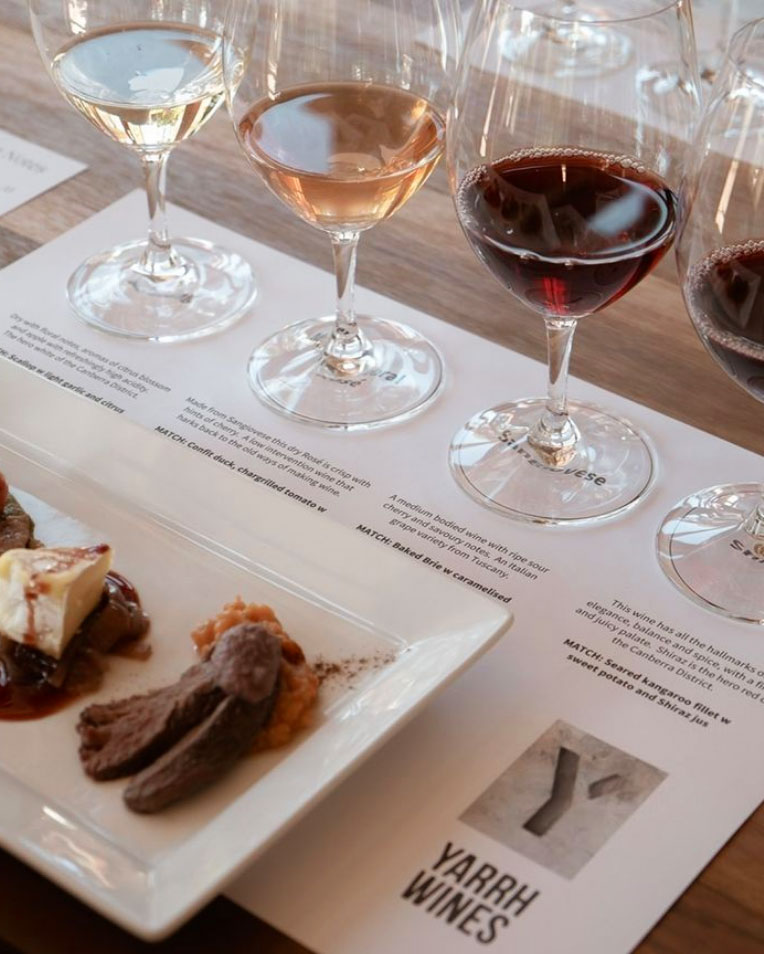 While the Hunter Valley gets a lot of attention in the wine world—Canberra District wines are brilliant and a day spent wandering through vineyards peppered around the NSW and ACT border is a day very well spent. Our faves are Brindabella Hills with its spectacular views across the rocky Brindabellas, as well as Yarrh Wines, and Gallagher Wines (try the housemade cheeses).
Your best bet, however, is to leave it to the experts at Van du Vin. Wine tours start at $200 per person, with lunch included. You can also tie in your tour with a stay at one of Canberra's best boutique hotels, East Hotel.
Australian War Memorial
Recent controversies aside, the Australian War Memorial is a vast, sandstone space that's worth a visit if you're in town. With galleries dedicated to the First and Second World Wars, and conflicts from 1945 onwards, it's a solemn place good for a bit of reflection and appreciation of the past.
National Gallery of Australia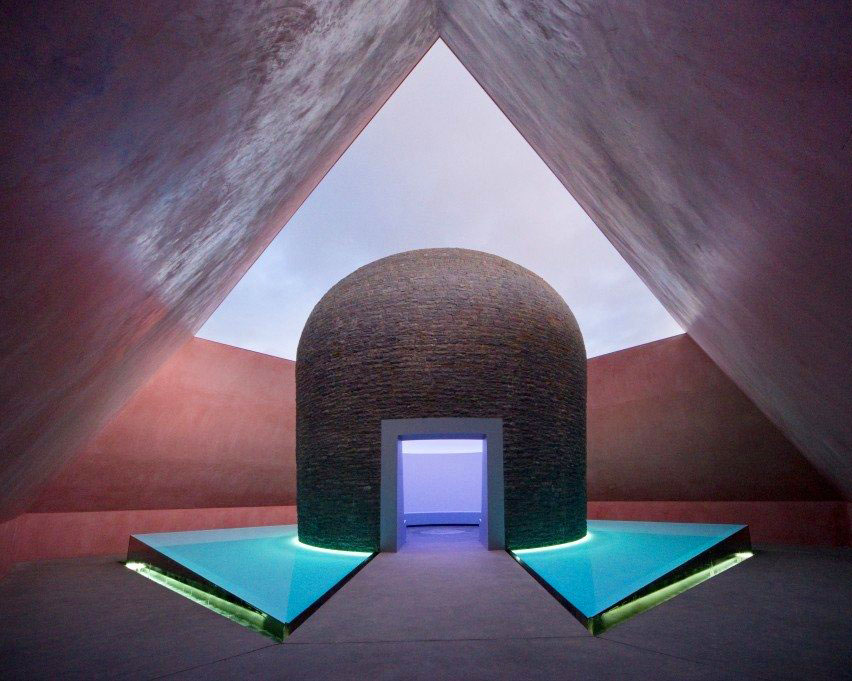 For a bit of culture, the National Gallery is a must. It's a great place to wander through the halls and take in works from artists like Jackson Pollock and Sidney Nolan. There's a 7,500 strong collection of work from leading Indigenous artists and a current exhibition of works from the National Gallery London featuring work from Botticelli through to Van Gogh. Our favourite? The permanent garden installation from James Turrell, Skyspace. Make sure you're there at either sunrise or sunset to see it at its best.
Telstra Tower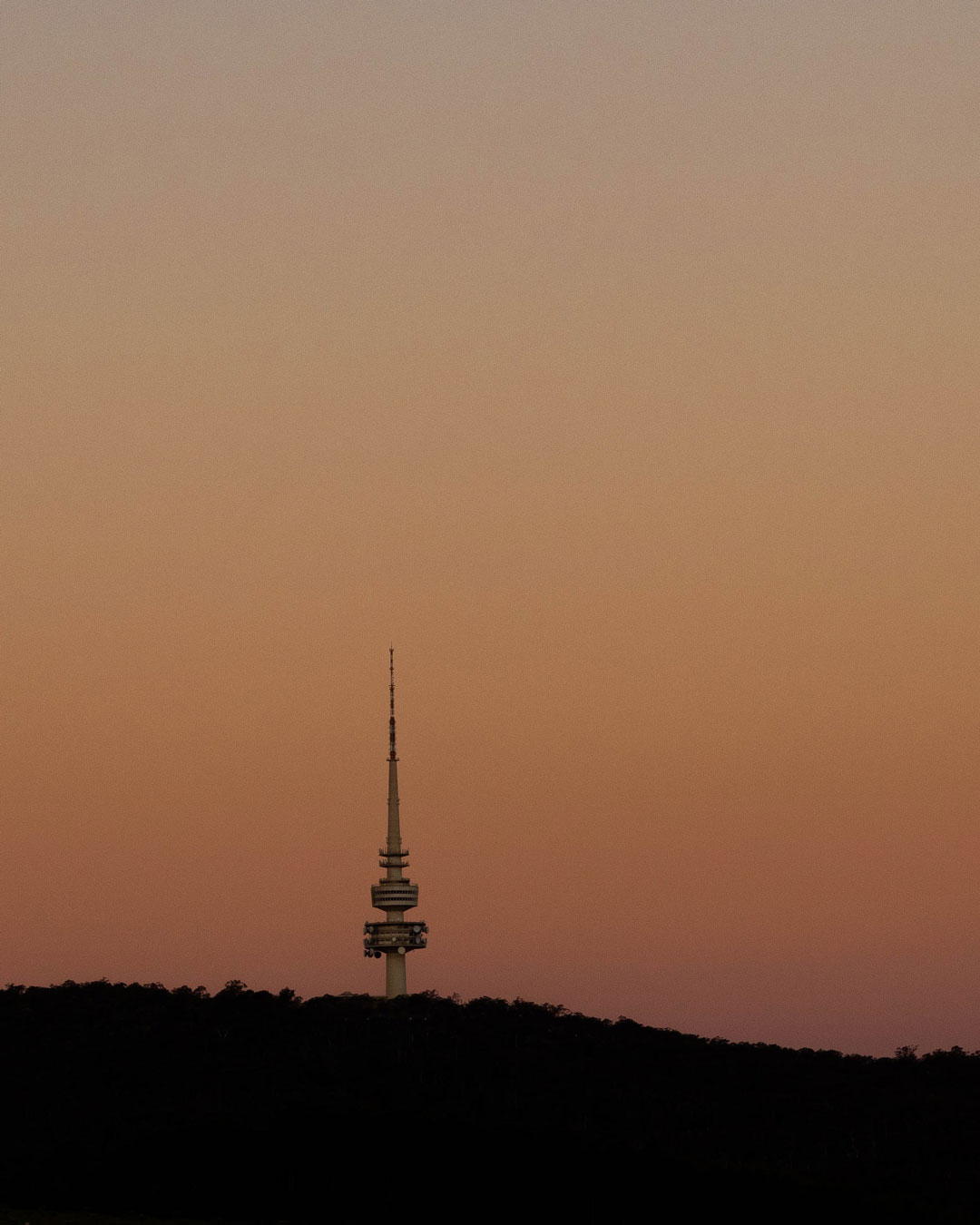 To get some perspective on the city, head up to Telstra Tower. The iconic Star Wars-esque bauble column rises nearly 200m above Black Mountain and can be seen across the ACT. It gives unbeatable panoramic views of the Bush Capital and, for a mere $7.50, the viewing platform at the top can be accessed. Grab a coffee from the cafe at the top and soak up the surroundings.
Mt Ainslie
Canberra's other mountain, Mount Ainslie offers similarly stunning views of the city below and is a great one for watching the lights at night. The mountain is just a short, 10-minute drive from the CBD and takes around half an hour to walk up. If you're feeling lazy, you can also drive right to the top and admire the views without the workout.
Tidbinbilla Nature Reserve
Forty five-minutes south-west of Canberra is Tidbinbilla Nature Reserve, a gorgeous nature reserve full of native animals and environmental habitats. Bushwalks here range from half an hour to day-long and you can spot koalas, platypuses, and echidnas amongst the eucalyptus.
It's also where you'll find the Canberra Deep Space Communication Complex, a vast satellite dish that was the first to receive footage of Neil Armstong's initial steps onto the moon in 1969.
If you're in Tidbinbilla, Gibraltar Falls is a great spot to hit up. The falls are a quick walk from the car park nearby and feature natural infinity pools if you fancy a dip with some excellent views of the surrounding bush below.
QUESTACON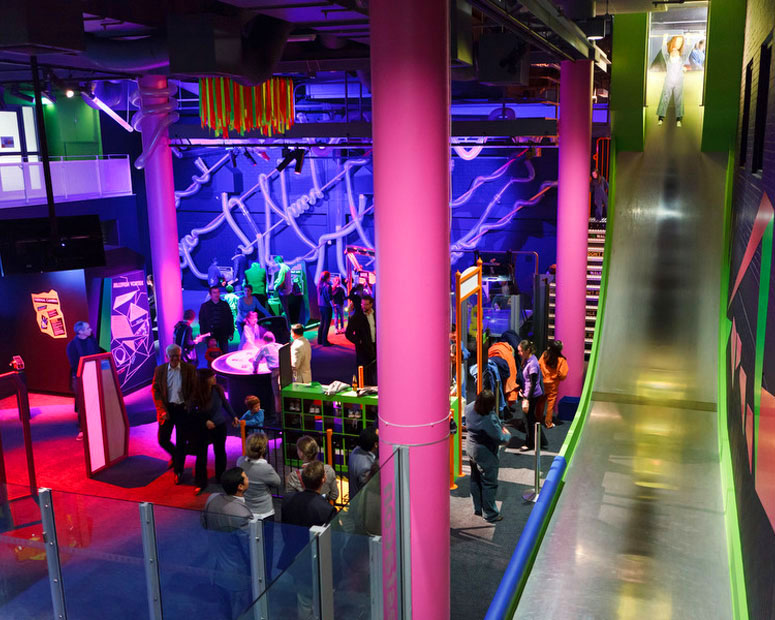 A trip to Canberra could hardly be complete without a lil' throwback to every Aussie child's primary school days. Questacon might be one of the city's more obvious attractions, but the vast, interactive science museum remains proudly retro and is packed with exhibits on robotics, electricity, natural disasters, and space. It's a great, nostalgic time even if it is usually full of the screams of little ones learning.
Canberra's Best Restaurants
Canberra's reputation as a foodie capital is not undeserved. The city hides some amazing cheap eats as well as laid back, chic dining experiences, and some of the best in refined cuisine. Here's our selection of the top.
WILMA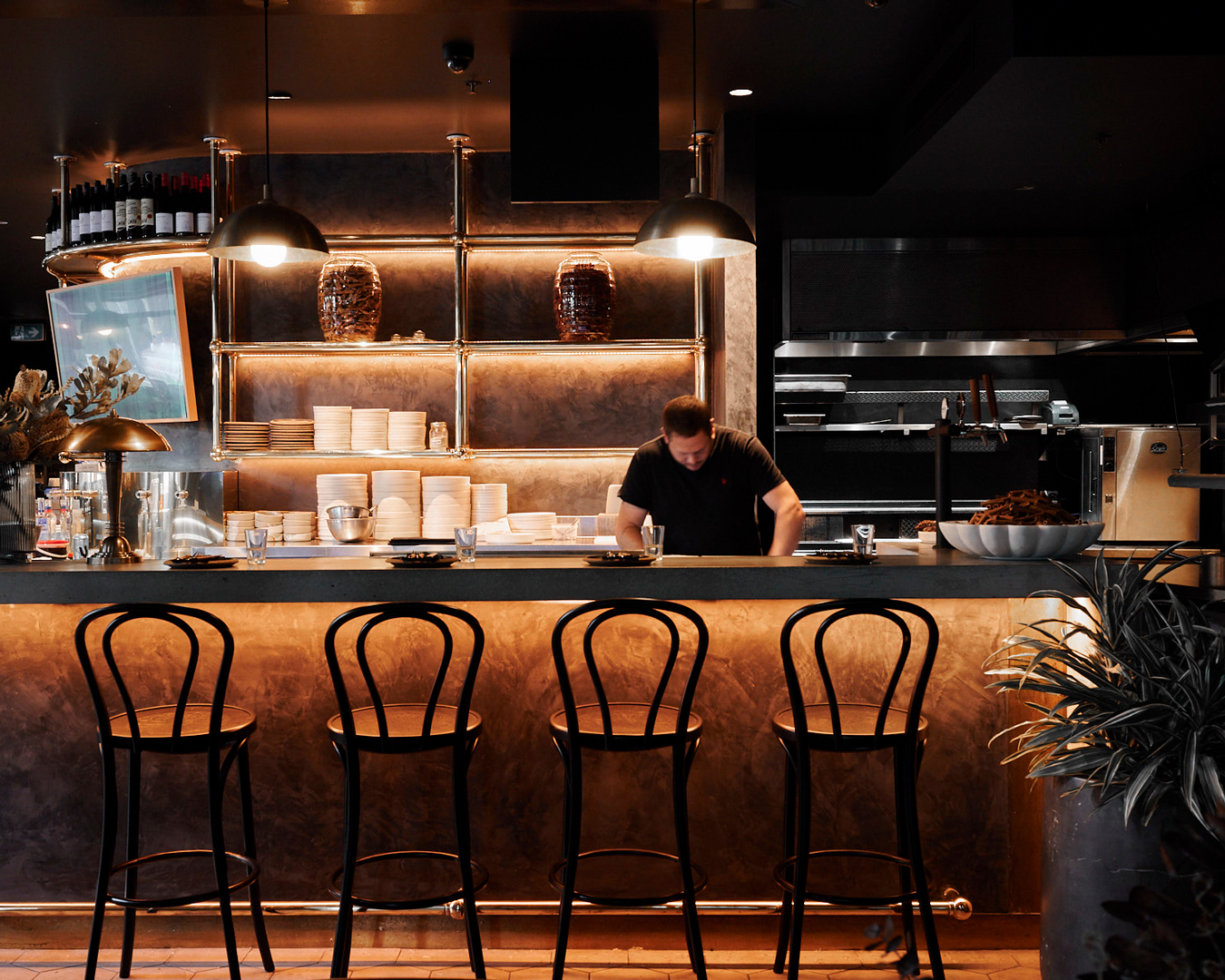 With help from chef James Viles, the chef formerly responsible for Bowral's sustainability-focused Biota, WILMA is Canberra's first progressive Asian barbecue restaurant. The inside is moody and sleek, warmed by a gigantic konro yakitori grill that weighs in at just over half a tonne. From Viles and head chef Brendan Hill (Aria, 12-Micron), the menu is broken into sections, with "raw" like scallop and prawn tartare, "snacks" like roast duck pancakes, "wok" like Balmain bug with egg noodles, and "BBQ" like Mongolian lamb ribs.
Courgette
One of Canberra's classiest fine dining establishments, Courgette is modern European cuisine set in plush surroundings. It bucks the trend of "relaxed" eating, with a strong emphasis on hospitality and taking care of guests. Chef and owner James Mussillon focuses on strong, rich flavours and menu options are best-taken degustation style to sample the current delights.
Patissez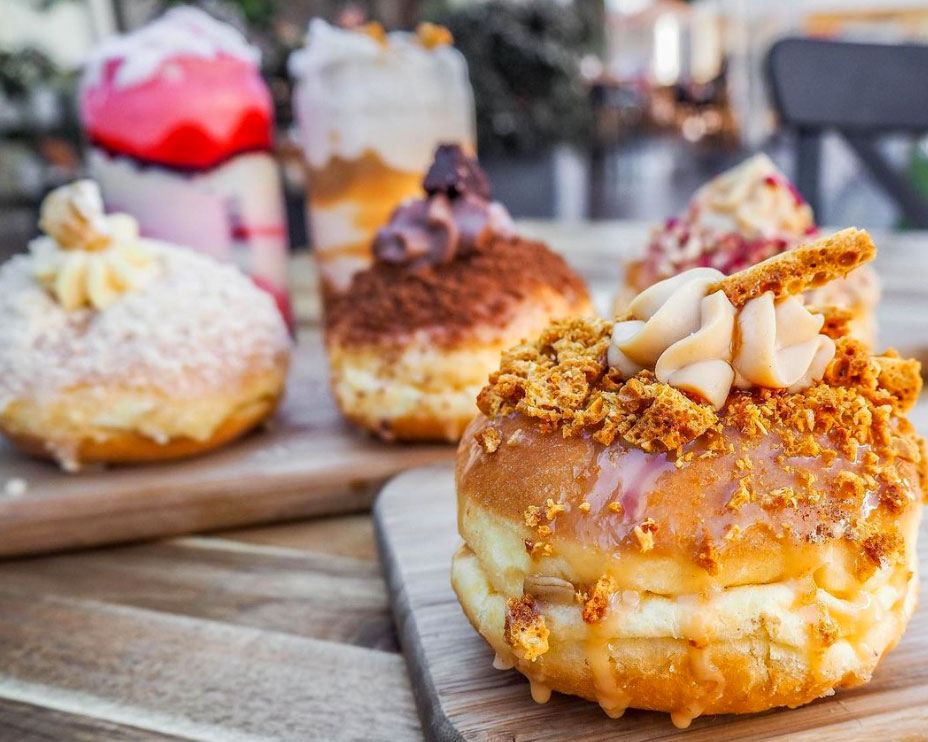 At the other end of the spectrum, Patissez (pa-ti-say) is the Instagram eatery of Canberra. They were made famous in 2016 when they exploded onto the scene with their take on Freak Shakes; towering monstrosities where the toppings were at least half the height of the drink and oozed down the sides as you snapped pictures. These days they focus more on equally outlandish birria-style tacos and mi goreng burgers with a noodle crunch.
Chez Frederic
This unassuming place is beloved by locals for its hearty, homemade pasta dishes. Chez Frederic is the perfect spot for loading up on carby indulgence and (fun fact) is owned by Jaques Cousteau's personal chef. It's modern Aussie Italian so expect huge portions of gooey cheeseburger gnocchi, fiery chicken and chili jam meatballs, and creamy spinach and ricotta ravioli.
Dickson Asian Noodle House
Just up the road is Dickson Asian Noodle House. It's another local fave, beloved for its exceptional Malaysian, Thai, and Laotian cuisine. Some of the best Laksa in the city (and perhaps the country) can be found here for incredibly cheap along with stand-out Asian classics like pad thai, Hokkien noodles, and chow mein style stir fry.
Les Bistronomes
Les Bistronomes chef Clement Chauvin earned his chops at some of Europe's top restaurants including Gordon Ramsay's Claridges. His own efforts have earned him multiple hats and accolades for his authentic French cooking which stays true to its heritage while adding a bit of a local slant. The menus come in classic form, filled with your usual duck à l'orange and boeuf bourguignon, or seasonal with fresh ideas whipped up from local produce.
Pilot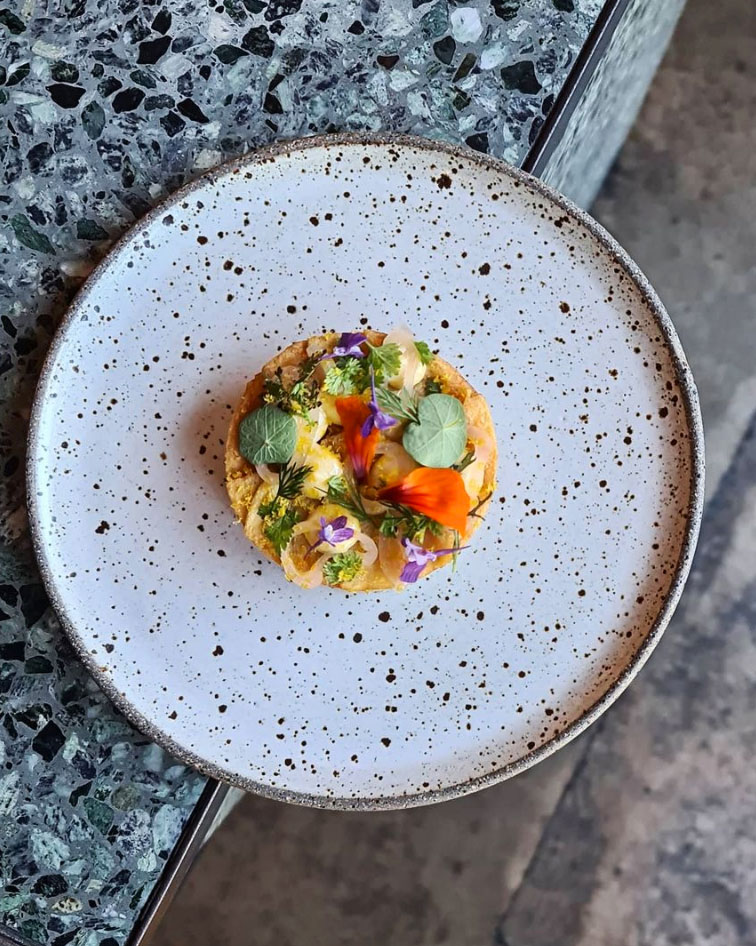 What to say about Pilot? Four words: make sure you go. With a team behind it made up of veterans from some of the country's best restaurants, including Sydney's Ester, Oscillate Wildly, and Momofuku Seiobo, you know it's going to be good. Here there is no a la carte, only the Pilot menu or set lunch and an excellent selection of natty wines. Neither menu will be shown to you until the end meaning it's a fully trust-based exercise and trust us, it's worth it.
Agostini's
Under the glow of a pink neon sign that reads "you had me at pizza", this sprawling Italian strikes a sweet balance between cool and family-friendly, with a sleek design-led interior, a state-of-the-art Marana Forni pizza oven, and house-made gelato. Housed within the popular East Hotel (see below), executive chef Francesco Balestrieri is endlessly creative with a regular winter truffle menu on the table each year, as well as rotating specials that keep locals coming back for more. Great for groups and good for a long late-night packed with delicious Italian-style hospitality, Agostini's is a must in Canberra.
Canberra's Best Bars
There are endless watering holes in the capital. With tonnes of cool pubs, bars, and hidden speakeasies to choose from, it can be hard to cut through the noise. Here's our selection of the best places to wet your whistle in Canberra.
Paranormal Wines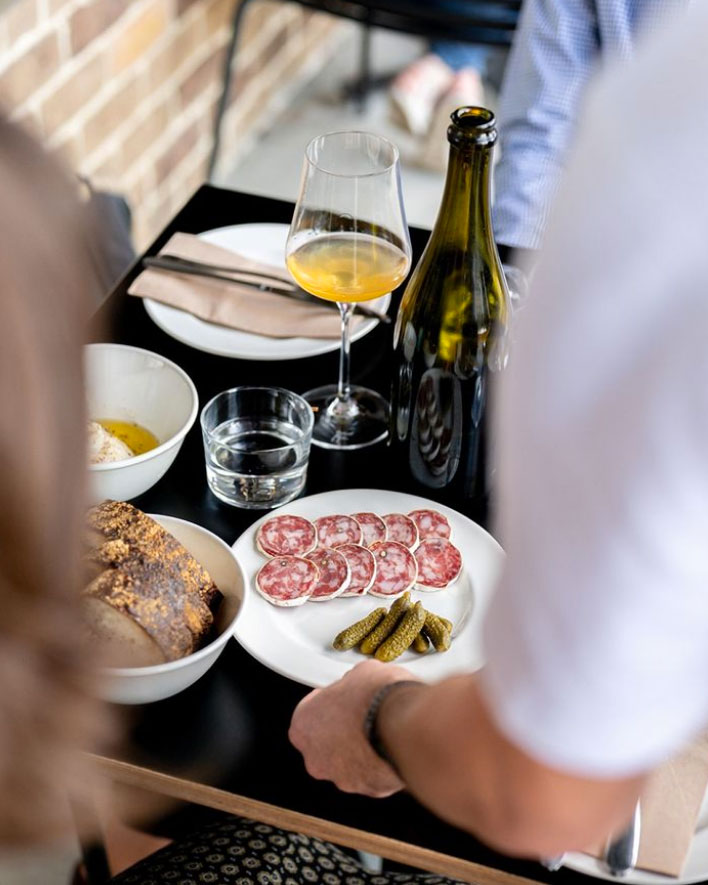 Slick and industrial, Paranormal Wines is the sort of place you go when you want an after-work drink that excites. It's all minimal intervention, organic wines here with delicious skin-contact local offerings through to best-in-show international bottles. A mix between a bottle shop and a wine bar, the concept here is to purchase your wine and either drink on-site or take home for later. We recommend the former but the latter won't disappoint either.
Smiths Alternative
The type of quirky venue that wouldn't be out of place in Sydney's Inner West and of which we all could do with a little more in our lives. Smiths is a pub, cafe, and live music space that manages to create the best of all three, pushing it over into the sacred category of community lynchpin. They host an endless stream of live music, poetry nights, and drag acts until 2am with a steady supply of local wines and beers. A true taste of Canberra.
Bar Rochford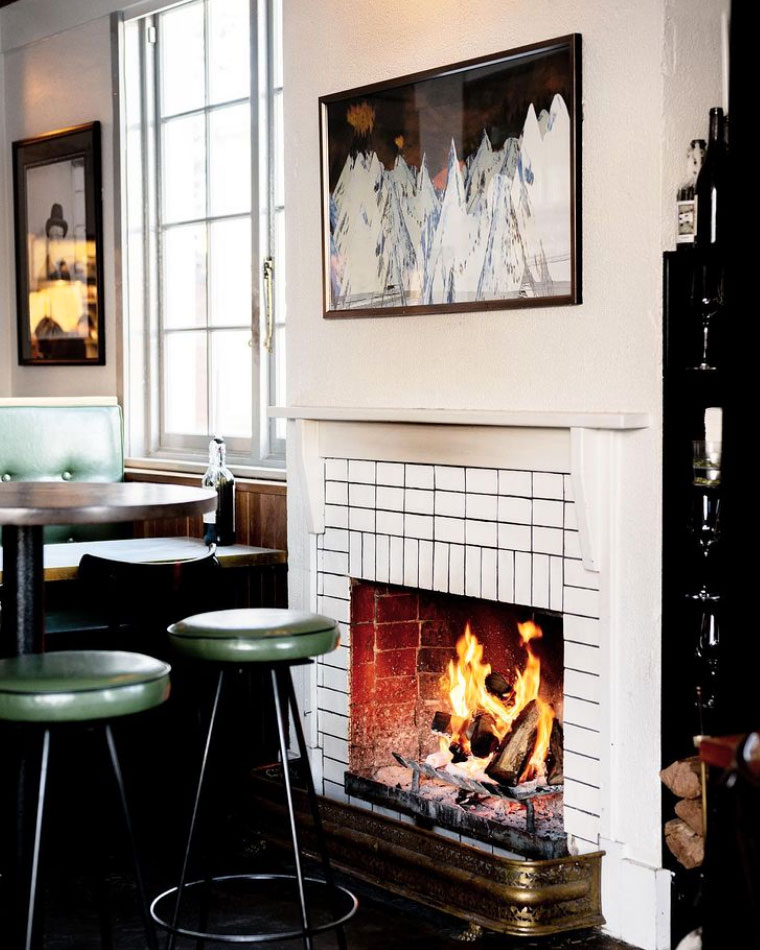 Award-winning Bar Rochford is tucked away in the upper level of one of the capital's oldest and most iconic buildings, the Melbourne Building. It's a chic, moody affair with an endless rotation of delicious bites and more substantial offerings of broad Mediterranean extraction. The music is always on point, as is their selection of the best domestic bottles and tap beers.
Molly
Hidden down a back alley off the main strip in Bradden is one of the best bars the city has to offer. Molly oozes all the 1920's charm and moody atmosphere that makes it deserving of the title speakeasy. They frequently host live jazz events and carry a truly expansive range of spirits on the back bar, with over 300 whiskey offerings alone. It's a difficult one to find but when you do, it'll become even harder to leave.
Capital Brewing Co
You can't really visit Canberra and not go to Capital. The brewery is named after its locality but also for its aspirations for top beer in the country and while that's a tall order, it certainly hits pretty high on that list. The brewery itself has a huge, leafy outdoor space with pop-up food truck options and serves flights of its core range of classics as well as its experimental limited-edition releases. It's a fun time.
Mount Majura Vineyard
Back to those tasty Canberra District wines, about 20 minutes north of the city lies the majestic Mount Majura Vineyard. It's renowned for its rustic estate and picturesque vines foregrounded against the sweeping backdrop of the city below. They specialise in Spanish varieties here, with the clay soil lending itself to a beautiful Tempranillo while their Shiraz and Riesling vintages are also best-in-show. Bookings are recommended for their tastings as they are supremely popular.
Pialligo Estate
One of the best things about Canberra is that after just a 10-minute drive from the CBD, you can find yourself in a place that feels as remote as the outback. Nothing exemplifies this more than Pialligo Estate. The estate incorporates a vineyard, olive grove, and market garden, the best offerings of which can be sampled at the pavilion. Grab yourself a beanbag and a glass of Sangiovese to watch the sunset over the Canberra hills.
Joe's Bar
Hotel lobby bars always have a certain charm—and Joe's Bar at East Hotel in Griffith is no exception to the rule. Decked out in plush jewel tones with couches spilling out into the hotel's sweeping foyer space, Joe's is an intimate Harry's Bar-inspired spot that's perfect to for filling up on aperitivo and sipping Italian cocktails. There are four Negroni's on the menu (try the "Canberra Native" made with local gin), a long list of signature G&T's, and a neat collection of Italian wines to boot. Alongside antipasti, you can also order pizzas from Agostini's across the hall.
Where To Stay In Canberra
The hotel can be the make-or-break element of your stay. With tonnes to choose from, Canberra has a wealth of laidback, easy options. For something a little extra, give one of the below a go.
East Hotel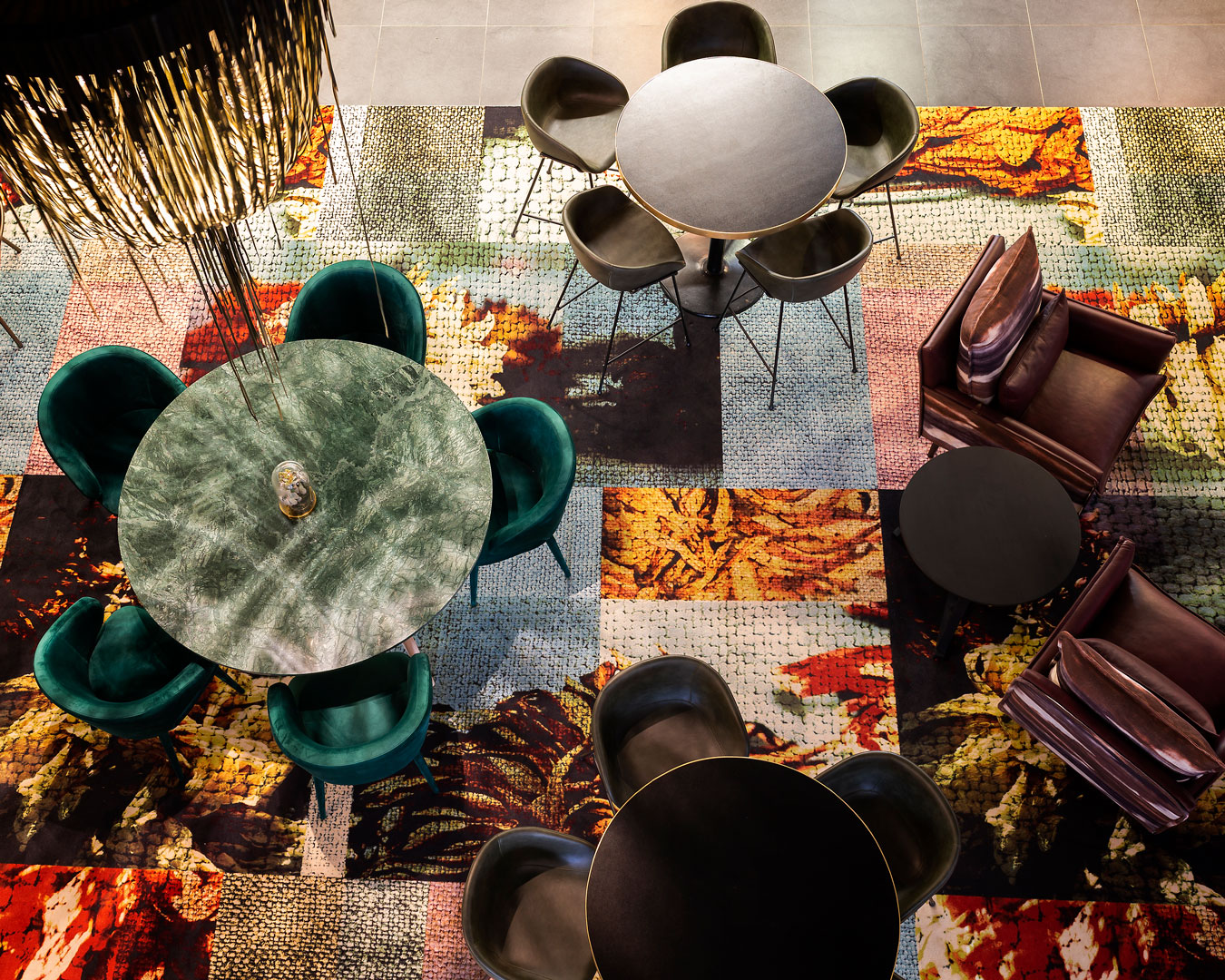 A slick glass and concrete affair that towers over its surroundings, East Hotel is a stylish, clean, modern sort of spot that's located a convenient walk away from the major attractions. Rooms are fresh and contemporary, many of which come fully equipped with a balcony, and can be booked in sizes from spacious studio right through to fully-furnished apartment. There's a wine bar (Joe's Bar, see above), an Italian restaurant (Agostini's, also above), and even a book shop and brunch spot attached, meaning you might spend more time in the hotel than out of it. Book your stay here.
Ovolo Nishi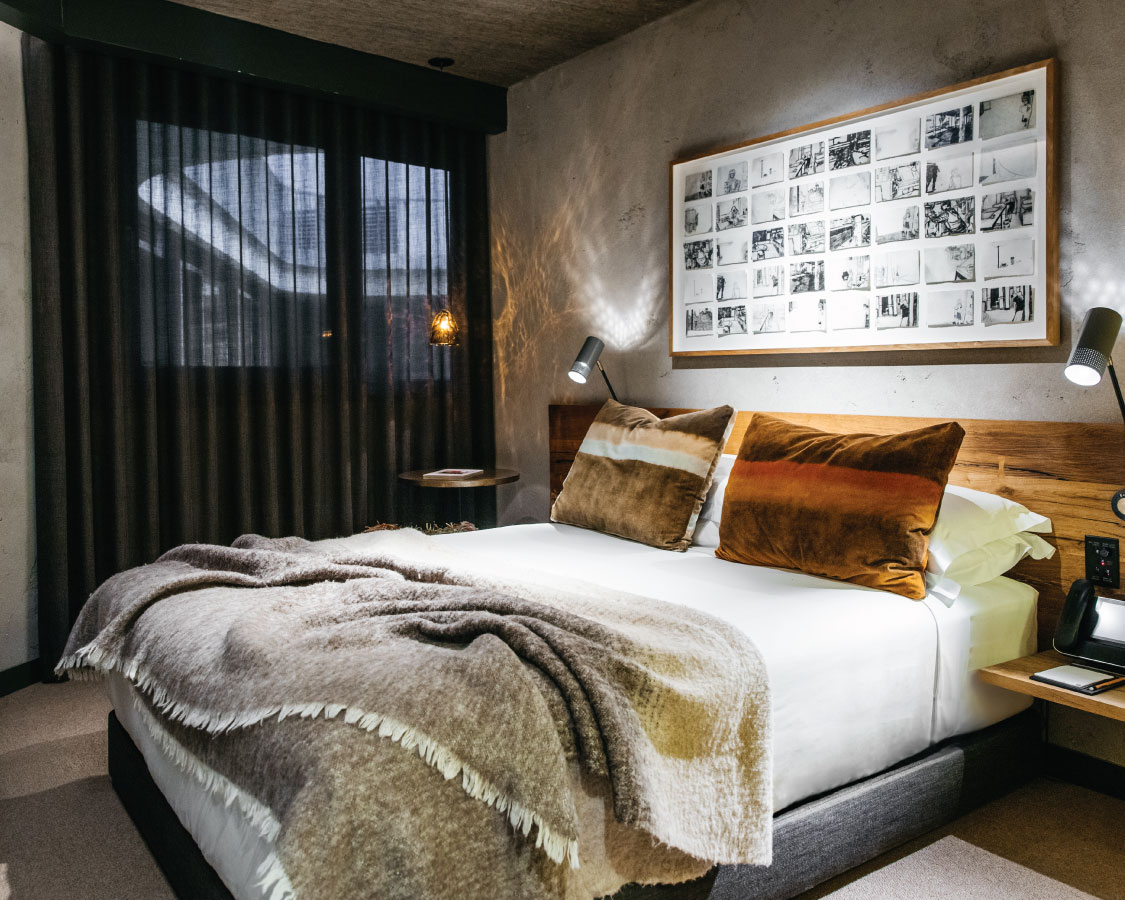 Housed inside the architecturally eye-catching Nishi building, Ovolo is a thoroughly artistic boutique offering replete with bare concrete walls, dim lighting, and eye-catching artwork throughout. It's hyper-modern with retro furnishings that border on the psychedelic and perfect for an indulgent weekend getaway. The vegetarian menu in the hotel restaurant, Monster, will blow away even the most dedicated carnivore and the gym, free snacks, and first round on the house are the icing on this superbly designed cake. Book your stay here.
Jamala Wildlife Lodge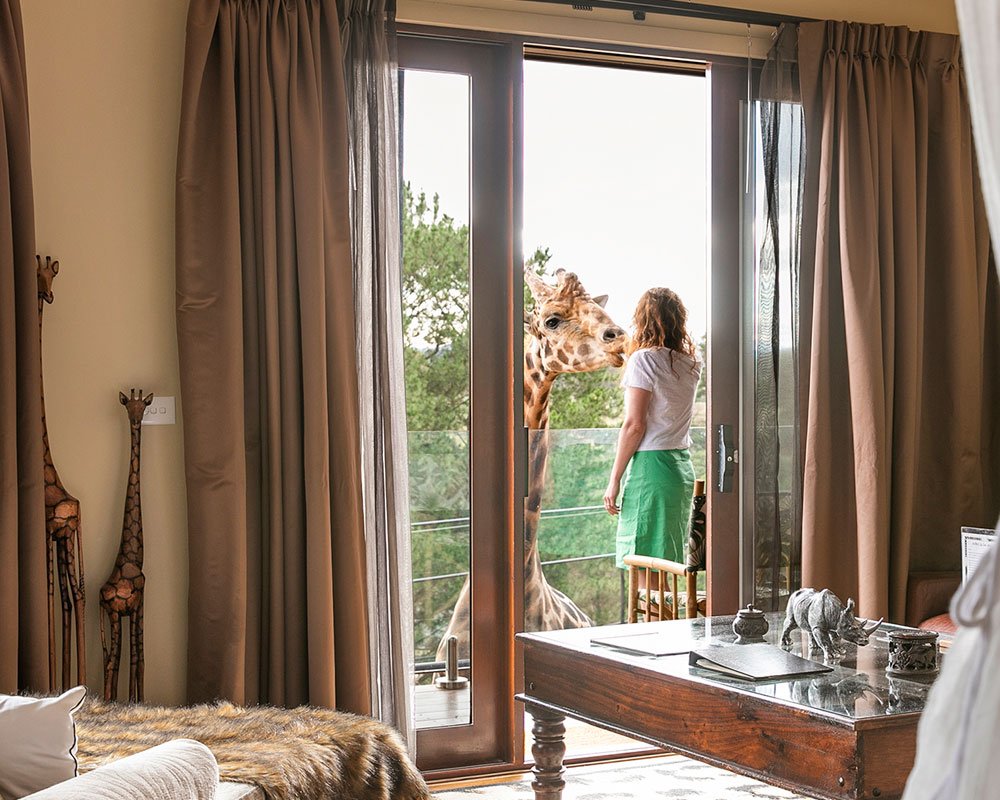 For something completely different, check out the Jamala Wildlife Lodge. It's a little further out, about 15 minutes to the west of the city (but, right next to the Arboretum!). However, it's literally in the National Zoo and Aquarium. You can stay in bungalows or apartments adjacent to the animal enclosures with glass walls that look onto the lions. It's possible here to wake up and feed a giraffe from your balcony and if that doesn't sound like a good time, we're not sure what does. Book your stay here.
Keen to explore more? Check out our guides to Orange, Mudgee, and Hunter Valley hidden gems.
Image credit: Bar Rochford, Social Estate, Yarrh Wines, National Gallery of Australia, Daniel Morton, Questacon, Patissez, Pilot, Paranormal Wines, Bar Rochford, East Hotel, Ovolo Nishi, Jamala Wildlife Lodge
Editor's note: Urban List editors independently select and write about stuff we love and think you'll like too. Urban List has affiliate partnerships, so we get revenue from your purchase.