Club Fontana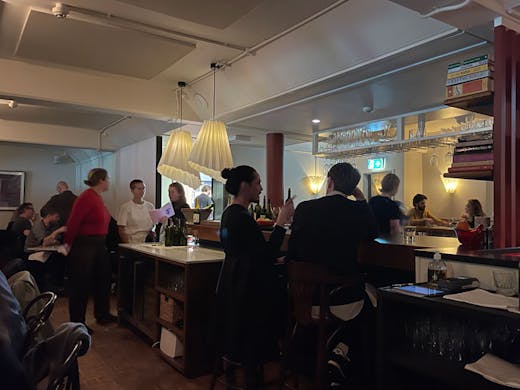 Once upon a time, Sydney had a guerilla restaurant scene going on. Restaurant pop-ups were all the craze a few years ago, with venues like Dan Hong's Lotus 2.0, Pasi Petanan's OG Cafe Paci in Darlinghurst, and restaurant collective Full Circle's super-popular Alfio's, Wilmer and Don Peppino's popping up around the city for their respective too-short stints.
Good news, folks—part of the Don Peppino's crew, Daniel Johnston, Harry Levy and Ivey Wawn, are back with another effortlessly cool Italian restaurant: Club Fontana. And this time it's in it for the long haul.
The team seem to have a knack for taking over Sydney institutions. Wilmer took over Wilbur's Place in Potts Point, Don Peppino's occupied 90s nightclub The Grand Pacific Blue Room on Oxford Street, and Levy's Porcine is now on the upper level of the old Micky's Cafe space, above P&V Paddington. Now, they're taking over the former Ron's Upstairs digs in Redfern.
Sure, Club Fontana has big boots to fill in the place of Ron's and its superb rotisserie chook and dinky 80s Thai restaurant decor—but we reckon if anyone can do it, these three can.
On top of their joint ventures, Johnston has previously worked in the kitchens at Vini and Restaurant Hubert; before Porcine, Levy was at ACME and Bar Brosé; and Wawn recently comes from Cafe Paci in Newtown, where she was the sommelier. So yeh, they know what they're doing.
Club Fontana describes itself as a "good times restaurant", "a place to quench your thirst", "a place to de-stress", and "a sweet spot for a kiss". And bloody hell it sounds fun.
Food-wise, snacks and starters include 'nduja and mozzarella croquettes, balsamic bread rolls, sardine meatballs, and fried artichokes. The ever-changing pastas are the star, particularly the ceci e tria (chickpea pasta) that's close to the Don Peppino's crew's hearts (IFYKYK). There are also a couple of generously portioned mains like lamb and fish, plus broccoli gratin and the prettiest radicchio salad you've ever seen. And be sure to save room for dessert.
The wine list is excellent, balancing refined and fun, and the cocktails will transport you to a Trastevere bar at first sip.
Image credit: Conner Healy
---
You May Also Like
Restaurants
Sydney, NSW
If you love flavour and sharing a spontaneous meal amongst fifteen of your favourite…