Hijinx Hotel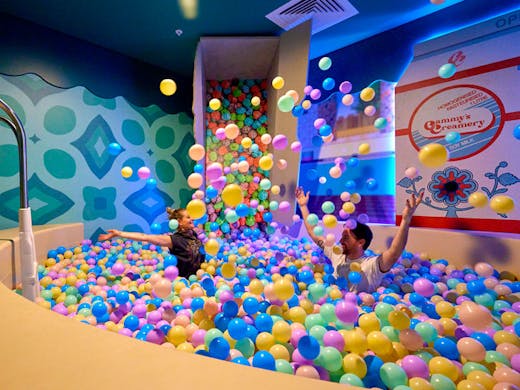 Kidults, rejoice! The world's first challenge room hotel is set to descend on Sydney this winter. Dubbed Hijinx Hotel, the concept comes by way of Funlab—AKA the team behind throwback entertainment meccas Holey Moley, Archie Brothers Cirque Electriq, B. Lucky & Sons, and Potts Point's new virtual reality darts lounge, La Di Darts. Safe to say these guys know how to have a good time.
Hold up, what's a challenge room hotel? Hijinx Hotel looks like a frenzied, fantastical hotel but instead of living it up for a night, you'll be heading to themed rooms to complete different challenges. Think escape room vibes but less stress-inducing and more like the nostalgic games of your childhood like Floor Is Lava and Twister. Yep, expect Big Kid Energy here.
As it touts itself as Hijinx Hotel, the interactive experience features a grand, fake hotel lobby, novelty hotel room keys, three fun-lovin' bars, and an OTT interior design that is akin to The Grand Budapest Hotel meets Willy Wonka & The Chocolate Factory—let your imagination run wild and you're partway there.
As for the challenge rooms, there are a whopping 15 rooms with different games and activities to partake in—from classics like Floor Is Lava, Pinball, Tetris, and Twister to Hijinx Hotel specials like Cereal Ball Room, Candy Ball Pool, and the Titanic Room. And yes, they're as wild, wack and OTT as the faux hotel reception—so get the 'Gram ready.
In saying that, you'll only have four minutes to complete each challenge—so, on second thoughts, maybe leave the snap for later if you're competitive.
Unlike escape rooms where your aim is to crack codes, use your smarts, and... well escape, the endgame of these challenges is to get as many points as possible in the allocated minutes across a five-room experience. So act like Madonna—you've got four minutes (to save the world).
Hijinx Hotel is slated to open Friday 17 June in the same Alexandria precinct as Archie Brothers Cirque Electriq. And that's not all that's opening in this fun part of town—Funlab is opening their biggest Holey Moley venue in the same precinct, with a total of 27 holes, including 18 new ones to conquer. Some will span 10 times the size of holes in other Holey Moley venues, while one features a giant avocado.
Soon to be home to not one but three epic Funlab venues, perhaps the precinct, currently known as Sydney Corporate Park, will reconsider its name? Either way, expect a heap of throwback fun to be had here.
Hijinx Hotel and the new Holey Moley mega-venue are slated to open in Alexandria on Friday 17 June 2022.
Image credit: Funlab
---