Tasmania is truly a blessing to us mainlanders—from legendary gourmet produce to famous markets and rugged wilderness, is there anything the Apple Isle doesn't do well? Another area Tassie excels at—the sheer amount of gorgeous places to rest your head.
From secluded wilderness retreats to funky Art Deco hotels and historical heritage stays, we've done the hard work for you and uncovered the ultimate list of Tasmania's best hotels. Book your next mini vacay and thank us later.
Pumphouse Point
Private, serene, mysterious; this is Tasmania at its most tranquil. First coming onto the Tassie tourism scene in 2017, Pumphouse Point has quickly become a sensation and is often booked out months in advance. The adults-only wilderness retreat is perched mysteriously in the middle of a glacial lake, hugged by native bushland and invites you to get in touch with nature. Contrasting the rugged wilderness, expect lavish touches including farmhouse fare dinners, a larder brimming with the best local produce, a fully-stocked wine cellar and locally crafted amenities that showcases the lake's natural beauty. Intrigued? You should be. Check into one of Tasmania's best hotels for your dream escape.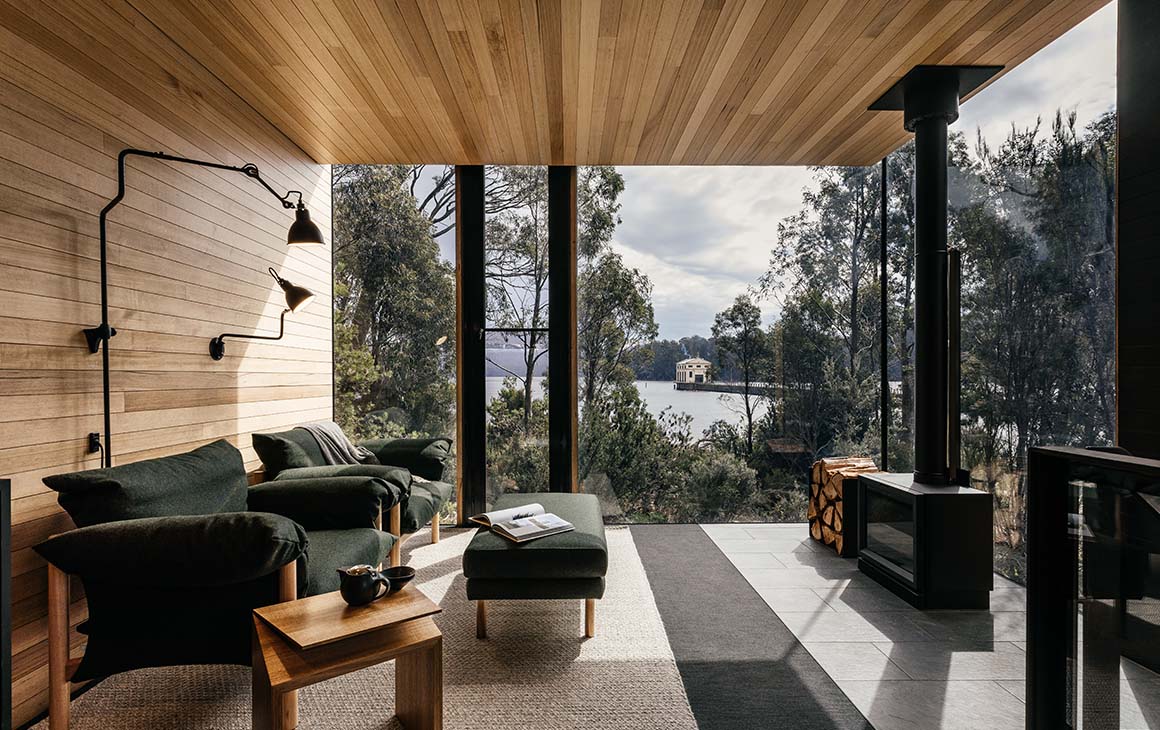 Peppers Silo
If you're chasing a unique stay with historical flair, you can't go past Peppers Silo Launceston. Bringing history alive on the banks of the idyllic Tamar River, this characterful hotel is built in a 1960s heritage grain silo. The iconic landmark has been converted into a sophisticated nine-storey hotel, incorporating the original silos into the revamped look and fitted out with beautifully appointed, modern rooms. Expect plush interiors and earthy, wooden tones, complimenting the natural surrounds, sweeping views over the breathtaking river and private balconies to soak up Launceston's ambience. Sample Tasmania's world-renowned produce at the Grain of the Silos cafe or explore Launceston's flourishing dining scene, conveniently located at your doorstep.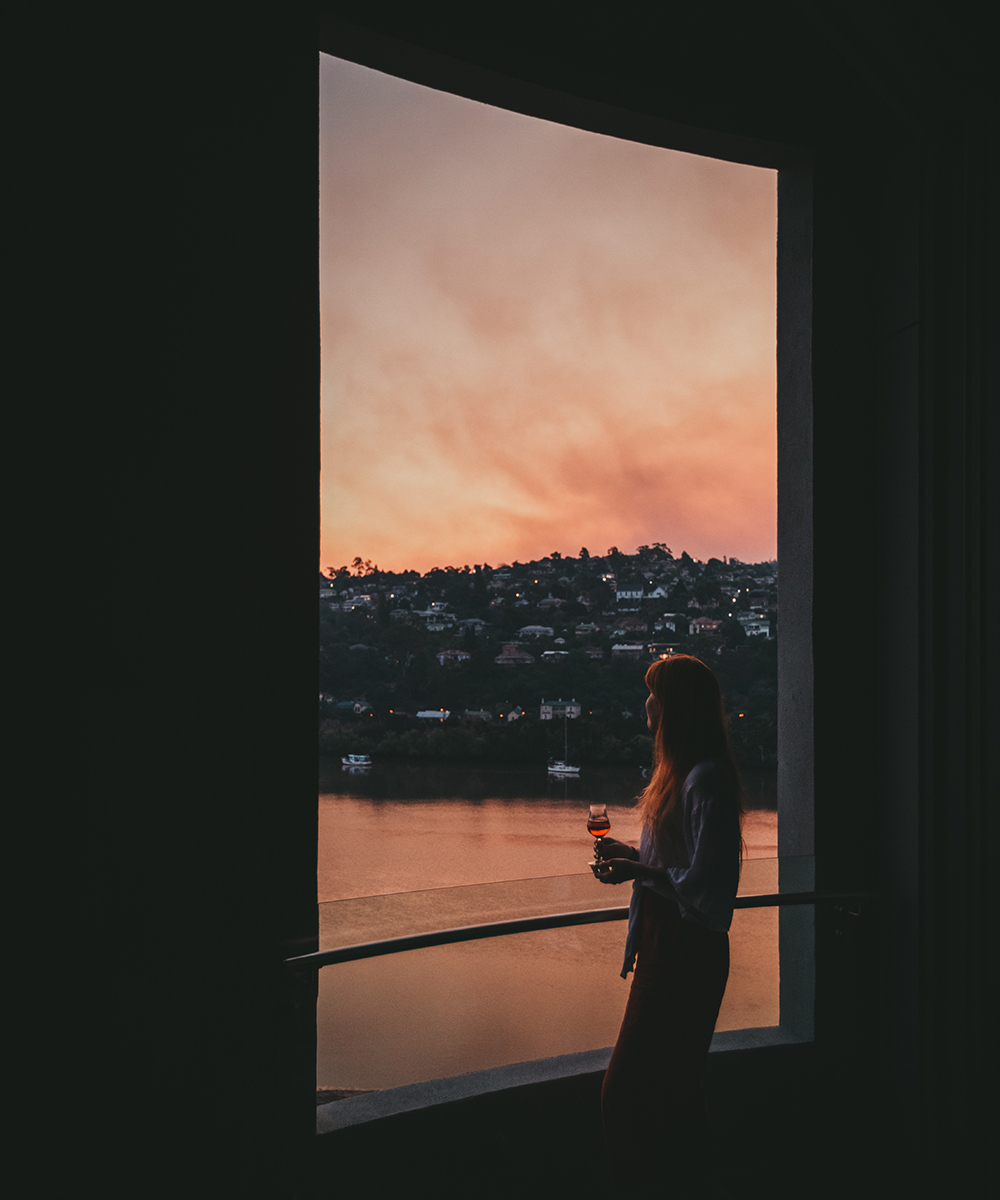 Islington Hotel
Over in South Hobart, you'll find Islington Hotel tucked away on Davey Street. Featuring 11 guestrooms, Islington is situated inside a building dating from 1847—which has been stylishly modernised—and boasts sensational views of Mount Wellington. Along the corridors and in the rooms of Islington you'll find antiques and a spectacular collection of eye-catching artworks. Even better? They have an amazing restaurant on site celebrating only the best local, seasonal produce. Treat yourself and order the degustation menu from $65 per person. Islington Hotel is ticking all the boxes as one of Tasmania's best hotels.
Saffire Freycinet
We couldn't write about Tasmania's best hotels without including the cream of the crop. Oozing show-stopping luxury from every perspective, Saffire Freycinet was recently named the world's best boutique luxury hotel. Enough said. We'll keep going though, 'cause, well, we're in love. This is as luxurious as it gets—three sumptuous meals cooked at your leisure, beverages from the generous in-house cellar, complimentary mini-bar, private plunge pools and an eclectic mix of traditional and contemporary furnishings. Gaze over the stunning The Hazards mountain range, which lights up in a show-stopping display of sunset hues every night. Saffire Freycinet will encourage you to experience everything the Tassie East Coast has to offer and absolutely deserves a place at the top of your bucket list.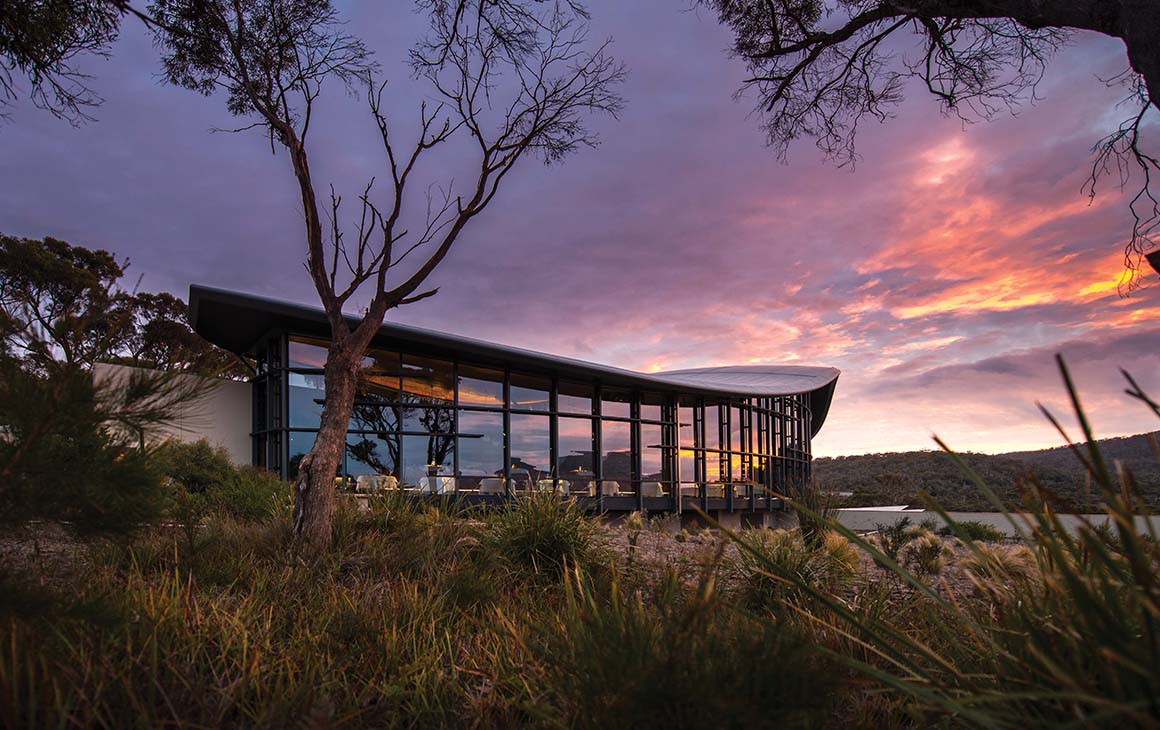 MONA Pavilions
Imagine staying in an epically luxurious art hotel, surrounded by incredible masterpieces straight from a museum gallery. Mona Pavilions is calling your name. Tasmania's famous Modern Art Museum boasts a small collection of boutique hotel rooms that will bring all your art-loving dreams to life. Alongside the sort of polished service you expect to experience at a five-star hotel, Mona's long list of lavish extras include themed rooms inspired by influential Australian artists, breakfast in The Source Restaurant, your own private wine cellar, a spa bath, state-of-the-art kitchen (not that you'll need it) and a microbrewery and winery on the property. Just 15 minutes drive from Hobart CBD, the picturesque location on a private peninsula on the Derwent River will have you feeling like you never want to leave.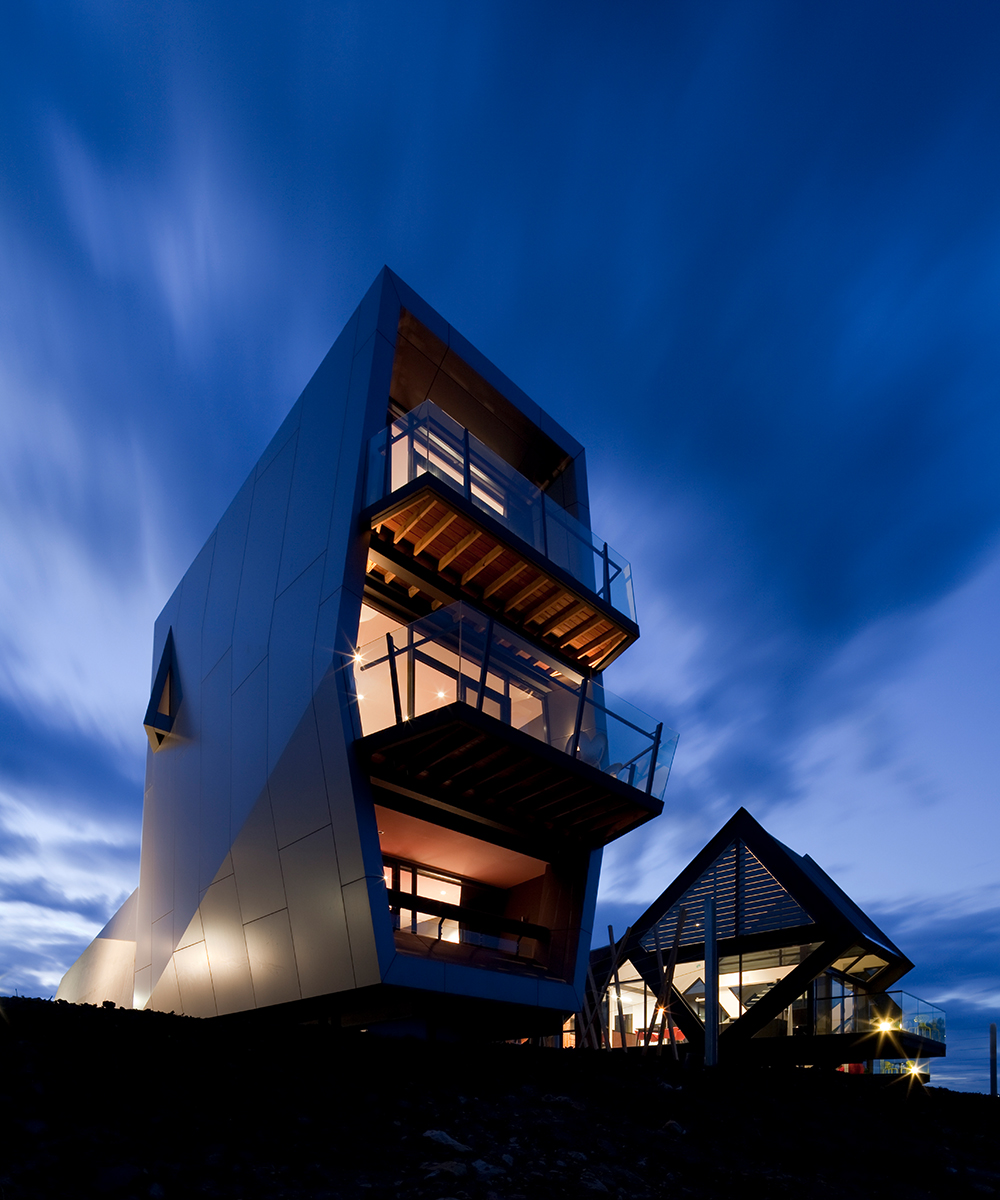 43 Degrees Bruny Island
Bruny Island is an off-the-grid pocket of natural paradise, boasting stunning cliff-top views, flourishing wildlife and some next-level gourmet local produce. So, of course, you expect any hotel to match the stunning environment and 43 Degrees Bruny Island certainly does that. Situated in Adventure Bay, the architecturally designed private apartments are decked out to the nines with a private patio, a garden, a hot tub and a famous breakfast which is rated as one of the best around. Despite the natural beauty just out your front door, these modern and spacious apartments are one of those places that are so relaxing you won't even want to leave. Whether you've escaped to Bruny Island for a romantic getaway, an adventurous vacation or a family holiday, 43 Degrees totally has your back as one of the best hotels in Tasmania.
Peppers Cradle Mountain Lodge
If your idea of a luxury stay leans towards timeless charm rather than modern minimalist, you're about to fall in love with this elegant mountain retreat. Nestled on the edge of the Cradle Mountain-Lake St Clair National Park, Peppers Cradle Mountain Lodge places you in the heart of the alpine wilderness—with luxurious perks, of course. Soak in your spa bath, as you overlook the Tasmanian hinterland of ancient forest and thundering streams, with your private fireplace roaring and a vino in hand. That's what we call dreamy. Indulge yourself with a visit to Waldheim Alpine Spa, which offers a range of rejuvenating therapies, perfect for soaking after a long day of exploring the stunning national surrounds. Peppers Cradle Mountain easily snags a spot as one of Tasmania's best hotels.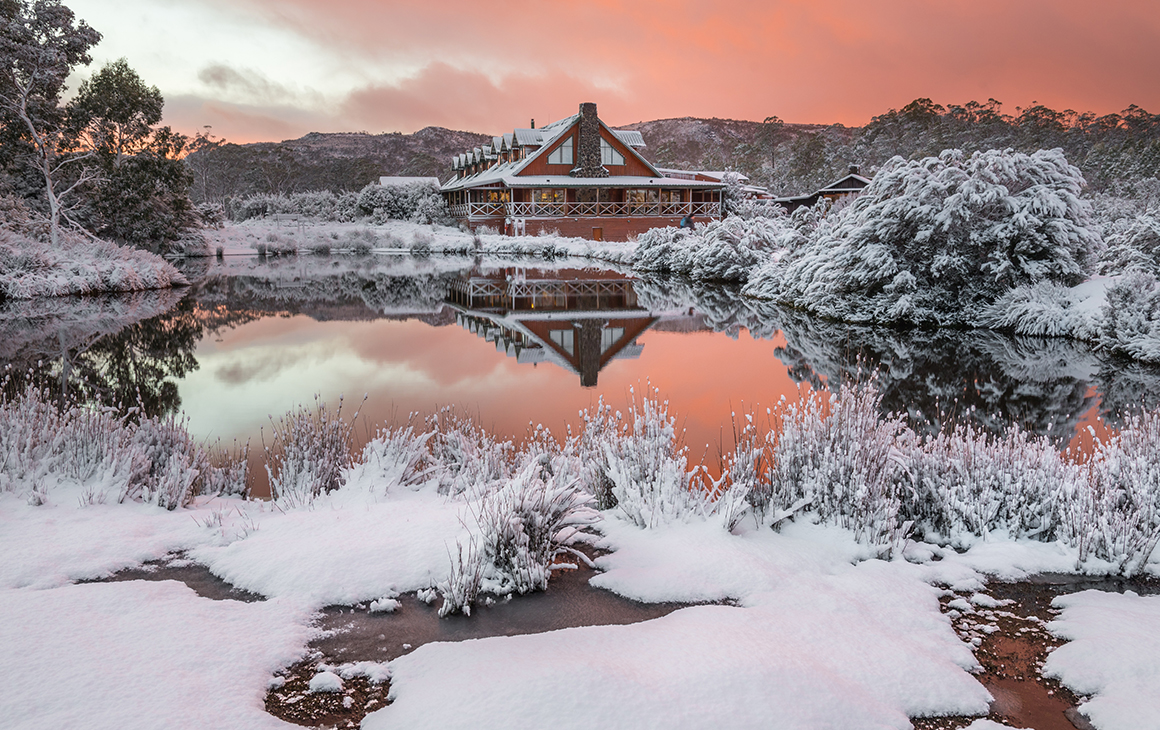 The Henry Jones Art Hotel
The Henry Jones Art Hotel has been a mainstay in the Hobart hotel scene and has recently had a major revamp of its 52 rooms and four suites. Set inside a 19th-century IXL jam factory, The Henry Jones boasts a true sense of history and its industrial past remains strong with features of the jam factory worked into the building's design. Plus, you're in prime position as you're just a quick walk across Hobart's docks to Salamanca Place and the Hobart CBD. It's called The Henry Jones Art Hotel for a reason, with more than 500 works of local art adorning the walls of the hotel, and it's all available for purchase—just ask downstairs.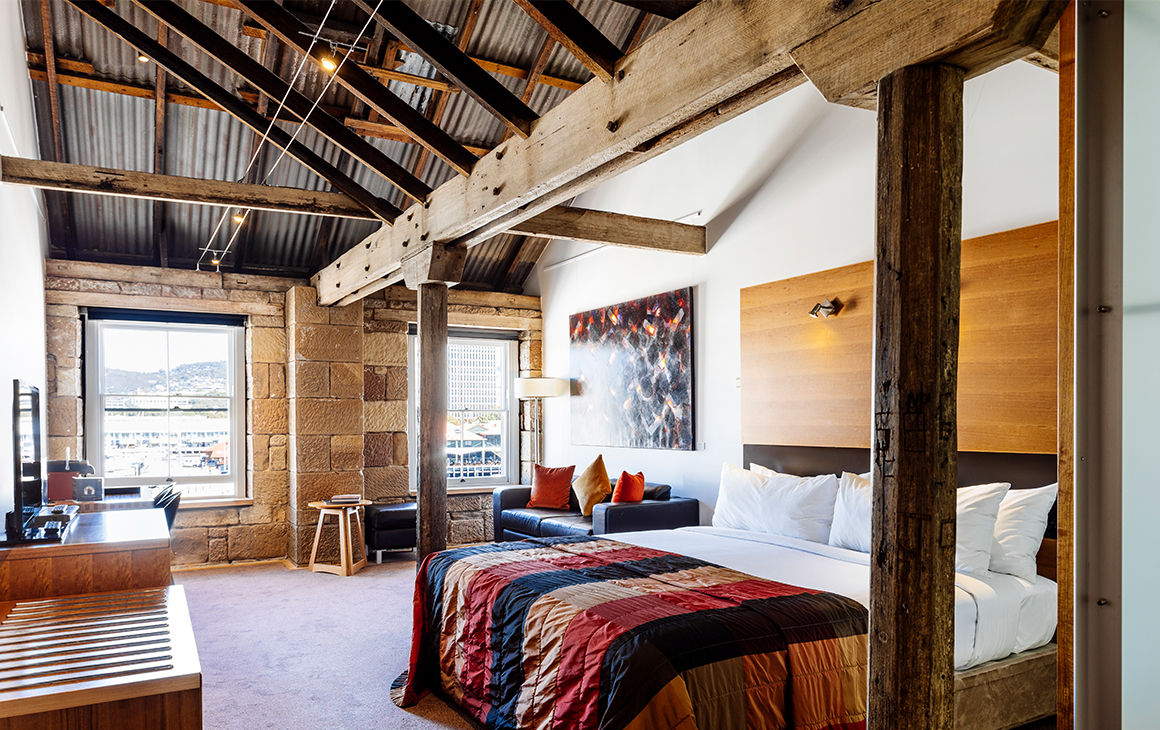 MACq 01
Another premium hotel from the team behind The Henry Jones, MACq 01 is well positioned and well storied. Each room is named after a Tasmanian character (from heroes, villains and explorers to inventors and convicts), including seven living Tasmanians, and are rich in tales you can discover on the hotel's 114 Doors tour. MACq 01 is just across Hunter Street from The Henry Jones so has the same great access to Hobart—very important when it comes to eating and drinking your way around the city. Our tip? Opt for the superior waterfront room with epic views and lush furnishings and you'll know exactly why this is one of Tasmania's best hotels.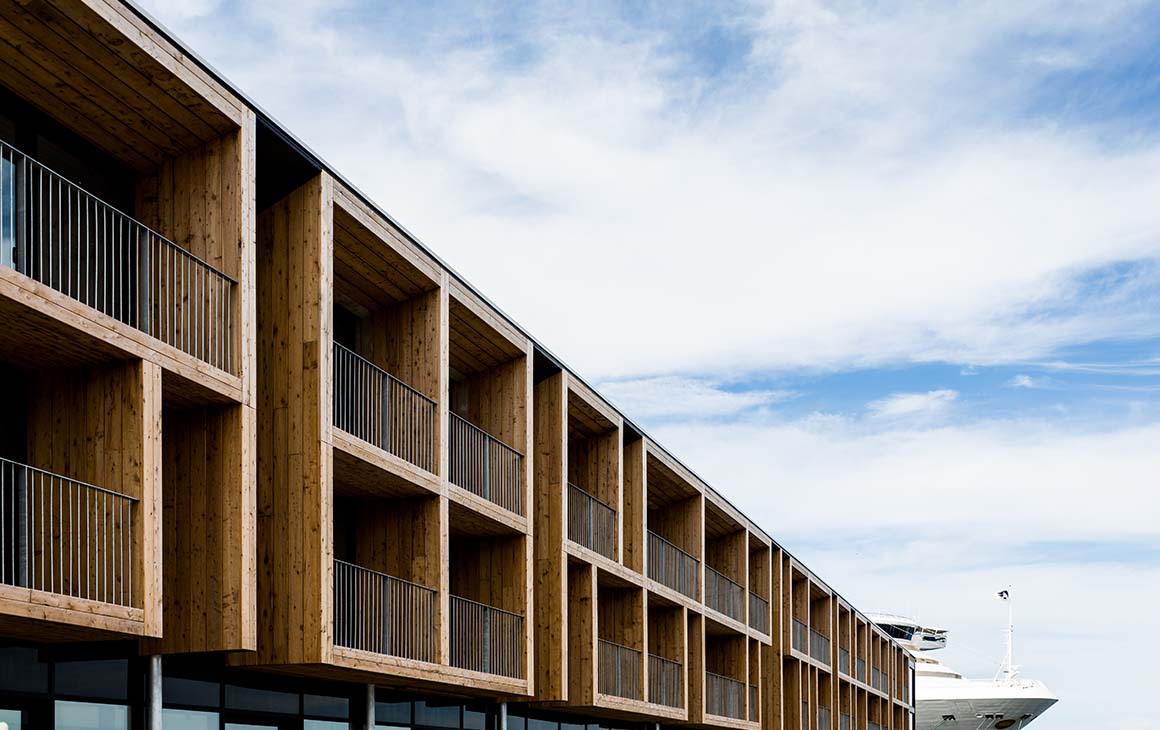 Lemonthyme Wilderness Retreat
If you think wilderness retreats ain't your thing, prepare to have your mind totally changed. Lemonthyme Wilderness Retreat isn't your average off-the-beaten-track stay—this awarding-winning boutique wilderness retreat is for those who like to live it up luxe-style in the bush. The luxury cabins are designed to emulate the forest around. With touches of dark wood, the rooms boast a spa bath, mountain views and top-notch amenities. The only reason you would want to leave your haven is to keep cosy in the guest lounge, which keeps things toasty with a roaring open log fireplace. Marshmallows not optional. Cradle Mountain National Park is only a 35-minute drive away, so you're in a prime position to get out and explore the peaceful rainforest wilderness. Lemonthyme Wilderness Retreat is a top pick for one of the best hotels in Tasmania.
Now you've got a place to stay but how are you going to spend your precious holiday time on the Apple Isle? Lucky for you, we've done you a solid and put together a list of the best outdoor adventures you can only have in Tasmania.
Image Credit: Tourism Tasmania, Paul Fleming, Adam Gibson, Saffire Freycinet, Jarrad Seng, Mona and Brett Boardman
Editor's note: Urban List editors independently select and write about stuff we love and think you'll like too. Urban List has affiliate partnerships, so we get revenue from your purchase.