From breathtaking islands and sugar white sand beaches to sun-baked landscapes and jaw-dropping natural wonders, Australia is a land of unique and diverse beauty.
If you're wondering where to travel in Australia in 2022, we've got hidden gems and bucket-list worthy locations you didn't even know existed. To get your travel itinerary started, we've chosen 50 incredible travel destinations you need to tick off. It's time to get exploring.
Queensland
1. Cape Tribulation
If you ever wanted to see what Queesnland looked like when dinosaurs roamed the earth, then make tracks to beautiful Cape Tribulation where the Daintree—one of the world's oldest rainforests—meets the Great Barrier Reef.
Where To Stay: Daintree Cascades
2. Rainbow Beach
This little beach town on the Cooloola Coast, is the gateway to Fraser Island. But there's so much more to Rainbow Beach than its island neighbour. Head to the infamous Carlo Sandblow—if you've seen a photo of a giant sand dune in Queensland, this is probably it—for an involuntary cardio workout then sink a cold one or three at the Rainbow Beach Hotel.
Where To Stay: Plantation Resort At Rainbow
3. K'gari /Fraser Island
As the world's largest sand island, it's not hard to understand why this Queensland beauty has made this list. The UNESCO World Heritage site stretches over 123 kilometres and is a stunning tangle of rainforests, eucalypt woodlands and mangroves, surrounded by long, flat beach highways so yes, four-wheel-driving is a must.
Where To Stay: Kingfisher Bay Resort
4. Stanthorpe
This gem can be found in the Southern Downs Region, along the Granite Belt. With quaint country town vibes, plus some seriously epic breweries, distilleries, cheese shops and bakeries in the town centre, Stanthorpe is the ultimate rural escape.
Where To Stay: Granite Belt Retreat and Brewery
5. Marcoola
Nestled on the Sunshine Coast between Mudjimba and Noosa, Marcoola is the quiet beach town you didn't know still existed in Queensland. Providing the perfect blend of (mostly) tourist-free beaches with a thriving organic foodie culture and accommodation that won't cut into your retirement fund, Marcoola is a well-guarded local secret for a very good reason.
Where To Stay: Sand Dunes Resort Accommodation
6. Agnes Water And 1770
Located about six hours north of Brisbane, the twin beach towns of Agnes Water and 1770 mark the northernmost surf beaches in Australia. They also happen to be situated on the southernmost point of the Great Barrier Reef and all the beauty that entails. So, basically, they're a little slice of tropical beach heaven without the exxy resort fees.
Where To Stay: 1770 Lagoons Central Apartment Resort
7. Moreton Island
Queensland is home to a slew of islands but Moreton is one of our absolute faves. The island is almost entirely declared National Park territory, which means it is largely untouched featuring pristine blue waters, lush rainforest, historical lighthouses and famed natural wonders such as Mount Tempest, the world's largest coastal sand dune structure.
Where To Stay: Moreton Island Villas and Apartments
New South Wales
8. Brunswick Heads
If you venture a 20 minute drive outside the hustle and bustle of Byron Bay, you'll find yourself in the uber-cool streets of Brunswick Heads, where the baby blue ocean laps up against the rocks and you can forget the rest of the world. There's a cracking local pub, old school picture house and a thriving foodie scene.
Where To Stay: The Sails Motel
9. Lord Howe Island
Looking like something straight out of Jurassic Park (the beautiful parts, minus the dinosaurs), Lord Howe Island is packed with jaw-dropping rugged beauty from rainforest-clad volcanic mountains to fern-laced gullies. And be sure to check out Ball's Pyramid, a dramatic hunk of basalt that is the planet's tallest sea stack. This is absolutely one of the best places to visit in Australia.
Where To Stay: Lorhiti Apartments
10. Lennox Head
Big on Urban List's radar this year, tranquil Lennox Head is where it's at for chilled times on the coast. Just 25 minutes by car from Byron, it's got just the right amount of chilling versus doing. Be sure to head straight to Seven Mile Beach for the secret swimming spot of your dreams followed by a hike up to Lennox Head lookout where you'll score views for days.
Where To Stay: Lennox Beach Resort
11. Crescent Head
Located north of Port Macquarie, at Crescent Head it's about the epic surf beaches. With four perfect right-hand point breaks, you can expect to ride for anywhere up to 200 metres, revered by longboarders around the world.
Where To Stay: The Med Crescent Head
12. Angourie
Found on the north coast of NSW near Yamba, Angourie holds a very special place in the heart of the community as the first national surfing reserve listed in New South Wales. Abundant in rolling waves and natural beauty, this place is pure magic. Pro tip: make sure you have brekky at Cafe Angourie and dinner at Barbaresco for drool-worthy Italian.
Where To Stay: Angourie Resort
13. Orange
Just under four hours drive from Sydney, Orange features over 60 vineyards and about 40 cellar doors. Tucked into rolling vine-covered hills and pretty country lanes and set against the backdrop of an ancient, extinct volcano called Mount Canobolas, Orange is Australia's highest elevation wine region—making it perfect for chardonnay, pinot noir, riesling, pinot gris, merlot, and shiraz.
Where To Stay: Byng Street Boutique Hotel
14. Coonabarabran
This central-west town in NSW sits near the spectacular Warrumbungle National Park, which is Australia's first and only Dark Sky Park—an internationally-recognised place of crystal clear skies (Joshua Tree in California and Vrani Kamen in Croatia are two others). Coonabarabran sits on top of a volcanic mountain range and boasts a postcard perfect central village.
Where To Stay: Langley Cottage B&B
South Australia
15. Kangaroo Island
With more than a third of Kangaroo Island being a protected nature reserve, it's not uncommon to stumble across the locals including koalas, brown bandicoots, kangaroos, sea lions or even the odd orca whale. Suitably, the island is also home to a number of low-impact, luxury eco-resorts that provide a calming reprise from regular life. This is without a doubt, one of best holiday destinations in Australia.
Where To Stay: Ecopia Retreat
16. Fleurieu Peninsula
The Fleurieu Peninsula boasts coastlines upon coastlines that make you feel like you're winding your way through the cliffs of the Amalfi Coast. Hot tip, rent out a convertible to really max out on those wind-in-your-hair feels, just like in Positano. This peninsula is also decked out amazing regional food and wine, rugged cliffs and sheltered coves worth exploring.
Where To Stay: Beach Huts Middleton
17. Clare Valley
Home to 50 cellar doors and award-winning riesling, Clare Valley is a must for wine-lovers. But our favourite part has to be Lake Bumbunga, with it's the bubble-gum pink shores. Located in Lochiel, the lake is the ultimate 'grammable spot, changing colour from pink, to white, to blue, depending on the salinity of the water throughout the year.
Where To Stay: Neagles Retreat Villas
18. Eyre Peninsula
Famous for its epic water activities, the thrill-seekers among us can hop aboard a shark cage dive or swim and play with sea lions off the coast of Port Lincoln. For something a little more lowkey but just as stunning, you can watch on in awe as whales and their calves frolic under towering, wave-ravaged cliffs. Seafood lovers will not be disappointed either when they tuck into Eyre Peninsula's legendary oysters and freshly-caught seafood at the local fishmongers.
Where To Stay: Marina Hotel
19. Coober Pedy
Looking like something straight outta Mars, this opal mining town in South Australia's outback needs to be seen IRL at least once in your lifetime so why not make 2022 the year for it? Discover this sunbaked landscape's unique history, venture through the labyrinth of underground houses, hotels and shops and catch the most amazing natural light show thanks to the famous outback sunsets.
Where To Stay: Underwood Court fresh Dugout
20. Lake Alexandrina
Brimming with wildlife and wetlands, Lake Alexandrina has been the traditional land of the Ngarrindjeri people for thousands of years, and is packed full of incredible history. Bask in the translucent waters of the Coorong National Park and check out the region's array of lagoons. Come nightfall, set up camp on the banks of the lake and fall asleep under a blanket of stars.
Where To Stay: HelloSailor
Western Australia
21. The Kimberley Region
Boasting some of the world's most awe-inspiring landscapes, and fewer people per-square-kilometre than almost any other place on Earth, the Kimberley will stir your soul and awaken your senses. Expect: thundering waterfalls, spectacular gorges, pockets of rainforest and freshwater swimming holes—we promise this will be a trip you'll never forget.
Where To Stay: Freshwater East Kimberley Apartments
22. Esperance
If you've ever seen pictures of roo's sunbaking on white sand beaches, chances are they were taken at Esperance. Around a 90 minute flight from Perth, this stunner is all
easy-going vibes and great beach life. With fine quartz sand meeting a placid ocean and remote national parks to the town's southeast, there's also 105 islands just offshore, making up the Recherche Archipelago, which are inhabited by fur seals, penguins and seabirds.
Where To Stay: Esperance Chalet Village
23. Exmouth
Gateway to the amazing wonder that is the Ningaloo Reef, Exmouth is a tiny town on the coral coast of WA, a 15-hour drive (or 1,270km) north of Perth. A nature lover's paradise with its coral reefs, colourful fish and whale sharks, the world-famous crystal clear waters of the Ningaloo Reef (which stretches 300km) is the reason visitors flock from all over the world to Exmouth but the whole region is drop dead gorgeous.
Where To Stay: Sal Salis Ningaloo Reef
24. Denmark
Not to be confused with the European country of the same name, this stunning town is a beach-lovers dream. Must do swimming holes include Greens Pools where the crystal clear water rivals the Greek Islands. And for the ultimate Insta pic you have to check out Elephant Rocks where larger than life boulders shoot out of the sand along the sparkling clear ocean. If you're looking for one of best holiday destinations in Australia—this is it.
Where To Stay: Karri Mia
25. Broome
Set on the Indian Ocean at the top of WA, Broome is straight up gorgeous. Think turquoise waters, uncrowded shores, palm trees and a stunning red-dirt backdrop. Hopping on a sunset camel ride across the golden sand is a must.
Where To Stay: The Billi Resort
26. Rottnest Island
If you were dreaming of a vacay to the Greek Islands, then good news, we've found somewhere even more picturesque and way cheaper. Just a short ferry ride from Perth, the island is home to a nature reserve, hiking tracks, secluded coves and loads of gram-worthy beaches (our fave is Little Salmon Bay).
Where To Stay: Discovery Rottnest Island
27. Ferguson Valley
Just two hours drive from Perth, this under-the-radar region is a picturesque little pocket of rolling hillsides, olive groves and orchards; flanked by the Wellington National park to the east and Bunbury to the west. With over a dozen wineries, two craft breweries and a handful of restaurants, it's easy for foodies to spend a weekend away here.
Where To Stay: Mercure Bunbury
28. Augusta
Augusta is the perfect spot for anyone who enjoys the great outdoors. Home to some pretty fantastic fishing and snorkelling, it's also a great spot for windsurfing and kite surfing as well as a bit of bushwalking. Climb the Cape Leeuwin Lighthouse for some pretty special views and then check out one of the Margaret River wineries for a nice long lunch.
Where To Stay: Seine Bay Apartment
Northern Territory
29. Dhambaliya/Bremer Island
Located off the coast of Arnhem Land, it's home to four of the world's seven sea turtle species, boasts a pristine coastline, walking trails and the dreamy Banubanu Beach Retreat. In between sunning yourself on the beach, be sure to check out the famous Yirrkala art centre to gain an incredible insight into First Nations culture.
Where To Stay: Banubanu Beach Resort
30. Tiwi Islands
Comprising two main islands—Bathurst and Melville—one visit and you'll understand why it's been given the nickname, 'Island of Smiles'. Packed with art, culture and natural beauty, the island's residents are what make this place so special. Pro tip: some areas do require a permit so be sure to check before you leave for your holiday.
Where To Stay: Tiwi Island Retreat
31. Alice Springs/Mparntwe
Head here from 8 to 17 April to discover Parrtjima, an incredible, free light festival that celebrates First Nations art, history and culture. In between viewing amazing art installations and taking in live music, be sure to check out the stunning beauty of nearby Ormiston Gorge and Simpsons Gap.
Where To Stay: Crowne Plaza Alice Springs Lasseters
32. Litchfield National Park
Whether you head in for a day from Darwin or Katherine or you camp overnight, Litchfield National Park is a stunner. Push yourself to the limit on the walking trails—the 39km Tabletop Track is a killer—or relax in a swimming hole under one of the waterfalls. And don't miss Florence Falls and Buley Rockhole for swimming—there's a nice easy walk between the two that will take you about 1.5 hours.
Where To Stay: Mindil Beach Casino Resort
33. Bitter Springs
One of our favourite spots for swimming in the Northern Territory, Bitter Springs is also home to some great bushwalks as well as some beautiful native plants which flower each year in March or April. It's about a 45-minute drive from Darwin and the perfect spot for a picnic or a BBQ so remember to stock up before you go.
Where To Stay: Oaks Darwin Elan Hotel
34. Nitmiluk National Park
There's nothing quite like a helicopter ride over the gorges at Nitmiluk National Park so go ahead and pop that on your NT itinerary right now. It's not prohibitively expensive at around $100pp for a three gorge ride but if you can't swing it or you're not into helicopters, the next best thing is a sunrise or sunset cruise so you can sit back and relax while you marvel at the beauty of Nitmiluk.
Where To Stay: Discovery Parks Katherine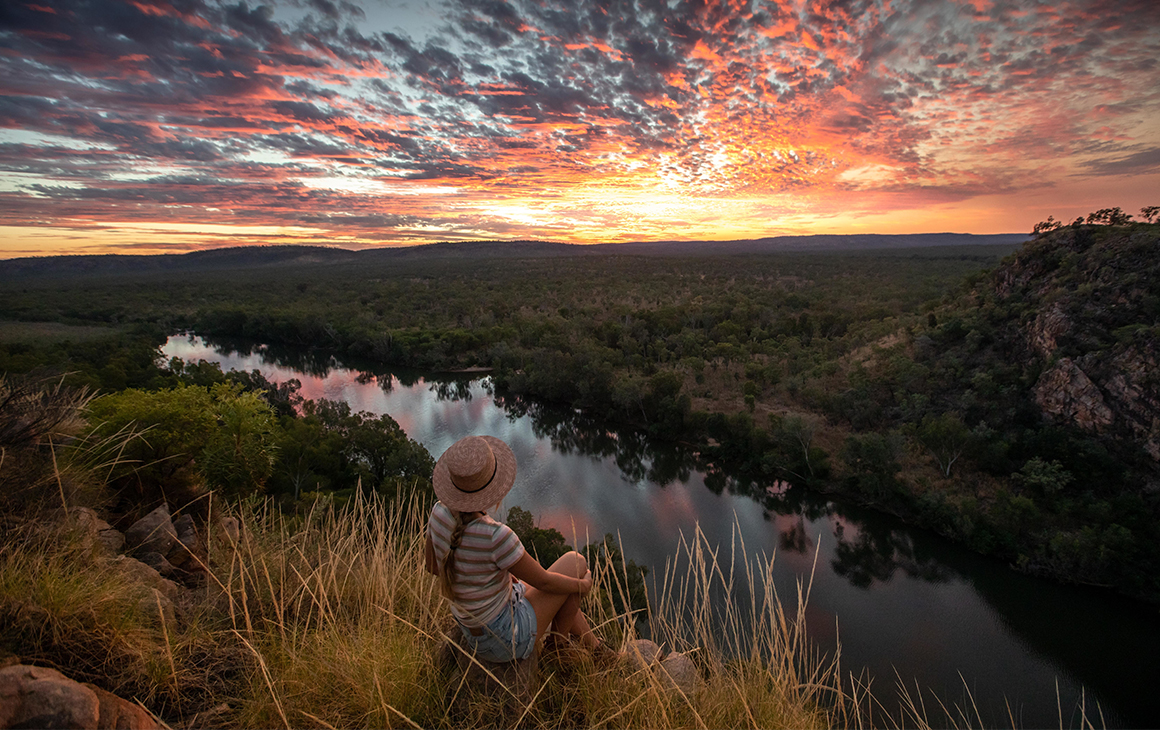 35. Rainbow Valley
With a name like Rainbow Valley, can you really blame us for loving this special little spot an hour's drive from Alice Springs. Rainbow Valley is a small (by Northern Territory standards) conservation reserve which is home to some famous rock formations which are gob-smacking at sunset. But it's also home to 20 kinds of mammal, 46 species of reptile, over 100 types of bird and more than 400 species of flora, not to mention some great walks and bundles of Aboriginal culture.
Where To Stay: DoubleTree by Hilton Alice Springs
36. Uluru-Kata Tjuta National Park
Don't worry, we haven't forgotten about Uluru, we just wanted to keep you on your toes. Of course you're going to visit the big red rock if you're going to the Northern Territory, the question is how to tackle it. Base yourself in nearby Yulara and take in the spectacle that is sunrise at Uluru. This will also give you plenty of time to explore the park and take in all its glory.
Where To Stay: Sails in the Desert
Victoria
37. Mallacoota
This pretty, coastal town was hit hard by the summer bushfires, so in 2021 locals will be waiting with open arms to great tourists. About a six hour drive from Melbourne, Mallacoota is surrounded by natural beauty thanks to its location on the mouth of the Wallagaraugh River with the Croajingalong National Park to the south-west, and the Cape Howe Marine National Park to the east. Pro tip: The Thurra River dunes walk is a highlight.
Where To Stay: Gowings of Mallacoota
38. Queenscliff
Situated on the Bellarine Peninsula, historic Queenscliff is the perfect place for a little sojourn if you're into mouth-watering seafood. Located right on the head of Port Phillip Bay, Queenscliff harbour is a great spot to grab some fish and chips and watch the boats come in. Then take a stroll around town where sandstone buildings line its streets and pine trees are dotted along the foreshore.
Where To Stay: Salt Loft
39. Apollo Bay
Further along the Great Ocean Road from summer hot spot Lorne, Apollo Bay is a little bit quieter, but still sees plenty of visitors over the warmer months. Apollo Bay is a great beachside town to base yourself out of if you're looking to explore the amazing sights along the Great Ocean Road. The Twelve Apostles are just an hour away, and the Californian Redwoods in Otway National Park need to be experienced to be believed.
Where To Stay: Chocolate Gannets
40. Bendigo
Get a hit of Australia's history in Bendigo. Victoria's fourth largest town, it was first settled in 1851—the year the Victorian gold rush took off. As well as gold, Bendigo has an amazing art scene, and it's definitely worth spending some time at Bendigo Art Gallery which has previously shown works from the British royal portrait collection, and a huge Balenciaga exhibition.
Where To Stay: Alexandra Place
41. Yarra Valley
While it might be a well known fave among Victorians, if you haven't been to Yarra Valley yet pop it to the top of your list. Think: boutique hotels among the trees, some of Australia's best wineries, highly renowned cheese shops and some truly epic drives. In short, it's the perfect weekender.
Where To Stay: Yarra Valley Lodge
42. Johanna Beach
Located a short distance from Cape Otway, the waves found at Johanna Beach are the creme de la creme, so much so it played host to the World Surfing Championships in 1970. Best accessed via car from the Great Ocean Road, the journey will prove to be worth it with distinct bars, rip channels and waves averaging over 1.5 metres high.
Where To Stay: Johanna Seaside Cottages
43. Wye River
If tiny beach towns sound like your kind of jam, Wye River is right up your alley. Nestled along one of the most beautiful strips of the Great Ocean Road, Wye River is home to rugged cliffs and lush mountain foliage with a sandy beach peppered by rock pools providing for plenty of opportunities to go exploring.
Where To Stay: Cape Wye
44. Lorne
Can't get the idea of sipping ouzo by the Mediterranean out of your head but also can't afford it after the damage you did to your credit card during those lockdown shopping sprees? Why not give Lorne a try instead? Located only a two-hour drive from Melbourne, this coastal town is Australia's very own slice of Mediterranean vibes, helped along by a thriving arts community and beach views to die for.
Where To Stay: Lorne Luxury
Tasmania
45. Flinders Island
With only 900 residents and 120 beaches, chances are you'll have a nice stretch of sand to yourself when you holiday at Flinders. Go beyond the green rolling hills and be wowed by the rugged pink and grey granite mountain ranges of the Strzelecki National Park—there are loads of adorable animals to spot along the way too.
Where To Stay: Pine Scrub Beach House
46. Freycinet Peninsula
Located on the east coast of Tasmania, Freycinet Peninsula is home to the majestic pink granite Hazards mountain range, secluded bays, white sandy beaches, bird-filled lagoons and beautiful Wineglass Bay.
Where To Stay: Freycinet Lodge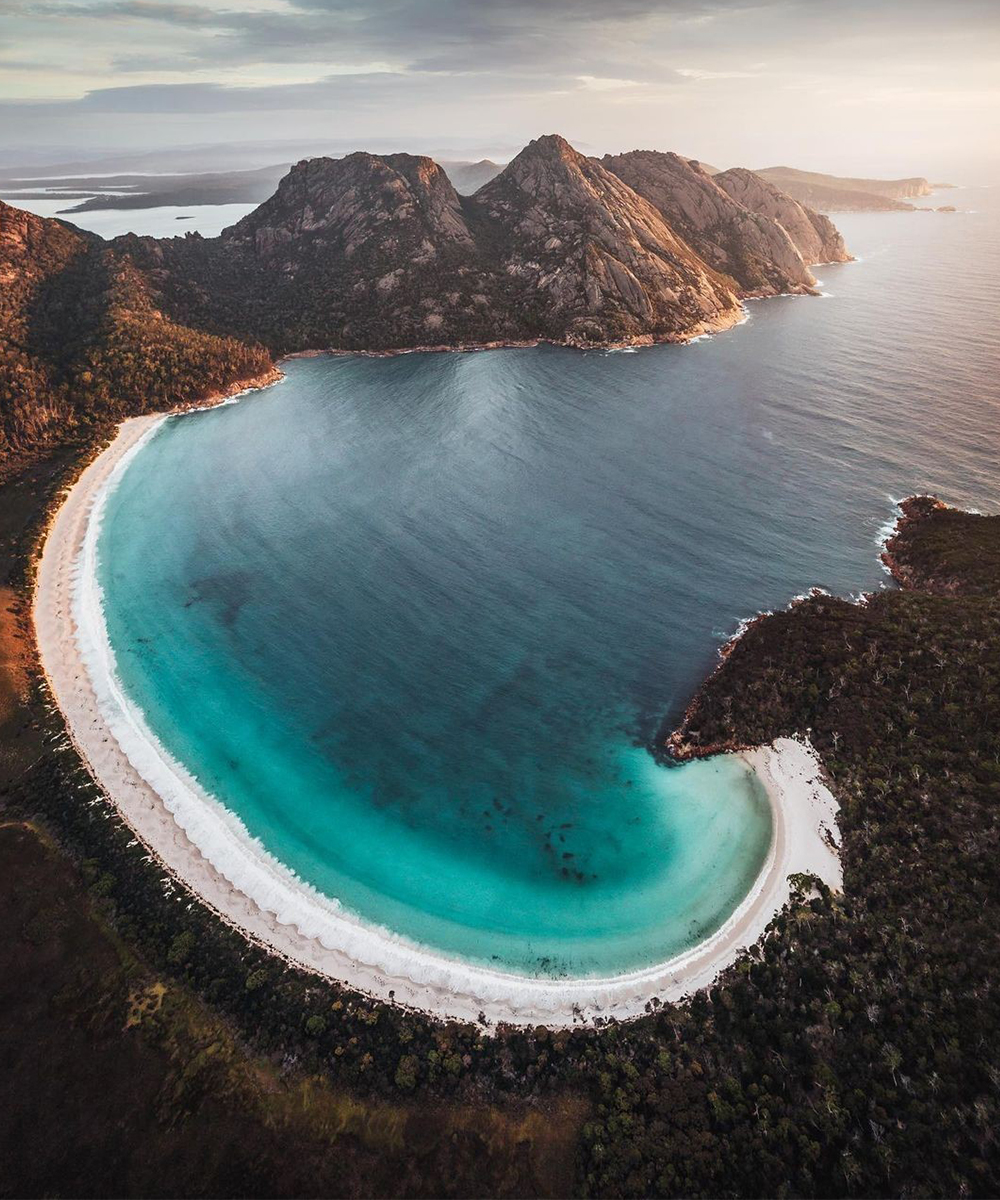 47. Strahan
Sitting right on the edge of the Tasmanian Wilderness World Heritage Area, Strahan is a harbour-side village with a fascinating historic past. It also has long stretches of wild ocean beach, massive sand dunes and is also near the Macquarie Harbour Penal Station, Tasmania's earliest penal settlement.
Where To Stay: Strahan Wilderness Lodge
48. Bruny Island
Bruny Island has some of Tasmania's most beautifully preserved natural environments with abundant wildlife and stunning cliff top views. Besides the gorgeous scenery and wildlife, Bruny is also home to local producers specialising in oysters, cheese and chocolate, so here's permission to stuff your face while taking it all in.
Where To Stay: 43 Degrees Bruny Island
49. Cygnet
Cygnet is the centre of the Huon Valley, famed for stunning and delicious apple, cherry and berry orchards; 83% of Tasmanian apples originate in the Valley and Cygnet is a great spot to see where all the fruit growing magic happens. Also popular with the artistically inclined, Cygnet is teeming with art studios, galleries and craft shops and also boasts an award-winning winery: Hartzview Vineyard at Gardners Bay.
Where To Stay: Ambience on Huon Bed & Breakfast
50. Binalong Bay
Situated at the southern end of the Bay of Fires, Binalong Bay is one of the most scenic and beautiful places in Tasmania. From the glittering blue sea to white sandy beaches to the epic coastal rock faces, it is truly a sight to behold.
Where To Stay: Bay of Fires Bush Retreat
Next up, check out these awesome summer road trips.
Image Credit: Tourism & Events Queensland, Tourism NT/Jonathon Clayton/Katie Goldie/Elise Cook, Allysha Cartledge, Oliver Strewe, Wenhao Ji, Paola Schotten, David Clode, Jason Charles Hill
Editor's note: Urban List editors independently select and write about stuff we love and think you'll like too. Urban List has affiliate partnerships, so we get revenue from your purchases.