Feel like you've got 99 problems? Fiji has the answer, or should we say, 333 answers in the form of picturesque islands where you can melt those stresses away.
Fiji is considered one of the best holiday destinations in the world, and rightly so. That's in large part thanks to the country's unmatched hospitality and welcoming culture, its surreal natural beauty, and the many resorts and hotels that can make your stay feel like an absolute dream.
Offering an abundance of unique resorts, you could choose private beaches, luxurious spas, scuba diving, world-class restaurants, sunset cocktails, cultural ceremonies, hiking and more; even all of the above.
Here are the best resorts in Fiji to relax at.
Best Overall Resorts In Fiji
Nanuku Resort Fiji
Pacific Harbour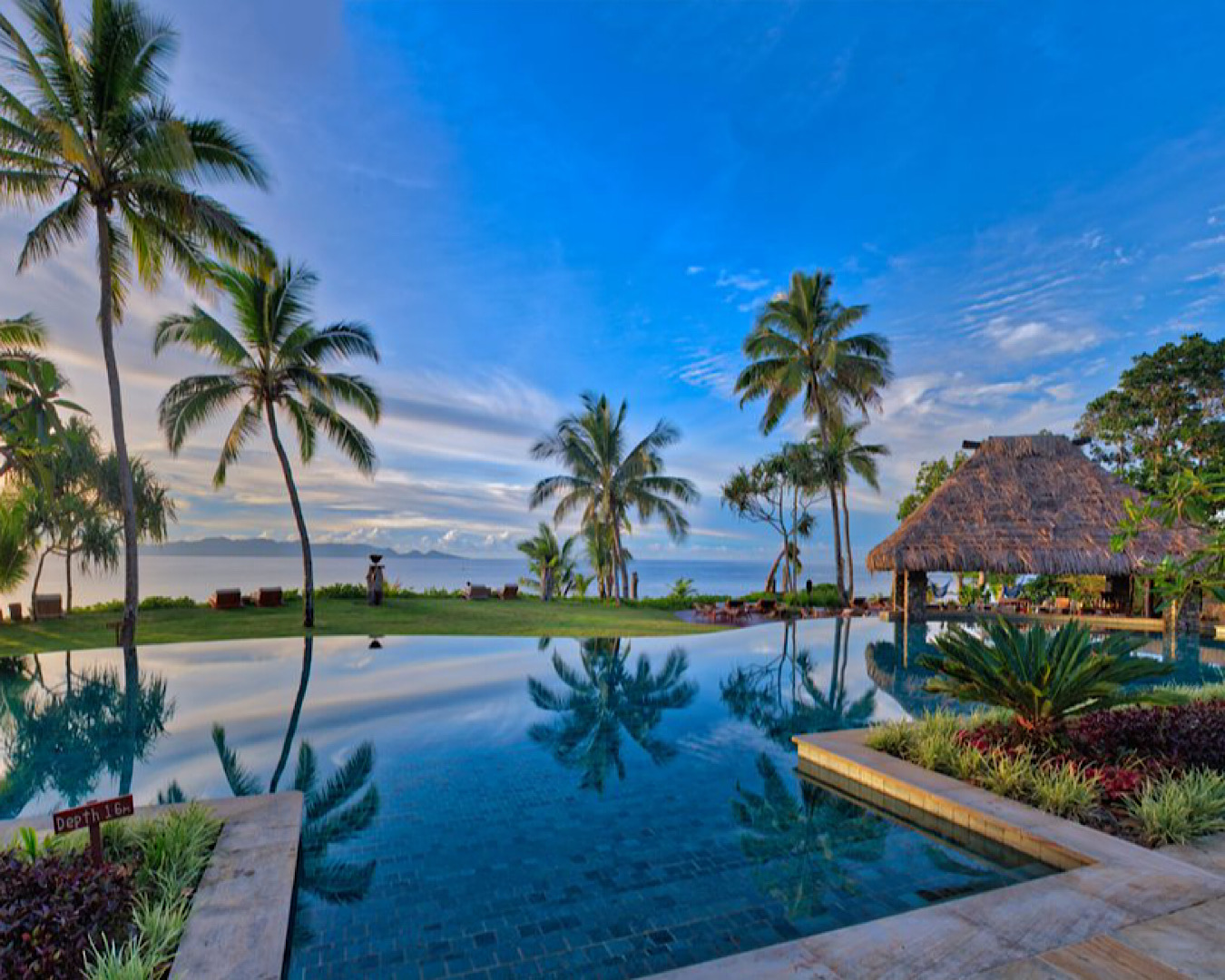 One of the best resorts in Fiji and renowned for its unparalleled boutique luxury and authentic culture is Nanuku Resort Fiji, a private 500-acre tropical beachfront oasis. Arrive to a traditional warrior welcome before travelling via golf cart to be shown around your room (which will be jaw-droppingly gorgeous by the way).
Take a dip in your private pool then indulge in a delicious Pacific Rim-inspired meal or get amongst the exciting array of activities. From river kayaking and an exquisite Warrior Cooking Class to a dreamy sunset cruise, an invigorating Indiana Jones style waterfall hike to an earth-shatteringly good massage and so much more.
Nanuku is all about the details and it shows—from the impeccable hospitality to the showcase of local artwork—and it shows. They're even dedicated to sustainability with a resident Marine Scientist who oversees their mangrove nursery, coral planting programme and other regenerative projects.
Vomo Island Fiji
Mamanucas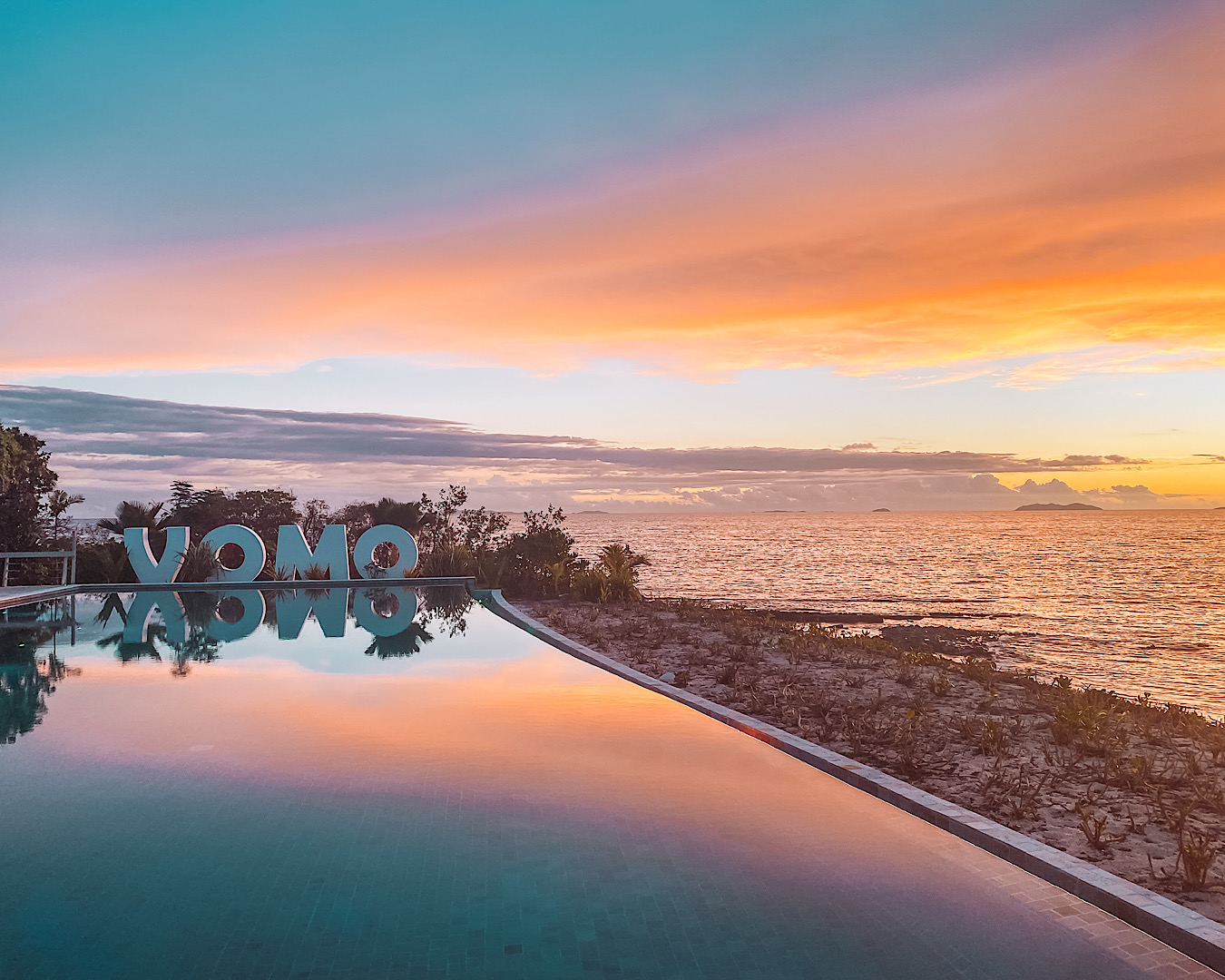 Another of the best resorts in Fiji is an island gem hidden away in the Mamanucas. Of course we're referring to none other than VOMO Island Fiji, a 225 acre picture-perfect island fringed by long white beaches. With the island's considerable size, you can choose exactly what kind of stay you're after, from beachfront and hillside villas to the family retreat. Bring a partner for a romantic getaway or the whole crew for some shared relaxation.
When you're settled in, hike around the island and up to Mt Vomo, take part in the daily VOMOfit workouts and challenges, play a round of golf or head across to adjacent and deserted Vomo Lailai Island for a romantic getaway, a day of snorkelling or, if you're feeling adventurous, swimming with sharks.
Jean-Michel Cousteau Resort Fiji
Savusava Bay
The Jean-Michel Cousteau Resort (JMC) is quintessential boutique serenity with just twenty five burees and a private island. Not only is it a world class diving centre (making it one of the best resorts in Fiji for dive enthusiasts), there's also plenty of other activities on offer too like paddle boarding, snorkeling, a medicine walk and eco-tour, and the all-important blissful massage which utilises pure coconut oil harvested across the bay at a local village.
There's even a tennis court if you fancy putting your swing to the test in a spot of friendly competition against the staff. Sprogs will be entertained for hours at The Bula Club making the JMC as spectacular a choice for a family holiday as it is for a romantic luxury vacay.
Six Senses Fiji
Malolo Island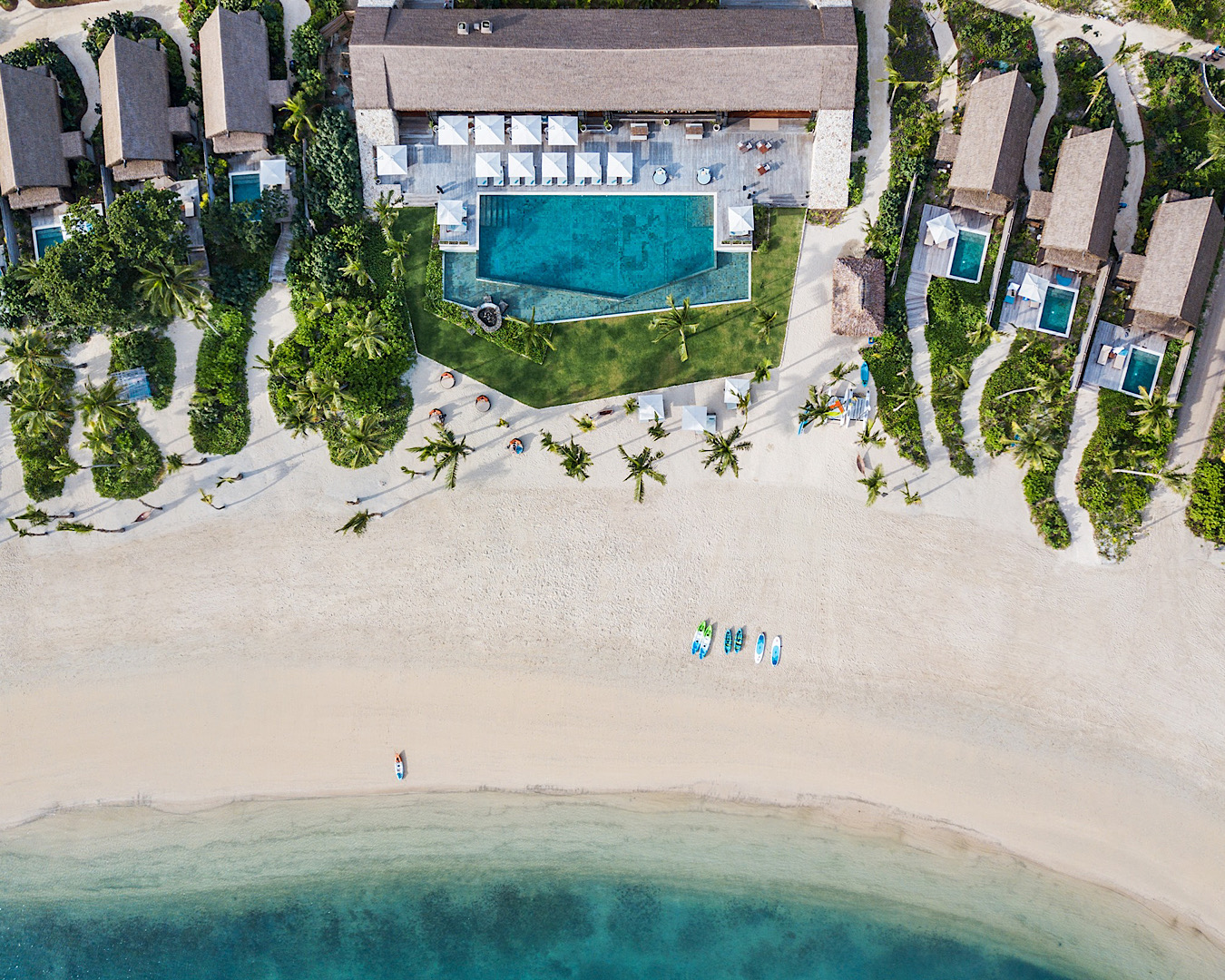 If you're looking for a sustainability-minded, wellbeing-focused resort, Six Senses Fiji might just be a bit of you. Located on Malolo Island, their spa, which is set in a lush jungle, is a contemporary take on a traditional Fijian village and offers the opportunity to work with a wellness expert making this the best resort in Fiji for a rejuvenating, restoring, soul-soothing retreat. You'll be guided through detoxing and meditation as well as cold and hot plunge pools, waterfall showers, herbal sauna, nail bar and more.
Even better is the resort's commitment to reducing its eco-footprint with a desalination plant fully powered by solar energy, a protected beehive area and 100 free-range chooks that roam the grounds producing eggs for the restaurant. The resort's forested area also shelters 39 critically endangered crested iguanas (with only 5000 left in the world).
Best All-Inclusive Resorts In Fiji
Kokomo Private Island Fiji
Celestial Kadavu Islands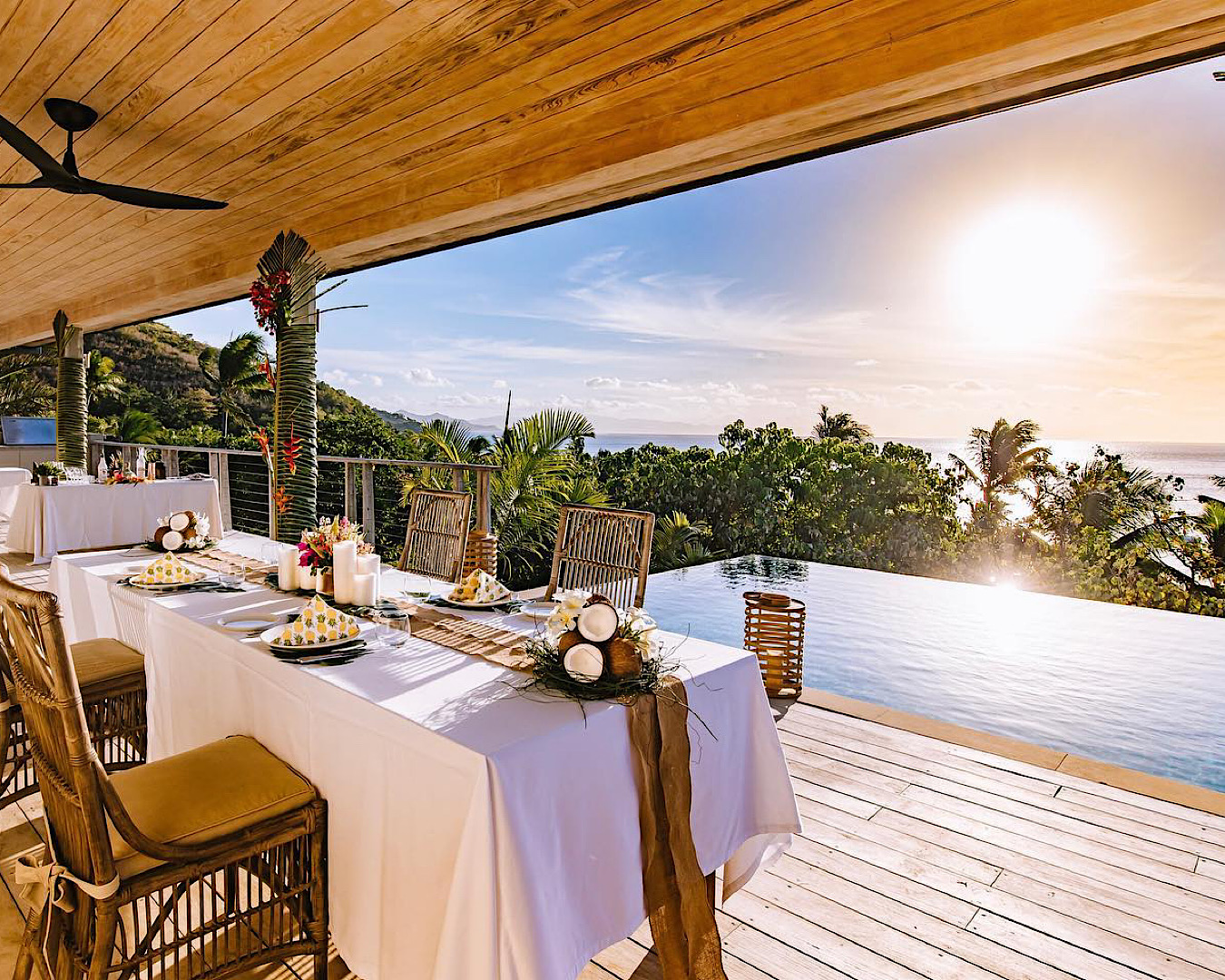 The epitome of 'treat yo self', Kokomo Private Island is pretty damn luxurious. Guests from Australia and New Zealand have access to the resort's aviation hangar and luxury transfer lounge at Nadi Airport from where you'll take a 45-minute seaplane, arriving in style (or you can take the equally baller option of arriving via superyacht).
Be sure to snorkel or scuba dive during your stay; the island is surrounded by the world-renowned Great Astrolabe Reef which makes for a stellar underwater world of manta rays, reef sharks, turtles and fish. In addition to all the activities you'd expect at a luxe Fijian resort you can also choose to do yoga on water pontoons, have a massage on the beach and delight your tastebuds with locally-caught seafood dinners eaten by the sea.
Como Laucala Island
Cakaudrove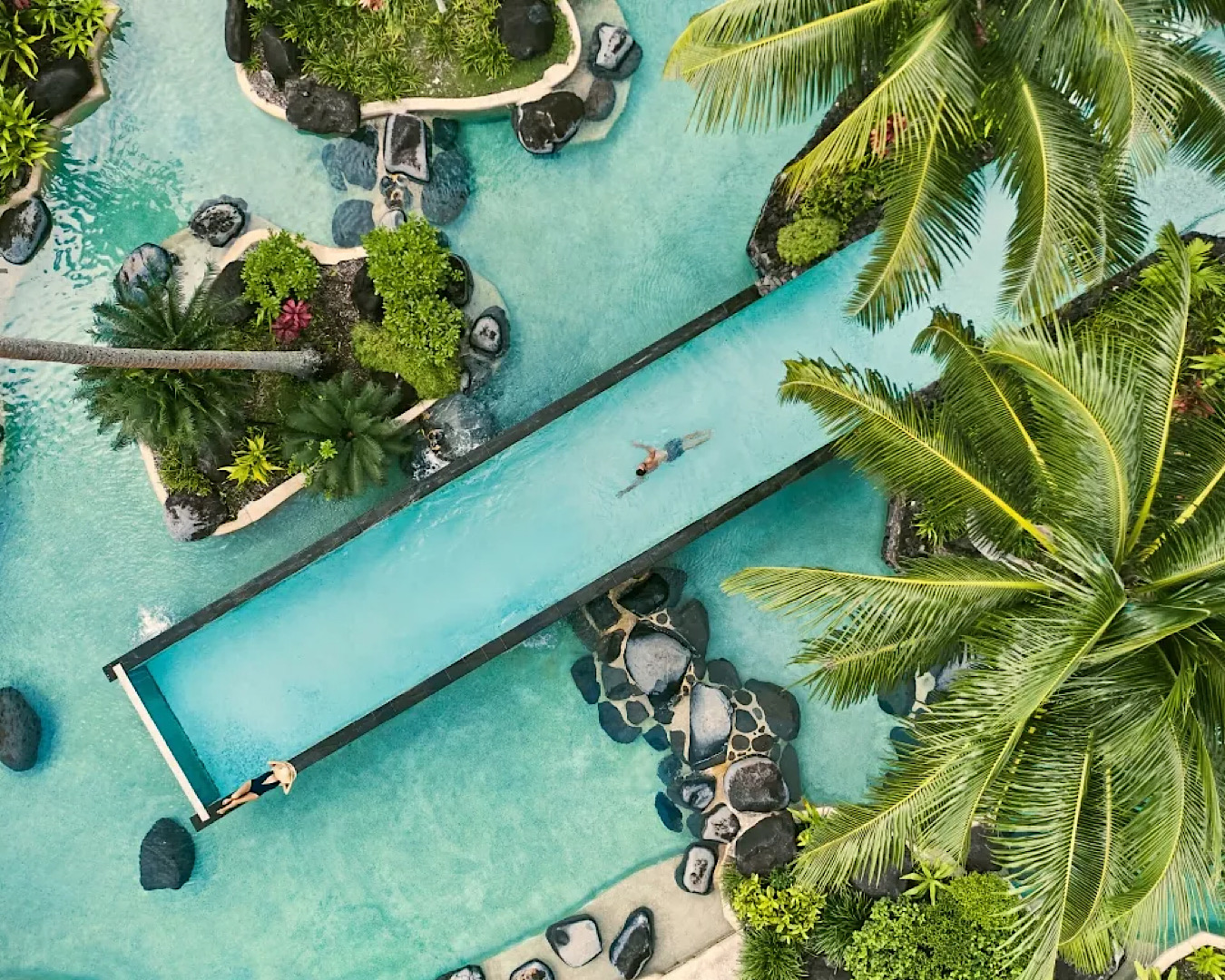 We're not going to lie, Como Laucala Island is as baller as they come. In fact, not only is it one of the best all-inclusive resorts in Fiji, it's also one of the most boujee, having caught the eye of A-listers like Oprah Winfrey, Elle Macpherson, Leonardo diCaprio, and Ludacris.
With its very own Como Shambhala Retreat wellness facilities, a lap pool to end all lap pools, a dive and marine activities centre, 24-hour medical access (always good), a horse-riding stable, fully equipped gym and tennis courts, leisure centre and children's play space, numerous restaurants, and a designer golf course, if you've got the dollar dollar bills, this is the place to be.
Oh, and did we mention you'll have the island's fleet of 13 marine vessels at your disposal? The only way this could be better would be if there was resort-wide wifi so you can lowkey humblebrag to everyone you've ever met. Oh wait, there is.
Sheraton Fiji Golf & Beach Resort
Denarau Island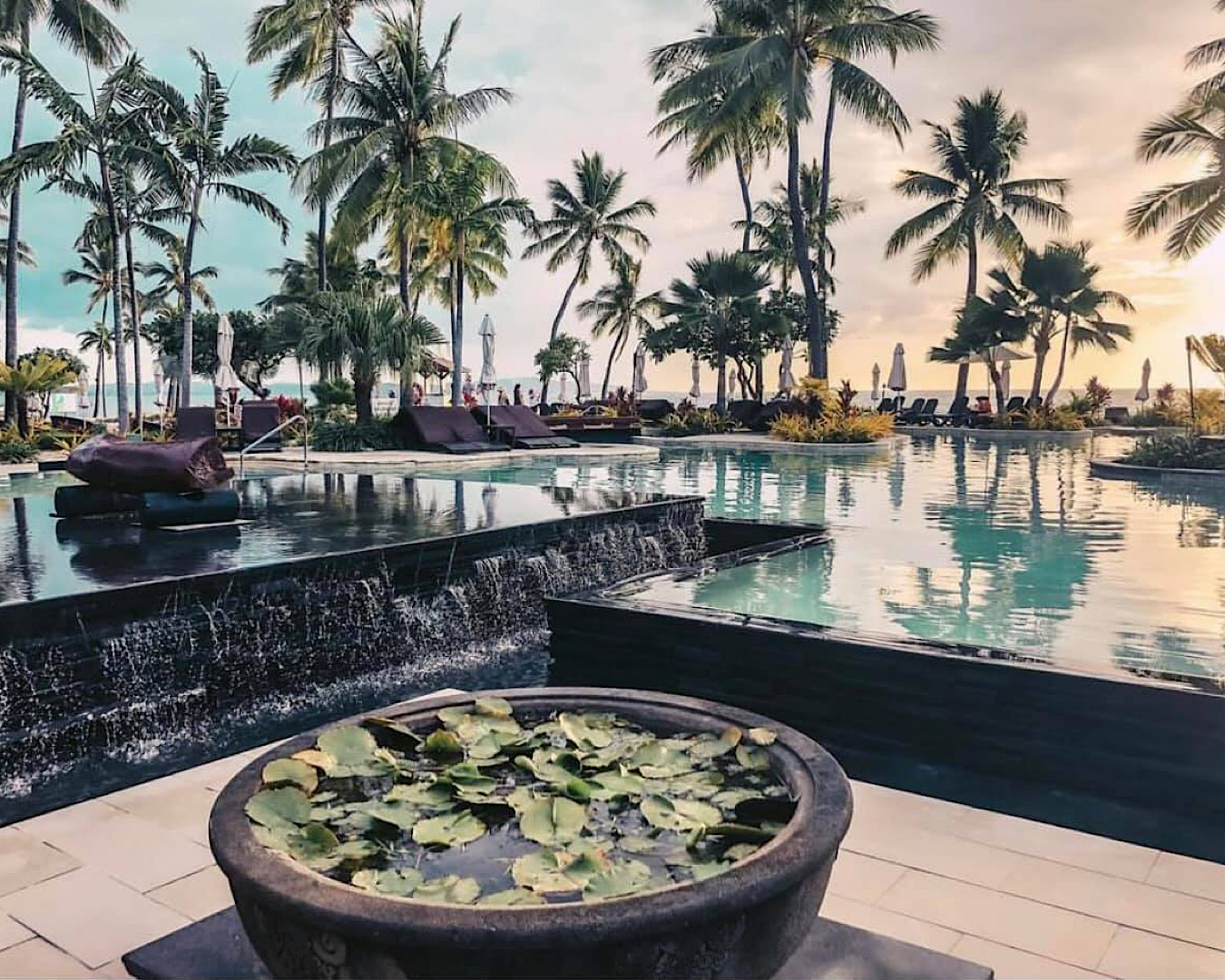 You can't go wrong with a stay at the stunning Sheraton Fiji Golf & Beach Resort. One of the best resorts on the Fiji mainland, and complete with picturesque waterfront vibes, it's just a 20-minute drive from Nadi Airport so you can get straight onto doing the important stuff, like blissing out, immediately.
Guests have access to the five-star resort integrated with sister properties that include 14 dining venues, six swimming pools, fitness studios, spas, access to boating, a swim-up bar and a golf course. What more could you need for the perfect vacay?
Best Family Resorts Fiji
Radisson Blu Resort Fiji Denarau Island
Denarau Island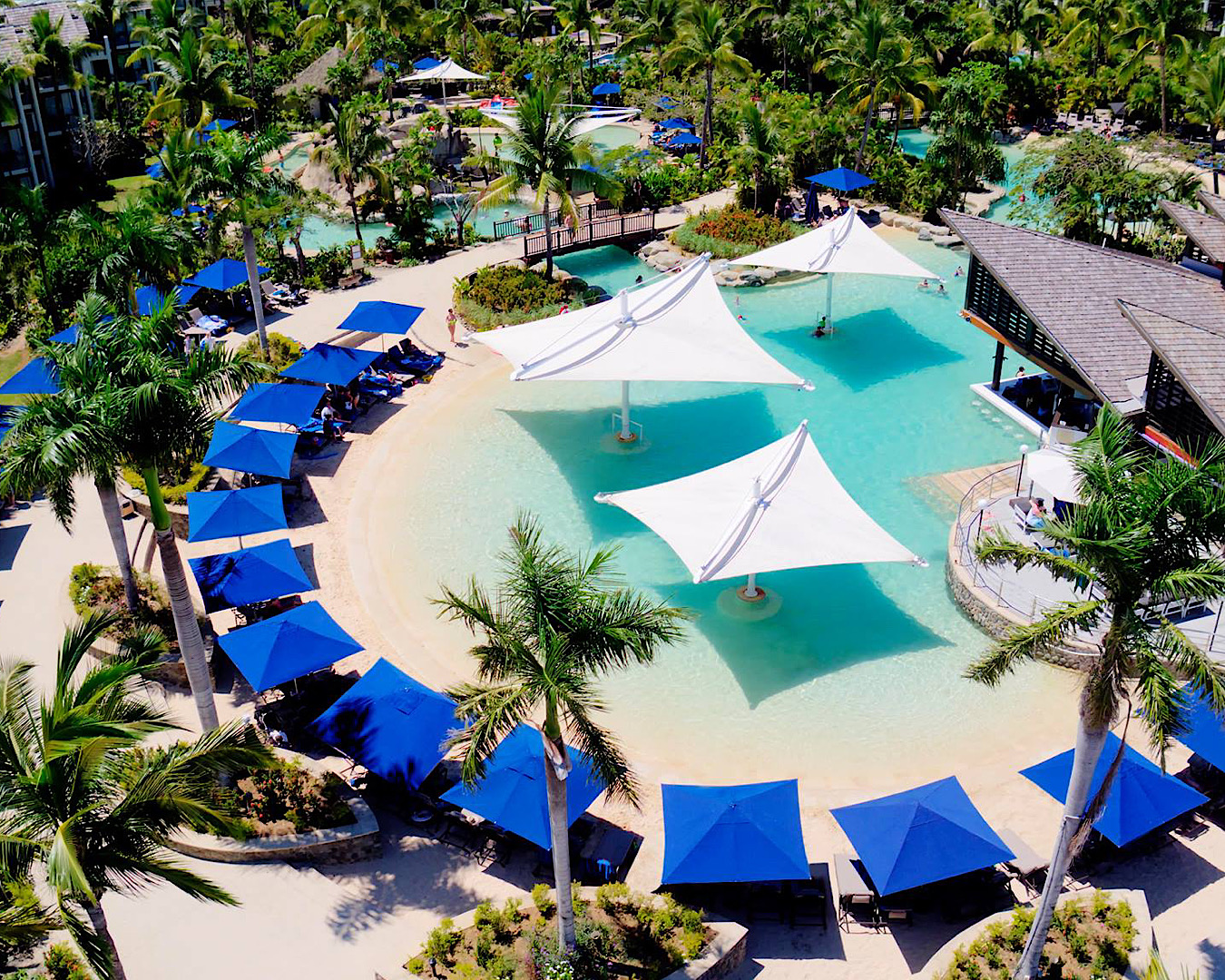 Radisson Blu Resort Fiji is easily one of the best resorts in Fiji for families and family-friendly couples. It's a short twenty-minute ride from Nadi International Airport via private shuttle. Built around a fantastic series of heated lagoon-style pools (one of which is adults only) and lush gardens you'll feel yourself relax as soon as you arrive.
While away the hours poolside with a cocktail in hand, get amongst the various watersports on offer while the sprogs have fun at the Blu Bananas children's club and dine on delicious world cuisine at one of the many on-site restaurants; the Lebanese-inspired Byblos is next level.
A stay wouldn't be complete without a blissful treatment at the gorgeous Harmony Retreat Day Spa made even more rejuvenating with the knowledge that Radisson Blu is committed to responsible business. The team actively works with local schools and the community to raise educational standards, assist with teaching programmes, improve water supply and promote healthy living in Fiji.
Sofitel Fiji Resort & Spa
Denarau
Another stunning Denarau resort is the Sofitel Fiji Resort & Spa. Fiji meets France in this mega resort which boasts 298 ocean-facing luxury rooms and suites across 26 acres of lush gardens. With everything to keep kids and teens happy, for adults it's all about Waitui Beach Club. Waitui is an adults-only paradise with private cabanas, roving poolside refreshments, nightly entertainment and an exclusive bar and grill.
Then there's Bazaar Kitchen and Bar a.k.a. the buffet to end all buffets. With six interactive live cooking stations serving up Fijian, Indian, Chinese, Japanese, Italian and American cuisine, plus desserts for the gods, hanger doesn't stand a chance. Fuel up then dance the night away at the brand new on-site Republik nightclub.
Castaway Island
Mamanucas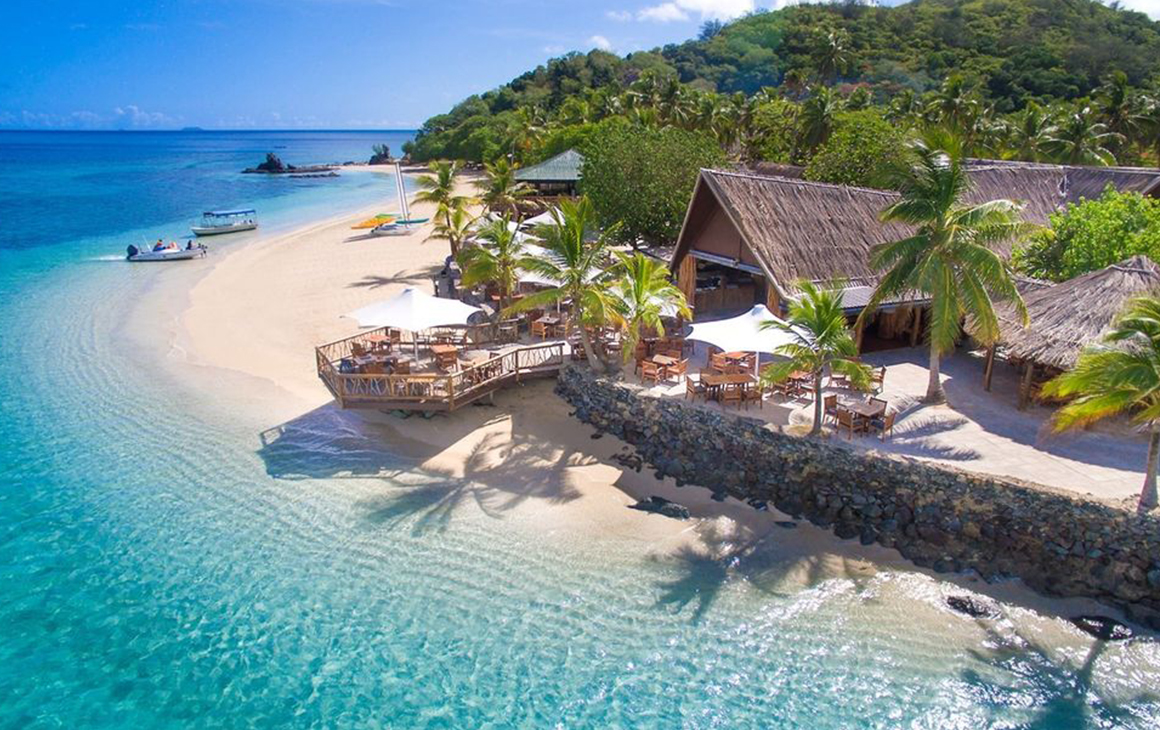 Don't worry, you won't have to make fire out of ice skates and befriend a volleyball on this Castaway Island–it's max holiday vibes here. The 174-acre island, sitting amongst the Mamanuca Islands, is the lush life incarnate with a tropical rainforest, pristine white beaches and a vibrant coral reef.
This is one of the best family-friendly resorts in Fiji when it comes to island getaways and is home to beach yoga, the opportunity to kayak around the entire island perimeter and cultural activities including dance and a traditional lovo feast (underground oven cooking, somewhat similar to a hangi). You can even go and visit the actual island where the movie Castaway was filmed. Ace.
Best Resorts In Fiji For Couples
Likuliku Lagoon Resort Fiji
Malolo Island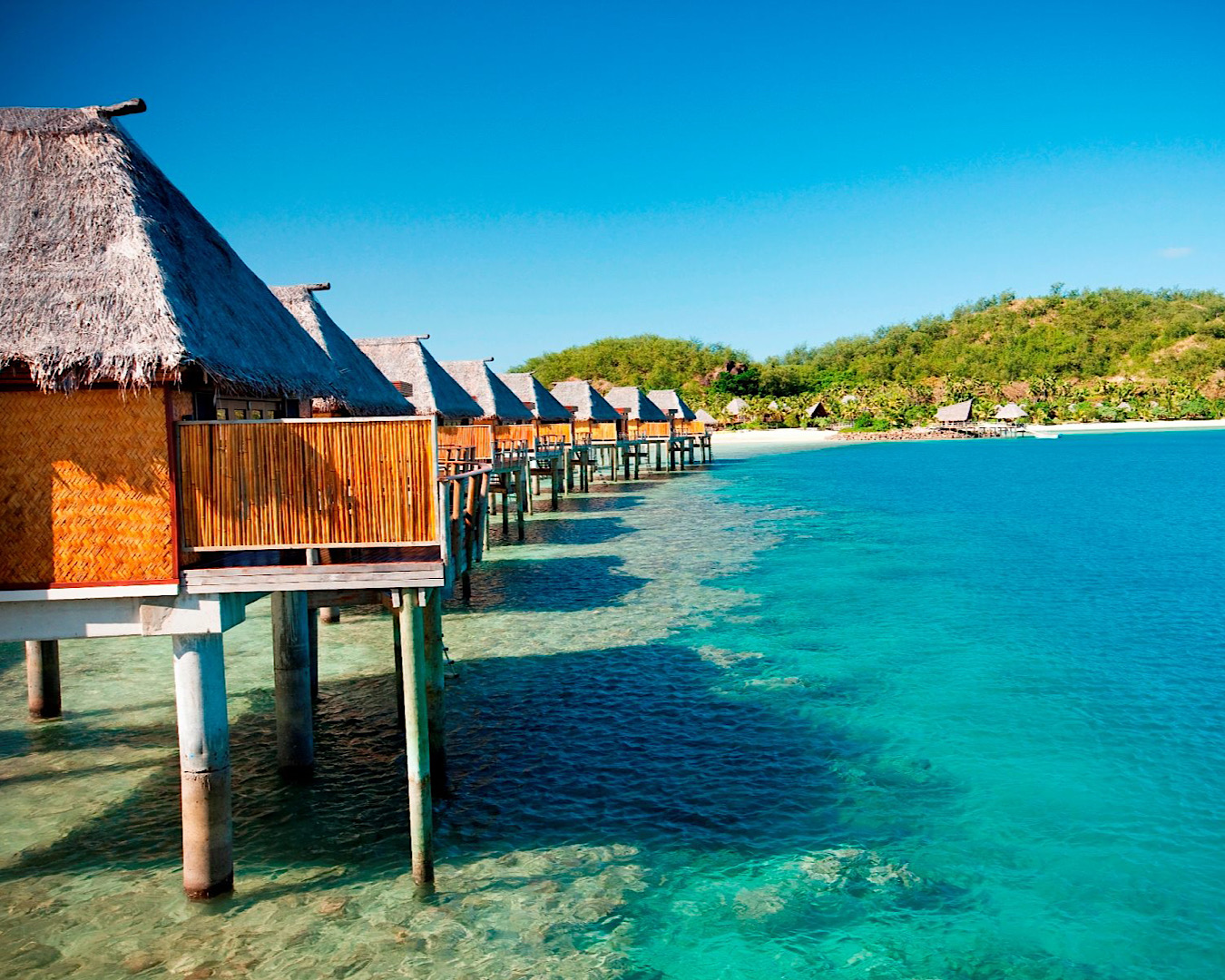 With there are many incredible resorts in Fiji, choosing where to go is the ultimate first world problem and Likuliku Lagoon Resort is only set to make that decision harder (sorry not sorry). That said, it's easy to see why Likuliku is one of the very best resorts in Fiji for couples.
Oh so stunning, the authentic overwater bungalows at Likuliku's natural ocean lagoon are next level. Named after calm waters, this adults-only spot is the ultimate couple's getaway. Located on the northeast corner of Malolo Island, the ancient village-style resort fully honours the natural beauty of its surroundings. The on-site Fijiana Restaurant features a mouthwatering array of dishes focused on local seafood and fresh, tropical ingredients.
Matamanoa Island Resort
Mamanucas
You'll find Matamanoa Island Resort amongst Fiji's Mamanuca Islands, about 30 kilometres west of Nadi International Airport. Perched on a palm-tree covered volcanic cone surrounded by magnificent coral reefs Matamanoa Island Resort is the perfect setting for a holiday.
Relax by the infinity pool, play tennis, unwind in the treetop spa, learn palm weaving and go kayaking or scuba diving, or just enjoy a beachside 'Frangipani Flower' cocktail with white rum, vodka, banana liqueur, apricot liqueur and orange/mango juice.
And while we're hitting you with a load of bougee accommodation options, Matamanoa Island Resort, which opened in April 2022, includes some more affordable options as well.
Royal Davui Island Fiji
Beqa Lagoon
This list is teeming with exclusivity and privacy for your holidays and Royal Davui Island Fiji is no exception. This little (but luxe) island sits in Fiji's Beqa Lagoon, south of the mainland, and only offers 16 villas and bungalows, each with unique water views, plunge pools, outdoor decks and a true sense of privacy.
If there's a standout activity at this resort, it has to be the Sand Cay beach picnics—a tidal island you can boat to in seven minutes for a remote, romantic picnic with total privacy. Take note that there's a five-night minimum to stay at the resort so prepare for a week of utter bliss.
Best Resorts In Fiji For Honeymoons
Yasawa Island Resort & Spa
Yasawas
There are apparently 15 different words for 'heaven' in the Fijian language with 'yasawa' being the first and we're delighted to confirm that Yasawa Island Resort & Spa is aptly named. With only 18 luxury bungalows tucked away amongst the island's stunning beauty, it's also one of the most private getaway spots making it one of the best resorts in Fiji for loved-up honeymooners.
Start your stay by experiencing a traditional Kava welcome ceremony, communally making the country's national drink by crushing the root of the yaqona root. Then partake in the beachfront spa, explore one of the 11 private beaches, swim in the Blue Lagoon Caves, sit down for a private picnic, or visit the nearby village of Bukama and immerse yourself in local culture. It's truly heaven-sent.
Coconut Beach Resort Fiji
Yasawas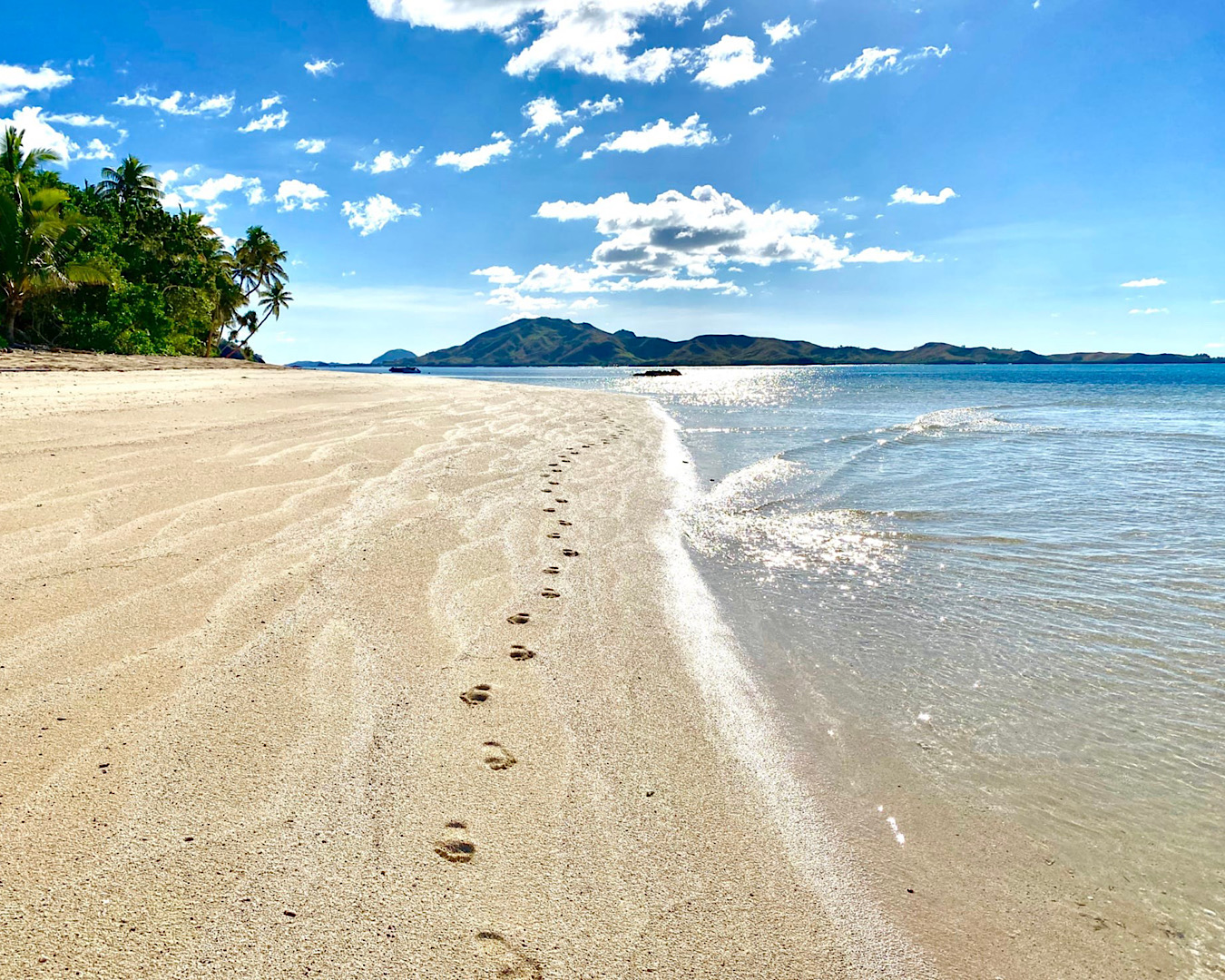 Set amongst a coconut grove, lagoon-side in the Yasawa Islands, Coconut Beach Resort Fiji is as blissful as they come, and with only 11 guest burees you're guaranteed a serene stay. If you can pull yourself away from bae's eyes (or other body parts) long enough to check out the island you'll find you can do just about anything under the sun. From snorkelling, kayaking and volleyball to coconut husking, guided hikes, sulu typing demos and Kava ceremonies; handline fishing, scuba diving, visiting the famed Sawa-I-Lau Caves, and more.
Tokoriki Island Resort
Totoriki Island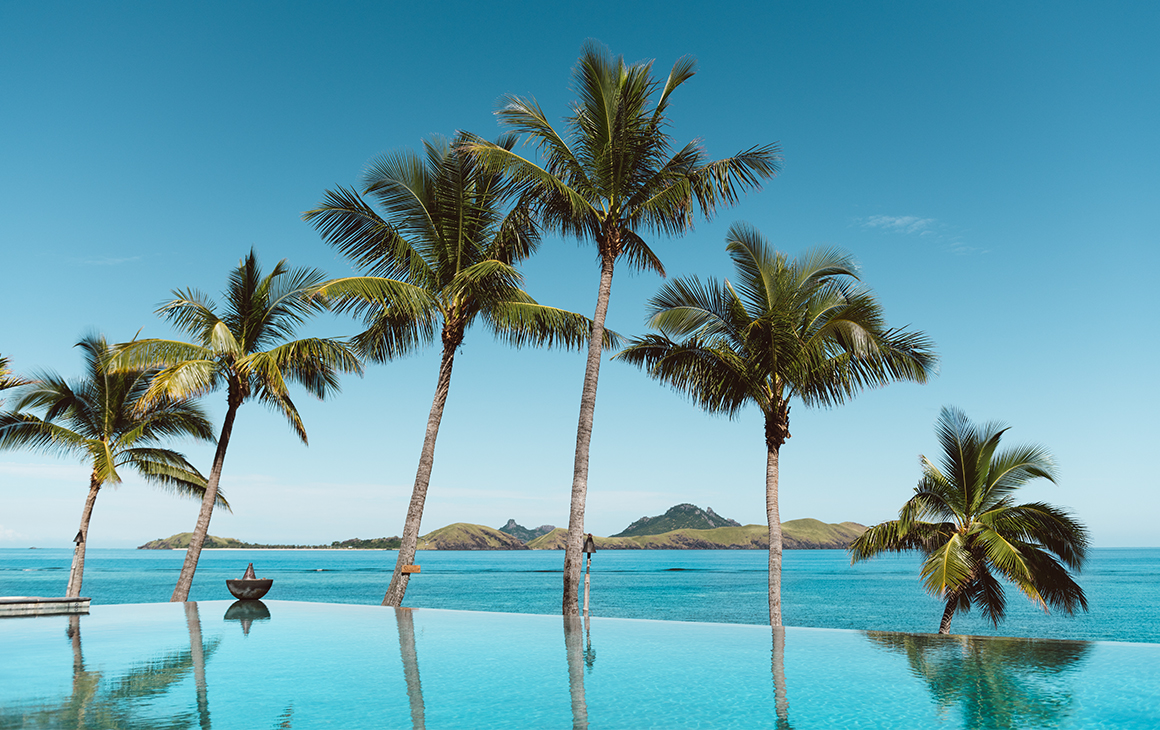 Voted the #1 hotel in the South Pacific by Trip Advisor in 2021, Tokoriki Island Resort is the stuff dreams are made of. You can access the award-winning luxury resort by speedboat or catamaran, but the ultimate honeymoon deserves a splurge on a helicopter or seaplane.
Your home away from home will take the form of a beachfront bure or villa; we recommend nabbing the one with a private pool. One of the best resorts in Fiji for honeymooning, you'll spend your days relaxing with a couple's pamper or daily massage package, getting romantic with a private beach picnic, dine teppanyaki or privately and a la carte with oceanfront views, or adventuring to your heart's content paddle boarding, kayaking and scuba diving.
Best of all this is an adults-only resort so you can rest assured there'll be no screaming children to rattle your zen.
When it comes to your next adventure, Flight Centre is your perfect partner for letting you book your way with ease. With deals for everyone on flights, accommodation and packages, book now instore, online or via the app. Now you've booked your accommodation, check out the best things to do in Fiji.
Editor's note: Urban List editors independently select and write about stuff we love and think you'll like too. Urban List has affiliate partnerships, and if you purchase something through the links in this article, we will earn a commission from those partners. Additionally, this article is sponsored by Flight Centre and proudly endorsed by Urban List. To find out more about who we work with and why read our editorial policy here.
Image Credit: VOMO Island Fiji, Nanuku Resort Fiji, VOMO Island Fiji, Jean-Michel Cousteau Resort Fiji, Six Senses Fiji Resort, Kokomo Private Island Fiji, Como Laucala Island, Sheraton Fiji Golf & Beach Resort, Radisson Blu Resort Fiji, Sofitel Fiji Resort & Spa, Castaway Island, Fiji, Likuliku Lagoon Resort, Matamanoa Island Resort, Royal Davui Island Resort, Yasawa Island Resort & Spa, Coconut Beach Resort Fiji, Totoriki Island Resort.