International travel might be banned right now, but our wanderlust isn't. In fact, it's only growing bigger every day. Fortunately, we've got a huge, glorious country to explore. From the red centre to sugar white sand beaches, there's so much to see and do.
Not sure where to start? That's where we come in. Check out the best destinations to visit in Australia.
Arnhem Land
Perched at the very top of the Northern Territory lies Arnhem Land, a region that is simply stunning. Largely untouched, it remains one of Australia's last true wilderness areas with remote islands, jaw-dropping rainforests and savannah woodland. Arnhem Land is home to two Indigenous groups. The Aboriginal people of East Arnhem Land are called the Yolngu; their land is known for being one of the best fishing destinations in the world. Our tip? Grab your mates and join a deep-sea fishing charter or cruise inland on a tidal estuary in search of the famous barramundi. You might even spot some saltwater crocodiles. On the western side of Arnhem Land is Gunbalanya (Oenpelli). Call in to see artists at work and to buy baskets and paintings at the famous Injalak Art and Craft Centre. There are tours led by an indigenous guide to Injalak Hill to see ancient rock art and hear Dreamtime stories. And you have to join a bush tucker tour and learn how the indigenous people live from the land. FYI: To visit Arnhem Land you need a permit from the Northern Land Council. To ensure you don't get caught out, plan ahead and apply for a permit at least 10 days in advance—or join an organised tour with an operator who has permission to enter the region.
Kangaroo Island
Kangaroo Island, located off the coast of South Australia but seemingly a world away, was one of the worst hit areas by the summer bushfires. Our hearts collectively broke watching the pristine island filled with native bushland and wildlife ravaged by the fires—of the 440,500 hectare island, approximately 211,000 hectares were affected. And now the island needs your help. Many businesses are in recovery mode asking Aussies to holiday here when lockdown is over to help boost tourism. But honestly, even if they didn't need our help we'd be telling you to go visit, this place is pure magic. Often referred to as a 'Zoo without Fences', Kangaroo Island has offered protection to substantial wild populations of native Australian animals and boasts 509km worth of dreamy coastline. Think soaring cliffs, towering sand dunes, the bluest of blue ocean and bone white sand. Activity-wise there's something for everyone—you can get your adrenaline pumping with sandboarding or quad biking, fill your tummy at the many cellar doors and farmers markets and you can work it all off with 23 different hikes on offer. Yep, this place is absolutely one of Australia's must visit destinations for 2021.
Broome
Set on the Indian Ocean at the top of Western Australia, put Broome on your must-visit list immediately. Rich in multicultural heritage, The Yawuru (pronounced Ya-roo) people are the native title holders of Broome and surrounding areas, making this sacred land one to be respected and treasured. It's packed with some of the most beautiful spots in Australia, and an absolute non-negotiable on a trip here is a few days spent at Cable Beach. Sitting at 22km long, picture turquoise waters, uncrowded shores, palm trees and a stunning red-dirt backdrop. Hopping on a sunset camel ride across the golden sand here is a must and makes for the perfect 'gram shot. You'll also want to check out Reddell Beach for its dreamy red rocks which come alive at sunset, and you should definitely embark on a cruise to a local pearl farm for a peek inside Broome's history as the pearling capital of Australia (and maybe pick yourself up a little treat). Only heading there for a weekend? We've got you covered with our ultimate 48-hour guide.
Cabarita
If you love Byron but prefer a slightly sleepier pace of life, then you'll want to add this beachside babe, located in NSW's northern rivers region, to your travel plans stat. Despite being recently voted as having the best beach in the country by Australian Tourism, this glorious stretch of coastline remains relatively quiet. Apart from a few locals and their adorable dogs cruising the beach, you can almost claim this piece of paradise for yourself. Filled with sweet boutiques and tasty dining spots like hatted Paper Daisy, you can really treat yourself here. Check into beachside digs, Halcyon House for a truly baller weekend. You can zen out at their award-winning spa, get them to set you up a romantic picnic on the beach or you can sip cocktails by the pool—whatever your jam is, they've got you. If you want to bring your whole crew—and you will want to after all this physical distancing—check out 'grammable glamping spot The Hideaway. Just a short stroll to the beach these tepees are filled with modern luxuries, like king size beds, bar fridge and air con. It's the epitome of living your best life.
Stanthorpe
Despite how this list is shaping up, it's not just an ocean getaway we're craving but a visit to country Australia too, and it doesn't get more picturesque than Queensland's Stanthorpe. Yep, where those tasty apples come from. Nestled in the heart of the Granite Belt, Stanthorpe was founded by tin miner's way back in the 1870s, so you know this place is rich in history. Think big sky panoramas and postcard perfect countryside dotted with prehistoric granite boulders that stand tall and proud. Yep—it's a rare beauty that has to be seen in real life. Thanks to its unique microclimate and granitic soil, the region is perfect to growing apples (obvs) but also berries, pears, stone fruit and figs. But perhaps our fave part is their growing wine and beer industries. Check out the Strange Bird alternative wine trail and sip on tipple like viognier, mourvedre and tempranillo. Beers lovers will be spoilt for choice with a bunch of microbreweries serving locally brewed beers on tap like pilsners, red pale ales, porter and wheat beers. For a dose of the great outdoors, scope out the walking trails in Sundown National Park and Bald Rock National Park.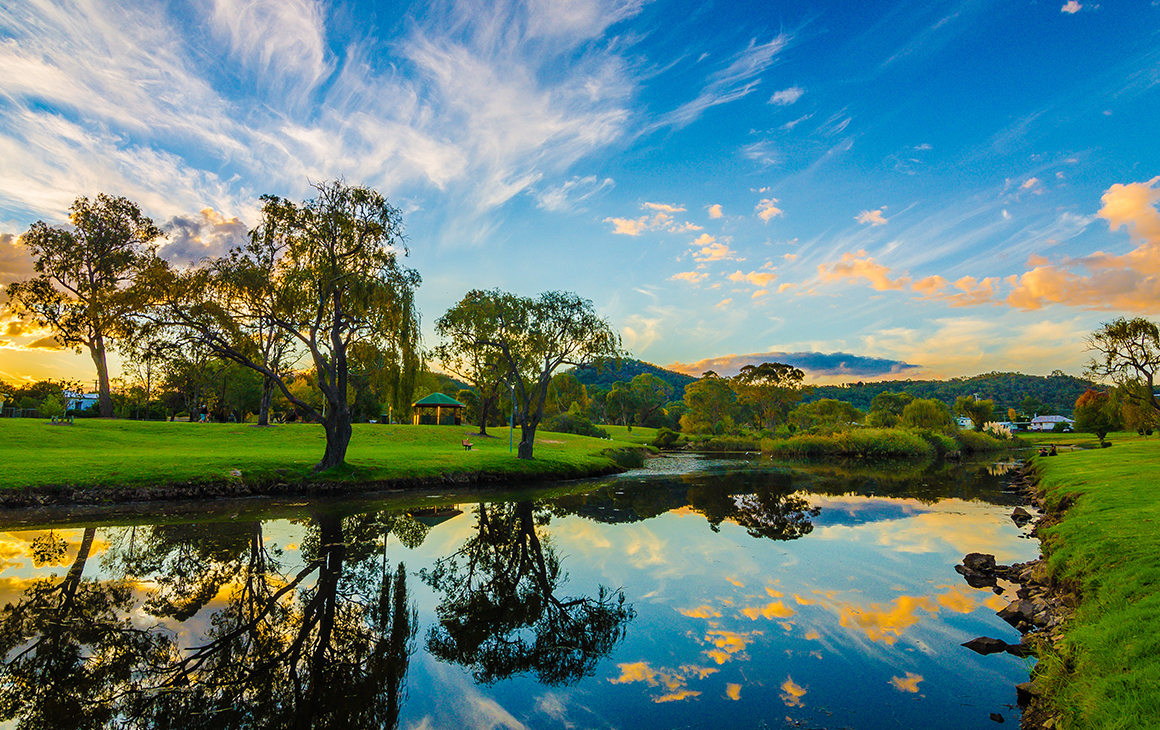 Tasmania
We're always shocked when we meet someone who hasn't yet paid a visit to Tassie. While it's beautiful all year round, we're partial to a winter trip to the Apple Isle. Picture this: You cosied up by the fire, sipping mulled wine in your winter woollens and devouring the many gourmet wonders the island dishes up. For us, Tassie is all about living your life, so treat yourself with a luxe escape at one of these lush lodgings. When you hit peak zen levels, it's time to explore the island's stunning outdoors. Make a beeline for the South Arm Peninsula and prepare to have your mind blown by Australia's very own version of the Northern Lights, Aurora Australis (AKA Southern Lights). For more nature goodness, do the Tahune Forest Airwalk, take in the tallest waterfall, Montezuma Falls, and get the ultimate 'gram pic at Australia's biggest lavender farm.
Lord Howe Island
There's a reason this incredible island was voted one of the travel destination for 2020 by Lonely Planet. Looking like something straight out of Jurassic Park, this 14sq km island located more than 600km off the NSW coast is full of untouched natural beauty. Our advice? Rent a car (the speed limit here is 25km/hr) and explore the island's World Heritage-listed sites, from rainforest-clad volcanic mountains to fern-laced gullies. Must-dos–aside from drinking cocktails and taking in the sunset from the beach—include tackling Mt Gower. The island's highest mountain clocks in at 875 metres high and takes around eight hours to traverse but the stunning views are totally worth it. Next, cool down with a spot of snorkelling at Erscott's Hole on the north-east of the island—it's home to 500 fish species and 90 types of coral. And FYI: the permanent population of the island is 360 people who enforce a quota of 400 visitors at any given time—that means you'll have this slice of paradise to yourself.
Bowen
The Whitsundays is a literal paradise but if you're planning a visit—and you really should be—we recommend hitting a more under the radar part of the popular Queensland island. Bowen sits at the top of the Whitsundays, just 40 minutes' drive north from Airlie Beach with untouched beaches, beautiful bays and the perfect tropical climate for a holiday. This sweet spot is one of the undiscovered treats of Queensland and has eight palm-fringed beaches to choose from. Our advice: Grab your towel and a good book and make a beeline for Horseshoe Bay, Bowen's most iconic beach. It's framed by two granite outcrops which provide a haven for a range of colourful fish and coral, making it the perfect place for a spot of snorkelling. You can rent equipment can be hired from the nearby Horseshoe Bay Resort. Bowen is famous for their fresh seafood, so be sure to treat yourself to some classic fish and chips at Bird's Fish Bar. Finally, at low tide, walk out to the North Head Lighthouse where you'll spot feather stars, green sea turtles and giant red starfish.
Lorne
Can't get the idea of sipping ouzo by the Mediterranean out of your head but also want to support the Aussie tourism industry? Why not give Lorne a try instead. Located just a scenic two-hour drive from Melbourne, this coastal town is Australia's very own slice of the Mediterranean, helped along by a thriving arts community and beach views to die for. The beach is peppered with rock pools while the iconic Lorne Pier is the perfect spot for keen anglers to let a line loose. If you can tear yourself away from the beach for long enough, Lorne's main shopping strip boasts a sweet collection of boutiques and drool-worthy restaurants worthy of any Instagram feed. Just don't forget to head up to Teddy's Lookout in between all that relaxing for truly 'gram worthy views.
Want more travel inspo? Check out the eight dreamy destinations overseas that we're lusting over.
Image Credit: Brooke Darling, James Stone, Matt Palmer, Tourism and Events Queensland, Jewels Lynch, Tourism NT/Rachel Stewart, Lauren Bath, Megan Spooner