Soul food has ruled the waistlines of millions of people around the world since the beginning of time. If for some mind-bending and wail-inducing reason you don't know what we're talking about, think collard greens, mac 'n' cheese and of course the holy grail, fried chicken. In our minds (don't come for us), chicken and waffles are the crowned jewel of all that is soul food.
Not from Louisiana but instead from a metropolitan city in south east Queensland? We've got the hookup of the best spots to find chicken and waffles right here in Brisbane, so scroll on.
Bourbon Street
South Bank
Chicken and waffles for dinner? Yes. Please. Bourbon Street may not be open for breakfast, but that doesn't stop them from dishing up the Louisiana classic (though they are open for lunch on weekends if you're too weirded out by waffles for tea). Served up with maple syrup, Cajun mayo and honey mustard, they'll transport you straight to New Orleans.
Halo Ground
Fortitude Valley
Halo Ground is making some serious waves in the brunch scene, and you need to stop in for their Cock Waffle in all its umami glory. Perched atop a fluffy sweet potato waffle sits Japanese-style fried chicken, a poached egg and a generous combo of house-made wombok slaw and house fermented kimchi. Sure, it's leaning more towards the 'lunch' end of brunch but we ain't complaining.
Andonis Cafe
Yeerongpilly, Yeronga And Fortitude Valley
Chicken and waffles with the lot are what you'll find at Andonis Cafe, perfect for first timers to the heart attack-inducing stack. The lineup: crunchy-on-the-outside-soft-on-the-inside Belgian waffles topped with a tower of crispy, juicy cereal-crumbed fried chicken. Not content with just one kind of protein, they've also gone and added bacon, poached eggs and haloumi for good measure, all of it drizzled with truffle mayo and maple syrup. Picture that being assembled in slo-mo cause we sure are.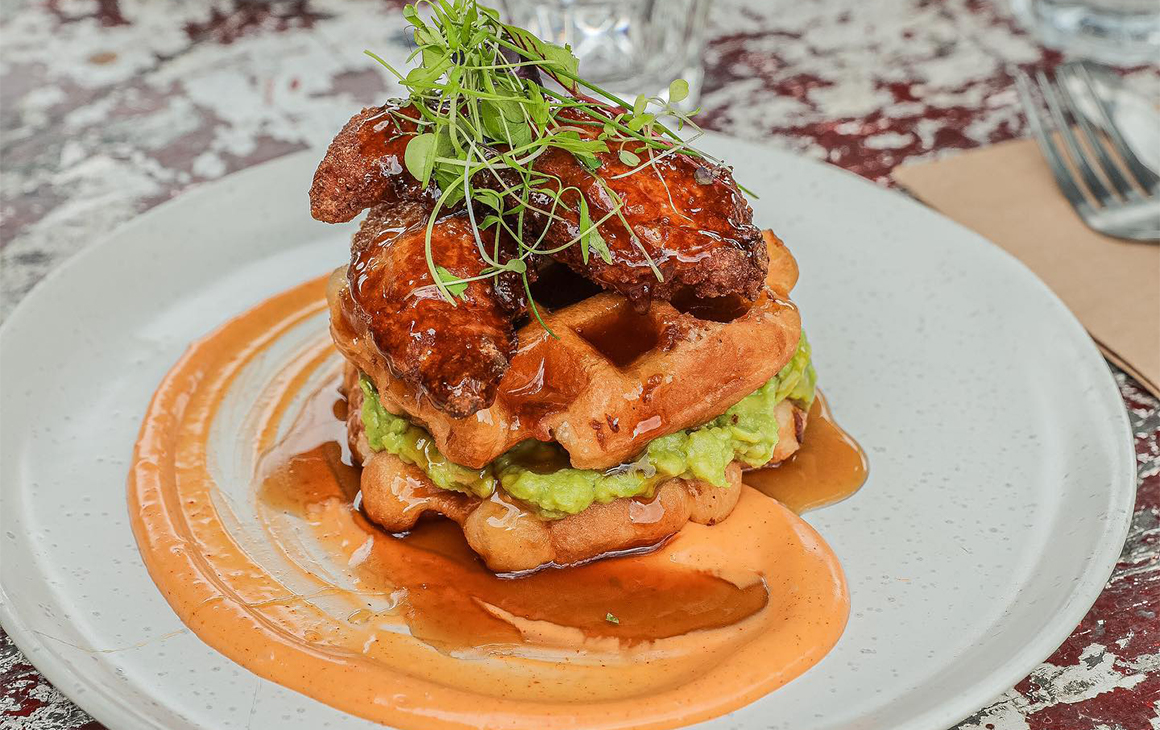 My Mistress
Clayfield
Almost as erotic as an actual striptease, My Mistress at Clayfield serves their chicken and waffles under the name 'Strip Tease'. Baked waffles are the foundation this time with ultra crispy buttermilk chicken and a bit of smashed avo and chilli mayo. Okaaaay, we see you. Of course, the whole ensemble is drenched in a generous splash of maple syrup.
Blockhouse
Nundah
We love a cafe that mixes things up with each new menu change, so enter Blockhouse's everchanging chicken and waffles, which adopt a different take every season. This time around it's all about a jalapeno cheddar waffle instead of the traditional Belgian, crowned with fried chicken and pickles and slathered with hot sauce aioli. Surely that's the definition of brunch.
The Rabbit Hole Cafe
Wynnum and Seven Hills
Want to devour chicken and waffles but feel kind of like you're being healthy? Head for The Rabbit Hole Cafe, where you'll find their stack healthified with the addition of kale and apple slaw. Don't worry, it still has all the good stuff though, including maple bacon, jack cheese, sriracha kewpie mayo and maple syrup.
Kettle & Tin
PADDINGTON
Anyone who's ever had a brief stint of calling Paddington home knows that Kettle & Tin will welcome you with one arm open for a warm hug and a delicious feed ready for you in the other. Their addition to this roundup is no different. Savoury brunch people this one's for you—a sweet waffle is replaced with a herbed one, topped with a double battered chicken thigh coated in the maple sriracha and the secret sauce of your dreams. Did someone say hangover cure?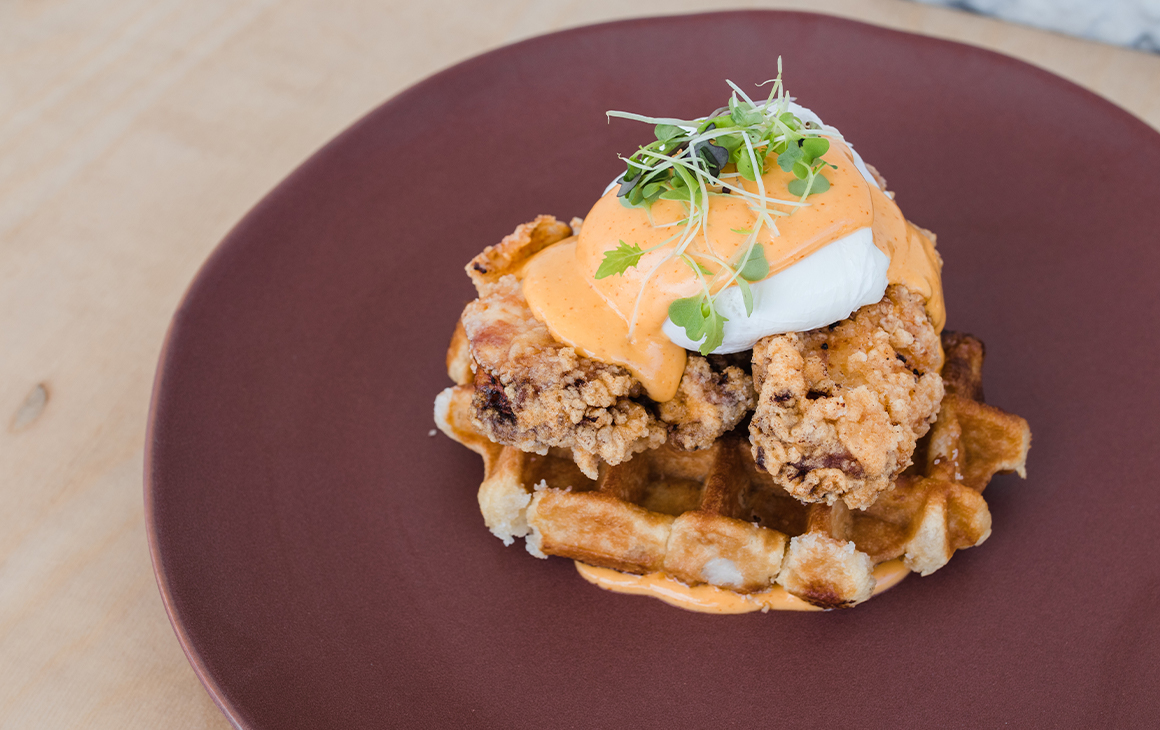 Bear Boy Espresso
Windsor
For those who want their waffles with a side of 'grammable pastel interiors, we bring you the chicken and waffles from Bear Boy Espresso in Windsor. Your eggs benny gets an upgrade—swap out the soggy toast for warm and crisp sweet waffles jewelled with golden buttermilk chicken then a perfectly poached egg gloriously painted with truly decadent sriracha hollandaise. It's a sight to behold.
Rabbit & Co
Coorparoo
Don't mind the name, you won't be munching on rabbit food here. Instead, you'll be tucking into Rabbit & Co's crispy chicken waffles with kale and apple slaw, maple bacon, jack cheese, Sriracha kewpie and maple syrup. Sweet, spicy and all sorts of delicious.
Lady Marmalade
Stones Corner
Ok, so technically Lady Marmalade's confit duck on a chilli corn bread waffle isn't chicken, but we don't discrimate against fowls here. One of their signature dishes for eons, the dish features confit duck Maryland with pecan butter, a fried egg, candied pecans and a maple and chilli sauce (on the side so you can control the pour) served on a chilli cornbread waffle.
Find more of the best cafes in Brisbane right here.
Image credit: Bourbon Street, Ranyhyn Laine, My Mistress