Soul food has ruled the waistlines of millions of people around the world since the beginning of time. If for some mind-bending and wail-inducing reason you don't know what we're talking about, think collard greens, mac 'n' cheese and of course the holy grail, fried chicken. In our minds (don't come for us), chicken and waffles are the crowned jewel of all that is soul food.
Not from Louisiana but instead from a metropolitan city in south east Queensland? Mates, we've got the hookup of the best spots to find chicken and waffles right here in Brisbane, so scroll on.
Halo Ground
Fortitude Valley
Halo Ground is making some serious waves in the brunch scene, and you need to stop in for their Cock Waffle in all its umami glory. Perched atop a fluffy sweet potato waffle sits Japanese-style fried chicken, a poached egg and a generous combo of house-made wombok slaw and house fermented kimchi. Sure, it's leaning more towards the 'lunch' end of brunch but we ain't complaining.
Brooklyn Depot
South Bank
Textbook chicken and waffles are what you'll find at this South Bank establishment, perfect for first timers to the heart attack-inducing stack. The lineup: crunchy-on-the-outside-soft-on-the-inside Belgian waffles topped with a tower of crispy, juicy fried chicken and drizzled with maple syrup cream and a dusting of icing sugar for the finale. Picture that being assembled in slo-mo cause we sure are.
Plentiful
Graceville
Not content with dishing up just any old chicken and waffles, Plentiful has gone and given the dish an epic twist, with popcorn chicken served atop a, wait for it, croissant waffle. Oh yes. Then they go and pile it with a poached egg, chipotle hollandaise, jalepeno maple, toffee walnut and fresh melon, just to break things up.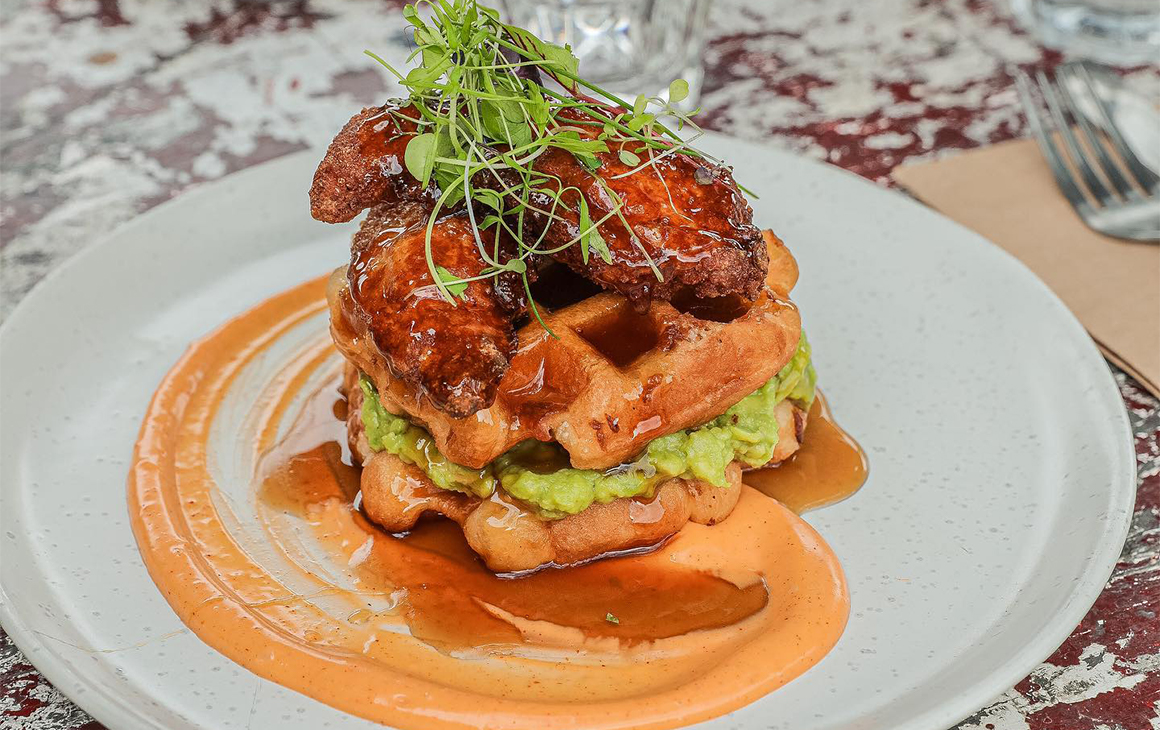 My Mistress
CLAYFIELD
Almost as erotic as an actual striptease, My Mistress at Clayfield serves their chicken and waffles under the name 'Strip Tease'. Baked waffles are the foundation this time with ultra crispy buttermilk chicken and a bit of smashed avo and chilli mayo. Okaaaay, we see you. Of course, the whole ensemble is drenched in a generous splash of maple syrup.
Blockhouse
Nundah
We reckon adding Asian flavours and influences to pretty much anything makes it better, so enter, Blockhouse's Asian fusion chicken and waffles. The base is a little different, with a turmeric coconut waffle instead of the traditional Belgian, crowned with koji fried chicken and slathered with lemongrass and sriracha maple. Surely that's the definition of brunch.
Piggy Back Cafe
JINDALEE
The only thing better than regular fried chicken on waffles? Popcorn fried chicken on waffles. That's just what you'll find on the menu at Piggy Back Cafe, with a bed of spring onion waffles topped with a fried egg, green shallots, sriracha mayo and of course, those crispy house made chicken bites.
Chapter IV
Paddington
Perhaps the most epic waffle stack, or skyscraper rather, on this list is the one that calls Chapter IV home. This heavyweight goes by the name of the Maple Waffle Stack and a stack it is. Perfect waffles are topped with smoky bacon ice cream, ranch dressing and American liquid Cheese. A couple of out-of-this-world crispy chicken skins and bacon bits perch at the very top finish it off. There's no way we can do this justice with just words, you just need to go and try it for yourself.
Morning After
West End
If you haven't been to Morning After in West End yet, what have you even being doing with your Sunday mornings? Absolutely everything here is on point and the kimchi waffles on the menu are no different. Made-to-order kimchi waffles are the bed that crispy chicken luxuriously lies on before it gets anointed with honey and chilli sriracha, and topped with a fried egg and lemon labneh. Drool.
Rabbit & Co
Coorparoo
Don't mind the name, you won't be munching on rabbit food here. Instead, you'll be tucking into Rabbit & Co's crispy chicken waffles with kale and apple slaw, maple bacon, jack cheese, Sriracha kewpie and maple syrup. Sweet, spicy and all sorts of delicious.
Bear Boy Espresso
Windsor
For those who want their waffles with a side of 'grammable pastel interiors, we bring you the chicken and waffles from Bear Boy Espresso in Windsor. Your eggs benny gets an upgrade—swap out the soggy toast for warm and crisp sweet waffles jewelled with golden buttermilk chicken then a perfectly poached egg gloriously painted with truly decadent sriracha hollandaise. It's a sight to behold.
Given Kitchen & Bar
Paddington
Another morning spot that's discovered the joys of turning croissants into waffles is Given Kitchen & Bar, who use them as the base of their karaage chicken benny. Pile up with two poached eggs, karaage chicken, sriracha hollandaise and sautéd kale, you're also given the option to swap the karaage chicken out for pork belly—but then it wouldn't be chicken and waffles, would it?
Kettle & Tin
Paddington
Anyone who's ever had a brief stint of calling Paddington home knows that Kettle & Tin will welcome you with one arm open for a warm hug and a delicious feed ready for you in the other. Their addition to this roundup is no different. Savoury brunch people this one's for you—a sweet waffle is replaced with a herbed one, topped with a double battered chicken thigh coated in the maple sriracha and the secret sauce of your dreams. Did someone say hangover cure?
Find more of the best cafes in Brisbane right here.
Image credit: Nelson Zambrero, Ranyhyn Laine, My Mistress