While the beginning of winter for the rest of the world might mean rugging up at home and kissing the outdoors goodbye, Brisbaneites are blessed with nothing but blue skies and balmy temps.
And you know what that means? Picnic time! But not all Brisbane parks are made equal for perfect picnicing, so where do you even start looking for the best picnic spot to lay out your blanket in? Don't worry, we've got your back with our pick of gorgeous Brisbane parks that will more than fulfil your picnic-related needs.
So pack up your favourite picnic snacks (read: cheese) and take your pick of the best parks in and around Brisbane for a picnic.
City Botanic Gardens
Brisbane CBD
Open since 1855, the stunning City Botanical Gardens has been the perfect meeting place for over a 160 years. With dozens of walkways and plenty of open grassy spaces—perfect for pulling up stumps for a picnic, no?—kick back and lounge among the ancient fig and palm trees, away from the hustle of the CBD.
Newstead Park
Newstead
If a picnic under an antique pagoda with killer river views sounds like your kind of jam, Newstead Park will certainly not disappoint. With enough lush green grass and towering trees to make even the most adamant hater of the concrete jungle feel at home, Newstead Park is basically a slice of nature just waiting for a picnic to happen. Grab some crackers and dip, pack your best chequered blanket, and make sure you bring enough nibbles to last an afternoon. What a life.
Wilson's Outlook
New Farm
Well-known as a stunning photography location for those wanting to capture the lights of our fair city, Wilson's Outlook also double as a ridiculously gorgeous picnic spot with jaw-dropping views over Brisbane. Our suggestion? Pack all your goodies and head to the outlook in the late afternoon so you can kick back and enjoy the sunset over the city.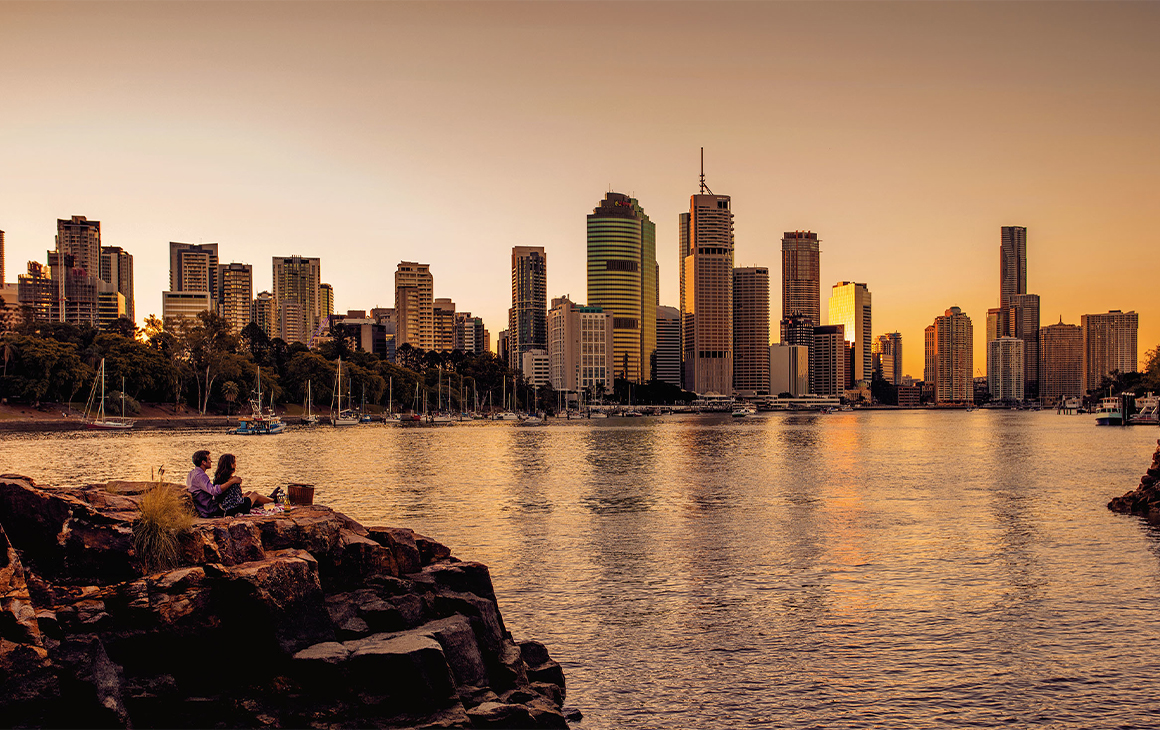 Kangaroo Point Cliffs
Kangaroo Point
Don't let the droves of exercise hungry folk put you off; the views alone from the top are magnificent, but at the botom of the Kangaroo Point Cliff stair is a beautiful walkway with dozens of grassy spots to stop and prop. With plenty of shade, you'll have absolute riverside views as you tuck in to your picnic. Easily one of Brisbane's best picnic spots.
Orleigh Park
West End
Contrasting the greenery of a lush park against the, well, brown of the Brisbane river, West End's Orleigh Park is a solid picnic option for all you southsiders. With outdoor gym equipment and a playground, Orleigh Park is perfect for those of you who want to do something a little more active after having your fill of delicious picnic food. Stake out a spot underneath one of the massive Moreton Bay figs and watch the afternoon drift lazily by as you let go of the pressures of modern life.
Roma Street Parkland
Brisbane CBD
A guide to Brisbane's best picnic spots wouldn't be complete without Roma Street Parkland on the list. In summer this slice of natural paradise is transformed into a sea of brightly coloured flowers and outdoor music gigs. In winter it provides the perfect place to lay back and soak up that precious Vitamin D. There's even snacks and cheese boards to be had at The Garden Room, the parklands on site cafe, just in case you forget to stock up in advance.
Mt Coot-tha Reserve And Botanical Gardens
Mt Coot-tha
The lookout point may steal a lot of Mt Coot-tha's thunder but you don't need to climb quite so high to find a great picnic spot. Head for the Botanical Gardens at the base and settle in the shade of one of the many Poinciana trees or set up camp in the Japanese Garden and prepare for an afternoon of horticultural picnicking. Or, if you prefer to feel like your away in the bush, Mt Coot-tha Reserve features plenty of grassy space bordered by a trickling creek, with trails to hit before or after your picnic feast.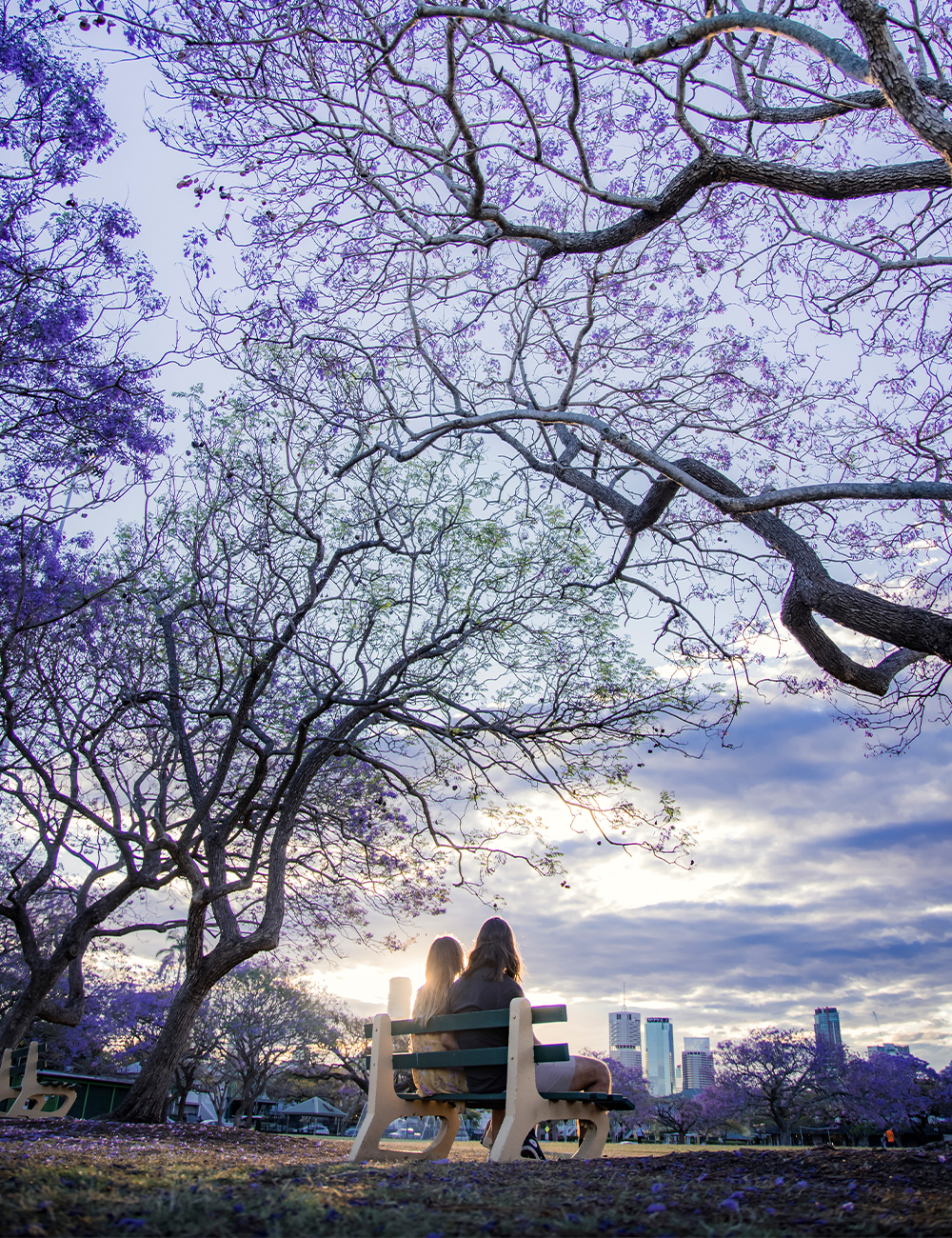 New Farm Park
New Farm
New Farm Park is an oldie but a goodie for a very good reason. Every jacaranda season this river-side swathe of greenery is blanketed in purple petals that not only make for some killer Instagram shots but also serve as a background to one swanky picnic. With the Powerhouse on one side and a fantastic dog park on the other, New Farm Park has something for every member of the family—including a grassy area by the river where it's totally legal to drink outdoors. Hello boozy afternoon.
Rocks Riverside Park
Seventeen Mile Rocks
Rocks Riverside Park is one of those places that continues to baffle us that people don't know about yet. Set on the river in a secluded pocket of Seventeen Mile Rocks, amongst relics of a former industrial park, Rocks Riverside has sprawling lawns, a waterpark for kids, and even some short bush walking tracks. Set your picnic blanket up by the river and call it a day, folks.
Wynnum And Manly Foreshore
Wynnum
Fancy a day by the sea, but don't feel like schleping it to the Gold or Sunny coasts? You're best bet is to pack a goodie bag (cheese and wine is compulsory picnicing fare) and a soft blanket then to plonk yourself underneath the trees that line the Manly and Wynnum foreshore. Just remember to apply the SPF.
Victoria Park
Herston
We'll be waiting a while yet for the full upgrades to Victoria Park, but in the meantime, the massive ex-golf course is now closed to golfers and instead open to grass-seeking picnicers and strollers. Huge wide open spaces split by pockets of trees are yours for the taking, and you definitely won't have to fight over shady spots here.
Looking for a more strenuous activity? Check out Brisbane's best urban walks.
Image credit: Tourism and Events Queensland/Richard Greenwood