Combining a crunchy golden coating with juicy chicken (or pork, you do you), the schnitty is a staple available in pretty much every pub in Australia.
A little more humble than its dressed-up cousin the parmy, schnitties range from lekker German-style iterations to mod versions covered in Japanese panko crumbs, served with bistro-style salads, and drizzled with more sauce options than you could poke a chip at.
Let's crack on—here's where Urban List readers reckon you'll find Brisbane's crunchiest, juiciest schnitzel to pair with a cold one.
Brisbane German Club
Woolloongabba
Nestled in the shadow of the Gabba, the Brisbane German Club is a haven for those looking for a little slice of Deutschland life, so it goes without saying that their schnitty is worth a go. Their restaurant, Zum Kaiser, is plating up both chicken and pork schnitzels, both absolutely begging to be paired with the must-try smoked beer gravy.
Story Bridge Hotel
Kangaroo Point
One of Brisbane's most iconic pubs, our readers showered us with nominations for the Story Bridge Hotel's golden schnitty (which we have on good authority is their #1 selling dish). The schnitzel at this family-owned pub is a panko-crumbed chicken breast served with mushroom sauce (classic) and your choice of mash and veggies or chips and slaw.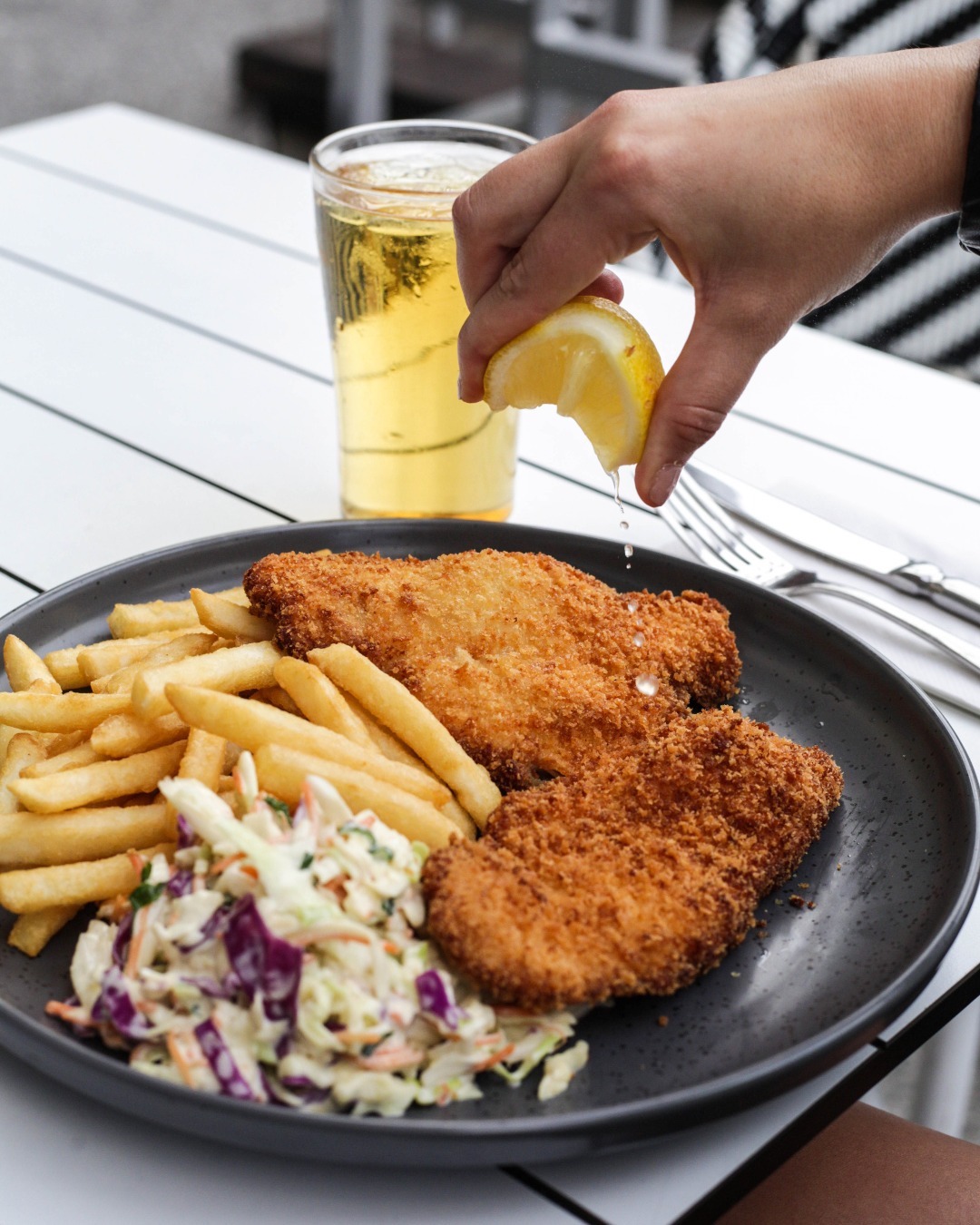 Streetcorner Jimmy
Teneriffe
Styled after an old-school English pub, Streetcorner Jimmy's menu offers an eclectic array of bites for all occasions. Their Big Chicken Schnitty comes with creamy house slaw, fries and gravy, and goes for a 20 every Schnitty Friday (so you have more cash to splash on a pint).
Brewhouse Brisbane
Woolloongabba
A charming brewpub with a massive menu, Brewhouse scores big points for offering a golden crumbed plant-based schnitty with the usual chips, salad or slaw and even vegan aioli. The regular chicken option ticks all the boxes, too. Maybe an option for a pre-show feed next time you're off to The Princess Theatre?
Crown Hotel
Lutwyche
Known for the upgraded pub menu they've been plating up since their reno in late 2021, the schnitty on the Crown Hotel's menu is well worth a visit if you're on the northside. This one comes with a refreshing red cabbage and apple slaw, gravy, lemon and chips for the perfect combo of classic and contemporary. Whatever you do, start the meal with their fried haloumi bites with strawberry and balsamic.
The Bavarian
Brisbane City, Caxton Street and Chermside
If it's variety you're after, the range of schnitzels at The Bavarian cannot be beat. Their menu has an entire section dedicated to schnitties, offering the likes of the Jagerschnitzel (crumbed chicken schnitty with mushroom sauce and fries) and the Schweineschnitzel (a massive 300-gram pork schnitzel with cabbage slaw and fries), all best paired with a stein of the good stuff.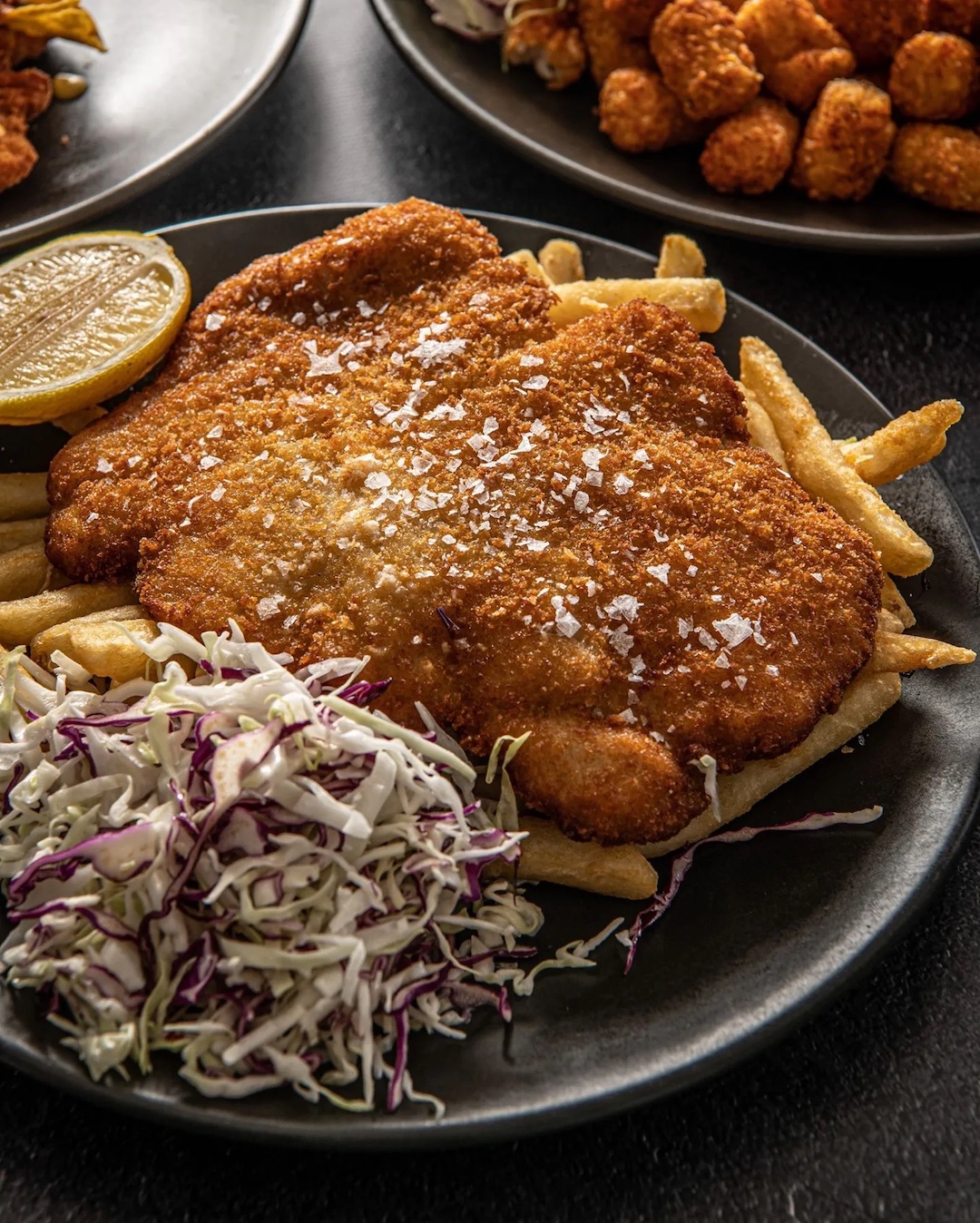 The Polish Club
Milton
Ready to be flooded with those European holiday mems? The sznycel z kurczaka at The Polish Club is a mega-crunchy chicken schnitty served with mushroom sauce, chips and salad that'll take you right back. Sample a Polish beer or spirit from the bar if you're really chasing some holiday feels.
The Oxford Taphouse
Bulimba
A cosy and relaxed watering hole on Bulimba's main street, The Oxford Taphouse's menu offers a range of pub classics and Asian-style snacks. Their classic chicken schnitty comes with slaw, rustic fries and beer gravy, and goes for $20 (or just $15 if you pay them a visit on Wednesdays).
Boundary Hotel
West End
A bit of a fancy take on the old schnitzel, The Boundary Hotel's chicken schnitty is dressed up in a herb and parmesan crust with fries, cos lettuce, aioli and lemon. Down one in their old-school public bar on Boundary Street, or head up the funky beer garden for some sunshine and good vibes.
Want more recommendations for Urban List readers? Check out their picks for Brisbane's best sausage rolls here.
Image credit: Story Bridge Hotel, The Bavarian