As the saying goes, there ain't no thang like a chicken wing. And we would have to agree. Ignoring the fact that this little hooked arm of party-food fame is largely so good because of its chicken skin-to-meat ratio, you really can't pass up wings. Whether they're fried, spice-rubbed, or marinade-glazed, we want wings, and we want them now.
If you've got a hankering for some saucy chicken, here's where to find the best wings in Brisbane, according to our readers.
Wing Fix
Coorparoo And Newmarket
You'll also find Wing Fix on our list of Brisbane's best burgers, but wings are the real MVP here—it's in the name, after all. Their signature American wings come in flavours of Southern fried chicken, buffalo, honey soy or Nashville hot, and you've got a choice of six different dipping sauces as well. Add on a side of fries and gravy and you're sorted.
King Of The Wings
Stafford
Once one of Brisbane's all time favourite food trucks, King Of The Wings now has their own permanent spot in Stafford and is churning out some of the finest chicken wings around the city on the daily. With traditional buffalo, honey chilli, BBQ and ever-changing special sauces, gorge on all the flavours—there's no playing favourites here, but if we had to pick, we hear the bee sting—a honey, sesame and sweet chilli combo—is the flavour to pick.
Bluegrass BBQ
New Farm, Albion And Brendale
Bluegrass BBQ's famous buffalo chicken wings come in five different delectable flavours of varying heat from Kansas City BBQ all the way up to the 3rd degree wings with extra burn. As well as choosing your flavour, you can decide whether to have them 'nekkid' (smoked and fried) or tossed in seasoned flour and fried, depending how crunchy you like things.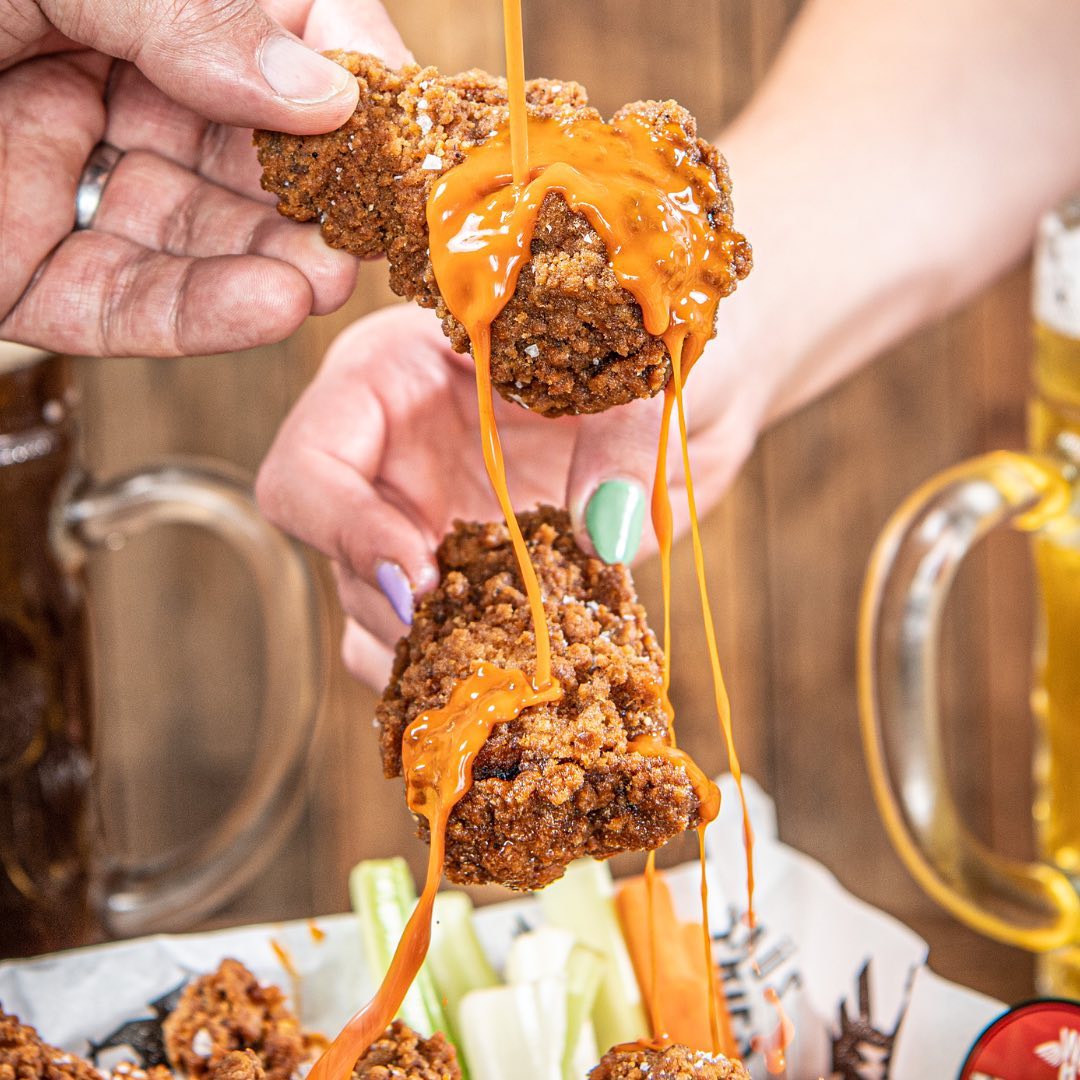 WingHAÜS
Brisbane CBD
From the same Sydney-based hospitality crew that gave us The Bavarian comes WingHAÜS—an ode to the American cult of all things wings, beer and big-screen TVs. At WingHAÜS, you'll have access to plates of sauce-heavy American-style wings—think classic buffalo wings and fried wings dished out in servings of 10, 15, 20, 50 and—if you're feeling just a bit hungry—a stacked plate of 100 wings.
KaiKai Chicken
St Lucia
KaiKai Chicken serves up ALL your favourite incarnations of the winged beast: honey soy, buffallo and Korean chilli, plus nine (yep, NINE) more delectable flavours of which honey butter is apparently the must-order. But the best bit? For just $25.90 you can rock up on an empty stomach and eat unlimited amounts of gloriously crispy fried chicken as part of their bottomless buffet. Add to that unlimited sides—we're talking multiple flavours of loaded fries, mash and gravy and steamed rice—and we'd recommend wearing something comfortable.
Big Roddy's Rippin Rib Shack
South Brisbane And Fortitude Valley
While ribs may be their speciality, Fish Lane's Big Roddy's Rippin Rib Shack serves up some finger-licking tasty wings. Get your hands on their buffalo wings served with blue cheese dipping sauce. No need to break the bank, Big Roddy's buffalo wings for only $1 each on Wednesdays.
Yard Doggs
Fortitude Valley
We had a lot of nominations for Yard Doggs as having the best wings in Brisbane, and every one of them espoused a different flavour—so our takeaway is that you should try them all. With garlic and parmesan, honey BBQ and Caribbean jerk amongst the options, we're sure you don't need any further encouragement. Just don't attempt the hotter-than-hot Death Sentence wings unless you've got a fetish for pain.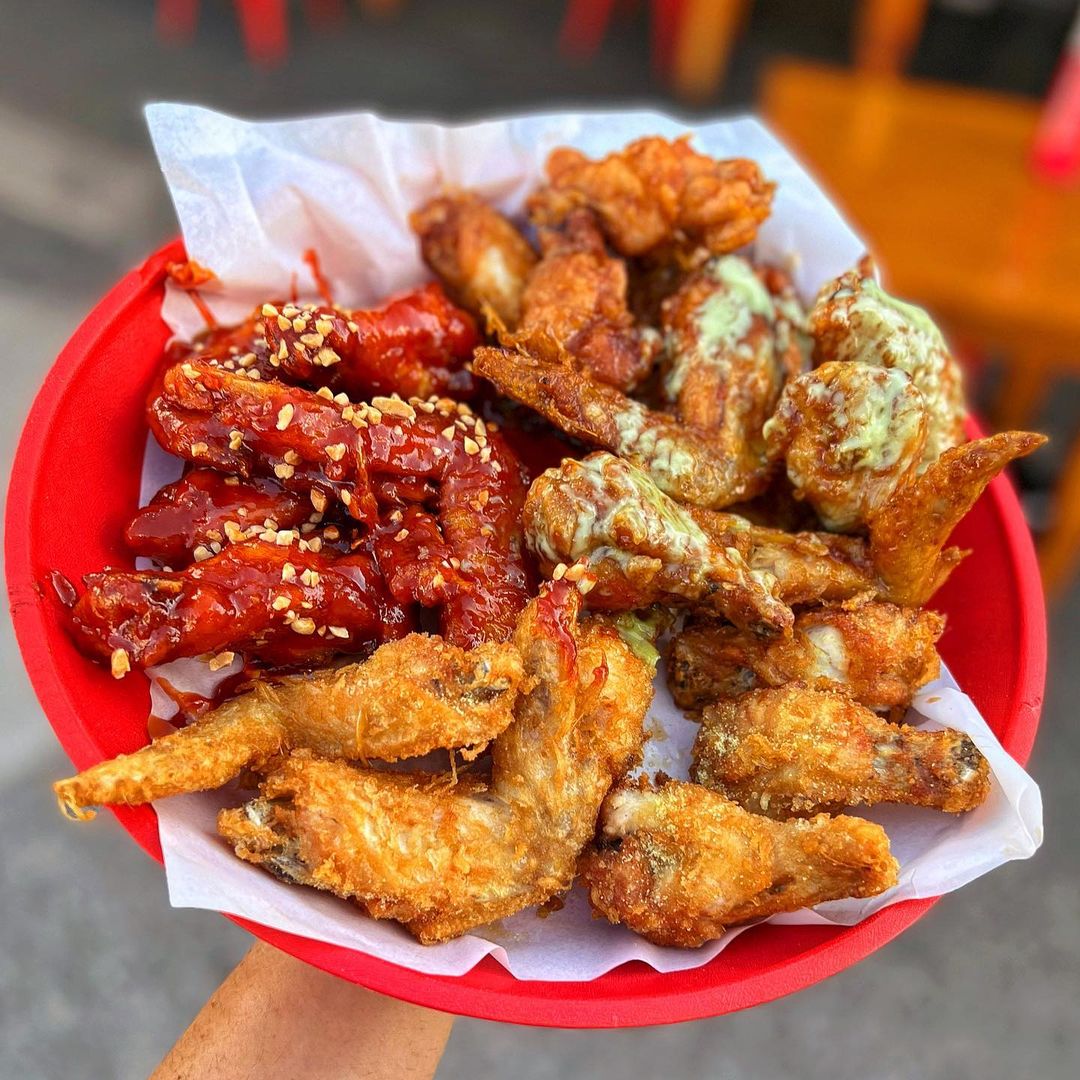 Seoul Bistro
Sunnybank
The only thing better than chicken wings is a buffet of chicken wings, and that's exactly what Seoul Bistro in Sunnybank has to offer. With 10 different wing flavours on the menu, for $24.90 you can try them all, over and over until you're in a food coma. Seriously, good luck coming out without gaining a few extra kilos.
KCS Chicken
Woolloongabba
Once a Korean fine diner, KCS switched their focus to easy-to-takeaway fried chicken wings during 2020's lockdowns, and they haven't looked back since. RIP fancy fare, turns out we'd much rather get our hands dirty smashing crunch wingettes drizzled in secret soy, smokey BBQ or hot sauce. A side of creamy mashed potato is a must, and if you're a regular, you know to get the house made kimchi too.
Naked Wings
West End
If you're a lover of wings, you're going to want to check out Naked Wings. Not just because their tender on the inside, crispy on the outside wings are lip-smackingly good, or because you can pair them with an impressive array of sides, but also because they come in no less than 15 flavours. Don't sweat, you don't have to choose just one flavour—you can get a different flavour for every five wings.
Want more greasy comfort food? Here's where to get Brisbane's best burgers.
Image credit: Wing Fix, Winghaus, Seoul Bistro