As the saying goes, there ain't no thang like a chicken wing. And we would have to agree. Ignoring the fact that this little hooked arm of party-food fame is largely so good because of its chicken skin-to-meat ratio, you really can't pass up wings. Whether they're fried, spice-rubbed, or marinade-glazed, we want wings, and we want them now.
If you've got a hankering for some saucy chicken, here's our pick of the best wings in town.
Lucky Egg
Fortitude Valley
Fortitude Valley's Lucky Egg is the perfect mix of American cuisine meets Asian street food, which means they have seriously, seriously good chicken. Choose between buffalo or Korean style, or go for the Frank's special sauce with slaw.
The Smoke BBQ
New Farm
The Smoke's buffalo chicken wings come in six different delectable flavours from honey soy all the way up to the 3rd degree extra hot wings. Served with blue cheese dressing, The Smoke's wings are the ideal starter to a full-on ribs fest. Grab a napkin, because things are going to get sticky.
Carolina Kitchen
Carindale
Carolina Kitchen in Carindale is somewhat of an establishment when it comes to American food in Brisbane, so of course this list would be incomplete without them. Head to these guys for old-school American soul food that's a little off the beaten track. Sometimes you just need a big bucket of buffalo wings, and for buffalo wings done right, you need to head to Carolina Kitchen.
Newstead Brewing Co.
Newstead
If you like your wings buffalo style, you'll like what Newstead is plating up. A slightly sticky wing served with a subtle blue cheese sauce to the side, these are well deserving of a spot on this Brisbane's best chicken wings list.
Tippler's Tap
South Bank
Fried and golden, and yes, vaguely reminiscent of The Colonel's best, Tippler's wings are the stuff of legends. Adorned with black sesame seeds, dipped in blue cheese sauce and only $13 for a bucket.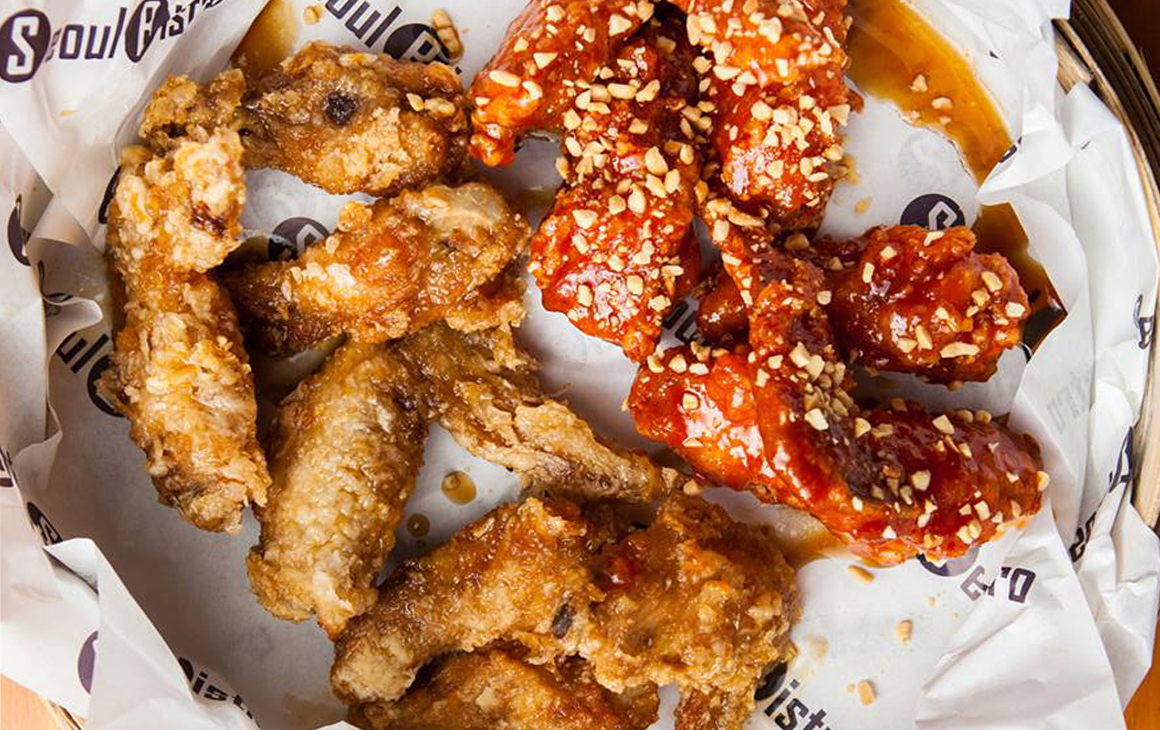 Seoul Bistro
Sunnybank
The only thing better than chicken wings is a buffet of chicken wings, and that's exactly what Seoul Bistro in Sunnybank has to offer. With seven different wings on the menu, for just over $20 you can try them all, over and over until you're in a food coma. Seriously, good luck coming out without gaining a few extra kilos.
Buffalo Bar
CBD
The wings at Buffalo Bar are seriously good. With flavours such as Maple Mustard and wings literally coated in bacon, cheddar and chive, the only thing left to say is see you there.
Wing Fury
Clayfield
Wing Fury in Clayfield really does love wings. So much so that they offer up almost every kind of wing possible: Korean, Vietnamese, honey Sriacha, teriyaki… the list goes on. Plus, most of the wings on offer are gluten free, which is rare for a deep-fried wing.
Red Hook
CBD
For all your deep-fried kilo of wings cravings, Red Hook in the CBD is your go-to. Open from lunch through to late night, these guys really are your guardian wing angels.
Archive
West End
West End fave Archive has a delish wings menu. Choose from the classic buffalo, sesame soy or spicy plum and pair it with their superb blue cheese aioli.
5 Boroughs
Various Locations
At 5 Boroughs you don't have to pretend that wings aren't the perfect food to snack on while you're getting lit, with finger-licking flavours like Bourbon BBQ. Trust us, they do the trick.
Hudson Corner
Albion
We like our wings how we like our Australian summer, hot and sticky. That's why Hudson Corner makes the cut, with their wings coated in Frank's hot sauce and served with a blue cheese dipping sauce.
Bloodhound Corner Bar And Kitchen
Fortitude Valley
The wings at Bloodhound Bar win points for both their tastiness and their old school atmosphere. Crispy and golden, you can grab a bowl of wings served with a chilli ranch sauce or a spicy hot sauce.
Want more greasy comfort food? Here's where to get Brisbane's best burgers.
Image credit: Lucky Egg