Why is melted cheese just so good? Sure, we can all grill cheese between bread at home, but why would you when Brisbane has this divine roster of creative, delicious, loaded and morish toasties.
We have deep-fried, mac 'n' cheese stuffed and even vegan toasties—making the toastie scene in Brisbane right now, quite frankly, next level. Here's where to nab a top-notch toastie for your next lunch. Or breakfast, we won't judge.
Cups On Melbourne
South Brisbane
This cosy little coffee shop in South Brisbane does have a decadent breakfast menu, but it's Cups On Melbourne's toasties that have captured our attention. We're talking thick sourdough slices piled with ham, oozing cheese, caramelized onion, rosemary butter and gherkins or jaffles with fillings like mushroom or savoury mince.
Crumbs Sandwich Bar
Bulimba
Crumbs is dedicated to nothing but the humble toastie, with an array of combinations in between crisp bread, but the one you have to order is The Venetian. Not only is this bad boy stuffed with mozzarella cheese and tomato garlic dip, but it's DEEP-FRIED. Heart attack, come at us. You could go the healthier sounding Green Out, with avocado, zucchini, spinach, pesto, feta and za'atar, but why would you?
Melt Brothers
Brisbane City
Honestly, it would almost be easier to tell you what Melt Brothers DOESN'T put between two slices of bread then what they do. Maple bacon with eggs and cheese, mac 'n' cheese with smokey BBQ sauce and ham with mozzarella are a few of our fave toasties, but the extras are where it's really at. Add potato gems, hash browns, smashed avo, extra cheese—just don't go overboard or you might not fit it in your mouth.
Denim Co
South Brisbane
Denim Co's short but sweet menu of jaffles is perfect for when you're feeling peckish, with a cheese or cheese and vegemite jaffle to snack on between meals. In need of a morning feed? Grab their bacon and egg jaffle to go.
Coffee Head Co
South Brisbane
Coffee Head Co does more than just a good cup of jo, it also does uber cheesy toasties to save you from mid-morning hanger. Wrap your hands around a Cheese Louise, stuffed with raclette, provolone, vintage cheddar (that's right, three kinds of cheese) and caramelised onion shiraz jam, or just a classic ham and cheese with taleggio cheese to class it up. Either way, you can't go wrong.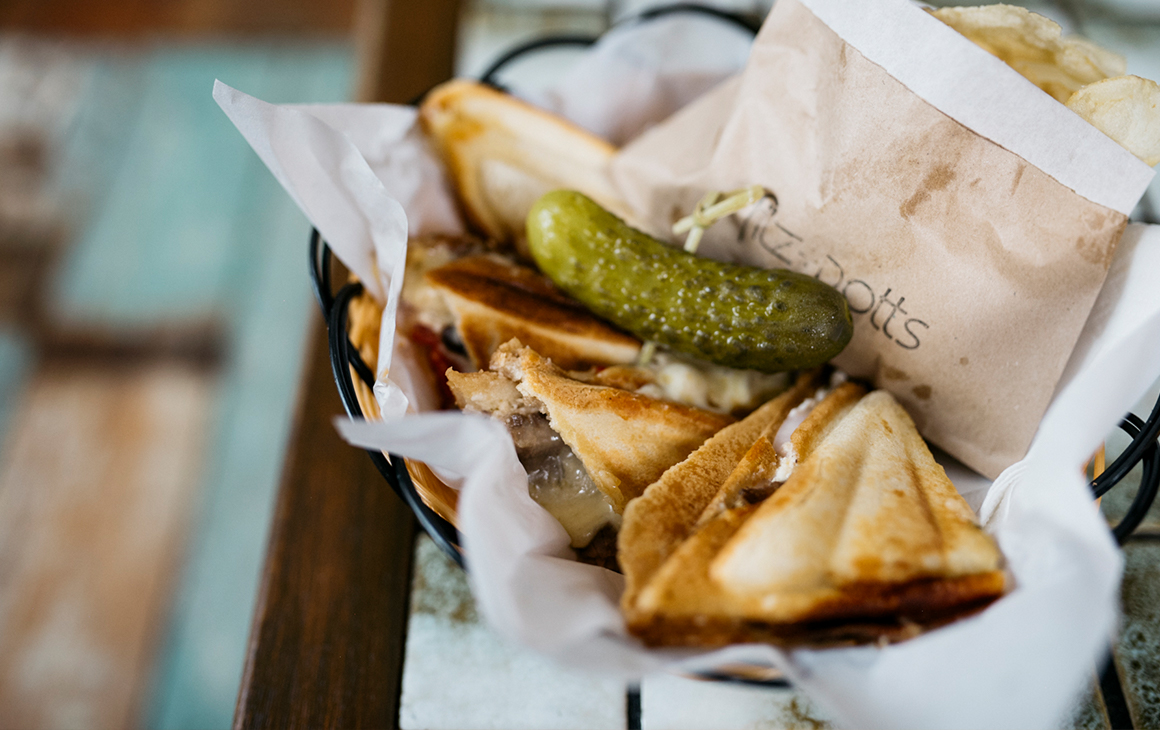 Fitz & Potts
Nundah
If a character-filled rooftop bar complete with 70s-chic décor, astroturf, and a village vibe doesn't scream "load me up with carby goodness!" then we don't know what does. The jaffles at Fitz & Potts are all vegan, but that doesn't make them any less cheesy, just more enjoyable for our dairy-intolerant friends. Check their daily specials board for fillings. Best enjoyed with a craft beer.
The Gift Shop
Mt Gravatt
This hole-the-wall spot has been flying under the radar for a while now, but we think they should be shouted out for their epic toasties. Get your hands on the Holy Ham and Double Cheese Toastie, featuring layers (we're talking multiple) of ham, cheddar, mozzarella, rocket and tomato relish on sourdough, or the Mighty Maria, a glorious stack of two types of salami, cheddar, bocconcini and end to end basil pesto on dark rye.
Let Minnow
Clayfield
This eatery was once an aquarium, but there's nothing fishy about Let Minnow's amazing toasties. Spice things up with the Mexcillent Toastie, with spiced chicken, chipotle mayo, cheese salsa and spinach on panini, or get a load of the Smashing Pumpkin, loaded with pumpkin, Kewpie mayo, cheese, spinach, roasted red peppers and Sriracha sauce on Turkish bread.
Want more winter warmers? Grab a spoon and check out Brisbane's best ramen.
Image credit: Cups on Melbourne, Melt Brothers, Tash Sorrenson