Brisbane is slowly jumping on the egg-free, dairy-free dessert bandwagon, and vegans across the city are rejoicing. No longer does a vegan diet mean you're deprived of the simple pleasure of 'cake and coffee' while eating out with a friend. In fact, you might just find these vegan treats exceed your expectations of how good a butter-free cake can be.
Here are some of Brisbane's best vegan cafes with knockout dessert options, even if you're a dedicated dairy eater:
The Green Edge
Windsor
The Green Edge is a 100% vegan grocer and cafe, meaning if you have gone over to the meat-free side, there's no need to beat around the bush for the ingredients list. Their chocolate sundaes and ice-cream boats have an alarmingly large slash perfect amount of dairy-free whipped cream.
Bohemian Raw
Victoria Point
Ever heard of a superfood ice-cream? Bohemian Raw at Victoria Point serves the creamiest cashew ice-creams that pack the good stuff into the break-up indulgence food of choice. Chocolate Snowballs and Chai, Jaffa and Choc-Mint superfood truffles are patiently waiting alongside raw mud cakes for your visit.
Mondo Organics
West End
Banana bread ice-cream with peanut butter and cacao mousse and dragon fruit sponge cake with matcha ice-cream are just a few of the insanely creative vegan desserts at Mondo Organics. The menu at the forward-thinking joint is seasonal, so when the vegan ice-cream sandwiches come around, you'll wish for time to stand still.
Charlie's Raw Squeeze
Everton Park & Stones Corner
With a dedicated Everton Park fan base and a brand new store in Stones Corner, Charlie's Raw Squeeze serves an abundance of angelic bowls of acai, nice-cream and other blended fruit concoctions. The icing on the cake is that they come topped with raw slices of ferraro rocher, salted peanut butter and snickers variety for a truly wild party in the mouth.
Cloverly Cupcakes
Everywhere!
Whether you want a vegan wedding cake or you're craving a cupcake, Cloverly Cupcakes has your back. The lovely bakers are supplying their scrumptious goods to cafes throughout Brisbane so make sure to follow them on Facebook to see where they're delivering to next.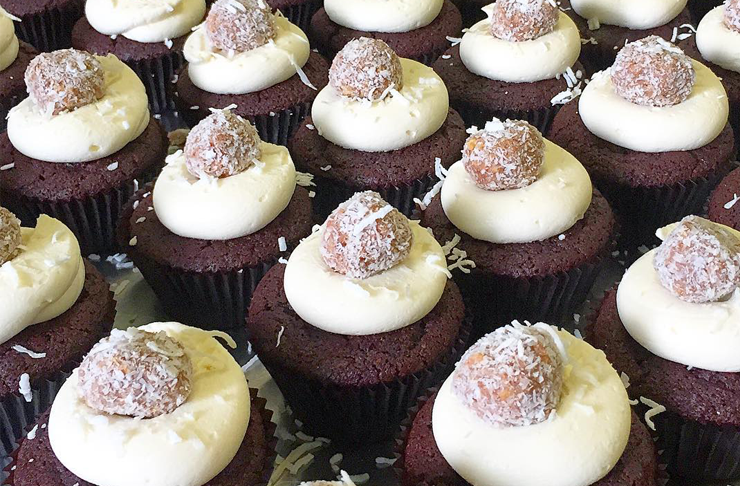 Govindas
CBD
Govinda's all-you-can-eat vegetarian restaurant will make you question why you don't eat dhal every damn day. But save some stomach space for dessert, because the vegan chocolate mousse is a 10/10.
Sol Natural Foods
Fortitude Valley
Sol Natural Foods oozes with insane vegan desserts, mostly in the way of cabinet goodies. The dark chocolate, rose water cupcake is particularly otherworldly.
Pawpaw Cafe
East Brisbane
Who needs a McFlurry when you have a Cocowhip Sundae with raw caramel or mint-choc slice gracing the top at Pawpaw Cafe? The soft serve is made from coconut water, so it's basically the equivalent of a bunch of kale - only tastier.
Coco Bliss Superfood Bar
Bulimba
Build your own bowl at Coco Bliss Superfood Bar, where the base options come in your favourite chocolate bars (cherry ripe, snickers, mars) and you can pick your granola, toppings and add-ins, reminiscent of a fro-yo experience.
Noosa Chocolate Factory
CBD
Veganism doesn't mean giving up your chocoholic ways, with Noosa Chocolate Factory's dark-chocolate range covering all bases for your dairy-free cocoa needs. Dark chocolate rocky road in the form of a hot drink is next level, and all their products are palm-oil free.
Looking for more of Brisbane's best vegan cafes? Check out our article 9 Of The Best Vegan And Vegetarian Breakfasts In Brisbane!
Image credit: Cloverly Cakes, Charlie's Raw Squeeze