If there are two things that calm an anxious mind in a pandemic, it's both a good whack of endorphins and a grounding routine. The good news is they can come served together.
With many worried about where they venture out right now, but craving the combination of an outing, workout and hit of good vibes, we bring you this: six places in Brisbane you can get a socially distanced workout and (hopefully) find a new routine for the next few weeks, or even longer. One that may or may not involve a hit of caffeine and/or something sweet after...
Studio 45
Newstead
Wear your mask into the studio, head straight to your mega former machine (aka torture rack) and buckle in. You can keep your mask on for the whole class or take it off, but spend the next 45 minutes knowing you're working out on a machine that's been disinfected before your visit.
The torture racks are well spaced, meaning you're not on top of other students and for those returning to strength work after a rough trot with the 'spicy couch', lagree is fantastic.
Good news for those spending longer than anticipated up the coast? The Studio 45 team just opened Lagree by the Sea in Alexandra Headland.
Rooftop Yoga
Fortitude Valley
Every weekday morning you'll find Jess Wing leading a sunrise flow from the rooftop of Brisbane's pink hospitality hub, The Calile Hotel.
The mats are well spaced out (you choose where you put yours, so you can go as far from your neighbour as you like), the sun is on its way up and there is a whole lot of fresh air circulating… because you're on a rooftop.
Grab a coffee from downstairs Lobby Bar after, stroll up to Agnes Bakery or Sprout Artisan Bakery for a fresh loaf, and stick a fork in me, I am done, it doesn't get any better.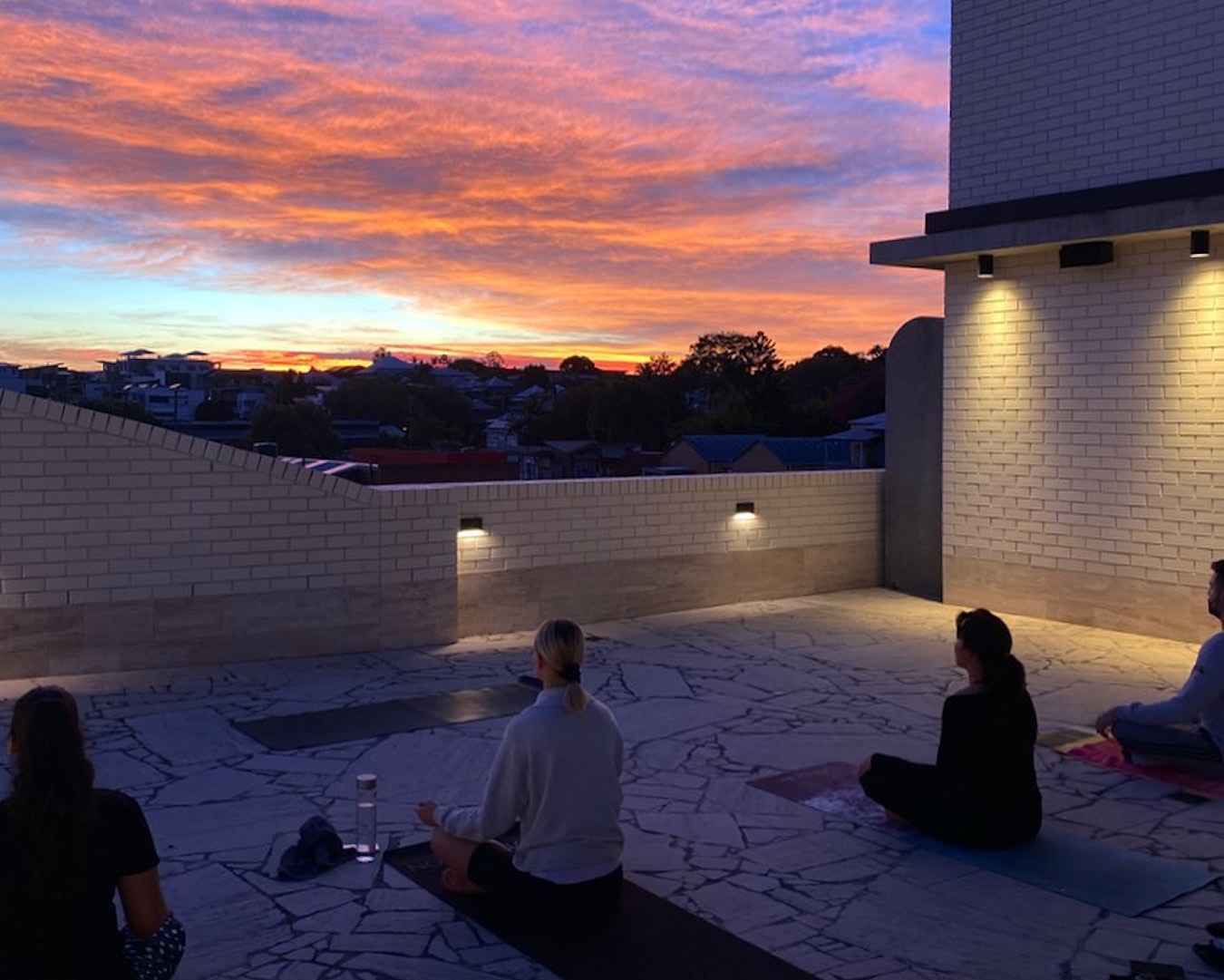 Raw Power Yoga
Albion
When it comes to yoga studios in Brisbane, Raw Power Yoga is a real MVP. Avid yogis flock here for their daily practice, while newcomers arrive curious but leave committed, knowing they've not just given their bodies a workout, but their minds some respite.
Bright and airy, put simply this is a very large studio, so much so you could be three metres away from another student if you wanted. BYO mat, or use one of their thoroughly cleaned ones.
To find Raw head for Albion Fine Trades and take the steps above Jocelyn's Provisions… and then grab a li'l treat on the way down. It's a global pandemic and if you can't get a brownie after a workout, when can you?
Assembly by Aiko
New Farm
This little cottage on James Street brings together yoga and pilates, along with a serving of pure joy from owner Aiko Neligan.
Classes at Assembly by Aiko are small - just five, with ample space for each student. It's a tininess that facilitates not just gentle corrections when needed but, again, peace of mind. A word to the wise: the tiny wrist weights really do pack an achey punch for a day or two after. Not a bad thing.
Keep an eye out for Soothing Sounds Sunday, too. You do a little flow, then meditate to the sounds of quartz crystal singing bowls. Good vibrations that bring about a state of calm and peace? Yes please.
Boutique Pilates Method
Windsor
With the mantra, "we truly believe that music and movement can heal almost anything," it's safe to say this is one enriching workout experience.
At Boutique Pilates Method, you'll find oodles of class options. They're not too packed, because attention to detail is what's what when it comes to pilates. From matwork to reformer, pre- and post-natal, you've got it all. Privates, too. There are onlines in the morning for those laying low, or serving out their isolation sentence.
By the way, Bear Boy Espresso is downstairs, with coffees and croissants that are <insert chef's kiss>.
Commercial Rowing
West End
There is something ridiculously soothing about being out on the water, while the rest of the city stirs and the sun comes up. Commercial Rowing is one of the biggest clubs on the Brown Snake and welcomes rowers of all forms. From those keen to try it out for the first time - a pandemic is a great time for a new hobby - to those looking to return to the sport after many years off the water.
The air is fresh, it's not crowded and the boats are washed down with a lot of soap and water after each session. The only thing that's spreading here is good vibes.
A morning of mindful movement outside, and a hit of caffeine and carbs after? Now that's a guaranteed cure for feeling funky.
Image credit: Wellness with Jess