By now, you've probably heard that the Valley's Stewart & Hemmant building is housing some epic new eateries. Over the past year, we've been blessed with bakery and cakery Brooki Bakehouse, and high-end Italian restaurant, Rosmarino. But when we heard that a sister venue to the popular Italian restaurant was coming, we were quite literally on the edge of our seats. Behold, Etna, a gorgeous pizzeria perfect for date night, or a one-on-one catch-up with your besties.
Enter on Marshall Street to find a glam spot with crystal chandeliers adorning the ceiling and enough earth tones to make you feel like you need a glass of red in hand to soak up the atmosphere. The front dining and bar area looks out onto Marshall Street from tall windows, or you can hide away from reality at one of the tables with banquette seating closer to the kitchen for a glimpse of the girthy pizza oven.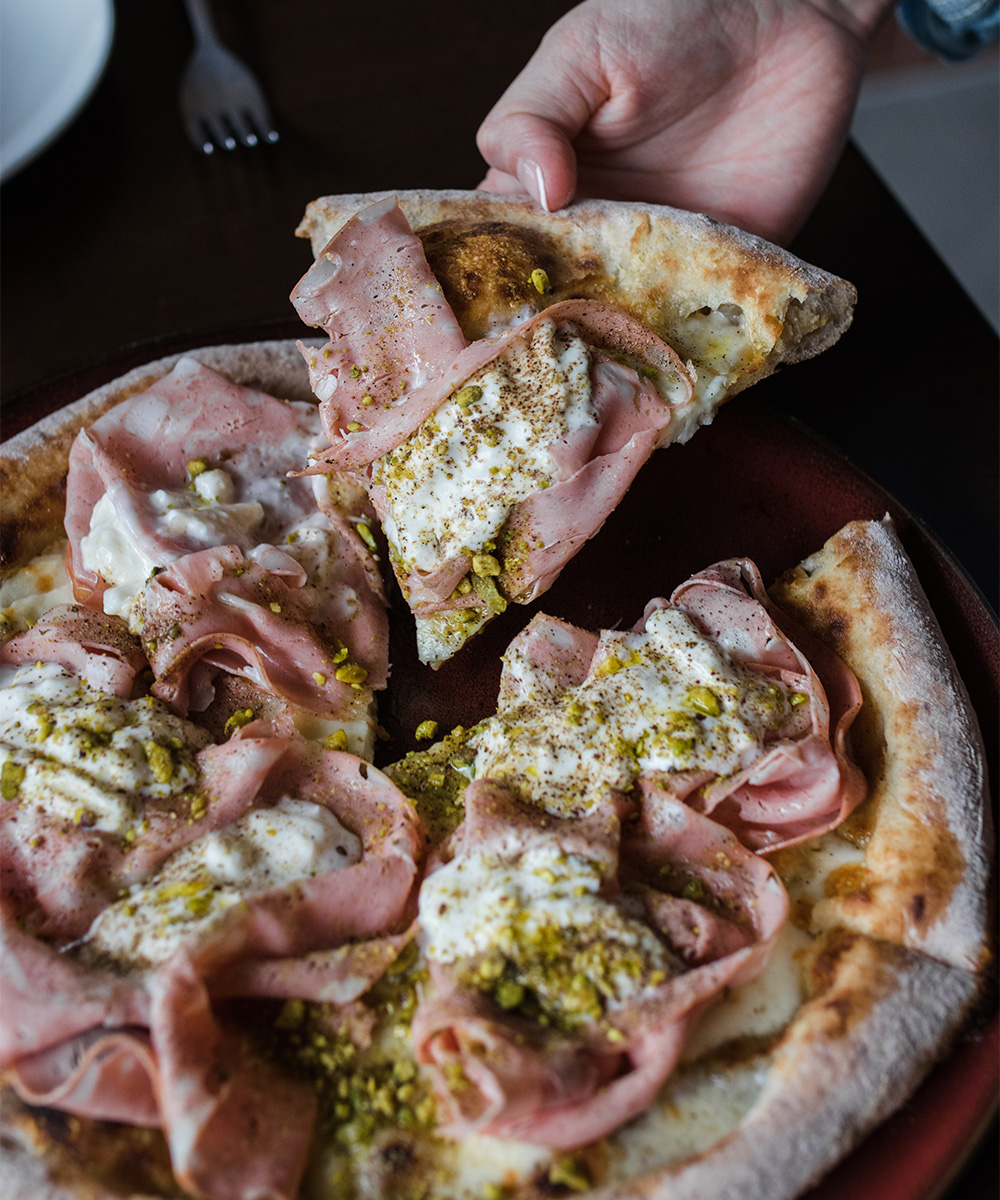 Keep going all the way to the back and you'll find an ambient, serene courtyard area featuring gorgeous brick walls covered with greenery and strung with fairy lights—bound to add a low-lit, cosy feel to your night. For the Curious Georges peeking into the window next door, sister venue Rosmarino is connected to the courtyard, also sharing the private dining room just through an adjacent door.
You'll want to kick off the evening by grazing Etna's deli options, like the burrata abbamele, prosciutto di parma, or olasagasti anchovies, or snack on a starter with an accompanying cocktail before diving into the mains. Now you've got a few routes here, with a seafood pasta and cotoleta anatra—breadcrumbed fried duck leg—both viable choices, but we'd definitely advise you to opt for a pizza. With perfectly chewy (and not too thin) sourdough bases made from a 6-year-old starter (something the team is particularly proud of) and wholemeal flour, this god-tier dough will have you polishing off even the crusts.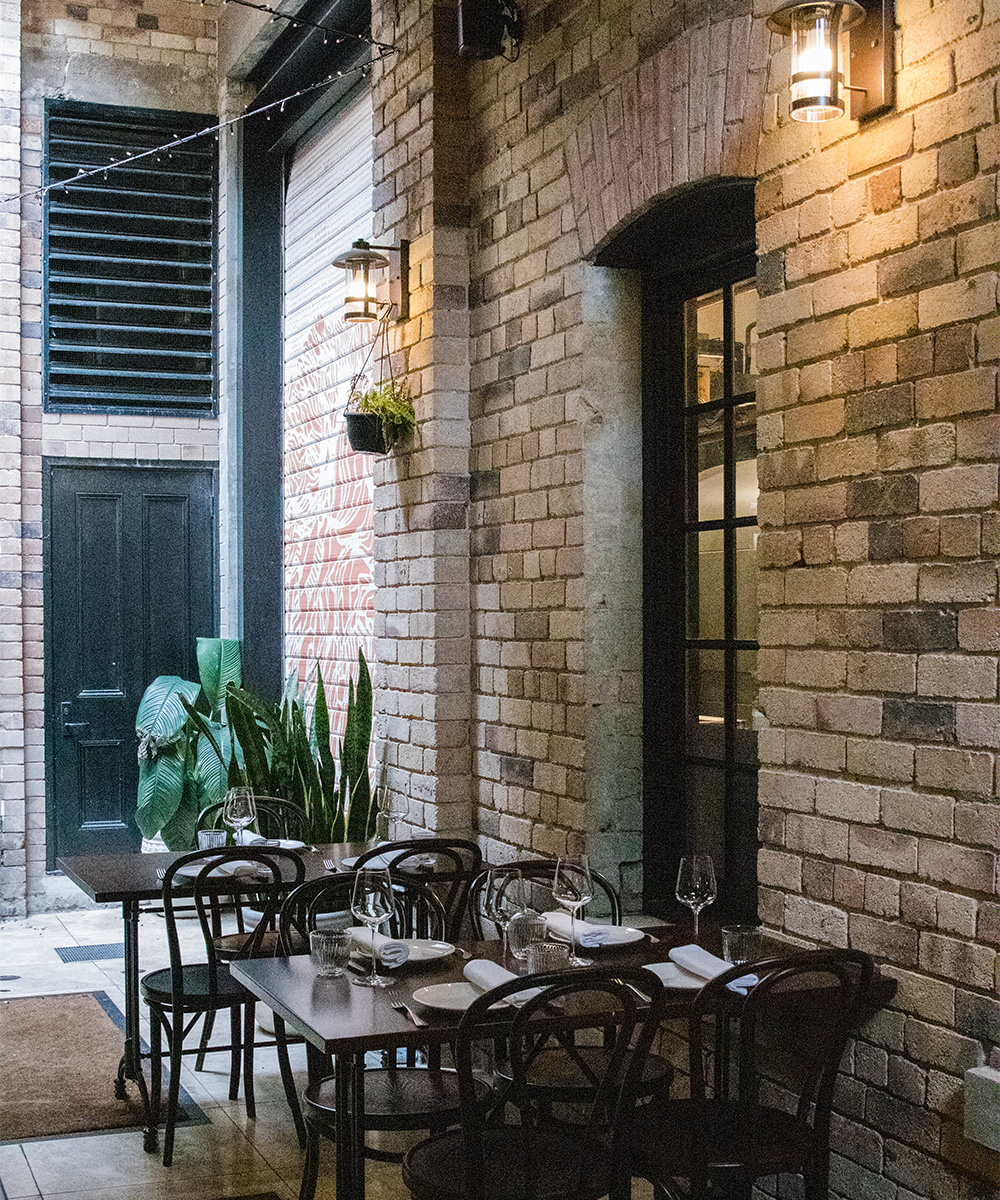 As for the toppings, you can expect traditional classics like Napoli and Margherita as well as specialty offerings like the Lamborghini, with fior di latte, raw scampi, lardo, scampi oil and salmon caviar, and the Anatrella, with buffalo blue, goat cheese, sliced duck leg, frutta mostarda and parmesan. Let's just say there's no bad choices here.
After scanning the mouth-watering pie options, you may find yourself torn between what to order (very understandable). If this is you, then we highly recommend the delicious mortadella pizza. A simple yet oh-so-good combination of creamy stracciatella, crushed pistachio, and sliced mortadella all married together with a drizzle of olive oil. Trust us, with one bite of this, you'll never want a takeout pizza ever again.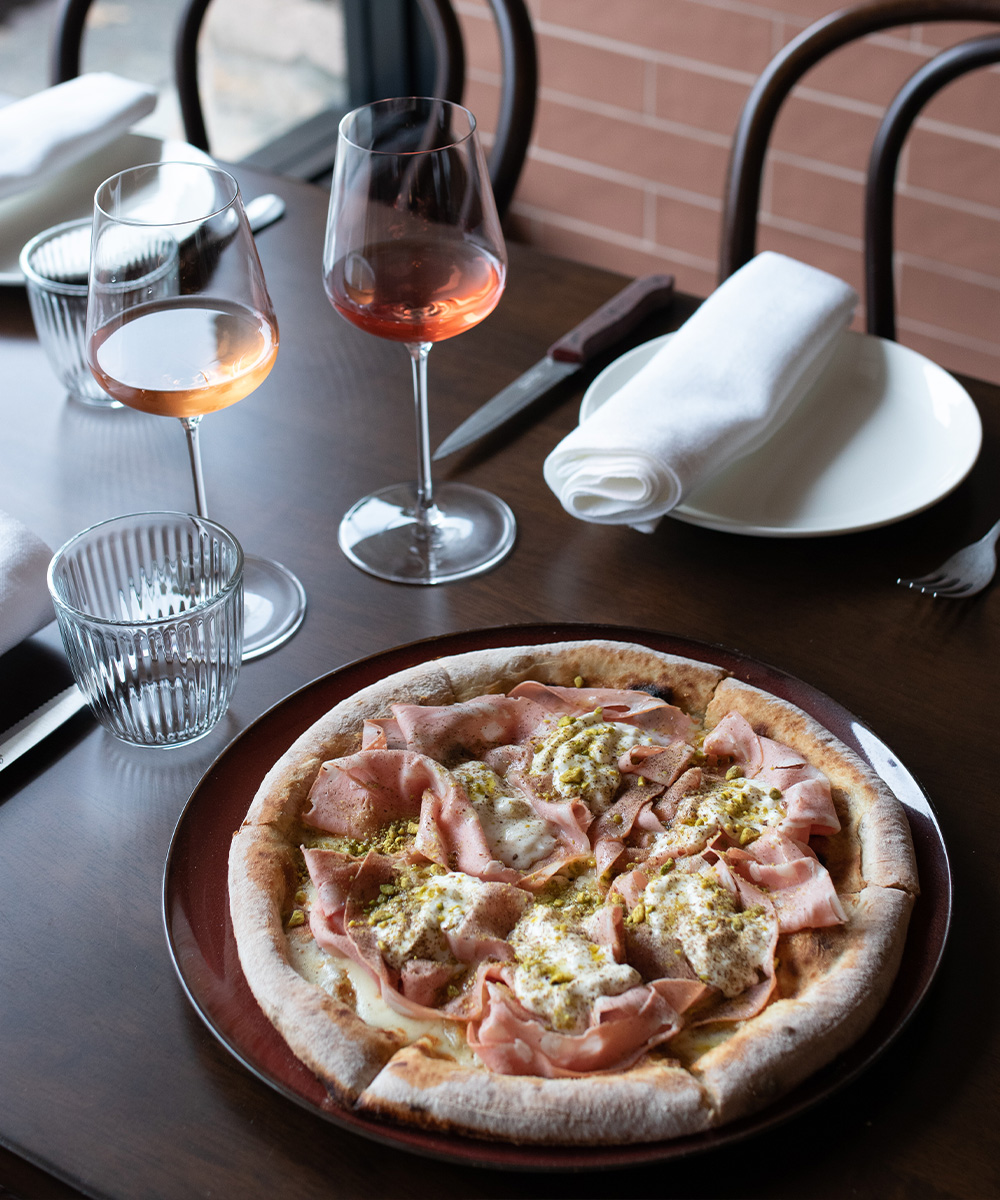 Now what to wash it down with? Etna's impressive selection of wines is the stuff of dreams. Pick from a variety of reds, whites, and pinks to accompany your dinner of choice. For those not too fond of a glass of vino, flip over to find refreshing Aperol and limoncello spritzes and delicious negronis. You've also got beers, spirits, and non-alcoholic bevvies so there is something for everyone.
So, the question now is when to book. Etna is open from 5pm till late Wednesday through to Sunday, and before you ask, yes, they do takeaway. You can find everything you need to know here.
Meanwhile, have you checked out Newstead's new spot from the NOTA crew?
Image credit: Ranyhyn Laine