Ok, a good dunking under a washing machine cycle of an ocean wave has happened to the best of us. Does it need to happen to your toddler? Absolutely not. What you need is a little bay vibe, not a beach with waves that give Pipeline in Hawaii a run for its money. Search no longer, here's our round-up of the best (calmest) kid-friendly beaches in Brisbane.
Sylvan Beach And Bongaree Beach
Bribie Island
Another friendliest beach award recipient, Sylvan Beach at Bribie Island is as gentle as they come. Barely any waves are surrounded by stunning boardwalks, picnic and barbecue facilities and playgrounds. The entire vibe of this place is young families. A hop, skip and a jump away is Bongaree Beach, but this spot is known to have stronger currents maybe sticking to splashing in the shallows.
Streets Beach
South Bank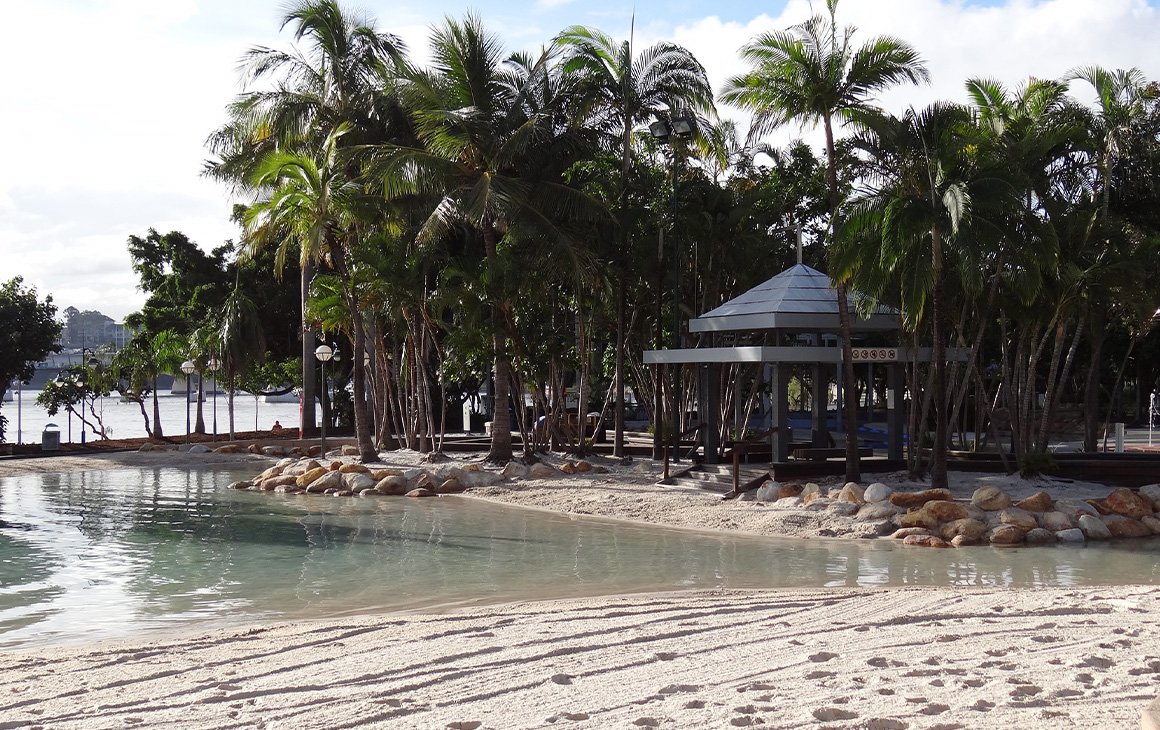 The South Bank 'beach' is a polarising topic for Brisbane residents. Some are for it, and some are very (very) against it. We'll say this: it's very good to take the kids to. Between the interactive water-play park and gentle no-waves paddling on offer, ain't no kid getting rough-housed by the sea here. There's even a sandy beach for sandcastle building, and of course, it's mere steps from plenty of delicious places to eat, no packing necessary.
Scarborough Beach
Redcliffe
Ok, we are about to drop a fact that will tell you all you need to know about Scarborough Beach at Redcliffe. They have literally won the title of Queensland's Friendliest Beach. Being a bay inlet, not only is there no hardcore waves, there are barely any at all. At low tide the ultra-still barely knee-deep water stretches out a good 10 metres into the sand bars. Bonus, you can go crab hunting in the rockpools just around the point, and have some playtime in Cottonwood Park just behind the beach. Basically, it's a whole day out and worth the drive.
Settlement Cove
Redcliffe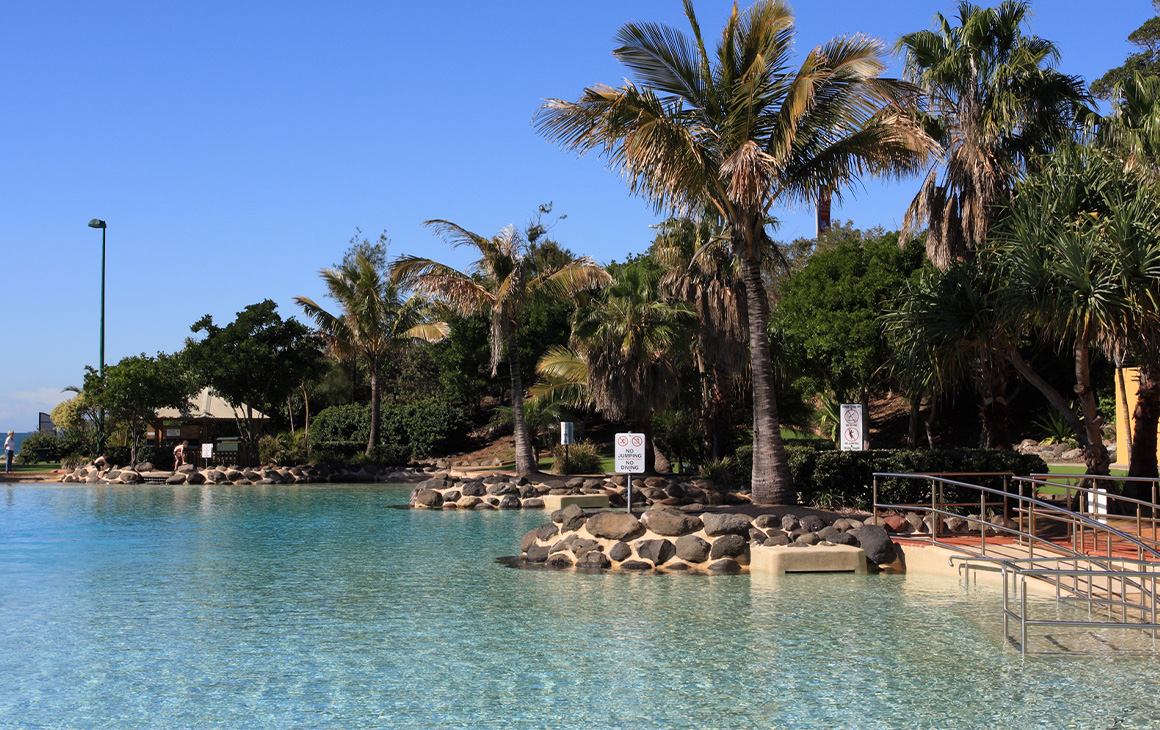 Settlement Cove at Redcliffe is a kid's (and parent's) dream, with a humongous lagoon that's tailored for different ages with different depths. There's a fenced-off shallow area specifically made for younger kids complete with little squirting mushrooms and lizards, while for bigger kids, the main lagoon has sandy bay edges with progressively deeper bits and a whole damn island in the middle for all sorts of play opportunities.
Tangalooma
Moreton Island
Tangalooma on Moreton Island is worth every cent paid for the ferry trip (which the kids will love as a bonus activity). The beach is not only postcard-level stunning but very much wave-less, calm and safe for kids. If you've thought ahead like the intrepid kid-bound traveller you are and booked a place for overnight (head over here for our recs), you can catch the local family of wild dolphins that come in to say hello and for feeding every night.
Pandanus Beach
Wynnum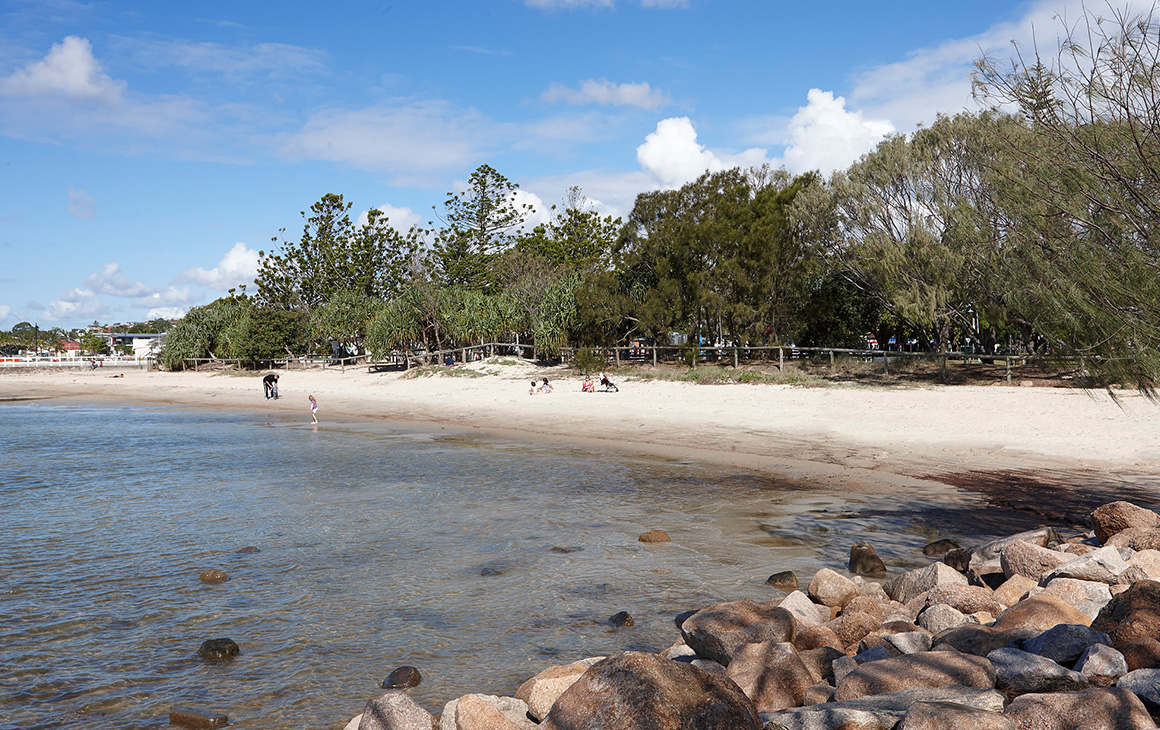 If you've ever taken a stroll along the boardwalk at Wynnum, chances are you've heard little squeals of joy and looked over to see a little chonk in togs living their absolute best. This is Pandanus Beach. The water and vibe are very calm here, and it is of course just across the walkway from the famous Wynnum waterpark and tidal swimming pool. Bonus, crabs and other little critters come out at low tide for the little ocean life enthusiast.
If you've got a little wave jumper, you can check out these beaches in and around Brisbane.
Image credit: Brisbane City Council/Flickr, John/Flick, Shannon McGee/Flickr