When you hear Mr Badger, you might think of a certain beloved children's book character, but in Brisbane, Mr Badger (or Joseph Stillman Badger) was actually an electrical engineer from New York, who moved here in 1897 to electrify the city's tram network—a network that started from the cul-de-sac at the beginning of Logan Road. It's this figure in Brisbane's history that inspired the new Mr Badgers, a sandwich bar, deli and diner that's just taken up residence in that very cul-de-sac.
A new venue from Dan Rodriguez, who also owns Canvas Bar and Electric Avenue in the same strip, and his business partner Adam Pykett, Mr Badgers is a quirky, family-friendly spot that's dishing up everything from morning coffees and bagels and lunchtime meatball subs to evening charcuterie and cocktails—basically, it's got everything covered.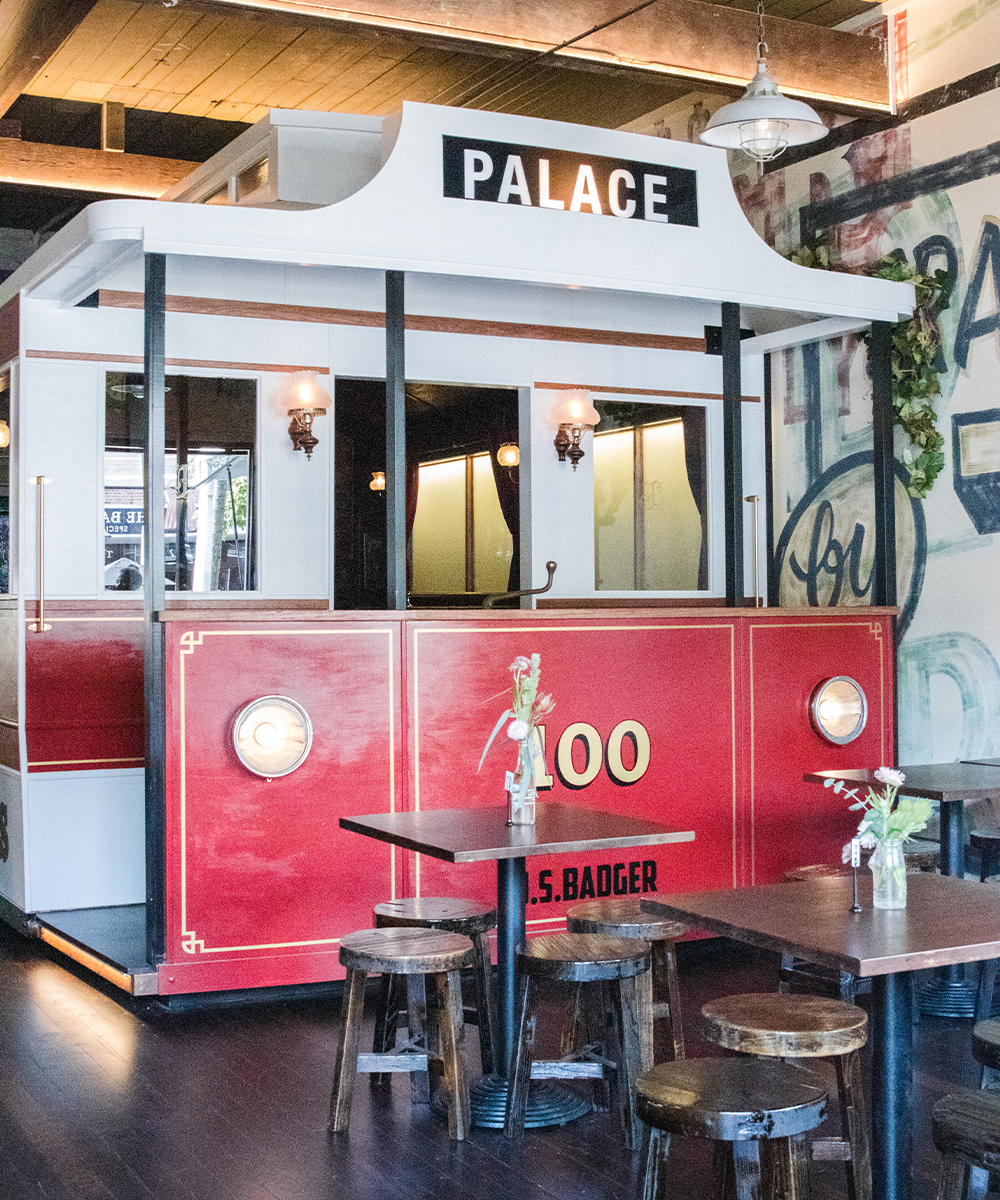 As you walk in, you can't help but notice the massive red and white tram taking up half the indoor space. Hand built by Adam Pykett, a carpenter who also happens to be a whizz in the kitchen, the tram features leather booths inside under a portrait of Mr Badger himself, and even has moving levers in the driver's booth that kids and adults alike won't be able to resist giving a whirl (you can don a tram driver's hat for extra points). Don't think this quirky eatery is all style and no substance though, because the food here is seriously next level.
If you're stopping by in the morning, you can get your hands on a deli bagel, stuffed with smashed avo and Persian fetta, smoked salmon and dill cream cheese or a saucy stack of fried egg, bacon, swiss cheese, tomato chutney, aioli and rocket. There's also bakery goods to grab-and-go if you're in a rush, with Black Sheep Roasters beans being poured for your caffeine fix.
Chasing lunch? You'll want to look towards the sandwich menu, which lists out some gourmet sangas so much better than anything you normally slap on bread at home. Think a classic Reuben with pastrami, swiss cheese, pickles, sauerkraut and Russian dressing on rye; a South Philly cheesesteak with wagyu beef, American cheddar, provolone, caramelized onion and aioli on an Italian roll; and a roll stuffed with housemade meatballs, Napoli sauce, provolone and parmesan cheese. We know what we'd be ordering.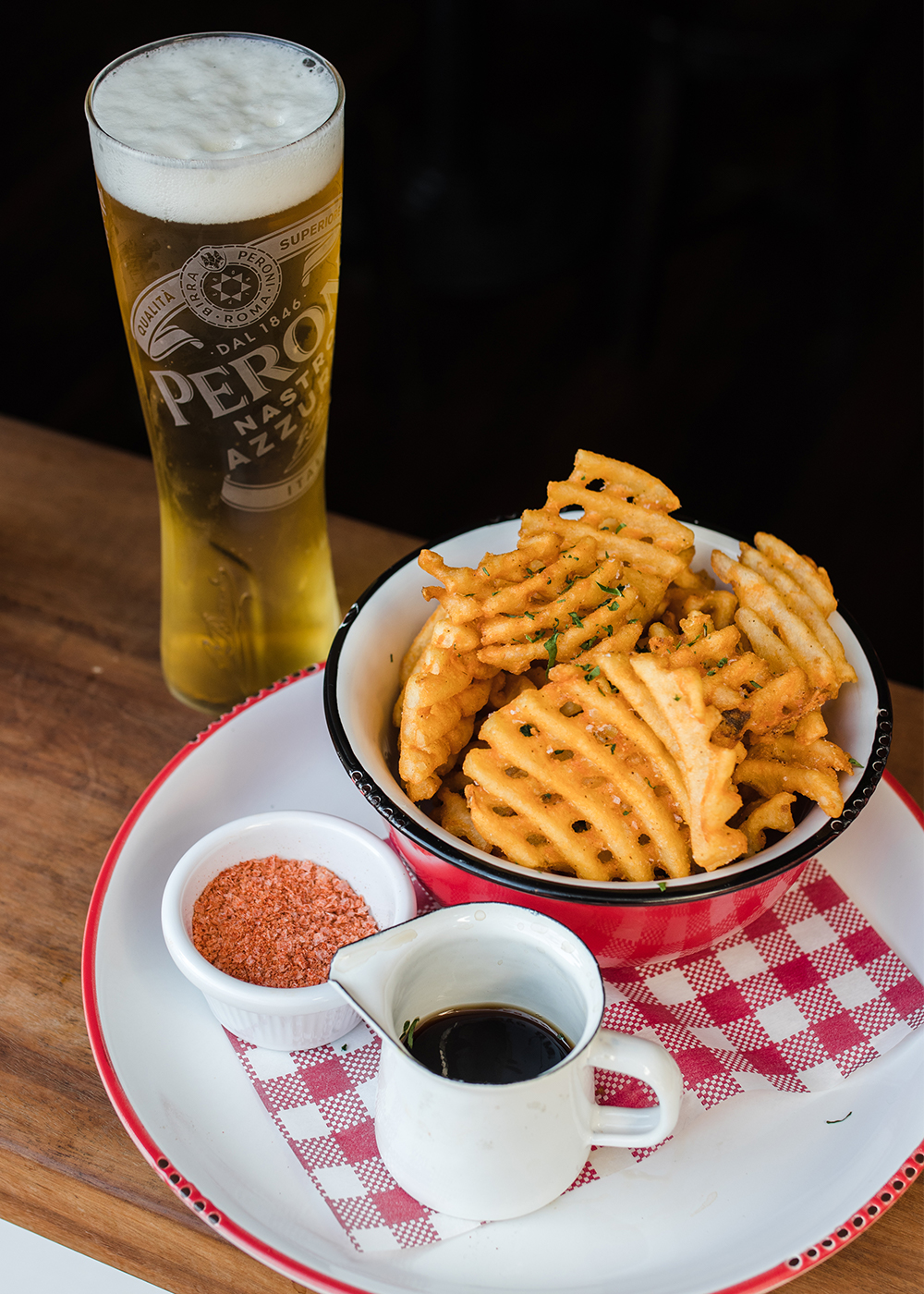 After 5pm, the menu switches to snacks, deli bites and pizzas with a difference, with family-sized shared feasts like whole lamb shoulders and roast chickens also coming soon. For now though, we'd recommend kicking things off with an antipasto tower piled with cheeses, cured meats, fresh bread and accompaniments, and maybe a bowl of waffle fries for good measure. The real star of the evening line up though, is definitely the pizzas. Pykett has been working on perfecting the recipe for these bad boys for almost two years—and it shows. A focaccia-like square base with crisp, cheesy edges is the ultimate vehicle for toppings like pepperoni, BBQ chicken, meatballs and meatlovers, and you may never go back to regular traditional pizza again.
All this is complimented by a short list of cocktails, tap beer, tinnies and wine, and there's a kid-friendly menu complete with a colouring page too. Plus, stay tuned for a secret beer garden soon to be added—if you've ever been to Electric Avenue across the way, you'll know co-owner Rodriguez loves a secret bar, so this shouldn't come as a surprise.
For now, Mr Badgers officially opens at 9am on Friday 3 September, and you can find everything you need to know here.
See what other eateries are heading for Brisbane soon here.
Image credit: Ranyhyn Laine