So, you already know where to cool off when it's heating up around Brisbane (if not, see here), but what about when you're wandering a little further from home and looking for some crystal clear water in which to while away the afternoon, maybe with a side of stunning views to serve as inspo for your next 'gram?
Fresh water, salt water—you name it, we've compiled a list of some of the best natural swimming holes in Queensland to get your float on.
Babinda Boulders
Cairns
This popular swimming hole is located south of Cairns and is also surrounded by tropical rainforest—because what's a swimming spot without some equally enticing nature? This fast-flowing tropical creek is lined with massive boulders which create several fresh water pools perfect for cleansing yourself from the heat and humidity of the day. Even in the dead of summer, you'll be pleased to know these pools stay icy cool, just how you like them.
Currumbin Rock Pools
Gold Coast
You didn't think you'd have to fly to all of them did you? A mere 15-minute drive from Currumbin Beach along the scenic Currumbin Creek Road, you'll find the best kept secret that is the Currumbin Rock Pools. Pool depths vary, so the adventurous to the timid are well catered for, with both shallow paddling pools and deep holes to jump off ledges into. If sunbaking is more your style, you can make yourself comfy on a lounging rock, and perhaps hop across the road to the Currumbin Community Farm when you fancy a drink or a snack.
Cedar Creek Falls
Tamborine Mountain
The heart of the Gold Coast hinterland is where you'll find these rock pools, where the fast-flowing waters of the Cedar Creek rush through each pool. If you take a trip down to the bottom of the falls, you'll be in a prime viewing spot to gaze at the water as it cascades into the pool, surrounded by luscious scenery.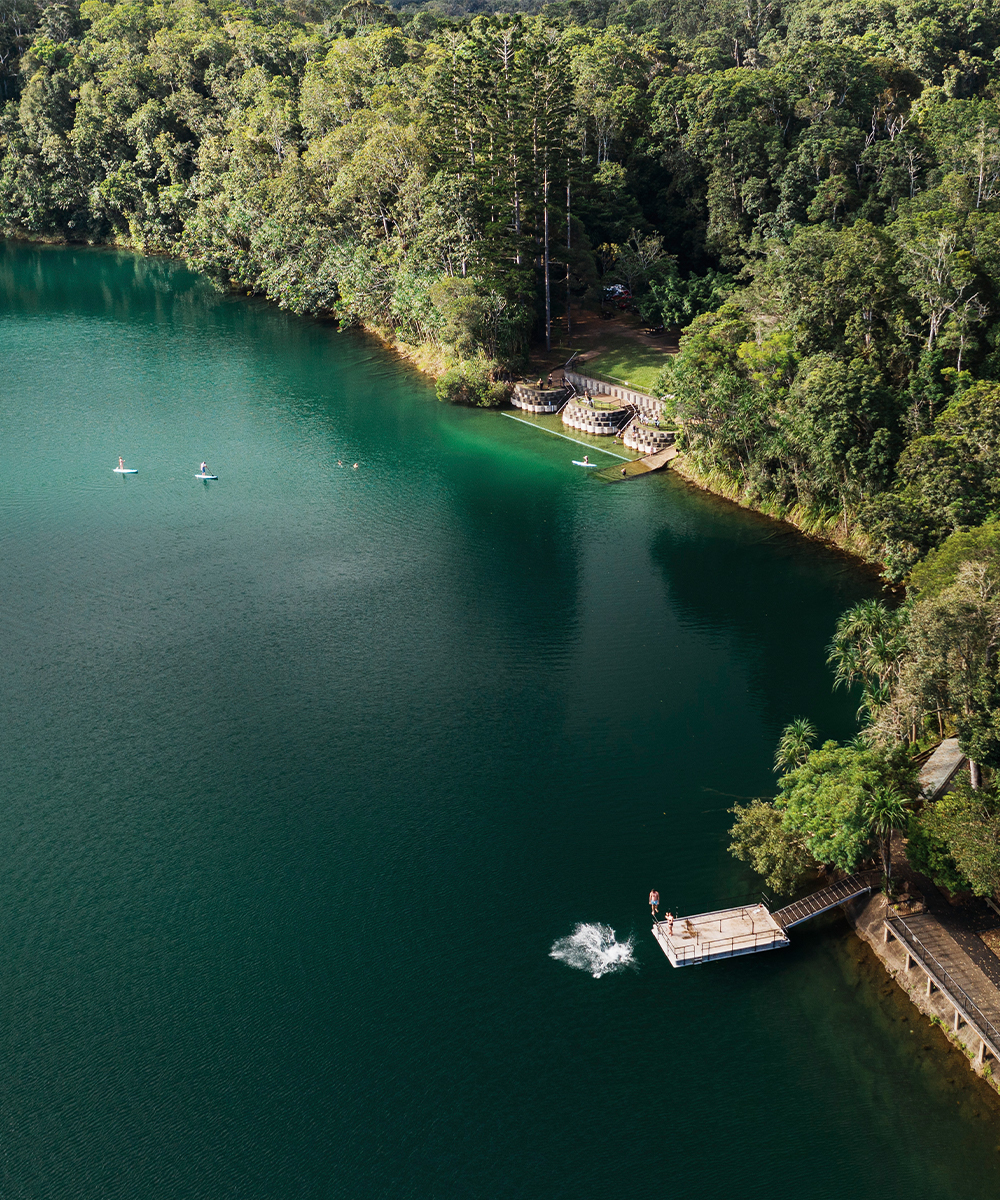 Lake Eacham
North Of Cairns
This serene, clear-blue lake is surrounded by tropical rainforest and located about an hour's drive north of Cairns. Lake Eacham offers something for everyone, with activities like canoeing, kayaking and bird-watching, decks for taking in the incredible rainforest vistas, as well as what you came for—swimming. The lake was once a volcanic crater, which has now filled with water that reaches a depth of 65 metres—pretty cool we reckon, in more ways than one.
Cardwell Spa Pool
Cardwell
The Cardwell spa pool is a geological phenomenon located in the coastal town of Cardwell in Tropical North Queensland. The pool is a naturally-fed, seasonal creek, so it's worth noting that the water levels do fluctuate throughout the year. Due to the chemistry of the rocks and the water which comes from under the ground, the colour of the pool can vary from shades of pale, milky blue to a bright turquoise, depending on the time of day and sunlight available. The best time to visit the Cardwell spa pool is from May to September, when the water levels have been refilled by the summer monsoons.

Mason's
Cape Tribulation
About three hours' drive north of Cairns you'll find the semi-remote coastal town of Cape Tribulation, and Mason's swimming hole—don't worry, it's by all accounts croc-free. You'll find this crystal clear swimming spot about a 20-minute stroll from Cape Tribulation Village. If you're disappointed by the lack of croc-activity (you must be crazy) you can go grab yourself a crocodile burger from Mason's café, which is literally 30 seconds away from the swimming hole—crikey.
Josephine Falls
Cairns
Just 75 km south of Cairns, you'll find one of the most picturesque waterfalls and swimming holes in tropical north Queensland. Josephine Falls offers crystal clear waters perfect for swimming, and there's even a rock slide you can slip down into the rushing current of the creek below, if the mood takes you, all while listening to the breeze rustle through the rainforest canopy above you. Make sure you take note of the swimming signs, though, as Josephine Falls can be prone to flooding at any time of the year.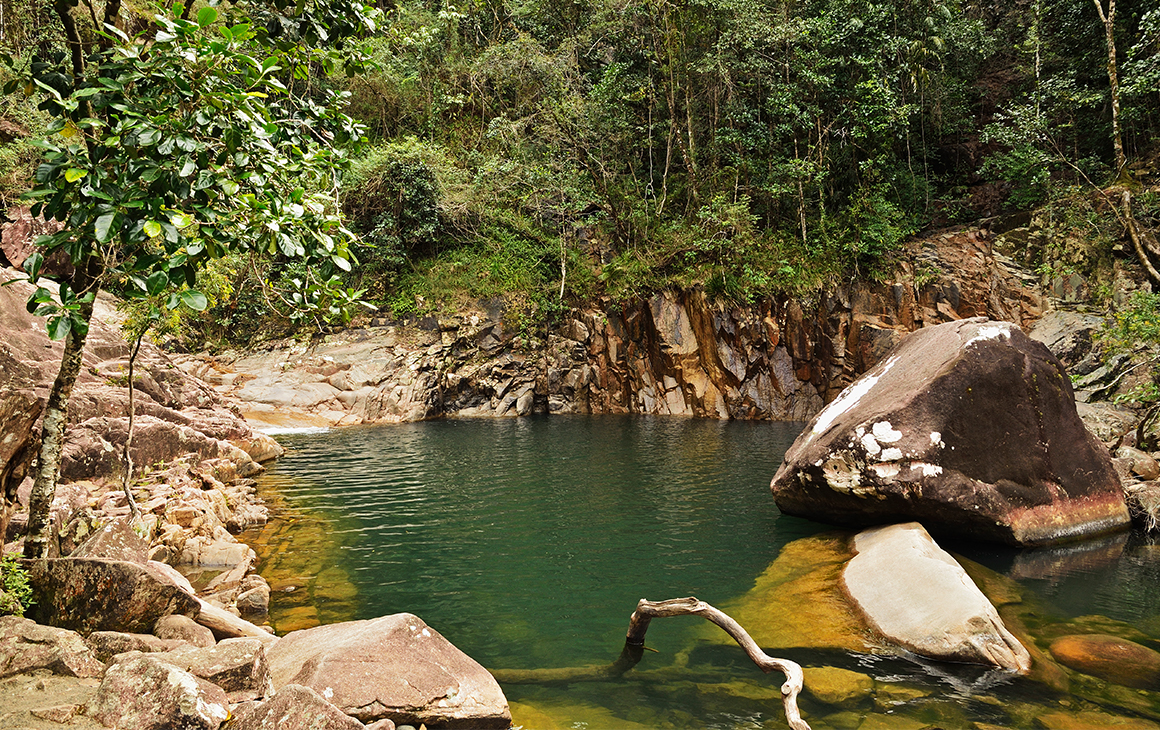 Finch Hatton Gorge
Mackay
A stunning combination of waterfalls, lush flora and volcanic boulder formations make Finch Hatton Gorge a must-see destination in the Mackay area. There are plenty of walking tracks to choose from, as well as other uber cool activities to get your heart racing, including ziplining or scuba diving through the rainforest waters with platypus. As far as swimming holes go, rock pools are also plentiful, and if you're willing to walk a bit further, you can take the 1.4 km track to the Wheel of Fire Cascades, a waterfall with a large swimming hole at its base.
Behana Gorge
Innisfail
Only 45 minutes from Innisfail, Behana gorge is the full package if you're looking for a day well spent swimming in a mountain stream, hiking and picnicking. The gorge itself is a 3.5 km hike along a steep but defined walking path, with abundant swimming opportunities along the way. If you make it to the end of the hike, you'll be treated to breathtaking views of the gorge and a spectacular waterfall, as well as a swimming hole below it, a favourite spot for locals and visitors alike.
Lower Portals
Mt Barney
It might be an hour-and-a-half drive plus a three-hour return walk along a rocky trail to the Lower Portals, but trust us, these crystal clear rock pools are worth it. Framed on either side by granite boulders, there always seems to be enough cool water for a splash here, which is lucky, because you'll need it after the hike in. Not just a stellar spot for a dip, you can also camp nearby, though you will need to score a permit in advance.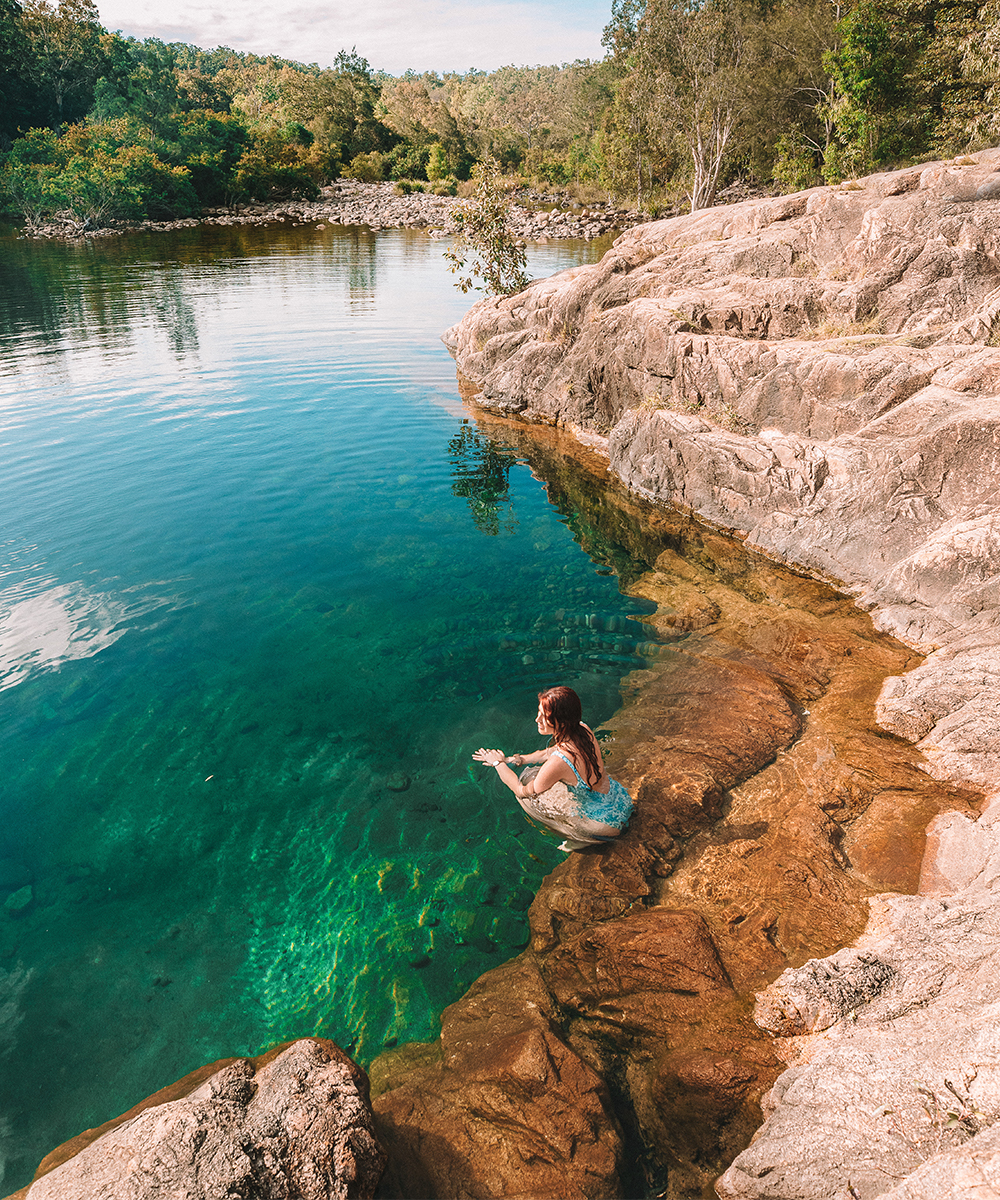 Big Crystal Creek
Townsville
If rock hopping across granite boulders and swimming in crystal clear creek waters with friendly tortoises is your vibe, you need to make a trip north to Big Crystal Creek in Paluma Range National Park, about 75km north of Townsville. It's a bit of a hidden secret, so you might even score the entire place to yourself. With deep pools, rock slides, waterfalls and plenty of space to set up a picnic, it's worth the short drive down the unsealed road.
Booloumba Creek
Sunshine Coast
This hunt will take you a little further afield from the bustling coastline of the Sunshine Coast and into the Conondale National Park. Pull up your car, tie up your laces (yep, ditch the thongs unless you want to make friends with LEECHES!), and hike a short 1.5km to the picnic area. Just before the falls lookout head down the stairs where you'll find the main pool, perfect for a dip or waterfall shower. Loving the scenery? Back up, and set up a tent at the Booloumba Creek campsite.
Prefer to do your swimming in the sea? Check out Queensland's best beaches here.
Image credit: Tourism & Events Queensland, Getty