Picture yourself waking up on a lazy Sunday morning, what food favourite do you first think of?
Pancakes.
From your classic maple and butter to the more adventurous flavours like raspberry white choc and orange blossom, you can never underestimate the power of a perfect pancake. This breakfast hero is almost like a morning rite of passage, and lucky for us, Brisbane's vast array of brunch venues know a thing or two about building an impressive stack.
As there are just too many delicious hotcake hotspots to choose from, we have done the hard yards for you and put together our list of the best pancakes and hotcakes on cafe menus around Brisbane right now. We may need our stretchy pants for this one.
Morning After
West End
You can't go wrong with a classic, and we dare say that Morning After has absolutely nailed the timeless hotcake to a T. On their menu right now is a gingerbread hotcake topped with caramelised pineapple, butterscotch ice cream, pecan crumb, meringue and summer syrup, that exceeds all expectations and makes for a mean brunch worthy of the Morning After menu. So get brunching, this is one unforgettable treat you won't regret.
Picnic West End
West End
This new West End cafe is already slaying the breakfast game thanks to their menu of creative feeds, not to mention their stunning, breezy interiors. It's Picnic's pancakes that have us frothing though, which thanks to some wizardry with cream cheese, are the fluffiest, chewiest, most addictive pancakes you will ever eat. Topped with fresh fruit salsa, berry compote, pistachio praline, salted caramel sauce, lemon balm and vanilla ice cream, they'll have you licking the plate clean and asking for more.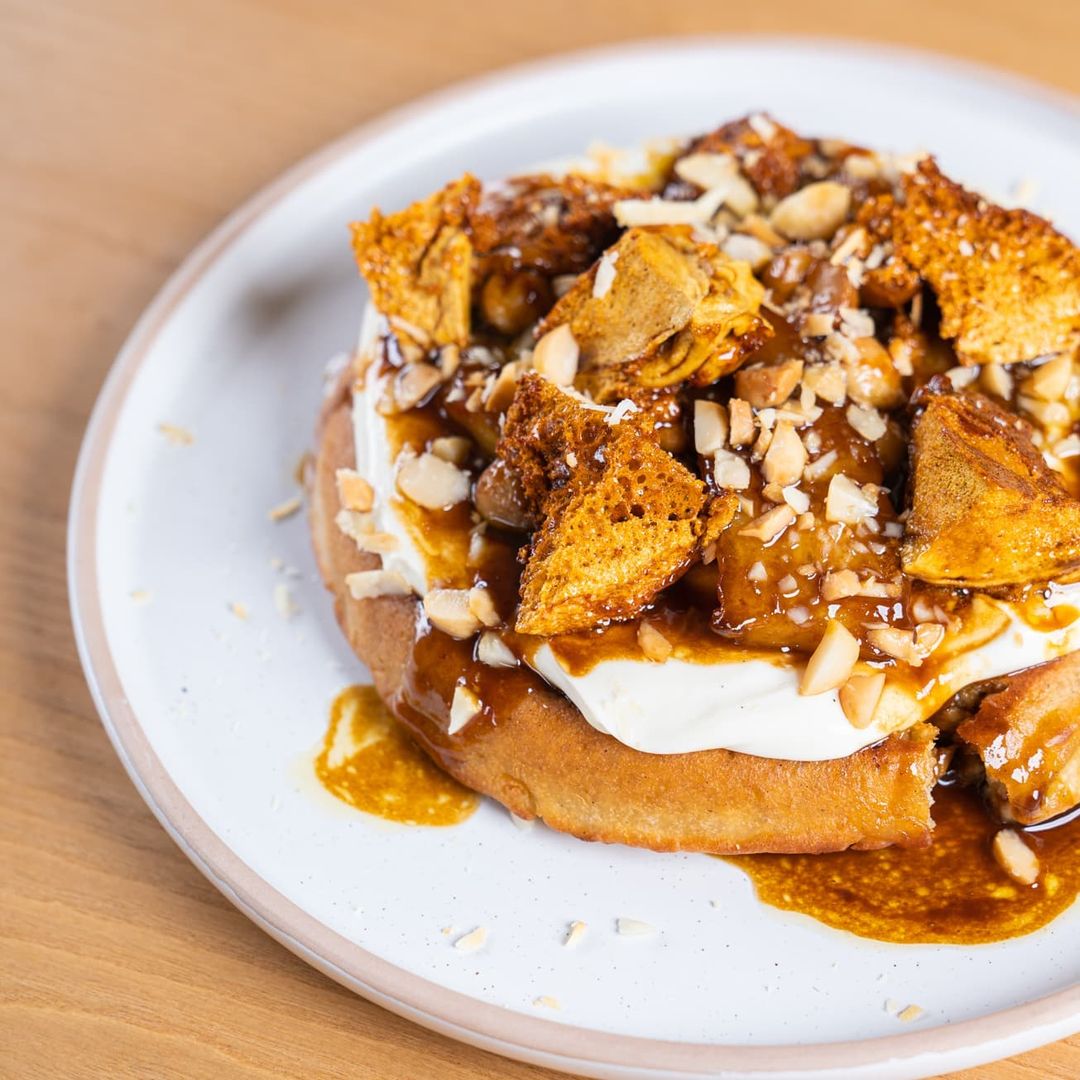 The Smug Fig
Stones Corner
The Smug Fig has a brand new home in Stones Corner—and they've got a delish new menu to go with it that features a pretty drool-worthy pancake dish. A fluffy buckwheat pancake is topped with enough honeycomb cream and caramelised banana to almost be a whole other meal all on it's own—not that you'd want to share.
Todd & Pup
MOOROOKA
Ever had a puffed pancake? If not, you need to head for Todd & Pup, who's current pancake offering is a puffed pancake topped with mango, white chocolate ice cream, macadamia crumble and a lemon myrtle glaze. It might just become your new favourite kind of pancake.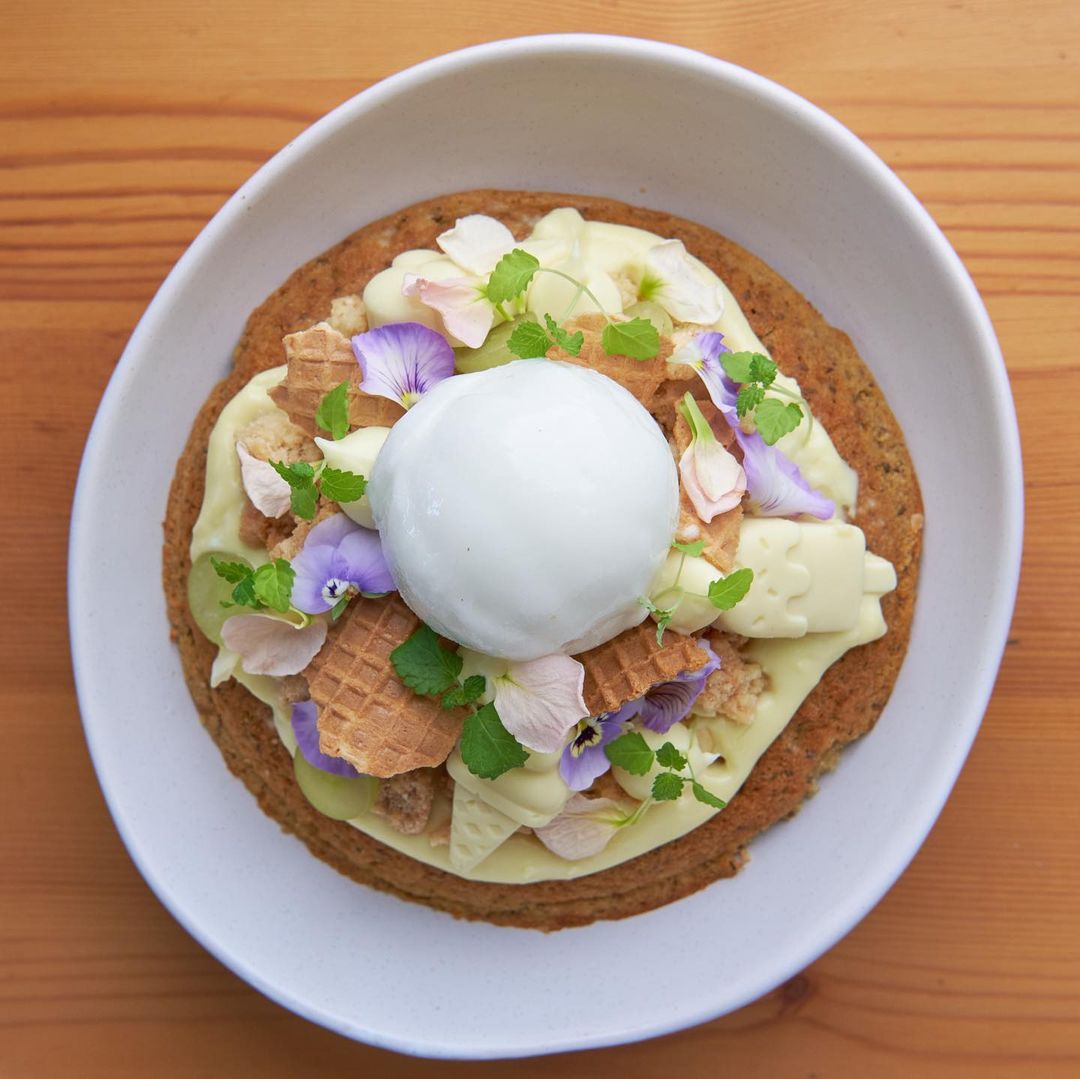 Peach Cafe
Auchenflower
This pastel pink cafe drew us in with their cheerful exterior, but it's Peach Cafe's epic menu that keeps us coming back for more. They absolutely love a hotcake spruced up with creative toppings, and this season have created a poppyseed hotcake topped with custard, yuzu sorbet, white chocolate ice cream, waffle coe and lemon balm.
Lady Marmalade
Stones Corner
At Lady Marmalade, the pancakes are a choose-your-own-adventure breakfast, with ricotta blueberry pancakes that you can opt to top with either pure maple syrup, fresh blueberries, lemon curd and brown butter ice-cream or pure maple syrup, grilled bacon and pecan butter. When in doubt, always get bacon.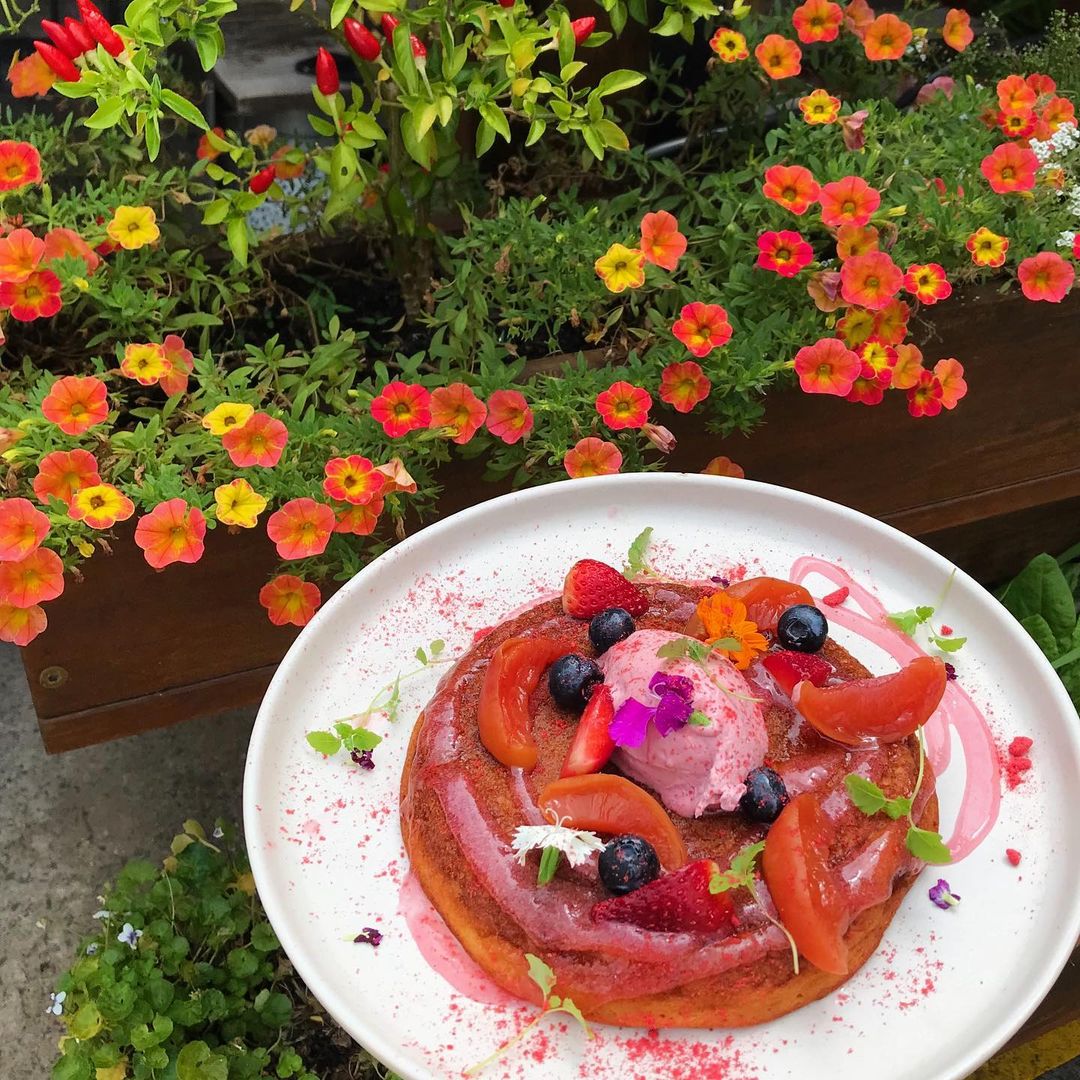 Farm House
Kedron
Head to the suburbs if you want to believe the hype around the one pan ricotta hotcakes made by the masterminds at Farm House. Located in the quiet streets of Kedron, the not-so-secret venue seriously knows how to do brunch—if the block-long lines are anything to go by. Treat yourself to the one pan hotcake with the perfect accoutrements of moscato poached peach, lemon myrtle syrup, raspberry mascarpone, almonds and gelato from Miss Sophia's next door.
Petrichor & Co
Hamilton
Petrichor & Co's entire menu is inspired by the exotic flavours of Colombia and Latin America, and their spiced pumpkin pancake stack is no different. Topped with acai and berry compote and white chocolate and pecan crumble, it's finished off with arequipe mousse. What's arequipe you ask? It's a kind of caramelized milk from Latin America—and yes, it's delicious.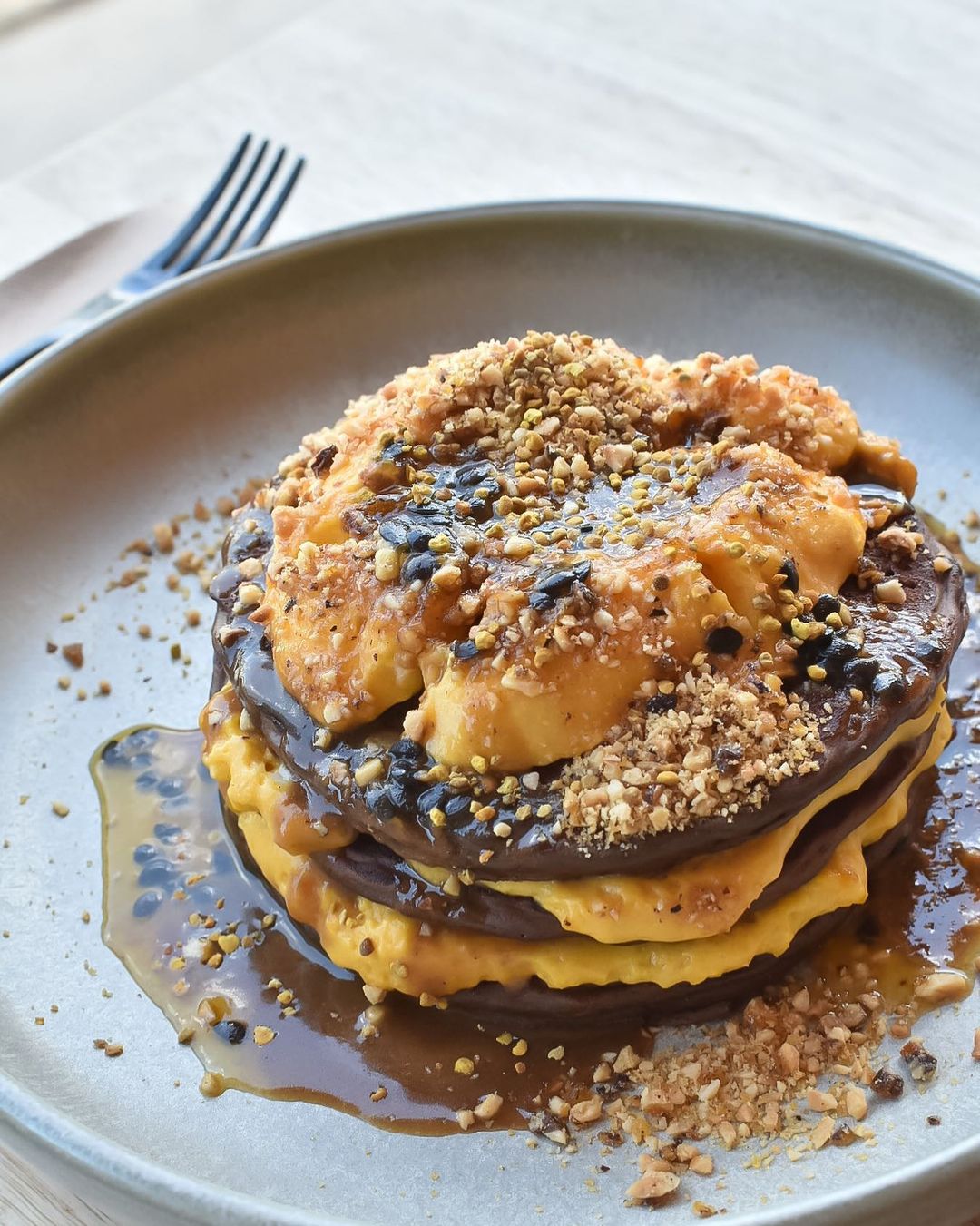 Plentiful
Graceville
Pumpkin pancakes are clearly a vibe right now, because Plentiful in Graceville is also serving up a stack of them. Theirs combine buckwheat pancakes with a light pumpkin mousse, buttery pumpkin caramel, hazelnut praline and passionfruit and we've never been so excited to eat vegetables for breakfast.
Little Black Pug
Mount Gravatt
Treat every day like it's cheat day and dive into the decadent hotcakes dished up at Little Black Pug. This cosy dog-friendly café has created a pancake stack inspired by sweet boba tea—a pile of milk tea hotcakes served with condesed milk ice cream, salted custard, boba brown sugar drizzle, tapioca pearls, cornflakes and berries. It's basically bubble tea for breakfast.
The Rabbit Hole Cafe
Seven Hills
Feeling like some savoury pancakes? The Rabbit Hole Cafe has you covered. And don't be mocking us for suggesting savoury pancakes, because the Americans really know what they're doing when it comes to carbs. The Americano stack here is loaded up with bacon, a fried egg, smoked maple syrup and chilli hollandaise sauce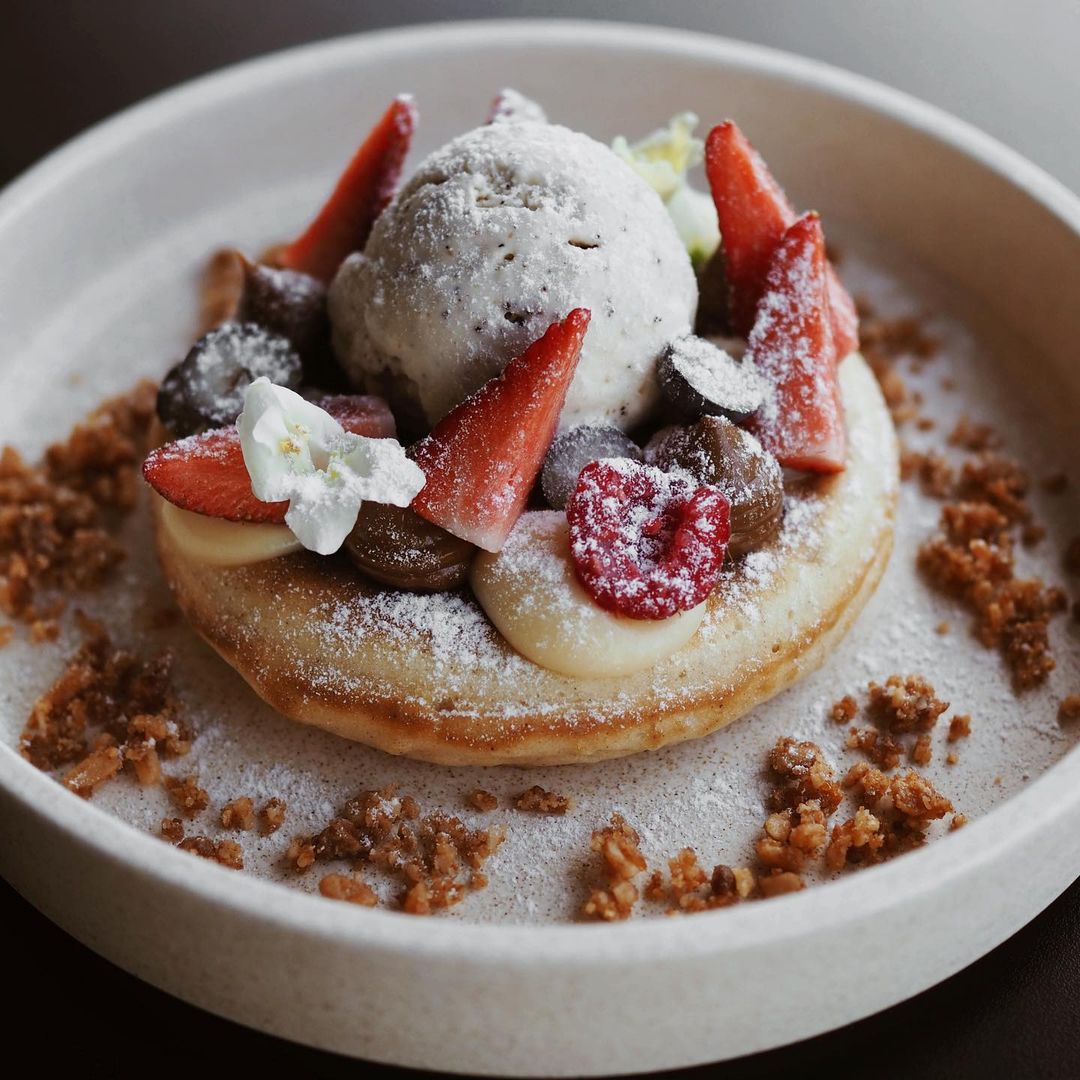 Kin & Co
Teneriffe
If there's one thing we know, it's that Kin & Co are the kings of all things coffee, breakfast and brunch (and lunch, but that's not what you're here for, is it?). This incredibly aesthetic café has their finger on the pulse of the perfect feed, adding buttermilk hotcakes with lemon curd, dulce de leche, wattleseed ice cream, macadamia maple paline and fresh berries to their menu. You can even add bacon.
Billy Kart Kitchen
Annerley
The ricotta pancakes at Billy Kart Kitchen are as classic as they come, and make for one of the best breakfasts in Brisbane. This season they're topped with fresh strawberries, strawberry gel, strawberry syrup, and have that incredible crunchy outer edge while still retaining their inner fluffiness. Totally worth the trip to suburban Annerley for.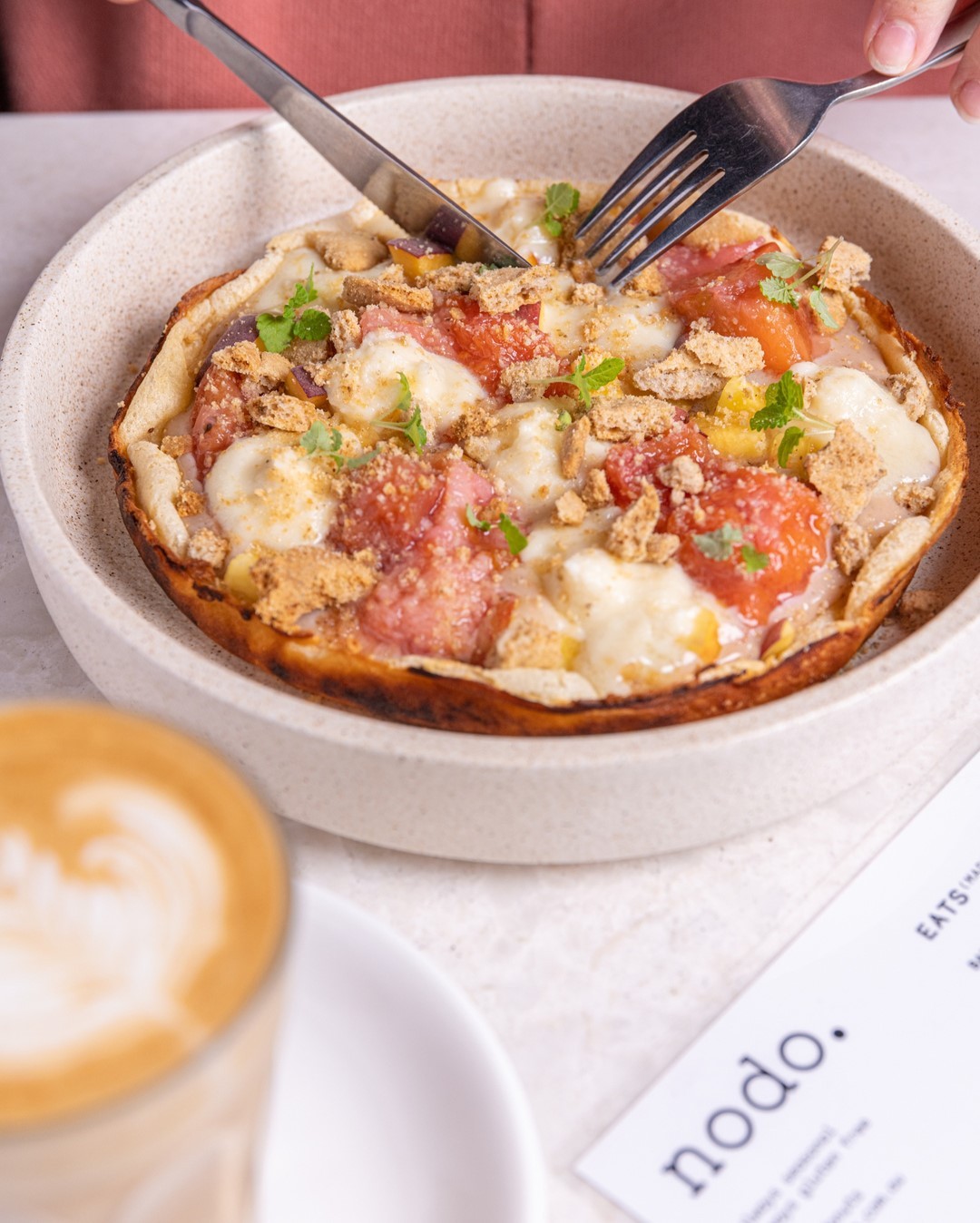 Nodo
Newstead, Camp Hill and Hawthorne
We get our peaches down at Nodo—in the form of their peaches and cream baked French pancake. The decadent, almost crepe-like pancake is a vehicle for early season peaches, lemon myrtle custard, native honey, whipped mascarpone, cinnamon myrtle buttermilk biscuit and lemon balm. You won't want a doughnut on your way out after this feed.
Method To The Madness
Kenmore
For a stack of pancakes that really pops, you'll want to head for Method To The Madness in Kenmore. Their red velvet pancakes are a vibrant shade of red and come topped with strawberry gel, maple syrup, raspberry labneh, seasonal fruits and a sprinkle of red velvet dust for good measure. Madness indeed.
Prefer your pancakes extra fluffy? Here's where to get souffle pancakes in Brisbane.
Image credit: Todd & Pup, Petrichor, NIRA Creative, Morning After, Kin & Co