We've spoken about getting everything from getting breakfast, cheese, dinner and even booze delivered to your door, but time and time again the sweet treats are relegated to the back burner, left as an afterthought while you try and satiate your sweet tooth with some sugary tea (we've all been there). But now it's dessert's time to shine, and you can indulge your cravings with Brisbane's best cakes, pies, doughnut fries and cannoli that can get delivered to your door.
Zeus Street Greek | Nutella Loukoumades
South Bank and Chermside
If you thought Paniyiri was the only time of the year you could get your hands on honey puffs, you thought wrong. Zeus Street Greek dishes them up all year round, and you can get them drizzled with your choice of Nutella or honey. Or get both to eat at home on the couch in your underwear, no judgement here.
How: Order online for takeaway or UberEats and Deliveroo for delivery.
Ze Pickle | Oreogasm
Fortitude Valley, Hawthorne and Camp Hill
Everything at Ze Pickle is designed for unadulterated munchies, and their desserts are no exception. If the name Oreogasm doesn't give you some kind of idea of what you're getting, let us fill you in. Deep fried Oreos in a doughnut batter with ice cream and liquid nutella, made that much better by sitting diagonally across the couch and binging Netflix. Drool.
How: Order online for takeaway (Hawthorne also available for delivery via UberEats).
Prova Pizzeria | Nutella Gnocchini
Stafford
You may have watched this video on our feed lately and drooled over the deep-fried, gnocchi shaped pizza dough being drizzled in lashings of Nutella. Well, if there was ever a time to give up your diet, it's now, when you can get this epic creation to takeaway from Prova Pizzeria (sans the pizza bowl, but we're not complaining).
How: Order on their websitefor takeaway.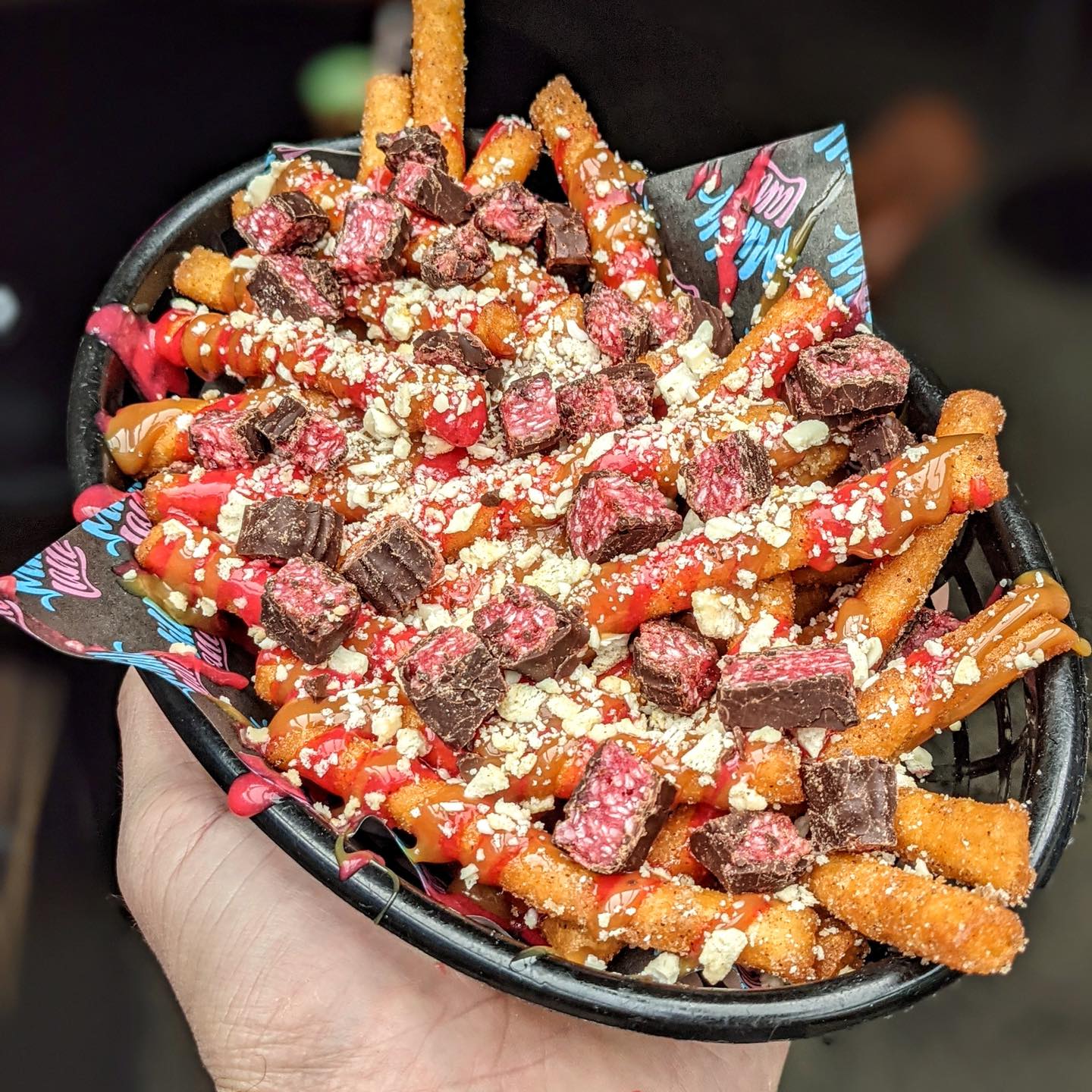 Milky Lane | Loaded Doughnut Fries
NEWSTEAD
Milky Lane has a reputation for creating the ultimate food experiences, and their doughnut fries are just another avenue for deliciousness. Enjoy crunchy doughnut fries covered in cinnamon sugar, topped with cherry ripe bits, shaved milky bar, salted caramel sauce and strawberry jam custard. Eating it on the floor with your cat? Just another part of the fun.
How: Call them for takeaway or order on Deliveroo for delivery.
Cowch | Apple Pie Pizza
SOUTH BANK AND CHERMSIDE
If the sugar cravings have hit you harder than you thought, then call on your local superheroes at Cowch for anything off their menu at home. Personally, this winter weather has us wanting to devour their apple pie pizza, a dessert slice topped with white chocolate and cinnamon sugar, stewed apple, shortbread crumb and caramel sauce.
How: Call them to order for takeaway or via Uber Eats.
1889 Enoteca | Tiramisu
Woolloongabba
Espresso soaked savoiardi, mascarpone and chocolate—1889 Enoteca's tiramisu is Italian perfection, and now you can eat it in the comfort of your own home. Preferably after a big bowl of one of their pastas. Belissimo.
How: Order for takeaway on Bopple.
Gnocchi Gnocchi Brothers | Cannoli
Paddington And South Bank
If you've explored every part of savoury Italian cuisine whilst at home, venture into desserts by ordering some Sicilian ricotta cannoli from Gnocchi Gnocchi Brothers, available for takeaway and delivery at both of their Brisbane outposts. Covered in icing sugar and crushed nuts, Gnocchi Gnocchi Brother's cannoli is the perfect combination of flavour and texture, best enjoyed alone so you can eat them all yourself.
How: Call them for takeaway or order on Uber Eats and Deliveroo for delivery.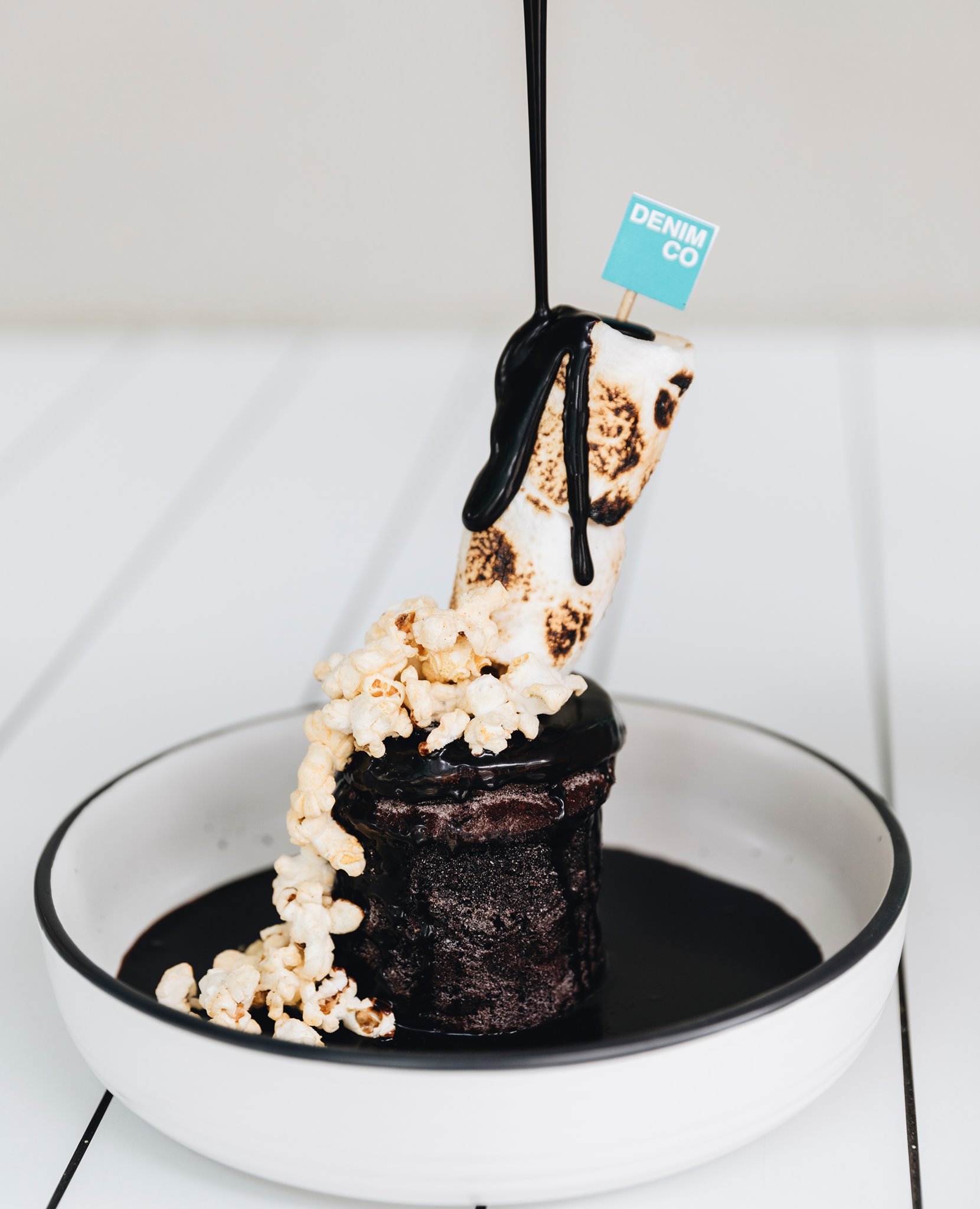 Denim Co | Lava Cake
SOUTH BANK
Lava cake seems to emulate the vibe we're all feeling right now—oozy, warm and breaking down. Denim Co has a fully loaded lava cake (check it out here) on their takeaway dessert, and it comes sprinkled with toasted marshmallows and caramel popcorn, for an extra hit of sweetness. Better make sure you have a glass of milk to wash it down with.
How: Order on Bopple for takeaway or Uber Eats for delivery
I Heart Brownies | Gluten-Free Brownies
Bowen Hills
Eating a gluten-free diet can be testing at times, but I Heart Brownies is fighting back against boring gluten-free desserts and baking up some of the best brownies in Brisbane. With a lineup of flavours like cherry coconut, macadamia white chocolate and Turkish delight (or any other of their 12 flavours), you can warm them up and serve with a dollop of cream. Perfect.
How: Head in store for takeaway or get on UberEats and Deliveroo for delivery.
Cakes & Sh!t | Milk And Cookie
Fortitude Valley
We're not usually ones to swear, but these are trying times. Cakes & Shit are a sassy bakery here for all your Netflix and chill needs, and their milk and cookies are the ultimate comfort food, with three different cookies and a bottle of milk to match. If those Zoom meetings aren't going well, maybe add in some extra curse cookies.
How: Order on Uber Eats or Deliveroo for delivery or drop in for takeaway.
Hashtag Burgers & Waffles | Waffles
Fortitude Valley and West End
It's in the name really—as well as their epic burger stacks, Hashtag Burgers & Waffles will box up a serve of their waffle sticks—deep-fried waffle strips dusted with cinnamon sugar—and load them with your choice of toppings. The warm Nutella is a must of course, and we suggest a sprinkle of crushed Maltesers and strawberry ice cream on top.
How: Order on Hungry Hungry for pick up or delivery.
Pie Town | Snickers Pie
West End
The folks at Pie Town are here to help you satiate your 3pm sweet tooth with a little bit of goodness, with a whole Snickers Pie that can feed 6-8, or maybe just one. Featuring an Oreo crust, peanut butter mousse, lashings of caramel and crunchy peanuts all topped with Snickers and chocolate caramel sauce, you can order a whole pie in advance or drop in for just a slice. Watch it being assembled for extra motivation here.
How: Order online for pick up or drop in for takeaway. Standby for lockdown takeaway hours.
If sweets aren't your thing, here are Brisbane's best meal delivery services.
Image credit: Pie Town