If you've never planned a trip to the Scenic Rim, we're here to tell you, you're most definitely missing out. Bursting at the seams with incredible scenery and adventure, an array of locally grown—and delicious—food, wineries and unique accommodation options, it's probably time you made the trek.
To help you tackle it all, we've put together the ultimate guide to everything you need to eat, see, and do in the Scenic Rim. First up though, you'll need somewhere to stay—so you take a scroll through our favourite accommodation options here and book yourself somewhere nice.
Things To Do
Sample Camel Cheese At Summer Land Camels
You might be surprised to discover, like us, that Camel Milk is a skin superfood—and Summer Land Camels is where to stock up. Located in Harrisville, Summer Land Camels not only sell a range of dairy and skincare products using Camel's milk but they also give visitors the opportunity to experience a farm tour and even camel rides. Known as one of humanity's most trusted and ancient animal companions, make the journey to this scenic farm to learn about Australia's camel history, enjoy a camel ride and then indulge in a camel cheese platter.
Go Flower Picking At Elderflower Farm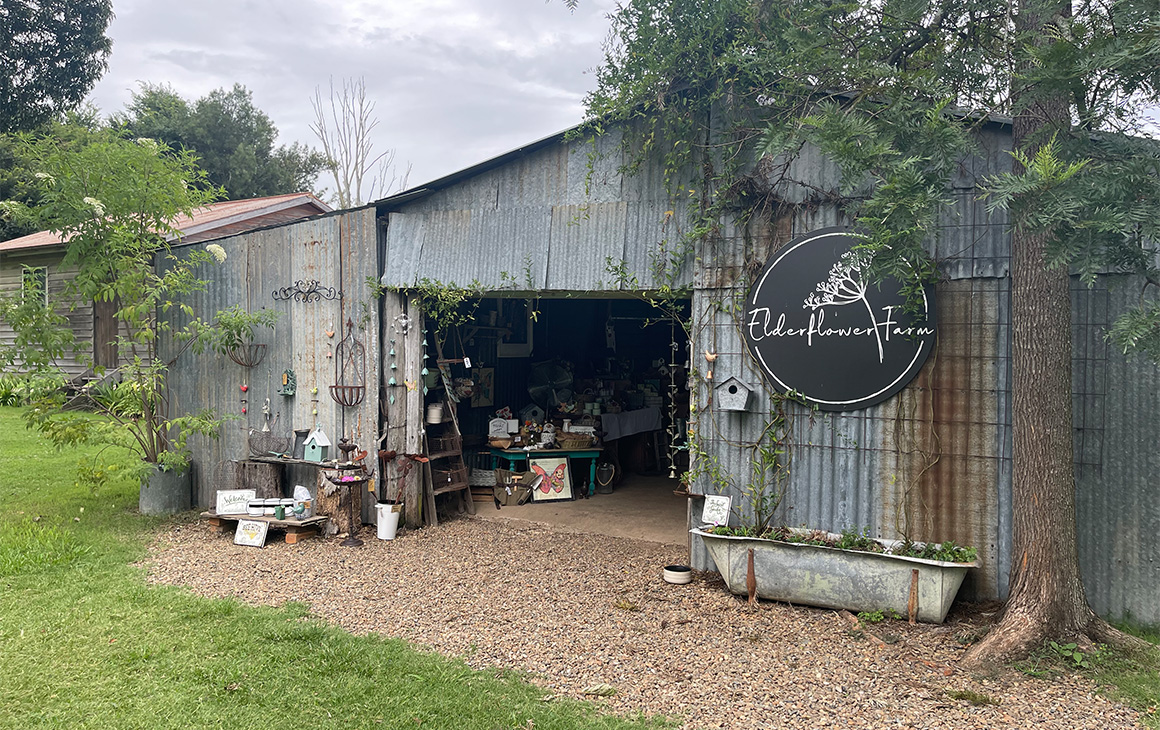 You can just visit Elderflower Farm's rustic garden shop and purchase a bouquet of ready-made fresh flowers, but the real treat is grabbing some snippers and heading out to the rows of flower beds growing a variety of seasonal heirloom blooms to pick your own. Every Saturday and Sunday from 9am to 3pm you can fill a small vase for $25—make sure you grab one of their edible flower lollipops to suck on while you wander.
Take An Alpaca For A Stroll
Located within O'Reilly's Canungra Valley Vineyard you'll find the fluffy haven that is Mountview Alpaca Farm, home to a herd of human-loving alpacas, each with distinctive hairdos and adorable names (we're looking at you Crumpet), who are ready and willing to get up close and personal with you. Take one for a stroll through the vineyards or opt for an experience that includes alpaca love plus Devonshire tea, pizza or a picnic. Every option includes some food for your fleecy counterparts; it's only fair!
Browse Antiques At The Wiss Emporium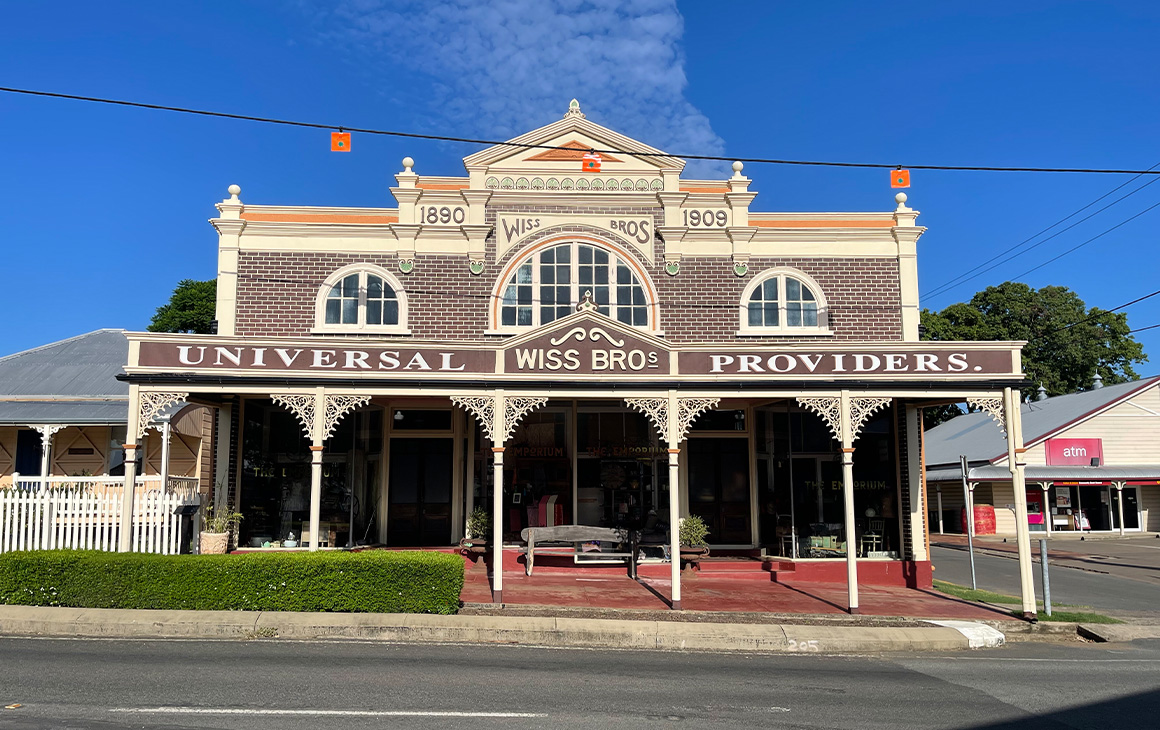 Built at the turn of last century, Wiss Brothers Store in Kalbar Village is a stunning heritage-listed building in itself, but it's even more worth a visit now that it is home to The Emporium. The cavernous space inside is filled with antiques, vintage fashion and collectibles, as well as gifts and knick knacks, with a coffee shop soon to come. Stop in to browse and you may find yourself walking out with a new purchase.
Watch Sheep Milking At Towri Sheep Cheeses
If there's one thing you'll learn in the Scenic Rim, it's that cheese doesn't only come from cows. At Towrie, its sheep milk that they turn into delicious, creamy cheeses, and on the first Saturday of each month from 10am-2pm, you can visit them to see how it's done. Milking demonstrations, talks, and farm strolls are all on the agenda each month, and you'll also get to create your own snack platter using fresh, local produce from the Towri Shop, with a coffee van on site for hot drinks and fresh donuts.
Take In The Views At Kooroomba Lavender Farm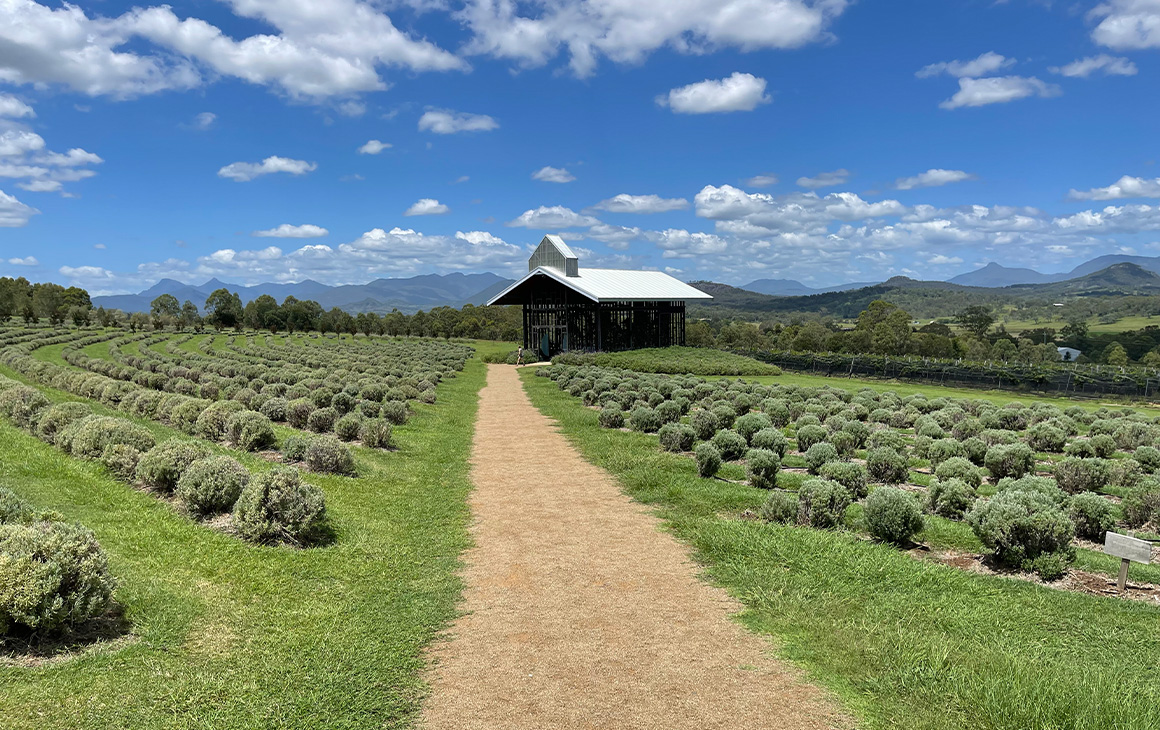 We've all taken a moment to lust over those pretty pictures of happy people swanning about among rows and rows of purple. You too can do this at Kooroomba Vineyards and Lavender Farm. The property overlooks rolling hills and mountains and you can take a wander through the lavender fields to enjoy the views, taking endless photos in their stunning open wedding ceremony pavilion, before heading to the restaurant to take 180-degree views over a meal. Sounds like heaven (with a scent of lavender).
Have A Picnic At Olive View Estate
Stocked up goodies from your travels around the rim? Pop them all in a cooler bag and take them to Olive View Estate, where a vintage food truck sells an array of olive products to finish off your feast—think jars of olives, olive oil for dipping fresh sourdough in and chutneys to pair with some smelly cheese. You can plonk yourself down on one of the picnic tables or lay a rug down in a shady spot in the grass—and don't forget to say hi to the resident sheep before you go.
Score Some Boujee Mushrooms
Selling boutique shrooms out of the old Harrisville bowls club, Scenic Rim Mushrooms is a must on any road trip in this neck of the woods. Supplying funghi to some of the region's best restaurants (like Blume), you can pick up some lions mane, freckled chestnuts and oyster mushrooms, along with some pottery and vintage wares. They're only open 10am to 4pm on Saturdays, so you can come on in for a chat with Mat Davis who will teach you all about the benefits of mushrooms.
Where To Eat
Scenic Rim Farm Shop & Cafe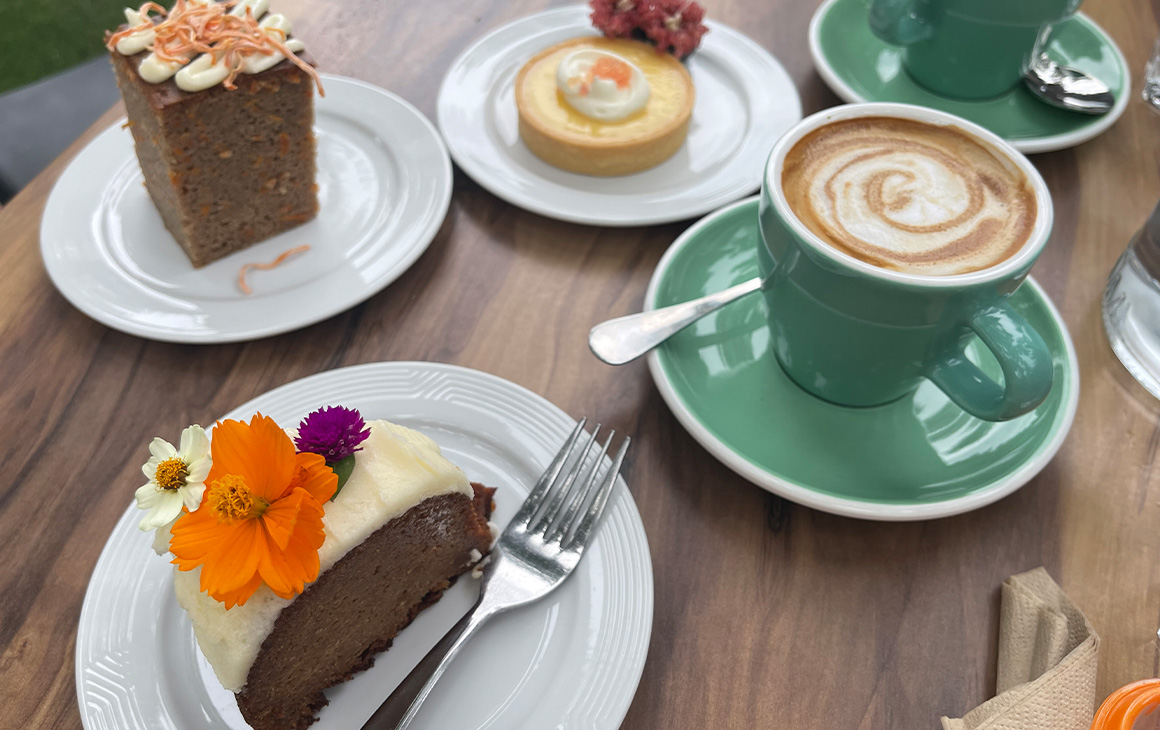 You'll want to make at least two stops to the Scenic Rim Farm Shop And Cafe, one for a hearty brunch and a coffee, and one for several (yes, several) slices of their delicious cakes. The carrot cake is an absolute must, and is best eaten outside under the towering jacaranda trees. You might even get to meet Roxy, their resident doggo.
Roadvale Hotel
This old school pub has just had a schmick makeover, and it is worth stopping in for a pint and a feed. Whether you sit inside in Roadvale Hotel's relaxed dining room or outside on the patio, you'll find yourself instantly relaxing into a country state of mind, especially after a massive feed of one of their enormous ploughman's boards and main of tender beef cheek with seasonal vegetables.
Blume Restaurant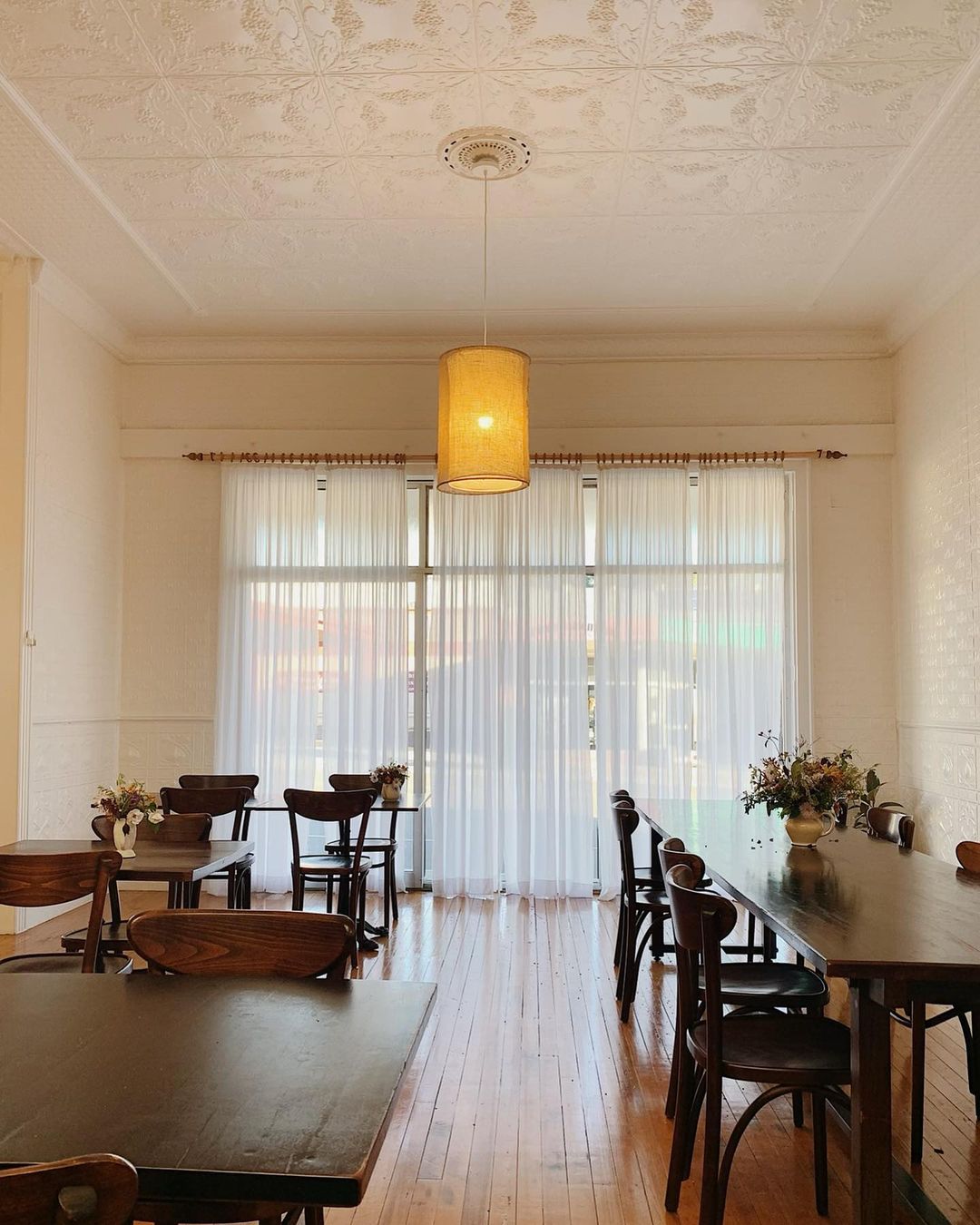 For an intimate dining experience that showcases the best seasonal produce the Scenic Rim has to offer, Blume is your spot. Right in the heart of Boonah, Jack Stuart heads up the kitchen at Blume and loves using rare herbs and flowers grown right next door. As with all seasonally focussed restaurants, the menu remains flexible, but you can expect tastes like hash brown with smoked garlic, roasted yeast and dried vinegar and wagyu with seaweed mustard.
The Paddock
Part of the stunning Beechmont Estate, a luxury accommodation option for the well-heeled, The Paddock is a chef-hatted dining spot worth visiting whether you're staying or not. Chef-hatted, their hyper-local focus means only the freshest seasonal produce makes it onto the plate, with everything cooked over open fire. You can opt for a two or three-course feed from their short but sweet menu, but it's really all about the chefs menu here, where you let the chefs decide.
Where To Drink
Scenic Rim Brewery And Cafe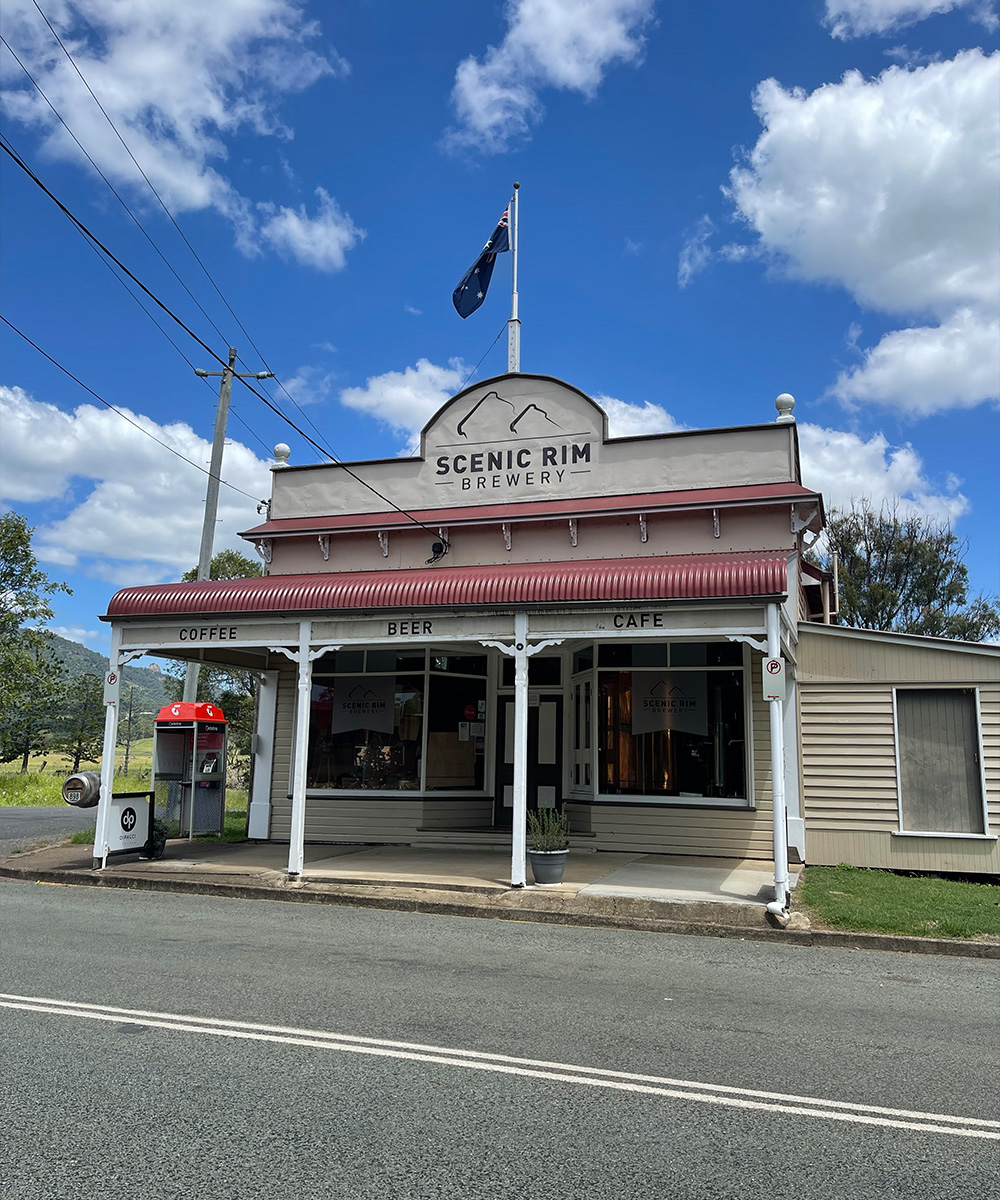 Beer lover or not, the Scenic Rim Brewery & Cafe in Mount Alford is a must-visit for anyone in the area. Celebrating the place and people they love, the brewery, which is set in a heritage-listed, 100-year-old former general store, is more than just a brewery, showcasing a story that's worth listening to. Sporting names like 'Digga's' for their Pale Ale, 'Shazza' for their Mid Strength, and 'Fat Man' for their Maroon Ale, you know these guys don't take themselves too seriously. Book yourself a tour package and experience the Scenic Rim Brewery in all its glory or pop in for a look and a bite in their cafe.
The Overflow Estate 1895
The Overflow Estate 1895 is where you'll find a gorgeous restaurant and tasting bar perched on the edge of picturesque Lake Wyaralong. Sample your way through the winery's latest drops before choosing your favourite and savouring it over an epic cheeseboard overlooking the lake. You can even stay the night in one of the luxe, onsite Wanderpods if you're so inclined.
Tambourine Mountain is also in the Scenic Rim, but we thought that needed a whole guide on its own, which you can find right here.
Image credit: Tourism & Events Queensland, Ranyhyn Laine