Queenslanders, we know you love your home that's why we're on a mission to help you explore our beautiful backyard and support businesses that need your help right now. We're challenging you to support 20 Queensland businesses in 2020. Make the promise to stay home but don't stay in—staycation the right way by getting out and visiting the towns and regions that need you the most.
If you've never planned a trip to the Scenic Rim, we're here to tell you, you're most definitely missing out. Bursting at the seams with incredible scenery and adventure, an array of locally grown—and delicious—food, wineries and unique accommodation options, it's probably time you made the trek.
To help you tackle it all, we've partnered with Tourism and Events Queensland to bring you everything you need to eat, see, and do in the Scenic Rim.
Things To Do
Swing Between The Tree Tops At Tamborine Mountain
Thrill-seekers, seek no more. The Tree Top Challenge is Australia's largest zipline and high ropes adventure, so you know you're in for a treat. Set high above Cedar Creek Gorge on beautiful Tamborine Mountain, this iconic experience is without a doubt one of the Scenic Rim's best activities. Brace yourself for a climb up to 11 metres high with 10 epic ziplines, 120 challenges, four levels to tackle and nine acres of world heritage nature to explore.
Get Among Nature At Thunderbird Park
If you're looking for a place that has it all, we think we may have found it. Not only does Thunderbird Park in Tamborine Mountain boast a range of accommodation (think lodges, bunkhouses, bush houses and a resort) and mouth-watering restaurant, the park is loaded with things to do. With everything from laser skirmish to bird feeding, horse riding in the Hinterland to adventure mini-golf and a Cedar Creek Falls walking track, you can be sure that every member of your crew is catered for.
Explore Glow Worm Caves At Tamborine Mountain
Existing as the only opportunity in Queensland to see glow worms during the day, this conservation initiative is not one to miss. Embark on a guided tour of this purpose-built cave and be in awe of the spectacle that is thousands upon thousands of shining glow worms. The best part? Your admission fee will go towards the conservation of these delicate and very rare animals, found only in Australia and New Zealand. The cave is currently only open on weekends and we recommend booking before you arrive.
Get Your Heart Racing At Scenic Rim Adventure Park
Get ready for 680 acres of adventure at the Scenic Rim Adventure Park. With over 28 kilometres of walking tracks and trails to explore via 4WD, bike or foot. The park features many recreational areas such as mountain bike tracks, a man-made maze, tyre maze, obstacle course, bushwalking trails and even the ability to stargaze and spot a variety of Australian wildlife.
Walk Among The Rainforest Canopy At Tamborine Rainforest Skywalk
Perfect for those seeking a little less adrenaline but still keen to get out and about amongst nature, the Tamborine Rainforest Skywalk offers guests a unique and scenic way to explore rainforest canopies. The 1.5-kilometre walk is situated a breathtaking 30 metres above ground level and gives walkers the perfect vantage point of the creek and rainforest below. Complete with a cafe serving cold drinks and even a gift and souvenir shop, you can consider your morning or afternoon sorted.
Explore On Camel Back With Summer Land Camels
You might be surprised to discover, like us, that Camel Milk is a skin superfood—and Summer Land Camels is where to stock up. Located in Harrisville, Summer Land Camels not only sell a range of dairy and skincare products using Camel's milk but they also give visitors the opportunity to experience a farm tour and even camel rides. Known as one of humanity's most trusted and ancient animal companions, make the journey to this scenic farm to learn about Australia's camel history, enjoy a camel ride and indulge in one of their many products.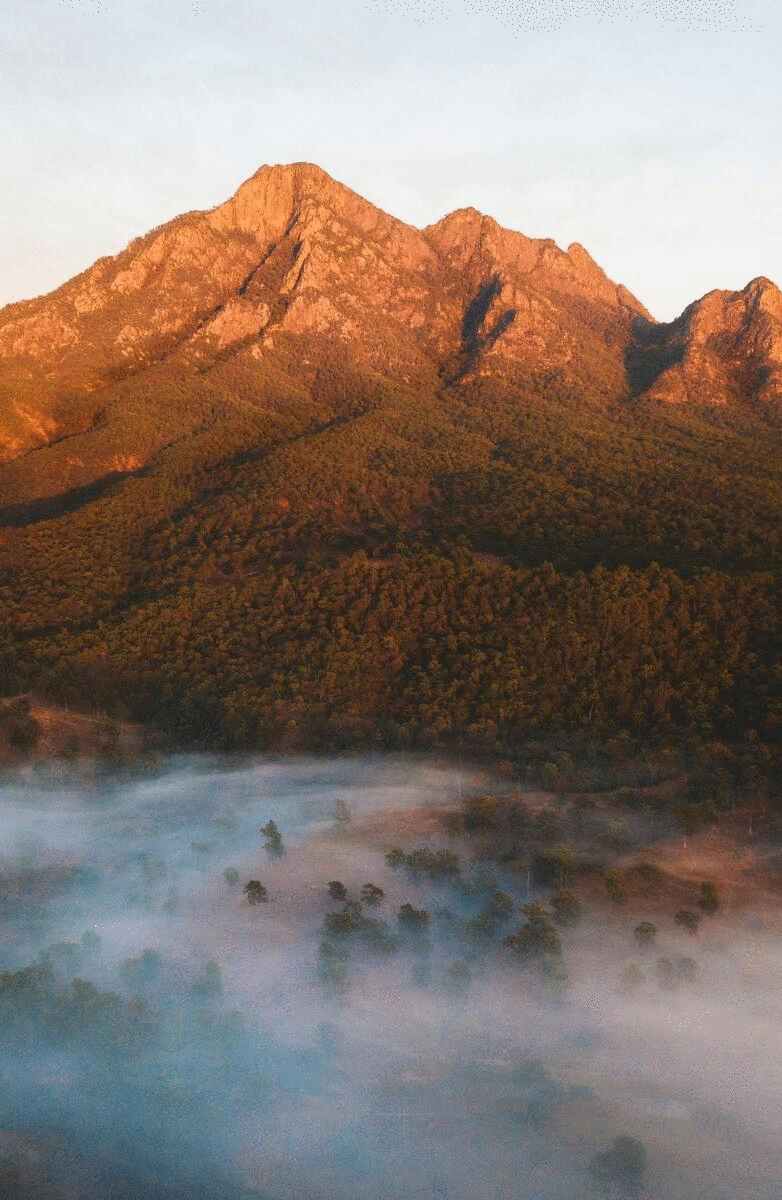 Where To Eat
Rainforest Restaurant And Lounge Bar
Set in Thunderbird Park, the Rainforest Restaurant and Lounge Bar allow guests to dine amidst the rainforest, surrounded by lush greenery, wildlife and ample photo opps. Serving breakfast, lunch and dinner you can head there at all times of the day for a delicious feed while catching some of the Scenic Rim's best scenery.
Three Little Pigs Bar and Bistro
For food that feels like a big warm hug, head to Three Little Pigs Bar and Bistro in Tamborine Mountain. Describing themselves as "fine dining in a rustic setting", the restaurant is ideal for big and small groups with over 60 seats, private booths and even a private dining room. Our pick? Make sure to order the 'Oink & Surf', complete with pork belly and prawns or calamari served with sprout salad and house-made tartare sauce. Three Little Pigs is open and seating 20 people on Wednesdays to Saturdays for lunch and dinner, and lunch on Sundays.
Bearded Dragon Hotel
If you're a sucker for the ultimate pub feed, The Bearded Dragon Tavern is the only place to go. Serving up 15 boutique and craft beers, including their very own Bearded Dragon Brew, you can rest easy knowing you'll be able to quench your thirst with an ice-cold beer after a long day exploring the Scenic Rim. Serving up breakfast and an all-day dining menu, you can expect to tuck into big boy brisket Yorkshire pudding, sticky plum and maple glazed pork belly and Dragon's signature local bangers and mash. Safe to say you'll be rolling out of there.
Where To Drink
Scenic Rim Brewery And Cafe
Beer lover or not, the Scenic Rim Brewery & Cafe in Mount Alford is a must-visit for anyone in the area. Celebrating the place and people they love, the brewery, which is set in a heritage-listed, 100-year-old former general store, is more than just a brewery, showcasing a story that's worth listening to. Sporting names like 'Digga's' for their Pale Ale, 'Shazza' for their Mid Strength, and 'Fat Man' for their Maroon Ale, you know these guys don't take themselves too seriously. Book yourself a tour package and experience the Scenic Rim Brewery in all its glory or pop in for a look and a bite in their cafe.
O'Reilly's Canungra Valley Vineyards
Located down a mountain outside the gorgeous township of Canungra, the O'Reilly's Canungra Valley Vineyards is the perfect activity for all lovers of vino. Boasting much more than just tastings at their cellar door, the extensive grounds stretch along the banks of the Canungra Creek, making it the perfect place to kick back with a picnic—and a bottle of wine, of course. Bottling up everything from Sangiovese to Rose, Shiraz and even Sparkling wine, there's a drop of everything for all.
Tamborine Mountain Distillery
Set against a backdrop of sub-tropical rainforest and nestled atop a mountain, the Scenic Rim experience wouldn't be complete without a visit to Tamborine Mountain Distillery as soon as restrictions ease for Stage 3 (mark July 10 on your calendars). Having received over 300 international awards and boasting a large variety of aromatic ingredients like herbs, fruit and spices, there's no doubting the reputation of this 25-year-old distillery, bottling up everything from vodka, to schnapps, absinthe and liqueurs. Although tastings are off the cards for now, you can still visit the cellar door to pick up some bottles in the meantime.
Witches Falls Winery And Cellar Door
Don't let the size of this winery fool you, Witches Falls is a bold winery with huge passion and dedication to their craft. Producing three distinctive ranges of wine, you can try Granite Belt, Ferment and Prophecy, each exhibiting unique styles and practices in viticulture and winemaking. Stop by and indulge in a tasting session or pick up a few bottles from their cellar door. Get your hands on everything from Malbec to Merlot and even create a DIY cheese platter from their range of Jambreen cheese to enjoy in their picturesque gardens.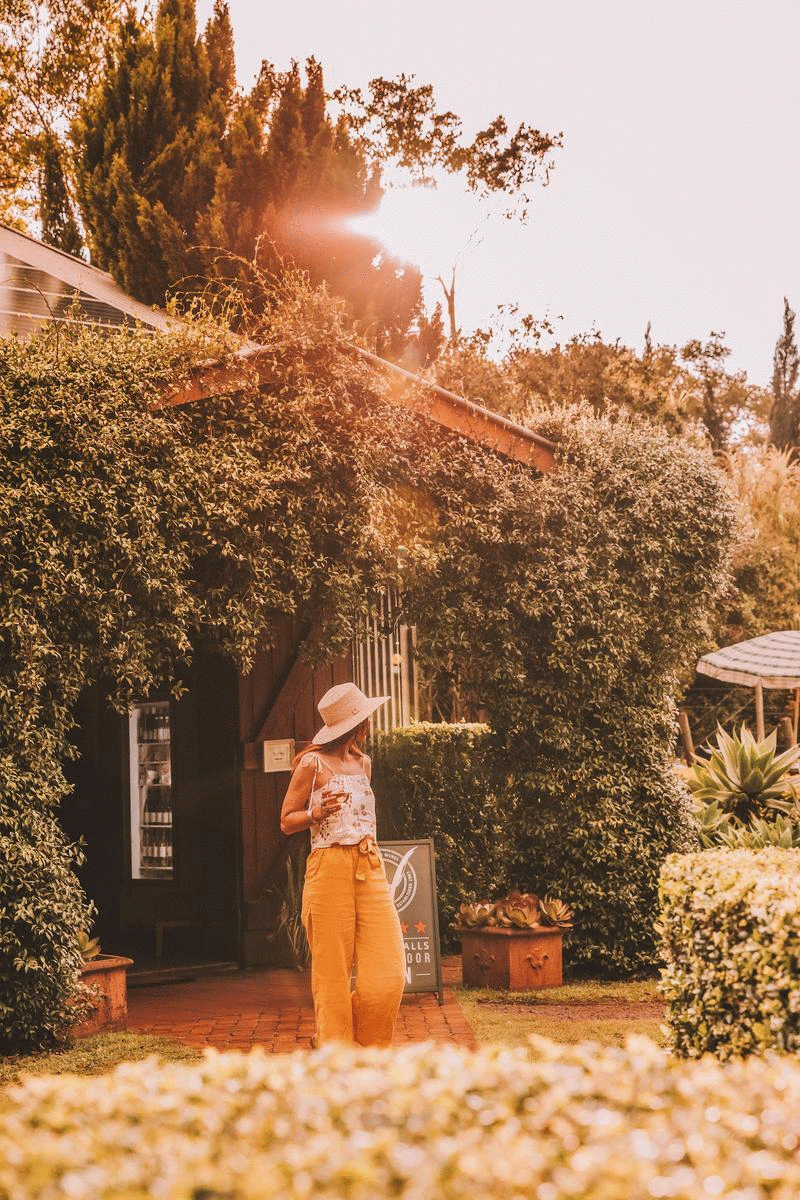 Where To Stay
O'Reilly's Rainforest Retreat
A Scenic Rim icon, O'Reilly's Rainforest Retreat has been welcoming travellers locally and from around the world to escape, experience and connect with nature for over 93 years. Providing both cosy serviced accommodation that overlooks the western McPherson Ranges and architecturally-designed villas perched on the hillside, there's accommodation to suit every kind of traveller. Get cosy in a Mountain View Studio or Room, take in the view of a one or two-bedroom canopy suite or live it up in a one, two or three-bedroom villa with either rainforest or valley views.
Tall Trees Motel Curtis Falls
Surrounded by the stunning Tamborine Mountain, Tall Trees Motel is the perfect rainforest style accommodation, with cosy, comfortable rooms and set in prime location, located across the road from Curtis Falls Waterfall and the Joalah Section of Tamborine National Park. Choose from a range of suites that can accommodate anywhere from two to eight guests and take full advantage of the stunning surrounding gardens and nearby bushwalks, waterfalls, wineries, distilleries and more.
Greenlee Cottages
Nestled in the Canungra Valley, the Greenlee Cottages overlook the Greenlee Farm, a family-owned and operated working macadamia farm in the picturesque Darlington Range, bordered by the Canungra Creek, pure bliss. Housing four cottages that sleep anywhere from two to four guests, the cottages are contemporary with rustic charm, helping to provide guests with authentic accommodation that makes them feel at one with nature and the vibrant history of the area.
Ketchup's Bank Glamping
We all know glamping is always a vibe, and Ketchup's Bank Glamping is certainly one to add to the bucket list. This place is one of the Scenic Rim's best-kept secrets, enveloped by hills, mountains and greenery, you can have the best of both worlds with luxury accommodation that still provides the romance of camping under the stars, all in an ecologically friendly way. Perfect for couples, the glamping features a heated bed, fire pit and a front deck perfect for soaking up the stunning view.
Witches Falls Cottages
If you're looking for an experience that's a little different, Witches Falls Cottages is the accommodation for you. Located directly opposite the Witches Falls National Park and in walking distance to nearby shops, cafes, restaurants and wineries, this accommodation is equally relaxing as it is convenient, with gourmet breakfast hampers delivered to your door each morning—heaven. Choose from a Rainforest Spa Suite, Holiday Houses, Private Rainforest Spa Cottage or a Premium Spa Cottage and revel in the privacy and tranquillity.
Villa Della Rosa Bed And Breakfast
This Mediterranean-style Bed and Breakfast is located in a secluded corner of Tamborine Mountain and is an idyllic home away from home. Positioned only a short distance from iconic tourist attractions, this place is perfect for those looking to get out and explore the area. After a long day out and about, you can retreat to one of three luxuriously appointed and spacious rooms, the 'Florentine', 'Roman' or the 'Venetian', for some rest and recovery with a long indulgent spa bath. Sounds pretty unreal to us.
Whether it's adventure you crave, scenery you're seeking, indulging in local produce or simply relaxing with a drink is your style, there's something to tick every box on a weekend escape to the Scenic Rim. And what better excuse to explore our beautiful backyard than to support Queensland businesses that need your help right now. Join our 20 For 20 Challenge here.
Editor's note: This article is sponsored by Tourism and Events Queensland and proudly endorsed by Urban List. Thank you for supporting the sponsors who make Urban List possible. Click here for more information on our editorial policy.