We all know the Gold Coast as the ultimate destination for a steamy summer vacay, but as it turns out, this beachside paradise is just as much fun in the cooler months. From decadent Italian feasts to small batch spiced rum, Queensland's fave coastal city is packed with plenty of must-dos to fill up your winter calendar. So round up the troops and pack your bags (you'll still need the togs—trust us), these are our top picks for the ultimate weekend down south.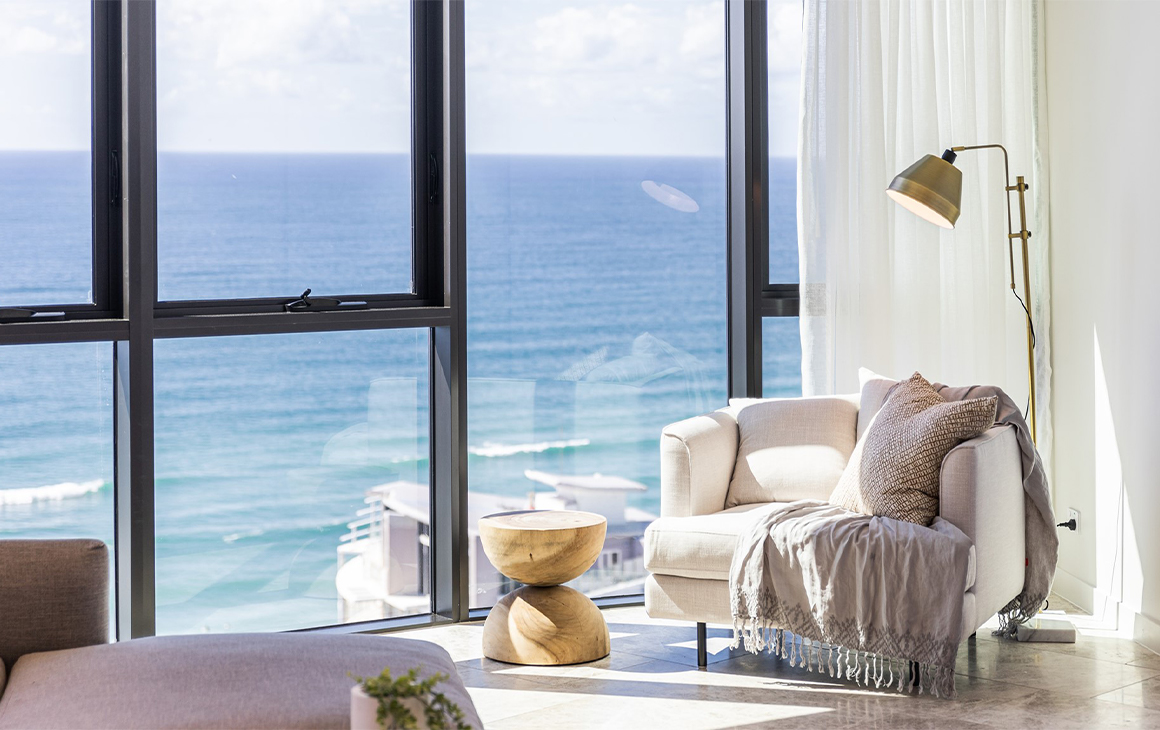 Friday
6pm | Check into Vue Broadbeach
After what has undoubtedly been a long work week, treat yourself to a stay at the Gold Coast's brand new beachside destination. Vue Broadbeach is luxury living at its finest, with sweeping views of golden, sandy beaches and inspired coastal design. Enjoy a dip in the stunning (and heated) saltwater pool and spa, unwind in the sauna, cook up a feast on the resort's teppanyaki BBQ facilities or just retire to your balcony with a drink and take in the ocean air.
7.30pm | Tuck into an Italian feast at Orzo
After checking in at your new home away from home, enjoy a gentle stroll along the beach to this sophisticated Italian eatery. Orzo only opened its doors in 2020, but it's already well-established in the Gold Coast restaurant scene. The light and airy dining room is filled with muted tones of grey, seafoam and apricot, immersing you in relaxed, coastal vibes. Orzo's outside dining is perfect for people-watching, while you down oysters alongside a suite of fruity cocktails. Count us in!
Saturday
8am | Breakfast at Elk Espresso
Had one too many cocktails on Friday night? Swing by for a morning pick-me-up at Elk Espresso, a quirky morning hangout just steps from the beachfront. The cafe's mismatched furniture and polished concrete floor are reminiscent of a modern art studio, so it's no surprise the meals are served with aesthetic in mind. For a seriously winter-worthy breakfast, order up the pan-fried gnocchi shakshuka with chorizo, vegetable bean ragu, baked egg and basil sourdough.
10am | Scope Out What's On At HOTA
Feeling well fed? Let your stomach settle with a quick cultural fix at the brand new HOTA gallery. Spanning six levels and over 2,000 sqm of floor space, the gallery celebrates artists from across Australia and the world, with international exhibitions, new commissions, and exclusive world premieres. Don your best beret and embrace your inner art critic as you explore everything HOTA has to offer—including the rooftop bar.
12.30pm | Get Steamy at Soak Bathhouse
Once you've had your fix of international art, rest your tired legs with a soak at this stunning new Gold Coast day spa. Soak Bathhouse offers a range of 90-minute bathing sessions in their massive communal bath, not to mention yoga classes, massages, LED facials and infrared saunas. But it gets even better—treat yourself to a soak and sip package and score two drinks from the bar while washing your worries away.
3pm | Sip on a Spiced Rum at Capricorn Distillery
Now for the fun part. Take a deep dive into the craft distillery scene and get your drink on at Capricorn Distilling Co. Burleigh's newest small-batch urban distillery, this industrial gin joint took out the title of 'World's Best Spiced Rum' at London's prestigious World Rum Awards, so set your expectations high. If you're more of a gin junkie, treat yourself to their signature summer variety, infused with fresh native Australian finger lime, ruby grapefruit and lemon myrtle.
6pm | Slurp Up Some Ramen at RaRa Ramen
If you're used to cramped ramen restaurants with limited counter space, RaRa Ramen will be a welcome alternative. Their house-made noodles, toppings and broth are served in stunning interiors perfect for snapping a selfie. But even if you're a fan of the aesthetic, you won't want to miss a taste of RaRa's drool-worthy dishes. We recommend the chatsu topping for free-range pork belly so good it'll melt in your mouth.
Sunday
9am | Breakfast at Paddock Bakery
Wood fired sourdough, custard croissants and flaky chicken pies—need we say more? Paddock Bakery is your one-stop shop for your mid-morning treats, served alongside a warm cup of 'jo. Their menu features everything from doughnut french toast to bacon and egg rolls, not to mention smoothies, milkshakes and cold-pressed juices. Our personal fave? There's no going past the Breakfast In Bread, which is exactly what it sounds like.
11am | Whale Watching Cruise
All good things must come to an end, but there's no reason they can't go out with a bang—or at the very least, a splash. Make some waves with one of the Gold Coast's premier whale watching cruises, and scour the open waterways searching for mighty humpback whales on their migration path—winter is the perfect time to catch them. While you're at it, keep an eye out for the dolphins, turtles, sharks and albatross that call the Goldie home.
Looking for more winter pick-me-ups? Get steamy at the most incredible hot springs keeping Queenslanders warm.
Image credit: Brooke Darling, Kirra Smith, Vue Broadbeach, RaRa Ramen