Ramen Danbo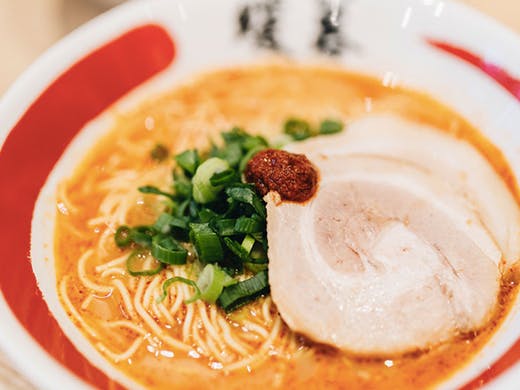 The Verdict
Gold Coastians have been slurping Ramen Danbo since it crash landed there in 2017. It's about time Brisbane joined the pork party.
Ramen Danbo (if that name means nothing to you) are a cult ramen chain from Japan. Starting from humble, wok-and-a-dream origins in 2000, they exploded after a Japanese TV poll ranked the best ramen joints in Fukuoka Prefecture. Global expansion soon followed, and this industrial bar on Merivale St is their first Brisbane digs. We're pretty excited.
Like Taro's Ramen, Genkotsu and Hakataya, these guys aren't bothered with high-end, big dollar ramen. Cheap and cheerful is what they do best: and you should start with the signature tonkotsu pork broth with all the fixings. This is the bowl on which Ramen Danbo built their international rep. The secret is a house-made 'special sauce', which we're willing to bet is 90% chili—gives the bowl a real zing.
Apparently the guys run the soup through a special filter, imported from Japan, to make sure every bowl tastes exactly the same. You can't buy that sort of consistency (well you can…at Ramen Danbo…which is kind of the point).
Like a lot of street-level ramen joints, you can tweak your noodle thickness, and the broth itself. There's even a vegan variety, which uses a miso base and rich kombu stock. Tastes like you've been hit with an umami sandbag.
Image credit: Grace Smith
---