Let's face it, we all love a good curry, whether it's a plain old butter chicken, or a fiery vindaloo capable of singeing your insides. The tricky part is finding them, which is where we come in! Read on to discover the Coast's favourite Indian haunts.
Ginger Indian Gourmet
Oxenford
Located on the GC's northern tip, Ginger Indian Gourmet has been setting native Oxenfordian tongues wagging for some time. Head chef Suresh Rathore is obsessive about quality Indian cuisine and presents a menu that places an interesting and contemporary twist on traditional fare. All your favourite dishes are there, but it's the modern variations that catch your attention. Try the Prawn Masala (prawns marinated and cooked with onion, tomato, mustard seeds and coconut masala) or the Meen Moiley (barramundi in malabar coconut and lemon gravy).
Indian Empire
Runaway Bay
Another northern Gold Coast gem, Indian Empire lays out an impressive mix of traditional curries, seafood, vegetarian dishes, as well as its very own 'Empire Specialities'. Their naan menu is deliciously long, so why not sample the Keema Naan (mince lamb and special spices), or the Cheese and Spinach Naan (mozzarella cheese with a touch of spinach). They also have a number of banquet specials for the devoted Indian fan, allowing you to load up on your preferred dishes at a discounted price.
Kokum
Main Beach
If you're longing for an up-market Indian option, then all roads lead to Kokum. Chef Mural provides an Indian dining extravaganza meshed with quality Australian ingredients. The food is exclusive. You won't find any of its dishes on other menus around town, such as its Mangalorean Bugs (fresh local bugs marinated in chardonnay, lemon quinoa and coconut gassi) or Flambé Lamb (lamb rack, pistachio, turmeric mash, baby vegetables, heirloom tomatoes and edamame beans). With a carefully curated cocktail, wine and beer list to complement the selection of dishes, enjoy a drink while you're there.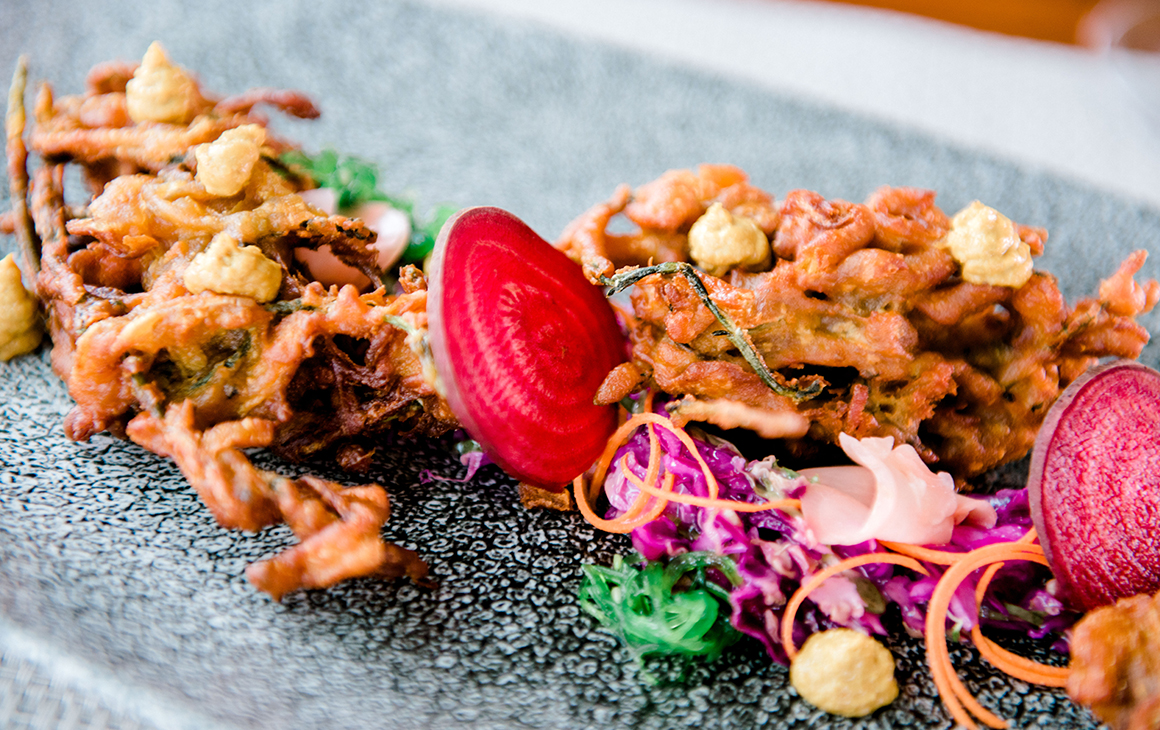 Saffron Indian Gourmet
Broadbeach
Saffron is right at home in central Broadbeach, adding a touch of subcontinental class to the food-loving hub. It has a constantly shifting menu that is hard to beat. Saffron serves up contemporary experimental dishes which blend traditional recipes with the chef's own creative flair, as well as all of the comforting classics. Taste the Salmon Fish Curry (salmon simmered in tomato and five spice mix) or the Mysore Chilli Beef (the chef's South Indian speciality, spiced with red chillies, cumin, ginger, mustard and curry leaves). Saffron also accommodates private parties, corporate functions and external catering.
Kahani Indian
Tugun
The Indian standout on the southern Gold Coast, Kahani is hidden among the Tugun restaurant strip, so be sure to pay attention as missing a meal there would be a serious shame. Don't be fooled by its modest settings, Kahani has been producing the goods since 2005. Try out the Chana Chicken (chicken fillets combined with chickpeas, tomato, onion and coriander) or Aloo Gobi (the Indian household favourite of potato and cauliflower). Look no further: the food is great, the beer is cold, and all at very affordable prices.
Bombay Cricketers Club
Kingscliff
Nestled in Kingscliff's buzzing Salt Village, Bombay Cricketers Club is Indian like you've never experienced before. They've broken open the traditional spice cabinet, pairing those fragrant flavours with seasonal, locally sourced produce to create a contemporary, Indian-inspired dishes unlike any other in the region. Try the Kerala Chilli Beef (classic kerala spiced brisket, cumin poppadums and pickled onion) the 'Dosa' pea pancakes made with chick peas and paneer and the Goan Fish Curry. They also do an entirely plant-based banquet menu every sunday so everyone can enjoy their goodness.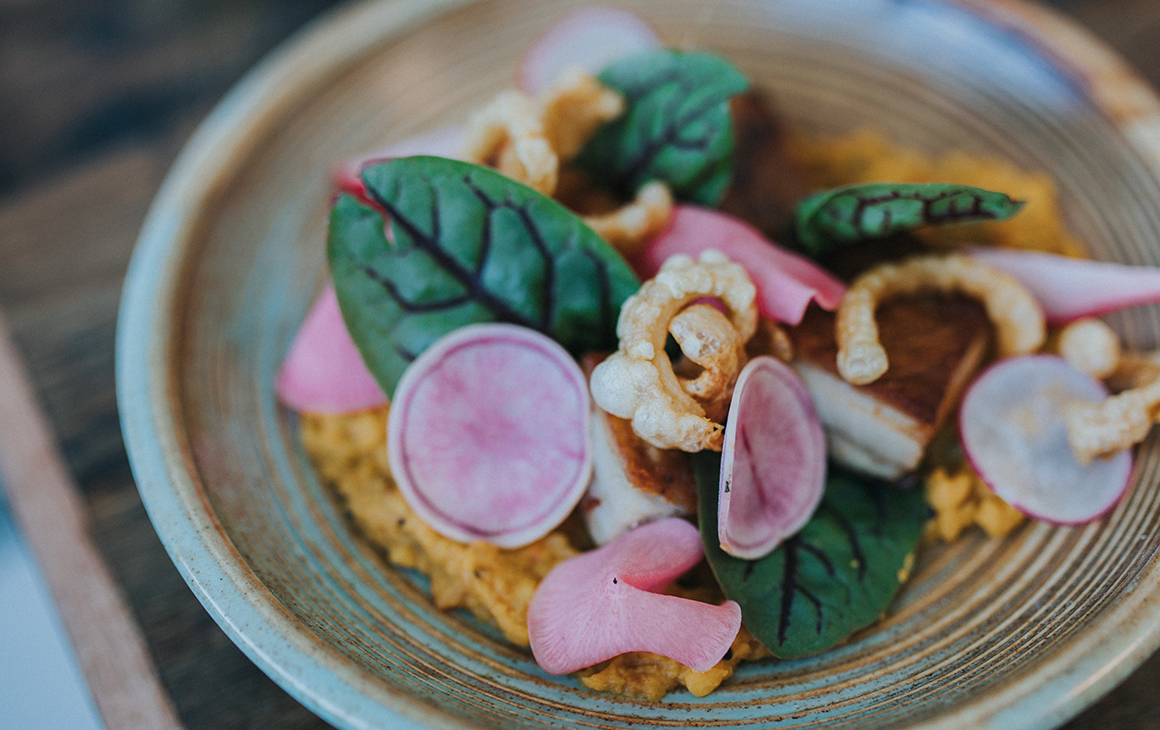 Agnee Indian
Robina
This father and son team of Inder and Arjun Jaiswal have years of Indian cooking under their belts. And it shows. Agnee is an all-round favourite. While it specialises in South Indian fare such as Masala Dosa and Idlis, it does a darn good job of covering dishes from the rest of the country. Agnee's strength is in its variety. Whether it's seafood, lamb, goat, chicken, beef or vegetarian, there's something on the menu for everyone. It's also fully licensed but does allow BYO wine.
Temple Of Spices
Mermaid Beach
This tasty spot is an absolute institution for GC locals. With a large array of vegan offerings Temple of Spices is as authentic as it gets. Start with a street food platter with a mix of samosa chaat, tikki cholle chaat, chicken pakora and paani puri, all washed down with a cold beer. For something heartier, you can't go past the prawn Malabari (a south Indian delicacy of prawns cooked in tamarind, jaggery, mustard seeds, curry leaves and coconut cream) and the vindaloo with Cape Byron Black Angus beef cooked in a traditional Goan style. Looking for one of the best Indian restaurants on the Gold Coast? You've round it.
Looking for somewhere to kick on afterwards? Check out our round up of the best bars on the Gold Coast.
Image Credit: Kaitlin Maree Photography and Hayley Williamson for Urban List