As the temperature drops, our desire for ramen exponentially increases. Nothing quite hits the same as slurping up some noods out of a bowl of steaming hot ramen, packed to the max with delicious toppings, like barbequed pork, soft-boiled eggs and nori. Luckily the Gold Coast has some seriously slurp-worthy ramen spots to fuel your winter cravings; places where chopsticks are your new BFF and cheat day is a whole lot more tasty.
Use your noodle and satisfy your next craving with 10 best ramen joints on the Gold Coast in 2022.
Muso Ramen And Gyoza Bar
Mermaid Beach, Chirn Park & Robina
Muso Ramen had us at 'no ramen, no life.' First noodling their way into the hearts of Mermaid Beach locals, now you'll find these quaint eating houses right across the Gold Coast. We can't go past the black miso from the North Coast locale, with a rich pork broth, topped with succulent Kurobuta belly, bamboo, egg, tangy shallots and ma-yu garlic oil. Squeeze in an extra serving of life-changing pork fried rice while you're at it, all finished with pillowy beef gyoza. With thick and thin noodles made fresh in-store each day, you just can't beat it.
Ramen Danbo
Southport and Surfers Paradise
Spoiler alert: Here's where to go for 100% traditional ramen on the Gold Coast. Having won top awards in Fukuoka, Japan, Ramen Danbo's graciously expanded to dish out creamy bowls of heaven right here on the Gold Coast. Danbo is a slurp-it-all-up and drink-it-all-down kinda place. You can expect picture-perfect dishes, all of the beers and a bloody good spread—it's no wonder this local fave is bustling all week long. Hands down some of the best ramen on the Gold Coast.
i like ramen
Nobby Beach
We don't just like these guys, we bloody love 'em and their 100% plant-based ramen. Take your pick from bone-free broths like spicy Korean kimchi or the earthy shiitake and soy mushroom, which are loaded to the max with all kinds of plant based goodness. Paired a bowl with other savoury deliciousness such as their ever-popular panko mushrooms and meat-free duck and prawn baos. Do yourself a favour and pay i like ramen a visit at their cute digs under Nobby's Surfboard Empire.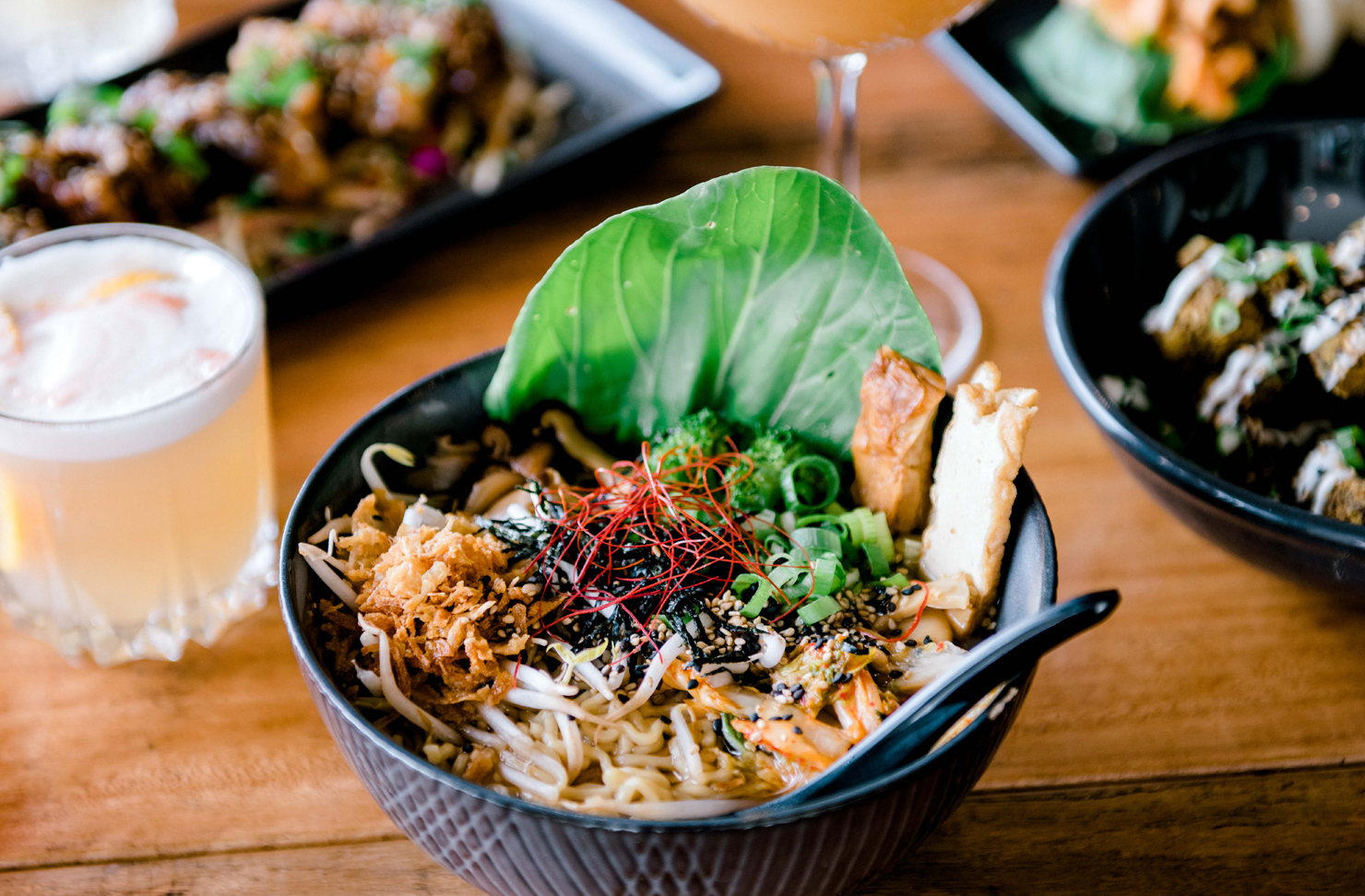 Hakataya Ramen
Broadbeach
Most commonly known for its lines that stretch from the main door, around a corner and down the street at their Brisbane store, Hakataya Ramen can be found at Pacific Fair, too. Some dub it the most authentic ramen on the Gold Coast and we'd have to agree. Plus, a stop at Hakataya is more than welcomed midway through a bustling shopping trip. Don't let the price tag fool you, this quick and cheap soupy noodle haven gets 10 out of 10 for flavour too.
Motto Motto
Broadbeach
Motto Motto brings the quirkiness and fun of casual Japanese dining to Pacific Fair. Not your average food court offering, Motto Motto uses only fresh, local ingredients to deliver traditional yet totally unique Japanese dishes in a decked out, modern space. We love Motto's tonkotsu ramen soup with pork super-stock broth that's brewed for 12 hours, paired with build-your-own bento boxes and traditional Japanese brioche buns with Wagyu beef. One of our favourite lowkey yet delicous ramen joints on the Gold Coast.
Goukai Ramen
Burleigh Heads
Ladelling out authentic tonkotsu-style chicken and pork broths, Goukai thoughtfully offers seven traditional ramen options (without the nine-hour flight). Whether you're in the mood for a spicy ramen, juicy meat-lover toppings or even a vego bowl topped with pumpkin, mushrooms and greens, Goukai's got you covered. As one of the best ramen bars on the Gold Coast for those who never know what they want, we can assure you now, there's no dud dishes.
RaRa Ramen Bar
Burleigh Heads
Tucked just off the main drag of James Street, Ra Ra Ramen is a funky new craft ramen bar slinging up authentic bowls of slurp-worthy goodness. Dive into the famous tonkotsu black garlic and chilli, which is their signature bowl of creamy deliciousness for a reason, or stuff yourself silly with the nutty yet sweet vegan soy miso. We recommend saving your valuable stomach space for ramen, but if you can manage, squeeze in their epic pork gyoza and wash your feast down with a huge selection of traditional Japanese sake, spirits and beer.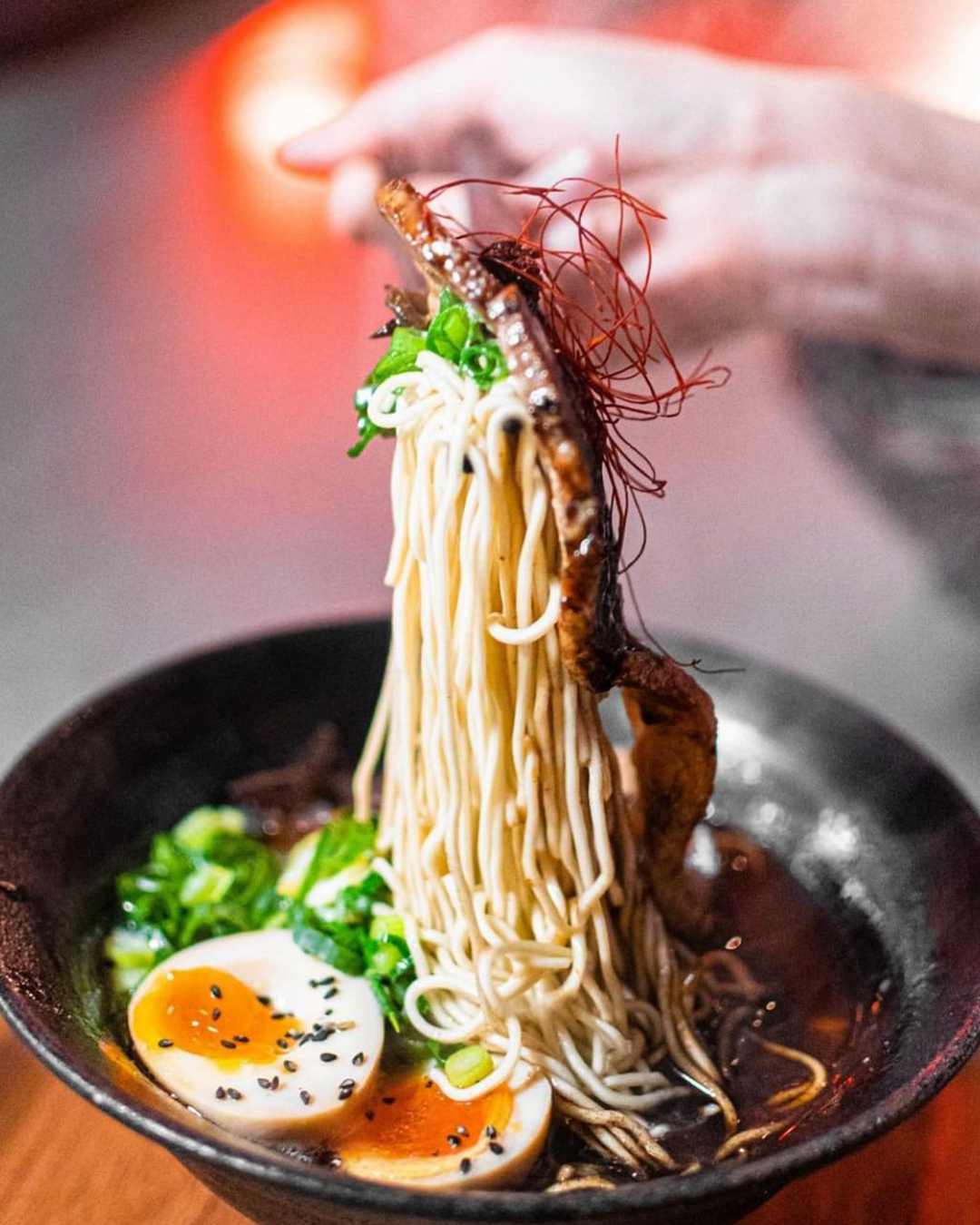 Iku Yakitori And Whisky Bar
Burleigh Heads
Living for their motto 'eat chicken, drink whisky', Iku Yakitori And Whisky Bar is known widely for their flavour-packed skewers and hidden locale down Justin Lane's alley. But we reckon their ramen is some of the best on the Gold Coast too. Rocking one of the most impressive fit-outs in town, step past the simple facade and you'll feel like you've been transported to another world.
Izakaya Midori
Reedy Creek
It's no surprise the Gold Coast's first-ever 100% vegan Japanese restaurant makes its way onto our list of the best ramen on the Gold Coast. On the menu, you'll find everything from plant-based katsu don to rich ramen and bite-sized nigiri sushi topped with wild mushrooms, sliced apple and carefully carved tomato flesh. In terms of ramen, they only have a few offerings but they're damn delicious. The AKA ramen has a spicy miso better noodle base and the shoyu ramen will transport you straight to the streets of Tokyo.
JFX Noodle And Tapas Bar
Southport
This unassuming noodle bar on Marine Parade in Southport slings up authentic ramen in bowls as big as your head, and we're here for it. Choose from a variety of ramen bases such as black tonkotsu, salt and butter tonkotsu, soy tonkotsu and miso tonkotsu. JFX Noodle and Tapas Bar also boasts authentic specials, such as tan-tan noodles, niku-niku ramen and cold pork shabu shabu noodles.
All warmed up with the best ramen on the Gold Coast? Why not check out the best teppanyaki spots on the Gold Coast?
Image Credit: Hayley Williamson, Kaitlin Maree Photography & RaRa Ramen