Who doesn't love the sizzling, smoky, tantalising goodness of teppanyaki? For those who are unfamiliar with the theatre of flavours that is teppanyaki, allow us. Teppanyaki isn't a food; it's a way of preparing and cooking food that is distinctly Japanese, but heavily influenced by ingredients loved by the west and our enjoyment of food stunts like flaming onion stacks.
Seated around a hot iron plate at which a knife-wielding chef stands ready to thrill you, you'll enjoy all kinds of delicious morsels skilfully grilled right before your eyes. It's half cooking technique, half modern performance art. Scroll on for where to find the best teppanyaki restaurants on the Gold Coast.
Misono
Surfers Paradise
There was no way we could write an article about the Gold Coast's best teppanyaki without including the jewel in the crown, Misono. Located inside JW Marriott Surfers Paradise, Misono's teppan experience brings incredible energy to every aspect of the dining experience; from the highly-skilled teppan chef's intricate knife work to their interactive theatrics to the creative combinations of traditional and local flavours. Misono was recently expanded to incorporate new Japanese-inspired dining experiences, including an intimate izakaya, tearoom, sushi bar and a Japanese whisky bar with a stunning new outdoor terrace—we'll happily confirm that sipping Japanese whiskey while staring out into a Surfers Paradise sunset never gets old.
Kamikaze Teppanyaki
Coomera & Broadbeach
You could be forgiven for walking past this teppan restaurant located in both Coomera Westfield and Pacific Fair, but it's a mistake you should never make twice. With restaurant experience of over 10 years, Kamikaze Teppanyaki boasts a modern Japanese menu and puts a funky twist on traditional teppanyaki experiences. We love that they have vegan and vegetarian options, which can be a rarity amongst teppanyaki joints, in addition to bento boxes, tempura sets, pepper rice and poke bowl salads.
Asami Teppanyaki & Cocktail Bar
Surfers Paradise
Bold and vibrant, Asami Teppanyaki & Cocktail Bar is situated in the heart of Surfers Paradise and slings up—literally—incredible teppanyaki. Asami is one of the Gold Coast's largest teppanyaki restaurants and is open for lunch and dinner, so you can chow down on teppanyaki twice in one day if you so desire (we won't judge). Their banquet combinations range from traditional classics all the way to the indulgent Mikado with beef, chicken, prawns, salmon, scallops, lobster tail and Moreton Bay bugs. This top-notch teppanyaki joint also boasts some fabulous starters, including sashimi, yakitori and takoyaki. Pair your teppanyaki with one of Asami's classic cocktails from their seemingly endless cocktail menu.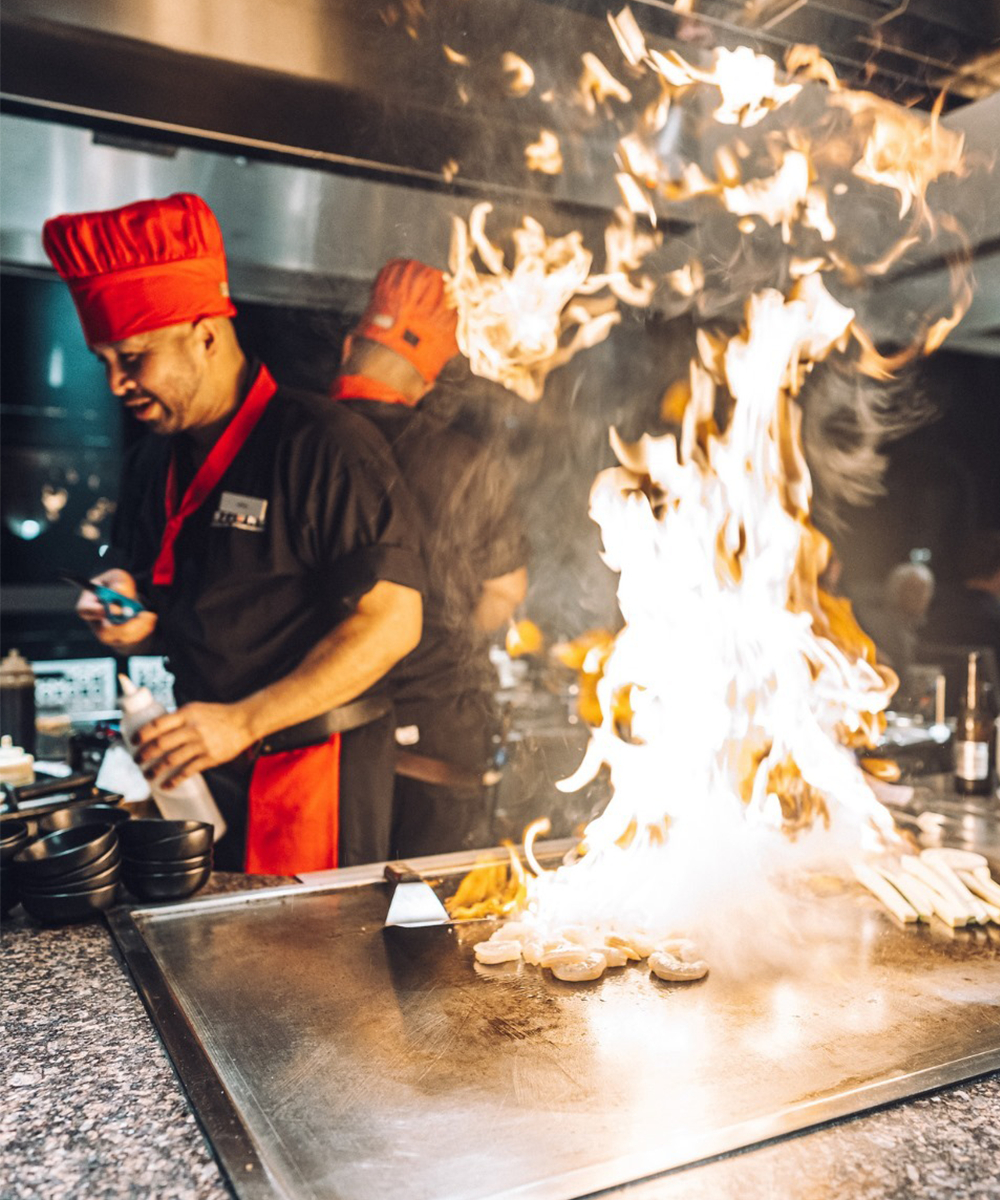 Murasaki Teppanyaki
Broadbeach
The glossy, modern fit out of Murasaki Teppanyaki is just the first thing that will impress you. Located in the bustling heart of Broadbeach, Murasaki is certainly one of the Gold Coast's best teppanyaki restaurants and boasts an extensive a la carte and teppanyaki menu. Start with their intricately arranged sashimi and wagyu tataki, before moving onto their teppanyaki sets. Murasaki's supreme sets are their most popular—for very good reason. We recommend the Murasaki Deluxe with eye fillet, prawn, scallop, salmon and Moreton Bay bug.
Saiko Teppanyaki
Robina
Amidst the hustle and bustle of Robina Town Centre lies a delicious oasis in the form of Saiko Teppanyaki. Open for lunch and dinner, you'll find a range of market-fresh sashimi and Japanese steak alongside curated cocktails, boutique wine and imported sake. Saiko Teppanyaki has an extensive selection of both a la carte and teppanyaki meals, so no matter your dining preference, you'll be well catered for and will leave well-fed. We recommend the Saiko signatures; scallop sakura on rice cake with honey mustard sauce and zucchini or the Saiko Wagyu with asparagus, zucchini, pumpkin, sweet potato and mushroom with a housemade citrus sauce.
Kookoo Teppanyaki & Lounge Bar
Surfer Paradise
If you're looking for a vibrant and entertaining dining experience, you've just found one of the best. Kookoo Teppanyaki & Lounge Bar is nestled in the heart of Surfers Paradise and prides themselves on using only the freshest ingredients sourced locally every day. Kookoo offers banquets to suit all tastes, in addition to set menus, yaki udon, kids specials and sashimi. Hands down, one of the best teppanyaki restaurants on the Gold Coast.
Matsuzaka Teppanyaki
Labrador
This lively, family-friendly Japanese restaurant specialises in teppanyaki and is the place to go if you're looking for a lowkey yet delicious dining experience. Matsuzaka Teppanyaki's entertaining and talented chefs certainly put on a show, as well as serving up incredible teppanyaki. Their signature banquet is the Matsuzaka Supreme with fillet steak, chicken, salmon, scallops, prawns and lobster tail and the yaki udon is one of their most-loved dishes.
If this hasn't quite satisfied your appetite for delicious restaurants, then hit up our guide to the best restaurants in Broadbeach right now.
Image Credit: Misono & Kamikaze Teppanyaki