Chopsticking, bowl sipping and sizzled up goodness—there's something particularly magical about Japanese cuisine. Whether it's the silky smooth ramen broth, buttery melt-in-your-mouth seafood selection or friendly, cheerful service that never misses a beat.
Lucky for us, the Gold Coast has no shortage of zen foodie havens. Remove those shoes and come on in, here are the best Japanese restaurants on the Gold Coast.
Kiyomi
Broadbeach
As well as tiny ramshackle eateries and snaking foodie villages (we're looking at you, Golden Gai), Japan also homes some seriously luxe restaurants too. And if you're on the hunt for a high class Tokyo-inspired grazing sesh, you've found it at Kiyomi. Located at The Star Gold Coast, this multi-award winning, one-hatted Japanese restaurant doesn't skimp on the good stuff. Nestled within Kiyomi's extensive menu, you'll find a range of fine caviar, wasabi flower saikou salmon and top shelf wagyu—to name a few. On date night, we recommend splashing out on the $120 set menu. Trust us, you won't be disapointed.
Etsu Izakaya
Mermaid Beach
Like many of Japan's charming eating spots, Etsu is unassuming from the outside, but exceptionally impressive on the inside. Who knew that one of the best Gold Coast Japanese restaurants was hiding behind an old barn door? Recognised by their signature red lantern out front, Etsu's lively atmosphere and authentic Japanese eats makes it one of the best on the Coast. In fact, they've built quite a cult following who can't get enough of their dive-bar meets indulgent share plate hotspot. Don't leave without trying the Sashimi Moriawase, a selection of fresh fish served straight from the raw bar.
Muso Ramen And Gyoza Bar
Mermaid Beach, Robina And Chirn Park
Ready to slurp up authentic ramen eats for less than a twenty? Then head straight to Muso for the best Japanese on the Gold Coast when you're on a budget. Pillowy pork gyoza and creamy tonkotsu all washed down with an icy cold beer—it would be rude not to. Muso covers three corners of our lucky city, Mermaid Beach, Robina and now Chirn Park too. Famous for their particularly flavoursome ramen base and cheery staff, clever Muso chefs make all their noodles on-site, adding a seriously fresh addition to any golden bowl of goodness.
Yamagen
Surfers Paradise
Blending old school Japanese spirit with modern cheffing innovation, QT Gold Coast's own Yamagen is a Gold Coast Japanese restaurant you need to visit. Open for both lunch and dinner, Yamagen's market fresh sashimi and inventive cocktails steal the show. We can't go past the Sashimi Zensai with a selection of tuna, salmon, kingfish and snapper paired with a seaweed-infused Negroni Umami.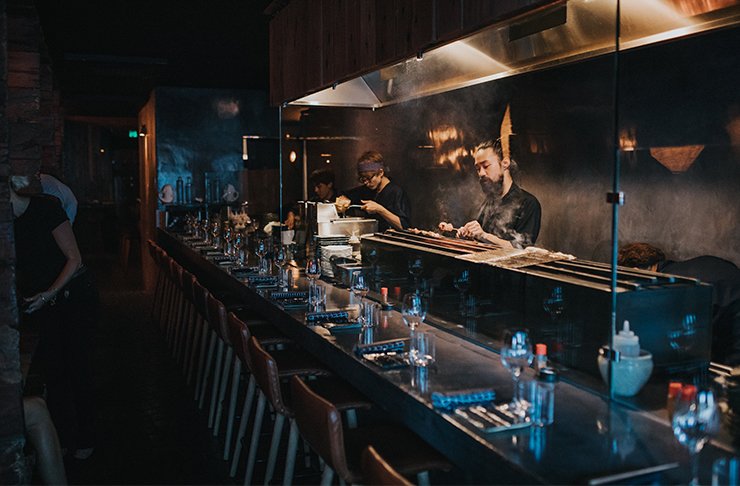 Iku Izakaya And Whisky Bar
Burleigh Heads
Head to any Japanese market precinct and you'll find a wildly popular Yakitori Bar. Yakitori Bars (authentic Japanese chicken skewer hideaways) were largely the inspiration for Iku, and we can see why. Whether it's for their deliciously succulent chicken pieces, interesting toppings or the fact you can order chicken skin on a stick, Yakitori Bars really are something else. Hidden in an alleyway behind Justin Lane, Iku goes down as one of the most finger-licking good Japanese restaurants on the Gold Coast.
Little Itoshin
Miami
The sister restaurant to Mermaid's Itoshin (one of the longest standing Gold Coast Japanese restaurants), Little Itoshin is vibrant, inventive and located within a Miami Shopping Village— but it completely works. Pull up a red velvet stool, check out their retro-chic interiors and tuck into house-made Temaki wrapped in lettuce or on nori (dried seaweed paper). With a menu changing regularly, Little Itoshin dishes out everything from crispy Katsu Curry and rice, right through to premium eye fillet Beef-Tataki and Yarra Valley Salmon Caviar. As one of the more affordable Japanese restaurants on the Gold Coast, we recommend dropping by a few times to satisfy those insatiable Japanese cravings.
Oi Izakaya
Burleigh Heads
Oi Izakaya lies hidden in an unassuming alleyway off Burleigh's bustling James Street. Delicately combining traditional Japanese dishes (like okonomiyaki, a seasoned cabbage pancake) with modern twists (think crispy pork belly), fourth-generation sushi chef, Ran Kubota chops, sizzles and tosses some of the best Japanese eats we've come across. Slink into your own Chabudai (traditional Japanese booth) and visit on-site mixologists serving up interesting tipples, like Brown Rice Old Fashions.
Ramen Danbo
Southport And Surfers Paradise
Ramen Danbo first opened in Japan over 19 years ago, in a little place called Chikushino. Now we're lucky enough to home two of their excellent Japanese restaurants on the Gold Coast. Using a selection of local and authentic Japanese ingredients, Danbo is serious about their ramen broth and have absolutely mastered its recipe. Rich, creamy and made to your liking, choose everything from your richness and heat to thickness and toppings. It's hard to go past the classic Tonkotsu Pork ramen, but if you can, head straight to the Chashu Pork Donburi or Hakata Gyoza.
Kabachi-Ya
Labrador
Most visitors to Kabachi-Ya stumble across it. As one of the Gold Coast's best kept Japanese secrets, blink and you'll miss it. That is, perhaps, if the line of people out the door doesn't catch your eye. Always brimming with Japanese foodies, you'll find everything from steaming gyoza and karaage chicken right through to pork rice bowls and some of the absolute best ramen on the Gold Coast. From just $9.50 a bowl, go to town on all your favourite dishes topped with extra chilli and gyoza dipping sauce, just the way you'd find it at a bustling restaurant in Shinjuku.
Izakaya Midori
Reedy Creek
When you're in charge of booking dinner with friends, Japanese is always a go-to. Catering to the vegos, the vegans and the dairy-free-ers, it makes sense. But this Gold Coast Japanese restaurant comes with a twist. With each taste of an Izakaya Midori dish, you're transported straight to the simple, honest and calming pleasures of Japan. Except this time, they're all completely vegan. Taste your way around plant-based Katsu Don, ramen and bite-sized nigiri sushi topped with wild mushrooms, sliced apple and carefully carved tomato flesh. This is one of the best Gold Coast Japanese restaurants for those in search of plant-powered dishes with far more adventure than an avocado nori roll.
Image credit: Hayley Williamson and Kaitlin Maree for Urban List