Trending styles are one thing. Finding one-off pieces that complement yours are another. With a plethora of threads, home goods, art and heavily discounted reads scattered across the Gold Coast's best op shops, now's your chance to give a second-life to something brilliant. Skip building up the Afterpay debt and mass-produced fashion wastage. Instead, hit the streets on a guilt-free shopping spree while earning some seriously good karma for shopping sustainably and, in many cases, donating to charity.
From boutiques and cat rescue locales to online listings and western haunts. Crack open your piggy bank and get hunting through the treasure troves that are the best op shops on the Gold Coast.
Lifeline Superstore
Molendinar
Tucked away in Molendinar's industrial estate, this popular Gold Coast op shop's a must-visit for good reason. Situated within a gigantic warehouse, carve out an hour or two for ample trinket-scouring time. Shelves lined with vintage tea sets, gravy boats and china to the left, turn right and weave through rows as far as the eye can see of pre-loved clothes, including a nostalgic retro section featuring Billabong pieces that might make you feel vintage too. Or if a good read's on your mind, wander through to the well-stocked book collection bursting with romance novels, biographies, travel guides and 70s Australiana cookbooks. A furniture upgrade on the cards? Scout out vintage armchairs, dining room settings or bedroom suites at The Lifeline Superstore. You might even walk away with a kitchen sink. Seriously, though.
Hunt and Gather
Currumbin Valley
If stumbling upon hidden gems after yonks browsing isn't your idea of thrill-seeking behaviour, head along to Currumbin Valley's own Hunt and Gather Vintage. As the best op shop on the Gold Coast for those who want the sorting done for them, call dibs on hand-picked treasures listed weekly direct to your Facebook feed. This online op shop's owners have a ridiculously keen eye for charming homewares, furniture, fashion and collectables sourced far and wide. With 12k fans and counting, welcome a pre-loved item into your home from the comfort of it. Simply comment 'sold,' organise pick-up or postage and consider it yours.
Animal Welfare League Op Shops
Various Locations
The Animal Welfare League Queensland op shops may be quaint, but their motley crew of second-hand scores scattered around the Gold Coast make it well-worth the trip. Think near unworn leather boots, endless denim and even designer threads. Vintage glasses, art and pet goods galore, these are the kind of op shops on the Gold Coast that'll make you feel extra fuzzy, with all proceeds going to the Animal Welfare League. If you're browsing at the Coombabah location, head in on Tuesday through Saturday between 12pm and 5pm to visit the adjoining rehoming centre brimming with cute cats, dogs and pocket pets like guinea pigs ready for a smooch.
Pacas
Surfers Paradise
Friendly vibes and prices make Pacas a top Gold Coast op shop, no matter your style. Whether it's a signature vintage piece you're after, high-quality work gear or loungewear to laze in on Sundays, don't miss your chance to score an absolute bargain at this five-star op shop on a Mi Goreng budget. Centrally located opposite Cali Beach Club along the tram line, make a weekend of your shelf scouring and book a Surfers Paradise Airbnb while you're at it. With new stock incoming every Saturday, drop by for low cost, high quality apparel direct from owners Liz and Alfonso.
Strange Days Store
Palm Beach
Home to 'all things rock n roll, with a touch of western soul',Palm Beach's own Strange Days Store is where high-end vintage meets upcycled cowboy wear. As a high-end Gold Coast op shop brimming with everything from tassel jackets and ribbed corsets to the largest collection of boots you simply must feast your eyes on. These legends are wheelin' and dealin' with pop-ups at Miami Marketta and hustling with sales in-store on the reg. Giddy up and save up your pretty pennies for a visit to this Americana vintage lover's treasure trove of dreams.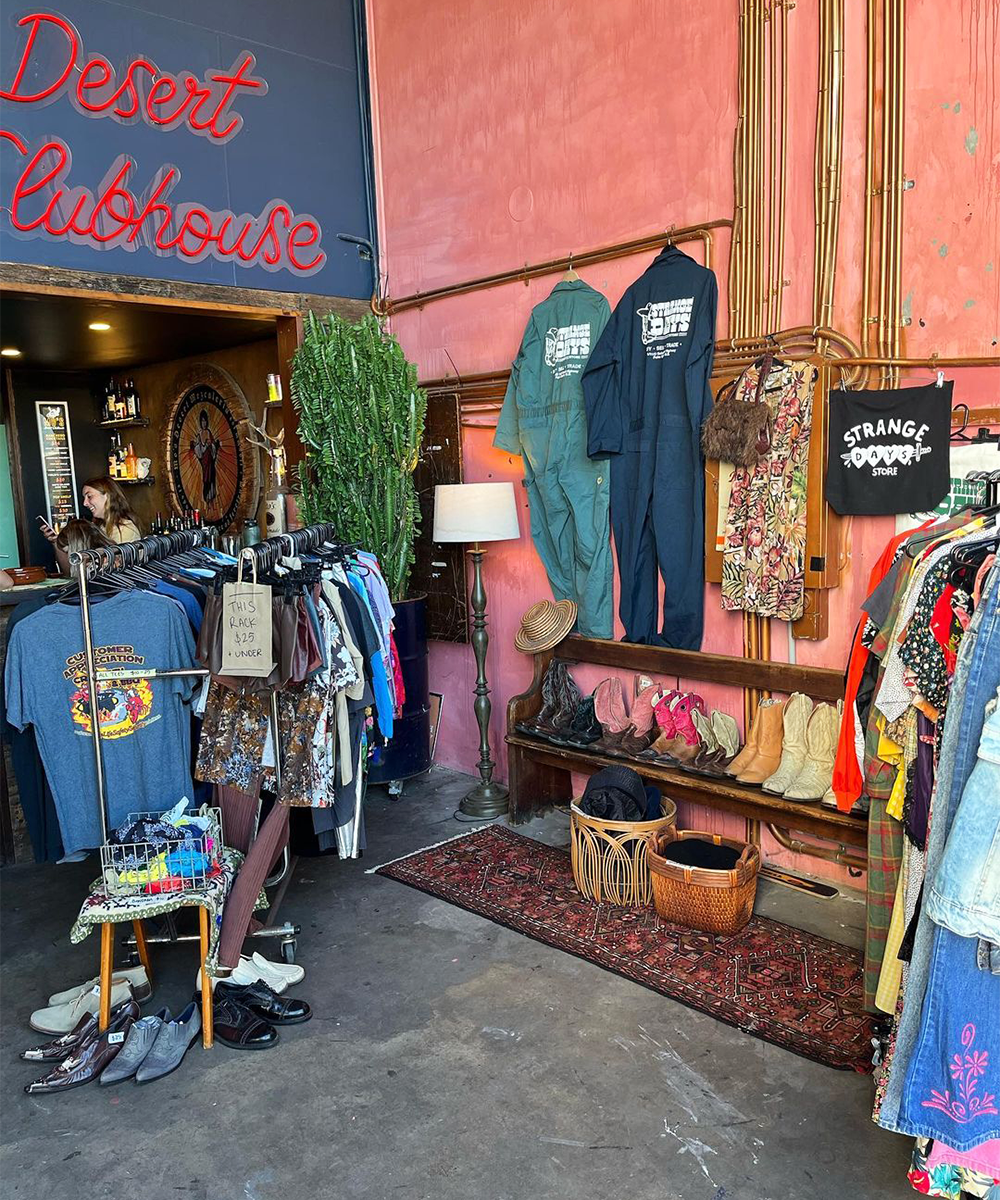 Gold Coast North Anglican Op Shop
Labrador
Eco-friendly fashion, eat your heart out. With a store positively brimming with environmentally conscious second-hand threads, pop by the Gold Coast North Anglican Op Shop and rummage through endless racks of clothes, accessories and homewares. Brimming with original 80s jackets, power suits and nearly-new shoes, scroll through what's in-store online ahead of time for a sneak peek. Or head in to get the lowdown on regular deals that'll prevent both the planet and your wallet from screaming.
Salvos
West Burleigh
Capsule wardrobes. Statement pieces. A beret. If you're reinventing yourself and your closet, look no further than West Burleigh Salvos. Think every op shop you've ever visited combined to create one giant store, with a collection so good, up-ending your wallet on the counter is a given. Fusing old, new, fancy and fierce, this eclectic Gold Coast op shop has something for everyone. Stocking a huge range of second-hand scores, find everything from formal nightwear and snorkeling gear to classic records and your next dress up party's outfit.
RSPCA Op Shop
Bundall
Dubbed the Gold Coast's best furniture op shop, this animal-loving go-to features a boutique feel, regularly updated stock, pet supplies and even cats up for adoption. To the avid op shopper's delight, designer pieces and clothing with tags intact are more common at Bundall's RSPCA Op Shop than many other thrift stores we've seen. Come for the threads, stay for the cute kitties. With 100% of profits going to animals in need, add this sweet store to your next Gold Coast op shop tour.
Salvos
Mermaid Beach
A skip up from some of Mermaid Beach's finest eateries and hidden bars, this much-loved Gold Coast op shop is near impossible to disappoint. Venture past Soak Bathhouse, bundle up a selection of staple pieces from across the store and show each piece off with a mandatory fashion parade. Or scour your way through the seemingly endless racks of footwear. We have our suspicions that the quality team is armed with a thorough list of boxes to tick before each piece snuggles onto a hanger. That's probably got to do with why this space has a reputation for being the best op shop on the Gold Coast for pristine quality clothing. Check it out now, thrifty bargain lovers.
Looking for more treasure? Hit up all the best markets on the Gold Coast.
Image Credit: Strange Days & Allison Christine via Unsplash