Ever find yourself daydreaming of your next getaway while sitting at your office desk gazing out at the busy city roads and polluted skyline, longing for a more refreshing setting to just relax and reset? If so, you're not alone.
For those of us who are in desperate need of a nature retreat to unwind, and for those who enjoy the idea of camping but not the reality of it, we've compiled the perfect list of glamping spots in Queensland for your ideal nature retreat. Whether you're looking for a forest hideaway, a private beachfront bungalow or anything in between, we have you covered.
Habitat Noosa
Noosa
Imagine starting your day by waking up to the serene sounds of Australian wildlife—with kookaburras laughing and a family of kangaroos grazing on your doorstep. Tranquillity is the word that comes to mind when we think of glamping at Habitat Noosa. Located in Cootharaba this experience is one of a kind offering a private beach and luxury tents, as well as a restaurant and bar. This truly is the ideal glamping experience and to get even more in touch with nature Habitat Noosa also boasts great hiking and fishing.
Wilson Island
Great Barrier Reef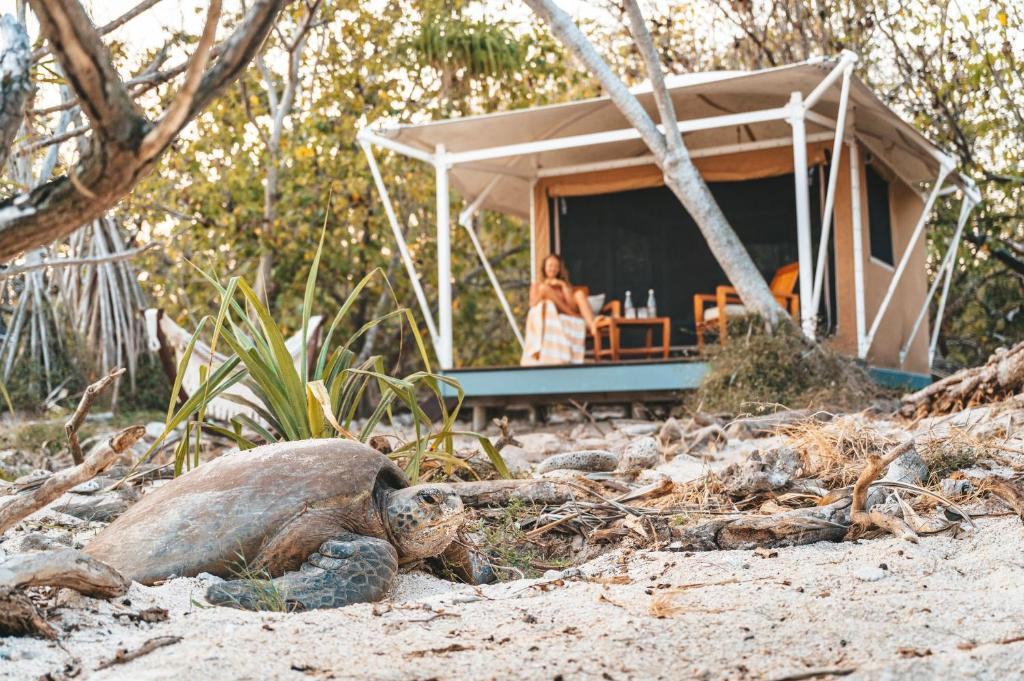 Leave the kids with the babysitter for this one, because Wilson Island is the ultimate adults-only experience. A private island stay with only nine reef safari tents available, you'll feel truly removed from civilization in this serene little corner of the world. Sip a cocktail and soak in the exclusive views of the Great Barrier Reef, go stand-up paddle boarding or try out the world-class snorkelling experience, or do absolutely nothing at all, either way you'll never have felt more at peace than during your stay here.
Mitchell Grass Retreat
Longreach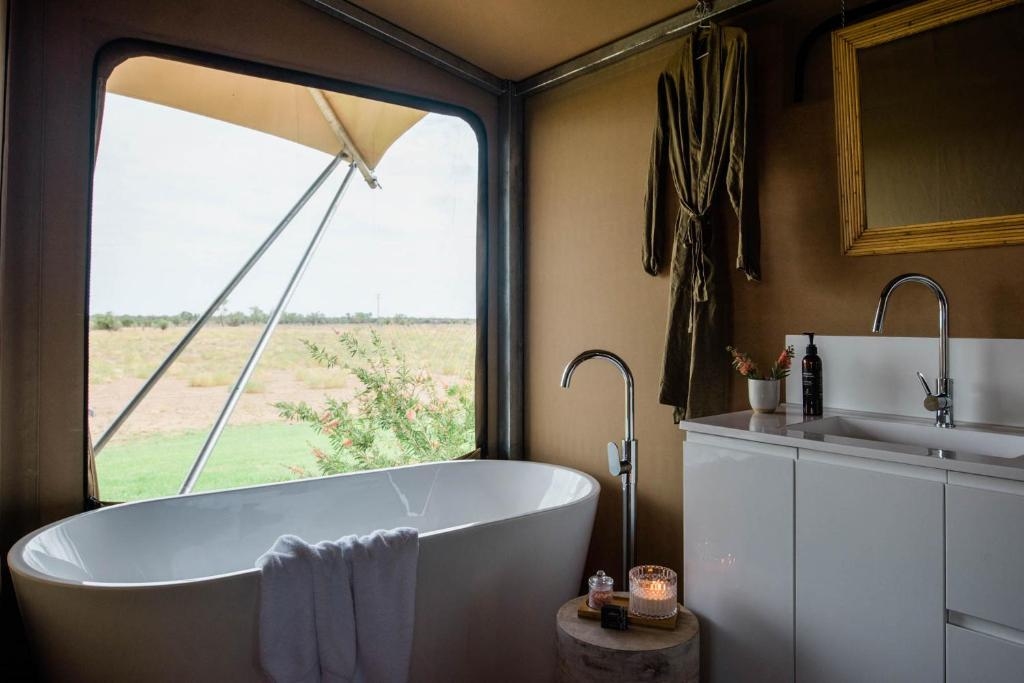 Step into the Central West Outback region of Longreach and lay beneath an unpolluted night sky full of stars like nothing you would experience in the city. Mitchell Grass Retreat is the perfect relaxation destination for a tech-detox and a break away from everyday life. The glamping canvas tents boast a private deck, spacious bedroom, air-conditioning and private ensuite. In this cosy home away from home you'll never want to go back to reality.
Ingenia Holidays Rivershore
Maroochydore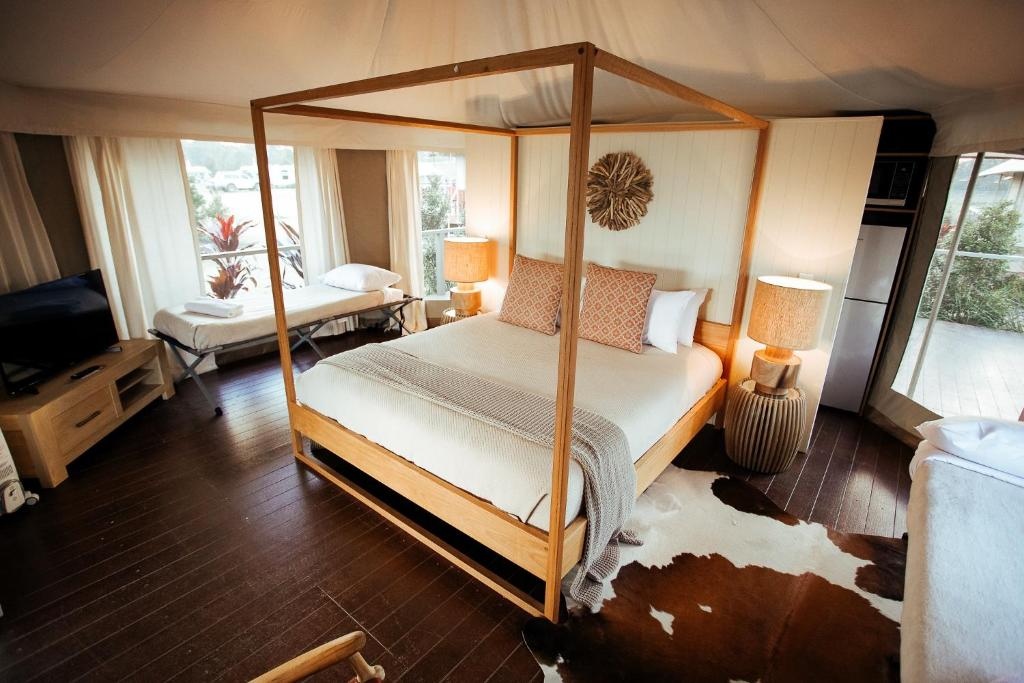 Looking for a retreat where you can bring the kids and fur babies along too? We've got you covered. Adventure on the Sunshine Coast awaits you at the pet friendly holiday park, Ingenia Holidays Rivershore. Settled on the banks of Maroochy River, this glamping destination is perfect for those looking for surf, sun and fun. Stay in either the self-contained safari tents or caravans and make the most of the ideal Sunshine Coast location with endless activities at your disposal.
Allure Stanthorpe
Stanthorpe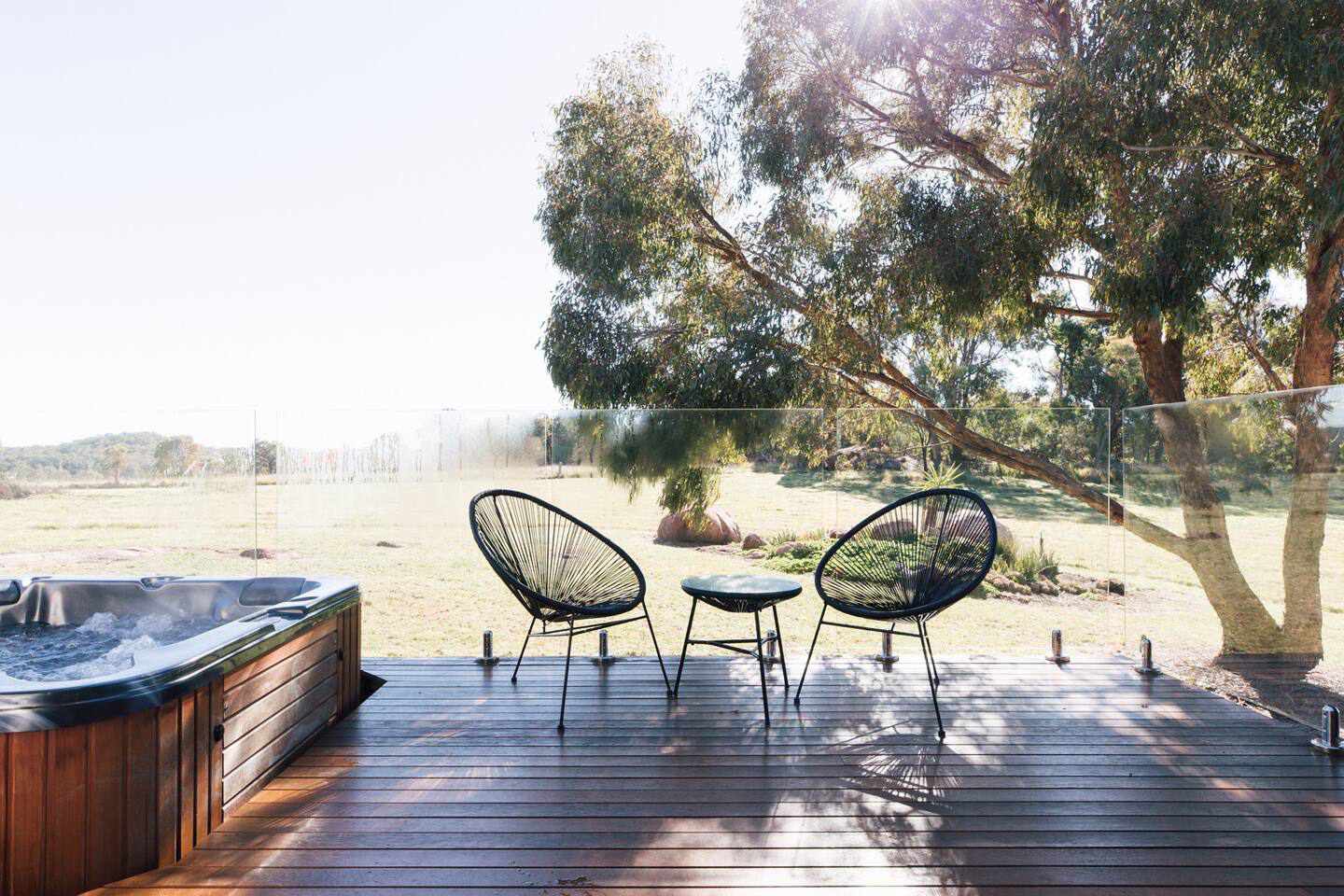 This romantic villa for two is sure to ignite the flames for any couple. Only a five minute drive from the centre of Stanthorpe, Allure is set on a hilltop surrounded by nothing but natural bushland, ensuring privacy in the best way possible. Soak in the steamy hot tub in the hidden courtyard or cosy up by the warmth of the indoor fireplace; this luxury stay is like something straight out of your favourite rom-com.
Sanctuary By Sirromet
Mt Cotton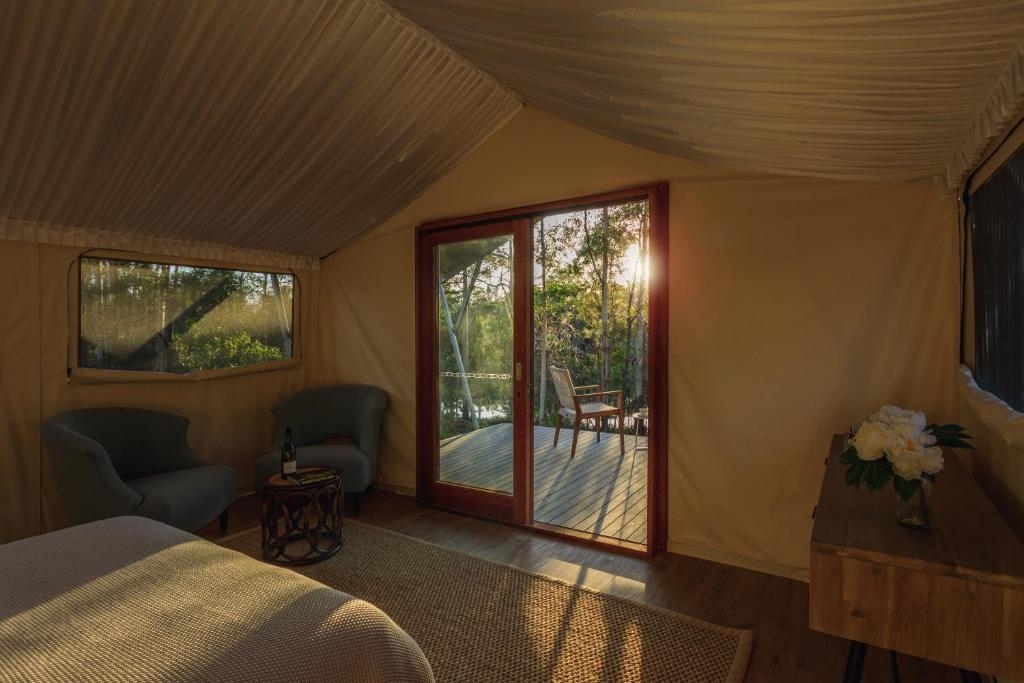 This place is called Sanctuary for a reason, and we're here to tell you why. Journey 45 minutes out from Brisbane's CBD to Mt Cotton and enter into this serene bushland setting amongst the paperbark trees. Located conveniently at the Sirromet Winery, with hand crafted award-winning wine always on offer and winery tours available this is the ideal glamping experience for wine enthusiasts particularly. The tents on offer have a luxurious treehouse vibe to them with a 'floating' balcony and lakeside views, and frankly we can't think of a reason for you to not stay here.
Ketchups Bank Glamping
Boonah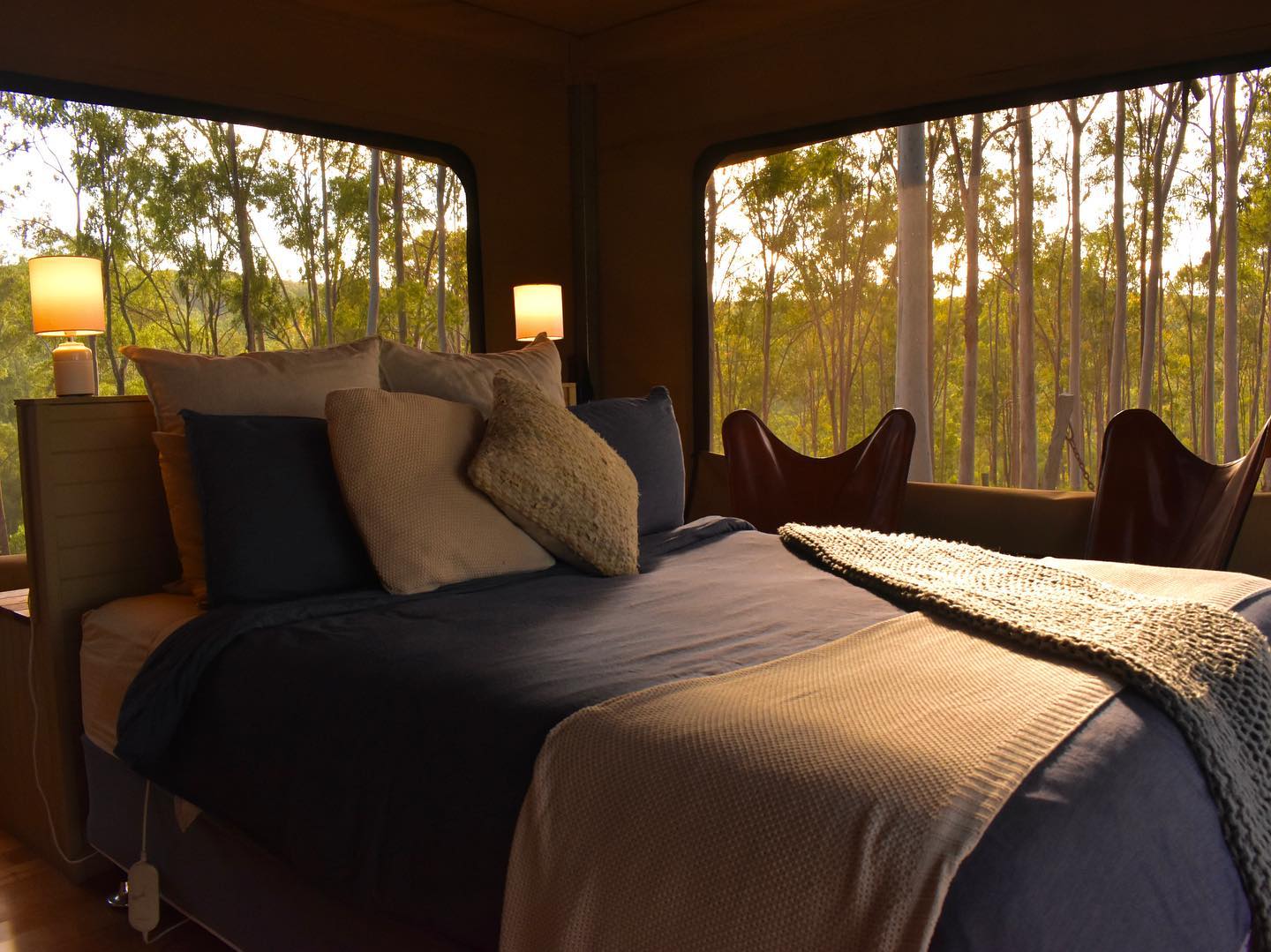 Three words: Luxury. Couples. Retreat. Ketchups Bank Glamping is South East Queensland's first luxe couples retreat and eco glamping experience in the stunning Scenic Rim. The perfect mix of luxury, romance and nature amongst the abundant wildlife and hillside views, each eco tent features a private en suite, fire pit, camp kitchen and even a fridge for the very necessary bottle of wine. We recommend taking advantage of the intimate fine dining at Blume Restaurant or exploring the beautiful Karoomba Lavender Farm and Cellar Door nearby for a bit of fun during your stay here.
Pure Glamping
Wivenhoe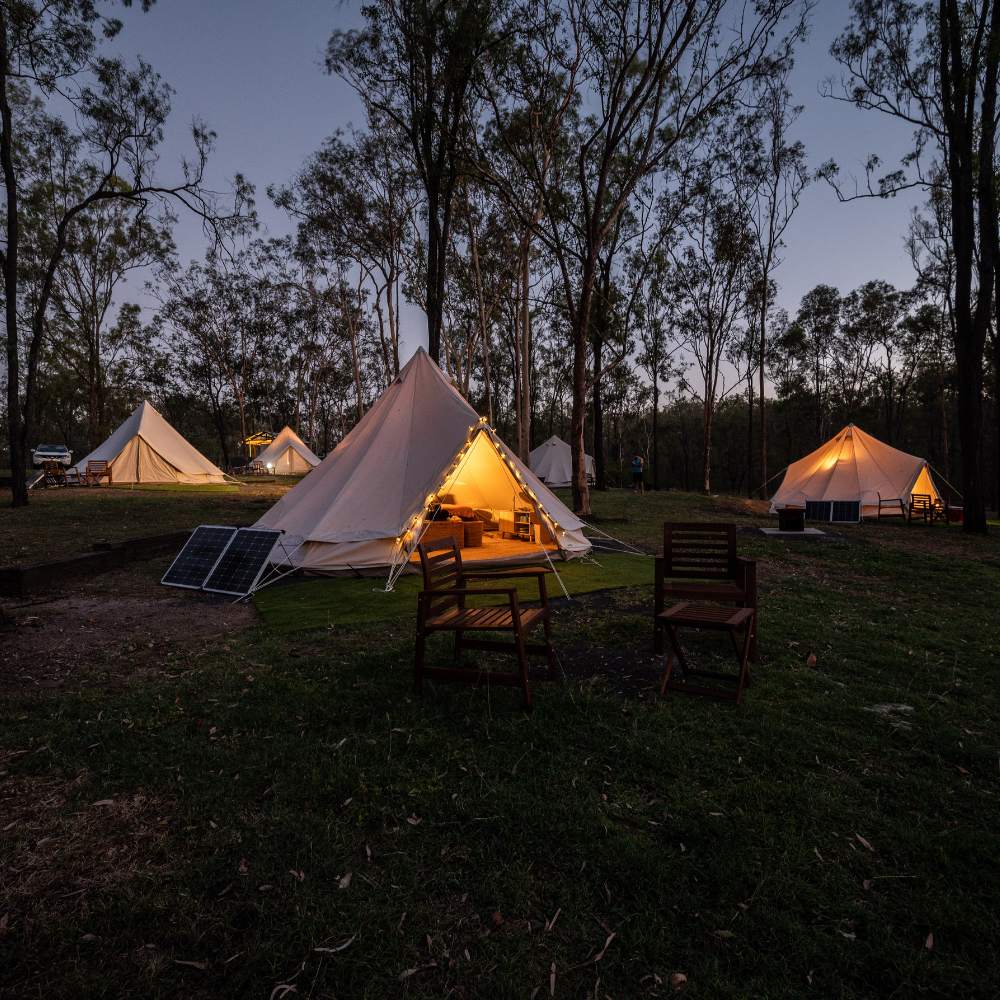 For the adventure lovers and outdoor enthusiasts, Camping Wivenhoe is the ideal spot if you want to spend your getaway engaging in adventure activities. Wake up to Lake Wivenhoe at your doorstep, the largest lake in South East Queensland, where you can take a dip, go scuba diving or snorkelling, horse riding, hiking or fishing. The five-star glamping facilities are almost just an added bonus, with gorgeous canvas bell tents fitted with double beds, plush linen and a fire pit outside.
Minjerribah Camping
Stradbroke Island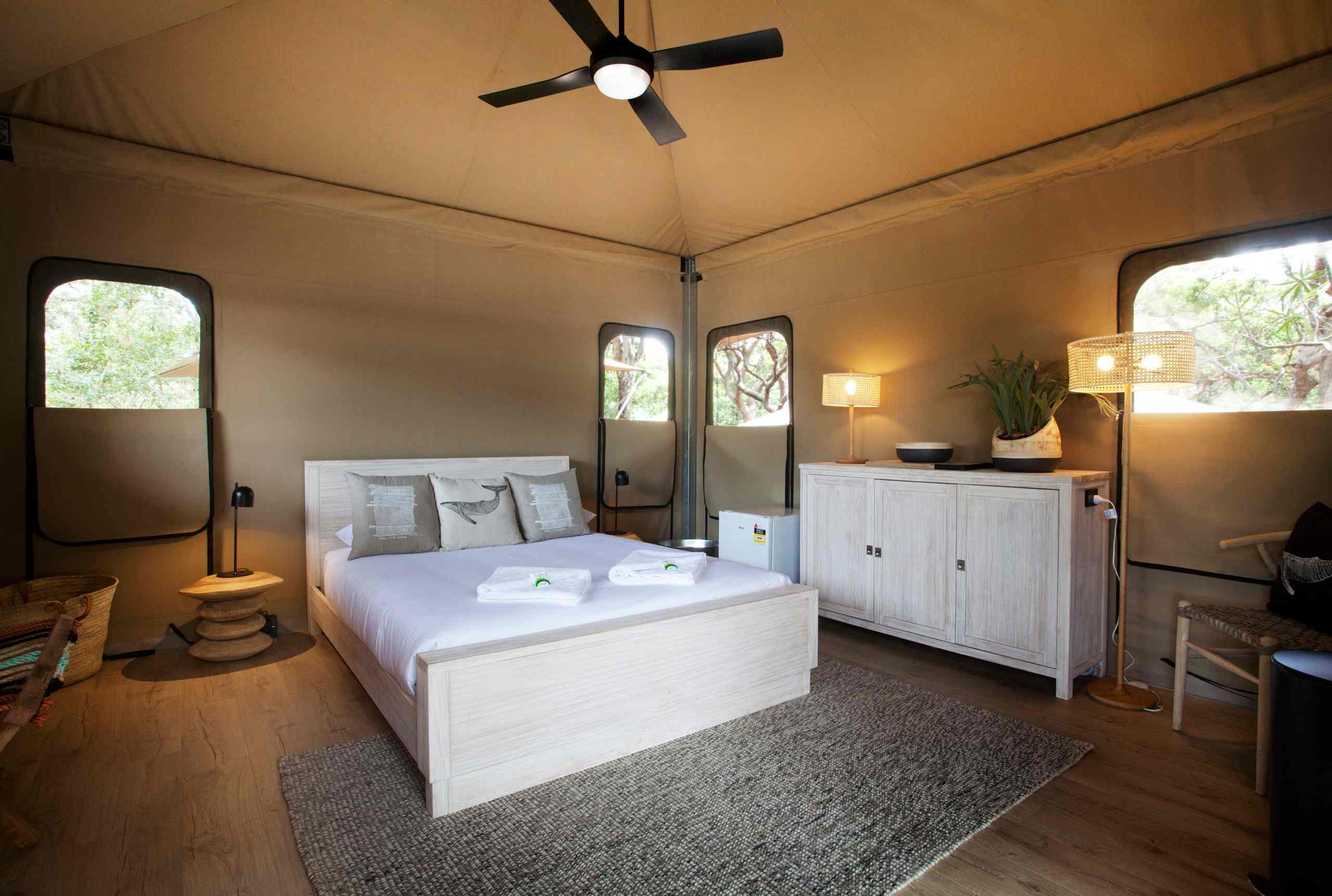 Are you someone who likes having options when it comes to setting? Well, the beachfront glamping across multiple iconic beaches in Minjerribah could be perfect for you—with over 200 campsites available your options are quite literally endless here. Among the locations on offer are Amity Point for a family friendly atmosphere, calmer waters and daily dolphin sightings, or Adder Beach is ideal if you're after more of a surf-friendly vibe, enveloped in the shade of native tea trees.
Starry Nights Luxury Camping
Montville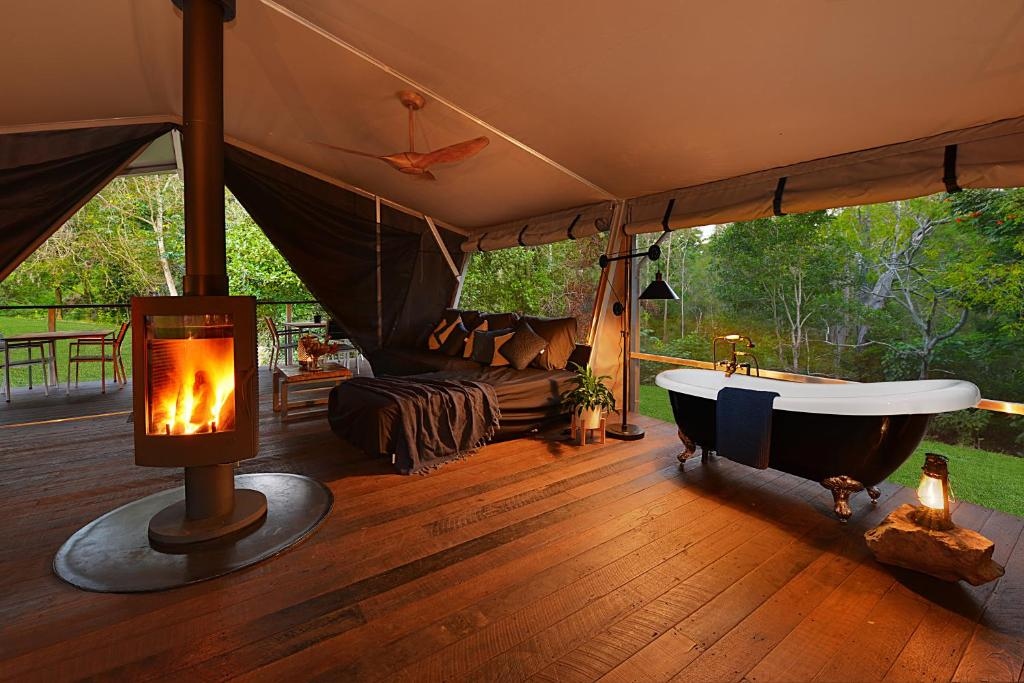 Situated in the picturesque forests of the Sunshine Coast Hinterlands near Montville, Starry Nights is the prime location for your ideal glamping adventure. If the name has you envisioning the famous artwork of Van Goh's night sky painting, that's exactly what you'll get to experience laying in the safari tents beneath the stars in the crisp, clean air surrounded by the best of Queensland nature. Did we mention there's a sauna?
Nightfall
Lamington National Park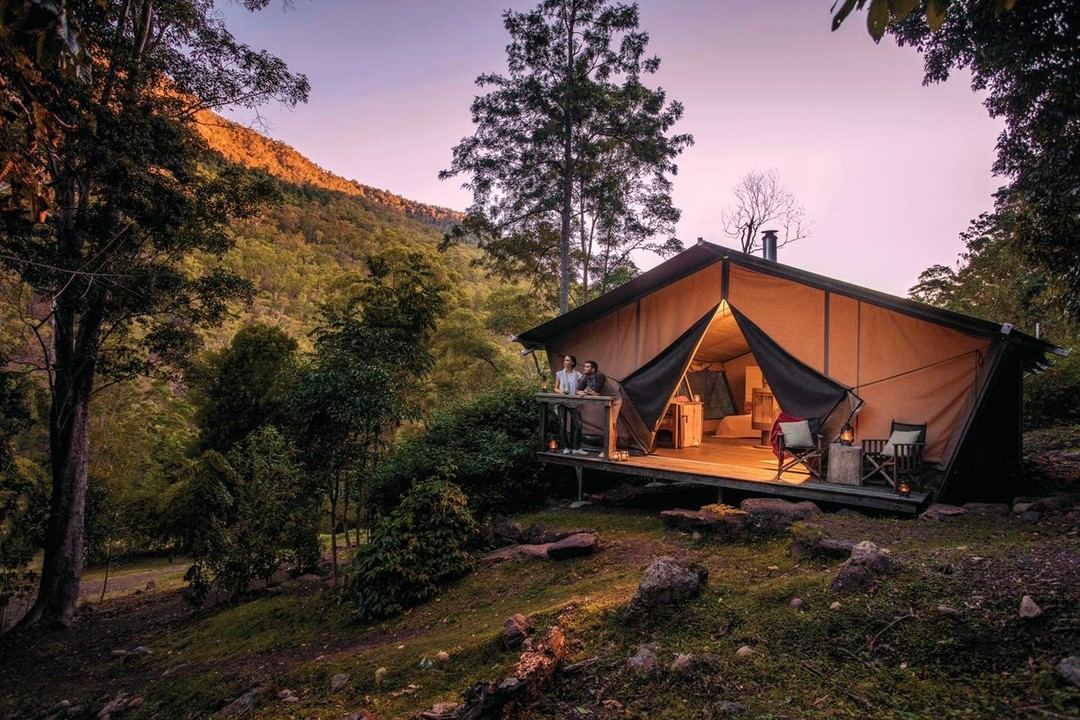 Looking to really put the 'glam' in glamping? Nightfall fits the bill and then some. Located in an undisturbed forest at Lamington National Park, the custom-designed safari tents are the definition of 'luxe' with a rotating in-tent fireplace, rain head showers and vintage baths, all while being immersed in a private rainforest location. For those who are really looking to unwind during their stay, the pamper experience offers massage and yoga as well as plenty more relaxation opportunities.
Lady Musgrave
Great Barrier Reef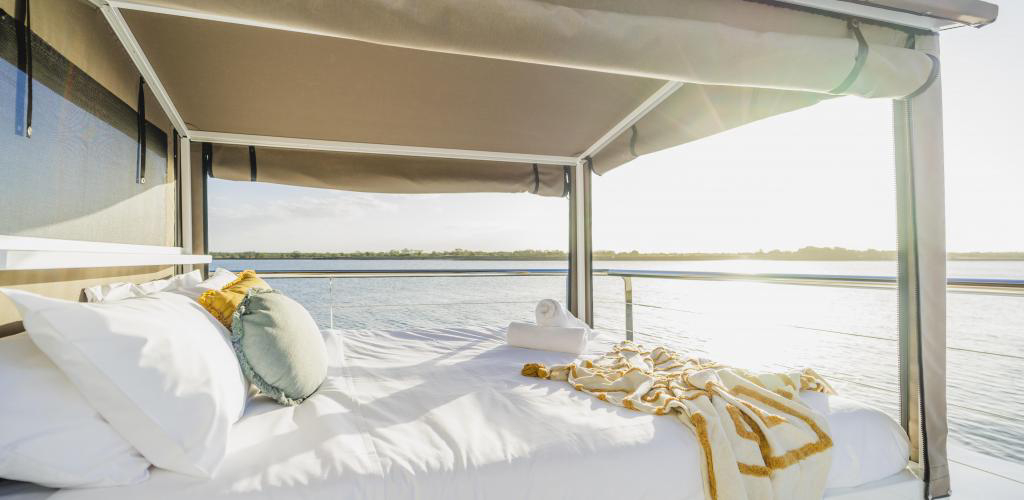 Lady Musgrave is glamping in an entirely different form, like something from a dream—except it's reality, and you can experience it. Picture island glamping on a pontoon with your own private canopy, sleeping under the starlit sky surrounded by the beauty of the Great Barrier Reef. This is all on offer if you book a stay at Lady Musgrave, presenting a truly tranquil experience made even better through the activities available. Guests can take part in swimming with marine life in the lagoon, or venturing into the underwater observatory to fully immerse yourself in the nautical experience.
Mt. Mulligan Lodge
Mt Mulligan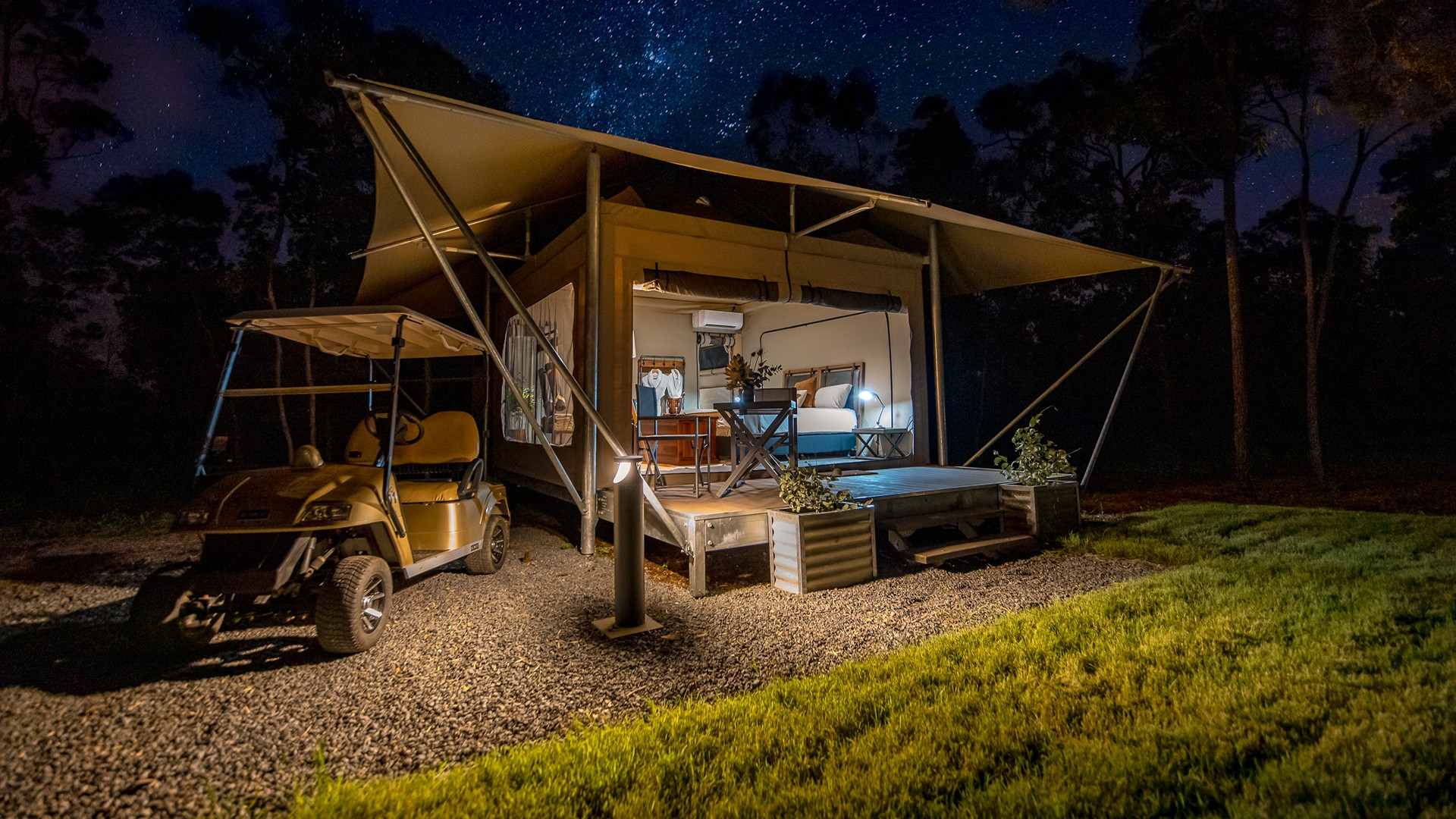 Picture staying in an outback tent in an Australian fairytale destination, nestled amongst eucalyptus woodlands—but it's also air conditioned and has an all inclusive minibar. What more could you need? Able to accommodate up to four guests per tent with bunk beds on offer, Mt Mulligan Lodge could be the perfect opportunity to get the kids out of the house to experience natural living, all the while only being a short two-minute buggy ride from the main pavilion so it's the best of both worlds.
Splitters Farm
Bundaberg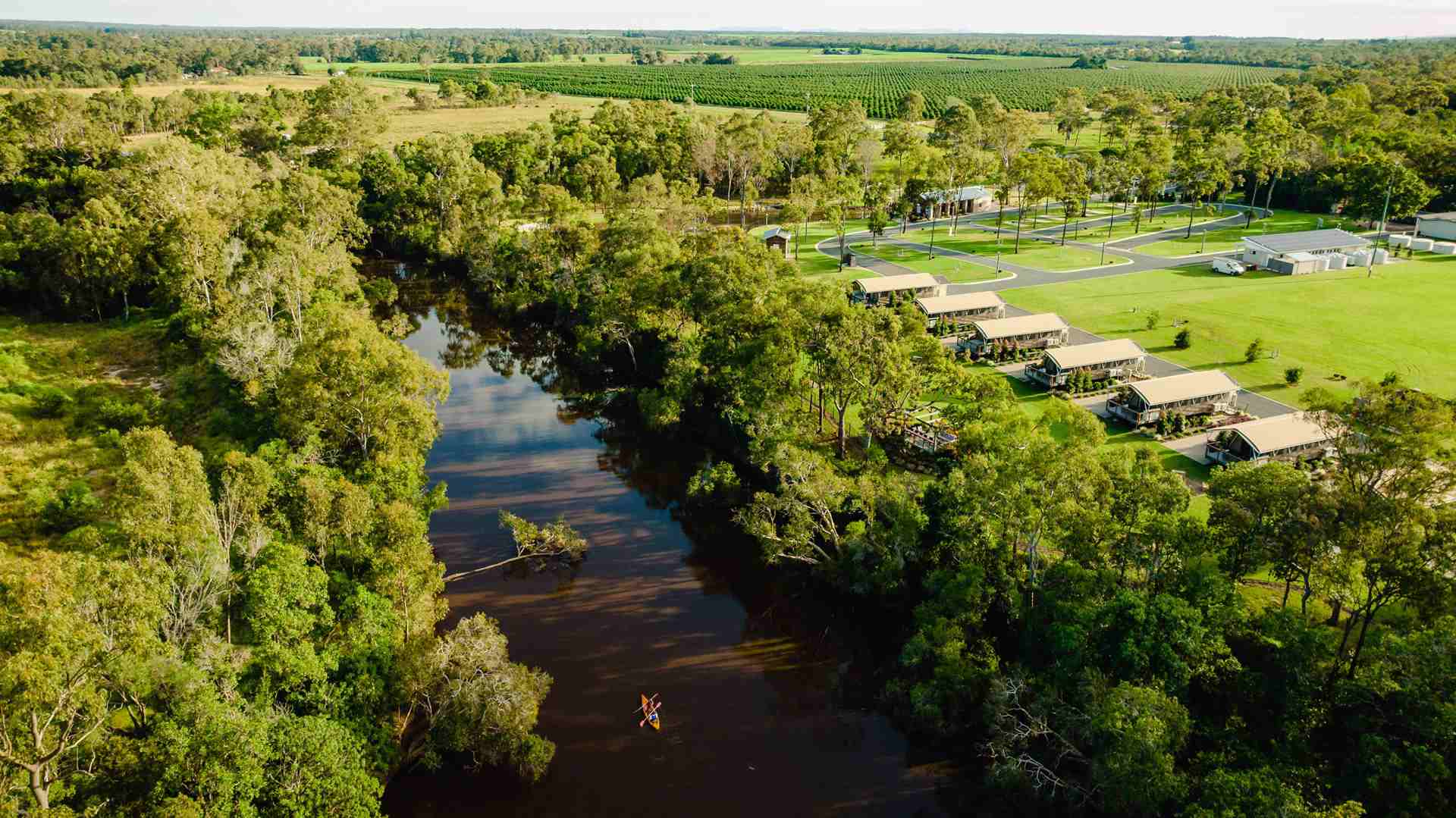 We present to you the ultimate farm stay experience. A 10-minute drive out from Bundaberg's CBD is where you'll find Splitters Farm; a sanctuary for rescued barnyard animals and a rural glamping experience. You can pick the stay that suits you best with several options to choose from including a deluxe safari tent with a private fire pit, a retro glamper van or a complete off the grid experience on an unpowered site. Hosting guided farm tours, go kart hire and a cinema under the stars, Splitters Farm holds a memorable experience for people of all ages.
Kalahari Luxury Glamping
Obi Obi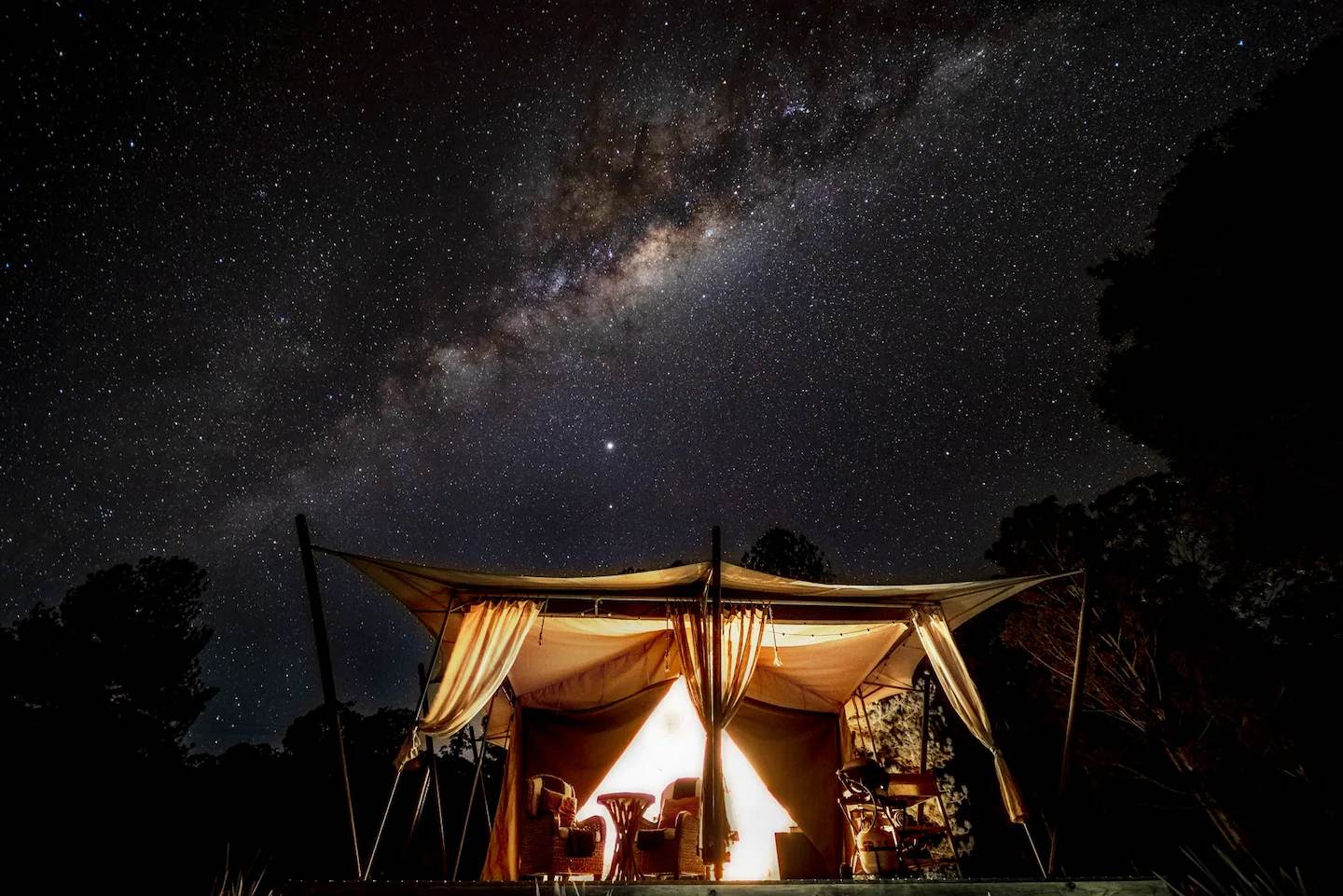 We've saved the best for last—this Airbnb was an awards finalist in 2021 for most unique stay and there's no question as to why. Located in Obi Obi on the Sunshine Coast, placed upon 50 acres of bushland filled with abundant wildlife and friendly horses, there's even a secret forest area that's referred to as the 'Harry Potter Forest". This experience is truly like no other, with top class facilities, a wood burning fireplace and clawfoot bath, there really is no downside. You can even ask the resident doggos Goober, Frankie and Daisy, who will likely be there to greet you upon arrival.
After something even fancier than Queensland glamping spots? Check out these luxury resorts across the state.
Image credit: Airbnb, Booking.com