September! We made it! Up top, guys. The year's pretty much done and dusted now. Just a few months of playing Tetris at work and it'll be Christmas, sweet glorious Christmas. A few interesting ones for you this week—everything from a Zen-style urban retreat to mini smoked brisket burgers (mental note: someone needs to combine those).
So here you go Melbourne. Five awesome things for you to do this week. Get the hell excited.
Monday 4 September
Yung N Sprung 2
Want to get a little culture this week? Melbourne based creative studio W.C.S.S are hosting Yung N Sprung 2, the second edition of their gallery takeover, and it's kicking off this week at No Vacancy Gallery in QV. Yung N Sprung is basically a showcase of the city's hottest emerging art talent, alongside some recognised names. Illustrators, sign-writers, visual artists, graphic designers, graffiti artists, photographers and videographers—they'll all be showing their stuff. Show kicks off today at 9am, but the Opening Party is this Thursday if you like your art with a side of booze.
Where: No Vacancy Gallery, QV
When: 9am – 5pm, 4 – 10 September
For more info, click here.
Tuesday 5 September
Scarf Dinner At Auction Rooms
Social enterprise Scarf have teamed up with Auction Rooms to launch a series of very special fundraising dinners, designed to help migrants and refugees find work in the hospitality industry. You can catch them every Tuesday until 21 September, and there's one on this week. Expect a one-off Auction House menu from head chef Aaron Capes, with several of Scarf's trainees helping out throughout the night. Gourmet dinner for a good cause. We're there.
Where: Auction Rooms, 103-107 Errol St
When: Tuesday 5 September
For more info, click here.
Thursday 7 September
Burn City Feast
Good news, meatheads. The Burn City Pop-Up at Melbourne's Grand Hyatt has been extended through spring (something to do with you lot consuming an ungodly amount of brisket). And to celebrate, the guys behind the smoker are hosting a very meaty feast. We're talking smoked brisket burgers (these things are off the chain), Tassie free range baby back pork ribs and pine-smoked Portobello mushrooms. You also get a flight of beer from Sample Brew. Not bad for $69 a head.
Where: Burn City Smokers, Grand Hyatt CBD
When: 6pm – 8pm, Thursday 7 September
For more info, click here.
Peace, Love & Pad Thai At Hawker Food Hall
For one night only this week, Village People Hawker Food Hall is being transformed into a collection of SE Asian market stalls, complete with sizzling stir-fry and resident DJs. For $55 entry you can roam the six hawker stalls, tasting treats from Thailand, Vietnam, China and The Philippines. The guys behind the bar will be slinging the usual mix of SE Asian-inspired cocktails, and there's a massive range of Japanese beer on offer. You don't wanna miss this one.
Where: Village People Hawker Food Hall, 127 Brunswick St
When: 6pm till late, Thursday 7 September
For more info, click here.
Friday 8 September
The Beatt Urban Retreat
Armadale's wellness hub The Beatt are hosting what could be the most relaxing day of all time. It's called their 'Urban Retreat': two yoga classes (Vinyasa Flow and Yin), a meditation session, 1-on-1 wellness treatments, presentations and a scrumptious lunch, cooked up by the on-site cafe team. Better book quick. It's limited to just 12 enlightened people.
Where: The Beatt, 24 Beatty Av Armadale
When: 9am – 4pm, Friday 8 September
For more info, click here

Don't Miss...
Bulldog Gin & Bruschetta At Berlin Bar
Bulldog Gin and bruschetta is a great combo and it's happening every Monday at Berlin Bar until 1 October. In case you need more details, this means there'll be specials on Bulldog Gin and tonic at the bar and the deal only sweetens when you order bruschetta at the same time. Cocktails and snacks? It's a yes from us. Drink responsibly.
When: Mondays until 1 October, 5pm – 10pm
Where: Berlin Bar
Gin & Antipasto At Baxter's Lot
If there are two things we love, it's a classic cocktail and antipasto (because snacks = life) and that's exactly what's happening at Baxter's Lot this month. You've got a few options guys, whether you want to keep it simple with a Bulldog Gin and tonic or go all out and throw in antipasto as well (of course you do). There are also a few gin cocktail specials at the bar, but that's all we'll give away—you'll have to head down to find out more. Drink responsibly.
When: Daily until 1 October
Where: Baxter's Lot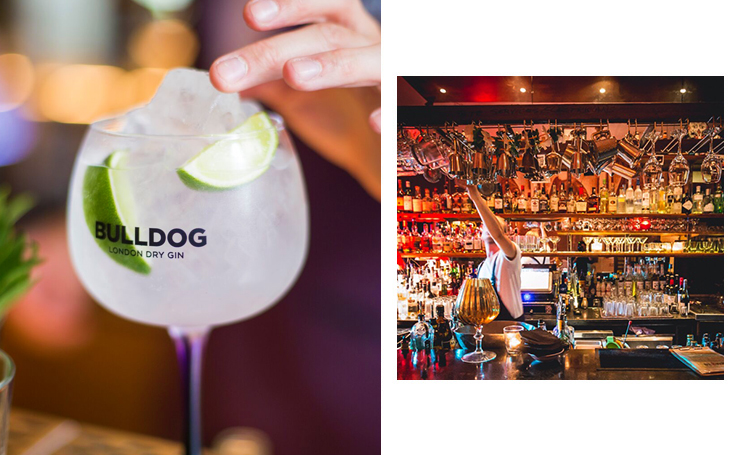 Editor's note: Bulldog Gin's events are proudly sponsored by Campari and endorsed by The Urban List. Thank you for supporting the sponsors who make The Urban List possible. Click here for more information on our editorial policy.
Image credit: The Beatt | Griffin Simm